Polestar 2 Review: Range, Charging Speed and Other Key Features [Expert Insights]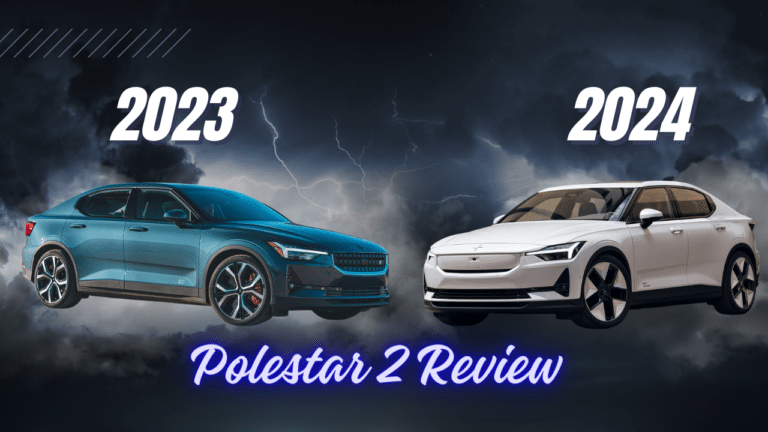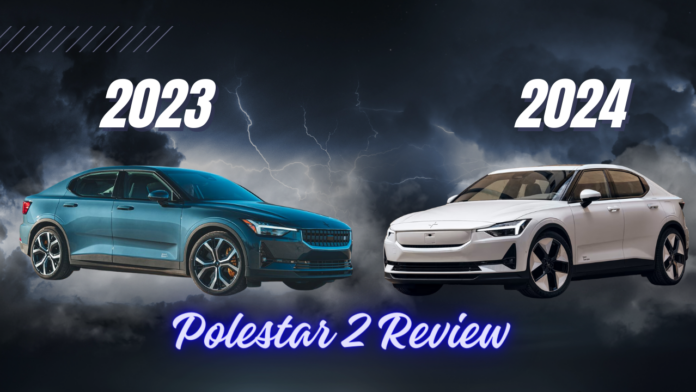 Are you searching for a reliable electric car? Look no further as the Polestar 2 has arrived to make your dreams come true with all-around smart and stylish features. As someone who loves electric vehicles, we have been investigating this vehicle and its novelties for 2023.
This article will help you decide if the Polestar 2 is perfect for you by providing an overview of design, performance, interior comfort, and more.
Get ready to learn everything about the modern marvel that is the Polestar 2 reviews!
Content Highlights
The Polestar 2 is a Scandinavian-styled electric vehicle with up to 270 miles of range, 402 horsepower, and 502 lb-ft torque.
For the 2024 model year, an all-new rear-wheel drive base model was released with increased performance, improved efficiency, and a larger 75.0 kWh battery allowing for up to 320 miles of range.
Five powertrain options are available from just under 50k going all the way up to 77K, depending on battery size & number of motors purchased. At the same time, 2021 models remain a reliable choice, too, saving budget-conscious buyers money without sacrificing specs/feature objectives.
Overview of the Polestar 2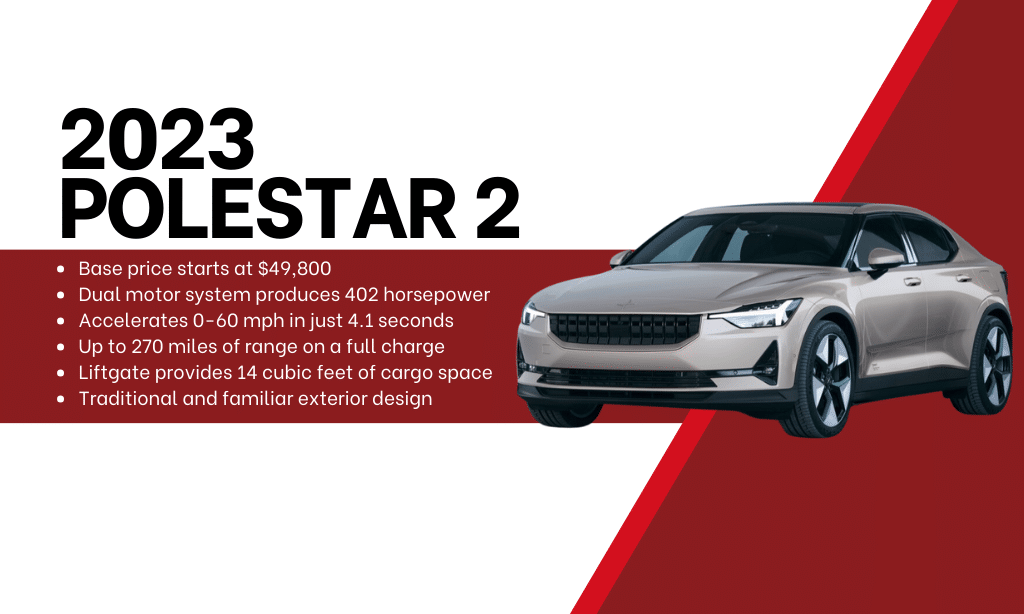 The Polestar 2 is a low-cost electric vehicle priced at $49,800 and features Scandinavian styling. It has over 270 miles of range and offers several new models that range in power and battery life for the 2023 model year.
Starting at $49,800
The Polestar 2 starts at $49,800. This may be considered expensive compared to some of its competitors, but it does have features and qualities that justify the cost. The all-electric vehicle offers an impressive range (up to 270 miles on one charge, depending on battery) combined with strong performance thanks to two electric motors – producing up to 402 horsepower and 502 lb-ft torque – powering an all-wheel drive setup for maximum control in any situation.
It also comes nicely equipped with modern tech, including a portrait display center console boasting Google Android Automotive OS plus a collection of innovative safety features like Automatic Emergency Braking and Lane Keeping Assist, which give added peace of mind.
All this makes the Polestar 2 an excellent choice for anyone looking for power, luxury, style, and value from their car purchase. In addition, you can also read an article on- Rivian R1S Review: Explore the Performance, Features, and Others
What's New for 2024?
The Polestar 2 just got a ton of upgrades for the new 2024 model year! The most notable change is the introduction of the rear-wheel-drive base model. This single-motor RWD version has improved efficiency and a larger 75.0 kWh battery, allowing for up to 320 miles of range.
2023 vs. 2024 Model Year
The Polestar 2 has seen some notable enhancements in the 2024 model year. These improvements aim to provide drivers with a more thorough and enjoyable driving experience. Here's a glance at how the 2024 and 2023 models compare:
| Specification | 2023 Model | 2024 Model |
| --- | --- | --- |
| Price | Starting at $49,800 | Starting at $51,300 |
| Performance | The whole system produces 402 horsepower and can speed up to 60 miles per hour in just 4.1 seconds | Improved performance with up to 416 horsepower and 546 lb-ft of torque in the dual-motor setup |
| Range | Up to 270 miles of range | Can travel up to 320 miles in single-motor form |
| Cargo Space | The liftgate opens to a small 14 cubic feet | The liftgate opens to a small 14 cubic feet |
| Design | Traditional, familiar design | New style and a rear-wheel-drive base model |
The 2024 Polestar 2 offers a more comprehensive upgrade than previous model years. The new style and rear-wheel-drive base model make it even more appealing as an electric vehicle. The dual-motor options and improved performance make the 2024 model a more powerful and dynamic choice. This makes it clear that the Polestar 2 is becoming one of the most complete electric cars available, with decent build quality and easy driving. Additionally, you can also read on Kia EV6 Review.
Pricing and Best Model to Buy
The Polestar 2 has four motor types and a range of options to choose from. The 2023 version starts at $49,800 for the single-motor option, offering an EPA range of 270 miles per charge.
Prices increase to $49,800 for the Polestar 2 dual-motor variant with a 270-mile estimated range between charges. To get a longer range in the 2023 model, you must shell out quite a bit more money – $54,000 for a standard-range single motor and, finally, $63,000 for a long-range dual motor option.
Moving on to the year 2024, While prices remain relatively similar (Starting at $51,300) there are significant differences this time around as far as features go so it's like getting two different cars at different price points! The significantly updated "2024″ Polestar 2 is offered in 5 powertrain setups starting from just under 50k going all the way up to 77K, depending on battery size and number of motors purchased, respectively – Long Range Dual Motor or Performance Twin Motor being the most expensive tiers vs Standard Single & Double Motors bringing down cost but compromising driving experience & mileage naturally. Additionally, you can also read about- Audi Q8 E-Tron Review: Range, Performance and Luxury Electrified
Small year-to-year variations in pricing and performance specs don't necessarily indicate which vehicle offers the best value for your needs. Objective data from the manufacturer provides helpful technical details. Still, subjective opinions from experienced analysts who understand your budget, requirements, and typical usage may offer more practical guidance before finalizing a major purchase.
Suppose professional advice isn't available, and you remain uncertain after thoroughly researching on your own. In that case, it's wise to take extra time to carefully consider your options before committing to a long-term investment. The right choice depends on aligning the model's capabilities with your circumstances.
If you want to save money but still get a reliable vehicle that meets your daily driving needs, consider opting for a 2021 model or equivalent instead of the newest version. More affordable sedans often have ample safety features and can provide satisfactory service life. Shopping around different models and dealers can reveal good bargains, so it never hurts to look.
But don't forget to check warranty terms – you'll want assurance that any major issues will be covered. While getting a deal is nice, peace of mind is priceless when making a major purchase. Do your research to find an option that balances affordability with the advanced functions and protections you need for satisfactory long-term ownership.
Polestar 2 Review: Performance and Power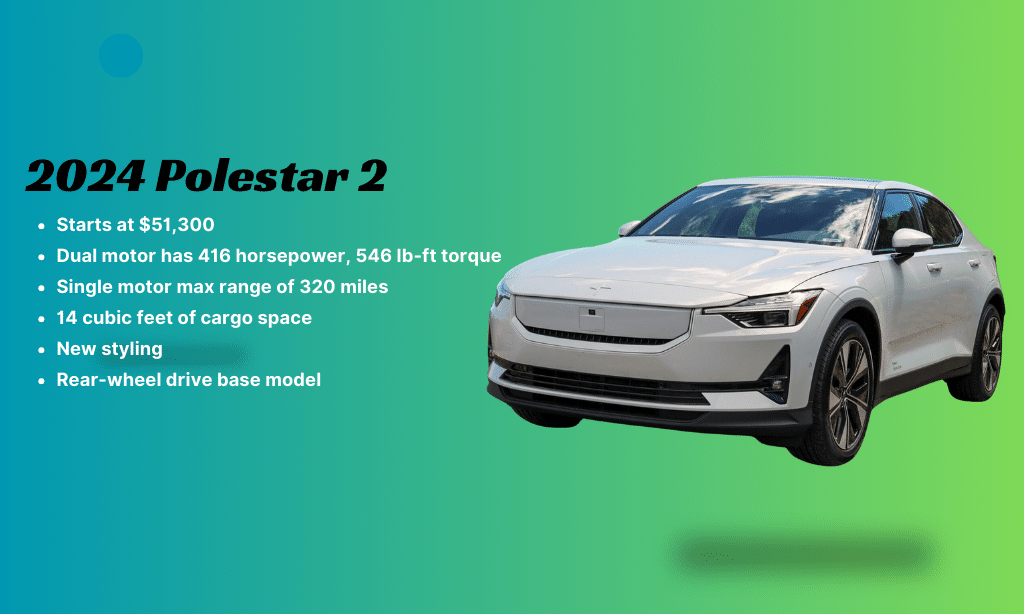 The Polestar 2 features a powerful electric motor capable of accelerating from 0 to 60 mph in just 4.1 seconds and providing an estimated range of up to 270 miles per charge. 
You May Find Interest: BMW iX Review: Is It the Game-Changer in Electric Mobility
EV Motor
The Polestar 2 is powered by a Dual Motor System producing up to 402 horsepower and 502 lb-ft of torque, providing an incredibly responsive power delivery. The 2023 Polestar 2 electric car comes in two options. The single-motor version gets an estimated 107 miles per gallon equivalent (MPGe) fuel economy. It can travel about 270 miles on a full charge.
The dual motor option gets slightly lower fuel economy at 89 MPGe. Its estimated range on a full charge is 260 miles. In simpler terms, the single-motor Polestar 2 is more energy efficient and can drive farther before needing to be recharged. But the dual motor version offers more power and acceleration. You know the Polestar 2 means business when its 0–60 time is listed in under 4.1 seconds, faster than most sports cars out there.
So whether you're commuting on city streets or tackling corners on a winding autobahn cruise – the Silicon Valley-designed EV motor offers more fun and thrills per mile than any other traditional engine can.
Even better, the all-wheel drive version delivers improved handling and control over wet surfaces while lasting longer before needing a charge due to the remarkable regenerative braking system embedded into its design. If you're interested, you can also read the 2024 KIA Niro EV Review.
Range, Charging, and Battery Life
The Polestar 2 electric vehicle shares the same underlying platform as the Volvo XC40 crossover SUV. This allows it to fit a large 75-kilowatt-hour lithium-ion battery pack under the floor. The battery can be charged quickly at stations with 150 kilowatt capability. Polestar says this can recharge the battery from empty to 80% full in 40 minutes.
The estimated driving range on a full charge is 270 miles for the single-motor Polestar 2. The dual-motor version has a slightly shorter estimated range of 260 miles before needing to be recharged. So both options should provide ample range for most drivers' daily needs. The dual motor adds more power and acceleration, while the single motor provides more efficiency and range.
Fuel Efficiency
The 2023 Polestar 2 electric car gets an estimated 270 miles of range with the single motor or 260 miles with the dual motor before recharging.
When tested at a steady 75 mph speed on the highway, the example Polestar 2 traveled 190 miles on a full charge. This is similar to the Audi e-tron electric SUV but less than the Tesla Model 3 Long Range, which went 230 miles in the same highway test.
You can check the EPA website for official EPA fuel economy and range ratings for the Polestar 2.
In summary, the real-world highway range is around 190 miles. The single motor optimizes efficiency and range, while the dual motor offers more power. Both versions should meet most daily driving needs, but the range is less than some competitor EVs when driving at steady, high speeds. In addition, you can also read an article on- Hyundai Kona Electric Review: Pricing, Performance, and Latest Updates in 2023
Interior, Comfort, and Cargo Space
The Polestar 2 has a spacious and comfortable interior, offering plenty of room for both driver and passengers. Additionally, it has tons of cargo space – making it great for any family or group getaways.
Infotainment and Connectivity
The Polestar 2 comes with a highly praised infotainment system that is built-in to the vehicle from the factory with Google. This infotainment system makes life on the road easier, safer, and more intuitive by providing seamless connectivity and access to various features and services without needing additional equipment.
Easy access to your contacts, music, apps, calendar, and much more straight through the dashboard display.
Automated prompts for upcoming directions or arrival times based on stored appointments.
Detailed mapping capabilities powered by Google Maps, including 3D visuals when in motion.
Voice command support for searching directions or managing phone calls without taking your eyes off the road.
Ability to screen mirror smartphones onto the central dashboard display so you can stream movies or media through compatible apps 6. 
Safety and Driver-Assistance Features
The Polestar 2 is built for maximum safety and awareness. It comes equipped with innovative driver-assistance features to help drivers stay sharp and improve overall well-being. There are multiple systems designed to give you peace of mind when driving, such as:
Driver Alert Control – This system uses a camera to monitor the position of your vehicle to detect any distractions or drowsiness on your part; if detected, audible warnings begin ringing until the situation improves.
Automatic Emergency Braking – The AEB system utilizes radar-based sensors located in the front of the car, which can trigger emergency braking if an obstacle appears in its path and provide additional support during turns at higher speeds
Lane Keeping Aid – Helps keep you within your lane by tracking lane markers on roads using cameras installed onto all four corners of the car that detect active lines; gentle steering movements will be caused to guide you back into correct alignment should it deviate away from designated lanes without notice via intentional user action
Blind Spot Information System – BSI has been set up to utilize small sensors attached to cars's outer bodies able to report any vehicles entering their trajectory in good time to make necessary changes to avoid collision happening thereupon. If you want you can also read- Tata Nexon EV Facelift Review: The Most Affordable Electric SUV in India
Warranty and Maintenance Coverage
A five-year, unlimited-kilometer warranty and an eight-year, 100,000-mile battery warranty cover the Polestar 2. This comprehensive coverage will offer peace of mind to owners of electric vehicles to ensure their long-term satisfaction and investment safety.
The warranties cover faulty materials or manufacturing defects concerning the vehicle, paintwork, corrosion, and the high-voltage battery, all necessary for a successful EV experience.
While other manufacturers may provide three years' worth of complimentary maintenance programs and services with their vehicle purchase, Polestar currently does not offer this option. Hence, potential original owners need to understand routine maintenance costs that would be needed within the life span of ownership.
Therefore, general service and neglected parts should be factored in when considering total cost ownership calculators provided by automobile manufacturer websites. Additionally, regular, full-detail exterior care can help keep resale value over time if owners decide to trade up.
Ensuring proper car service reminder notifications (when due) can also alert drivers towards required immediate repairs, especially as future repairs could become higher due to a lack of constant upkeep before required inspection intervals that tend to comply under most state laws based on mileage driven annually.
Read Also: Top Automobile Companies in World By Sales [Top 20 List in 2023]
Changes for the 2024 Model
The Polestar 2 has some noticeable updates for its 2024 model, including design updates, single and dual motor options, and new optional packages.
Design Updates
Polestar 2 has gone through significant design updates for the 2024 model. The changes in design, including a new grille and a refreshed look, are intended to increase the sustainability of the electric sedan. Similarly, these updates give it an extended range, more power, and improved overall performance.
The new grille contributes to making its appeal bolder than ever before since it further emphasizes the car's sleek body shape by creating an uninterrupted line from nose to tail. Its iconic headlights now come integrated with "Thor's hammer" technology that provides enhanced vision even in low-light conditions such as driving at night or during bad weather.
By optimizing battery conservation strategies, the car can drive farther on each charge and maintain up to 115 miles per gallon equivalent (MPGe) fuel efficiency ratings, too! Additionally, you can also read about- Mercedes-Benz EQS SUV Review: Features, Range and Performance Details
Under the Hood
The 2023 Polestar 2 debuted with a dual electric motor setup powered by a 78 kWh battery. The new model for 2024, however, features all-new modulated electric motors and an increased capacity of 78kWh battery that enables it to travel up to 22% further and consume up to 9% less energy compared to the previous generations.
Additionally, its charging times have been reduced by 34%, making charges faster so you can get back on the road sooner than ever. Other technical changes include repositioning of adjusters from under the seats to under the bonnet at more accessible points on both driver & front passenger sides for ease of use and maintenance.
The upgraded range also makes this model one of the longest-range EVs available today – offering over 320 miles in total! All these changes make the 2024 Polestar 2 a strong contender in its class thanks to improved power output while consuming lower energy levels than before.
New Optional Packages
The Polestar 2 has new optional packages for the 2024 model year. These packages offer enhanced features and improvements that make for a better driving experience than ever before. The Performance Pack includes improved acceleration, with an electronically limited top speed of 155mph. At the same time, the Dynamic Chassis Control improves ride quality by automatically adjusting suspension dampers in real time to match road conditions.
The Exterior Design Package adds custom alloy wheels and larger air intakes, adding an extra level of style without compromising performance or battery efficiency. Finally, the Dual Motor Powertrain option offers significant power upgrades, increasing total output to 408 horsepower and 490 lb-ft of torque – enough to put it among some elite competition like Tesla's Model 3 Performance variant. 
You May Find Interest: Nissan Leaf Review: MPGe Efficiency, Performance and More [Detailed Guide]
Frequently Asked Questions (FAQs)
Next, I'll answer some typical questions that come up about The Polestar 2.
1. What is the Polestar 2 electric vehicle?
The Polestar 2 is a fully-electric vehicle produced by Volvo that was first released in 2020 with updated features, such as its all-wheel-drive design.
2. What features does the Polestar 2 offer?
The Polestar 2 offers impressive features, including up to 402 horsepower and 502 lb.-ft. Of torque, a range of 270 miles on a full battery charge, and over-the-air updates to ensure it has the latest technology available.
3. Is there any new feature for the 2023 model year?
Yes! The newly designed 2023 Polestar 2 will include advanced driver assistance system capabilities like adaptive cruise control (ACC), lane keeping aid (LKA), and Pilot Assist that can independently handle acceleration, braking, and steering on highways up to 80 mph for standard vehicles.
4. How much does the Polestar 2 cost?
The base model costs around $48,400 before incentives or tax credits are applied, depending on location; more expensive performance models may be priced higher accordingly.
Takeaway
The Polestar 2 is a great choice for those buying an electric vehicle. Its competitive prices of $49,800, long range of up to 270 miles per charge, and sleek Scandinavian styling make it a top contender in the EV market.
It also offers advanced features such as an infotainment system, driver-assistance technologies, and optional packages that make it appealing to potential buyers.
When it comes to performance, however, some may find that the Polestar 2 falls short when compared to other EVs on the market today. Although its single-motor options can deliver respectable power and torque figures, dual-motor variants are unavailable yet and may remain so in future model years.
Additionally, comfort levels could be improved with a larger backseat area or better insulation from wind noise at higher speeds.