Tata Nexon EV Facelift Review: The Most Affordable Electric SUV in India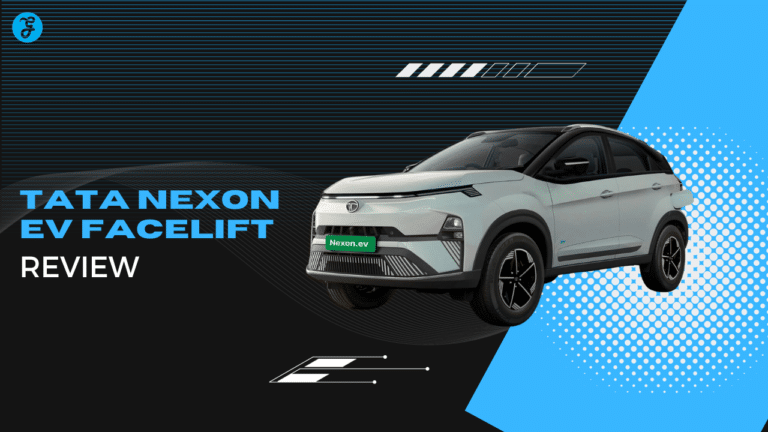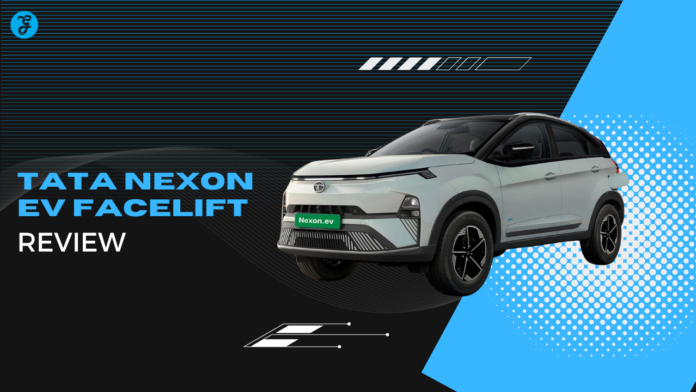 Are you in the market for an electric SUV that offers a great combination of performance, sleek design, and modern features at an affordable price point? Then the 2023 Tata Nexon EV facelift may be the perfect car for you! In this comprehensive Tata Nexon EV Facelift review, we'll take a look at the exterior design, interior layout, and features as well as its ride quality.
We'll also compare it against other popular compact SUVs on the market to help you decide if it's right for your needs.
So, keep reading to find out all there is to know about this new EV model!
Content Highlights
The 2023 Tata Nexon EV Facelift features a sleek and modern design, an intelligent 12.3" touchscreen infotainment system, and luxurious upgrades like ventilated seats for improved comfort.
Facelifted versions of Nexon petrol, diesel, and electric models launched.
Prices start at Rs 8.10 lakh for Nexon petrol/diesel and Rs 14.74 lakh for Nexon EV.
The Tata Nexon EV Facelift also boasts advanced safety technology such as regenerative braking, which enables longer trips with fewer charges than non-regenerative vehicles, while the 7" instrument cluster comes with helpful warnings for lane departure events.
Additionally, its Vehicle to Load (V2L) and Vehicle to Vehicle (V2V) charging capabilities allow users to power external devices or charge other electric vehicles quickly using its revamped wireless charging system.
Tata Nexon EV Facelift: Powertrain, Battery, and Charging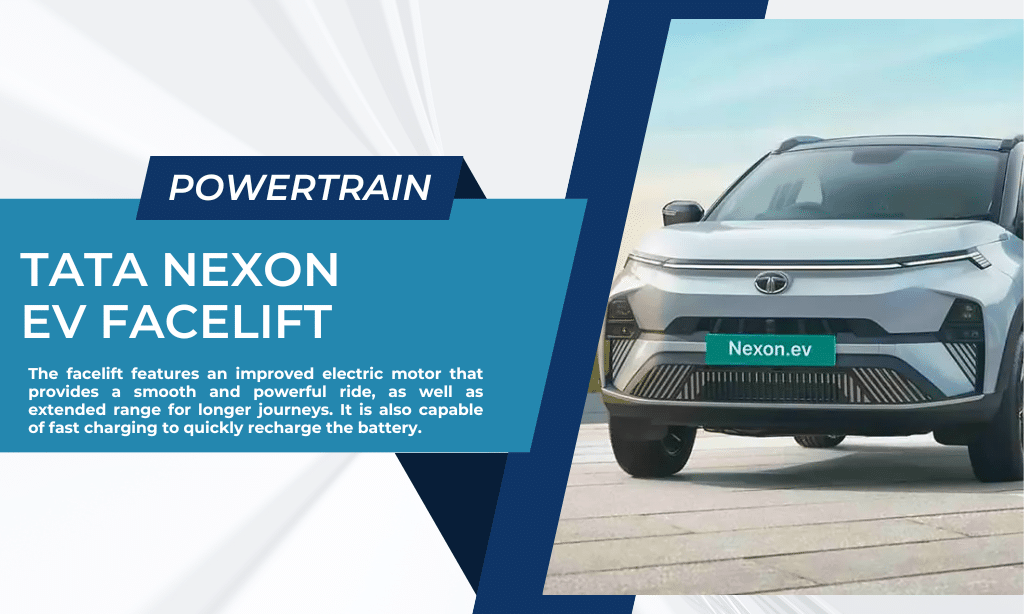 The facelift features an improved electric motor that provides a smooth and powerful ride, as well as extended range for longer journeys. It is also capable of fast charging to quickly recharge the battery.
| Feature/Aspect | Tata Nexon EV Facelift 2023 |
| --- | --- |
| Electric Motor | Improved electric motor for smooth and powerful ride, extended range, fast-charging capability |
| Nexon EV Variants (Medium and Long Range) | Medium Range (MR): 129 HP, 30 kWh battery, 325 km range (ARAI)/Long Range (LR): 145 HP, 40.5 kWh battery, 465 km range (ARAI) |
| Performance (Nexon EV) | LR: 0-100 kph in 8.9 seconds, top speed 150 kph, Eco, City, and Sport driving modes |
| New Features (Nexon EV) | V2L capability (Vehicle-to-Load), V2V capability (Vehicle-to-Vehicle) |
| Charging Speeds (Nexon EV) | Unchanged, approximately 60 minutes for 0-80% charge with a fast charger |
| Improved Efficiency Claim (Nexon EV) | 5-7% improvement in real-world driving range |
| Battery Warranty (Nexon EV) | 8-year/1.60 lakh km warranty on battery pack and motor |
| Engine Options (Petrol & Diesel) | Petrol: 1.2L turbo-petrol, 120 HP, 170 Nm torque Diesel: 1.5L diesel, 115 HP, 260 Nm torque |
| Turbo-Petrol Transmission Options | 5-speed manual, 6-speed manual, 6-speed AMT, 7-speed dual-clutch automatic |
| Turbo-Petrol Transmission Features | Paddle shifters (7-speed dual-clutch automatic) |
| Diesel Transmission Options | 6-speed manual, 6-speed AMT |
Table: Tata Nexon EV Facelift Details
Nexon EV Variants
The recently updated Tata Nexon EV is now available in two electric range options – Medium Range (MR) and Long Range (LR). Customers can choose between these variants based on their driving requirements.
The Nexon EV Medium Range is the more affordable option focused on value and everyday usability. It is powered by a permanent magnet AC electric motor that generates 129 horsepower. This motor is paired with a 30 kWh lithium-ion battery pack. As per ARAI test estimates, the MR model can deliver a maximum range of 325 kilometers on a full charge. This makes it suitable for regular city commuting and short drives.
For buyers needing more range between charges, the Long Range version is the ideal pick. It uses a higher output permanent magnet AC motor rated at 145 horsepower. This more powerful motor is combined with a large 40.5 kWh lithium-ion battery. The increased battery capacity enables the LR variant to extend its ARAI-certified range to an impressive 465 kilometers on a single full charge based on test data.
So, the MR model offers an accessible entry point to the Nexon EV range with its lower pricing. The LR variant caters to those looking for longer-range capabilities and stronger performance for highway driving or extended daily use. Tata has smartly tailored the Nexon EV's drivetrain and battery to create two options matching different needs and budgets. In addition, you can also read an article on- Rivian R1S Review: Explore the Performance, Features, and Others
Performance
Tata claims the Long Range can accelerate from 0-100kph in 8.9 seconds with its higher power output. It has an electronically limited top speed of 150kph. Both variants have Eco, City, and Sport driving modes to maximize efficiency or performance.
The MR variant focuses on value with its smaller battery and power output. The LR offers stronger performance and nearly 50% more range. Refer to our detailed review for a real-world perspective on how the variants compare in daily usage. Tata has equipped the Nexon EV in two versions catering to different needs – affordability or extended range and driving excitement.
New Features and Unchanged Charging
The new 2023 Tata Nexon EV has gained some useful additional features that improve its functionality. The Nexon EV now comes equipped with V2L capability, which stands for vehicle-to-load. Using V2L, the Nexon EV can supply electricity from its battery pack to power small appliances on the go, up to 2.6 kilowatts. So you can plug in and run small devices during a road trip or outdoor activity where grid power is unavailable.
Another new feature is V2V or vehicle-to-vehicle charging. This allows the Nexon EV to share its battery charge with other electric vehicles. By connecting a charging cable, the Nexon EV can recharge another EV using its battery power at 3.2 kilowatts. This is comparable to the charging speed you would get from a regular portable charger for EVs. So if a friend's electric car runs low on charge, the Nexon EV can provide a helpful boost.
With V2L and V2V capability, the Nexon EV becomes more versatile – it can now power devices and charge other electric cars in need. However, Tata has not changed the Nexon EV's charging speeds. Using a fast charger, it will still take around 60 minutes to go from 0 to 80% charge, just as before.
But through the use of a lighter electric motor, more efficient cooling systems, aerodynamic improvements, and low rolling resistance tires, Tata has managed to make the Nexon EV consume less power during driving. According to Tata, these enhancements have led to a 5-7% improvement in real-world driving range. Additionally, you can also read about- Audi Q8 E-Tron Review: Range, Performance and Luxury Electrified
Battery Warranty
The Tata Nexon EV facelift comes with an attractive 8-year/1.60 lakh kilometer warranty on the battery pack and motor, offering buyers additional peace of mind regarding their electric car purchase.
The duration of this warranty is in line with other competitive offers from other automotive manufacturers and ensures that potential problems are quickly rectified during the vehicle's lifetime without any hassle or extra cost.
It's also important to note that this battery warranty covers all aspects related to the motor, battery, and charging capabilities, making sure customers can trust in their new electric vehicle for years to come.
Having a good quality battery warranty increases confidence in buying an electric vehicle as assurances are provided when taking out a loan for these vehicles which can have high initial costs. Additionally, you can also read the 2024 KIA Niro EV Review.
Tata Nexon EV Facelift Review: Engine Options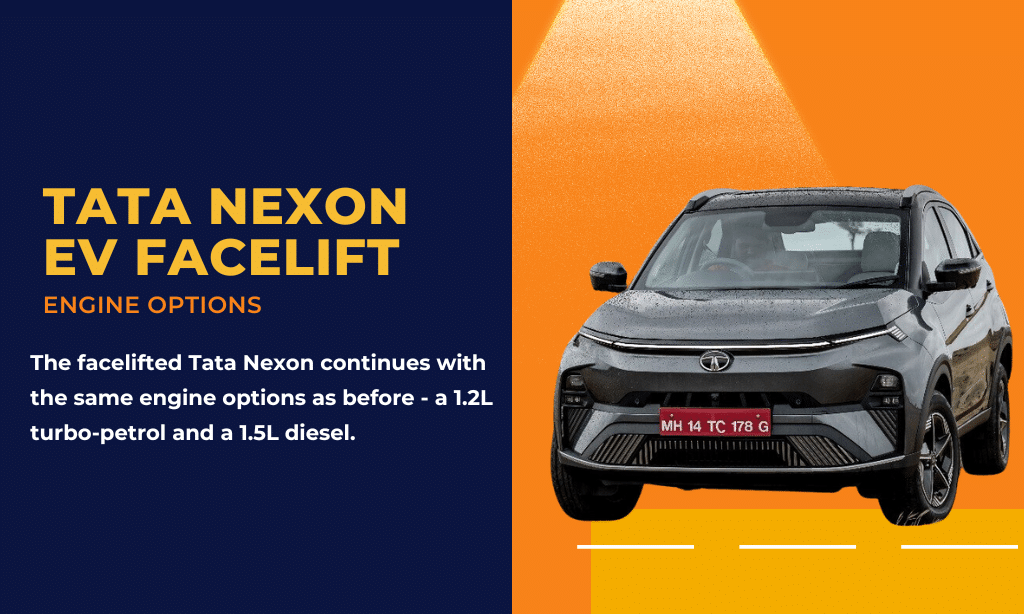 The facelifted Tata Nexon continues with the same engine options as before – a 1.2L turbo-petrol and a 1.5L diesel.
Turbo-Petrol Engine and Transmissions
The 1.2 liter turbocharged petrol engine in the facelifted Tata Nexon generates a maximum power output of 120 horsepower. The peak torque produced is 170 Nm. This modern turbo-petrol motor delivers strong performance while also being fuel efficient.
The engine comes mated to multiple transmission options that give buyers the flexibility to choose based on their requirements. There is a 5-speed manual gearbox for those who want a basic variant focused on affordability and efficiency. For enthusiasts, a 6-speed manual gearbox is available that allows faster shifting and keeps the engine in its power band.
Automatic transmission options are also offered for convenience. There is a 6-speed AMT or automated manual transmission that has automatic gear shifts but lower mechanical losses compared to a traditional auto. For even smoother gear changes, Tata provides a 7-speed dual-clutch automatic transmission in the top variants. This advanced gearbox gives the convenience of an auto with the sporty feel of dual-clutch tech. The dual-clutch auto also gets paddle shifters for manual gear control when desired.
So, from basic manual to advanced auto, the turbo-petrol engine paired with different transmissions provides something for everyone. There is an option for efficiency, convenience, or control depending on your priorities. This powertrain flexibility adds to the wide appeal of the Nexon. If you want you can also read- Polestar 2 Review: Range, Charging Speed and Other Key Features [Expert Insights]
Diesel Engine and Transmissions
The 1.5-liter diesel engine offered in the facelifted Tata Nexon puts out 115hp of maximum power and a strong torque output of 260Nm. This makes the diesel motor well-suited for driving in crowded cities or highway cruising.
Like the petrol engine, the diesel also comes mated to different transmission options. There is a 6-speed manual gearbox for a more engaging driving experience and higher fuel efficiency. For hassle-free driving, a 6-speed AMT or automated manual transmission is available. The AMT provides automatic gear shifts without the losses of a torque converter auto.
So the turbo-petrol and diesel engines carry over unchanged from the pre-facelift Nexon. Their performance specifications and characteristics remain familiar. What buyers also get is the same set of manual and AMT automatic gearboxes tailored to the engines.
This combination of powertrains and transmissions makes the Nexon versatile for different driving needs. The petrol caters to city use and spirited driving while the diesel focuses on drivability and efficiency. Both come with the option of manual for control or AMT auto for convenience.
Overall, Tata has retained the core strengths of the powertrain options in the Nexon facelift. There is a good balance of power and efficiency in petrol and diesel models aided by the range of gearbox choices. 
Exterior Design of Tata Nexon EV Facelift
The Tata Nexon EV Facelift features a sleek and modern design with LED lighting, as well as upgraded color options.
Sleek and Modern Design
The Tata Nexon EV facelift has been designed to look sleek and modern, with an upgraded body shape that gives the car a distinctively sporty silhouette. Adding LED lighting as standard makes the exterior more dynamic, too.
Those looking to personalize their cars can also access new color options with eye-catching accents. Further unique design elements like a standalone grille set this car apart from its competitors, making it instantly recognizable on roads and highways. 
You May Find Interest: BMW iX Review: Is It the Game-Changer in Electric Mobility
LED Lighting
The Tata Nexon EV Facelift boasts elegant and modern LED lighting. Its headlamps are integrated with a single LED DRL bar to carry out the signature look of the car, making it incredibly stylish.
The trapezoidal housings open up to reveal split LED lights that add depth and enhance nighttime visibility for both your safety and well of other drivers on the road. What's more, LED power is three times more efficient than regular halogen lamps when it comes to energy efficiency, which can help you save money in running costs, too! Not all new and improved taillights give your Tata Nexon EV an edge over its competitors while signaling your presence better.
All this gives the exterior design of the facelift a great look that leaves an impression everywhere you go!
New Color Options
The 2023 Tata Nexon EV Facelift has six different color options, giving buyers a wide range of choices. The exterior design has been updated, removing the blue accents from the pre-facelift model and adding some more modern touches to it.
The new Tata Nexon EV Facelift comes in three shades of white: Pure Silver White Quartz, Pearl Snow White Dazzle, and Polar White Shell. It also comes in two shades of black: Avalanche Black Fotina SQRD and Mesh Matte Black Refresh. One color that makes the new Nexon EV Facelift stand out is the eye-catching Venetian Red Comet Glow.
Each option is specially designed for maximum visibility on the roads at night but also provides bold contrasts during daylight conditions so that your car catches everyone's attention no matter where you go. In addition, you can also read an article on- Hyundai Kona Electric Review: Pricing, Performance, and Latest Updates in 2023
2023 Tata Nexon and Nexon EV Facelift Launched
Tata Motors today launched the updated 2023 versions of the Nexon and Nexon EV in India. The Nexon petrol and diesel models now start at Rs 8.10 lakh ex-showroom. The Nexon EV electric model is priced from Rs 14.74 lakh ex-showroom.
Bookings for the facelifted Nexon range opened on September 4 at a token amount of Rs 21,000.
The new Nexon variants get styling updates on the exterior and interior and additional features. The exterior design is now sleeker and more modern. The interior has been upgraded with new materials and tech.
Some key features added are a 10.25-inch touchscreen, wireless phone charging, air purifier, new alloy wheels, and design tweaks inside and out.
The launch strengthens the Nexon lineup which is Tata Motors' best-selling SUV in India. The facelift gives it a fresh appeal while building on the nameplate's popularity.
Interior Design of Tata Nexon EV Facelift
[Video Credits @carandbike]
The Nexon EV has an upgraded interior, featuring top-of-the-line materials and finishes to ensure superior styling and comfort. It is also equipped with a modern touchscreen infotainment system and ample passenger seating options.
Upgraded Materials and Finishes
The Tata Nexon EV Facelift now features an array of upgraded materials and finishes in its interior design. Blue ambient lighting has been added for a calming atmosphere, while soft-touch materials adorn the dashboard, creating a more welcoming look and feel.
The car's revamped center console provides access to easy controls, along with plentiful USB ports so you can stay connected on the go. Seats have also been treated with luxurious upholstery that looks good and feels comforting.
As such refinements continue to be made, it is clear that Tata Motors sought to create a more premium experience for drivers and passengers. With these subtle touches and upgrades incorporated into the car's design, it helps add value by making any drive more comfortable and enjoyable overall! Additionally, you can also read about- Mercedes-Benz EQS SUV Review: Features, Range and Performance Details
New Touch-Screen Infotainment System
The Tata Nexon EV Facelift is fitted with a brand-new 12.3-inch touchscreen infotainment system, offering an updated user interface to make controlling your in-car entertainment and navigation easier and more interactive than ever before.
The 7-inch instrument cluster provides essential information on the go including speedometer readings and driver alerts. At the same time, this larger size display offers greater clarity for multiple applications as well as improved multi-tasking capabilities when it comes to managing audio, video, messaging, maps, or other multimedia applications available from the central console of the car.
This handy touchscreen display not only makes navigation significantly easier but also adds plenty of benefits that increase passenger safety while driving – such as providing warnings for lane departure events through its integrated sensors or intelligent all-round visibility thanks to its powerful rear view camera capabilities.
Comfortable Seating Options
The Tata Nexon EV Facelift is equipped with comfortable seating options for passengers. The three rear seats are designed to provide optimum comfort, making it perfect for taking long trips or simply enjoying the ride.
The contouring of the seatbacks optimizes the support and cushions in each reclining seat are soft but firm, providing a great combination of ease and support even during cornering or technical driving conditions.
Not only that, these chairs come with premium materials, including infusion leather-fabric combinations with sufficient lumbar support, allowing their occupants to get in their daily drives without any discomfort whatsoever.
Features of Tata Nexon EV Facelift
Dive into the luxurious features of the Nexon EV Facelift, from ventilated seat to regenerative braking! Stay tuned as we explore more aspects of this all-new electric SUV.
Ventilated Seats
The 2023 Tata Nexon EV facelift offers a truly luxurious driving experience, with ventilated seats for enhanced comfort. These sophisticated front seats feature better support for the back and thighs, as well as improved padding which strikes a balance between ultimate comfort and stability.
This makes each journey in the Nexon EV soothingly comfortable no matter how far you're going! On top of this, these advanced features keep occupants cool in hot weather conditions thanks to their air-circulating technology.
All passengers can enjoy the pleasant seat cushions on those long trips; making it easier to arrive rested at your destination! 
You May Find Interest: Nissan Leaf Review: MPGe Efficiency, Performance and More [Detailed Guide]
Regenerative Braking
The Tata Nexon EV Facelift utilizes a regenerative braking system that works by converting kinetic energy generated from slowing down the vehicle into electricity. This stored power can then be used to recharge the car's battery.
The regenerative braking technology helps improve the fuel efficiency and range of the Nexon EV, providing a more sustainable driving experience with less waste of energy and resources.
It also offers improved flexibility when accelerating or decelerating the vehicle as it allows drivers to apply slight pressure on the brake pedal while retaining control over their speed since some of the lost energy is recaptured through regeneration rather than full braking application.
While this can help reduce exhaustion while driving for extended periods, there is sometimes a mild resistance between traditional brakes and regenations making hard breaking tricky unless in higher mode 2 settings of regenation where all potential energy is recaptured at once.
V2L and V2V Capabilities
The Tata Nexon EV facelift is a true game-changer as it comes enabled with Vehicle and Vehicle charging capabilities. V2L stands for vehicle to load, which makes the Nexon EV capable of powering external devices or electrical equipment.
You can charge your laptop, mobile phone, or other electronic items using your car's battery! Conversely, V2V stands for vehicle-to-vehicle charging; the Nexon EV can charge any other electric vehicle through its revamped wireless charging system in just a few minutes.
This ground-breaking technology allows drivers more freedom and flexibility as they won't have to worry about finding a power source due to their regen braking system which captures kinetic energy from forward momentum while driving, allowing it to be reused later in order thus increasing range significantly.
Ride and Handling of Tata Nexon EV Facelift
Drive the Nexon EV and be impressed with its smooth and refined driving experience, improved suspension for better comfort, and responsive steering.
Smooth and Refined Driving Experience
The 2023 Tata Nexon EV Facelift offers drivers the most sophisticated and comfortable ride. The improved torque curve now delivers stronger acceleration, allowing you to take off from a stop with ease.
Additionally, the certified suspension has been upgraded to provide an even smoother ride and better overall handling capabilities for enhanced driving control. These combined features make the Nexon EV Facelift stand out in its class – giving it unparalleled performance and an incredibly enjoyable car to drive.
Its refined performance is evident when compared to its predecessor; you won't feel any bumps or harshness on a typical city road – enjoying instead only smooth sailing throughout your journey.
Improved Suspension for Better Comfort
The Tata Nexon EV Facelift is designed with improved suspension for enhanced ride comfort during a journey. The suspension system dampens the shocks from uneven roads, resulting in smoother driving that reduces vibrations and provides better support to passengers.
The firmer suspension also ensures improved road contact which improves handling of the car by providing greater stability while cornering at high speeds. With reduced noise and enhanced control, drivers can enjoy a more relaxed and stress-free traveling experience even on uneven terrain or long drives.
Furthermore, the comfortable seating options combined with an improved suspension further provide great passenger comfort for both short journeys as well as longer trips over rough surfaces.
Responsive Steering
Thanks to its responsive steering, the Tata Nexon EV Facelift delivers an incredibly precise driving experience. The lightweight and compact dimensions of the car provide a tight turning radius that makes even maneuvering in congested traffic much more enjoyable.
The redesigned steering wheel also mimics a gaming console design for better control, providing smooth and varied feedback when cornering on different surfaces. This allows you to feel connected with the road at all times, ensuring confident navigation while feeling secure behind the wheel – especially for those tough highways or cross-country drives! Additionally, you can also read about- Top Automobile Companies in World By Sales [Top 20 List in 2023]
Long-Term Review: Tata Nexon EV Max
Get to know more about the real-world performance of the Tata Nexon EV Facelift by going through user reviews and experiences.
User Reviews and Experiences
The Tata Nexon EV is praised by many users for its impressive performance and range. Users report that they can easily drive the vehicle 325 kilometers on a single charge, depending on their driving conditions.
Comfort areas have also been highlighted in reviews with users noting that the cabin is quiet and comfortable for even long drives. Additionally, plenty of features like ventilated seats add to the comfort of passengers during hot summers or cold winters.
Many drivers are thrilled with the fact that they barely ever need to go to petrol stations thanks to charging facilities available at home, as well as in public places such as shopping malls and cafes. Charging times are also fairly short which adds convenience when running errands through different parts of town or taking medium-distance trips.
Most user reviews note positively towards innovative safety features offered in the Tata Nexon EV Facelift 2023 model such as Adaptive Cruise Control, Electronic Stability Program, and Blind-Spot Monitoring System (BSM). These technologies help ensure extra security both while driving within city limits or on highways alike.
Performance Feedback
My experience with the Tata Nexon EV Facelift has been positive, offering a good combination of power and range. The improved motor delivers enhanced performance across all driving conditions, while the higher capacity battery offers additional range compared to the previous model.
While no specific torque details have been released yet, I found that 145hp output is more than enough for comfortable highway drives and tackling everyday traffic in urban areas. Based on user reviews and feedback from my peers who own this facelifted model, most people are happy with its overall performance – including smooth regeneration during braking and quality build materials.
There's also a consensus among owners regarding how fast it can charge up which should appeal to those planning long-distance trips regularly. Overall, customers appear very satisfied with their purchase.
Tata Nexon EV vs Other Compact SUV Cars
Comparing the features and capabilities of this electric SUV with other vehicles reveals why the Nexon EV is one of a kind.
Comparison of Features and Capabilities
Regarding features and capabilities, the Tata Nexon EV Facelift is a clear winner. It offers a wide range of advanced safety systems like hill descent and ascent control, auto vehicle hold, and TPMS, as well as a plethora of convenience features such as ventilated front seats, and a regenerative braking system for better energy management among others.
All these make the Nexon EV facelift an attractive proposition in its price bracket compared to other competitors such as the Hyundai Kona EV or Mahindra XUV400 which lack some of the many empowering technologies that come with this electric car.
Furthermore, with even more upcoming updates planned for 2023 including wireless charging capabilities & enhanced performance specs -prospective buyers are sure to have an excellent value-for-money experience from their investment in this electric SUV from Tata Motors!
Why the Nexon EV Stands Out
The Tata Nexon EV is one of the most popular electric cars in India at present. This compact SUV stands out for its sleek and modern design, LED lighting, new color options, and upgraded materials and finishes on the interior.
It also has unique features like ventilated seats, regenerative braking, V2L capabilities, and superior performance to regular petrol or diesel cars due to its Gen 2 electric motor which is more powerful yet 20 kg lighter than the previous unit.
Additionally, the Nexon EV facelift has competitive pricing starting from Rs 14.74 lakh. This makes it an affordable electric SUV option. It also offers good driving range thanks to fast charging capabilities. The battery pack has an extended warranty coverage of 8 years or 1.60 lac km, whichever is earlier.
This extensive battery warranty along with the value pricing further improves the overall value-for-money proposition of the Nexon EV. The combination of affordable pricing, good range, fast charging, and a robust battery warranty helps the Nexon EV facelift complement the needs of electric vehicle buyers.
News and Updates on Tata Nexon EV 2023
Keep up to date with the latest developments, innovations, and upcoming releases in the Tata Nexon EV's 2023 edition.
Latest Developments and Innovations
The 2023 Tata Nexon EV facelift has improved motors and battery capacity, offering up to 30% better performance.
An upgraded liquid cooling system ensures stable and reliable power output with fewer overloading or overheating issues.
Features like Ventilated Seats, Regenerative Braking System, plus Vehicle-to-Load (V2L) and Vehicle-to-Vehicle (V2V) capabilities all come as standard in the newest model.
Thanks to its robust suspension setup, the Tata Nexon EV offers smooth handling along with an enhanced comfort level throughout every ride – perfect for everyday commuting needs or long road trips alike.
Frequently Asked Questions (FAQs)
Next, we will cover some of the questions often asked about Tata Nexon EV Facelift.
1. What is the Tata Nexon EV Facelift?
The Tata Nexon EV Facelift is a facelifted version of the electric vehicle from Indian automobile manufacturer, Tata Motors, which features several updates to exterior and interior design as well as a powertrain and suspension system.
2. What are the key design changes in the Tata Nexon EV facelift?
Some key design changes in the Tata Nexon EV facelift include a sleeker and more modern exterior body shape, new LED lighting elements like the integrated DRL bar in the headlamps, and refreshed color options like Venetian Red Comet Glow. The standalone grille is also a unique new design feature.
3. Has the Nexon EV facelift introduced any enhancements in its electric powertrain?
No, the electric powertrain of the Nexon EV facelift remains the same as before. It delivers 129hp power and 215Nm torque, with 30.2kWh and 40.5kWh battery pack options. The range is also unchanged at 325 kilometers for the smaller battery and 453km for the larger pack.
4. Are there new technological features or upgrades in the facelifted Tata Nexon EV?
Yes, the Nexon EV facelift comes with some new tech and feature upgrades like a larger 10.25-inch touchscreen infotainment system, wireless phone charging, air purifier, smartwatch connectivity, and iRA-connected car technology with over 35 features.