2024 KIA Niro EV Review: The Electric SUV That Will Change the Way You Drive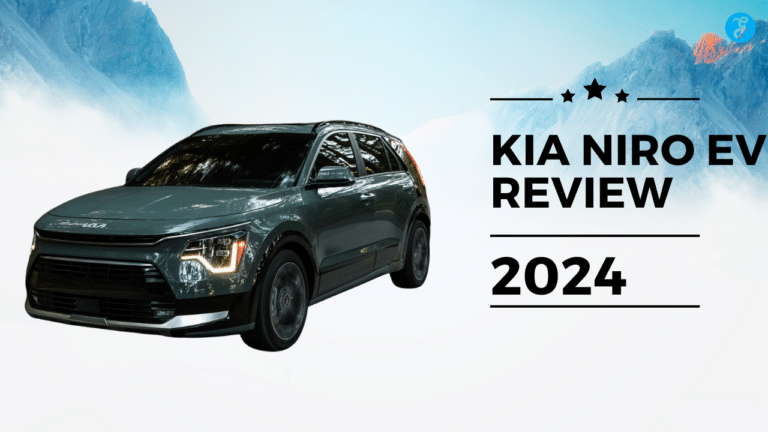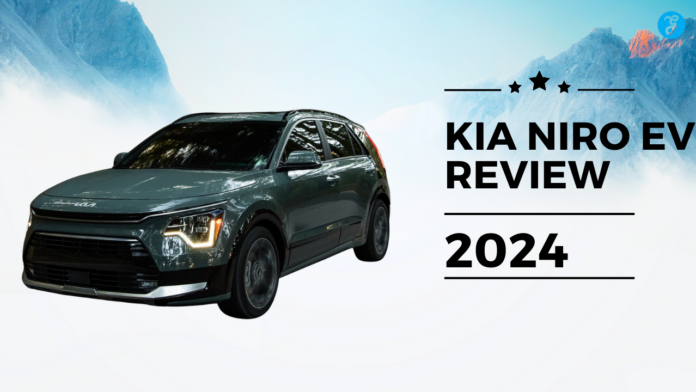 The redesigned 2024 Kia Niro EV is an affordable, efficient electric SUV with great features. This review provides detailed info to help you decide if it fits your needs. Kia packed the new Niro EV with the latest tech and ample range. It offers reliability and value in an exciting electric vehicle. We cover the key details on performance, battery, features, and more in this comprehensive 2024 KIA Niro EV review.
This blog post dives into the latest features of this model year, from pricing to range & performance ratings – discover why many consumers have chosen the newest KIA Nrio as their preferred choice in EVs!
Get ready for an electrifying experience: let's explore what makes the 2024 KIA Nrio review so remarkable!
Content Highlights
The 2024 Kia Niro EV has a hybrid powertrain combining an electric motor and six-speed dual-clutch transmission, with 201 horsepower for acceleration and ample torque.
The 2024 Kia Niro EV proves to be an economical choice in the compact electric vehicle market due to its starting price of just $28,165 as well as its best-in-class fuel efficiency ratings.
With its all-new features, such as a wireless charging pad, remote start system, auto-dimming rearview mirror with HomeLink® compatibility, and sound-deadening measures, the driving experience of the 2024 Kia Niro EV is bound to be smoother and quieter than ever before!
It also offers impressive range capabilities with an estimated 253 miles of total range from its battery plus fast charging capabilities allowing for fewer trips to the gas station.
Overview of 2024 Kia Niro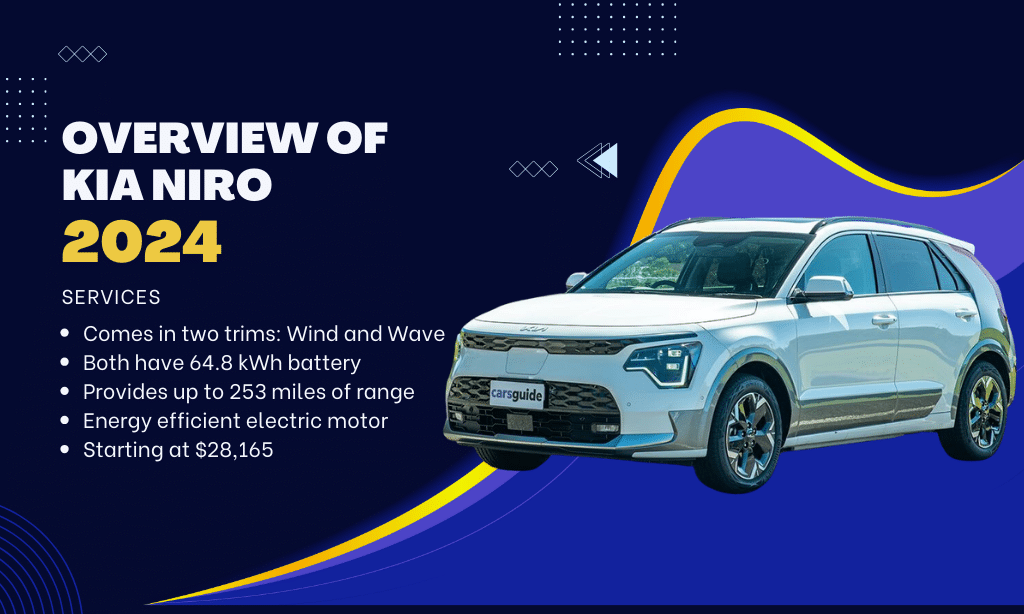 The 2024 Kia Niro EV comes in two trims, the Wind and the Wave. Both models include a 64.8 kWh battery that provides up to 253 miles of range, as well as an energy-efficient electric motor.
Pricing
The Kia Niro is an ideal choice for EV buyers looking for great value. The base price of the 2024 Kia Niro Hybrid starts at just $28,165, while its as-tested price is a modest $32,685.
If you're looking to go electric, then there are two EV models offered: the Kia Niro EV Wind and Wave starting from $39,600 and $44,600, respectively. The top-end model is the KIA NIRO EV which comes with a more premium trim package and carries a base price of $40,925.
When compared to other EVs in the market, like the Tesla Model 3, BMW i3, or Nissan Leaf Plus, you get more features for less money when choosing the 2021 Kia Niro. Not only does it offer great value, but it also offers impressive range capabilities with its efficient battery powertrain system as well as extensive safety suites that make driving enjoyable and secure no matter where your journey takes you.
Where This Vehicle Rank Compared to Similar Models
The 2024 Kia Niro EV proves to be a strong contender in the compact electric vehicle market. When compared to other similar models, it outshines many in terms of efficiency, affordability, and stylish appeal.
Models
Pricing
Fuel Efficiency
2024 Kia Niro EV
$28,165 for hybrid, 
Up to 53 mpg city and 54 mpg highway
2024 Nissan Leaf
Starting at $28,140
Electricity 111 combined city/highway MPGe 123 city 99 highway 30 kWh/100 miles
2024 Chevrolet Bolt EV
Starting at $30,000
A combined EPA rating of 120 MPGe
2024 Hyundai Kona Electric
Starting at $35,000

Combined/City/Highway: 113–122/126–136/101–108, MPGe
Range: 197–260 mi
With the 2024 Kia Niro EV's city-friendly size, affordable starting price, and best-in-class fuel efficiency, it holds a solid position among its peers. It's indeed a compelling choice for those looking for an eco-friendly vehicle that doesn't compromise on style and performance.
What's New for 2024?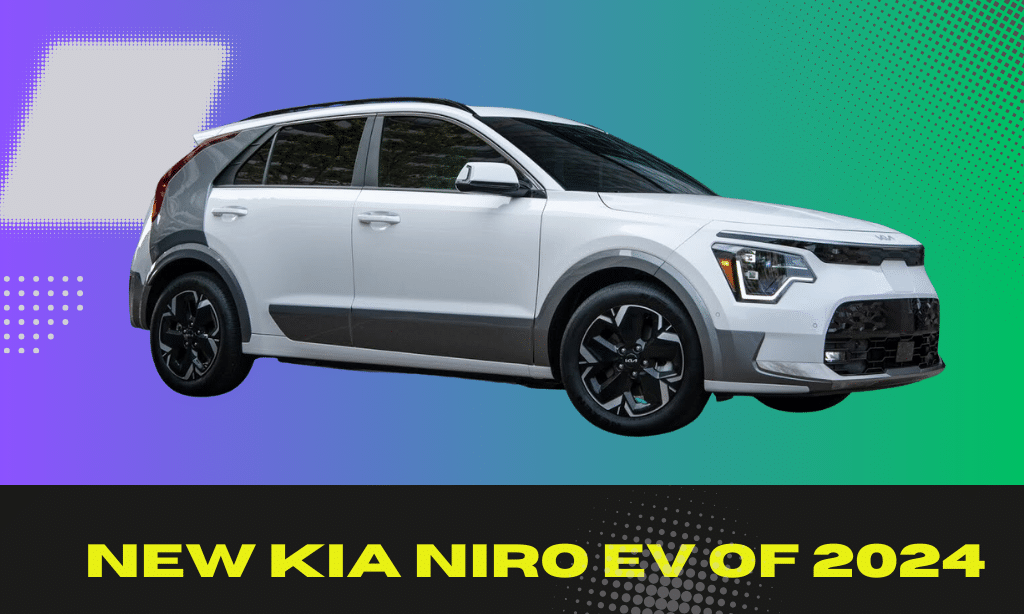 The 2024 Kia Niro EV has been redesigned with new features, including a higher-range battery option, improved suspension for better handling, and upgraded interior design elements for heightened luxury.
Changes and Updates for the New Model Year
The updates and changes for the 2024 Kia Niro EV are minimal compared to the fully redesigned 2023 model. The new model-year provides some added equipment for both the interior and exterior, including a power sunroof, wireless charging pad, remote start system, auto-dimming rearview mirror with HomeLink® compatibility, as well as an updated range of 17-inch alloy wheels with styling improvements.
While no significant modifications were made to its driving capabilities or powertrain components this year, there have been subtle enhancements that should make everyday rides more comfortable and enjoyable for drivers.
Increased insulation between interior panels reduces noise from outside sources, while new sound-deadening measures ensure a quieter cabin than before. The efficiency ratings remain unchanged at 129 MPGe combined, but improved regenerative braking technology means fewer trips to your gas station regardless. 
Read Also: 2024 KIA Carens Review.
Engine, Transmission, and Performance
The KIA Niro EV packs a powerful Hybrid powertrain and class-leading Fuel efficiency ratings for unmatched performance. Explore more to learn about this fuel-efficient beast's great features!
Hybrid Powertrain
The 2024 Kia Niro EV is equipped with a hybrid powertrain featuring an electric motor paired with a six-speed dual-clutch transmission. This innovative configuration combines the best of both worlds by providing a high-octane performance comparable to gasoline engines while retaining maximum fuel efficiency and range.
The Niro's hybrid powertrain generates 201 horsepower for acceleration and provides ample torque for towing or tackling rugged terrain. Additionally, It offers all drivers excellent range options as well as upcoming wireless charging capabilities.
From its groundbreaking design principles to improved ergonomics, the hybrid powertrain in the Niro marks leaps forward in vehicle engineering that will redefine what is possible from even eco-friendly models.
Fuel Efficiency Ratings
The fuel efficiency of the 2024 KIA Niro EV is quite impressive, standing out even amongst its rivals in the hybrid SUV category. The model, with its hybrid powertrain, offers an excellent balance of performance and fuel economy.
The Niro's fuel efficiency stems from its parallel hybrid system, combining a 1.6L engine with an electric motor. This sophisticated system makes the 2024 Niro an incredibly high-performing and fuel-efficient car. Let's take a closer look at its EPA ratings:
Please note that the MPG figures for Competitors A, B, and C will be updated as they are officially released by the manufacturers. As of now, it can be seen that the 2024 KIA Niro EV outperforms most hybrid SUVs on the market, making it a highly compelling choice for drivers who value fuel economy.
2024 KIA Niro EV Review: Range, Charging, and Battery Life
Discover the charging capabilities and battery range of the Kia Niro EV and uncover how these features help to make your journey effortless. Read more to find out!
Details About the Vehicle's Battery Range and Charging Capabilities
The 2024 Kia Niro EV is notable for having an estimated 253 miles of total range from its battery, a 14-mile increase on its predecessor. This makes it one of the most efficient electric vehicles around and perfect for urban drivers who need to worry less about charging.
Interior, Comfort, and Cargo
The interior of the Niro offers a modern look with plenty of features to keep you comfortable and entertained. From ample storage options to great seating comfort, this vehicle will help make any journey more enjoyable.
Design and Features of the Niro's Interior
The 2024 Kia Niro has a redesigned interior compared to its predecessor, featuring angled surfaces that blend into the cabin's modern design. The open front console makes use of the rotary shifter dial to optimize cabin space while still keeping all controls easy to find and access.
As for passengers, there is plenty of legroom and headroom for tall occupants as well as reclining rear seats and adjustable armrests, which add a touch of comfort. To make the Niro more eco-friendly, recycled materials and natural fibers have been used in its interior construction.
Much appreciated by families are the extra spaces available after seating five passengers – 22.8 cubic feet of cargo space behind the rear seats, along with two glove boxes, can transport grocery bags or weekend luggage seamlessly.
Space and Storage Options for Passengers and Cargo
The 2024 Kia Niro EV boasts a spacious interior, with a cargo area that measures 22.8 cubic feet behind the rear seats to provide plenty of room for luggage and other items. A great feature of this vehicle is its 60/40 split-folding design of the rear seats, which allows you to have a combination of passengers and also get additional space when needed.
This flexibility is perfect for long trips that require extra equipment or supplies. To ensure maximum comfort while driving, all five passengers are provided more than enough headroom and legroom in both rows of seating.
All these features make the Niro EV an incredibly suitable option, whether for utility use or leisure purposes.
Infotainment and Connectivity
the Niro EV features advanced technologies, such as its standard 8-inch touchscreen interface, which provides easy access to Apple CarPlay and Android Auto functionality. The vehicle also has available voice command technology for effortless hands-free operation.
Technology Features Such as Smartphone Integration
The 2024 Kia Niro EV features wireless Apple CarPlay and Android Auto smartphone integration, allowing drivers to connect their phones to the infotainment system in a seamless manner.
With this, you can access all your favorite apps at the click of a button on the 10.3-inch touchscreen that serves as the hub for all your tech needs while driving. Additionally, you get a wireless phone charger adorning the vehicle so that battery life won't be an issue no matter how long your journey is.
The intuitive user interface of this feature eases some stress off every trip by avoiding any cable entanglements or accidental disconnects when using devices during drives – never miss out on important calls or notifications! Kia really hit it out of the park here with innovation and comfort kept firmly in mind; you can't help but sing its praises!
Available Connectivity Options
The 2024 Kia Niro EV comes standard with an 8.0-inch touchscreen infotainment system, and a larger 10.3-inch display is also available as an upgrade. The central hub of the Niro EV's infotainment system features wireless Apple Carplay and Android connectivity for easy integration with your favorite smartphone apps.
Additionally, Bluetooth technology provides hands-free calling and music streaming while keeping you connected on the go. Other popular connectivity options include USB ports to keep portable devices charged while driving, high-speed Wi-Fi for improved online access, HD Radio for crystal clear sound quality over AM/FM stations from around the world, satellite radio-enabled navigation to get you where you need to be quickly and easily, as well as real-time traffic updates so that navigating busy roadways during rush hour can become less stressful experiences in the Niro EV!
Safety and Driver-Assistance Features
The Kia Niro EV offers an array of standard and available safety features, including lane-keeping assist, forward collision-avoidance assist with pedestrian detection, driver attention warning, as well as a suite of airbags.
It also earned five stars from the National Highway Traffic Safety Administration (NHTSA) in overall crashworthiness testing.
Standard and Available Safety Features
Forward – collision warning
Automated emergency braking
Lane – departure warning
Lane-keeping
Forward collision warning with pedestrian detection
Blind-spot monitoring with rear-cross traffic alert
Further options include rear parking sensors, adaptive cruise control, and a driver attention monitor.
Ratings From NHTSA
One of the key considerations when choosing a vehicle is safety, and the 2024 Kia Niro EV has a standout safety rating from the National Highway Traffic Safety Administration (NHTSA). Consumers use the NHTSA's 5-Star Safety Ratings to evaluate and compare the safety of various vehicles, with more stars indicating a safer car.
The 2024 Kia Niro SUV FWD has impressive star ratings for both driver and passenger safety. Here's the breakdown:
These ratings should give prospective buyers confidence in the safety of the 2024 Kia Niro EV, as they highlight the vehicle's ability to protect both the driver and passengers in the event of a collision. It's important to note that these high safety ratings are another feature that sets the 2024 Kia Niro EV apart from other similar models.
Warranty and Maintenance Coverage
Kia offers an unlimited mileage warranty that is good for up to 100,000 miles and 10 years of coverage, as well as a 5-year/60,000-mile bumper-to-bumper coverage plan.
Details About Kia's Warranty and Maintenance Plans
As a Kia owner, you're covered by one of the industry's best warranty programs with 10-year/100,000-mile limited basic, limited powertrain, and limited anti-corrosion warranties. The powertrain warranty offers coverage for up to 10 years or 100,000 miles, while the basic warranty lasts for 5 years or up to 60,000 miles.
This comprehensive plan can give you peace of mind that your vehicle is protected against defects and repairs down the road. Unfortunately, Kia's warranty does not cover routine maintenance items such as oil changes and tire rotations; however it provides extensive coverage if any major mechanical components fail during its term period.
With impressive customer feedback praising their reliable vehicles backed by an exceptional warranty program – many customers trust in the quality promised by Kia when investing in a new vehicle.
Frequently Asked Questions (FAQs)
Let's find out about some questions that people often ask about the 2024 Kia Niro EV.
1. What is the KIA Niro EV?
The 2024 Kia Niro EV has two versions: the Wind and the Wave. Both have a 64.8 kWh battery that gives you up to 253 miles of driving on one charge. They also use a motor that saves a lot of energy.
2. What are the features of the new 2024 KIA Niro EV?
The new 2024 KIA Niro EV has added more advanced technologies such as improved regenerative braking, improved interior design, solar roof cells, and enhanced auto-off headlights alongside Android Auto and Apple Carplay capability.
3. How is the performance of the 2024 KIA Niro EV?
This car performs well with a smooth and quiet electric engine, making it great for city and highway driving.
4. What are the key features of the 2024 KIA Niro EV?
It includes advanced tech, safety features, a spacious interior, and a user-friendly infotainment system.