Mercedes-Benz EQS SUV Review: Features, Range and Performance Details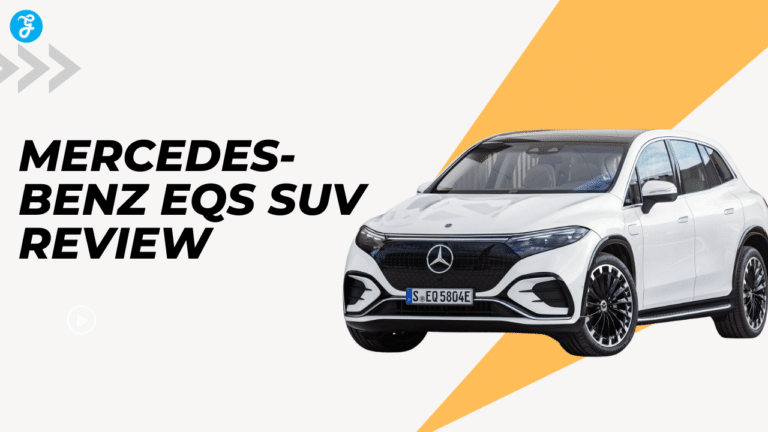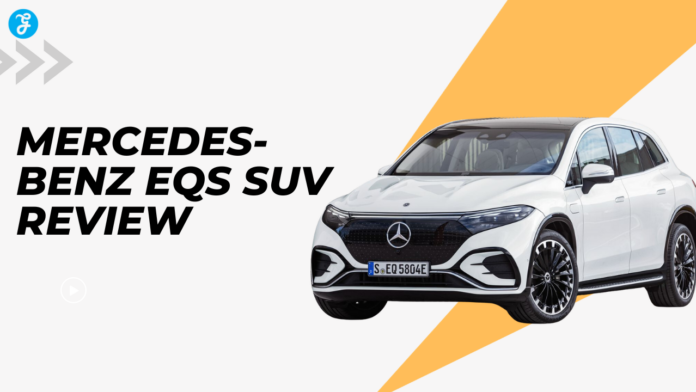 Are you in search of the perfect luxury electric SUV for your family? Have no worries as a reliable option is here with the Mercedes-Benz EQS SUV review. It's considered one of the best electric SUVs out there, offering comfort, performance, and safety features. We understand how tough it can be to make an informed decision when it comes to luxury vehicles; thankfully we have done our research and found that this model has all the latest features for 2023.
In this blog post, we will give you all the essential information about the new Mercedes-Benz EQS SUV that will help you decide if it's right for your needs.
Whether you're looking at engine performance or feathery interior details, we cover every aspect so that you can get a full picture of what it offers without any doubts.
Get ready to learn more details about the dreamiest ride on wheels!
Content Highlights
The Mercedes-Benz EQS SUV combines style, performance, and cutting-edge technology for a luxury electric SUV experience.
The base EQS450+ model starts around $105,550 and has good range and power. It's a good option for families focused on comfort and technology.
It is powered by two powertrain options offering a higher range per charge – the single motor option reaching 305 miles with rear-wheel drive and 285 miles with all-wheel variant.
Inside it boasts luxurious features such as leather seats with heating & ventilation plus massaging features along with 64 color ambient lighting providing optimum comfort – further aided by AIR QUALITY HEPA filter which filters out 99 percent of pollens beneficial to those having allergies!
Mercedes-Benz EQS SUV Review: New Features in 2023?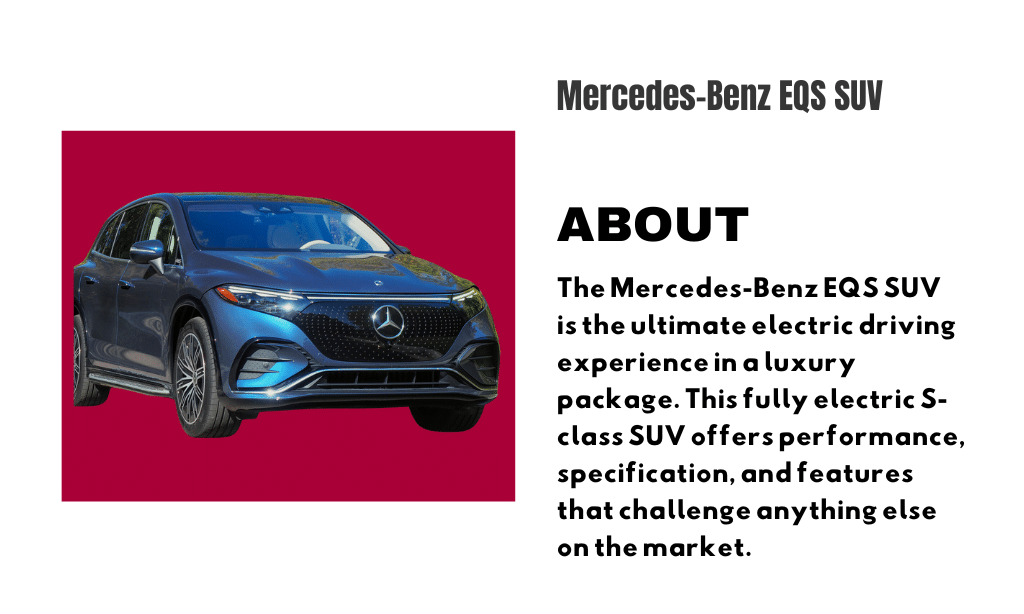 Discover the exciting features and updates available for the 2023 Mercedes-Benz EQS SUV model – read on to find out more!
Updates and Changes for the 2023 Model
For the 2023 model year, Mercedes-Benz has made several changes and updates to the EQS SUV. These include revised styling elements such as a redesigned grille with more chrome accents, new exterior color options, 19″ alloy wheels for the 450 4MATIC trim level, and 21" alloy wheels for the 580 model.
Overview of the Mercedes-Benz EQS SUV
The Mercedes-Benz EQS SUV is the ultimate electric driving experience in a luxury package. This fully electric S-class SUV offers performance, specification, and features that challenge anything else on the market.
From its opulent interior details to its cutting-edge technology inside, each detail of the EQS has been designed with style and sophistication at its heart. Its twin powertrains provide an electrifying drive with exceptional acceleration, while modern driver assistance technologies ensure comfort, safety, and convenience all along the way.
It's no surprise then that this trailblazing vehicle sets a new standard for electric SUVs in terms of both power and aesthetics with timeless elegance no less! In addition, you can also read an article on- Rivian R1S Review: Explore the Performance, Features, and Others
It's Standing in the Luxury Electric SUV Market
The Mercedes-Benz EQS SUV is set to make a strong impact in the luxury electric SUV market thanks to its combination of style, confidence, and exceptional capabilities. Its design radiates luxury with bold lines, a sporty stance, and an iconic grille that will have drivers feeling confident behind the wheel.
The interior offers luxurious features such as leather upholstery, ambient lighting, and chrome accents for sophistication. But it's not just about looks – from its advanced powertrain offering up to 536 horsepower along with whisper-quiet performance to its array of driver assistance features, including Blind Spot Assist technology. The EQS lives up to Mercedes-Benz's commitment to redefining what it means to be an SUV today.
With all this on offer plus sustainability initiatives that no other luxury vehicle manufacturer has achieved before – you can see why automotive experts are already tipping the door for more awards come 2023!
Pricing and Which One to Buy
Understand different models and their prices to ensure you get the right model that fits your needs and budget.
Different Models and Their Prices
As a prospective buyer or enthusiast, it's important to note that the Mercedes-Benz EQS SUV comes in several models, each with its unique price point. The table below provides a summary of the various models and their estimated prices:
| Model | Price |
| --- | --- |
| EQS450+ Premium | $105,550 |
| EQS450 4Matic Premium | $108,450 |
| EQS450+ Exclusive | $109,800 |
| EQS450+ Pinnacle | $111,800 |
| EQS450 4Matic Exclusive | $112,800 |
| EQS450 4Matic Pinnacle | $114,800 |
| EQS580 4Matic Premium | $127,100 |
| EQS580 4Matic Exclusive | $131,350 |
| EQS580 4Matic Pinnacle | $133,350 |
Please be aware that these are estimated prices and the final price can vary based on optional features and additional packages. Additionally, the starting price for the EQS450+ SUV is around $105,550. The Mercedes-Benz EQS SUV, holding the #3 rank in Luxury Electric SUVs by U.S. News & World Report, offers various options to meet a range of budgets while maintaining its high-end appeal. Additionally, you can also read about- Audi Q8 E-Tron Review: Range, Performance and Luxury Electrified
Which Model is the Best Value for Money
When it comes to finding the best value for money in the Mercedes-Benz EQS SUV lineup, there are a few factors to consider. The base model of the SUV is called the EQS450+, and this single-motor option features a powertrain capable of providing up to 300 kilowatts (536 horsepower) and 633 lb-ft of torque.
It also offers a great range with extended battery life, making it suitable for families who prioritize comfort, quietness, and state-of-the-art technology. Although its starting price tag may prove too expensive for some buyers, at close to $100k or more depending on where you live in North America, it still provides excellent value when compared with other luxury electric SUVs on the market today.
For those looking for an even higher level of performance from their electric vehicle without breaking the bank, there are two other models available: EQS580 4MATIC+ and EQS 580 4MATIC+ Performance Edition.
Both feature all-wheel drive capabilities that allow them to accelerate faster than most standard internal combustion engine sedans while projecting more range per charge due to increased efficiency intakes derived from twin eMotors along with braking energy regeneration which recharges batteries as needed whilst coasting or decelerating down hills/mountains.
Additionally, these versions come equipped with special amenities including heated seats & steering wheels as well as four-zone climate control allowing optimal temperatures throughout the cabin during long drives. If you want you can also read- Polestar 2 Review: Range, Charging Speed and Other Key Features [Expert Insights]
Mercedes-Benz EQS SUV Review: Engine, Performance, and Range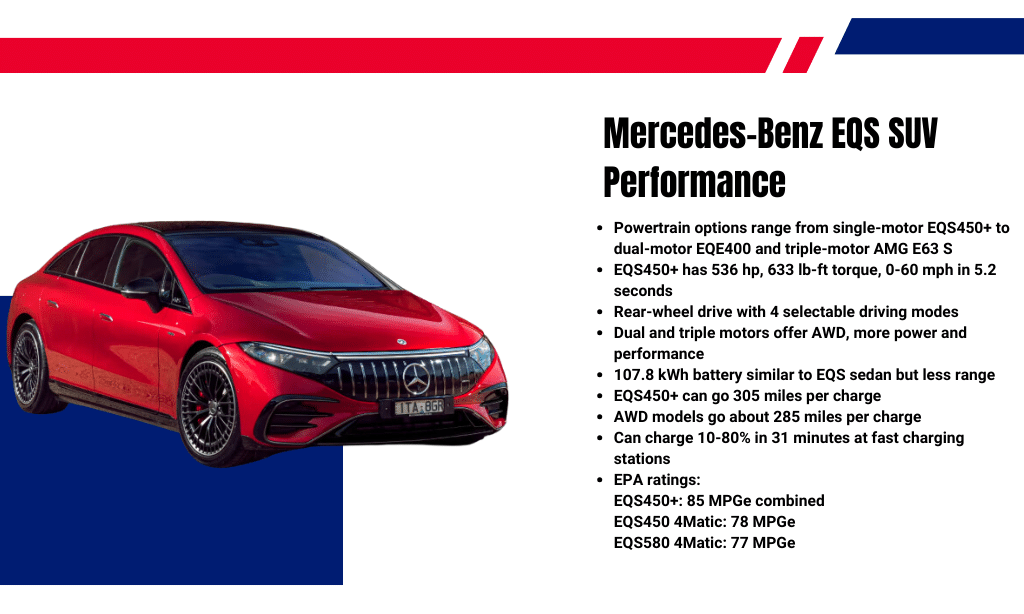 The Mercedes-Benz EQS SUV is powered by a dual electric motor drivetrain that produces over 536 HP and 633 Nm of torque, offering brisk acceleration and a high-performance driving experience.
Details on the Powertrain and Driving Experience
The 2023 Mercedes-Benz EQS SUV offers a range of powertrain options, including the base single-motor EQS450++, dual-motor EQE400, and triple-motor AMG E63 S. The base model is powered by an electric motor that produces 536 hp and 633 lb-ft of torque, allowing for a 0–60 mph time of 5.2 seconds.
It also includes rear-wheel drive with four selectable driving modes: Comfort, Eco, Sport, and Individual. For more performance, you can select the dual or triple motor variants which offer all-wheel drive capabilities as well as increased output and improved handling.
Range, Battery, and Charging Capabilities
The new Mercedes EQS SUV uses the same big 107.8-kWh battery as the EQS sedan. But the SUV doesn't go as far on a full charge as the sedan does. The basic EQS450+ model can go about 305 miles before it needs to be recharged. The all-wheel-drive EQS450 4Matic and EQS580 4Matic models can only go around 285 miles before needing a recharge.
Luckily, the EQS SUV can recharge quickly at special fast charging stations. Mercedes says the SUV's battery can go from 10% to 80% charged in just 31 minutes at these stations. In highway driving at 75 mph, the EQS450 4Matic and EQS580 4Matic we tested could drive 290 miles before needing a recharge.
EPA Electric Range Ratings and Real-World Driving Range
The 2023 EQS SUV models have different EPA fuel economy ratings depending on which version you get. The rear-wheel drive EQS450+ is rated at 85 MPGe combined city/highway driving. The all-wheel drive EQS450 4Matic version is a little less efficient, rated at 78 MPGe combined. The most powerful EQS580 4Matic model is EPA-rated at 77 MPGe combined.
We haven't had a chance to test the real-world highway fuel economy of the EQS SUV yet. When we do our 75 mph highway driving test, we'll update this information with the real-world electric driving range the SUV can deliver on a full charge.
Interior Design and Comfort
The EQS SUV offers luxurious features inside with plush amenities that include heated and ventilated seats, ambient lighting, leather upholstery, and much more.
Luxurious Features and Amenities
The Mercedes-Benz EQS SUV offers a super-luxurious interior packed with advanced features to provide the ultimate driving experience. The spacious cabin provides seating for up to seven passengers and can be further luxuriated by optional ventilated front seats, massage seats, and 4-zone climate control. For an even more inviting atmosphere, there is also a panoramic roof available.
Spaciousness and Practicality
The spacious interior of the Mercedes-Benz EQS SUV is designed with practicality and luxury. Passengers can enjoy maximum space, while ample cargo room allows for plenty of versatility when packing up for a road trip.
With seating that provides comfort even on long journeys, plus handy storage solutions such as the fold-flat seats and innovative folding center console tray, there's no shortage of thoughtful features to make life easier.
The large panoramic glass roof floods the cabin with natural light and airy views perfect proof that luxury doesn't have to mean spending less time outdoors enjoying nature. This impressive car also has several safety features built into it, providing you with peace of mind when behind the wheel or tackling any terrain. 
You May Find Interest: BMW iX Review: Is It the Game-Changer in Electric Mobility
Infotainment and Connectivity
The EQS SUV comes packed with the latest and best infotainment technology, making it easy to stay connected on the road. It also features a user-friendly interface for hassle-free operation of all its features.
Latest Technology and Features
The EQS SUV features the large, highly advanced Mercedes-Benz User Experience (MBUX) system with a 12.3" digital instrument display and 24" touchscreen infotainment display.
It boasts an optional Augmented Video for Navigation system that projects real-time video images on the head-up display to provide directional promptings to drivers.
It also offers an upscaled sound system audio experience with 7 speakers providing clear dynamic sounds of music or phone calls.
The electric power steering provides agility and feedback. It makes it easier to maneuver in tight spaces or when parking longer trailers/wagons while driving uphill or downhill speeds is aided by Hill Hold Control technology.
The car has some technologically advanced driver assist features. One is Active Distance Assist DISTRONIC. This helps keep a safe distance from other vehicles in front, based on the driver's settings. There is also keyless entry using infrared sensors. The car has connected services through Mercedes Connect. This collects data from the car like diagnostic notices. The climate control can be adjusted remotely before driving, using the Mercedes Me smartphone app.
User-Friendly Interface
The Mercedes-Benz EQS SUV offers a truly user-friendly interface for infotainment and connectivity features. Featuring the advanced MBUX infotainment system for an opulent experience, you can easily access menu items through large icons on the home screen which fills practically the entire touchscreen display.
Moreover, its voice command is quite simple and easy to use making navigation around the menus easier than ever. The visuals are sharp as well thanks to its impressive 4x4K resolution display that shows lots of details in each scene – perfect when playing music or videos As if this wasn't enough, gesture control allows users to interact with it even more intuitively without having to get your fingertips too involved either.
All this evidence makes it clear why Mercedes has been able to offer one of the most user-friendly interfaces among luxury electric SUVs these days.
Safety and Driver-Assistance Features
The EQS SUV offers advanced safety systems and driver-assistance features to help you stay safe on the road.
Advanced Safety Systems
The Mercedes-Benz EQS SUV is designed to provide drivers and passengers with the highest level of safety. It's equipped with a comprehensive set of sophisticated safety systems including adaptive cruise control, lane-keeping assistance, blind spot detection, and a patented PRE-SAFE system that anticipates collisions and activates measures to protect occupants.
These features work together to monitor your surroundings and ensure optimal safety during your journeys. With these innovative systems working in harmony you can always enjoy peace of mind when driving behind the wheel.
Additional driver assistants such as autonomous emergency braking help keep you safe while navigating traffic or difficult weather conditions by automatically applying better brakes than the human ever could – meaning you are always protected on the road ahead. In addition, you can also read an article on- Hyundai Kona Electric Review: Pricing, Performance, and Latest Updates in 2023
Driver-Assistance Features
The Mercedes-Benz EQS SUV offers a comprehensive suite of driver-assistance features designed to enhance daily commutes and weekend explorations. The advanced technology increases confidence behind the wheel while making journeys easier, smoother, more enjoyable, and safer.
This luxury electric SUV includes active safety systems such as adaptive cruise control with stop-and-go functionality, lane keep assist, intelligent speed assistance, blind spot warning with rear cross-traffic alert, and assistance for turning into a side street by providing visual warnings during maneuvers.
Additionally, the car has advanced technology to assist the driver. It can help keep a safe distance from other cars and park automatically. The car has a keyless entry and connects to the internet to send car information. Drivers can use a phone app to start the air conditioning remotely. Safety features warn if you drift lanes or detect objects ahead to prevent collisions. The car adjusts headlights at night for better visibility. In summary, the innovative features aim to make driving easier, safer, and more enjoyable.
Warranty and Maintenance Coverage
Mercedes-Benz offers customers a comprehensive warranty and maintenance package for the EQS SUV that covers parts and labor costs.
Coverage Offered by Mercedes-Benz
For any new Mercedes-Benz EQS SUV purchase, the car comes with a four-year or 50,000-mile limited warranty. This coverage includes both powertrain and general vehicle components. In addition to this warranty coverage, Mercedes-Benz also offers maintenance coverage protecting you for essential items such as brake parts and oil service as well as a prepaid plan that delivers a 100% refund upon cancellation within one year of purchasing.
The comprehensive protection offered by these plans ensures your peace of mind knowing the EQS SUV will be reliable over time. If you want you can also read- Tata Nexon EV Facelift Review: The Most Affordable Electric SUV in India
Maintenance Requirements for the EQS SUV
Unlike a traditional internal combustion engine vehicle, the Mercedes-Benz EQS SUV does not require typical routine maintenance services such as oil changes, spark plug replacements, or coolant flushes.
However, it still requires certain regular maintenance procedures that were defined in the owner's manual to ensure its optimal functionality and dependability. Aside from these procedures, Mercedes-Benz also offers four years/50,000 miles of free maintenance for this vehicle. Moreover, the battery pack of the EQS SUV is included in their warranty and maintenance coverage which is highly beneficial since replacing lithium-ion batteries can be expensive.
Although exact servicing costs for the EQS have not been confirmed at the time of review writing according to official sources – each service checkup includes detailed tests on drive systems and brake components along with an extensive software update process if available when necessary. Unscheduled repairs are even covered under one-year limited parts & labor warranties throughout North America which shows how much confidence Mercedes-Benz has in the quality of their vehicles.
All these features make owning an EQS SUV a very easy experience compared to more traditional automobiles making it a great choice for anyone who wants hassle hassle-free transportation solution without sacrificing performance or comfort levels.
Sustainability
The Mercedes-Benz EQS SUV provides an eco-friendly driving experience, reducing environmental impact with its low emissions levels and sustainability efforts.
Eco-Friendly Aspects of the EQS SUV
The upcoming Mercedes-Benz EQS SUV is designed with the environment in mind. Its electric powertrain runs on renewable energy sources, completely free from petroleum-based fuels and other harmful pollutants.
As a zero-emissions vehicle, it will produce no emissions at all while running, making it an excellent option for eco-conscious drivers. Additionally, modern battery technology allows the model to travel up to 435 miles on a single charge – enough range for many trips of any reasonable length.
Other green features include online auto recycling and an intelligent charging management system that monitors and optimizes battery usage.
Beyond its environmental impact benefits, the EQS SUV also demonstrates sustainability efforts through its construction materials. It utilizes lightweight yet durable recycled aluminum which helps reduce both fuel consumption and greenhouse gas emissions over the vehicles' lifetime use.
Environmental Impact and Sustainability Efforts
The Mercedes-Benz EQS SUV is leading the way in sustainability. From passing an environmental audit that validates its eco-friendly credentials to achieving a 50% CO₂ emissions reduction by 2030, as part of the Science Based Target Initiative approved by Mercedes-Benz itself – these figures mean that this luxury electric SUV has much to be proud of when it comes to sustainable practices.
The carmaker didn't stop there though; they also met their high expectations for safety and durability while producing the vehicle, using renewable resources and materials, and making sure manufacturing processes stayed well within any necessary regulations regarding air quality legal requirements throughout Europe.
Thanks to all these measures taken together, the combined contributions from EQS technology provide notable significant reductions in both carbon dioxide (CO2) emissions savings and total energy consumption over equivalent combustion vehicles. 
You May Find Interest: Nissan Leaf Review: MPGe Efficiency, Performance and More [Detailed Guide]
Reviews and Comparisons
Here, we compare the Mercedes-Benz EQS SUV with other popular luxury electric SUVs in the market and analyze expert reviews and ratings.
Expert Reviews and Ratings for the EQS SUV
The Mercedes-Benz EQS SUV has received wide acclaim from automotive experts, who praise the SUV's impressive performance capabilities and luxurious features. U.S News & World Report ranks the EQS #3 in its list of Best Luxury Electric SUVs for 2023.
The powerful powertrain delivers brisk acceleration, smooth ride quality, and capable handling – all while providing exceptional range with an EPA-estimated 305 miles per full charge.
Inside, you'll be surrounded by high-quality materials such as premium leather and wood trims for a truly luxurious feel. On top of this luxury experience are some of the latest safety features available on the market offered as standard equipment in the EQS such as adaptive cruise control lane assist processing blind spot monitoring and rear cross-traffic awareness to name a few.
Adding to these excellent ratings is Mercedes' commitment to sustainability which makes it stand out even further within its class offering emissions reduction systems that set it apart from other models in its segment.
Comparison With Other Popular Luxury Electric SUVs on the Market
Let's take a look at how the EQS SUV stacks up against its competitors in the luxury electric SUV market.
| Aspect | Price | Range | Features |
| --- | --- | --- | --- |
| Mercedes-Benz EQS SUV | $105,550 | Range of 305 miles | Offers an opulent interior with premium materials, advanced technology features, and connectivity options. |
| Audi e-Tron | $107,995 | SEPA-estimated driving range of 226 miles and the Sportback version is rated at 225 miles. | Comes with a high-quality interior with the latest technology. It also has Audi's Virtual cockpit and a user-friendly infotainment system. |
|  Tesla Model X | $99,990 | Tesla Model X Long Range (up to 371 miles) | Equipped with high-tech features like a large touchscreen infotainment system and Tesla's famous Autopilot system. |
The Mercedes-Benz EQS SUV is indeed a strong competitor in the luxury electric SUV market, ranked #3 by U.S. News & World Report. Despite the competition, it holds its own with an impressive blend of power, luxury, and advanced features. Additionally, you can also read about- Top Automobile Companies in World By Sales [Top 20 List in 2023]
Frequently Asked Questions (FAQs)
Now, let's find out about some usual questions about the Mercedes-Benz EQS SUV.
1. What is the Mercedes-Benz EQS SUV?
The Mercedes-Benz EQS SUV is an electric-powered luxury car released in 2023, and equipped with the most up-to-date features and technology available.
2. What are some of its features?
The Mercedes-Benz EQS SUV comes with a range of next-level technologies such as automated driver assistants, voice control navigation systems, and wireless charging for devices.
3. How does it compare to other SUVs?
The Mercedes-Benz EQS offers world-class performance on both city roads or at high speed while providing superior comfort from noise insulation, interior design refinements, and continuous fresh air supply via the Air Body Control system.
Takeaway
The 2023 Mercedes-Benz EQS SUV is a luxurious and powerful electric SUV with plenty of features to enjoy. From its expansive and posh interior design, cutting-edge technology and connectivity options concerning infotainment, and driver-assistance tech like Energizing Comfort control systems, the level of luxury found in this model stands out from other competing vehicles on the market.
Not to mention its efficient range capabilities combined with quick charging times make it a great choice for anyone looking for an eco-friendly ride. Overall, reviews have praised the EQS SUV's performance and lavish details making it one of the top contenders in the high-end luxury electric SUV category.