Audi Q8 E-Tron Review: Range, Performance and Luxury Electrified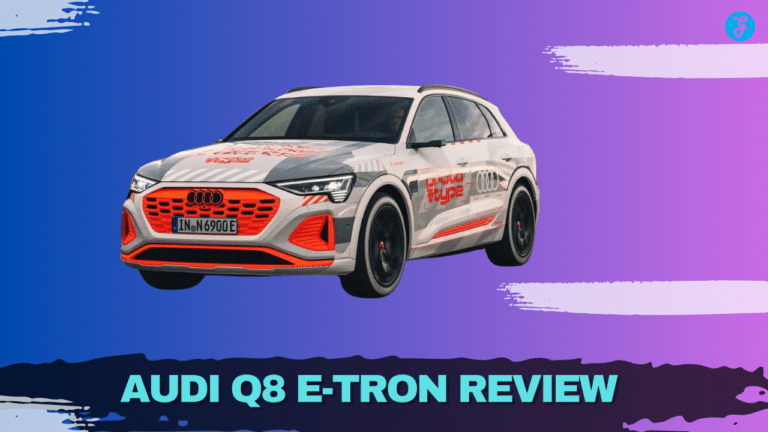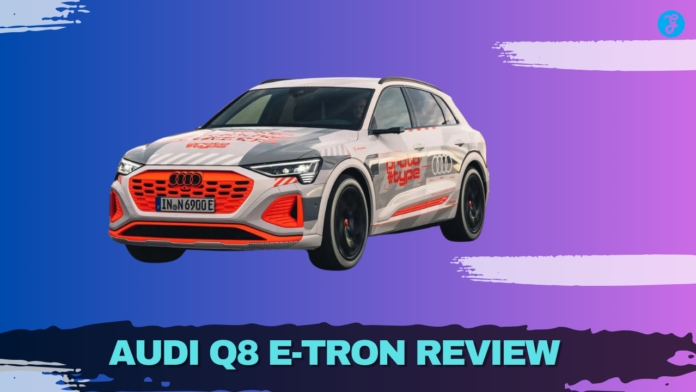 Are you looking for a luxury electric sport utility vehicle (SUV) like no other? Do you want to make an informed decision before investing in the Audi Q8 E-Tron review 2023? We feel your dilemma – this isn't something one should take lightly! Whether it's worth it for car lovers or not, we have got you covered with this article.
It will introduce everything about the new Audi Q8 E-tron 2023, from its driving experience and range capabilities to pricing and safety ratings. Not just that, we also present how this SUV performs when compared to other electric SUVs, plus information regarding tax credits/rebates, which can lessen your cost of ownership in the future.
Read here to know why you should consider getting behind the wheel of one yourself!
Content Highlights
The Audi Q8 E-Tron 2023 has an EPA-estimated all-electric range of 226 miles and can take in 150 kW at a DC fast charger, allowing for an 80% battery charge in half an hour.
Compared to other electric SUVs, the Q8 e-tron offers a respectable range, robust power, and potentially quick charging times.
Ownership costs are low thanks to improved fuel efficiency, reduced emissions from zero tailpipe exhausts, and fewer moving parts, making maintenance cheap while petrol pump cost is eliminated.
Tax credits or rebates available allow customers to get their money's worth with incentives like a $1,500 Costco member-only incentive or the $5,000 customer bonus offered by Audi of America, as well as potential state-level tax breaks on electric vehicles, further reducing the cost of ownership when buying one in 2023.
Overview of the Audi Q8 E-Tron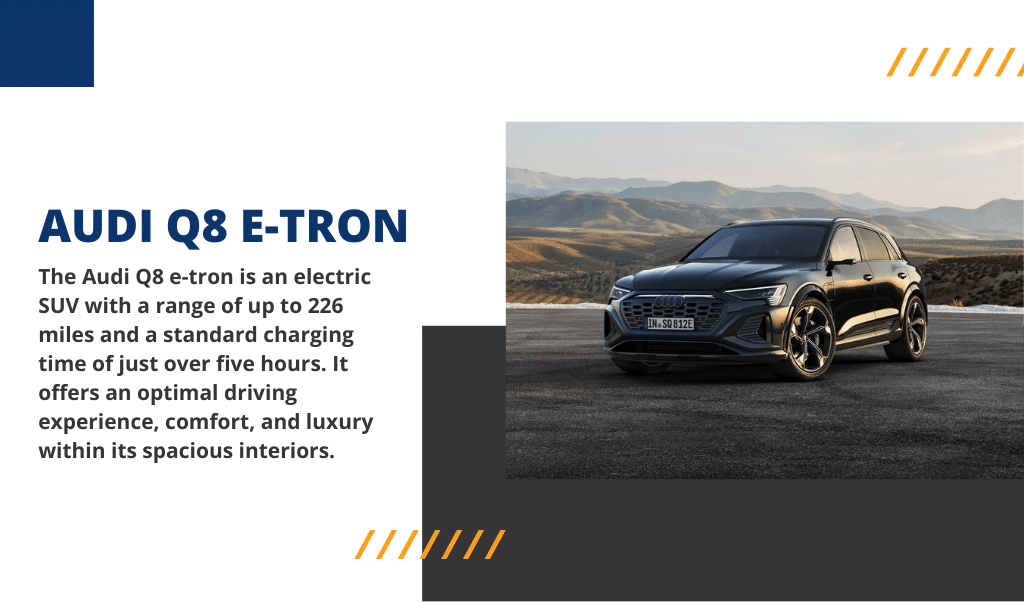 | Feature | Details |
| --- | --- |
| Price | $71,995 |
| Range | 226 miles (regular models)  208-212 miles (S models) |
| Charging Time | (150 kW fast charger) 9 hrs for a full charge (240V outlet) |
| Driving Experience | Optimal, with comfort and luxury |
| Interior Space | Spacious |
Table: Audi Q8 E-Tron Details
The Audi Q8 e-tron is an electric SUV with a range of up to 226 miles and a standard charging time of just over five hours. It offers an optimal driving experience, comfort, and luxury within its spacious interiors. In addition, you can also read an article on- Rivian R1S Review: Explore the Performance, Features, and Others
Range and Charging Times
| Electric SUV Model | Model Type | EPA-Estimated Range (miles) |
| --- | --- | --- |
| Audi e-tron | Regular | 226 |
| Audi e-tron Sportback | Sportback | 225 |
| Jaguar I-Pace | – | 234 |
| Tesla Model X Long Range | Long Range | 371 |
Table: Range Differences for Different SUV Models
The regular Audi e-tron electric SUV has an EPA-estimated driving range of 226 miles on a full charge. The e-tron Sportback model has a slightly shorter range of 225 miles. However, these fall short of some rival electric SUVs. The Jaguar I-Pace can drive 234 miles on a charge. The Tesla Model X Long Range can drive up to 371 miles before needing to be recharged.
The high-performance Audi e-tron S models have less range. The standard e-tron S with 496 horsepower can drive 208 miles on its 20-inch wheels. With 21- or 22-inch wheels, the range drops to 181 miles. The e-tron S Sportback model gets 212 miles on a charge with 20-inch wheels and 185 miles with 21- or 22-inch wheels.
Every Audi e-tron has a fast 150 kW charger. This allows the battery to be recharged up to 80% in about 30 minutes. The Jaguar I-Pace has a slower 100 kW charger that takes longer to recharge. Using a conventional 240-volt outlet, the e-Tron takes about 9 hours to recharge fully.
Driving Experience
The Audi Q8 e-tron offers an impressive driving experience with a powerful battery system and intuitive design features. With its smooth electric acceleration, snappy responsiveness, and improved handling thanks to the quickened steering ratio, the Q8 e-tron is designed for seamless performance.
This iconic SUV also ensures a quiet ride typical of electric vehicles, no more deafening engine revs, and some models come equipped with performance-boosting battery capabilities.
Furthermore, drivers enjoy convenience from this sophisticated vehicle's many user-friendly technology features. From adaptive cruise control to infotainment systems with touchscreens – you can have it all when you choose to drive the Audi Q8 e-tron. Additionally, you can also read the KIA EV6 Review. 
First Drives of the Q8 E-Tron
When it comes to the first drives of the Audi Q8 e-tron, owners have nothing but good things to say. Praised for its versatility and performance, this all-electric SUV seamlessly transitions between different driving disciplines.
From aggressive turns on winding roads to tackling rugged terrain with ease – the Q8 e-tron is up for anything. The steering is noticeably faster and more alert, while finessed suspension with air springs keeps the ride smooth and comfortable at all times.
Even without stepping inside, owners are sure they will get their money's worth thanks to the comprehensive safety features such as lane assist, adaptive cruise control, parking assistance systems, blind spot monitoring system, headlights activated when cornering in darkness, and much more!
The dimensions of the Audis Q8 e-tron are also highly appealing; they are taller than other luxury electric SUVs on the market -featuring a roomy 631 liters cargo capacity – making them ideal for families looking for space & practicality without compromising style or comfort. If you want you can also read- Polestar 2 Review: Range, Charging Speed and Other Key Features [Expert Insights]
Audi Q8 E-Tron Review: Pricing and Features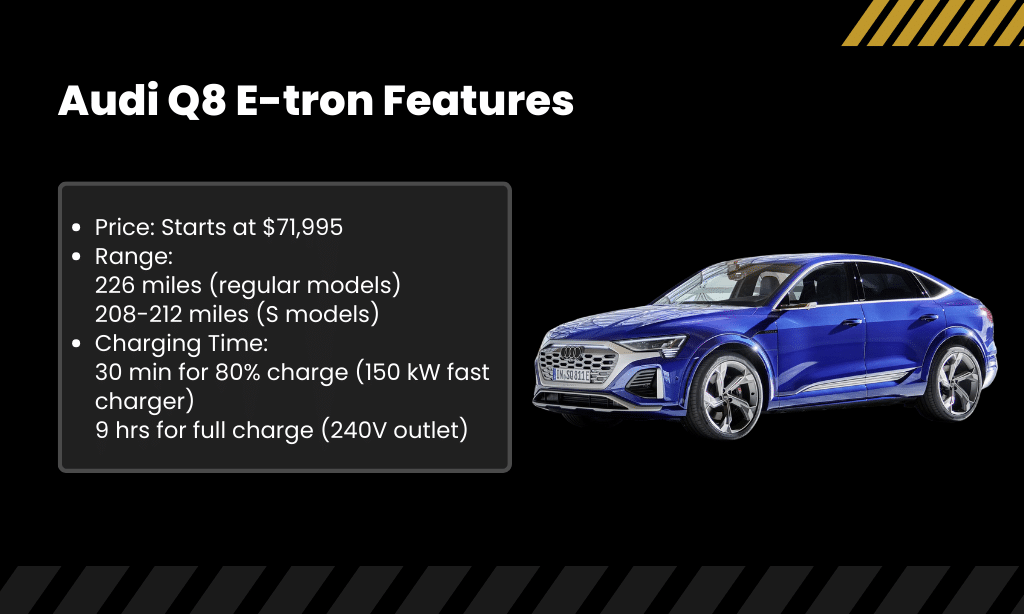 Learn about the different models available and compare them with other electric SUV competitors to see what makes the Audi Q8 e-tron stand out in terms of performance, cost, and more.
Starting Price
The Audi e-tron electric SUV is available in several trim levels ranging from $71,995 up to $90,495. The most affordable option is the standard Premium model with a starting MSRP of $71,995. The Sportback Premium costs a bit more at $75,195 for a more stylish look.
Moving up to the well-equipped Premium Plus trim brings more tech features and a higher price of $78,995 for the regular body or $82,195 for the Sportback. The special Chronos Edition is near the top of the lineup, priced at $87,595. Finally, the top-end Prestige only comes in the Sportback style for $90,495.  So, there are choices to fit different budgets, from a base model to a fully loaded luxury SUV.
Comparison With Other Electric SUVs
Let's take a closer look at how the Audi Q8 e-tron compares with other electric SUVs in terms of range, charging times, driving experience, and other key features:
| Electric SUV | Range | Charging Times |
| --- | --- | --- |
| Audi Q8 e-tron | EPA-estimated driving range of 226 miles, and the Sportback version is rated at 225 miles. | Every Audi e-tron has a fast 150-kW charger |
| Tesla Model X | Tesla Model X Long Range (up to 371 miles) | 3.6kW charger: 27 hours, 7kW charger: 15 hours, 22kW charger: 6-6 hours |
| Jaguar I-Pace | Jaguar I-Pace (234 miles) | The Jaguar I-Pace has a slower 100-kW charger that takes longer to recharge. |
Table: Comparison Between Audi Q8 E-Tron and Other SUVs
When comparing the Audi Q8 e-tron with the Tesla Model X and Jaguar I-Pace, it is clear that each has its strengths and weaknesses. However, the Q8 e-tron stands out for its impressive range, robust power, and potentially quick charging times, all of which make it a compelling option in the electric SUV market. 
You May Find Interest: BMW iX Review: Is It the Game-Changer in Electric Mobility
Tax Credits and Rebates
The taxes and incentives associated with owning the Audi Q8 e-tron are worth considering, as they can help you save on purchasing the vehicle in 2023. For instance, forward-thinking Costco members who purchase or lease select new 2023 models can receive a $1,500 member-only incentive.
Audi of America, Inc. also offers a $5,000 customer bonus for buying an unused 2023 Audi Q8 e-tron through participating dealers from September 1 onwards. These savings are significant and could be crucial to helping buyers afford the luxurious SUV electric vehicle.
In addition to these extensive credits and rebates that may be available now or later down the line, some states offer extra incentives like tax credits to those who buy electric vehicles such as the one produced by Audi.
Cost to Drive
Owning an electric vehicle like the Audi Q8 e-tron will save fuel and maintenance over the long term. IntelliChoice calculated the ownership costs of the 2023 model after five years and 70,000 miles and came up with excellent results.
Fueling with natural gas or diesel would normally be higher than running your car off electricity from a charging station. Not only that, but maintenance expenses should also be considerably lower due to fewer moving parts in electric cars, like brakes that don't wear out as quickly, adapting steering systems, and regenerative braking technologies designed for maximum efficiency.
Overall, you can expect great value when it comes to the cost of ownership when buying an Audi Q8 e-tron compared to traditional fossil fuel-powered vehicles.
Benefits of Owning an EV Like the Q8 E-Tron
Discover how a luxe electric SUV like the Audi Q8 e-tron can instantly improve your daily drive.
Improved Fuel Efficiency
The Audi Q8 e-tron's improved fuel efficiency sets it apart from its competitors, with a combined MPGe rating of 78 for the SUV and 75 for the Sportback model. Drivers can enjoy lower operating costs on each journey thanks to optimized aerodynamic efficiency and advanced features such as regenerative braking that store energy during deceleration.
The powertrain architecture also provides excellent driving dynamics, delivering smooth acceleration throughout each range without compromising performance or battery life. Additionally, low-rolling resistance tires contribute to achieving maximum fuel economy in all conditions.
All these features come together to help reduce emissions for an eco-friendly drive; further benefits include reduced overall service costs and less frequent visits to fill up at petrol stations. In addition, you can also read an article on- Hyundai Kona Electric Review: Pricing, Performance, and Latest Updates in 2023
Reduced Emissions
Driving the Audi Q8 e-tron has enormous environmental benefits compared to gasoline vehicles. Electric cars have zero emissions while driving, meaning they run on clean energy rather than burning gas and releasing pollutants into the air.
This helps make urban environments greener and cleaner because electric vehicles do not emit greenhouse gases (GHGs) that contribute significantly to global warming. Furthermore, the efficiency of an electric car like the Q8 e-tron means less battery capacity is needed for a given distance than in a typical gas vehicle, reducing GHG emissions from electricity generation for charging.
As part of its commitment to sustainability, Audi has set itself an ambitious goal of achieving Carbon Neutrality by 2050 – meaning their vehicles will produce net zero carbon dioxide through advances in both design technology and renewable sources of energy powering their cars.
Lower Cost of Ownership in the Long Run
Owning an electric vehicle like the Audi Q8 e-tron is a greener option; it can also be more affordable in the long run than traditional gas guzzlers. Electric vehicles are maintenance intensive and not more expensive when you factor in both their purchase price and operating costs.
Because of moving parts, there's a lower overall cost for cars such as the Q8 e-tron over time, saving on oil changes, brakes, and other repairs that may pop up with gasoline engines.
Additionally, EVs boast tax credits or rebates from certain manufacturers that create even bigger savings when purchasing one of these luxurious models. Then there's the petrol pump cost, where EVs come ahead too – no buying of fuel required! Plus, electricity is generally cheaper than gasoline, so driving an EV gives us a chance to save big money without compromising on performance or style.
Is the Audi Q8 E-Tron a Good Car?
[Video Credits @theredline]
To understand this vehicle's reliability and safety ratings, we looked at reviews from several experts.
Reliability
The Audi Q8 e-tron is expected to be less reliable than other new cars, based on Audi's brand history and past models of the E-Tron. When it comes to reliability, some potential consumers might have concerns with the fact that this SUV has a higher rate of defects compared to its competitors.
However, buyers should note that due to its battery powertrain technology, such as electric motors and inverters, repairs can get very costly depending on the severity of damage or failure. If you want you can also read- Tata Nexon EV Facelift Review: The Most Affordable Electric SUV in India
Safety Ratings
The Audi Q8 e-tron is an exceptionally safe electric SUV and has earned top safety ratings from the Insurance Institute for Highway Safety (IIHS). It has received a "Good" rating in each IIHS test, which is the highest given by this organization.
This includes crash performance, roof strength, headlights, and child seat anchorage systems. Also, four other EVs – including the Q8 e-tron – made up almost half of all vehicles to receive the 2020 Top Safety Pick + award from IIHS.
Owners of the Audi endured no recalls or technical problems associated with its safety features either.
The company continues to demonstrate its commitment to achieving high safety standards with innovations such as Pre Sense City Technology, which uses cameras and sensors that can detect objects around it at various distances, enabling heavy brake application even during low-speed collisions under 30 mph if intervention is required to avoid a collision.
Moreover, vehicle stability control keeps passengers secure by continuously monitoring road conditions through steering wheel turns and pressing down on acceleration or brakes when needed.
Choosing the Right Model
Before purchasing, compare various models of the Audi Q8 e-tron from Edmunds to find the best option for you.
Different Models Available
The Audi Q8 e-tron is available in three trim levels: Premium, Premium Plus, and Prestige. The 2023 model debuts with an updated look, more range, and a new name. The base model features 19-inch wheels, an LED lighting package, and 12-way power-adjustable seats. At the same time, the top-of-the-line Prestige trims add 21-inch wheels and adaptive air suspension to the mix, plus ventilated Valcona leather seating surfaces for extra comfort.
For those seeking even sportier performance characteristics from their electric SUV of choice, there's always the Audi SQ8 E-Tron, which offers 496 horsepower thanks to its beefed-up battery boost technology. No matter what your needs may be when it comes to vehicles like this one – you can rest assured that there's a perfect Audi Q8 E-Tron variant out there just waiting for you to take it home! Additionally, you can also read about- Mercedes-Benz EQS SUV Review: Features, Range and Performance Details
Edmund's Recommendations and Pricing
Edmunds provides expert reviews and ratings for the 2023 Audi e-tron and Audi Q8. With detailed product information, high-resolution pictures, safety features, customer reviews, and more – Edmunds is an ideal resource to research all Tesla Model X rivals, such as the upcoming Audi Q8 e-tron 2023.
The website also offers pricing information for cars like the Q4 e-tron and comparative analysis with other EVs, such as the Jaguar I-Pace or Mercedes EQS. The availability of MPG data, build specifications (interior luxury & exterior), addons & tax benefits make it easier to make a cost-effective decision depending upon individual needs.
These factors help consumers make better-informed choices when considering electric SUVs like the Eva Q8 E-Tron 424 PS quattro tiptronic S tronic version or plug hybrid Tixo e tron petrol variant.
Other SUVs to Consider
You should consider rivals such as the Tesla Model X and Jaguar I-Pace and upcoming electric models like the Mercedes-Benz EQS when comparing different SUVs.
Upcoming Electric SUVs Like the Mercedes-Benz EQS
are gaining more popularity as the automobile industry gears up toward a sustainable future. The Mercedes-Benz EQS, set to launch late in 2023, offers a taste of luxury with maximum sporty performance and advanced features. It can go from 0-60mph faster than most electric models currently available while remaining efficient regarding energy consumption and emissions outputs.
With an expansive range of up to 435 miles on a single charge and ultra-fast charging capabilities, the EQS is one of the top contenders among its peer group when it comes to buying an electric SUV that's both reliable and long-lasting.
Not only does this vehicle come with high-tech features such as multiple driving modes for individualized driving styles, but it also has numerous safety systems standards like automated emergency braking with pedestrian protection plus innovative parking assistant technologies, which make parking easier even in tight spaces.
It stands out compared to other brands by providing luxurious touches like angry-looking xenon headlights or soft Nappa leather seating options, which provide extra comfort not often found in EVs. All these distinct characteristics bring forward additional convenience during rides, making them much smoother, so if you're considering going all out value for your money, consider checking what the Mercedez Benz EQS could offer you next year! You May Find Interest: Nissan Leaf Review: MPGe Efficiency, Performance and More [Detailed Guide]
What Sets the Q8 e-tron Apart?
With its impressive performance-enhancing battery boost and luxurious interior to top it off, the Audi Q8 e-tron stands out from the competition.
Performance-Enhancing Battery Boost
The Audi Q8 e-tron models feature a range of battery packs that help to improve their performance and range. The largest pack, the 86.5-kWh lithium-ion, is significantly bigger than the old e-Tron and has been designed to provide an impressive 30% increase in battery power, aiding drivers with longer trips while ensuring optimal efficiency on every journey.
On top of this, its densely packed cells include coolant pathways for advanced cooling capacity – further improving its performance during high speeds or long hills. This improved performance translates into more energy when starting up, acceleration assistance during climbs or overtakes, and regenerative braking capabilities — making it one of the best electric SUVs available right now on the market!
Spacious and Luxurious Interior
The Audi Q8 e-tron is designed to provide an unparalleled high-end experience. The interior of the Q8 e-tron is spacious and luxurious, making it a great choice for both drivers and passengers who want extra comfort on long journeys.
With ample room in both the front and rear seats, adults can enjoy generous legroom without being cramped in the car's cabin. Additionally, the plush and comfortable seating ensures that every journey can be enjoyed in luxury.
The car has been created with modern tech features, too; this includes LED ambient lighting and a virtual cockpit display, which offers detailed info on performance and provides entertainment options while driving or at rest. Additionally, you can also read about- Top Automobile Companies in World By Sales [Top 20 List in 2023]
Frequently Asked Questions (FAQs)
Let's review some frequently asked questions on The Audi Q8 E-Tron.
1. What is the Audi Q8 e-tron?
The Audi Q8 e-tron is a plug-in hybrid electric SUV produced by German car manufacturer, Audi that was first released in 2023.
2. What kind of safety systems does it offer?
The latest signature AI Safety Suite offered by the Audi A8e-Trom includes adaptive cruise control, lane assist, and stop-and-go function, plus cool laser focus headlights available on higher trims presenting good visibility even at long distances, ensuring passengers' safety during rides throughout the night or daylight hours. The devoted auto braking system further enhances its integral protection capabilities.
3. Is it worth purchasing when compared to competitors?  
Yes! The new model offers an appealing combination of stylish design, impressive performance, and advanced driver assistance features at a mid-range price point. Current promotional offers at dealerships make this an especially affordable option compared to similar vehicles from other manufacturers this year, allowing more drivers to enjoy high-end amenities without compromising their budget.
Takeaway
The Audi Q8 e-tron 2023 is a comfortable, luxurious, safe electric SUV with powerful performance. It has improved in range over the previous model but falls behind other electric SUVs in terms of battery capacity.
However, it does come with impressive basics such as high-speed charging capabilities, a spacious and luxurious interior, plus great driving performance. The biggest benefit is its fuel efficiency, which can help reduce the overall cost of ownership while also reducing emissions to help protect the environment.
As for safety ratings, the Q8 e-trons' scores have been excellent so far, and owners can expect reliability from this luxury sedan down the line as well. If you're looking for an EV experience combining luxury with power, look no further than Audi's Q8 e-tron—it is worth considering!