Nissan Leaf Review: MPGe Efficiency, Performance and More [Detailed Guide]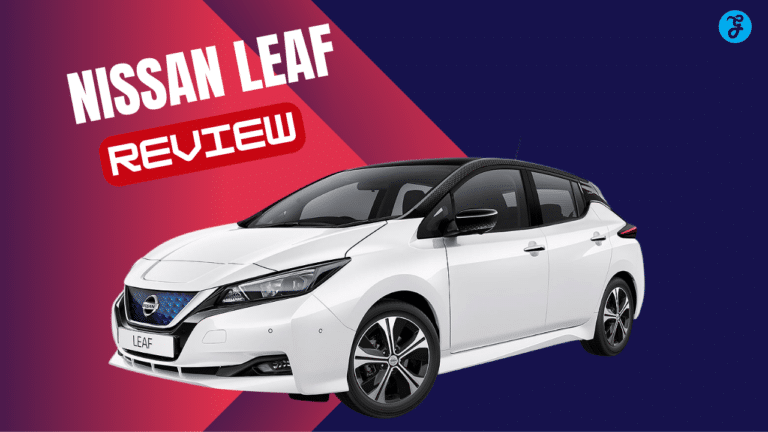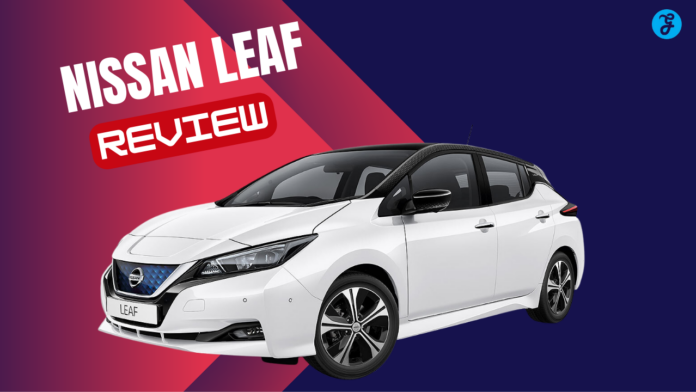 Are you in search of a user-friendly zero-emission vehicle with the latest features for 2023? Understanding what it's like to look through various options that suit individual needs, I have put together the Nissan Leaf review a comprehensive.
From pricing to power performance, this article has all you need to know to make your buying decision easier and stress-free.
Get ready as we dive into the world of electric vehicles with the 2023 Nissan Leaf!
Content Highlights
The 2023 Nissan Leaf is an affordable zero-emission electric vehicle that can take you up to 149 miles on a single charge.
The LEAF S model of the 2023 Nissan Leaf offers basic connectivity, safety features, and sufficient range for daily commuting purposes at an economical price tag of $29,155.
Furthermore, the advanced EV motor power performance in the (%)2023/24 Nissan Leaf provides up to 94 MPGe city fuel economy and 98 MPGe highway for its users – making it one of the most efficient options in the e-mobility segment.
The 2023/2024 Nissan Leaf also offered various luxurious comfort and convenience elements such as Apple CarPlay®, Android Auto™ integration (with Heads Up Display technology), leather seating, 13 Bose high-quality speakers, etc.
Overview of Nissan Leaf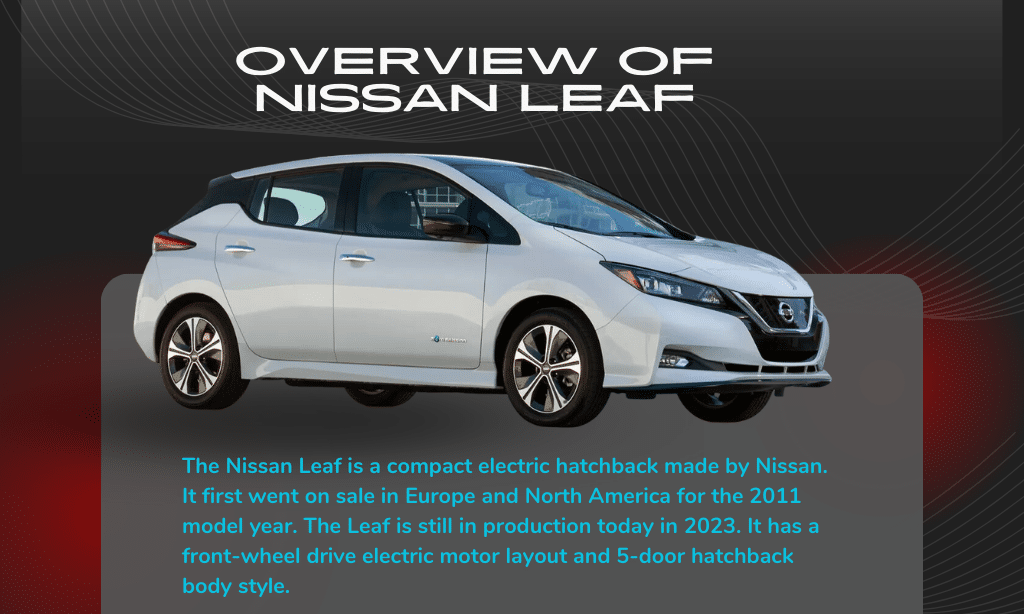 The 2023 Nissan Leaf is an affordable, zero-emission electric vehicle that offers plenty of comfort and convenience features.
| Aspect | Nissan Leaf S | Nissan Leaf SV Plus |
| --- | --- | --- |
| Price | $29,155 | $37,155 |
| Motor Power | 147 hp | 214 hp |
| 0-60 mph | 7.4 sec | Faster than S |
| Range | 149 miles | 215 miles |
| Charging | 120V, 240V, DC fast charge | 120V, 240V, DC fast charge |
| Seats | 5 | 5 |
| Cargo Space | 30 cu ft (seats down) | 30 cu ft (seats down) |
| Infotainment | 8″ display, Android Auto, Apple CarPlay | 8″ display, Android Auto, Apple CarPlay |
Starting at $29,155
The Nissan Leaf electric car comes in two main versions – the S and the SV Plus. The S is the base model with a starting price of $29,155. It has 147 horsepower and can go 149 miles on a full charge. The SV Plus costs more at $37,155 but has a more powerful 214 horsepower motor and a bigger battery for 215 miles of range. The SV Plus also comes with more features like an 8-inch touchscreen with Apple CarPlay and Android Auto, automatic climate control, and push button start.
Both Leafs seat 5 people and have over 30 cubic feet of cargo space with the rear seats folded down. Charging can be done on a regular 120-volt outlet or faster on a 240-volt in about 7 hours. Overall the SV Plus model provides better performance, range, and features compared to the base S, so it is likely the best choice for most buyers. In addition, you can also read an article on- Rivian R1S Review: Explore the Performance, Features, and Others
What's New for 2024?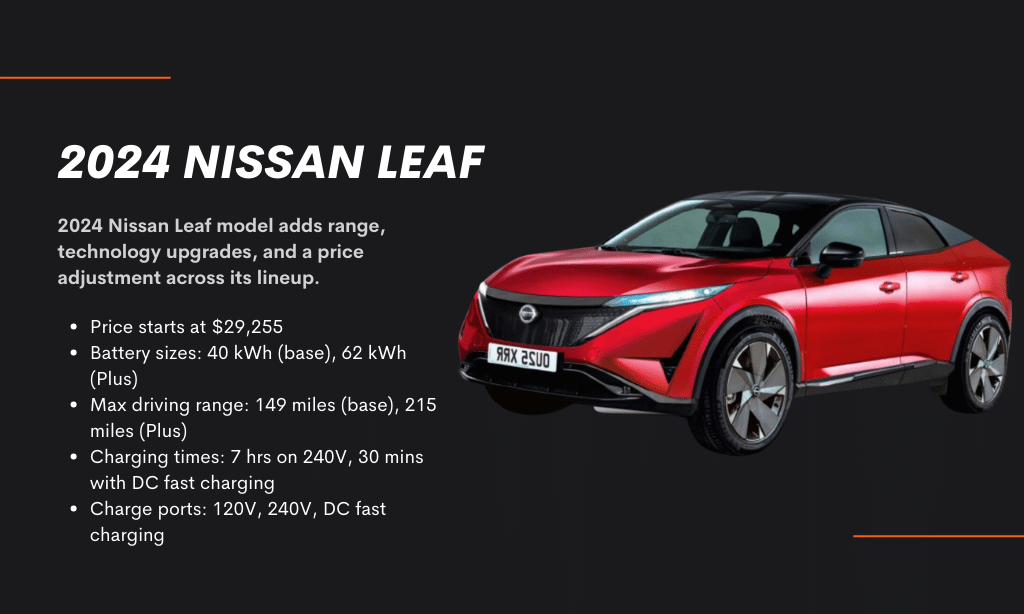 Get ready as the 2024 Nissan Leaf model adds range, technology upgrades, and a price adjustment across its lineup.
| Spec | Details |
| --- | --- |
| Price | $29,255 |
| Battery Size | 40 kWh (base), 62 kWh (Plus) |
| Max Range | 149 miles (base), 215 miles (Plus) |
| Charging Time | 7 hrs (240V), 30 mins (DC fast charge) |
| Charge Port | 120V, 240V, DC fast charge |
2024 Model Updates
The Nissan Leaf model for 2023 has been fully upgraded with an all-new design, performance features, and advanced technologies. This new version outputs 214 horsepower (hp) on top of the current 147 hp, giving drivers improved acceleration and power to tackle any road conditions or terrain. In terms of battery life, this year's model can drive a maximum distance of 149 miles on an electric charge when it is fully charged.
Additional upgrades include high-efficiency LED headlamps that help reduce energy consumption while providing increased visibility in dark driving conditions. The vehicle also comes equipped with safety features like an automated emergency braking system that can apply pressure to the brakes if it senses imminent danger ahead to prevent potentially hazardous collisions from happening on the road.
Furthermore, Heads Up Display technology provides information about speedometer readings and navigation signs directly onto windshields to minimize distractions while driving at night time.
Last but not least – Apple CarPlay® and Android Auto™ have been integrated into this model to give users convenient hands-free access to their favorite smartphone applications straight from their car dashboard display unit without experiencing many lags or glitches during the connection process. Additionally, you can also read about- Top Automobile Companies in World By Sales [Top 20 List in 2023]
Pricing and Which Model to Buy
Buying a 2024 Nissan LEAF is a great choice for those who want an eco-friendly vehicle without breaking the bank. The base model starts at $29,255, while the average price paid based on recent transactions is $28,895. Thus, it's an affordable option compared to other EVs on the market. Furthermore, 2024 will be the last production year for this model, making it a bit special.
The base model, LEAF S, offers sufficient range and basic features for the average daily commuter. However, if you're someone who wants more tech and comfort features, going for the LEAF SV or even the fully loaded LEAF SL would be a better choice. They come with additional features like an upgraded infotainment system, intelligent cruise control, and leather seating.
The SL also boasts a premium audio system and an around-view monitor, adding an extra layer of luxury and safety. All models have similar driving performance, so the choice mainly depends on your budget and preference for extra features.
Nissan Leaf Review: EV Motor, Power, and Performance
The Nissan Leaf offers a range of up to 149 miles and advanced features like e-Pedal, regenerative braking, and quick charging capabilities.
Range, Charging, and Battery Life
The Nissan Leaf can be charged on either a 120-volt or 240-volt outlet. But charging is much faster on 240 volts – around 7 hours for a full charge. All models come with fast DC charging capability too.
The base Leaf S has a 40-kilowatt-hour battery with 149 miles of range. This may work for short commutes but is less than half the range of a Tesla Model 3 Long Range. The SV Plus gets 214 miles of range from its larger battery pack. So the Plus models have a more usable daily driving range before needing to recharge. Additionally, you can also read about- Audi Q8 E-Tron Review: Range, Performance and Luxury Electrified
Fuel Economy and Real-World MPGe
When it comes to electric vehicles, fuel economy is measured differently but is no less important. The fuel economy of an electric vehicle is expressed in miles per gallon of gasoline equivalent (MPGe). This means how far the vehicle can travel electrically on the amount of energy that's in a gallon of gasoline. It's like saying, "If this car ran on gasoline instead of electricity, this is how many miles it would get on a gallon of gas." So, for an electric vehicle, a higher MPGe is better. Now, let me share with you the fuel economy figures of the Nissan Leaf models.
| Model Year | Model | Fuel Economy (Highway) MPGe | Real-World MPGe (Highway) |
| --- | --- | --- | --- |
| 2023 | Nissan Leaf | 94 MPGe | 98 MPGe |
| 2023 | Nissan Leaf SV Plus | 94 MPGe | 98 MPGe |
| 2024 | Nissan Leaf | 94 MPGe | 98 MPGe |
| 2024 | Nissan Leaf SV Plus | 94 MPGe | 98 MPGe |
In both 2023 and 2024, the Nissan Leaf and Nissan Leaf SV Plus achieved an impressive 94 MPGe on the highway, outperforming their official EPA ratings in real-world tests by delivering 98 MPGe. This improved efficiency is due to the electric motor's ability to convert energy into motion more effectively than a gasoline engine.
This: the Nissan Leaf SV Plus and SL Plus models have a combined MPGe rating of 104, which makes them some of the most fuel-efficient options on the EV market. This demonstrates that Nissan has been consistently delivering excellent fuel economy with their Leaf models, making them a great option for anyone looking for a more eco-friendly vehicle. If you want you can also read- Polestar 2 Review: Range, Charging Speed and Other Key Features [Expert Insights]
Interior, Comfort, and Cargo
The cabin of the Nissan Leaf uses a lot of black plastic, but the textures are uniform and avoid looking cheap. The instrument panel has both an analog speedometer and a 7-inch digital display that can be configured to show different information. The front seats are very comfortable, similar to La-Z-Boy chairs, and the rear seats also offer ample room for adults.
The rear seats don't fold completely flat, but the cargo capacity is excellent for this type of car. We were able to fit 7 carry-on bags behind the rear seats. With the seats folded down, it held a maximum of 19 bags – more than competitors like the Chevy Bolt EV and Kia Niro EV SUV.
While not luxurious, the Leaf provides a comfortable, roomy interior for passengers along with versatile cargo-hauling capability. The seats keep occupants cozy and the flexible cargo space swallows plenty of luggage despite the hatchback body style. Simple but useful tech displays provide driving information without looking dated. Overall, the interior design focuses on comfort, utility, and flexible practicality.
Infotainment and Connectivity
Nissan Leaf offers a 7-inch Advanced Drive Assist Display, Bose audio, Apple CarPlay, and Android Auto compatibility, as well as Sirius XM radio.
Standard Features
The 2023 Nissan Leaf is packed with plenty of great standard features, including an 8.0-inch infotainment display on the dashboard, Android Auto and Apple CarPlay integration for added connectivity options, automatic climate control, keyless entry with push-button start, and six standard safety features that are designed to keep you safe while driving. Some of these include Automatic Emergency Braking with Pedestrian Detection and Blind Spot Warning.
Technology Upgrades
The 2023 Nissan Leaf has come fully loaded with advanced technology to make your ride smoother and more comfortable than ever before. Featuring the intuitive Nissan Connect software, it makes accessing and finding information easier and faster than ever.
Drivers can enjoy an enhanced audio experience through its six-speaker audio system which provides a great sounding atmosphere for you and the passengers inside. Plus, there are plenty of impressive connectivity options such as NissanConnect EV, Apple CarPlay, Android Auto, and wearables that allow you to stay connected during those long drives in your vehicle.
To add even more convenience to the equation, users of this car can also check their charging status from afar via an advanced app plus control cabin temperature remotely as well – all these goodies ensure that you receive maximum comfort while riding in your brand new 2023 Nissan Leaf! In addition, you can also read an article on- Hyundai Kona Electric Review: Pricing, Performance, and Latest Updates in 2023
Safety and Driver-Assistance Features
Nissan Leaf comes with a range of advanced safety and driver-assistance features like blind-spot monitoring, automated emergency braking, lane Keep Assist and high beam assist to protect you on the road.
IIHS Rating
The Insurance Institute for Highway Safety, or IIHS, is a non-profit organization that conducts crash tests of vehicles to determine their safety performance in high-speed front and side crashes.
The results from these tests provide valuable information to consumers on vehicle safety ratings. The 2020 Nissan Leaf SV 4-door was tested by the IIHS in 2020, resulting in the IIHS awarding it an overall Good rating as well as top scores of Good for small overlap front driver side crash test, moderelecate overlap front test performance, and head restraints & seat evaluation.
Ahead of model year 2023, the Nissan Leaf received another update and underwent further testing with the acquisition of a similar "Good" rating across all categories from the IIHS. If you want you can also read- Tata Nexon EV Facelift Review: The Most Affordable Electric SUV in India
Favorite Safety Features of Experts
As an EV, the 2023 Nissan Leaf has seen plenty of hype for its safety features, and experts have had plenty to say. The ProPilot Assist safety system and Nissan Safety Shield 360 suite offer a wide array of advanced driver-assistance systems that can help keep drivers safe on the roads. Here are just some of their favorite features:
Intelligent Forward Collision Warning helps detect danger before it happens and will engage automatic braking if necessary.
Intelligent Lane Intervention warns drivers when they leave their lane unexpectedly or drift over lane markings without signaling.
Intelligent Blind Spot feature uses sensors and lights to warn drivers when another vehicle is in their blind spot area.
ProPilot Assist's stop-and-go adaptive cruise control and steering assist were praised by experts for keeping driving steady and stress-free even during long journeys.
The SV PLUS grade also offers Advanced Driver Alertness along with the innovative Around View Monitor which assists with parking maneuvers by providing a bird's eye view of the area surrounding your car while reverse parking.
All these advanced safety features make use of the camera as well as radar technology that delivers high-accuracy data for more consistently better results than what older vehicles used to provide making them prone to false alerts at times.
You May Find Interest: BMW iX Review: Is It the Game-Changer in Electric Mobility
Warranty and Maintenance Coverage
Nissan has an extensive network to cover all aspects of Leaf ownership including service, repair, and coverage for the duration of the car's warranty.
Coverage Details
The Nissan Leaf warranty covers the seat belts and related components for 10 years from the date of purchase.
EV Carefree+ package includes three years or 36,000 miles of prepaid scheduled maintenance and 24-month road hazard coverage for eligible tires.
The 2024 Nissan Leaf comes with an 8-year/100,000-mile battery warranty and EV multi-point inspections.
Standard factory warranties include a 3-year/36,000-mile bumper-to-bumper warranty and a 5-year/60,000-mile powertrain ownership limit.
Member Support From Nissan
Nissan provides comprehensive coverage and support for its 2023 Leaf EVs, including ongoing maintenance to address any mechanical issues with the vehicle. It also offers a 10-year/120,000-mile warranty on all seat belts and components that fail due to defects in manufacturing or materials.
Additionally, all Nissan EV models come with an 8-year/100,000-mile battery warranty as well as scheduled 3-year or 36,000-mile maintenance coverage for no additional cost when you either lease or purchase a new model.
With these exclusive features available only from Nissan and expert customer care professionals available if needed; you can confidently drive your new Leaf knowing that it's been carefully engineered to last. Additionally, you can also read about- Mercedes-Benz EQS SUV Review: Features, Range and Performance Details
Frequently Asked Questions (FAQs)
Let's go over some frequently asked questions about the Nissan Leaf.
1. What is the Nissan Leaf?
The Nissan Leaf is an electric car manufactured by Nissan with its first production model introduced in 2010. It has come to become one of the most popular electric cars on the market today.
2. What are some features of the latest 2023 Nissan Leaf?
The 2023 Nissan Leaf comes equipped with advanced technologies such as ProPILOT Assist which helps drivers maintain center lane, Autonomous Emergency Braking technology for emergencies, and air filtration systems that promote clean air travel.
3. How reliable is a 2023 Nissan Leaf?
The latest 10th generation 2020-2025 models offer improved efficiencies and performance compared to earlier generations, making it a very reliable choice for your daily commute or road trips.
4. Where can I get more information on reviewing a 2023 Nissan Leaf?
Customers looking to review this vehicle can visit authorized dealership websites or read reviews from trusted automobile specialists who have tested out this model already!
Takeaway
The 2023 Nissan Leaf is a budget-friendly electric vehicle with a range of either 149 miles or 214 miles. The vehicle also offers ample comfort, technology, and performance features.
With an impressive 8-inch infotainment display, compatibility with both Apple CarPlay and Android Auto, as well as driver assistance tools such as lane departure warnings and adaptive cruise control it provides extra confidence on the road.
Consumers can purchase the 2023 Leaf for as low as $28K while enjoying its benefits of comfort, convenience plus zero-emission operation.