Kia EV6 Review: The Electric Vehicle That's Worth the Wait [With Features, and More]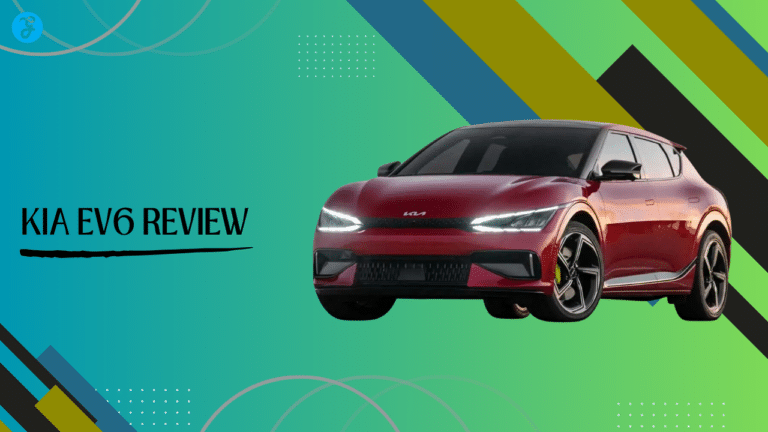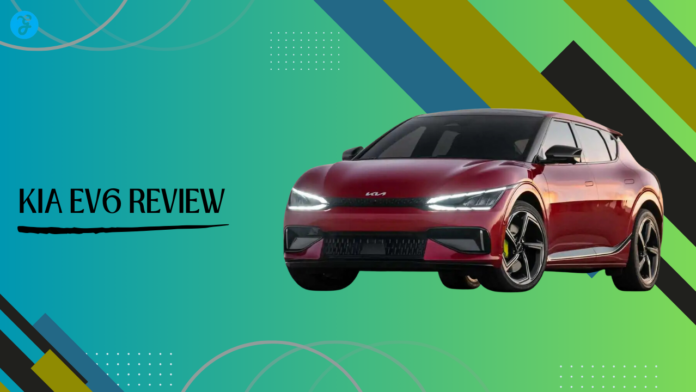 Are you looking for an electric SUV that offers style, performance, and the latest technology all in one package? If so, you know the drill – researching EVs can be a comprehensive endeavor. Don't worry – if you're on the hunt for a reliable, powerful, and efficient electric vehicle without breaking your budget, I've got just the ride! Explore our KIA EV6 Review.
In this blog post, we'll explore why the 2023 Kia EV6 is becoming popular among drivers with its impressive features. Keep reading to learn more about this exciting electric SUV and find out why it has become so sought after by different car audiences.
Get ready to see what makes the 2023 Kia EV6 stand out from other electric vehicles!
Content Highlights
Revised trim structure, starting at $43,925, reaching $62,925 for top model, excluding additional charges.
EV6 offers three models: Wind, GT-Line, and GT, each with distinct features and battery capacities.
All-wheel drive models achieve a 310-mile range, with fast charging available at home or public stations, supported by the Kia app.
Includes an impressive 10-year/100,000-mile battery warranty and a standard powertrain warranty, assuring reliability.
Overview of the 2023 Kia EV6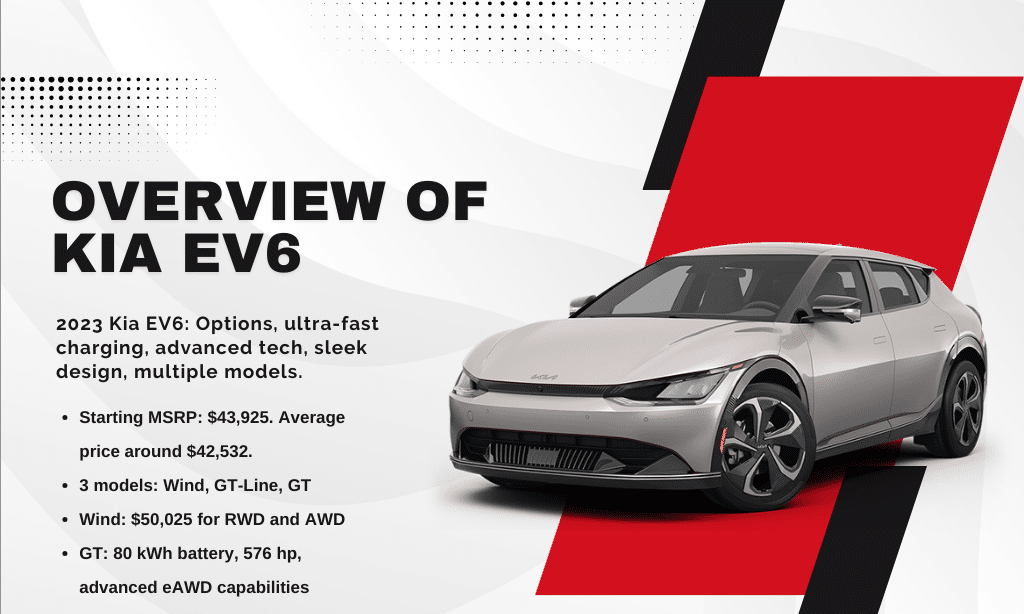 The 2023 Kia EV6 offers an impressive range of options and capabilities, including ultra-fast charging, advanced technologies, a sleek exterior design, and an array of models to choose from.
| Specifications | Details |
| --- | --- |
| Pricing | Starting from $43,925 MSRP. The average price is around $42,532 based on recent transactions. |
| | GT model starting MSRP at $54,225, with test time pricing at $62,925 (excluding additional charges). |
| Models | Three models: Wind, GT-Line, and GT. |
| | Wind: $50,025 for both RWD and AWD options. |
| | GT-Line: Equipped with a 77.4 kWh battery pack, priced higher than the base model for increased performance. |
| | GT: Employs an 80 kWh battery pack, offering 576 horsepower and advanced eAWD capabilities. |
| Range | AWD models provide a range of up to 310 miles per charge. |
| Charging | Fast charging capabilities at home or public stations, supported by the Kia app for locating charging points. |
| Battery Warranty | 10-year/100,000-mile warranty covering electrical malfunctions and related repair costs. |
| Powertrain Warranty | Additional 10-year/100,000-mile warranty offered as standard, ensuring reliability. |
| Tax Credits and Rebates | Not eligible for federal tax credit. Potential federal credits for used EVs below $25,000. |
| | Qualifications and eligibility may vary based on income and specific vehicle pricing. |
Pricing
The 2023 Kia EV6 comes with a revised trim structure, making it slightly more expensive than last year's model. The base model has an MSRP starting at $43,925 before taxes and fees are added in, while the average price paid is around $42,532 based on 32 transactions from the past 4 weeks.
On top of this figure sits luxury features included in packages such as Dynamic Heat Control Packages and Advanced Driving Assistance Packages which can add up to thousands depending on what is chosen.
For the highest grade GT model its starting MSRP is set at $54,225 while at test time its pricing stands at $62,925 – both figures exclude taxes destination and handling charges title license options or dealer charges that may be added upon purchase.
Models
The 2023 Kia EV6 has three amazing models – the Wind, GT-Line, and GT. The base model of the EV6 starts at $50,025 for both RWD and AWD options. The Wind configuration is well equipped with features such as a 64 kWh Lithium Polymer battery pack along with LED headlights and rearview mirrors to provide maximum safety on all roads.
On the other hand, if you are looking for higher performance levels and customized control settings then the GT-Line packs a punch with its 77.4 kWh battery pack offering improved power management systems alongside unique exterior design elements like 19-inch Mag illuminated trims across the body.
Finally, if you are looking for ultimate power then look no further than the GT trim which offers advanced eAWD capabilities powered by an 80kWh Battery Pack combined with 576 horsepower providing superior traction and agility while traveling through any terrain!
Range and Charging Options
The 2023 Kia EV6 offers excellent range and charging options making it a great option for those looking to switch to electric vehicles. The all-wheel drive models have a larger battery pack and can achieve a maximum driving range of 310 miles on one full charge, dwarfing the competition in its class.
Charging an EV6 is doable at both home or public charging stations thanks to its fast charging capabilities – no more waiting hours for your car to get charged! For added convenience, you're able to check available plugs near you through the Kia app– getting back full power has never been so easy.
Battery Warranty
The 2023 Kia EV6 comes with an industry-leading 10-year/100,000-mile battery warranty. This comprehensive coverage ensures that purchasers of the car have security and peace of mind knowing that their purchase is well protected during its lifetime.
In addition to providing complete protection against electrical malfunctions or other issues related to the battery's operation, this warranty also covers labor costs associated with replacement and repair services.
Furthermore, Kia offers a 10-year/100,000-mile powertrain warranty for all models of the new EV6 as standard meaning buyers can be assured that they are investing in a reliable electric vehicle backed by one of the best warranties on the market today.
Tax Credits and Rebates
The 2023 Kia EV6 does not qualify for the federal tax credit, however, qualifying used EVs priced below $25,000 can receive up to $4,000 in federal tax credits starting January 1 of 2023 due to changes brought about by The Inflation Reduction Act.
According to Consumer Reports' list of electric vehicles and plug-in hybrids that qualify for these federal tax credits of up to $7,500 also entails a maximum income limit for eligibility on those purchasing within the calendar year 2023.
Depending on your financial situation you may or may not be eligible for full or partial tax credits making it important to explore all options and understand the new requirements as they roll out over this next year. Additionally, you can also read on 2024 KIA Carens Review.
KIA EV6 Review: Performance and Comfort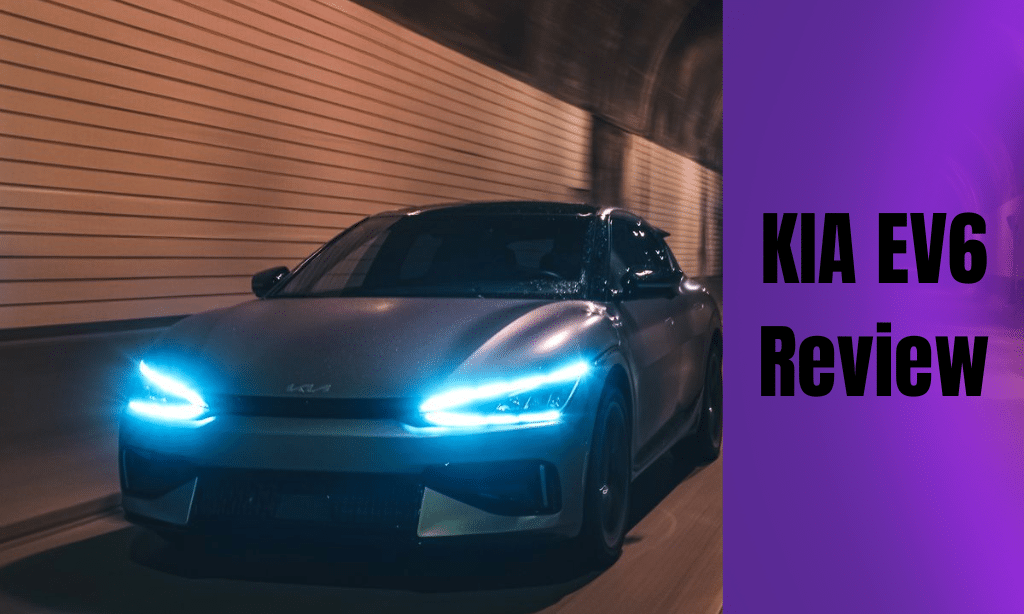 The Kia EV6's twin-engine and two electric motors generate up to 577 horsepower, offering a rapid 0-60 miles per hour rate in just 3.5 seconds for an exhilarating ride experience. Its interior cabin insulation provides quietness, excellent balance, better grip along with comfort driving.
Motor and Power
The 2023 Kia EV6 is powered by a dual-motor setup, featuring one front motor and one rear motor. The front motor offers an impressive 160 kW of power, while the rear provides 270 kW for a total output of 576 horsepower – making it the most powerful production vehicle Kia has ever made.
The EV6 GT also features an impressive torque output of 545 lb-ft coupled with its 77.4 kWh battery pack, allowing for quick acceleration from 0 to 60 mph in 3.5 seconds. All these attributes provide robust performance and superior handling capabilities, giving you thrilling driving experiences every time you're behind the wheel!
Acceleration
The Kia EV6 is one of the most powerful electric vehicles on the road today. The base model features a single motor and produces 225kW of power, making it sprightly enough to sprint from 0-60 mph in 7.2 seconds, which is impressive for an all-electric SUV.
If you're looking for more performance options, consider opting for the high-performance EV6 GT. It comes with twin electric motors producing 430kW of power – that's nearly twice as much as any other EV available right now!
As expected, acceleration is stunning with the EV6 GT completing 0-60 mph in just 3.4 seconds and covering a quarter mile in 11.4 seconds thanks to its dual motors working together optimally giving maximum torque output at any speed range on demand ensuring maximum efficiency typically akin to being inside a jet fighter plane without wings!
The incredible Engineering marvel can reach 100 km/h lightning fast in 3 seconds flat leaving your heart racing faster than ever before at this kind of speed rarely seen amongst Electric cars outside Formula E Racing Cars.
Comfort and Drive
The Kia EV6 offers a comfortable ride with superior acceleration and responsive steering. Equipped with dual motor EVs giving it an edge in smooth and immediate acceleration, the EV6 GT offers high horsepower from its e-AWD system as well.
A stronger engine means tighter handling and higher torque output for better performance out on the roads. With increased torque comes more precise control that can make tight turns or quick maneuvering easy to do whatever the terrain.
The Kia EV6 has responsive steering that makes it nimble on winding roads or steep drives. You get a dynamic driving experience on any journey. The comfortable seats have adjustable lumbar support. Features like panoramic moonroofs and climate control keep passengers happy. The audio system lets everyone access their music easily. Unique details are tailored to the driver. In short, the EV6 is designed to make every drive enjoyable.
Interior and Technology
The 2023 Kia EV6 offers an impressive interior design complete with stylish aesthetic choices and advanced technology features such as driver assistance, touchscreen display, wireless Mode 3 charging, and much more.
Stylish Design
The 2023 Kia EV6 features a remarkable and stylish design, unlike any other electric SUV on the market. The exterior offers an angular and aggressive front end with curvy sheet metal, unique wraparound LED taillights, sleek 19 or 21-inch wheels options to choose from, and optional two-tone paint styles that make it stand out.
On the inside, the EV6 has a minimalist yet modern setup complete with heated/ventilated seats wrapped in high-quality leather upholstery and accents of silver trim work in key areas.
With its curved touchscreen offering tactile haptics as well as intuitive navigation controls for hassle-free operation, all surrounded by a spacious interior cabin—the Kia EV6 embraces innovation at every turn to create something distinctively stylish.
Advanced Technology Features
The 2023 Kia EV6 truly stands out when it comes to advanced tech features. With Advanced Voice Recognition technology, the car has been designed for seamless control without taking away from comfort or performance.
The Kia EV6 has an e-AWD for added power and control. You get a safe, comfortable ride. Modern tech includes wireless Apple CarPlay/Android Auto, remote start by app, and a big 10.25″ touchscreen with customization. The interior has intuitive controls and paddle shifters to personalize your drive.
These energy-efficient yet powerful features make exploring your new frontier easier than ever before!
Storage Space
The 2023 Kia EV6 provides generous storage space and capabilities to meet the needs of both passengers and cargo. With up to 50.2 cubic feet of cargo space, five passengers can enjoy a comfortable ride along with their belongings or extra equipment for an adventure.
The unique flat floor design makes it easy to load more items in cramped spaces and places like grocery stores. Its long wheelbase maximizes roominess by allowing for plenty of legroom, while its ample storage is designed specifically for convenience with practicality in mind, so you never have to worry about where your stuff is going.
Whether it's packing for a weekend getaway or loading groceries after shopping, the EV6 offers enough useful storage solutions that you won't have to sacrifice comfort or style when organizing yourself and your things comfortably on the go!
Safety Features
The Kia EV6 comes with the latest safety technologies, providing drivers and passengers peace of mind when hitting the roads. Read on to learn more about how safe this vehicle is.
NHTSA Overall Rating
The 2023 Kia EV6 has received a 5-star rating for overall safety from the National Highway Traffic Safety Administration (NHTSA). The NHTSA evaluates vehicle crashworthiness in front, rear, and side-impact collisions.
In addition to evaluating collision protection, the NHTSA looks at each vehicle's passive and active safety features that are designed to prevent accidents before they occur. These features include automatic emergency braking methods, electronic stability control systems, blind spot monitoring technology, and many other elements.
The comprehensive examination results in a single score indicating how well the vehicle protects its occupants during an accident. With a 5-star Overall Rating from NHTSA, it is clear that Kia EV6 offers superior levels of occupant protection as evaluated by independent experts on behalf of the government's regulatory authority.
IIHS Rating
The 2023 Kia EV6 has been awarded top marks from the Insurance Institute of Highway Safety (IIHS), earning a "good" rating in all areas of crashworthiness and safety. The IIHS rankings are important for potential buyers looking for reassurance of their vehicle's integrity.
With its improved headlights, standard front crash prevention system, and structural similarities to the Hyundai Ioniq 5, the EV6 is among some of the safest vehicles available on the market today.
Along with NHTSA ratings which also give high marks to this revolutionary hatchback electric car, drivers can rely on excellent protection from damaging impacts with a low risk of injury in accidents.
Advanced Safety Features
The 2023 Kia EV6 comes fully loaded with the latest advanced safety features designed to help drivers improve their confidence and avoid accidents. It achieved the highest possible Good score in all of the crash and accident-avoidance tests conducted by the Insurance Institute for Highway Safety.
As a bonus, each model comes with basic safety equipment such as anti-lock brakes, stability control, front-impact airbags, side-impact airbags, overhead airbags, and pre-tensioners.
On top of that, higher trim levels come equipped with additional offerings like a 360-degree view parking camera, head-up display, and blind spot warning system.
These technologically advanced driver assistance systems are meant to keep you even safer on the road by monitoring vehicle movements and alerting drivers to potential dangers along their route or while reversing out of a driveway or parking space.
The comprehensive airbag system combined with the rearview camera provides even more protection from any danger that may come your way. Additionally, most models have lane departure warnings that let you know when you're drifting too close to another vehicle or veering off course a warning might be indicated through audio signals or physical vibration on the wheel itself.
Consumer Reviews
We take a look at the real user experience from industry experts with their detailed test results and helpful reviews for Kia EV6 owners.
Edmunds' Test Track Results
Edmunds conducts a thorough evaluation of the Kia EV6 on its test track, taking into account performance, acceleration, and handling. From its testing, Edmunds found that the Kia EV6 was an exceptionally well-rounded vehicle and extremely consistent in how it performed across both real-world and track conditions.
Its electric powertrain delivers smooth and balanced performance while cornering is precise thanks to an independent rear suspension system with rebound springs for improved comfort and stability.
The Kia EV6 offers drivers a Euro-focussed driving experience that can be enjoyed in any environment whether you're on city streets or tight country roads.
Most Helpful Consumer Reviews
The 2023 Kia EV6 has enjoyed a few reviews from owners and experts so far, with consensus giving it high marks for its performance, comfort, and technology features. Many consumers have praised the EV6 for its sleek design as well as advanced safety features such as automatic emergency braking, lane-keep assist, adaptive cruise control, and blind spot monitoring.
Owners of long-range versions also appreciate the excellent range offered by the battery pack that covers approximately 240 miles before needing to be recharged. Comfort levels are generally deemed good with soft materials used in construction across various surfaces inside the cabin while power delivery on lower speeds is described to be quite smooth yet lively when the accelerator pedal is pressed harder providing an exciting driving experience.
The exterior design has been attractive to many buyers along with a generously sized 17-inch touchscreen infotainment system adding a fun factor into journeys. With all these impressive points previously mentioned plus competitive pricing against counterparts from other brands weighing in favor of this model; it surely becomes a great choice for the electric vehicle industry at present!
Trending Topics
The Kia EV6 has been dominating the trending topics in the electric vehicle community since its launch earlier this year. The performance-focused EV6 GT-Line, RWD variant has become a fan favorite among car enthusiasts and petrolheads alike with its top speed of 115 mph, fast 0–60 times of 5 seconds or less, improved powertrain system offering up to 370 kW Type 2 motor output and 476 lb.-ft.
peak torque for powerful acceleration. Consumers have also taken notice of the latest technological advancements that come standard with the EV6 – namely Autonomous Extended Highway Driving Assist (EXHDA) which is designed to reduce driver fatigue during highway travel while maintaining safety levels.
More recently, 2021 marks the introduction of Kia's U-drag Race: a unique race series featuring four teams going head-to-head in an electrifying competition between two banks – one representing a KIA EV 6 GT spec, and another Dodge Challenger Black Ghost powered by Hellcat V8 engine! These events are sure to keep consumers engaged as they search for more information regarding these vehicle's capabilities on road and track conditions.
Reliability and Cost
Get to know what experts say about the Kia EV6's reliability and estimated cost of repairs, maintenance, and insurance. Read on to find out more!
Expert Opinions
Experts have weighed in on the 2023 Kia EV6, and they find its performance and features to be excellent overall. Consumer Reports experts gave it an "Excellent" rating for ride quality, and Edmunds rated it as "Very Good" for highway stability at high speed.
They praised the vehicle's efficient powertrain, which offers a smooth acceleration and a quiet interior. TrueCar also gave positive feedback about the EV6's driving comfort with various safety features that include Blind Spot Detection systems, and Lane Keeping Assist Technology, among many others.
Furthermore, Edmunds awarded five out of five stars across all categories of their review (comfort/convenience; reliability; value; personalization). It's noteworthy that every reviewer noted majority of the consumers have had fantastic experiences with this car making it an immensely desirable option even in its early stages after launch.
Maintenance and Insurance Costs
The maintenance and repair cost of Kia models averages around $8,442 for the first 10 years. This amount includes all types of repairs such as brake pad replacement, oil changes, wheel alignment, air filter replacements, and exhaust system repairs.
Plus you will also need to add in auto insurance costs when purchasing a Kia EV6; however, with reliable safety features such as Blind Spot Collision Warning and Front Collision Avoidance Assistance included in this model, you can be sure these additional expenses are well worth it!
New and Exciting Features
From the latest autonomous features to exciting U-drag race, discover all of the new and exciting features from the 2023 Kia EV6 that will make you want to hit the road.
U-Drag Race: Kia EV6 GT vs. Dodge Challenger Black Ghost
In August 2023, the epic showdown between electric and internal combustion came to the last track with a thrilling U-drag race between KIA's EV6 GT and Dodge's Challenger Black Ghost.
Boasting a 576-horsepower electric powertrain compared to the 807-horsepower supercharged 6.2 liter V8 engine on the Black Ghost, this race was an intense test as to who would come out on top – electric or IC.
The two cars roared off from their respective starting blocks and it soon became clear that Kia had brought their A-game with the EV6 GT. The car was in control right from jump but powered away in turns three through five showing superior stability regardless of the situation while other cars around them were suffering understeering and deterioration due to fast speed changes allowing it to clock a record time, making its mark as one of fastest electric vehicles (EV).
Autonomous Features
The 2023 Kia EV6 GT is packed with the very best in autonomous features, providing drivers with advanced safety, comfort, and convenience. With a 360-degree view parking camera, this electric vehicle gives you all-around visibility for effortless maneuvering into tight spots.
A head-up display projects important information directly on your windshield for safe driving while the blind-spot warning system keeps an eye out for potential hazards that may slip by during lane changes or merges.
By combining these modern technologies, Kia provides drivers with maximum situational awareness during driving which greatly reduces accidents and provides a safer and more confident experience behind the wheel.
Latest Updates for 2023
The 2023 Kia EV6 offers significant upgrades, both inside and out. On the outside, the bolder wheel design adds a sleek touch to its exterior, while new LED headlights add luxurious style and enhanced visibility.
The interior has seen updates as well, with a larger display for easier navigation and access to all your favorite apps. In terms of technology advancements, the 2023 model features an updated Autonomous Emergency Braking system that's capable of identifying cyclists on roads, in addition to standard forward collision warning capabilities.
The 2021 Kia EV6 has new self-driving tech like lane-keeping assist for highways. It also has a longer range thanks to better batteries. Owners can take longer trips without worrying about charging. The EV6 has onboard GPS navigation to help plan trips and find charging stations. Kia improved the range and tech in 2021. So owners can drive further with more confidence.
Frequently Asked Questions (FAQs)
Let's now explore some frequently asked questions regarding KIA EV6.
1. What is a KIA EV6?
KIA EV6 is a five-seater electric crossover SUV that offers luxury sports experience and swiftness with its powerful battery system producing up to 576 hp of power.
2. What are the features included in the latest 2023 update for KIA EV6?
The latest update of the Kia Ev6 includes an enhanced Autonomous Driving System, Advanced Display Audio with Apple CarPlay & Android Auto, swiveling captain seats, and an air purification system that provides optimal air quality by reducing allergens & bacteria inside its cabin.
3. What safety features are available in the new KIA EVs 6?
Kia's Vehicle Stability Management (VSM) delivers superior driving stability, ABS helps mitigate skidding risks while automatic emergency braking reduces collision possibilities and Blind Spot View Monitor ensures greater vehicular build-up awareness to ensure a safe driving experience each time you get behind the wheel of your 2023 Kia EV6.
Takeaway
The 2023 Kia EV6 offers buyers an electric SUV packed with a wide range of features and capabilities. It has ultra-fast charging, good range, a stylish exterior design, and advanced technology features for both safety and convenience.
Its two models provide something different for every buyer – the AWD EV6 GT Line or the high-performance all-wheel-drive EV6 GT model. The competitive price point makes it attractive and easy on the pocketbook while still offering impressive performance in terms of driving comfortability and speed acceleration.
Furthermore, its top safety scores make it a reliable choice when selecting an electric vehicle to purchase this year in India!