Top 20 Significant Events 2022 that Shook the World
Listen to Podcast:
Let's take a look back at the top significant events 2022 as the new year begins. These articles represent the issues and situations that affected readers throughout the last year.
The subjects include business, travel and travel limitations, Covid's Omicron variations, sad accidents and losses, politics, crimes, inspiring exploits, and a great deal more. We compiled a list of the 20 top significant events 2022 around the world.
1. Covid-19 and Its Impact on Global Economy
The global COVID-19 pandemic has had serious detrimental effects on the global economy, the precise extent of which is impossible to determine. The global gross domestic product (GDP) decreased by 3.4% in the year 2020. For context, global GDP reached 84.54 trillion U.S. dollars in 2020, so a 3.4 percent decline in economic growth resulted in a loss of approximately two trillion U.S. dollars in economic production.
However, the global economy soon recovered from the initial shock and returned to positive growth by 2021. In that year, it reached 92,3 trillion U.S. dollars, and economic growth is anticipated to continue in the future years, despite the impact of Russia's conflict in Ukraine since February 2022 on the global economy.
2. Russia's Invasion of Ukraine
On February 24, Russia invaded Ukraine, significantly escalating the already high level of hostility between the two nations. Thousands of people have died as a result of the invasion, and 7.8 million Ukrainians are expected to have left their country by November 8, 2022, according to the UNHCR. This is Europe's worst refugee crisis since World War II.
Russia experienced its highest emigration rate since 1917 just five weeks after the invasion. The rest of the world has since had a difficult time coping with price shocks, supply problems, and food shortages.
3. US-China Tensions 
The United States and China are engaged in a great power competition. In its National Security Strategy, which was unveiled by the Joe Biden administration in October 2022, the United States declared its intention to "win the competition" and stated that China "has the intention and, increasingly, the capacity to reshape the international order in favor of one that tilts the global playing field in its favor."
The administration cited evidence that Beijing's actions had pushed Washington to change its policy of welcoming China's rise, including Beijing's militarization of the South China Sea, support for Russia's invasion of Ukraine, efforts to intimidate Taiwan, and pervasive intellectual property theft. China's aggressive response to U.S. House Speaker Nancy Pelosi's travel to Taiwan in August demonstrated how strained the two nations' relations had become.
4. Sri Lanka Economic Crisis
Protests began in the nation's capital, Colombo, in April and quickly expanded. Daily power outages and shortages of necessities like fuel, food, and medications have been a struggle for the populace. The rate of inflation has surpassed 50%.
There isn't enough fuel in the country to provide key services like buses, trains, and medical vehicles, and there isn't enough foreign cash to import more, either. Petrol and gasoline prices have increased significantly as a result of the fuel shortage.
For two weeks in late June, the government outlawed the selling of gasoline and diesel for non-essential cars. Fuel sales are still severely constrained. People have been urged to work from home in order to conserve supplies, and schools have been closed.
5. Iran Protests Against Hijab Mandate
This year, the Islamic Republic of Iran's leadership faced one of the most major challenges to their control. The protests began in September when 22-year-old Mahsa Amini was arrested for not properly covering her hair and died in police custody. Hundreds of people gathered to protest her killing and Iran's treatment of women. Protests swiftly swept across the country, bringing together Iranians from all social, economic, and ethnic backgrounds.
6. Outbreak of Mpox (Monkeypox)
Since early May 2022, 110 nations have reported cases of monkeypox or Mpox as it is now known thanks to the World Health Organization (WHO). As of December 15, the virus had been confirmed in 82,828 cases, according to WHO. The virus has been deemed a public health emergency of international concern even though the risk assessment by the health organization rates it as moderate.
7. Inflation Surges Around the World
Forecasts predict that the rate of global inflation would increase from 4.7 percent in 2021 to 8.8 percent in 2022 before falling to 6.5 percent in 2023 and 4.1 percent by 2024.
Inflation increased globally in 2022. Issues with supply and demand combined cause price increases. In terms of demand, decades of loose monetary policy coupled with a wave of government expenditure to avert a financial crisis during the COVID pandemic increased consumer spending. On the supply side, COVID and then Russia's invasion of Ukraine shattered international supply lines and led to shortages in a variety of products.
Politics in both wealthy and developing nations has been strained as a result of rising prices as officials try to appease the outraged populace. The issue is that boosting interest rates is the primary treatment for inflation. However, doing so does little to address supply chain disruptions and may result in a recession.
8. Halloween Crush in South Korea
In a prominent nightlife area of Seoul on October 29, the capital of South Korea, a horrific Halloween crash that occurred on Saturday is believed to have claimed at least 156 lives. The majority of the fatalities were in their 20s, and more women than men were killed.
According to authorities, 26 international nationals are among the dead. Along with three professors and three South Korean military personnel, six kids who were in class in Seoul were also slain.
9. Climate Change Intensifies
Extreme weather conditions that were once rare became frequent. Record heat waves in Europe destroyed forests and dried up rivers. A similarly severe heat wave hit Pakistan, which was then followed by incredible monsoon rains that submerged up to one-third of the nation. A record drought in the southwest of the United States reduced crop output and shrank reservoirs like Lake Mead. On the other side of the nation, Florida was devastated by Hurricane Ian.
In April, the United Nations' Intergovernmental Panel on Climate Change issued a dire warning about the impending irreversibility of climate change's impacts. The conclusion of the COP27 conference in Sharm El Sheikh, Egypt, resulted in a loss and damage accord that, in theory, will compel affluent nations to compensate less developed nations for the suffering caused by climate change. However, no new developments in reducing emissions were made. Instead, in 2022, the amount of carbon dioxide in the atmosphere grew even more.
10. Death of Queen Elizabeth II
Queen Elizabeth II, who ruled the United Kingdom for the longest time, passed away on September 8 in Scotland due to old age. The post-World War II recession, the change from empire to Commonwealth, the end of the Cold War, and the UK's accession into — and exit from — the European Union all happened during Queen Elizabeth II's time as head of state. King Charles III, her eldest child, succeeded her as the new king of England after her death.
For tens of millions of Britons, her seven-decade rule served as the time's bookend and characterized the era. She was one of their last remaining connections to the Second World War and the end of Britain's imperial era. The one consistency in their lives was her.
11. Japan's Ex-PM Shinzo Abe Falls to Assassin's Bullet
It was an unremarkable day. On July 8, shortly before noon, former Japanese Prime Minister Shinzo Abe was speaking at a small political gathering outside a train station in the western city of Nara when a man in his 40s crept up behind him and shot a rifle he had cobbled together using online instructions. Before Mr. Abe's security wrestled him to the ground, the man managed to shoot again.
Mr. Abe did not survive after an hour-long effort to save him. A bullet had torn an artery beneath his collarbone, causing him to die from significant blood loss.
12. Rishi Sunak Became the First Indian-Origin UK PM
Rishi Sunak was elected as the new prime minister of the UK on October 25. In the previous six years, he is the fifth elected leader of the Conservative party. He made history after becoming UK's first Indian-origin Prime Minister.
Rishi Sunak is a conservative party leader who was born on May 12, 1980, in Southampton, England. He has been involved in politics since 2010. During the second term of British Prime Minister Theresa May, the 42-year-old worked as the Parliament's Under-Secretary.
For two years, from 2015 to 2017, Rishi Sunak served as a parliamentary private secretary at the Department for Business, Energy, and Industrial Strategy and a member of the Environment, Food, and Rural Affairs Select Committee.
13. Nature's Full Fury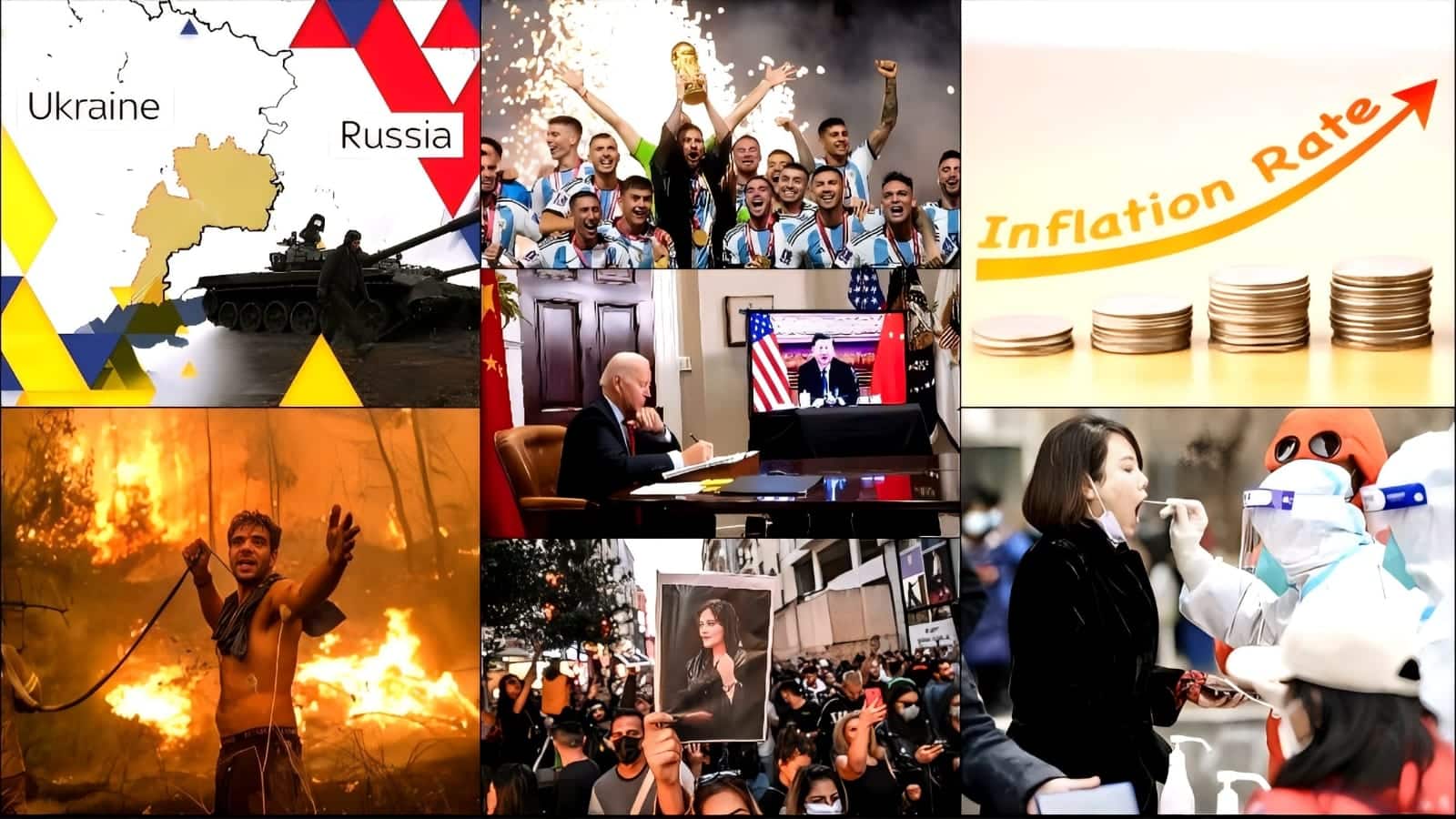 Disasterous floods, crop-killing droughts, and record heatwaves served as yet another warning of how quickly the climate is changing. Crops were harmed by record heatwaves from China to Europe, while millions in the Horn of Africa faced hunger due to drought.
A total of 33 million people were affected by floods in Pakistan that were exacerbated by climate change, costing an estimated US$30 billion (S$40.5 billion) in property destruction and economic losses.
14. World Population Crosses 8 Billion
According to the United Nations, the world population reached 8 billion on November 15, with India being the largest contributor (UN). India contributed 177 million to the total. Another distinction awaits India in 2023 when it is likely to overtake China as the world's most populated country. 
It took the globe 11 years to add one billion people to its population, and growth has since slowed. The United Nations estimates that it will take 15 years to reach nine billion people and that it will not reach ten billion until 2080.
15. Elon Musk Takes Control of Twitter
The news that Elon Musk, the richest man in the world, had successfully acquired Twitter for $44 billion (£38.1 billion) shocked the whole world. Let the good times roll, Mr. Musk later tweeted after writing "the bird is freed."
Several senior employees, including the Twitter CEO, Parag Agrawal, have been let go. Agrawal and two other executives were led out of Twitter's San Francisco offices on Thursday night. Months of legal fighting have come to an end with the completion of the purchase, but it has raised concerns about the platform's future course.
16. COP27 and The Landmark Compensation Fund
First-world countries have set up a fund for "loss and damage" to pay for the damage that global warming is causing to poor countries for the first time. In November, an important decision was made at the UN climate summit in Sharm-El-Sheikh, Egypt.
It was a big win for the poorer countries, which have been asking for money — sometimes seen as compensation — for a long time because climate change often causes devastating floods, droughts, heat waves, famines, and storms, even though they haven't done much to cause them.
17. Apple was the First Company to Hit the $3 Trillion Market 
Apple Inc. became the first company to reach a $3 trillion stock market value on January 3, 2022. Investors placed bets that the maker of the iPhone would continue releasing top-selling products. While pursuing new markets like automated driving and virtual reality.
In addition, The Silicon Valley business's shares reached an intraday high of $182.88 on the first trading day of 2022, valuing the company at just over $3 trillion. With Apple's market value at $2.99 trillion. The stock ended the session up 2.5% at $182.01.
18. Microplastics Detected in Human Blood
Microplastics, or minute pieces of plastic, are pervasive contaminants that can be found practically anywhere on the planet. It has been found by scientists in the Mariana Trench, close to Mount Everest's summit, and even in baby excrement. But now, scientists have identified a fresh delivery system for microplastics: human blood.
In a study with 22 people, 17 of them—or 77 percent—had plastic in their blood, according to a publication in Environment International. Researchers tested the blood of anonymous, healthy persons for the presence of plastic particles with a diameter between 700 and 500,000 nanometers (nm). According to Aathira Perinchery of The Wire Science, human hair is about 140 times larger than 700 nm.
19. FIFA World Cup 2022
FIFA World Cup 2022 was an international football tournament between the men's national teams of the member associations of FIFA. It was held in Qatar from November 20 to December 18, 2022. The FIFA World cup was the first World Cup to be held in the Arab and Muslim worlds. It was also the second World Cup to be held entirely in Asia, after the one in South Korea and Japan in 2002. 
After a thrilling championship game at the FIFA World Cup 2022 in Qatar, Argentina won the title for a record-tying third time. In the championship game, Lionel Messi scored twice to complete his collection of all the trophies in his illustrious career. 
Messi, 35, won a runners-up medal in FIFA World Cup 2014 in Brazil. He has finally achieved his dream in his 5th World Cup.
20. First Woman Referee at Men's World Cup
The road that Stephanie Frappart took to become the first female official in a men's World Cup match began almost 30 years ago in the suburbs of Paris. The FIFA World Cup 2022 was held in Qatar. The first middle-east country to host a soccer tournament. 
However, The Frenchwoman, 38, who was in charge of the action in the final Group E match between Germany and Costa Rica played football in Herblay-Sur-Seine between the ages of 10 and 13 before deciding to pursue a career as a referee.
Conclusion
The year we leave behind was not one the world would love to remember with fondness. This 2022 was a spectacular year in a number of ways. The world witnessed everything, from upheavals to wars to disasters. We believe these listed 20 top significant events 2022 shook the world.