The 15 Best Multi-device Wireless Chargers for 2023 [Detailed Review]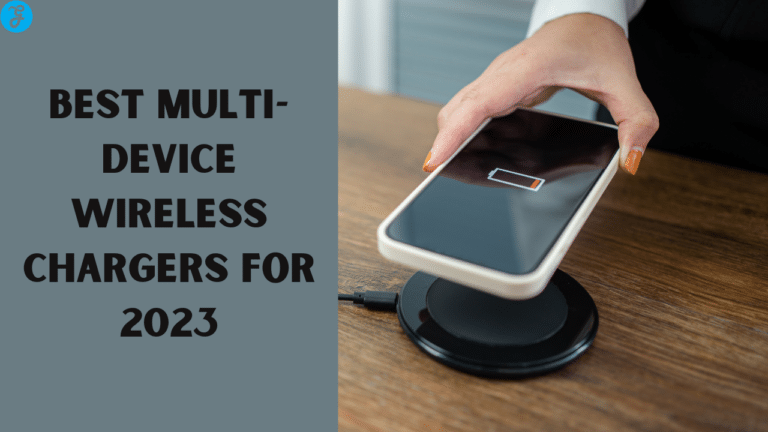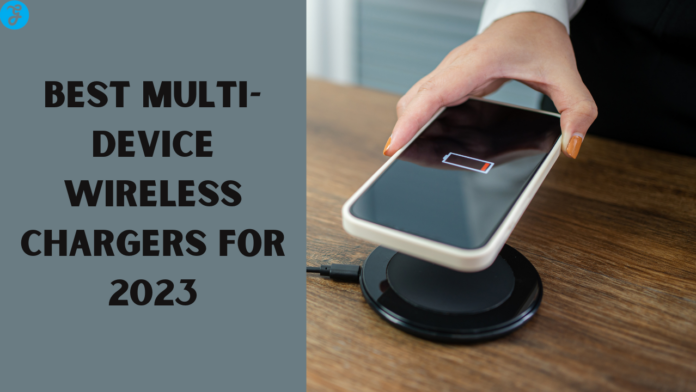 Are you looking for the best multi-device wireless chargers for 2023 to keep all your devices powered up but don't know which one is the best? With so many models and products out there, it can be difficult to choose.
According to Gartner, 30 percent of households will have at least three connected smartphones by 2023. Luckily for you, this article will help narrow down your search and lead you toward finding the perfect multi-device wireless charger in 2023.
We'll talk about the design aspects of these types of chargers, look into various options available with their pros and cons, and answer some frequently asked questions related to this topic – all so that you can make an educated decision on what the best option is for YOU! Get ready to find the perfect multi-device wireless charger that suits YOUR needs!
Charging multiple devices simultaneously requires the highest quality wireless chargers with fast charging speeds, upgradable firmware, and compatibility with different technological standards.
Top multi-device chargers for 2023 include Belkin BoostCharge Pro, Logitech Powered Dock, Anker 533 Wireless Charger, Otterbox 3-in-1 Charging Station, and Mophie Dual Wireless Charging Pad & Samsung Super Fast Wireless Duo charger.
When choosing a good wireless charger it is important to consider design aspects such as where you plan to use it, future-proofing capabilities & performance features of the multi-charging station along with box contents & small details like cable management clips which can enhance user experience by maintaining neatness during nonusage times.
Factors such as device compatibility, build quality and safety should always be taken into account while selecting the perfect multi-device charger for your needs in 2023
Design Aspects of Wireless Chargers
When choosing a wireless charger, consider where and how you will use it, its future-proofing capabilities, performance features, and quality of the box contents.
Where and How Will You Use It?
When choosing the correct wireless charger for your devices, it is important to consider where and how you plan to use it. Depending on your location and needs, certain features of a wireless charger may be more beneficial than others.
If you're looking for an all-in-one charging station that can charge multiple devices simultaneously in one place, then you're going to need something with good performance and plenty of ports so it can support different types of peripherals like smartphones, Bluetooth headphones, and wearable techs such as fitness trackers or smartwatches.
On the other hand, if you travel frequently or want a portable solution that's easy to take with you wherever go, then look out for options that offer fast-charging capabilities along with cableless magnetic connection technologies like MagSafe or the Qi standard for inductive charging – although these are now becoming increasingly prevalent in both home chargers and power banks today.
Future-Proofing
When choosing a wireless charger, it is important to think ahead and select one that is compatible with future devices and technologies. To help protect your investment, look for chargers with upgradable firmware that allows you to optimize speed or power efficiency as new phones become available.
Some modern wireless chargers are even capable of charging multiple devices at once using different kinds of cables – USB-C, Lightning, etc., allowing you to ensure compatibility regardless of the type of device used.
Performance should also be taken into account when buying a wireless charger; make sure you pick one that delivers enough wattage and fast charging capabilities so that it can handle any rapid charge needs in the future.
Performance
Performance is of utmost importance when selecting a multi-device wireless charger for 2023. Look for chargers with the latest cutting-edge technology and fast charging speeds to enjoy an optimal experience.
MagSafe chargers provide maximum charges to iPhones 8, X, XR, XS, and 11 due to their built-in magnetometers and aren't limited only to Apple devices – they are also compatible with other leading brands like Samsung or LG.
Stronger magnetic fields allow for higher wattage which equates to faster charging times. Furthermore, look at the overall build quality; even if it's made from plastic make sure that it isn't flimsy nor suffers from excessive wear and tear in normal use cases.
Quality, Box Content and Small Details
When selecting a wireless charger, the quality of materials is crucial. Choose products made from durable and high-grade components for reliable operation and long-lasting performance.
Also look at details such as types of connectors, cables, adapters, and compatibility with different devices to ensure they are suitable for your specific needs. Moreover, consider other important factors like box contents and small features; this includes foam inserts that protect the place where the charger sits and cable management clips that keep everything neat and tidy when not in use.
Additionally, double-check if extra accessories such as wall adapters or travel cases come bundled which can greatly enhance user experience. As customer satisfaction heavily depends on how well a product performs overall make sure to look closely at all aspects including design details before making a purchase decision.
15 Best Multi-device Wireless Chargers for 2023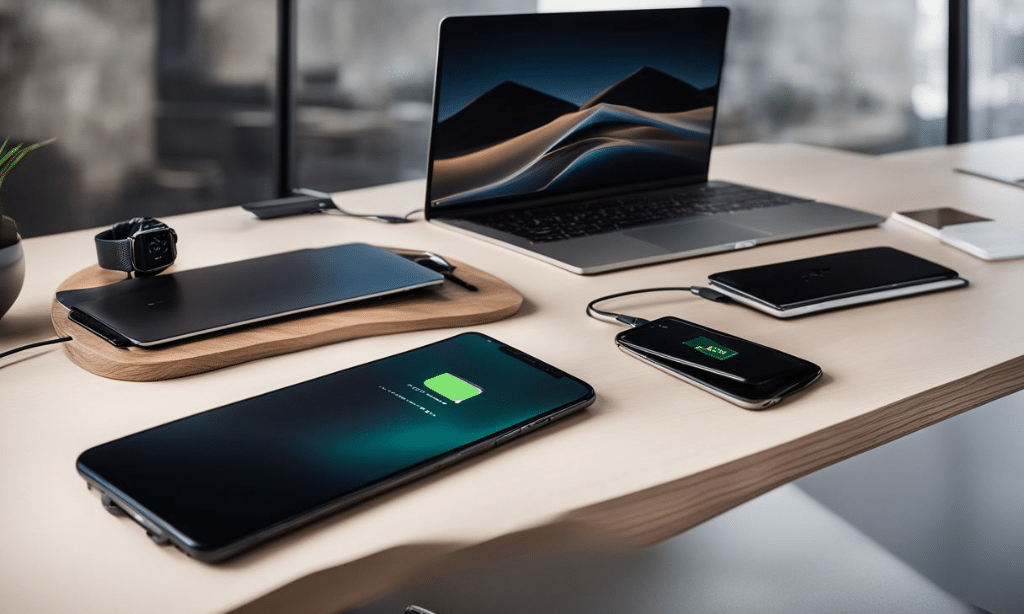 For multiple device charging, a variety of 3-in-1 wireless chargers such as Belkin BoostCharge Pro, Logitech Powered Dock, and Anker 533 are available – dive in to explore more!
| Model | Price | Key Features |
| --- | --- | --- |
| Belkin BoostCharge Pro 3-in-1 | $154.99 | Simultaneous charging for iPhones, AirPods, and Apple Watch, MagSafe technology |
| Logitech Powered 3-in-1 Dock | $130 | Versatile device placement, Qi wireless technology compatibility |
| Anker 533 Wireless Charger | $49.99 | Charges iPhone, wireless earbuds, and Apple Watch simultaneously |
| Otterbox 3-in-1 Charging Station | $63.99 | MagSafe-compatible, supports iPhone, AirPods, and Apple Watch |
| Mophie Dual Wireless Charging Pad | $32.98 | Charges two devices simultaneously, 7.5W fast charging for Apple devices |
| Samsung Super Fast Wireless Charger Duo | $119.99 | Fast charging, accommodates two phones, compatible with Samsung Galaxy devices |
| Mophie 4-in-1 Wireless Charging Mat | $251.94 | Charges multiple devices simultaneously, extra USB-A port, cable clutter-free |
| Otterbox OtterSpot Wireless Charging System | $49.97 | Simultaneous charging, compatible with iPhone and Android devices, optimal charging positioning |
| Belkin BoostCharge Pro Portable Charger Pad | $60 | MagSafe technology, 15W charge, USB-C port, compact design |
| Anker 315 Wireless Charger | $14.99 | Slim design, up to 10W wireless charging, universal compatibility |
| Spigen ArcField PF2102 | $79.99 | 15W power delivery, Designed for Samsung certification, efficient multi-device charging |
| Anker 313 Wireless Charger | $14.99 | 3-in-1 platform, up to 10W power output, universal compatibility |
Belkin BoostCharge Pro 3-in-1 Wireless Charging Pad with MagSafe ($154.99)
is an excellent choice for Apple users looking to charge their devices simultaneously. This sophisticated charger offers a neat and organized way to power up iPhones, AirPods, and Apple Watch all in one go, without the hassle of using multiple wires.
The MagSafe technology provides strong magnetic connections that ensure secure and efficient charging. With the 15W wireless charging pad supporting iPhone 12 or 13 models, you can be sure your phone will get full charge quickly with its fast-charge capabilities.
Additionally, the three separate modules are designed to accommodate different shapes and sizes so that you can easily charge any device at once without needing several plugs for each one.
Logitech Powered 3-in-1 Dock ($130)
is the perfect multi-device charging solution for 2023. This dock offers a flat wireless charging area and an upright charging dock, giving you a lot of versatility in terms of device placement.
It has streamlined curves that give it a sleek futuristic look, making this an ideal choice if design matters to you. Plus, with Qi wireless technology compatibility, all your latest gadgets will be able to juice up on this 3-in-1 charger.
Not only does it deliver amazing performance but it has lightweight and compact designs.Make it ultra portable too – great news for those tech lovers always on the go! With Logitech Powered 3-in-1 Dock​ taking care of knowing who needs what charge when won't be so tricky after all.
Anker 533 Wireless Charger ($49.99)
is one of the most popular multi-device chargers for 2023, which provides excellent device compatibility and a versatile charging experience. This 3-in-1 stand can charge your phone, wireless earbuds, and an Apple Watch Series 1-6 simultaneously.
It comes in a compact foldable form factor that makes it convenient to take with you on trips or store away at home when not in use. Additionally, it also features a built-in USB port to plug into its USBA power adapter or any other source of DC10V/2A current.
Furthermore, although the Anker 533 Wireless Charger can support older versions of the Apple Watch Magnetic Fast Charger via USB A cable connection, but are not compatible with their latest version via USBC connection.
It has fast charging capabilities enabling up to 15 watts for iPhone devices helpful when you're in hurry as well as 10W levels primarily used by phones featuring only QI technology such as Samsung Galaxy series.
Otterbox 3-in-1 Charging Station for MagSafe ($63.99)
is the perfect solution for those seeking an all-in-one charging platform that covers their various Apple devices. It can hold and power an iPhone, AirPods and Apple Watch in one place – allowing easier access to your essential tech while keeping everything charged-up.
Specifically designed to provide optimal 15W wireless charging for MagSafe-equipped iPhones, faster wireless charging means you never run out of battery life. The charger also integrates into an Apple Watch charger meaning you won't need a stand or cable just for your watch anymore.
Moreover, it is MFI (Made for iPhone) approved which ensures its compatibility and quality with all Apple products while being certified by Apple provides further validation of its performance capabilities.
Mophie Dual Wireless Charging Pad ($32.98)
The Mophie Dual Universal Wireless Charging Pad is the perfect choice for Apple users looking to charge multiple devices at once. With up to 10W of power, this charging pad can wirelessly juice up two different devices at a time, such as an iPhone and AirPods.
It's also capable of providing an efficient 7.5W fast-charging when used with compatible Apple devices like iPhones and iPads. Additionally, its ultra-slim profile makes it portable enough to carry anywhere while its soft LED light indicator keeps you informed on when it's in use or not.
While some users have reported issues with the reliability of this charger, overall it remains one of the best multi-device wireless chargers available for 2023 due to its great design features and features inducing simple set up, compatibility with Apple products & good performance under pressure.
Samsung Super Fast Wireless Charger Duo ($119.99)
is an advanced 2-in-1 wireless charger designed exclusively for Galaxy devices. It offers fast and efficient charging, capable of up to 15W output, easily providing a full charge in no time at all.
The device can accommodate two phones simultaneously on its charging pad, allowing for multiple users or gadgets to be charged without cluttering the room with numerous cables. With compatibility with Samsung's Galaxy S22 series models it ensures safe and reliable charging any time you want it; regardless if it's used during bedtime preparations or even when part of an outdoor trip.
Its wide range of features make the Samsung Super Fast Wireless Charger Duo perfect for anyone looking for convenient hassle free usage every day!
Mophie 4-in-1 Wireless Charging Mat ($251.94)
The Mophie 4-in-1 Wireless Charging Mat is considered one of the best multi-device wireless chargers for 2023. Perfect for those with multiple devices, this charging mat makes it convenient to charge all your favorite gadgets simultaneously.
Compatible with Apple iPhone, AirPods, Watch, Samsung Galaxy, Google Pixel and more Qi enabled devices. There is also an extra USB-A port included within the charger which can be used to power any other non Qi enabled device on top of that.
With its cable clutter free feature allowing you to organize your space and maintain a neat look; this charging mat provides a perfect solution when having family or friends over who also want their phones charged up quickly and easily.
Otterbox OtterSpot Wireless Charging System ($49.97)
is the best overall wireless charger for 2023 and offers a plethora of features that make it stand out among other similar products. It allow for fast charging of Qi Wireless devices, eliminating the need for cords and cables while providing simultaneous charging.
The system is compatible with both iPhone and Android devices, making it perfect for those who own multiple platforms. Its design also makes it easy to position your device properly so you always get the optimal charge needed.
Performance-wise, this product has all the bells & whistles that one would expect from an exceptional multi-device wireless charger: rapid power delivery, low heat dispersal characteristics, high quality components & materials plus many small details such as backwards compatibility with older standards of technology when necessary.
Belkin BoostCharge Pro Portable Wireless Charger Pad ($60)
The Belkin BoostCharge Pro Portable Wireless Charger Pad is one of the best overall wireless chargers for 2023, providing the fastest charging speeds. Its MagSafe technology works to deliver a powerful 15W charge that is suited to both iPhones and Android devices with new Qi-Certified models.
Not only does it have an impressively small design weighing just 2 ounces, but it also features a USB-C port which allows users to charge two devices at once. The built-in LED indicator alerts you when your device has been successfully charged and allows you to take this compact charger on-the-go wherever needed.
Plus, with its strong yet flexible coil, the Belkin BoostCharge Pro provides optimal performance no matter what orientation your phone may be in while it charges.
Anker 315 Wireless Charger ($14.99)
The Anker 315 Wireless Charger is considered one of the best overall wireless chargers for 2023. It features a slim and stylish charging pad that supports up to 10W wireless charging.
Compatible with various devices, including Samsung phones, setting your device down on this charger is all you need to start receiving a high-speed charge. Not only does it offer these great features at an affordable price, but it also ensures reliable charging with every use.
Its easy placement and straightforward setup make the Anker 315 Wireless Charger perfect for anyone looking for a fast and dependable way to stay powered up in 2023.
Spigen ArcField PF2102 ($79.99)
is one of the leading wireless chargers for Samsung Galaxy devices in 2023. It features a 15W power delivery that supports super fast charging, making it an ideal option for users with multiple Samsung Galaxy phones or tablets.
The charger also features "Designed for Samsung" certification, ensuring compatibility and performance on all compatible devices right out of the box. Additionally, ArcField PF2102 has received positive reviews from customers overall; particularly those looking to charge multiple devices quickly and reliably come back to this device as their go-to choice.
With its various design choices and long-term reliability, ArcField PF2102 is sure to be a fan favorite among Samsung Galaxy fans when it comes to efficient multi-device wireless charging in 2023.
Anker 313 Wireless Charger ($14.99)
boasting a 3-in-1 platform, the Anker 313 Wireless Charger is one of the best overall wireless chargers for 2023. It's designed to deliver high power output (up to 10W) ensuring efficient charging of multiple devices at once.
Universal compatibility allows users with Qi-enabled devices such as iPhones, iPads and Android phones can safely charge while doing away with the need for wires. A USB C charger included in this convenient charging package creates an all-round solution perfect for homes and offices alike.
This cell phone accessory also features advanced charging technology that sets it apart from competitors with its versatile wireless charging option. Offering complete convenience at an attractive price point, make sure you investigate further into what the Anker 313 Wireless Charger has to offer before choosing your preferred multi-device charger!
What to Look for in a Multi-Device Wireless Charger?
When choosing a wireless charger, be sure to consider emission source and contaminants, filter capacity, design and usage factors as well as performance specifications.
Water-Resistant and Waterproof Chargers
When choosing a wireless charger, it is important to consider the source of water that could enter and potentially damage your device. Water-resistant and waterproof chargers are recommended for use in wet environments such as those near swimming pools or bathrooms where exposure to moisture is unavoidable.
Charge pads can be vulnerable to corrosion from chemicals and other substances in the atmosphere so look for chargers with special protective coating designed specifically for these conditions.
If you're planning on taking your charger outside, choose one with high IP rating (which measures its degree of resistance against dust, solids, and liquids) to ensure protection against rainfall or splashes during outdoor activities.
It is also essential to check how quickly any water droplets will escape; most models should automatically shut off power supply if exposed even briefly to protect your device from short circuits or electric shock hazards caused by water ingress.
Identifying Contaminants
When shopping for wireless chargers, it is important to identify the sources and contaminants that may be present in the charger. Commonly these include water contamination as a result of improper storage, dust accumulation or regular wear and tear.
It is also important to consider particles like hydrocarbons and metal particulates which can lead to electrical disruptions when used on devices. Therefore it's important for consumers to take preventative measures such as using an environmental test kit or visual inspection prior to purchase in order to determine if there are any pollutants present within their chosen charger.
Additionally, checking for filter capacity before purchasing is recommended; a good quality charger should be able to adequately trap any impurities that may be transferred from air, liquid or solid surfaces during charge transfers so that no harm comes upon your device while recharging.
Filter Capacity and Replacement Frequency
When selecting a wireless charger, it is important to consider the filter capacity and replacement frequency as these will determine how well the device performs, how long it lasts, and also impact its safety features.
The filter capacity indicates how much power can be directed through the charger at once – this helps ensure that your devices are charged quickly but safely. A higher quality wireless charger should have both an efficient filtration system for releasing only safe levels of electricity as well as a larger wattage than other models on the market in order to meet all of your needs.
Replacement frequency refers to whether or not you need to replace certain parts (such as plug-in cords) depending on age/wear–and–tear in addition to yearly maintenance.
Your best options would be either wirelessly powered chargers from Belkin such as their Boostcharge Pro 3-in 1 Wireless Charge with MagSafe which comes with quick NFC detection. 
It charges up 50% faster while providing enough power output for many devices simultaneously; or if you're looking for an Apple compatible option Logitech's Powered 3-in-1 dock offers multiple charging ports and connects easily via USB C connection allowing 8x more power capability than other docks while still maintaining protection against overheating due to its advanced air flow design features enabled by 7 vent holes located beneath each port.
Can I Use a Multi-device Wireless Charger with a Phone Case?
The answer is yes! Wireless charging does work with most phone cases and can offer a simple way to charge your device. Multiple different kinds of cases are available, such as silicone-cases that are compatible with wireless chargers.
In addition, many popular brands of phone protection accessories like OtterBox also offer range of wireless charging options for their case designs. Moreover, it's important to note that wireless charging capabilities are not restricted to certain types or models of phones only; they should fit the Qi standard in order to be enable devices regardless of model.
Whether you're looking for fast power-up times, convenience or enhanced protection this kind of technology makes an invaluable companion for any smartphone user and effortless accessory which works even when a protective phone cover is being used together with it.
Is Wireless Charging Safe for My Device?
Wireless charging is a safe and convenient way to charge devices as long as the Qi standard is used. This charging standard ensures that the device will be safely charged without over or under-charging it, thereby protecting both its battery life and your safety.
It is also important to purchase wireless charging pads from reputable brands in order to further protect yourself and ensure you get optimal performance out of them. In addition, most wireless chargers come with trickle charge technology which keeps the phone battery at full capacity so it doesn't draw more current than necessary when on the charger pad.
Although having convenience when charging comes with a few cons such as slower process times compared to traditional methods, overall wireless charging has many advantages for users including eliminating cable clutter in home & office plus lower costs due to not needing multiple sets of cables for multiple devices.
What is the Best Wireless Charger for iPhone?
The Apple MagSafe Charger is recommended as the best option for charging iPhone 12 and 13 models. This innovative wireless charger offers magnetic alignment to make it more precise, secure, and stable than other traditional wireless chargers.
For efficient multi-phone charging, solutions like the Logitech Powered 3-in-1 Dock or Mophie 4-in-1 Wireless Charging Mat are ideal choices. These feature three Qi coils that allow users to charge up to three devices simultaneously at fast speeds of up to 14W each.
Lastly, many high-quality standalone chargers can offer reliable performance such as Belkin BoostCharge Pro Portable Wireless Charger Pad, Anker 315 Wireless Charger, Belkin BoostCharge 15W Wireless Charging Stand, and Spigen ArcField PF2102.
How to Choose a Multi-device Wireless Charger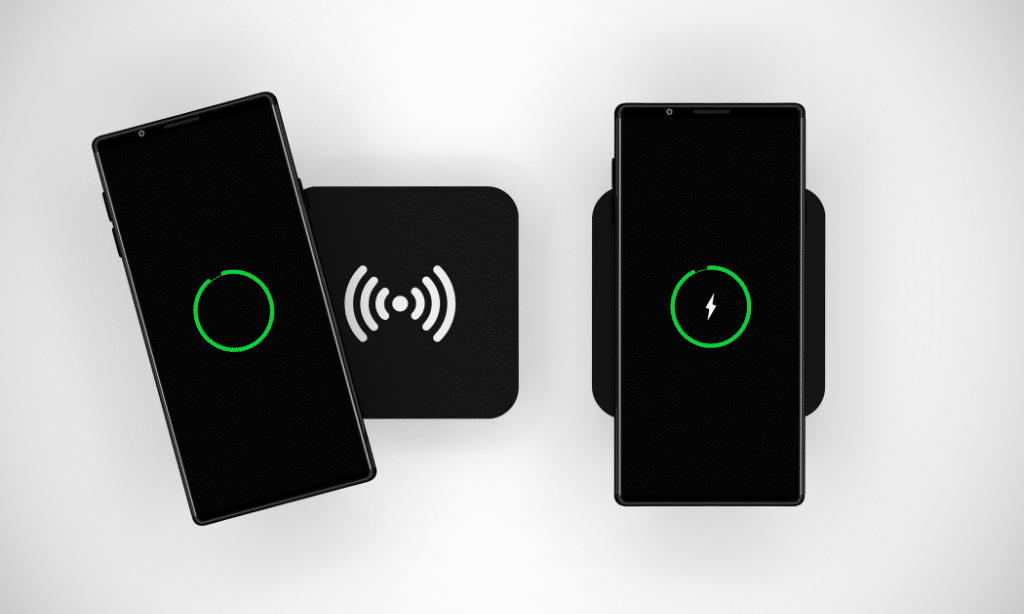 To make the right decision, consider the source and contaminants of your water, the filter capacity needed to remove them from it, a design that is convenient for daily usage, and performance features such as fast charging capability.
Source & Contaminants
When choosing a wireless charger, it's important to consider where the device is coming from and what contaminants might be present. Wireless chargers can contain many different types of elements or agents that could harm your device if they are not properly managed.
Common sources of contamination include dust particles, metal shavings, salts, acids, or other chemical pollutants. Just as with any electrical item plugged into a power source, you should always use caution when purchasing unknown brands or items without proven trustworthy origins.
This is especially true for wireless charging since the electrical current needs to pass through these contaminants in order to reach its target destination – which is your phone! Not only could this lead to an interruption in service but also cause long-term damage leading to potentially irreversible smartphone failure due to the combination of both physical and chemical irritation caused by contaminants within the transference process itself.
To avoid all potential risks associated with using unidentified products for charging purposes; it's best practice to regularly filter out any detectable chemicals such as aluminum oxide or pollen grains before making use of a new charger materialized through an unquestionable certificate of reliability provided either by EU approval standards or industry leader maker assured trust level agreements respectively
Filter Capacity
When it comes to wireless chargers, one of the most important factors to consider is filter capacity. The ability of a wireless charger to prolong its lifespan and maintain optimal performance relies heavily on its filter capacity.
Filtering out contaminants such as dust, dirt, and moisture helps protect the internal components from damage caused by these foreign particles. Generally, a higher charged particle load can be accommodated by increasing the size or number of filters within the device while also ensuring that they are correctly placed in order for them to perform their function effectively.
Most reputable manufacturers tend to opt for larger capacities in order to diminish any risks associated with subpar performance or unexpected malfunctions over time due to an overload in contaminants.
Design & Usage
Wireless chargers come in different shapes and sizes, such as pads, stands, and multi-device chargers. Depending on the device being charged – phones, earbuds, or watches – the user should pick a design that fits their need and usage preferences.
Design considerations include where and how will you use it. Is it worth future-proofing if you plan to charge multiple devices in parallel? Are there any specific features for enhanced performance such as Qi's fast charging capabilities? In terms of quality check the box content – is there a cable supplied with your wireless charger? Moreover, small details such as an indicator LED light can make a difference in the usability experience.
Taking into account all factors needed for effective targeted use could save time having to buy another wireless charger when one's needs change over time. If you're interested also read on the best Smart TVs in 2023
Performance & Small Details
When choosing a wireless charger for multiple devices, both performance and small details must be taken into consideration. Performance greatly impacts the user's experience, as it determines charging speed and efficiency.
Small details are often overlooked, but these can also make or break an overall user experience.
For example, measuring how much space is available for all of your devices when plugged in is essential; if the wireless charging station cannot fit all of your devices comfortably, then they will most likely become overcrowded – resulting in slower charge speeds and unbalanced weight distribution on your countertop or desk.
In addition to size considerations and spacing needs between ports so that heat dissipates properly, other factors such as materials used (i.e., plastic vs. metallic casing), anti-slip features adapted into the pad design (to prevent slipping off from surfaces), and LED lighting indicators can significantly contribute to enhanced usability.
Frequently Asked Questions (FAQs) on Best Multi-device Wireless Chargers for 2023
Here are some common questions on this topic
1. What is a wireless charger?
A wireless charger is a device that uses inductive charging technology to allow electronic devices, such as smartphone and tablets, to charge wirelessly without the need for cables.
2. Are all wireless chargers compatible with all devices?
No, not all wireless chargers are compatible with all devices. It's important to check the compatibility of your device before purchasing a multi-device wireless charger.
3. How do I use a multi-device wireless charger?
Place one or more supported devices onto the universal pad and they will start charging immediately upon contact. Some chargers may require you to connect them via USB first in order for it to work properly but this varies from model to model.
4. Will using multiple phones on a wireless charger affect its performance?
Not necessarily, depending on what type of coverage your phone should receive If within range of multiple other competing sources like Wi-Fi routers, etc. then there can be interference resulting in lower charge time slots so keep distance between other radio waves for optimal performance when possible.