ICC World Cup 2023 South Africa Team Analysis [Predictions]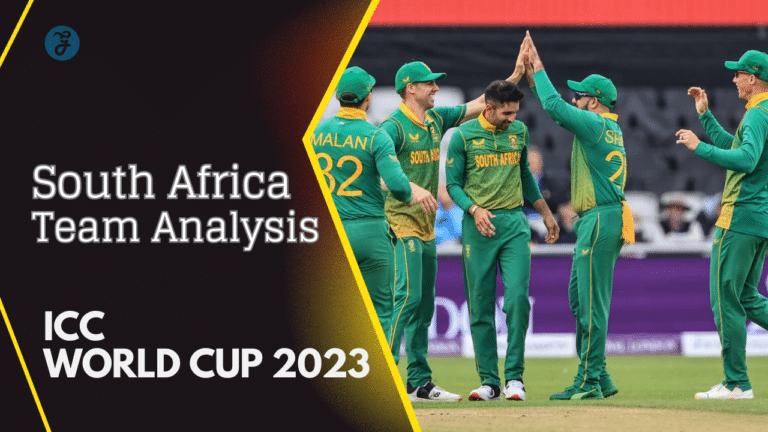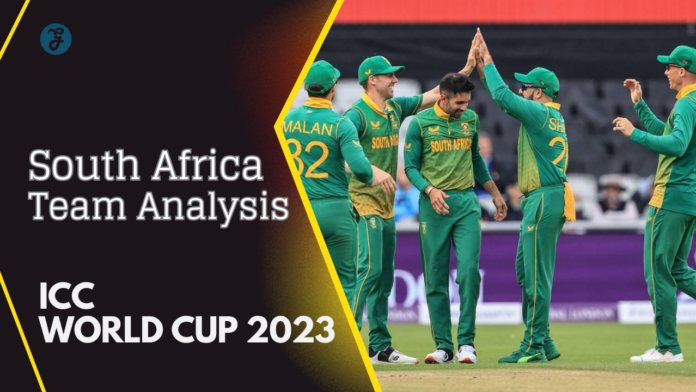 As the cricketing world awaits the ICC Cricket World Cup 2023, let us explore the South Africa cricket team's chances of success in India. With series wins against Australia and West Indies this year, South African fans have high hopes for their favorite team for the prestigious trophy.
In this article, we'll analyze all you need to know about South Africa's ODI World Cup squad and their prospects for this upcoming tournament with our expert analysis and latest updates.
Be a part of your team's journey towards glory by understanding what it takes to get there!
Content Highlights
Related Articles:
ICC World Cup 2023 South Africa Team Analysis
Comes with an exciting blend of experience and fresh talent that could make them contenders for the next ICC title.
The following table lists the final 15-member squad of South Africa for the 2023 ICC World Cup:
| | | | |
| --- | --- | --- | --- |
| Player | Batting Hand | Bowling Style | Role |
| Temba Bavuma | Right hand | Right arm Medium | Middle order Batter |
| Quinton de Kock | Left hand | | Wicketkeeper Batter |
| Reeza Hendricks | Right hand | Right arm Offbreak | Opening Batter |
| Heinrich Klaasen | Right hand | Right arm Offbreak | Wicketkeeper Batter |
| Aiden Markram | Right hand | Right arm Offbreak | Opening Batter |
| David Miller | Left hand | Right arm Offbreak | Middle order Batter |
| Rassie van der Dussen | Right hand | Legbreak | Top order Batter |
| Marco Jansen | Right hand | Left arm Medium fast | Bowling Allrounder |
| Andile Phehlukwayo | Left hand | Right arm Medium fast | Bowling Allrounder |
| Gerald Coetzee | Right hand | Right arm Fast | Bowler |
| Keshav Maharaj | Right hand | Slow Left arm Orthodox | Bowler |
| Lungi Ngidi | Right hand | Right arm Fast medium | Bowler |
| Kagiso Rabada | Left hand | Right arm Fast | Bowler |
| Tabraiz Shamsi | Right hand | Left arm Wrist spin | Bowler |
| Lizaad Williams | Left hand | Right arm Medium fast | Bowler |
Captain: Temba Bavuma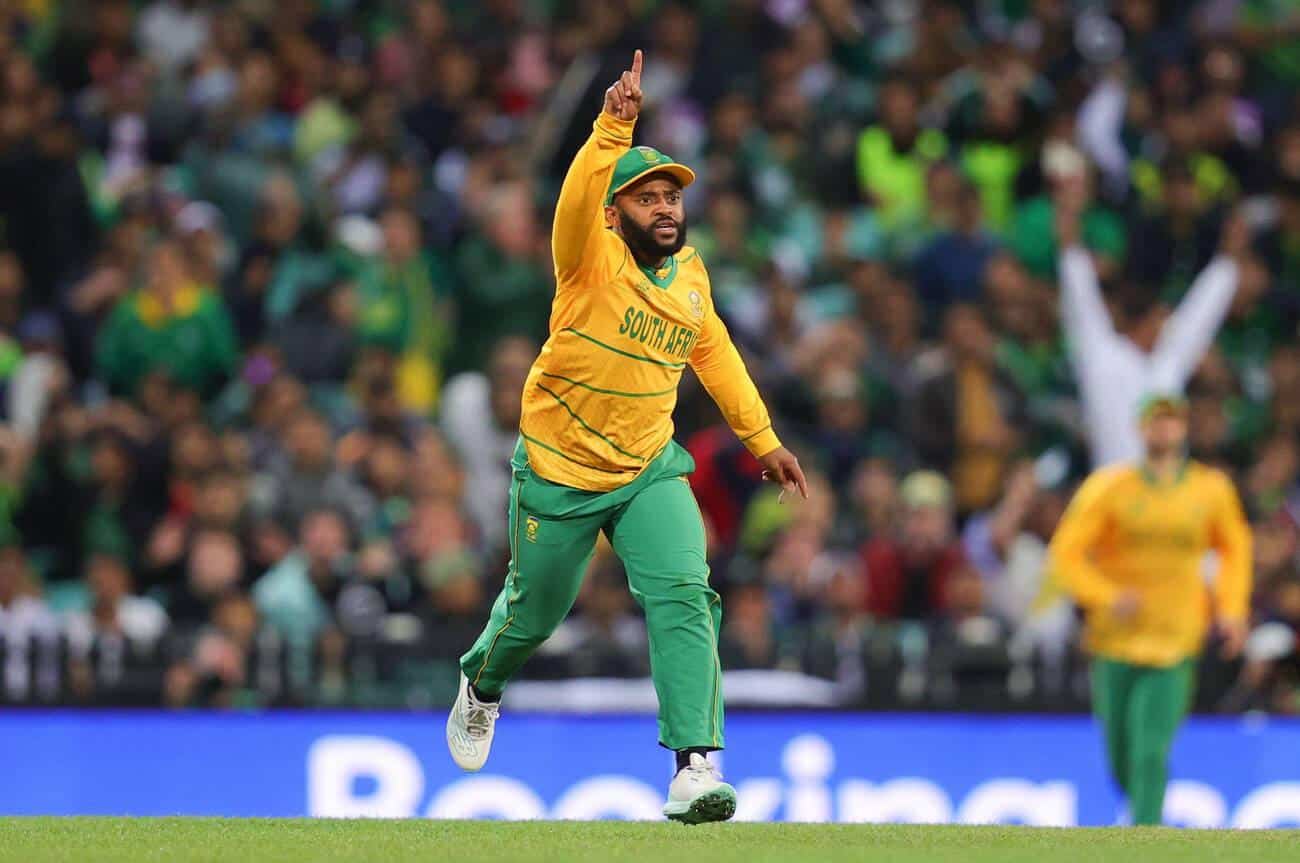 Temba Bavuma is considered the latest leader for South Africa's quest in the ODI World Cup 2023, and his captaincy will prove to be vital. Having been part of the Proteas since 2015, when he made his Test debut against West Indies, this experienced middle-order batsman has been a mainstay in their lineup.
His experience and leadership qualities have seen him rise to take on greater responsibility by captaining certain matches, most recently leading South Africa's 3-match series victory over England at Johannesburg earlier this year.
He deferred from continuing the challenge for personal reasons but is expected to join back for their first match against Sri Lanka, which kickstarts their journey into the World Cup.
SWOT Analysis of South Africa Cricket Team for ICC Cricket World Cup 2023
The South African cricket team is a highly competitive and confident team when it comes to the ICC Cricket World Cup 2023. Their squad is balanced and versatile, led by captain Temba Bavuma, with plenty of all-rounders.
Key players, such as Kagiso Rabada, Henrich Klassen, David Miller, and Quinton De Kock, are projected to be key players who could make decisive plays in the tournament. The strength of this South African side lies in its batting which seems to adopt a fearless and dynamic approach coupled with dominance in the middle order.
In terms of weaknesses, South Africa may find themselves struggling for top star bowlers due to injuries to pacers or loss of form for some major players leading up to the tournament.
This means they will have to spread out their workload among other bowlers who may not have similar international experience. Additionally, some experts, while looking at past performances, point towards a tendency by some members within this camp to choke during pressure situations which could factor into future matches if not addressed properly.
Ultimately, however, these challenges do little to subvert confidence around doing well in this year's World Cup, given they are rather careful about managing them going forward.
Strengths
The South Africa cricket team is well-positioned to make a successful run this year during the ICC Cricket World Cup 2023, having a squad with balance and flexibility across all conditions.
Due to their potential of being strong contenders for the World Cup title, they are also headed by one of the most inspirational captains in world cricket today – Temba Bavuma. He will be playing his role as skipper and lead from both frontiers – on and off-pitch campaigns – so that Proteas can end its disappointing 31-year wait for a World Cup victory.
South Africa has an explosive batting lineup, even though it may lack some experience when compared to other teams on paper.
The strength of the lineup lies primarily in its Fearless approach; top and middle order such as David Miller & Quinton De Kock provide much-needed stability while Henrich Klassen loosens the knots through creative performance chemistry if any arises within the former duo's alliance.
This ensures that South African batting puts pressure at every stage, even after losing openers or inevitable wickets at crucial junctions inside 50 overs quota!
The bowling department has great depth too, which is orchestrated mainly by a mouth-watering pace attack led by talismanic future star Kagiso Rabada, formidable pair Andile Phehlukwayo and Lungi Ngidi share anything that's left behind stump enemy sorrowful scars.
Thus making their crack commando-style assault legible enough to retain/acquire early advantages along vital junctures until conclusion, not treasured feedings but requisites!
Weaknesses
The South African team has come to this World Cup with a balanced side. However, they have the following weak points that the opponents will want to take advantage of.
Injury Issues Among Some Key Players
One major setback for the South Africa squad leading up to the tournament is the injury problems suffered by some of their key pacers, such as Lungi Ngidi, Gerald Coetzee, and Wayne Parnell.
This has put a big dent into the depth of the South African bowling line-up, which already lacked star quality at the top besides Kagiso Rabada and Anrich Andile Phehlukwayo. 
Besides these niggles, they have also struggled with creating momentum during powerplay overs due to a lack of wicket-taking threats from bowlers other than Rabada and Andile Phehlukwayo in recent times, making them vulnerable against quality opening batsmen like Rohit Sharma or Virat Kohli who can punish even good balls on decked out pitches.
These flaws could potentially take away valuable points from them in this mega event if not rectified soon enough through strategic planning and calculated measures such as suitable partnerships between batmen/allrounders lower down the order with hitters up top who can play high-risk shots without compromising whole innings unduly while walking tight ropes between caution & aggression throughout all 3 stages: Power Plays, Midovers & death overs where it matters most.
Choking in Pressure Situations
South Africa's cricket team has a stained history of "choking" in pressure situations. The latest example was seen at the T20 World Cup 2020, where the Proteas suffered a shocking 13-run loss to the Netherlands and crashed out of the tournament.
According to former coach Mark Boucher, This is considered one of their biggest chokes yet. Such failures have put tremendous strain on South Africa's cricket ambition for years now as it stands in the way of reaching greater heights.
To make matters worse, they are yet to win any major title despite strong performances before entering semifinals and even finals in various world tournaments, including Cricket World Cups for both One Day Internationals (ODIs) and Twenty20 formats.
The South African cricket team faces various issues and difficulties that could hamper their performance in the upcoming ICC Cricket World Cup 2023. While their batting lineup is an impressive one, featuring experienced as well as bold newcomers, there are weaknesses that may need to be addressed.
Opportunities
The prospect of South Africa in the upcoming World Cup is encouraging as they boast an intimidating pace bowling attack. With Kagiso Rabada and Lungi Ngidi leading the pack, they are capable of delivering powerful strikes against opposition batsmen and unsettle their defensive play.
This talent-laden unit will be further bolstered by new additions such as Marco Jansen and Gerald Coetzee, who bring dynamism to the team's lineup.
The batting order is equally impressive, with accomplished players like Quinton de Kock, Temba Bavuma, and David Miller at its core.
All talented members of South Africa's squad must collectively combine their skills for positive results and grab a coveted trophy.
Thus, a winning combination of senior know-how interjected by mercurial youngsters gives South African cricket another solid chance of defeating rivals in ICC World Cup 2023.
Threats
The South Africa Cricket Team faces a number of potential threats ahead of the ICC Men's Cricket World Cup 2023. Injuries to key pacers could have an adverse effect on South Africa's balance and momentum in their tournament run.
Similarly, the team may struggle with form from some major players due to a lack of practice leading up to the tournament or age-related limitations.
South African teams are also historically known for struggling under pressure –ensemble collapses when facing low chasing targets have been seen time and again throughout their competitive cricket history.
Key Players to Watch Out For
Look out for Kagiso Rabada, Henrich Klassen, David Miller, and Quinton De Kock; these players are set to take the field by storm in the ICC Cricket World Cup 2023. Read on to learn more!
Kagiso Rabada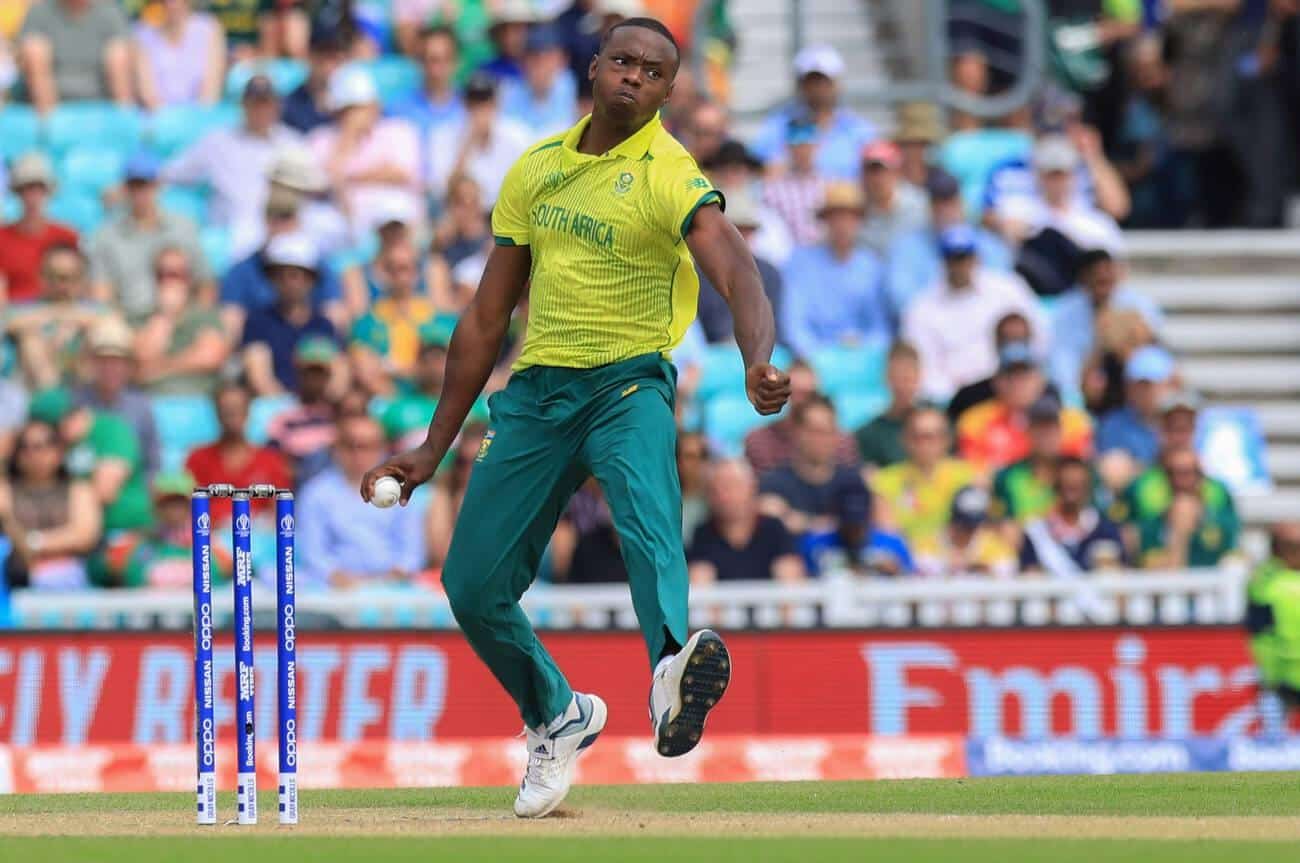 Kagiso Rabada, a left-handed fast bowler, spearheads the bowling attack at 28 years of age. He has an impressive bowling average of 27.75 and an economy rate of 5.06. With 335 wickets in his career, he is a key contributor to the team's success.
His fiery pace bowling, fuelled by steely determination, has been unmatched in the international cricket arena for a while now. Leading South Africa's bowling attack in the absence of two key pacers at ICC Men's Cricket World Cup 2023, Rabada believes he and his teammates have what it takes to win their first world title.
His experience and skillful precision make him one of the most intimidating bowlers in ODI Cricket today. With an optimistic outlook towards the future dreadlocked pacer insists that his team can go beyond just performing well and bring home their maiden World Cup trophy when they step out on fields during the 2023 World Cup tournament.
Rabada vows to lead from the front and deliver consistent results come game time next year in India.
Henrich Klassen
Heinrich Klaasen, a right-handed wicketkeeper batter, adds stability to the lineup. He boasts an impressive batting average of 41.34 and a strike rate of 111.64, making him a valuable asset in the middle order.
Henrich Klassen is an emerging star in South African cricket and has been touted as the X-factor for their chances at the upcoming 2023 World Cup. A dynamic batsman with incredible power, he has shown the capability of matching shots with even the best bowlers.
His 174 runs in a single ODI innings against Australia proved his ability to take charge when needed, making him one of the most dangerous players on any given day. He's been able to replicate some of AB de Villiers' genius from behind the stumps and uses unorthodox shot selection allied with supreme hand-eye coordination to score runs consistently.
Trailing South Africa's leading pace battery currently makes it even more important that Klassen will have to provide key guidance from the middle order during unlikely run chases or defending totals – ensuring a chance for South Africa at winning its second Cricket World Cup trophy in India come 12 months' time.
David Miller
David Miller, a seasoned left-handed middle-order batter, provides depth to the batting lineup. His batting average of 42.6 and a strike rate of 103.33 reflect his ability to accelerate the run rate when needed.
He is a major part of the South Africa cricket team leading up to the 2023 ICC Cricket World Cup in India. The right-handed batsman has unique capabilities that will surely come in handy during the tournament.
With an impressive record of 4090 runs from 160 ODI matches, Miller can be counted upon while they face tough competition in India. Blessed with brilliant improvisation, power-hitting, and technical flair, he brings a variety of options to South Africa's batting order as well as flexible choices for their middle order.
He is also known for his heroics against spin bowling which makes him a difficult customer for slower bowlers to contain more often than not. Being one of most explosive batters in the world today, Miller's strategy provides exciting game plays and close finishes along with incredible highlight reel efforts for South African fans who would like their side to do well at this World Cup event too.
Quinton De Kock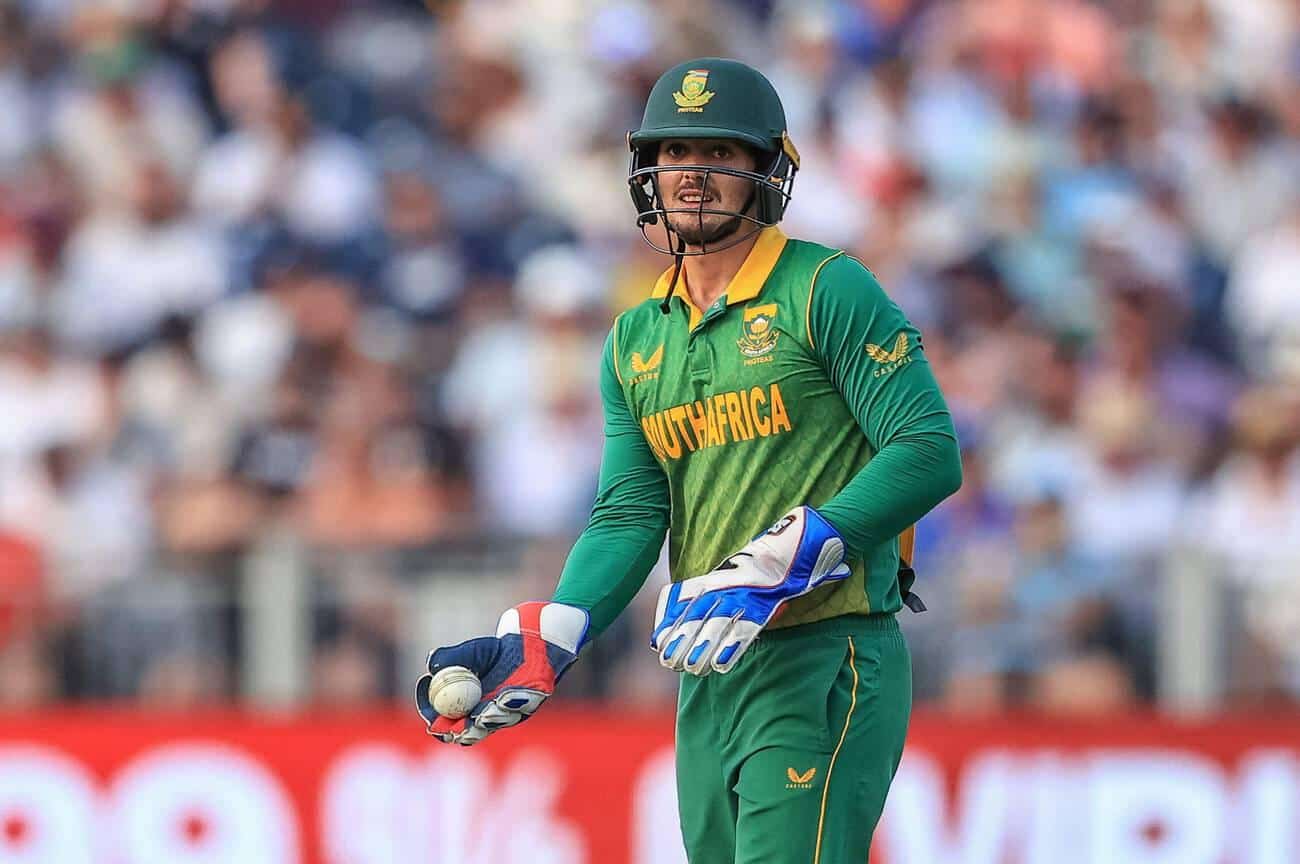 Quinton de Kock, a left-handed wicketkeeper batter, brings experience to the team at 30 years old. With a batting average of 44.75, he has accumulated 6176 runs in his career, showing consistency and reliability in the middle order.
He is one of the key players in South Africa's ICC Cricket World Cup 2023 squad. He has been selected in the 15-man team for the Cup, however will retire from the ODI format after the tournament ends.
De Kock retired from Test cricket in December 2021 and is currently leading all teams across three formats as captain for his country. As an excellent batsman and wicketkeeper, he provides immense experience to his nation with over 200 caps combined across ODIs, Tests, and T20s, by far surpassing most players on this roster.
Challenges and Setbacks Faced by South Africa's Team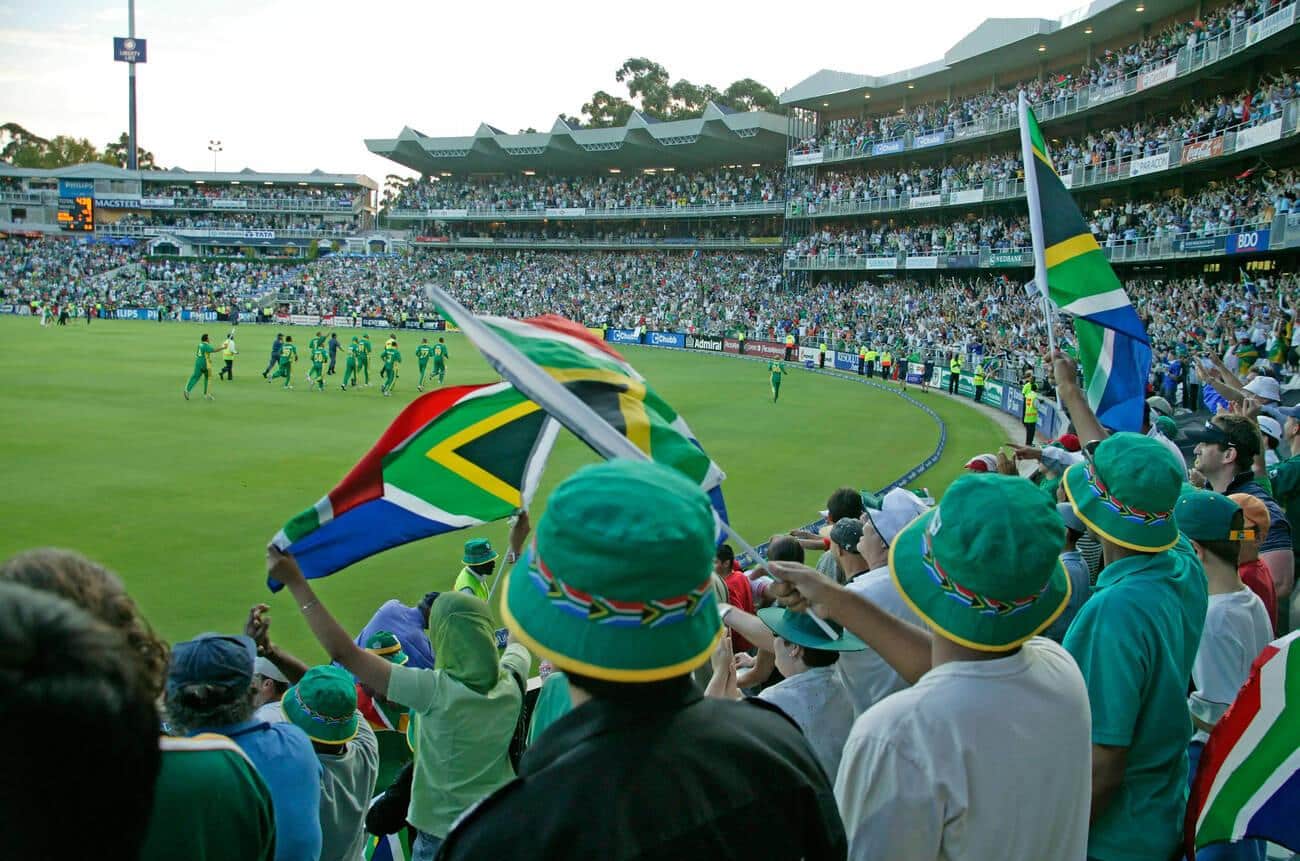 South Africa has been affected by setbacks such as injuries to key pacers, loss of form for major players, and choking in pressure situations.
Injuries to key pacers
A devastating blow awaited South Africa's cricket team in the build-up to the 2023 ICC Men's Cricket World Cup. Star pacers Anrich Nortje and Sisanda Magala were ruled out of consideration due to injuries, leaving two gaping holes in their bowling line-up.
The duo had promised to form an integral part of South Africa's attack with their express pace and fierce wicket-taking abilities at the expected bumpy pitches for next year's World Cup.
This turn of events is going to create a serious challenge for South African selectors as they look to fill those vacancies with reliable backups.
In search of replacements, skipper Temba Bavuma has identified Andile Phehlukwayo as an able candidate who can come in and contribute significantly both with the ball and bat if given a chance.
Loss of form for some major players
This has been a significant factor in hindering South Africa's cricket team performance, particularly heading into the 2023 ICC Cricket World Cup.
Several of their key stars have lost form recently, one example being opening batsman Quinton de Kock and bowlers Kagiso Rabada and Lungi Ngidi, all of whom had previously been regarded as cornerstones of the side.
The lack of early wickets from Rabada and Ngidi meant that South Africa's bowling attack was vulnerable to runs without taking any wickets, while De Kock's dismissal at recurring instances put additional pressure on middle-order players such as Henrich Klassen, who took up scoring duties along with Miller.
This disruption within the squad had promoted some rookie youngsters, but their inexperience further weighed down upon batting order trouble to no avail.
The lost form for experienced players is, therefore, something which can greatly affect South Africa's triumphant bid in this quest for glory and could even be an inhibitor like it was earlier in the series against England, where they Adversely slipped up 2-0 after winning three successive games clinching victory late onto 4th game.
Analysis of South Africa's Batting Lineup
South Africa's batting lineup is renowned for the fearless and dynamic approach adopted by players, along with their middle-order dominance, which makes them strong contenders to clinch glory in the ICC Cricket World Cup 2023.
| | | | |
| --- | --- | --- | --- |
| Player | Runs | Ave | SR |
| Quinton de Kock | 6176 | 44.75 | 95.75 |
| David Miller | 4090 | 42.6 | 103.33 |
| Rassie van der Dussen | 1874 | 56.78 | 88.94 |
| Aiden Markram | 1665 | 35.42 | 96.35 |
| Temba Bavuma | 1367 | 54.68 | 91.07 |
| Heinrich Klaasen | 1323 | 41.34 | 111.64 |
| Andile Phehlukwayo | 781 | 24.4 | 88.04 |
| Reeza Hendricks | 761 | 28.18 | 78.21 |
South Africa's Batters' Performances in ODIs
Read on to find out more about the team's strengths and weaknesses.
Fearless and dynamic approach
The South African cricket team has cemented its status as one of the top teams for playing fearless and dynamic cricket. The batting lineup headed by Quinton de Kock shows no fear, even in pressure situations, opting to take a daring approach to achieve success.
This can be seen as an advantage since they become aggressive and proactive when types of scenarios are presented, evening out all odds against them. David Miller, Rassie van der Dussen, Aiden Markram, Temba Bavuma, and Heinrich Klaasen are some key contributors who display this confidence on the field with their attacking strokes and smart shot selection.
On the one hand, De Kock is known for his thunderous strikes, while Miller's finesse helps him navigate tricky conditions other batsmen would find hard to survive, much less succeed in. All four have developed a knack for adapting according to match situations, further ceasing their spot as impactful players for the Proteans on the world stage during tournaments like the ICC Cricket World Cup 2023.
Middle-order dominance
The middle-order in cricket teams is essential for achieving success, as it can be the difference between winning and losing. Metrics have found that strong or weakened middle-order plays a huge role in run-making efficiency, and world cricket has begun to recognize this importance.
South Africa easily has one of the most formidable batting lineups currently playing in world cricket featuring star players like David Miller, Temba Bavuma, and Heinrich Klaasen, among others; an attribute they are expecting to use advantageously when competing for glory in ICC Cricket World Cup 2023.
Studying the game plans of other successful ODI teams with potent front-line batters followed by powerful stroke makers at No. 4 & 5 strengthens South Africa's position even more.
Knowing that match situations could become drastically different if there was no support from down the order is why impactful batsmen who contribute heavily through their performances over time are sought after desperately.
Strengths and Weaknesses in South Africa's Bowling Department
South African bowling departments are backed with a versatile arsenal of pacers and spinners, allowing them to bring out the best performances in any condition.
| | | | | |
| --- | --- | --- | --- | --- |
| Player | Wkts | Ave | Econ | SR |
| Kagiso Rabada | 144 | 27.75 | 5.06 | 32.87 |
| Andile Phehlukwayo | 89 | 31.88 | 5.77 | 33.11 |
| Lungi Ngidi | 78 | 27.6 | 5.72 | 28.92 |
| Tabraiz Shamsi | 63 | 32.53 | 5.5 | 35.49 |
| Keshav Maharaj | 37 | 32.67 | 4.69 | 41.72 |
| Marco Jansen | 18 | 38.22 | 6.23 | 36.77 |
| Gerald Coetzee | 11 | 29.45 | 6.82 | 25.9 |
| Lizaad Williams | 9 | 25.33 | 4.15 | 36.55 |
South Africa's Bowlers' Performances in ODIs
To know more about their World Cup squad in 2023, keep reading!
Pace Mastery
South Africa has traditionally been known for its intimidating pace attack, and pacers have typically been the foundation of their bowling lineup in ODI cricket.
In terms of producing world-class fast bowlers, no team does it better than South Africa – especially with Kagiso Rabada leading the way as one of the most feared quick bowlers in world cricket right now.
South African pacemen have consistently troubled opposition batsmen with their raw pace and sheer accuracy, making them formidable opponents.
Over time, they've developed a wide array of weapons that can be unleashed at any given point – from searing yorkers to clever knuckleballs – all backed up by intense discipline and an unmatched work ethic off the field.
For many people following International Cricket, this is what defines a true "pace master" side like South Africa on a global scale!
Versatile bowling arsenal
South Africa's bowling attack has been a luxury for the team, offering a range of different options in terms of pace and spin. The team focuses heavily on fast bowling, aiming for four high-quality fast bowlers in most situations.
Kagiso Rabada is expected to spearhead this department at ICC Cricket World Cup 2023, along with Andile Phehlukwayo, Lungi Ngidi, Tabraiz Shamsi, Keshav Maharaj, Marco Jansen, Gerald Coetzee, and Lizaad Williams. This core group forms an intimidating pace battery which can intimidate the opposing batting lineup.
South Africa also possesses some quality spin options, such as Tabraiz Shamsi and Keshav Maharaj, who can vary their attack when needed.
However, South Africa still faces certain challenges against opponents like New Zealand and England with higher strike rates through the middle overs; they often fall behind the run rate or give away cheap runs to opponents during this time due to a lack of adequate control over these phases from their bowlers.
You can read the details on how New Zealand has Crushed England in the World Cup Opener.
Struggle for top star bowlers
South Africa's bowling department has been notorious for its shortfalls in recent tournaments, most notably the 2015 and 2019 ODI Cricket World Cup. Despite having dynamic fast bowlers such as Kagiso Rabada and Lungi Ngidi within the lineup, South African cricket has largely struggled to find a consistent top-quality bowler who can deliver consistently well under pressure.
While they have experienced slow but steady progress in this area over the past few years, their performance against higher-ranked sides like India and England has raised further questions about their lack of an elite bowler leading into the 2023 tournament.
This was particularly highlighted during instances when South Africa was unable to defend moderate totals due to poor death-bowling execution or simply not being able to capitalize on early breakthroughs with effective middle-over bowling.