ICC World Cup 2023 England Team Analysis [Last Minute Predictions]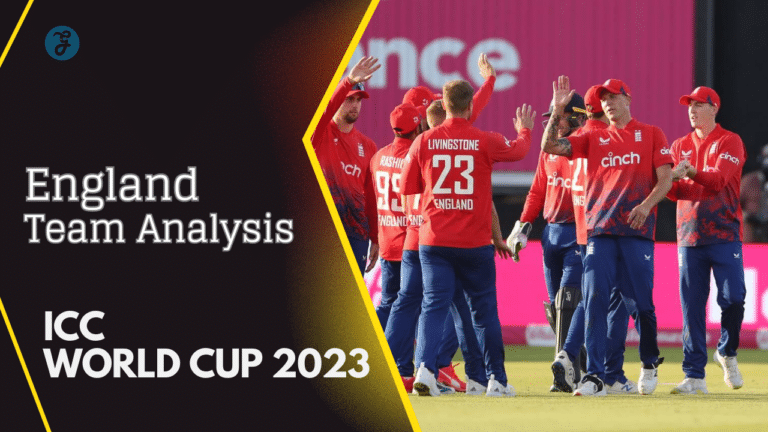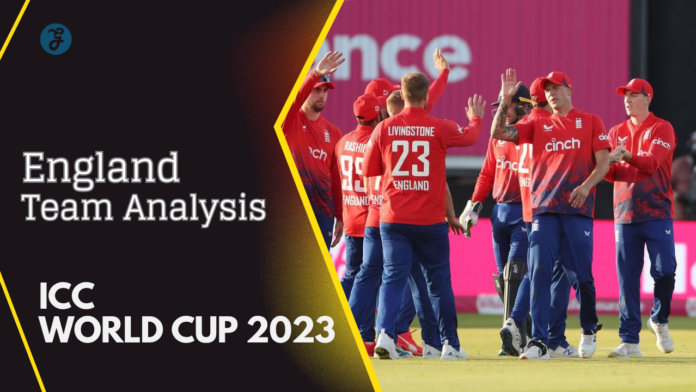 The ICC Cricket World Cup 2023 is approaching fast, and all cricket fans know that the England team will be looking to defend their world championship crown. This tournament marks England's second-ever win in a 50-over World Cup, with their first victory coming back in 2019 on home soil.
If you're looking for information about everything related to the marvelous team from across the pond, look no further – our ICC World Cup 2023 England team analysis has got you covered! We'll take an in-depth look at England's preparation and strategy leading up to the big event, discuss their strengths and weaknesses, as well as potential opportunities and threats that could impact their chances of success.
Finally, we'll provide our readers with profiles of each member of England's squad so they get familiarized with them before watching any match or highlights! So, if you want to stay up-to-date with this important topic, read on!
Content Highlights
The England Cricket Team is well-prepared for the ICC Cricket World Cup 2023, with a balance of experienced veterans and upcoming stars on their squad to provide flexibility in strategies.
England is focusing on team performance & mental fortitude against strong opponents like India, especially in crunch moments.
This year's lineup features powerful hitters such as Jos Buttler and Jonny Bairstow, who can put heavy pressure on any opposing bowlers, plus an impressive array of versatile spin & pace options that ensure no lapse when it comes to bowling out batsmen or providing economical support during batting overs!
Though inconsistent performances in past big matches have been a concern, the team has plenty of talent at its disposal with better game planning to succeed this time around in defending its crown – making them not just favorites but frontrunners going into the tournament countdown until its start date October 5th.
Read also: New Zealand Team Analysis for 2023 ICC World Cup
ICC World Cup 2023 England Team Analysis
The England Cricket team is gearing up for the most important tournament of 2023 by focusing on a balanced performance from its key players and mentoring from a former Indian player.
Review of Past World Cup Performances
England is the defending champion of the ICC Cricket World Cup, having won the tournament in 2019. This crowned team has long been a top performer in cricketing tournaments and has worked hard to reach this point where they are title holders.
The England Cricket Team has consistently featured amongst the top-performing nations for every edition of the World Cup, with an impressive run rate throughout. They came close to winning on two occasions but had unfortunate results in 1979, 1987, and 1992 but couldn't make it the champion till the last World Cup.
It is no surprise that a predictor looks at England's past success as a determining factor when analyzing winner chances for this year's podium Godfather, giving them a good chance of ending up victorious once again!
Key Players to Watch Out For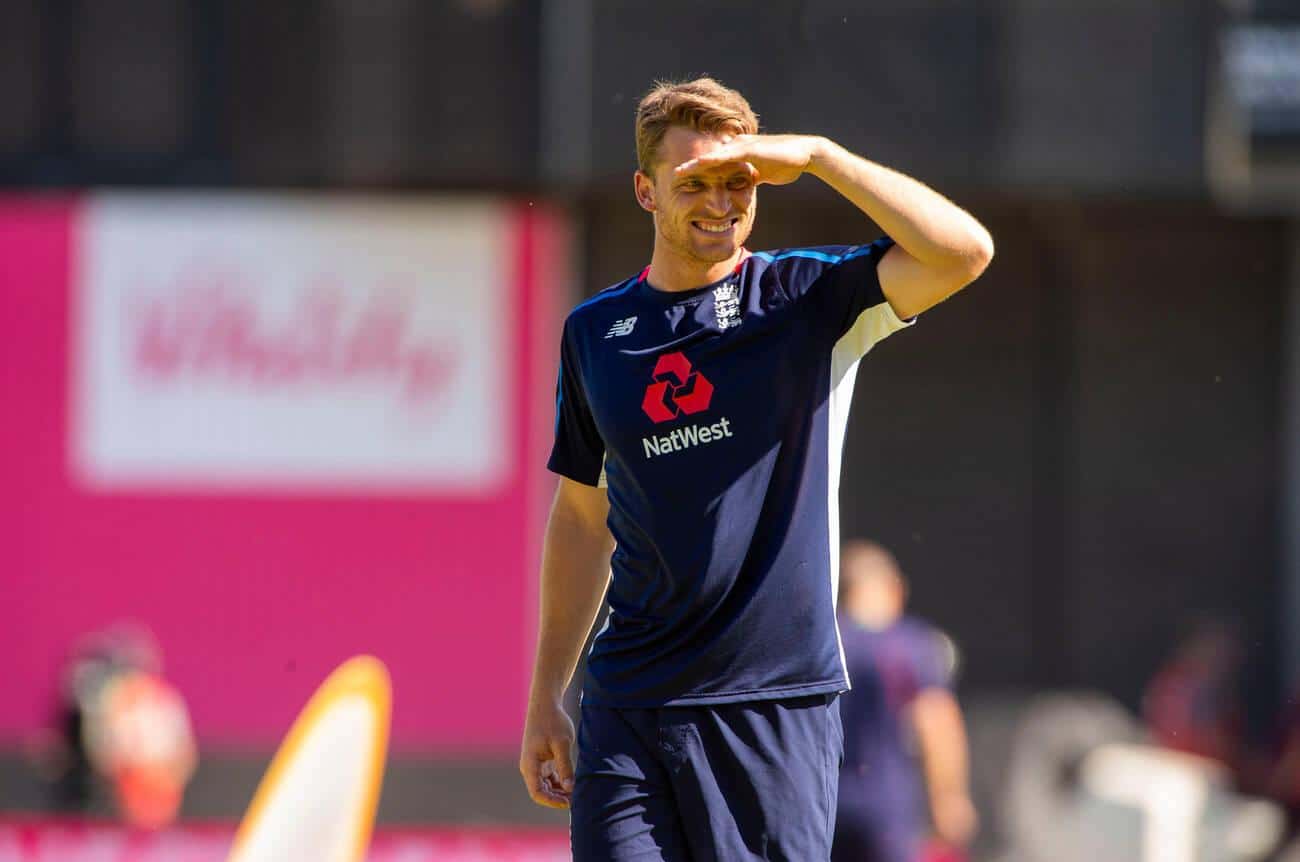 Jos Buttler (captain): Experienced and hard-hitting batsman who is capable of powering an innings with his big hits. He has scored over 16,000 runs in international cricket and can be dependable for the team's batting lineup.
Focus on Team Balance
Focus on team balance is important for any cricket team playing in the World Cup. England has focused heavily on achieving this in their preparation and strategy for the tournament.
With a combination of experienced veterans and young, upcoming stars, the team's squad showcases depth and variety, allowing for different strategies and game plans. The selection process was meticulous, with an intent to create a well-rounded squad that could adapt according to every match's needs.
Furthermore, it helps them familiarize themselves with the World Cup format and rules, which will be crucial when making informed decisions about how they play each match.
Mentoring By a Former Indian Player
The England Cricket Team for the 2023 World Cup has had the advantage of having a former Indian player, K. Srikkanth, on board as part of ICC's 100% Cricket Mentorship Programme to guide them in their preparations for the tournament.
Srikkanth brings extensive knowledge and experience with him from his career spanning decades in international cricket. He shares his insights into team strategy and tactics while providing valuable guidance to key players within the squad, such as skipper Joe Root.
At regular intervals throughout preparation camps, he provides detailed analysis regarding upcoming opponents and forthcoming tournaments, both large and small alike—stressing mental fortitude in crunch situations is equally important alongside batting or bowling skills required during these matches.
Strengths of The England Cricket Team
Boasting an impressive Green Army arsenal of batting, bowling, and all-round personnel balance, the Three Lions have what it takes to cause a World Cup stir. Read on to find out more!
Strong Batting Lineup
England's cricket team brings a formidable batting lineup to the table with powerful players like Jos Buttler, Bairstow, and Curran on board. The top order features aggressive hitters who can take the game away from opponents.
Buttler is considered one of the most lethal power hitters on the team, with his ability to clear boundaries in an instant. He has become renowned for being able to create pressure on opposing bowlers, often leading them into making mistakes or bowling badly.
Besides him, Bairstow and Curran add even more punch to England's top order with their fearless approach at the crease, which is unafraid to dispatch deliveries out of the ground upon impact.
Depth in Bowling Options
The England Cricket Team has an impressive selection of bowlers, giving them a competitive edge in the ICC Cricket World Cup 2023. With several top-class pace bowlers and an expansive array of spin bowling options to choose from, there is great versatility available for skipper Eoin Morgan's strategy at his disposal.
Players such as Mark Wood, Ben Stokes, and Chris Woakes offer speed and aggression, while players like Adil Rashid and Moeen Ali provide control with their spin variations, making it difficult for batsmen to score quickly off them.
The team also has more economical options, such as Reece Topley, whose accuracy allows him to chip away at the opposition batsman's confidence one ball at a time. Overall the balance between aggressive and defensive bowling gives England's attack the diversity required to exploit weaknesses in opposing side lineups no matter what conditions they are playing in.
Well-Rounded All-Rounder Options
The England cricket team has a strong advantage when it comes to all-rounders, with some of the best players in the world in both batting and bowling. Ben Stokes is returning to the English side for the 2023 World Cup, adding even more power to their batting lineup alongside other big names such as Bairstow and Curran.
Additionally, These versatile players have played a major role in England's success at every level, including winning two T20 World Cups and becoming current champions of both ODI and T20I.
Furthermore, having well-rounded all-rounders allows England to remain flexible out on the field by seamlessly switching between bowling or batting whenever required while also being able to easily change strategies based on match conditions.
This versatility adds great depth and strength within their squad, allowing them an edge over many sides who depend heavily on one lead player or lack flexibility due to packing too much talent into one particular aspect of play.
Weaknesses of The England Cricket Team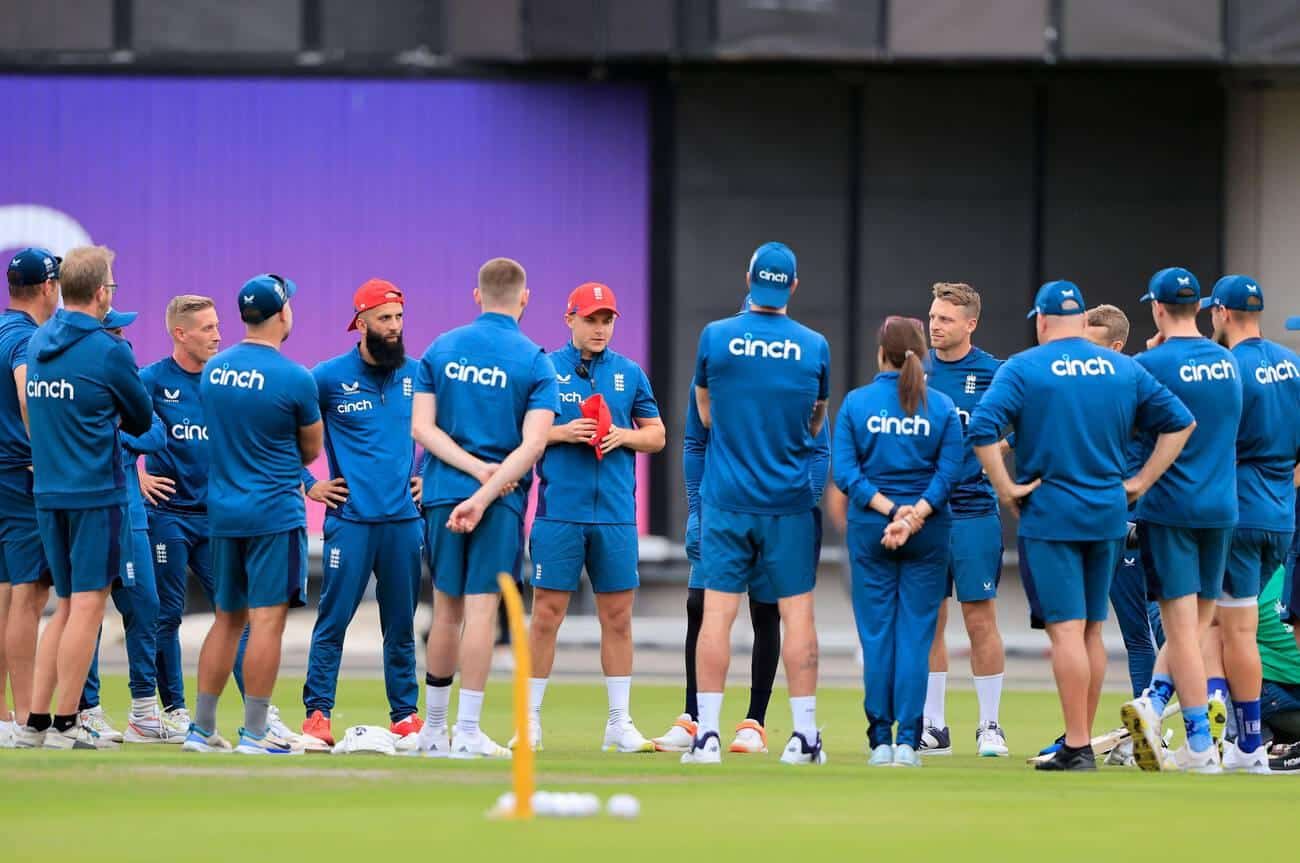 The team lacks experience in spin bowling and has limited skill playing with the spin ball.
Inconsistent Performances in Big Matches
It has been a major concern for the England cricket team in recent years. Despite their strong batting lineup and depth in bowling skills, they have struggled to perform under pressure on world stages leading to disappointing results such as losses against Bangladesh and West Indies at the World Cup or against India at the recently concluded T20 series.
This inconsistency can be attributed to a lack of collective experience and the absence of reliable all-rounder options that allow opposition teams more flexibility while setting up strategies against them.
To overcome these problems this time around, England must focus on game planning rather than talent alone if they wish to go deep into the 2023 tournament and fulfill their dream of winning it for the second time.
Lack of Experienced Spinner Options
The lack of experienced spinners in the England cricket team's squad for the ICC Cricket World Cup 2023 could prove to be a liability for them. In Indian conditions, spin bowling has proven to be immensely important in recent years, and teams have succeeded due to strong performances by their top spinners.
With just 22% of overs being bowled by quality spin bowlers in domestic matches, England clearly lacks this element crucial for success on Asian pitches. This weakness has been acknowledged by former India captain Ricky Ponting, who suggested that they consider choosing no frontline spinner during their WC campaign.
Moreover, Moeen Ali's injury concerns highlight how severely lacking they are when it comes to reliable spinning options. The Three Lions will need to seriously address this issue if they hope to gain an advantage over their opponents and ensure a successful performance in India during the ICC Cricket World Cup 2023.
Lack of Spin-Playing Ability
England's lack of spin-playing ability may prove to be the team's downfall during the upcoming ICC Cricket World Cup 2023. With teams like India, Sri Lanka, and Bangladesh having conditions that favor spin, England has sacrificed frontline spinners for batting depth in its strategy.
Many analysts have questioned this decision as it affects their performance in subcontinent conditions where a reliable second spinner is needed and could be the difference between winning or losing games.
The lack of an experienced spinner means that all-rounders such as Adil Rashid and Moeen Ali would have to rely on their part-time spinning abilities to compete with other teams good at playing against spin.
Opportunities for the England Cricket Team
The England Cricket Team will have the opportunity to win the ODI World Cup for the 2nd time, while players also have a chance to prove themselves on the international stage.
Chance to Win the ODI World Cup for the 2nd Time
The England cricket team has the opportunity to win the ODI World Cup for the second time in their history after initially winning it in 2019. This is a remarkable achievement, especially considering how competitive and unpredictable international cricket can be.
However, they possess an exceptionally talented roster of players, some of whom have taken part in English's surprising victory over New Zealand earlier this year. The team also has proven players who have made a name for themselves within both English domestic competitions as well as on the world stage recently.
With that being said, their main strength lies within its bowling lineup, which sees Mark Wood at its forefront – considered to be one of the best bowlers of his generation – along with Chris Woakes and Adil Rashid waiting to make significant contributions throughout the 2023 tournament run-in.
Moreover, taking into consideration their impressive batting lineup that consists of Jason Roy, Jos Butler, and Moeen Ali, amongst others, will put them amongst other strong contenders for victory come the 2023 final day showdown.
Potential for Players to Prove Themselves on the World Stage
The ICC Cricket World Cup provides a global platform for talented players to showcase their skills and abilities in an international competition. It gives aspiring cricketers the opportunity to gain recognition from scouts across the world, helping them achieve success on the highest stage.
The tournament presents a chance for England's experienced and young players to prove themselves against top teams from around the world, competing for the ultimate team cricket accolade.
With such high stakes involved, it is important for each player to be at his peak performance in order to contend with formidable opponents. For some of these emerging stars, this may be their only shot at fame — providing incentive enough motivation should they perform exceedingly well in matches.
Threats to England's World Cup Dream
Teams like India, Australia, and New Zealand have the potential to pose major obstacles for the England team in their World Cup journey.
Strong Competition from Other Top Teams
England is facing stiff competition from a number of teams, including India, Australia, and New Zealand, in the upcoming ICC Cricket World Cup. These teams comprise some of the strongest sides in international cricket and have proven track records when it comes to competing at this level.
The Indian batting lineup has been one of their greatest attributes, led by Rohit Sharma and boasting numerous match-winners like Virat Kohli and Hardik Pandya. Australia, too has an impressive batting arsenal that includes Devid Warner, Mitchel Marsh, and Marcus Stoinis.
New Zealand is well balanced across all departments, with established Test players Kane Williamson and Tom Latham leading their line-up while bowlers Tim Southee & Trent Boult combined to provide them with tremendous depth for both spin & pace bowling options.
Injuries and Player Fitness Concerns
The England Cricket Team leading into the ICC Cricket World Cup 2023, is currently dealing with the potential disruption of injuries and player fitness issues. Ahead of cricket's biggest event, it is crucial for teams to have a fully fit squad in order to compete at their best.
Jofra Archer was not included in the final squad due to an ongoing elbow injury, creating worries about his absence from the tournament overall despite still traveling with the team as a reserve player.
Also read: 5 key players to miss the 2023 World Cup
Pressure From High Expectations
The England cricket team is probably facing the most intense pressure of any squad entering the ICC World Cup in 2023. As defending champions, there's an enormous amount of expectation from a passionate home crowd and media for them to be successful in their title defense.
This has put extra scrutiny on the players, as they'll have to find ways to balance high demands with meeting team objectives. Failing to defend their crown would not only lead to disappointment but also potentially question coach Eoin Morgan's leadership and tactics heading into the tournament.
To counter this, he needs his team focused on setting goals for each match rather than trying to replicate results from previous tournaments or overcomplicate strategies too early in their campaign.
Squad Analysis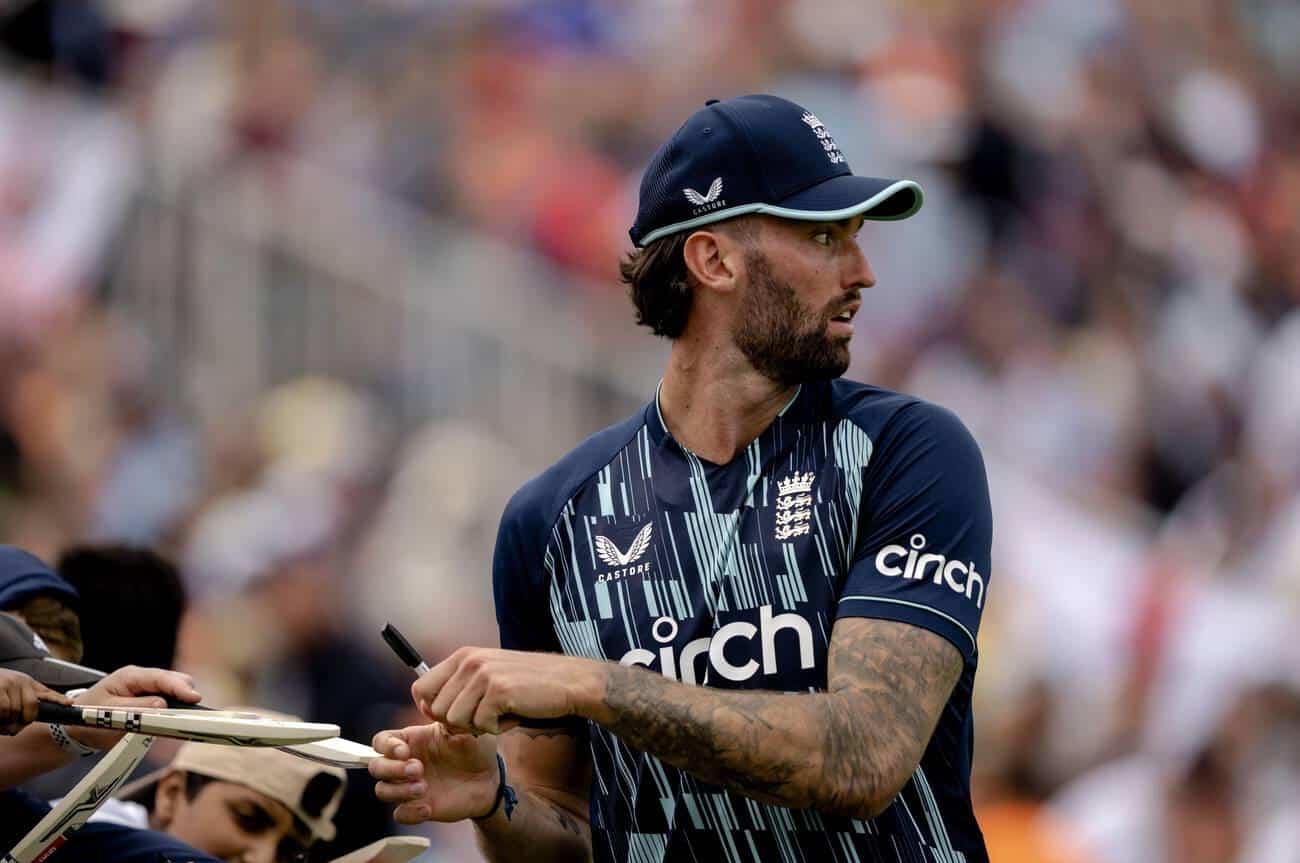 Get up-to-date information on the England cricket team's Squad with an in-depth review of each player, highlighting their strengths and weaknesses.
Review of Selected Players
England has assembled a star-studded squad for the ICC Men's Cricket World Cup 2023. The squad is led by seasoned captain Joss Buttler and includes key players like Ben Stokes, Moeen Ali, Jason Roy, Joe Root, and Jonny Bairstow. England has also brought in young guns like Sam Curran and Ollie Pope, who are expected to provide the team with great versatility and depth.
Here's the full squad of the England team for this World Cup:
| | | | | | |
| --- | --- | --- | --- | --- | --- |
| Player | Last Name | Age | Batting Hand | Bowling Style | Role |
| Joe Root | Root | 32y 229d | Right hand | Right arm Offbreak, Legbreak | Top order Batter |
| Jos Buttler | Buttler | 32y 342d | Right hand | | Wicketkeeper Batter |
| Jason Roy | Roy | 33y 26d | Right hand | | Opening Batter |
| Ben Stokes | Stokes | 32y 73d | Left hand | Right arm Fast medium | Allrounder |
| Chris Woakes | Woakes | 34y 167d | Right hand | Right arm Fast medium | Allrounder |
| Dawid Malan | Malan | 35y 347d | Left hand | Legbreak | Top order Batter |
| Adil Rashid | Rashid | 35y 180d | Right hand | Legbreak | Bowler |
| David Willey | Willey | 33y 169d | Left hand | Left arm Fast medium | Bowling Allrounder |
| Liam Livingstone | Livingstone | 30y 12d | Right hand | Right arm Offbreak, Legbreak | Batting Allrounder |
| Sam Curran | Curran | 25y 74d | Left hand | Left arm Medium fast | Allrounder |
| Mark Wood | Wood | 33y 217d | Right hand | Right arm Fast | Bowler |
| Jonny Bairstow | Bairstow | 33y 324d | Right hand | Right arm Medium | Wicketkeeper Batter |
| Harry Brook | Brook | 24y 175d | Right hand | Right arm Medium | Batter |
| Moeen Ali | Ali | 36y 59d | Left hand | Right arm off break | Batting Allrounder |
| Reece Topley | Topley | 29y 176d | Right hand | Left arm Fast medium | Bowler |
| Gus Atkinson | Atkinson | 25y 209d | Right hand | Right arm Fast medium | Bowler |
Key Strengths and Concerns
The England cricket team has several key strengths for the ICC Cricket World Cup 2023. Firstly, they have a strong batting lineup, with openers Jason Roy and Jonny Bairstow being renowned power hitters capable of dominating any bowling attack.
Additionally, their depth in bowling options is noteworthy as they can call upon experienced pacers such as Mark Wood and the young explosiveness of Sam Curran to deceive batsmen in different conditions. Furthermore, the England side is well-stocked with talented all-rounders who offer stability across all formats, including captain Eoin Morgan, Chris Woakes, Ben Stokes, etc.
End Note
The England Cricket Team has the potential to defend their 50-over crown in India this year with an experienced and strong squad. They have had a good record against India in recent ICC tournaments, which gives them confidence going into the World Cup.
The tournament will follow the traditional 50-over cricket format, and key players like Ashwin and Brook will be crucial for England's chances of success. With exciting matches across ten venues taking place over 46 days from October 5th, 2023, we can look forward to an action-packed edition of one of the world's most prestigious cricket titles – the ICC Cricket World Cup!