ICC World Cup 2023 Pakistan Team Analysis [Key Players to Watch]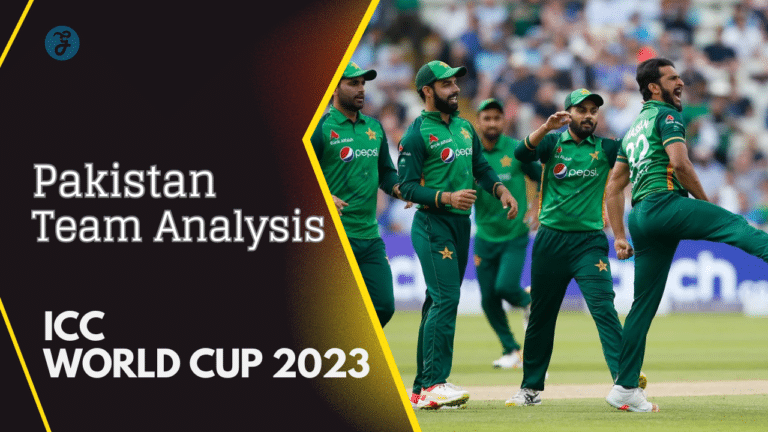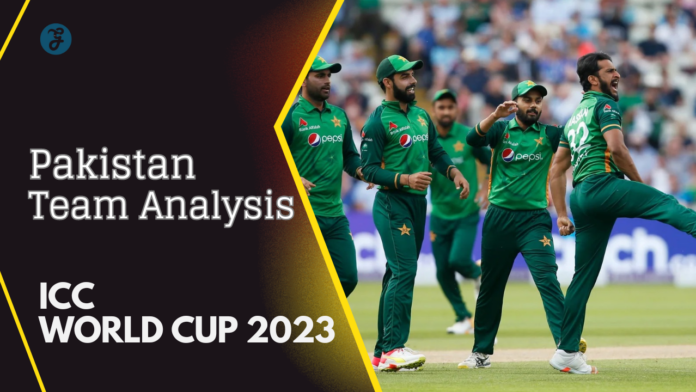 The ICC Men's Cricket World Cup will be held in India from October 5 to November 19, and it is just around the corner.
Pakistan has been consistently ranked the number 2 ODI team despite losing Naseem Shah, but they need to bring their A-game if they want to succeed in the tournament.
This article provides an overview of all that you need to know about Pakistan's cricket team – strengths, weaknesses, players who could make a difference, and recent track record – which can help you decide if this is indeed a winning combination capable of bringing home the elusive trophy come 2023! Get ready for an interesting journey into analyzing what makes up this exciting team with us.
Content Highlights
Continuity is a priority as the Pakistani Cricket team retains experienced players like Babar Azam, Fakhar Zaman, Hasan Ali, and Shaheen Shah Afridi.
Emphasis was placed on the pace attack to counteract changing playing conditions.
Established players relied upon for middle over performances.
Spin-bowling all-rounders are prioritized due to their added flexibility in slow wickets.
Related Articles:
ICC World Cup 2023 Pakistan Team Analysis
The Pakistan cricket team's squad for the 2023 World Cup is ruled by continuity and consistency, with emphasis on fast bowling and confidence in existing players to solve middle-over issues.
Continuity is a Priority
Continuity is an important factor to consider when deciding a squad for any tournament, especially one as grand and competitive as the ICC Cricket World Cup. In order to ensure stability within a team and prevent frequent changes of personnel that could potentially disrupt the chemistry between players, it is necessary to maintain consistency in the selection of members.
This was highlighted by former Pakistani cricketer and chief selector Inzamamul Haq when he defended his decisions, stating: "When building continuity in a successful national team, lots of careful thought needs to go into how you define roles within the side; which players are given responsibility for particular areas, etc."
Pakistan has been fortunate enough to have several established yet experienced players who form the core part of their International cricket team. With this in mind, Pakistan selectors have opted against picking fresh faces and remain true to choosing tried-and-tested individuals such as veteran paceman Hasan Ali or all-rounder Mohammad Nawaz who provide stability and expertise throughout the ODI lineup.
Emphasis on Fast Bowlers Despite Injuries
Pakistan is placing great emphasis on their fast bowling attack as they gear up for the ICC Cricket World Cup 2023, even though some of them have been sidelined due to injuries.
Witnessing significant success in recent years with fiery quicks like Naseem Shah and Shaheen Afridi leading the bowling lineup for Pakistan, it's no surprise that team management is banking on pace once again despite experiencing a setback due to injuries.
The presence of reliable quality pacers can make or break a team's result in big tournaments such as the World Cup — especially if there are two very fine sides vying for the top spot.
| | | | | |
| --- | --- | --- | --- | --- |
| Bowler | Wkts | Ave | Econ | SR |
| Hasan Ali | 91 | 30.36 | 5.75 | 31.6 |
| Shaheen Shah Afridi | 86 | 23.36 | 5.45 | 25.6 |
| Haris Rauf | 53 | 24.32 | 5.68 | 25.6 |
Pakistan ODI Pace Bowling Attack
A destructive pace attack helps teams build pressure over their opponents by taking wickets regularly. Moreover, given the nature of conditions around the globe nowadays, clarity is needed between what type of format suits better — pacers Vs spinners– particularly in crunch times during matches.
Trusting Existing Players to Solve Middle-Over Issues
The Pakistan Cricket team for the upcoming World Cup 2023 has relied on experienced players to make valuable contributions and solve the issues with their middle-over performances, as happened in their Asia Cup encounters against India.
For such an important tournament like the World Cup, where mistakes can cost dearly, the selectors have prioritized continuity by selecting a squad from trusted players who are familiar with international cricket.
Such as Babar Azam, Shaheen Afridi, Haris Rauf, and Iftikhar Ahmed, all of whom have shown tremendous potential over the recent years and are likely to be instrumental parts of Pakistan's build-up to glory in the ICC World Cup 2023.
Preference for Spin-Bowling All-Rounders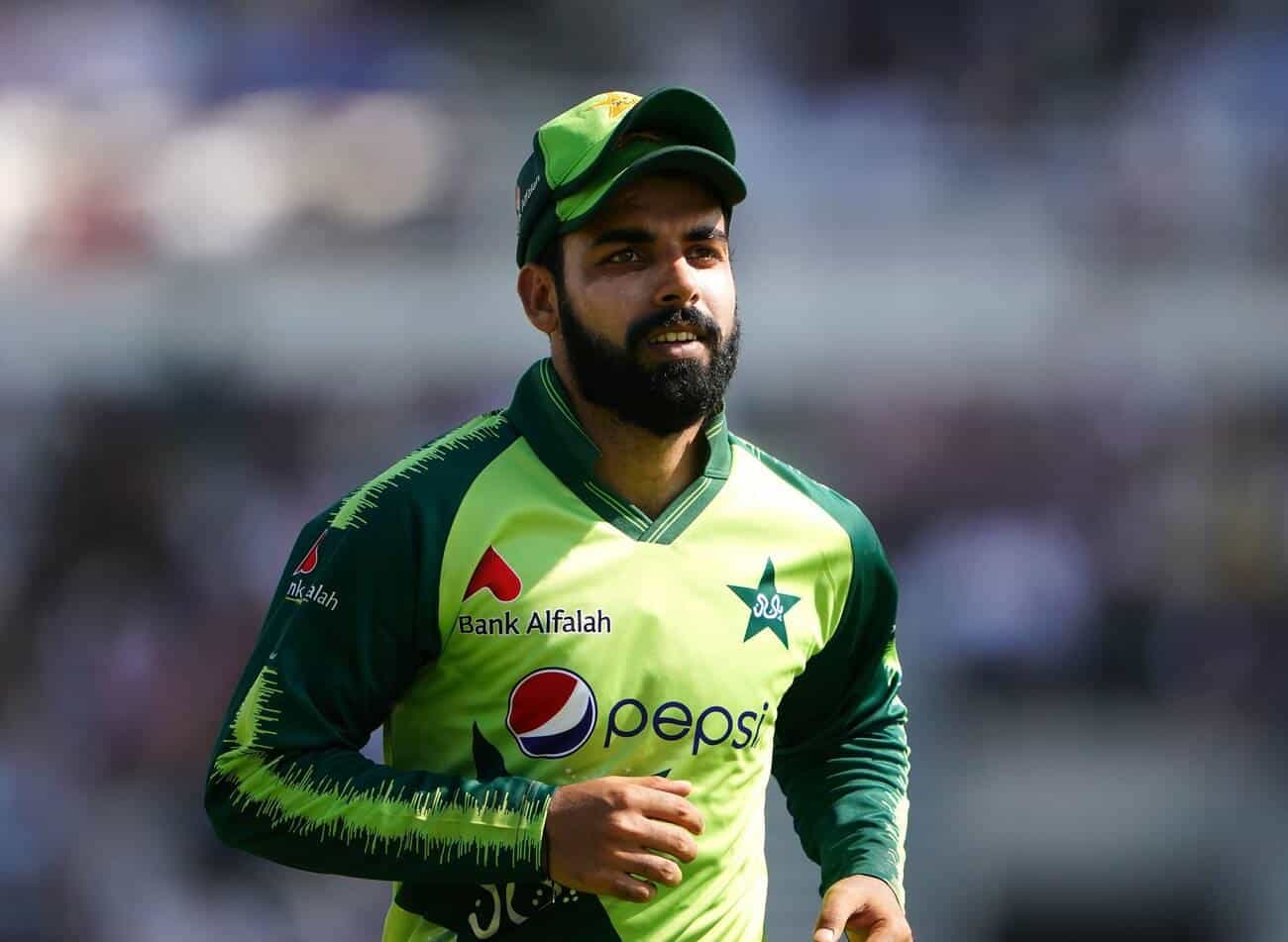 The Pakistan cricket team has a preference for spin-bowling all-rounders in their squad for the ICC Cricket World Cup 2023. This is primarily due to the fact that this type of player generally provides great balance to a team's bowling attack, especially on slow pitches where they can provide variety and control over their deliveries.
| | | |
| --- | --- | --- |
| Player | Runs | Wkts |
| Shadab Khan | 734 | 83 |
| Agha Salman | 436 | 4 |
Key Pakistani ODI Spin Bowling All-rounders
Additionally, since all-rounders are often more flexible than other players, they can also contribute to batting performances when needed. The chief selector, Inzamam-ul-Haq, highlighted this approach at the recent Asia Cup as he picked three spin-bowling all-rounders for the opening match against Hong Kong.
He was quoted saying, "We had planned something different ahead of selecting our playing eleven, but we chose three slow bowlers (spinners) because we believe spin plays an important role on Asian wickets."
Pakistan's Strengths for the ICC World Cup 2023
A strong bowling attack, an experienced batting lineup, and good depth in the spin department put Pakistan firmly in contention for a World Cup victory.
Strong Bowling Attack
The Pakistani team has had a strong focus on its fast bowling line-up for the ICC Cricket World Cup 2023. The squad includes renowned pacers such as Shaheen Shah Afridi, Haris Rauf, and Hasan Ali who have been responsible for several victories with their pace variations and trickery.
| | | | | | |
| --- | --- | --- | --- | --- | --- |
| Player | Bowling Style | Wkts | Ave | Econ | SR |
| Hasan Ali | Right arm Medium fast | 91 | 30.36 | 5.75 | 31.6 |
| Shaheen Shah Afridi | Left arm Fast | 86 | 23.36 | 5.45 | 25.6 |
| Haris Rauf | Right arm Fast | 53 | 24.32 | 5.68 | 25.6 |
| Usama Mir | Legbreak | 11 | 35.09 | 5.43 | 38.7 |
Key Pakistani ODI Bowlers
Despite 16-year-old Naseem Shah being sidelined due to an injury, Pakistan's attack is held together by this spectacular pace-trio.
Experienced Batting Lineup
Pakistan's batting lineup necessarily requires an experienced core in order to compete for the prestigious World Cup. Pakistan is blessed with talented top-order batsmen such as Babar Azam, Imam Ul Haq, and Fakhar Zaman, who have racked up impressive numbers since their professional debuts.
| | | | |
| --- | --- | --- | --- |
| Player | Runs | Ave | SR |
| Babar Azam | 5409 | 58.16 | 89.12 |
| Fakhar Zaman | 3272 | 45.44 | 91.96 |
| Imam-ul-Haq | 2976 | 50.44 | 82.18 |
| Mohammad Rizwan | 1693 | 36.8 | 88.59 |
Key Pakistani ODI Batters
The contributions from these players will be critical if Pakistan plans to make a deep run in the ICC Cricket World Cup 2023. While some may dub this batting line-up inexperienced, they experienced more than 200 international matches amongst them and look forward to further success in this tournament.
Moreover, having two experienced all-rounders, Shadab Khan and Mohammad Nawaz, brings flexibility to balance the team composition, which can be a useful strategy against any opposition throughout the tournament.
Depth in the Spin Department
Pakistan's spin bowling attack has been identified as one of its strengths for the ICC World Cup 2023. The squad selection reflects this focus, with 39% of players being spin bowlers compared to 31% of fast bowlers included in the 15-man squad.
| | | | | |
| --- | --- | --- | --- | --- |
| Player | Wkts | Ave | Econ | SR |
| Shadab Khan | 83 | 32.8 | 5.17 | 38 |
| Iftikhar Ahmed | 12 | 40 | 5.66 | 42.3 |
| Usama Mir | 11 | 35.09 | 5.43 | 38.7 |
| Agha Salman | 4 | 88.25 | 5.51 | 96 |
Key Pakistani ODI Spinners
Selectors have put their trust in Iftikhar Ahmed, Usama Mir, Agha Salman, and Shadab Khan's spells knowing that each has added something unique to Pakistan's overall bowling strategy for the past few years while still showing promise for what lies ahead.
Weaknesses of Pakistan's Cricket Team
Poor performance record, lack of suitable finishers in the batting line-up, and vulnerable middle overs can pose drawbacks for Pakistan in this World Cup.
Inconsistent Performances
Pakistan has been notorious for its streak of inconsistent performances in recent years. This inconsistency has affected their progress in the international cricket arena, especially during big tournaments such as the ICC Men's Cricket World Cup 2023.
Apart from injuries to key players, the unavailability of regular squad members due to some personal issues and lack of form, among others, are major contributing factors to Pakistan's erratic performances.
Pakistan recently suffered a 2-1 loss against Zimbabwe in a three-match One Day International series which brought into focus their struggles with consistency yet again. 
During this series, they ran into problems while chasing large targets, which were set by both sides on more than one occasion, an issue which is likely caused by Pakistan being unable to amplify their batting power plays after having lost several quick wickets early on in innings'.
Lack of Reliable Finishers in the Batting Lineup
The lack of reliable finishers in the batting lineup could be a major threat to Pakistan's World Cup campaign. Without having finishers in their batting lineup, they would struggle when it comes to chasing or setting up challenging targets, given the lack of depth and firepower at the end of an innings.
This could lead to leaving games close after a strong performance earlier on only until the final overs when the team would fail to capitalize on momentum, not finding stability during tight spells.
This is evident from Pakistan's group stage performances in their most recent World Cups where many times outcomes were impacted due to their inconsistency and lack of reliable batsmen further down the order – this issue will likely continue if not addressed before 2023 unless new players can fill that role.
Middle-Order Vulnerability
Pakistan's ODI team has had difficulties in forming a consistent middle order for the World Cup 2023, struggling to bring together performances that can inspire collective confidence.
The prolonged uncertainty over players and their availability has not helped the cause either. In particular, Imam-ul-Haq and Babar Azam have been unable to find a reliable service partner until now due to form issues or injuries.
As such, it continues to remain an area of concern for Pakistan's squad, which will be hard-pressed against some of the more competitive teams in this competition. 
Apart from inadequate performance levels required for World Cup cricket, this weakness also prevents other players from playing their natural game as they may often find themselves under pressure with limited runs on board or huge scores expected from them before time runs out during chases if one set of batters crumbles during batting collapse.
Opportunities for Pakistan in The World Cup
With a squad of proven experience and an eye on the future, Pakistan has a chance to make history by winning its first World Cup since 1992.
Chance to Win the World Cup After 1992
Pakistan's national cricket team has come a long way since their historic victory in 1992, when they brought home the Cricket World Cup for the first time. In the years after, Pakistan has continued to perform consistently in international cricket tournaments and built upon its core strengths as a team.
The experienced players from the 1992 squad are no longer playing, but many of those who replaced them have learned from that legacy and applied these learnings to their game. This is evidenced by Babar Azam's phenomenal achievements over the past few years across all formats at an international stage which have seen him rise to become one of the most reliable batsmen on any given day.
Similarly, Shaheen Afridi and Shadab Khan have developed themselves into capable bowling attack leaders, backing up incredible performances with consistency – something that was lacking in Pakistan teams previously.
Threats to Pakistan's World Cup Campaign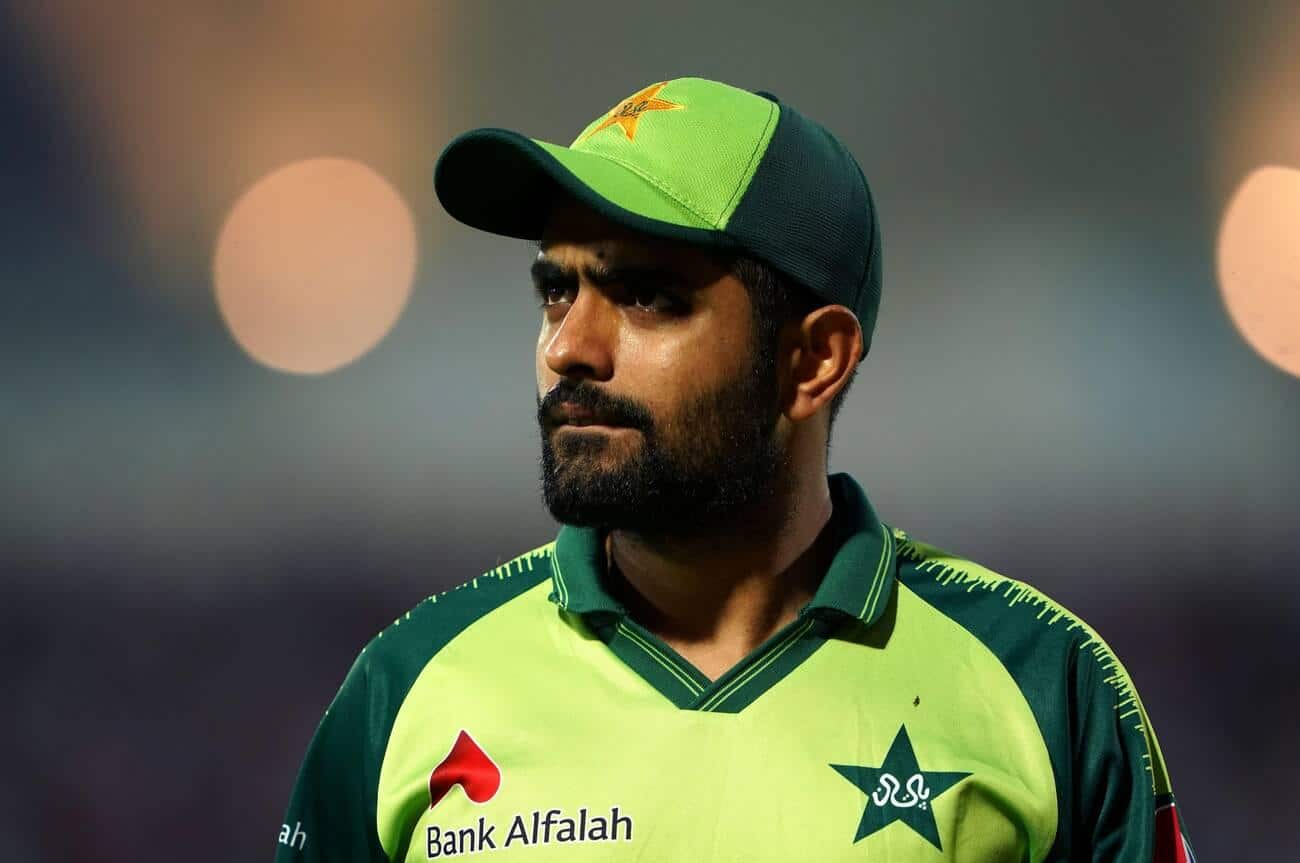 With the pressures of a diverse and highly competitive field, Pakistan will need to stay sharp throughout the tournament, as any slip-ups may cost them dearly in their quest for success.
Tough Competition From Top Teams
Pakistan's World Cup 2023 campaign will be facing tough competition from the top cricketing nations. India, England, and Australia are the favorites to win the tournament, with all three teams having strong squads filled with talent, skill, and experience that hold over many of the Cricinfo rankings.
India boasts a prolific batting line-up including Rohit Sharma, Virat Kohli, and Shubman Gill, while their bowlers such as Mohammed Shami and Jasprit Bumrah possess excellent form both on home soil in Test matches or limited overs series around the world.
On the English side, they have high-scoring batsmen like Jason Roy, Jos Buttler, and Jonny Bairstow, supported by an exceptional pace attack spearheaded by Chris Wokes. 
Meanwhile, the Australian field recognized stars Steve Smith and David Warner but also renowned names such as Josh Hazlewood and Mitchell Starc for effective bowling combinations.
Fitness Concerns for Key Players
Fitness is of utmost importance for every team in the World Cup, and concerns surrounding key players can detrimentally impact a team's overall performance.
For Pakistan, fitness issues have held key players out of their Asia Cup 2023 squad, while some injury-prone players were also excluded from the squad selection for the upcoming World Cup.
Moreover, during their international commitments leading into the tournament, several Pakistani cricket stars like Babar Azam, Shadab Khan, Muhammad Hasnain, and others had to face minor injuries that could be serious enough by next year to put these cricketers off their game at crucial times.
In order to take full advantage of its strong customer base entailing established players as well as exciting young talents that have not been seen before on such a large stage yet, it appears pivotal for all stretched muscles, or injured joints in particular, to be recovered perfectly until then.
Pakistan's Confirmed Squad For The World Cup 2023
Pakistan's final squad for the Cricket World Cup 2023 is an interesting mix of seasoned players and exciting young talent. Here's a look at the players who have been confirmed to represent Pakistan in the upcoming tournament:
Babar Azam

: Elegant right-handed batsman and captain of Pakistan.

Fakhar Zaman

: Aggressive left-handed opening batsman.

Imam-ul-Haq

: Dependable middle-order batsman with solid technique.

Mohammad Wasim

: Bowling all-rounder with medium-fast pace and swing.

Mohammad Rizwan

: One of the best wicket-keeper batsmen in the world.

Hasan Ali

: Right-arm fast bowler known for his pace and swing.

Shaheen Shah Afridi

: Left-arm fast bowler known for his pace and swing.

Shadab Khan

: Talented spin-bowling all-rounder.

Haris Rauf

: Right-arm fast bowler known for his pace and ability to bowl yorkers.

Mohammad Nawaz

: Left-arm spinner and good batsman.

Iftikhar Ahmed

: Versatile all-rounder with depth in both batting and bowling.

Usama Mir

: Leg-spinner who adds variety to Pakistan's spin-bowling options.

Agha Salman

: Young right-arm fast bowler with pace and swing.

Abdullah Shafique

: Young right-handed batsman with solid technique.

Saud Shakeel

: Young left-handed batsman with solid technique.
Notable exclusions from the squad include Faheem Ashraf, who missed out on securing a spot in the World Cup squad. With a well-rounded team, Pakistan will be looking forward to performing well in the tournament.
Follow this article for the Bangladesh Squad for the ICC 2023 World Cup.
Players to Watch for in The Pakistani Team
Along with some big names, there are quite a few exciting new players who will be looking to make their mark in the formidable Pakistani squad. Make sure you stay updated on the latest news and updates for this World Cup season!
Babar Azam
Babar Azam is the leader of the Pakistan cricket team for the ICC Cricket World Cup 2023. He has been leading and uniting his teammates since taking over as the captain and instilled a sense of confidence in them.
His experience at the international level, combined with talent and composure has made him one of the best batsmen in world cricket today. With high hopes to bring back a long-awaited victory at this prestigious event, he has prepared his team by providing training camps before arriving in Hyderabad for the tournament.
Babar Azam's ability to take on hard decisions under pressure will be tested during possibly tight situations due to tougher opposition waiting in line. His vision promises success for Pakistan if they can fight together as an invincible unit like champions–with sincere discipline along with controlled aggression coupled with intelligent skillful strokes!
Shaheen Afridi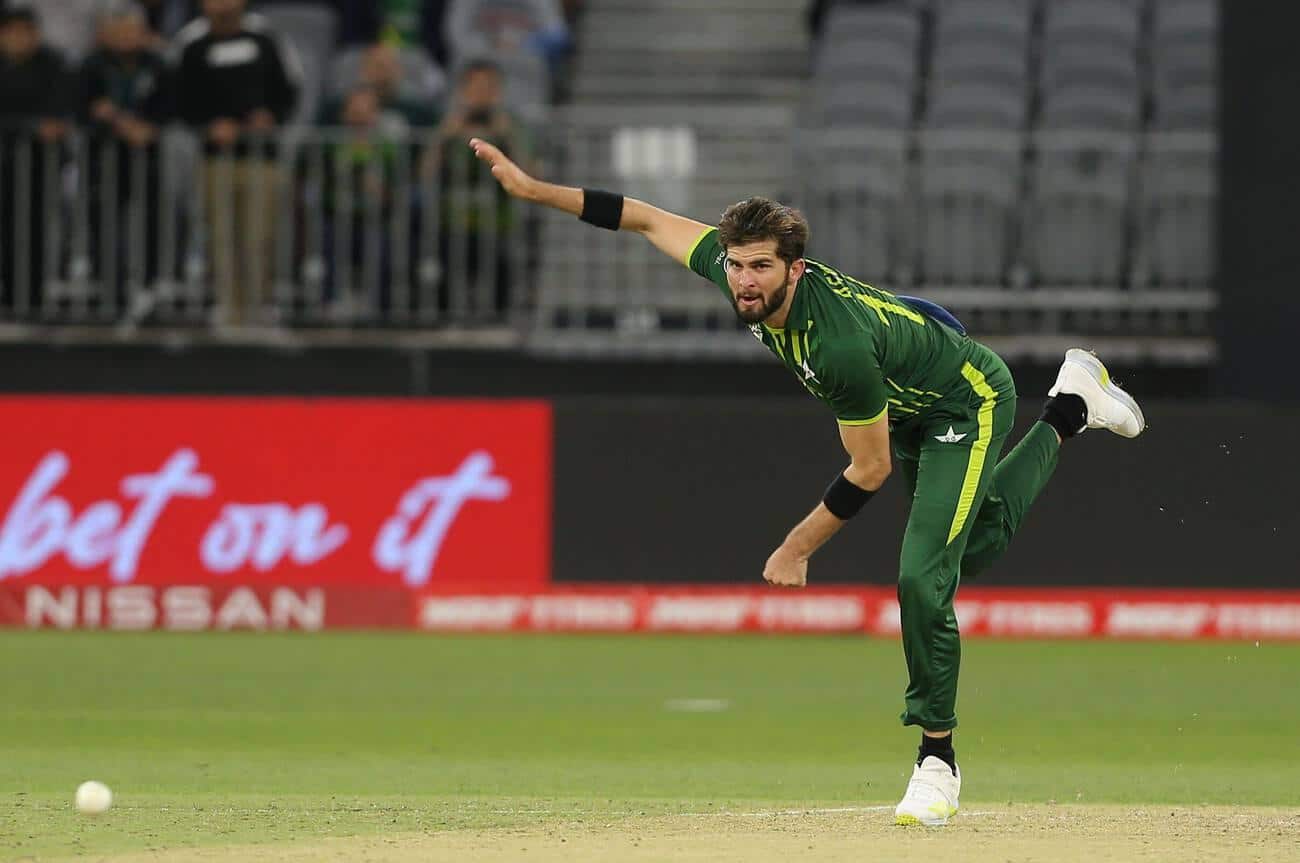 Shaheen Afridi is a Pakistani international cricketer, and he plays for all formats of the game. He is known for his left-arm fast bowling, which has helped him to great success in domestic cricket as well as at the international level.
Shaheen, who is only 23 years old, has already cemented himself with some impressive performances – most notably his six wickets against South Africa when Pakistan toured last year.
With that performance in mind, there are high hopes from Shaheen that he can replicate similar performances in the group stages leading up to the World Cup 2023. 
Shadab Khan
This all-rounder is an important member of the Pakistan cricket team for the upcoming ICC Cricket World Cup 2023. He has been a consistent performer since his debut in 2017 and was instrumental in helping Pakistan win many big matches.
With Hyderabad-born left-arm fast bowler Haris Rauf added to their lineup, Khan and Rauf form a formidable bowling combination for the tournament ahead.
His ability to spin it both ways while also gaining prodigious dip makes him unpredictable and hard to score off regularly.
Shadab Khan has shown himself to be a match-winner throughout his short career with spectacular performances against South Africa, New Zealand, and even India just this year alone!
With his all-round abilities, he gives them renewed hope that they can become surprising champions come 2023!
Mohammad Rizwan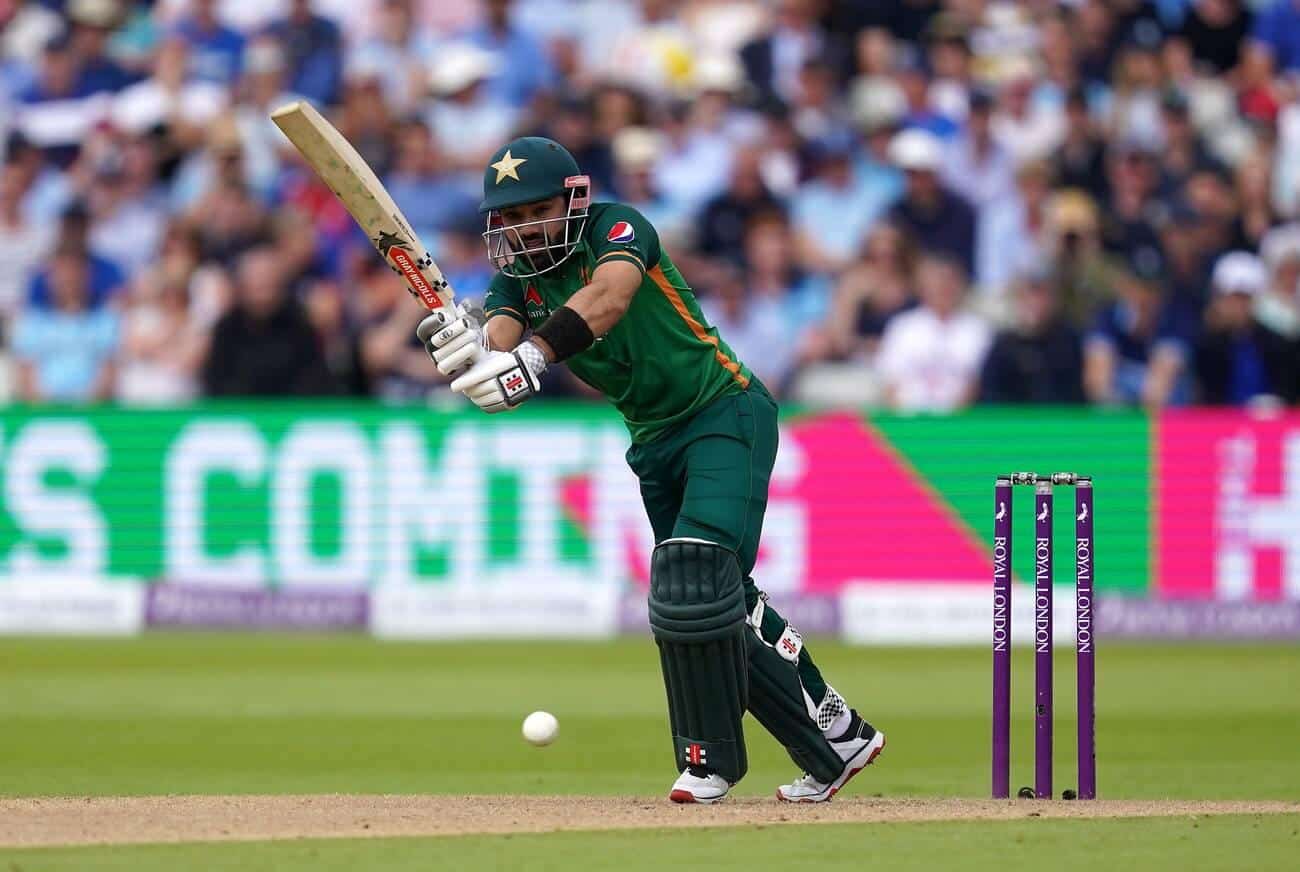 Rizwan is the wicket-keeper batsman in the Pakistani national cricket team and one of the key players to watch for in the upcoming ICC Cricket World Cup 2023. He joined his squad after receiving a rousing welcome with the rest of the Pakistan cricket team on their arrival in Hyderabad on September 27th for this huge tournament.
As an experienced player, Rizwan brings a wealth of skills and experience with him that will be invaluable during the competition. His excellent glove work behind stumps has earned him government recognition as he led his side to glory in some games recently and looks set to have another good run this year too.
He also provides great depth to their batting lineup which makes them one of the top contenders at global level competitions. With such versatility, Rizwan can prove himself pivotal as Pakistan look forward to challenging for glory ahead at the World Cup – if he remains fit and effective throughout it all!
Haris Rauf
Haris Rauf has sky-rocketed into the limelight since his enigmatic debut in the Pakistan Super League (PSL) in 2019. His extraordinary bowling performance led to him being crowned as one of the highest wicket-takers, and since then, he has emerged as the top performer for Pakistan's fast-bowling division despite a raft of injuries.
This talent was duly rewarded when he was selected in Pakistan's ICC Cricket World Cup 2023 squad with the hope that Rauf would carry over his form from before.
As an integral part of this much talked about Pakistani team, Rauf will be expected to support the pace attack and provide vital breakthroughs throughout their campaign—gifting batsmen little time to settle down due to his variations and tight line length abilities regardless of where he bowls: whether it is at powerplays or during death overs.
With tremendous performances under his belt thus far, all eyes are on Haris Rauf, who could turn out to be a game-changer for Pakistan's run toward winning their second-ever World Cup title after 1992.
Conclusion: Can Pakistan Bring Home The World Cup Trophy?
Pakistan is determined to make their mark in the World Cup 2023. Despite recent setbacks, such as Naseem Shah's injury and former cricketer Ramiz Raja's warning that lack of consistency could stand in their way of victory, the team has held strong with a consistent and experienced lineup.
The bowling attack boasts competitiveness, while the batting line-up holds depth in spin. Finding the right formula for success will be key at this point crucial juncture; If they can successfully execute a strategic game plan, then Pakistan has what it takes to take home the trophy after 28 years since winning it last in 1992.