Black Caps Crush England in World Cup Opener at Ahmedabad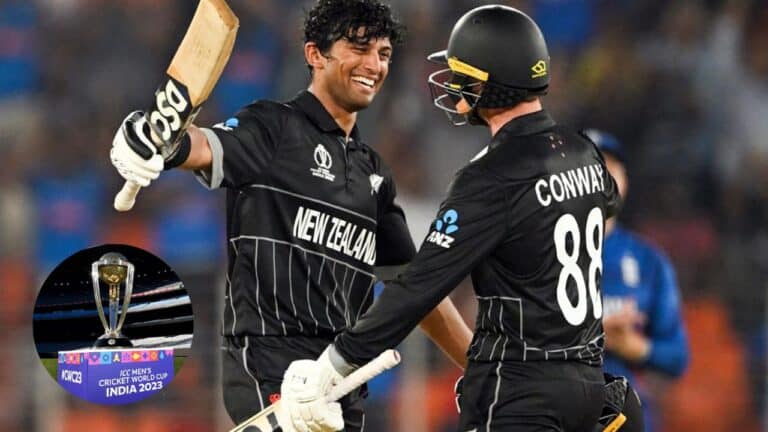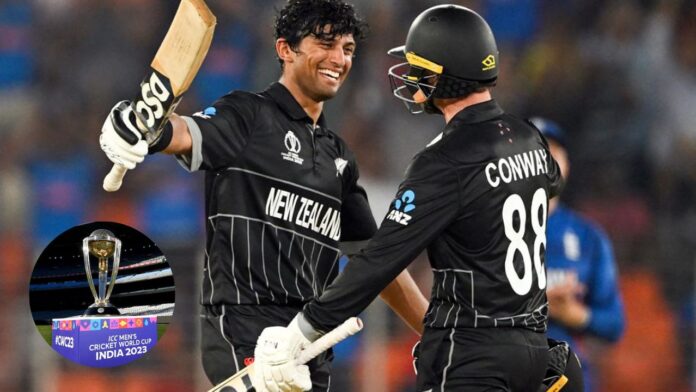 England were soundly defeated by New Zealand in the opening match of the 2023 Men's Cricket World Cup, with the Black Caps defeating the defending champions by nine wickets to avenge their setback in the 2019 final.
Following England's somewhat plodding 282-9 from 50 overs, New Zealand romped to victory in 36.2 overs, with Devon Conway (152no) and Rachin Ravindra (123no) both notching spectacular century on their World Cup debuts.
Sam Curran (1-47) had got Will Young (0) out with his first ball, but Chris Woakes and Mark Wood went round the park at the other end as Conway and Ravindra brought up the New Zealand century to begin the 13th over.
England had no response for the Kiwi pair's blazing run-scoring, with Conway reaching 150 shortly before New Zealand claimed the most emphatic of opening triumphs.
Earlier, following his unbroken 26 in the warm-up triumph against Bangladesh on Monday, Joe Root top-scored for England with 77, presumably laying the groundwork for a 300-plus performance.
However, wickets fell at regular intervals throughout the innings, with Root becoming the seventh to go in the midst of a disastrous stretch that saw the defending champions lose four for 31 between the 39th and 46th overs – exactly the time at which they should have been seeking to launch. Additionally, you can also read about- ICC World Cup 2023 New Zealand Team Analysis [Key Players to Watch]
Captain Jos Buttler scored 43 off 42 balls, sharing a 70-run partnership with Root, while Harry Brook, filling in for Ben Stokes, who is currently recuperating from a hip injury, hit 25 off three successive deliveries before succumbing to Ravindra's fourth.
Jonny Bairstow had started the innings so strongly that after New Zealand won the toss, he flicked Trent Boult's second delivery for six over deep backward square-leg. He and Dawid Malan put up 40 for the first wicket before Malan was caught by the mighty Matt Henry (3-48).
The Black Caps then relied on spin to keep England at bay in the middle overs, with Mitchell Santner (2-37) picking up Bairstow (33), Ravindra (1-76) adding Brook after his boundary spree, and Glenn Phillips (2-17) dismissing Moeen Ali (11).
Root and Buttler appeared to have calmed things down with their outstanding stand, with the former scoring his 37th ODI fifty off 57 balls, but Henry came to account for the skipper, who was caught behind.
Then, as the score approached 40 overs and another partnership was forming between Root and Liam Livingstone (20), Boult (1-48) surprised the latter with a superbly disguised knuckleball.
Read More: Where to Watch the ICC World Cup 2023: A Complete Guide With More Information
Phillips then took the crucial wicket of Root, who was bowled while attempting to reverse-sweep a slightly too full delivery, before Curran (14) and Woakes (11) came and went without doing any harm.
Adil Rashid (15no) and Mark Wood (13no) ensured England batted through their entire 50-over allocation, but it appeared to be an under-par total, which it proved convincingly.
Curran claimed Young for a tickling edge down the legside as part of back-to-back opening maidens from the left-armer, but Woakes let up 27 in his first three overs, while Wood gave up 38 in three after relieving his fellow quick.
The spinners provided no respite, with Ravindra speeding to a 36-ball fifty with a stunning six over deep midwicket off Moeen and Conway matching that effort for speed with a boundary off Rashid's next.
Conway ultimately surpassed his partner, hitting three figures – his sixth ODI century, off 83 deliveries – to begin the 27th over, with Ravindra following in the 31st, off 82 balls.
And the pair kept going to the end, with the scoring rate remaining high as New Zealand claimed the most convincing of opening triumphs. England were left to lick their wounds and muse about their next game against Bangladesh on Tuesday.
Read Also: A Bittersweet World Cup 2023: 5 Key Players to Miss the ICC Cricket World Cup
Score Summary
England 282-9 in 50 overs: Joe Root (77 off 86 balls), Jos Buttler (43 off 42), Jonny Bairstow (33 off 35); Matt Henry (3-48), Glenn Phillips (2-17), Mitchell Santner (2-37)
New Zealand 283-1 in 36.2 overs: Devon Conway (152no off 121 balls), Rachin Ravindra (123no off 96); Sam Curran (1-47)