Top 25 Beautiful Places in Bangladesh
Here we have described in detail on the top 25 beautiful places in Bangladesh where you should travel once. Almost every district of this beautiful country Bangladesh has different places for visiting. Many tourists from home and abroad gather in the country every year to visit tourist places in Bangladesh. Forests, mountains, rivers, seas, islands exist in our Bangladesh. There are many historical sites in the country. So, Millions of tourists, who are thirsty for travel, enjoy the beauty of places in the country throughout the year.
There are many unfamiliar tourist-attractive places in Bangladesh. Moreover, tourists were fascinated by the natural beauty of Bangladesh. So, they are archeological monuments, historical mosques, the longest natural beaches in the world, mountains, forests. Therefore, the natural beauty of this country fascinates Bangladesh tourist spots.
The tourist places in Bangladesh, a beautiful small country in South Asia has yet to develop in tourism. Although there are many beautiful places here, it is one of the least touristy destinations in the world. The people are very friendly and hospitable. However, they receive tourists everywhere and try to help them. But, making a list of the best places in a country is always very difficult and debatable. Therefore, from my experience of visiting Bangladesh, I have created this list. So, there is a list of 25 best tourist places to visit in Bangladesh for you.
Why travelling so important for people?
Traveling is very necessary for life from relieving from monotony and mechanics for a while. When you travel, you can stay away from daily activities for a while. So, it removes the monotony and creates peace of mind. The same work makes people disgust. So, it is very important to travel amid work. It brings peace of mind. Stress and anxiety will make it easier if you can visit any place. The tour will increase your social skills. Consequently, traveling will give you the opportunity for seeing new places. And, you will get scope to know new people during Beautiful Places in Bangladesh.
Read Also: How to Make a Travel Log?
Necessary tips for travelling
We should follow the tips before we visit Bangladesh tourist spots.
Take a cloth hat or cap to protect from the sun.
Sunglasses will work very well.
You should not wear tight clothing while traveling. It is better to wear loose clothing.
Travel clothing needs heat-insulating, quick-drying, and resistant to harmful rays.
You should choose clothes keeping the place, environment and culture of travel in mind.
Take children's clothes, shoes in separate bag.
Pay extra attention to the shoes. Comfortable sneakers are good. Girls should not use high heel shoes.
Take extra bathing clothes if you want to swim river, fountain or sea.
The Best 25 Beautiful Places in Bangladesh:
The beautiful small country in South Asia make attraction tourists with beautiful places in Bangladesh. As people are friendly and hospitable, many foreign tourists come to the country to visit best places in Bangladesh. Here you will find a list of 25 top beautiful places in Bangladesh which you should not miss.
Cox's Bazar Sea Beach
Cox's Bazar is the top tourist place in Bangladesh. It is famous for its natural beauty. It is also beautiful places in Bangladesh. The district is 152 km away from Chittagong and 414 km from Dhaka. There are many more places, including the longest sea beach in the world. The other popular places are Ramu Buddhist Monastery, Maheshkhali, Sonadia Island and Kutubdia. Cox's Bazar Sea Beach is the longest beach in the world. Its total length is 120 km. it is located 150 km south of Chittagong.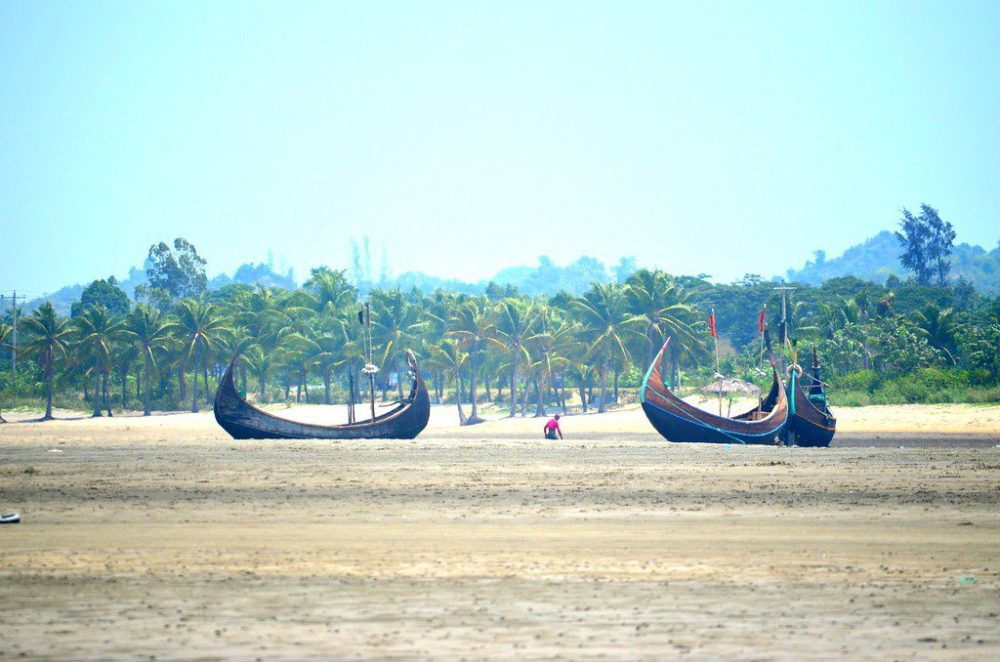 This place was named after Captain Hiram Cox. He was an officer of the British East India Company. It is the place of miles of golden sands, high cliffs and surfing waves. There are also incredible shells, beautiful pagodas, Buddhist temples and delicious seafood. The beach has reputation for bathing, sunbathing, swimming, and surfing. On the other hand, the beauty of the sunset behind the vast sea is fascinating.
Why tourists come at Cox's Bazar Sea Beach?
As top tourist places in Bangladesh, there are many spots at Cox's Bazar Sea Beach to visit. You can visit Laboni Beach, Sugandha Beach, Kalatali Beach.  Himchhari, Inani Beach, Marine Road, St. Martin's Island, Naikhongchhari Lake also fascinate tourists. Importantly, Ramu Buddhist Temple and Dulahajra Safari Park are also the best places to visit in Bangladesh.
How can you go to Cox's Bazar?  
You can go the top tourist places in Bangladesh by bus, train and plane. There is a direct service from the capital to Cox's Bazar. Direct bus services are also available from Chittagong, Khulna, Sylhet and Rangpur. Buses directly leave Fakirapul, Arambagh and Motijheel for the top tourist place in Bangladesh.
There are many non-AC buses from Dhaka. Shyamoli, TR, Hanif, Unique, S Alam will take fare Tk800-Tk 1000. Green Line, Saidia, Desh Travels, TR and Sohag will get fare Tk 1600-2000 for AC.
The Sundarbans
Sundarbans is the largest mangrove forest in the world. The forest is a unique ecotourism destination. UNESCO recognizes it as World Heritage Site. It is the coast of the Bay of Bengal. Nearly 60% of the forest is in Bangladesh. The forest is surrounded by two of the most densely populated countries. Sundarbans is still remote, inhospitable, and largely uninhabited by people. The forest is intersected by a complex network of rivers, streams, salt marshes and small islands. So, this incredible forest is made up of two elemental ecoregions. They are the mangrove forest and the freshwater swamp forest.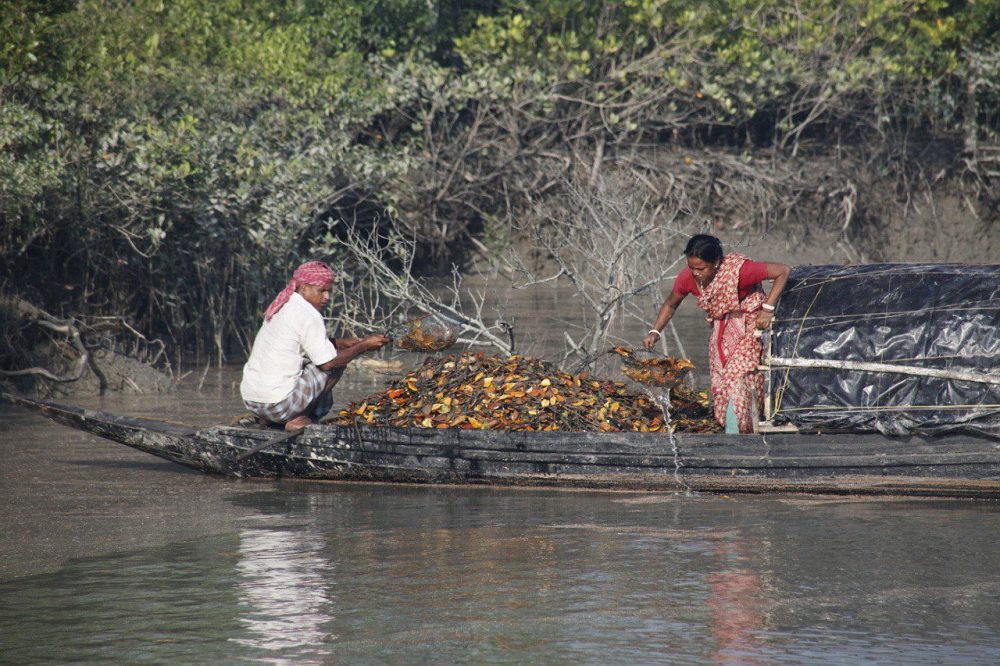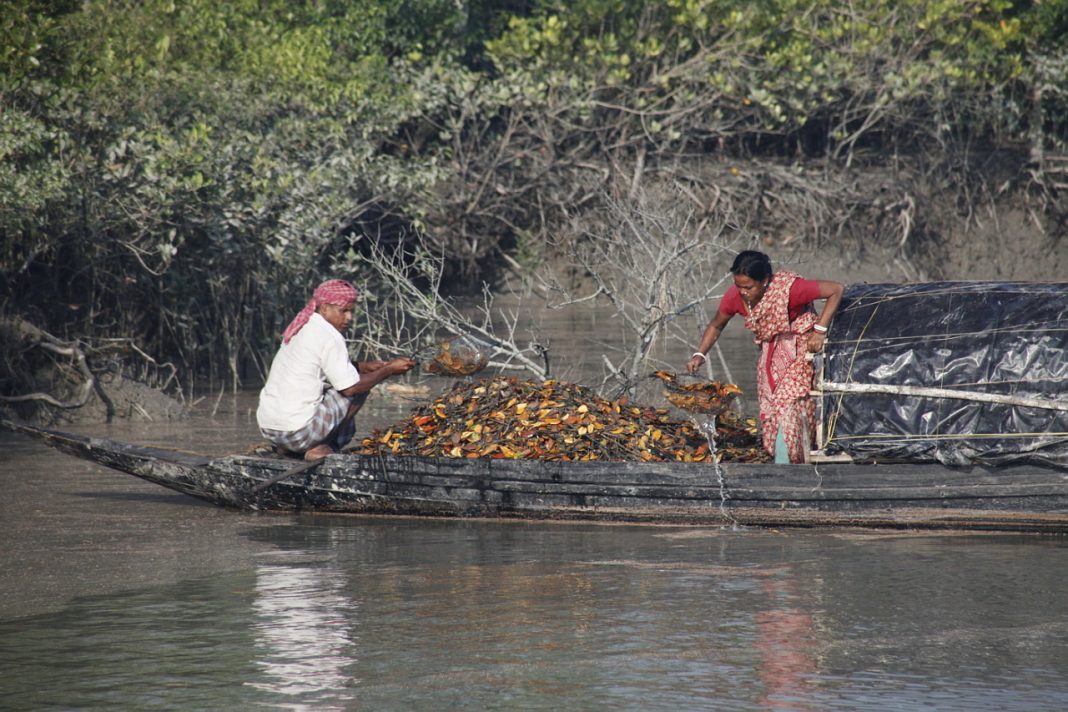 The word Sundarbans means a beautiful forest. However, the name derives from the "Sundari" trees. This forest is famous mainly for the Royal Bengal tiger. But you will also see deer, crocodiles, wild boar, monkey and dolphin. Even, there are different types of birds. This forest provides habitat for 42 species of mammals, 290 species of birds. In addition, there are 120 species of fish, 50 species of reptiles and 8 species of amphibians. At the same time, travelers will get immense opportunity to visit around 450 small and big rivers and canals. However, those are entangled like a net in the Sundarbans.
What are the best places for tourists in Sundarbans?
The Sundarbans has ample opportunities for tourists as best places to visit in Bangladesh. Katka, Tiger Point, Kachikhali Sanctuary and Karamjal are the best places for travelling. Besides, there are ecotourism center, Nilkamal Sanctuary, Dublarchar, Manikkhali, Andarmanik and Anarmanik in the Sundarbans.
How will you go to the Sundarbans?
There is no opportunity to go directly to the beautiful places in Bangladesh from the capital. You will have to go to Bagerhat by bus and launch from Dhaka. So, there are two types of buses from Dhaka, AC and non-AC. However, it takes 7 to 8 hours to reach Bagerhat by road from Dhaka. You will have to cross Mongla by road for about 50 km. Moreover, you can visit the Sundarbans by boat from Mongla.
The Island of Saint Martin
Saint Martin's Island is a coral island in the northeastern part of the Bay of Bengal. St. Martin's Island is located about 9 km south of Teknaf in Cox's Bazar district and 8 km west of the coast of Myanmar. It is at the mouth of the Naf River. So, it is also locally known as Narikel Jinjira because of its abundance of coconuts.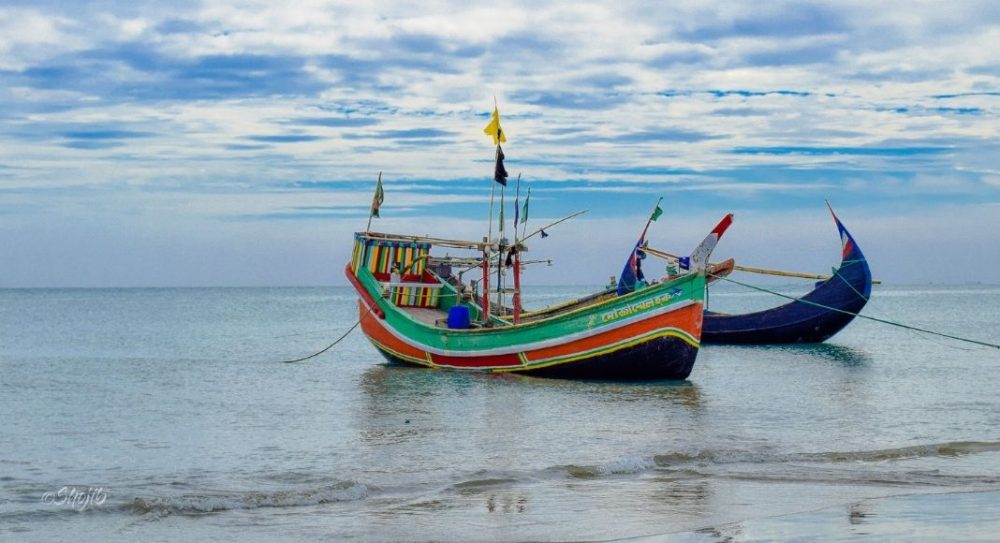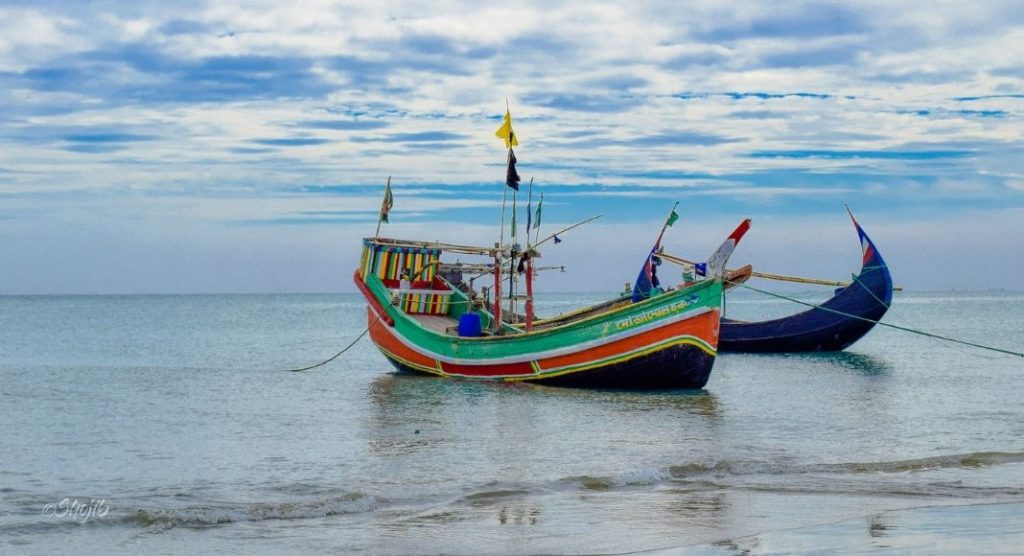 Many years ago, an Arabian ship loaded cinnamon crashed into a rock under the water due to bad weather. Later, cinnamon or Daruchini spread throughout the island. Consequently, the island renamed St. Martin's Island as Daruchini Island. The film, Daruchini Dwip, written by Humayun Ahmed and directed by Taukir Ahmed was shot in the island.
Read More: Is Travelling has to be Difficult?
However, Saint Martin Island is one of the best places to visit in Bangladesh. The only coral island in Bangladesh is about 8 km long and rarely more than 1 km wide.
What are the attractive things of Saint Martin Island?
The beaches lined with coconut trees, the island's scenic beauty, and unspoiled marine life attract tourists. Magnificent landscapes, crystal clear sea water, coral colony and the roar of sea are the main attraction for visitors. Tourists come here to sunbathe and wander alone on the sea beach surrounded by corals and crystal-clear sea. Away from the noisy environment of city life, the tranquility of this island will help you soothe your soul. Enjoy the feeling and sighting the beauties of the blurry vision encourage many tourists to stay here overnight. If you stay here one night, enjoy a full moon night. As a result, you will want to stay on this island forever. Various types of seafood here will satisfy your appetite while visiting the beautiful places in Bangladesh.
What tips visitors should follow to visit St. Martin?
We should follow the tips during Bangladesh tourist spots like St. Martin.
To visit St. Martin, you can contact several travel agencies from Dhaka, including Carey.
The ship ran for only 4 months from November to March. If you want to go another time, you have to go by trawler.
There are many hotels, resorts and cottages in St. Martin now. So, there is no shortage of accommodation.
Above all, it is better not to go to the island on Friday and Saturday. So, you should go other days to stay with affordable prices.
In conclusion, the cost of food is relatively high as everything comes on the island from outside.
How will you go to St. Martin Island?
You can reach Teknaf by bus from Dhaka, Chittagong and Cox's Bazar. Moreover, regular buses are available from Chittagong and Cox's Bazar for Teknaf. However, you can also reach Teknaf by renting a micro bus from Cox's Bazar. Later, you will have to the island by ship from Teknaf.
Kuakata
Known as Daughter of the Sea, Kuakata is famous for its panoramic attraction of the sea beach in Bangladesh. This 18 km long and 3 km wide beach is located at the Kalapara Police Station in Patuakhali. Therefore, it is about 320 km from Dhaka and 70 km from Patuakhali Sadar.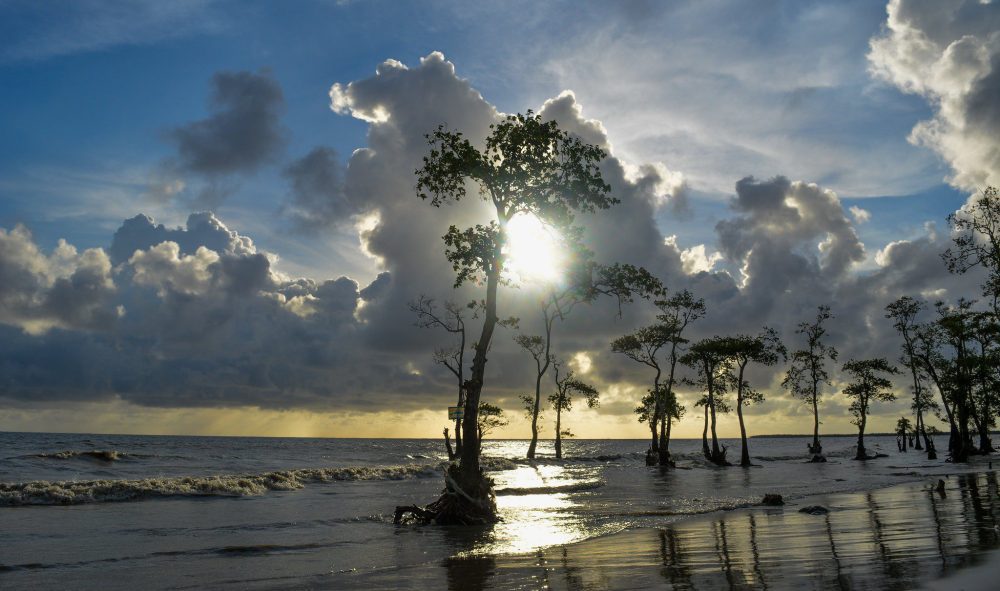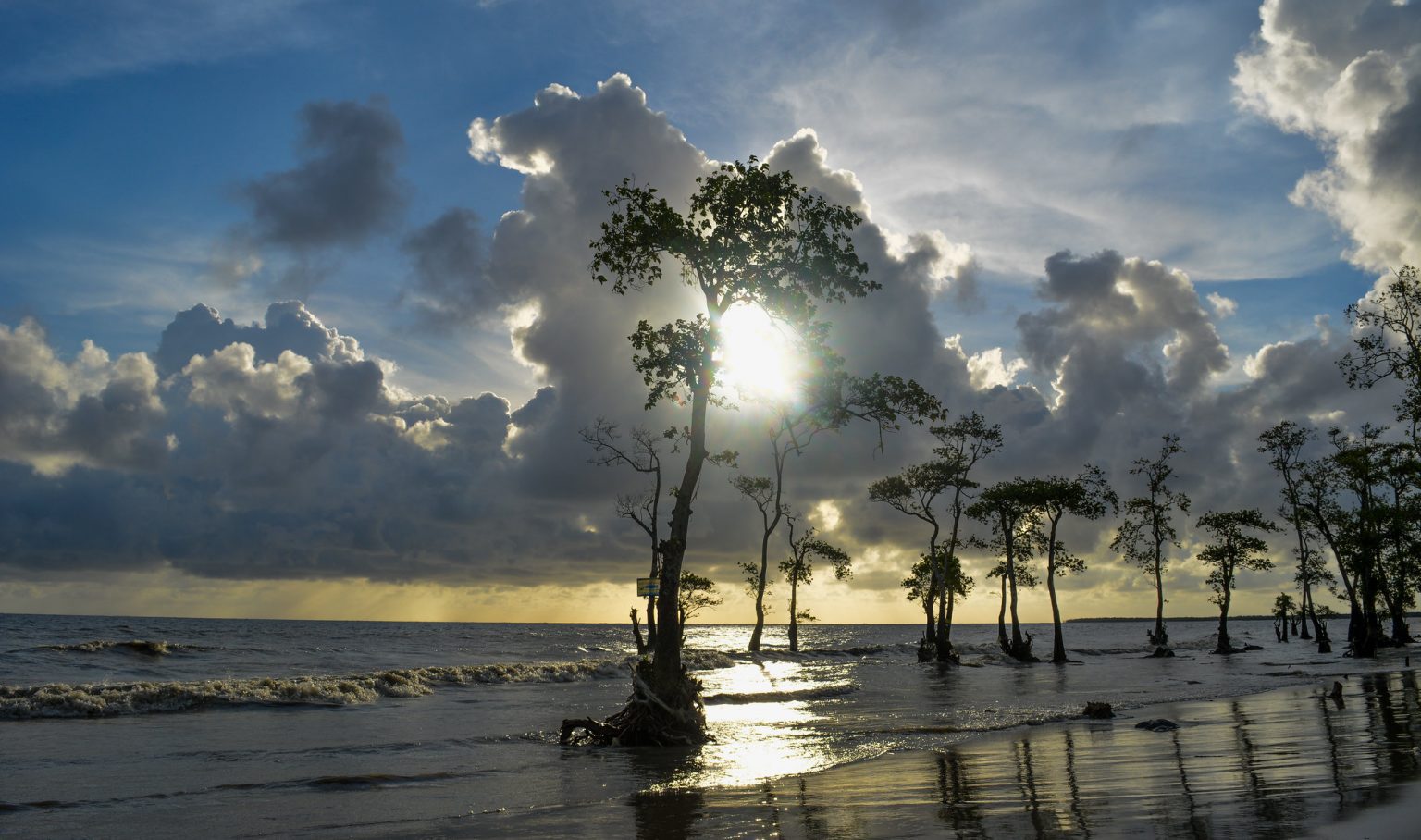 The place is a unique place where you can witness both sunrise and sunset without obstacles. This beach is an enchanting combination of picturesque natural beauty, blue sky, sandy beach, great bay, and evergreen jhaubon. However, here you can see a 100-year-old Buddhist temple and two 200-year-old wells.
What are the best places in Kuakata?
Kuakata Buddhist Temple, Traditional centennial boats, Kuakata well, Kuakata National Park, Kawar Char and Char Gangamati are most places. So, Zhou Bon, Red crab char, Silver Island and Buddhist monastery are places among the beautiful places in Bangladesh.
How to reach Kuakata to visit?
Firstly, several buses now go directly to Kuakata from Dhaka. You can go to Kuakata directly by multiple transport vehicles from Gabtoli and Sayedabad bus terminals in the capital.
Jaflong
Jaflong of Sylhet is known all over the country as the daughter of nature. So, it is one of the top tourist places in Bangladesh. Jaflong located at the foot of Khasia Jainta hill is a land of natural beauty. The stone piled on the banks of the Piyain river have made Jaflong attractive. Its scenic beauty between gardens and hills enchants tourists. It is situated on the border between Bangladesh and the Indian state of Meghalaya. Jaflong is one of the most popular tourist destinations in Sylhet. However, this place is about 60 km from the town of Sylhet.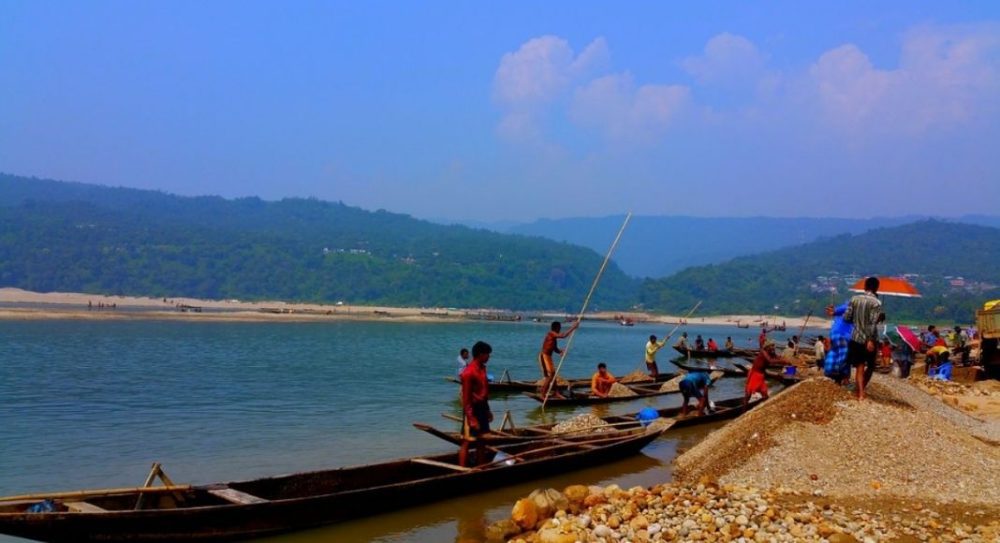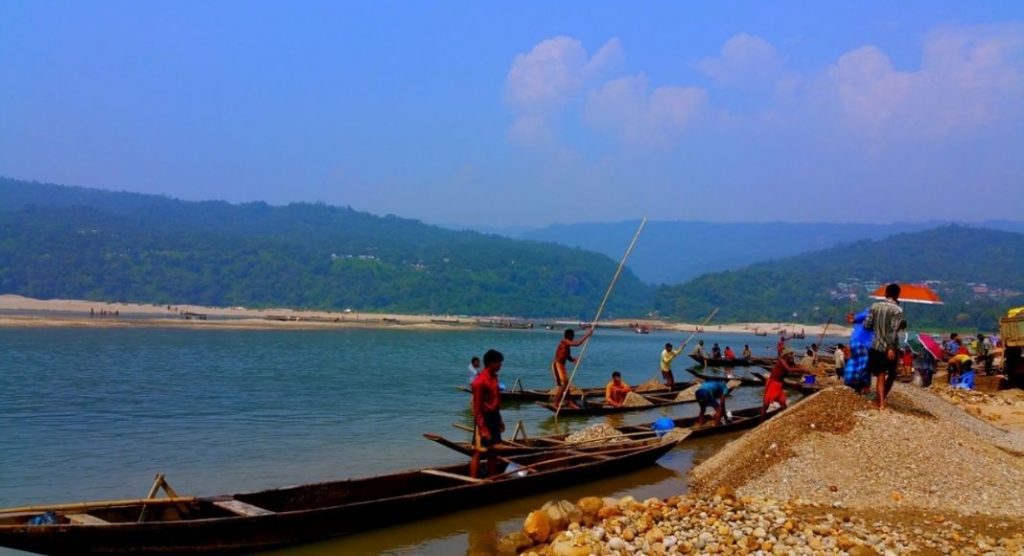 The Mari River that comes from the Himalayas brings tons of stone rocks with its current. This place is famous for its stone collecting activities. However, it is the home of the Khasi tribe. So, tourists come here mainly in winter to see the stone collecting process. But, during the monsoon, Jaflong reveals its different kind of beauty with numerous cascading falls of lush green mountains.
How can you go to Jaflong?
You can go Sylhet by train from Dhaka's Kamalapur and Cantonment railway stations. Besides, buses of different transports run regularly from Dhaka. In addition, you can go to Sylhet by air. You can take a bus, microbus or CNG-run auto-rickshaw from Sylhet to go to Jaflong. So, it will take one hour to one and half hours. From Sylhet you can go by bus, microbus, auto-rickshaw or Laguna to Jaflong. Every person needs Tk 80 for the bus fare to Jaflong. The fare for the return microbus is Tk 3000-Tk5000. CNG-run auto-rickshaws will cost Tk 1000-Tk 1200. Moreover, you can reserve a car, auto-rickshaw or microbus for Jaflong from Sylhet city.
Where will you stay the night in Jaflong?
There is no good arrangement to stay in Jaflong, except the district bungalow. In this case, the tourists should stay in Sylhet city. The hotels are 1. District Council Rest House, 2. Upazila Headquarters. 3. Naljuri Rest House – Naljuri, Jaflong. 4. Green Park Rest House, Naljuri, Jaflong. 5. Sauj Bungalow, Jaflong.
Sajek Valley
The Sajek Valley is one of the main tourist destinations in Bangladesh. It is nestled among the foothills of the Kasalong mountain range of Baghaichhari upazila in the Rangamati district. This place is about 1800 feet above sea level. It is known as the queen of the hills and the roof of Rangamati. Sajek Valley is 80 km from Khagrachari city and 90 km northwest of Rangamati city. It is only 8 km from Mizoram of India. However, it is lush green, scenic beauty of hills, desert, the opportunity to play with the clouds attracts tourists.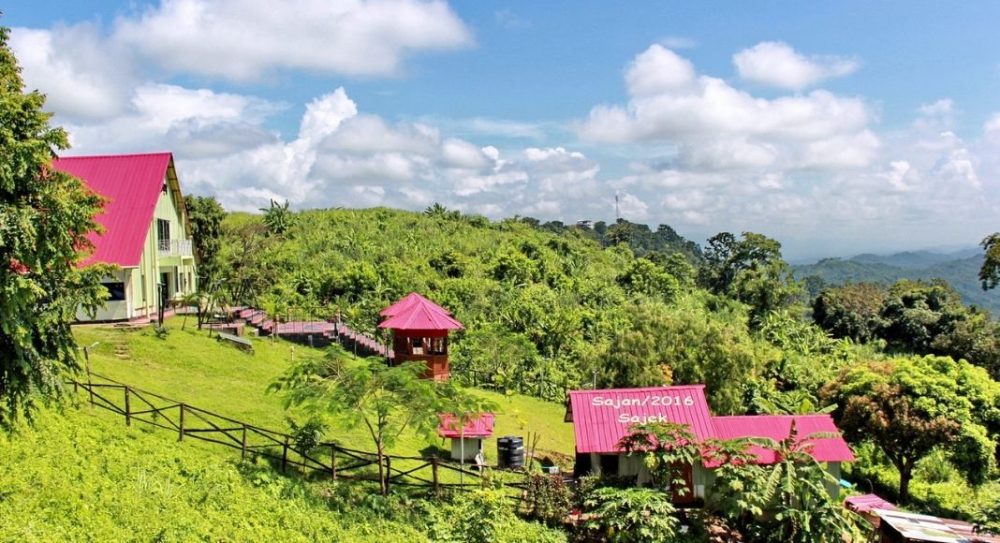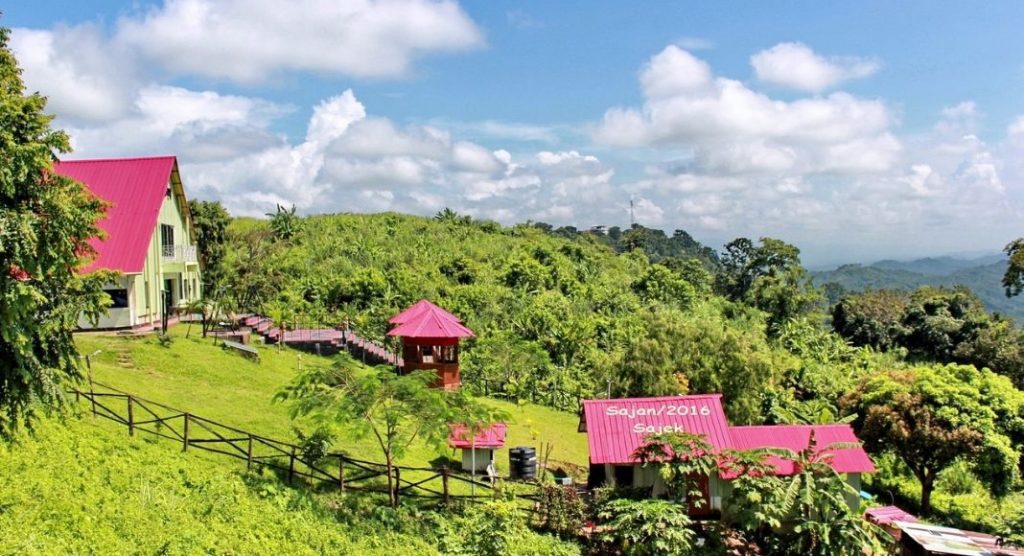 To enjoy its natural beauty every day, thousands of tourists come here. No word is enough to define the beauty of the Sajek Valley. The deep forest, grasslands and mountainous areas make it a wonderful tourist spot. So, it is one of the best options among travelers and adventure seekers. At the top of the valley, you will see the clouds passing around you. However, this picturesque beauty will make you feel the sight of heaven on earth. So, the curvy and hilly roads, the small rivers between the hills make this place exciting. Therefore, climate of Sajek which is the best places to visit Bangladesh changes frequently.
How will you go to Sajek Valley?
Although Sajek is located in Rangamati district, its transportation facility is good from Khagrachhari. So, you can go to Khagrachhari from Dhaka by Shyamoli, Hanif Paribahans and other buses. Apart from this, if you want to go directly to Dighinala, you can take Shanti Paribahan bus. Above all, AC buses of BRTC and St. Martin paribahans also go to Khagrachhari. From Khagrachhari or Dighinala, you can visit Sajek with Chander Gari to visit the top tourist places in Bangladesh.
What is hotel or resort facilities at Sajek?
There are various quality hotels including Khagrachhari Tourist Motel. Although there are a few hotels in Dighinala, the quality of Dighinala Guest House is a bit better. Therefore, some are Sajek Resort, Meghpunji Resort and Hotel Jerin out the best places to visit in Bangladesh.
The Shat Gambuj Mosque
One of Bangladesh tourist spots, Shat Gambuj Mosque is located in Sundarghona village adjacent to Shatgambuj bus stop. It is on the north side of the Khulna-Bagerhat highway, just seven km away from Bagerhat town in Bangladesh. There is no inscription on the mosque. However, archaeologists did not find accurate information about when it was built.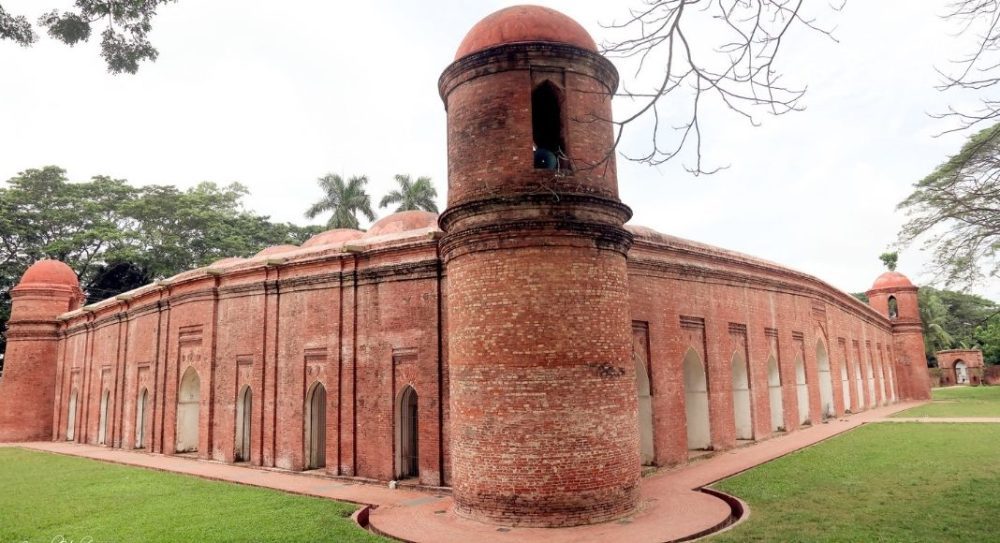 The great Khan Jahan established this mosque three miles west of the present city of Bagerhat. Shat Gambuj Mosque is a UNESCO World Heritage Site and one of the top tourist places in Bangladesh. It is one of the largest historical mosques of the Sultan period. This serene and imposing monument sits on the eastern back of a huge freshwater tank. Moreover, the mosque is famous for its large size and architectural beauty.
Read Also: The 10 Best Cities to Visit in the USA
The archaeological style of it captivates tourists even now. The simple appearance of this aristocratic structure with its absolute simplicity but its solid form reflects the power. In addition, using it as a prayer room, Khan Jahan used the mosque as his assembly hall. Moreover, next to this mosque, there is an archaeological museum where you can find different archaeological and historical materials.
Where will you stay at night?
There are various hotels in Bagerhat Sadar. There are also government guesthouses there. In addition, you can stay at the Mumtaz Hotel on Rail Road. Even, there are Hotel Obhi in front of Khan Jahan Ali Mazar, Hotel Al Amin near Bagerhat bus stand.
How can you reach Bagerhat to visit Shat Gambuj Mosque?
Many vehicles Falguni, Hamim and Dola leave Saidabad from 8am to 10am and from 6pm to 10pm every day. But, Hanif, Eagle, Shakura and Sohag paribhan depart from Gabtali bus terminal in Dhaka. Moreover, you can go to Khulna by intercity train Sundarban Express and then take a bus to Bagerhat. However, it takes about 40 minutes to reach Bagerhat from Rupsha of Khulna.
Paharpur
Sompur Mahabihar or Paharpur Bihar is one of the best-known Buddhist bihars in the Indian subcontinent. It is one of the top tourist places in Bangladesh. UNESCO designated this very important archaeological site as its World Heritage Site in 1985. The Bihar is located in Paharpur under Badalgachhi upazila of Naogaon.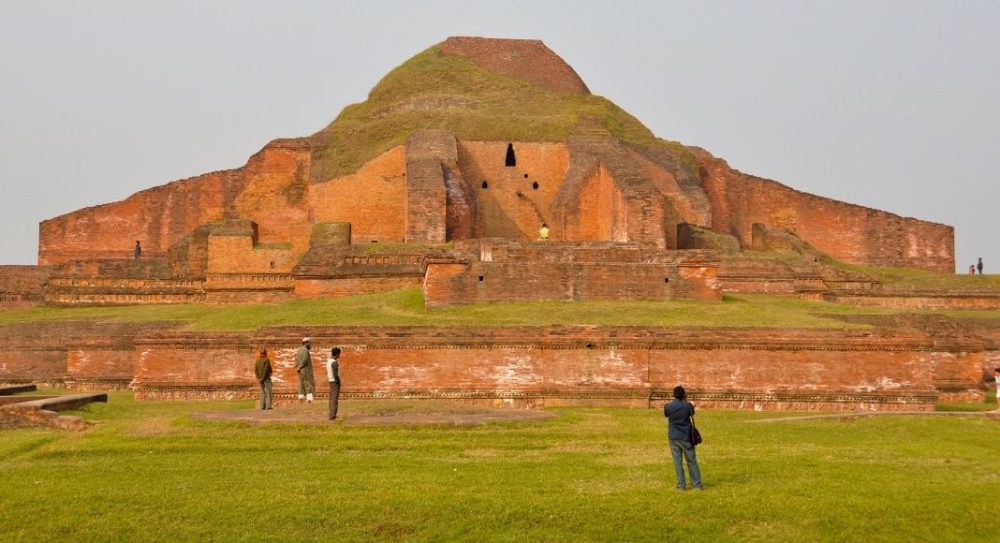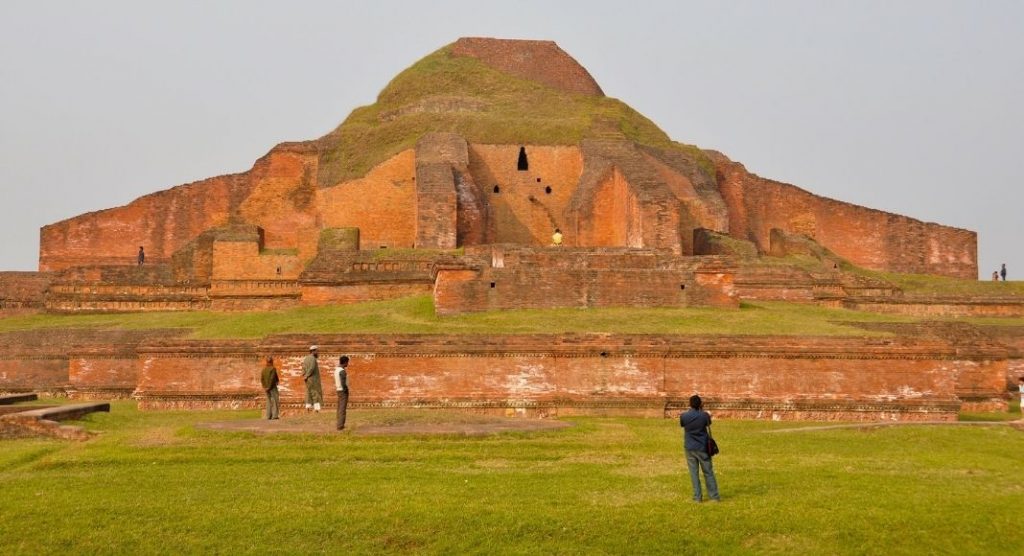 However, this Buddhist monastery is famous for its unsurpassed architectural design. The wonderful terracotta plaques of then musicians, snake charmers, different kinds of animals are the key attractions to see. Therefore, the outer walls of the temple are decorated with the lifestyle plaques of ordinary people hundred years back.
How can you go?
You will have to go straight to Naogaon first from Dhaka. It will take 6 to 8 hours to go by bus for the 280 km distance. So, Naogaon-bound buses are available almost any time from Dhaka's Abdullahpur, Shyamoli, Kalyanpur or Gabtali bus stands. Non-AC bus fare is around Tk 350-450. The fare of AC bus is around Tk 8,00. However, the rent may vary according to the time and service. The distance from Naogan town to Paharpur is about 32 kilometers. So, you can rent a microbus for going to Paharpur.
Where will stay at night?
Paharpur is distance of just an hour's drive from the district town. Consequently, you can stay at any hotel and rest house in Naogaon town.
National Memorial
National Martyrs Memorial or Jatiyo Sriti Shoudho is the national monument of Bangladesh. It is an iconic structure in memory of the persons who sacrifice their lives in liberation war in 1971. This monument is located in Savar, about 35 km northwest of Dhaka. Architect Moinul Hossain designed the monument. The entire complex area is approximately 84 acres that are surrounded by a green belt of approximately 24.7 acres. Some mass graves and a body of water are in front of the monument. From the main entrance, visitors get a strong axial view of this structure. To reach it, one has to cross a bumpy and uneven road and an artificial lake alongside a bridge. So, the bridge symbolizes the nation's difficult road to independence and the troubled journey that lies ahead.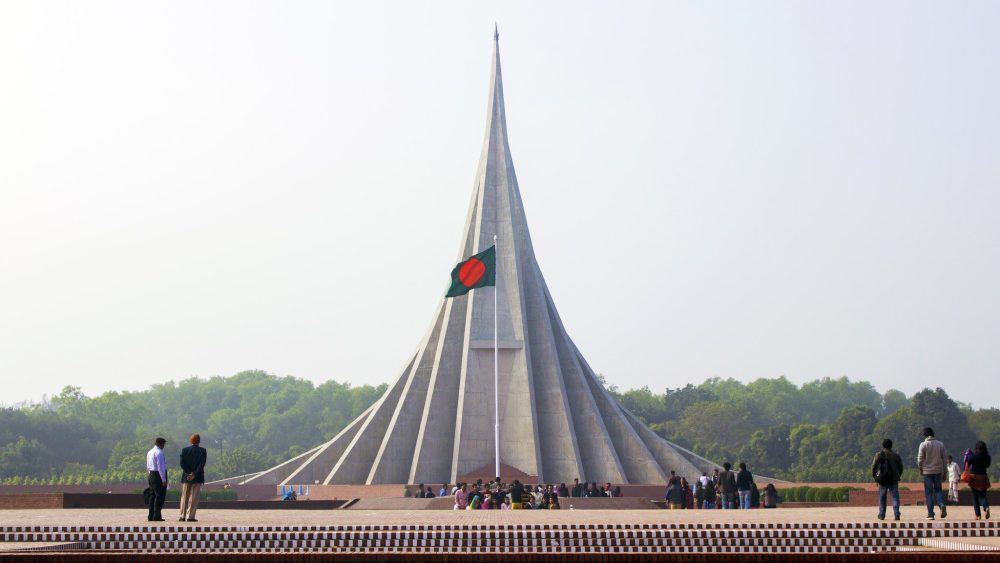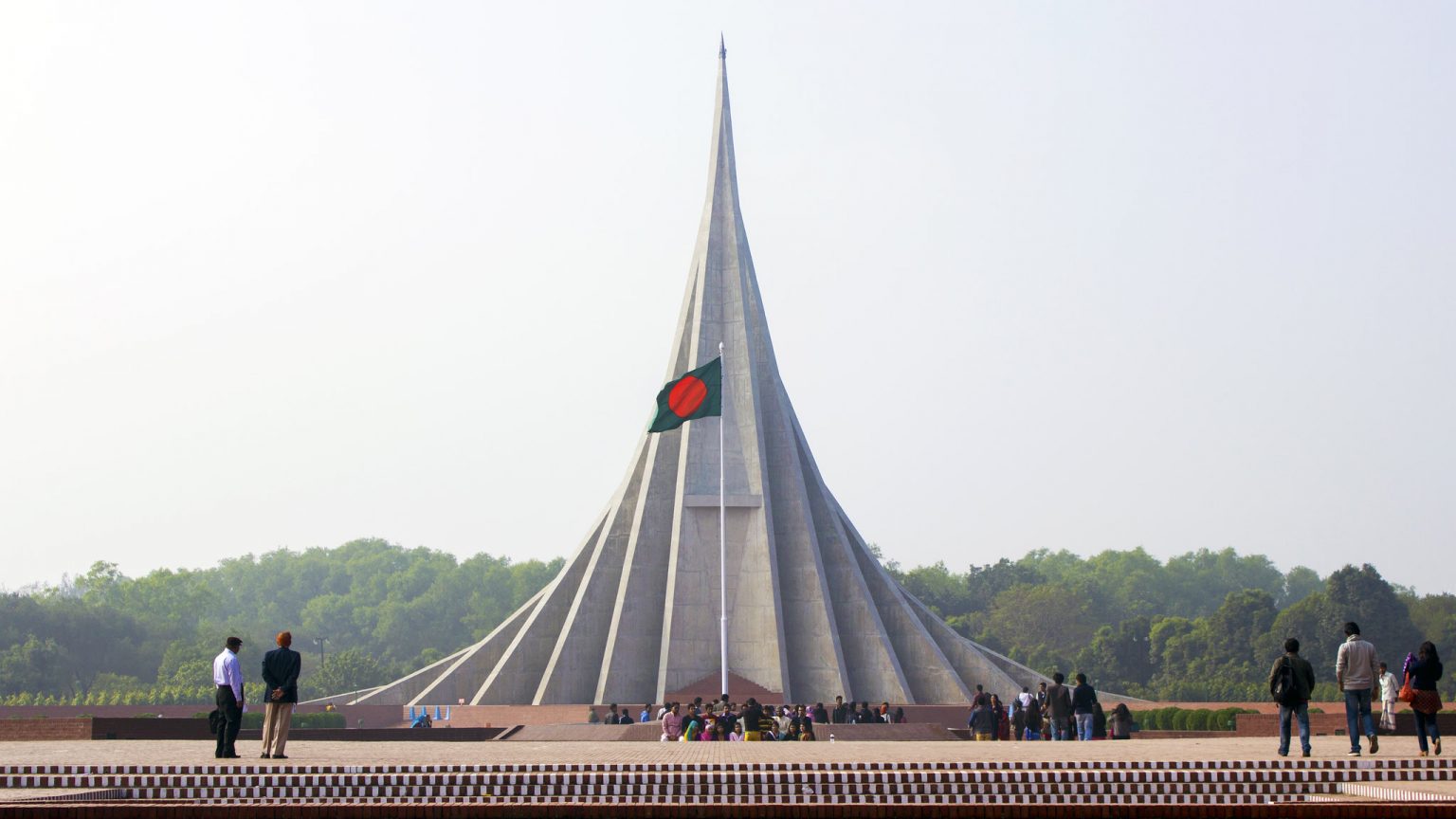 Visitors can view this monument from different perspectives. One can enjoy its dramatically different settings depending on the viewing location. From the front, the monument appears to be a single structure. But it is actually made up of seven standing isosceles triangular concrete slabs. Each of these plates varies in size and height from the others. The tallest plate has the smallest base and the widest base has the lowest height. These plates are folded in the center at a 90-degree angle. The unique configuration helps this structure to change its configuration when viewed from different angles. This wonderful structure tells the story of a nation's journey to independence.
Why seven pillars in the national memorial?
The memorial consists of seven pairs of triangles. The seven pairs of walls of the National Memorial indicate seven different stages of the independence movement of Bangladesh. So, they are:
Language Movement of 1952.
The election of the United Front in 1954.
The constitutional movement of 1956.
Education movement of 1962.
Six-point movement of 1966.
The mass uprising of 1969
The great liberation war of 1971.
How can you go to the National Memorial?
There is a BRTC bus service from Dhaka to the memorial directly. The bus goes from Motijheel-Gulistan to the memorial via Shahbagh, Farmgate, Asadgate, Shyamoli, Gabtali and Savar. Moreover, Hanif, Nandan Super Bus and Greenway buses run directly Nabinagar from Motijheel and Gulistan. In addition, Titas Paribahan goes to the memorial from Mirpur-12 via Mirpur-10, Mirpur-1, Technical, Gabtoli and Savar.
Sonargaon
Sonargaon is one of the top tourist places of Bangladesh. Folk and Crafts Foundation of Bangladesh is also known as Sonargaon Museum. It is only 24 kilometers away from the capital Dhaka. Rupganj and Sonargaon were once world famous for muslin.
Sonargaon or The Golden Village was the ancient capital of Bengal in medieval times. Moreover, it was an important business and administrative center at that time. During the medieval period, it was the capital of mint. Since the 13th century, Sonargaon was used as the capital by different rulers of East Bengal. In the mid-13th century, it was the capital of the Hindu Deva dynasty. But after a short time, the Muslim rulers acquired it and made it their capital city.
Read More: 8 Most Beautiful Places to Visit in London
Sonargaon was first ruled by independent rulers and later became a subsidiary capital of the Sultanate of Bengal. Later, it became the Sultanate of Delhi and was acquired by the Mughals. It lost its pride of being the capital in 1610 when the Mughals moved the capital from Bengal to Jahangirnagar. But, Jahangirnagar was later called Dhaka. However, wealthy Hindu merchants established a new neighborhood called Panama City near Sonargaon during the British period.
Most Hindu and Mughal structures are in ruins. But some of the structures built in the British period are still around today. Very little trace of the original capital now remains in Sonargaon. Now, most tourists visit Sonargaon to see Panam Nagar. A decaying street with some buildings run down by wealthy Hindu merchants. Moreover, Sardar Bari, a beautifully renovated king's palace with a beautiful pond and an amazing folk art museum.
Why do visitors come to Sonargaon?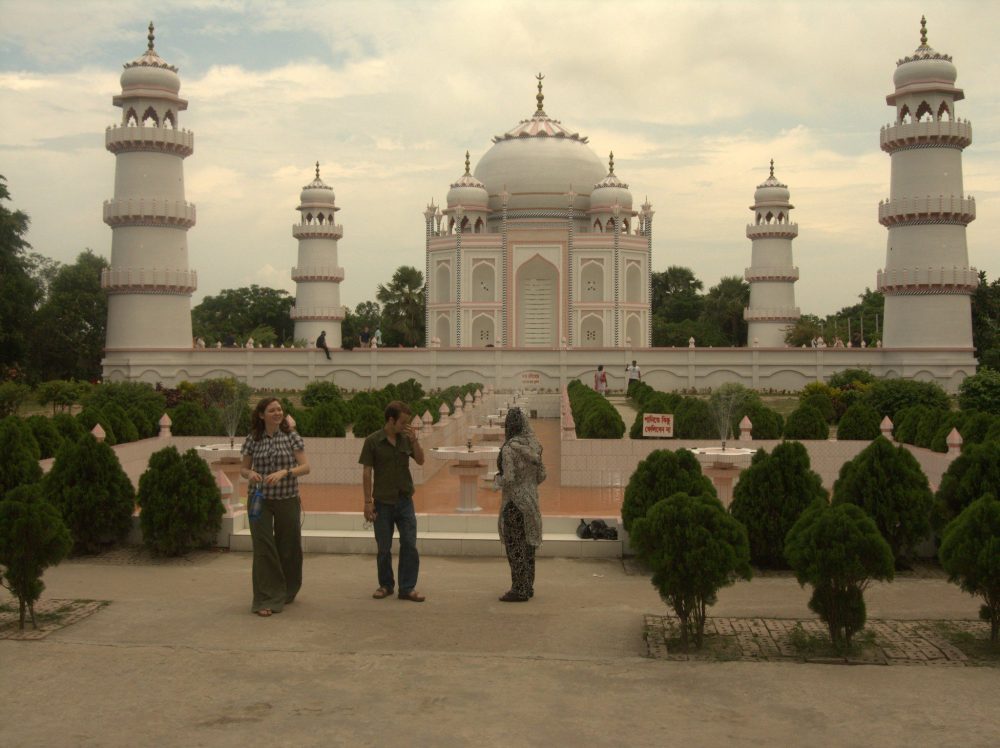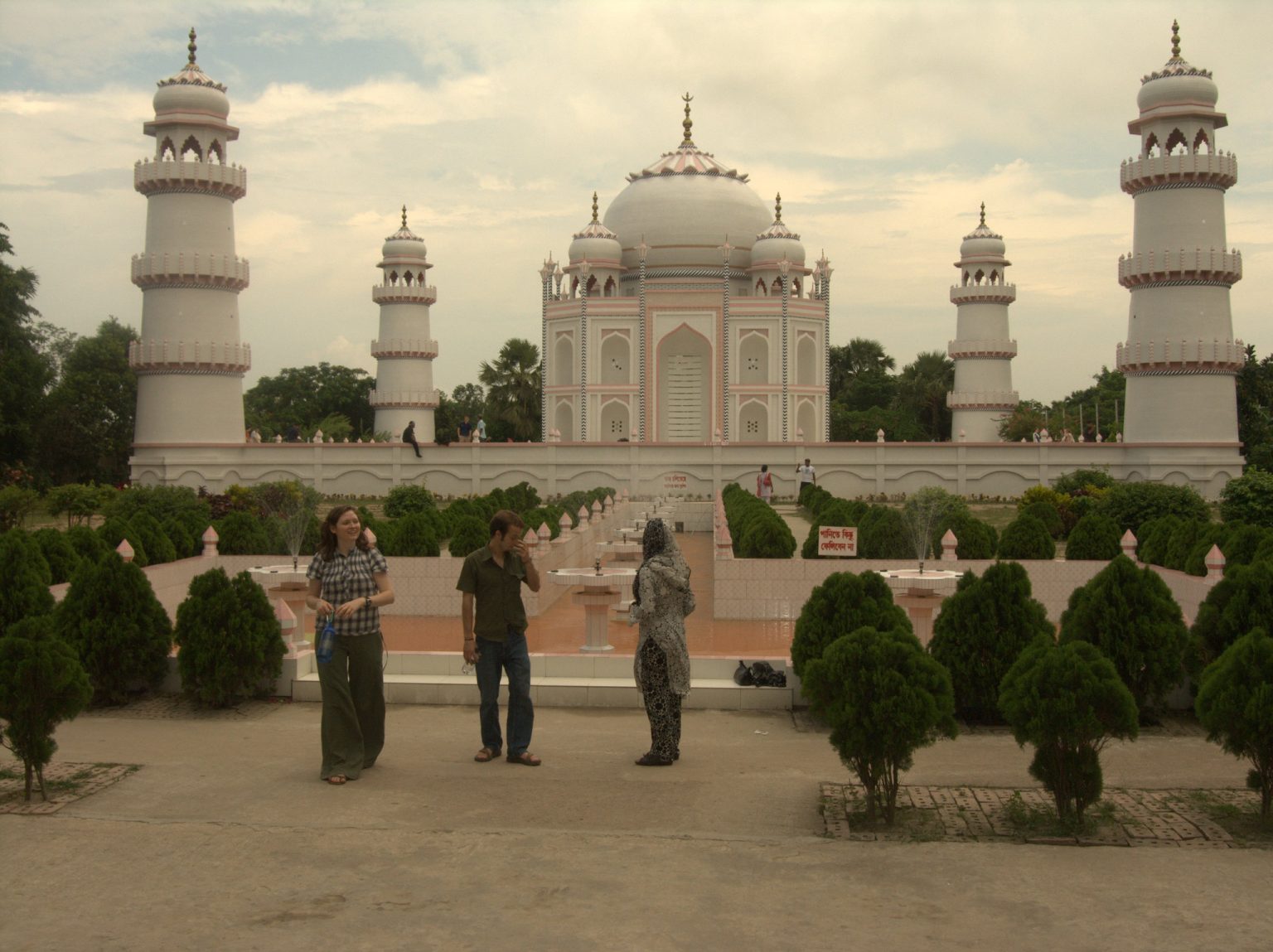 There are some places which are out of the best tourist places in Bangladesh. They are Gallery, Karupalli, Lokjamancha, Library and Documentation Center, sculptures of Zainul's struggle, bust sculptures of Shilpacharya. The bust sculptures in the style of Bangabandhu's historic speech are in the foundation premises. There is facility of catching fish in lake by collecting ticket. In addition, you have also excellence opportunity riding on Mayurpankhi boat in the canal.
How will you go?
There are many buses going to Sonargaon from Gulistan Stadium in Dhaka, such as Borak and Doel. So, you can choose your better transport for visiting the one of the beautiful places in Bangladesh.
Ahsan Manzil
Once the official residential palace of Nawabs of Dhaka, now Ahsan Manzil or the Pink Palace is a museum. It is one of the most visited places in Dhaka as well as best places to visit in Bangladesh. The 5.5-acre premise of this palace is meant as an architectural reminder of the elite life of the Dhaka Nawabs. In other words, the reminder of Nawabs was during the colonial era of the 19th and early 20th century.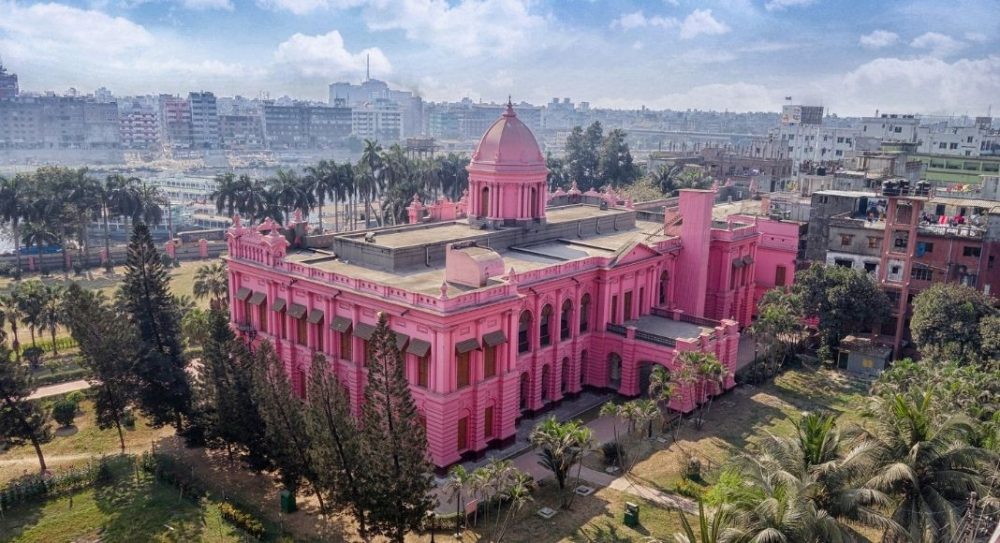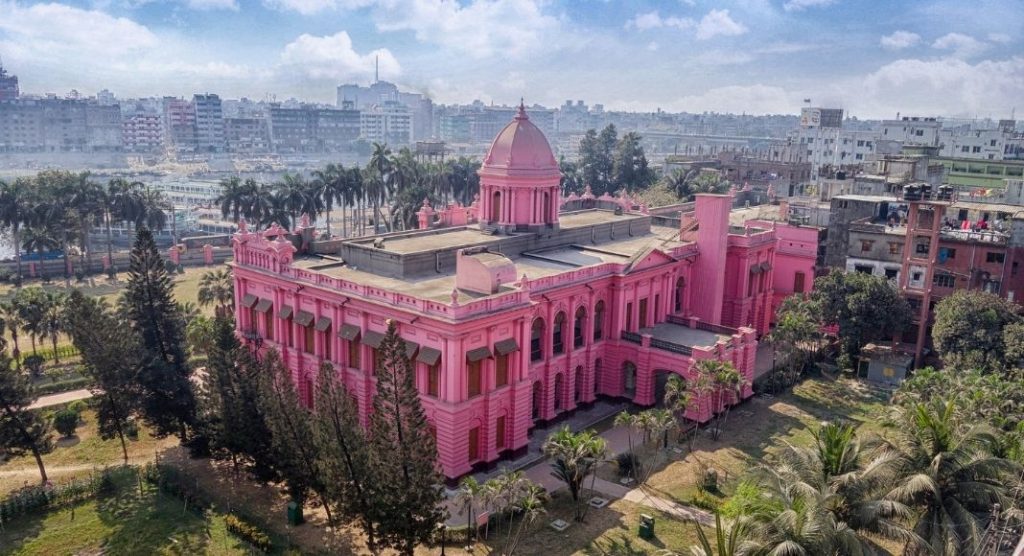 In 1872, the Nawab family patriarch. Abdul Ghani (1813-1896) built the family's official residence on the bank of the Buriganga river in old Dhaka. He named the palace after his son Nawab Khwaja Ahsanullah (1846- 1901). It is mostly a European style building mixed with some decorative Indian ideas. Its elevated dome seems to be more to impress the viewer on the outside, rather than on the inside.
So, many important people from the colonial period visited or stayed here. Viceroy Lord Nathaniel Carson was one of them. He stayed here as the guest of Nawab Salimullah Bahadur in 1904. Muslim leaders from all over India gathered in Ahsan Manzil's Durbar Hall in 1906. Therefore, they gathered there for the All India Mahometan Educational Conference in Dhaka
In the same year, the All India Muslim League was formed here. The league later led the creation of Pakistan when the British left the Indian subcontinent in 1947. 16 years after its creation, it was damaged by a cyclone. After its reconstruction, the palace became grander than before. After the death of Nawab and his son, the family fortune was dispersed. And, the palace finally fell into disrepair.
As the influence and prestige of the Nawabs waned in the 20th century, the descendants of the Nawabs became too poor to care for such a vast property.  Then the government took over this palace in 1952.
However, the poor descendants of Nawab family and poor local population continued to maintain the palace until the 1970s. They inflicted a lot of damage on the building by indiscriminately altering its configuration. In 1985, the Bangladesh government acquired the property and decided to turn it into a national museum. The government completed preservation work in 1989 and Ahsan Manzil began his museum journey in 1992.
How will you go to Ahsan Manzil?
You first need go to Sadarghat in Dhaka to see the one of beautiful places in Bangladesh. From there, you can go to Ahsan Manzil by walking or using rickshaw.
Lalbag Fort
Lalbag Fort is the most popular and well-known place out of best places to visit in Bangladesh. The complex has great art significance for the Mughal Empire in Bangladesh. So, it stands proudly facing the Buriganga river in the southwestern part of the old Dhaka. A Mughal prince Muhammad Azam began construction work on the fort during his viceroyalty in Bangladesh in 1678. But, the construction work remained incomplete when his father Aurangazeb called him to the capital, Delhi. His son Shaista Khan did not complete the fort, although he remained here until 1688. his daughter Pari Bibi died in 1684. After his death, he began to think that the fort was ominous and left the structure incomplete. However, there are several structures in the fort area.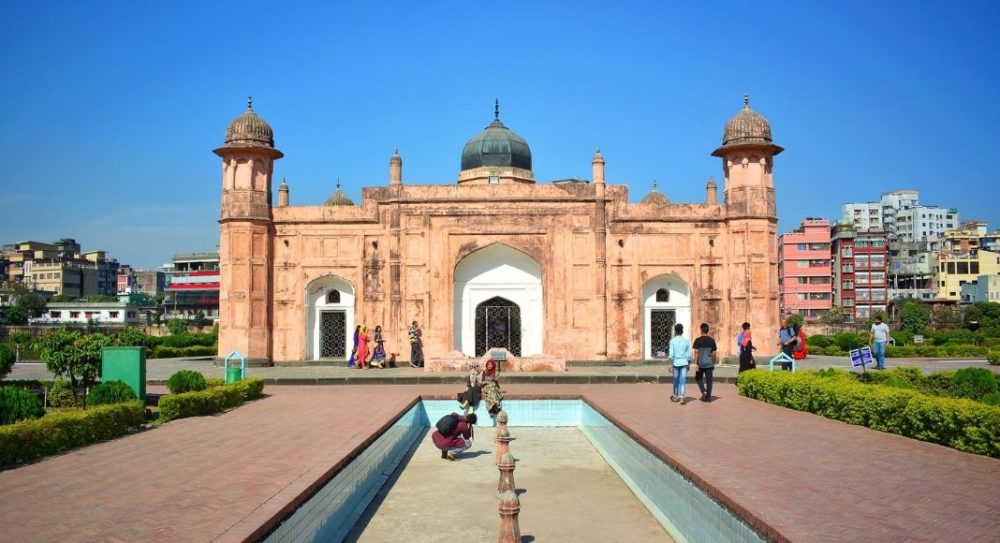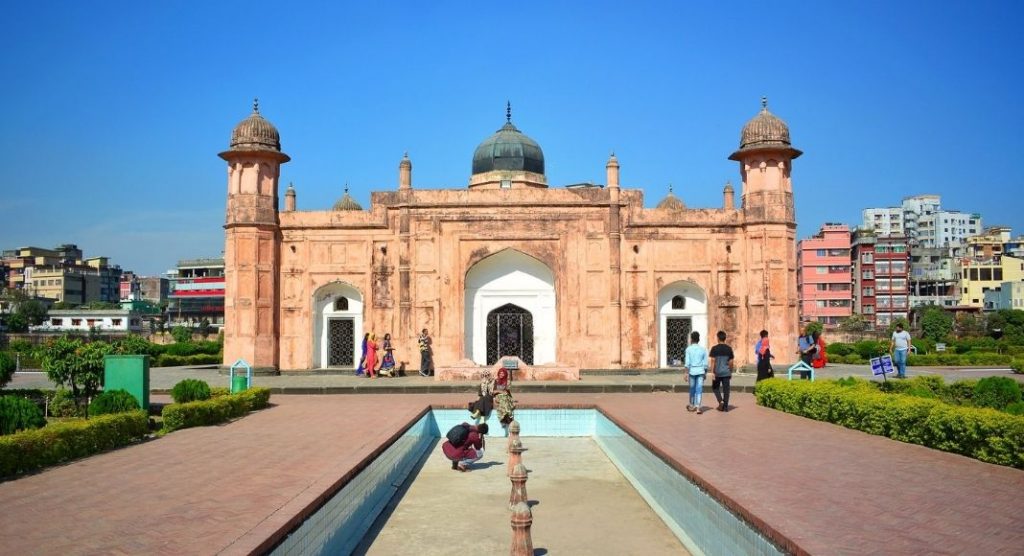 What are the main attractive things in Lalbagh Fort?
The most interesting and spectacular thing in Lalbagh fort is the residence and darbar hall of Subedar Shaista Khan. Moreover, the authority later opened it to visitors as the Lalbagh Fort Museum.
What are to ways to go to Lalbagh fort?
One can go to Lalbagh fort by human hauler (Leguna) from the shrine of Golap Shah in Gulistan. Moreover, you can also take a rickshaw directly from New Market or Gulistan area for Lalbagh fort. In addition, there is a special bus service from National Museum in Shahbagh to visit Lalbagh Fort. Above all, you can also go to the fort from Sadarghat via Gulistan Golap Shah shrine. From Dhakeswari temple, you can go to Lalbagh fort on foot within five minutes or by using rickshaw.
Dhakeshwari National Temple
Dhakeswari Temple is the most important one in Dhaka. The temple is located within a low enclosure wall, approximately 1.6 km south-west of Salimullah Hall. There is a gateway to enter the temple courtyard. So, the gateway is called Nahabatkhana Toran.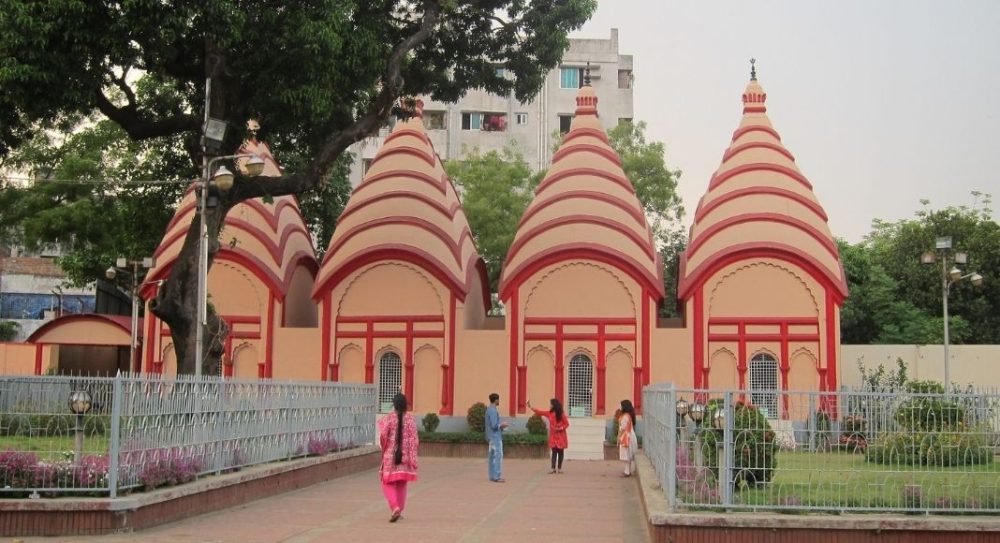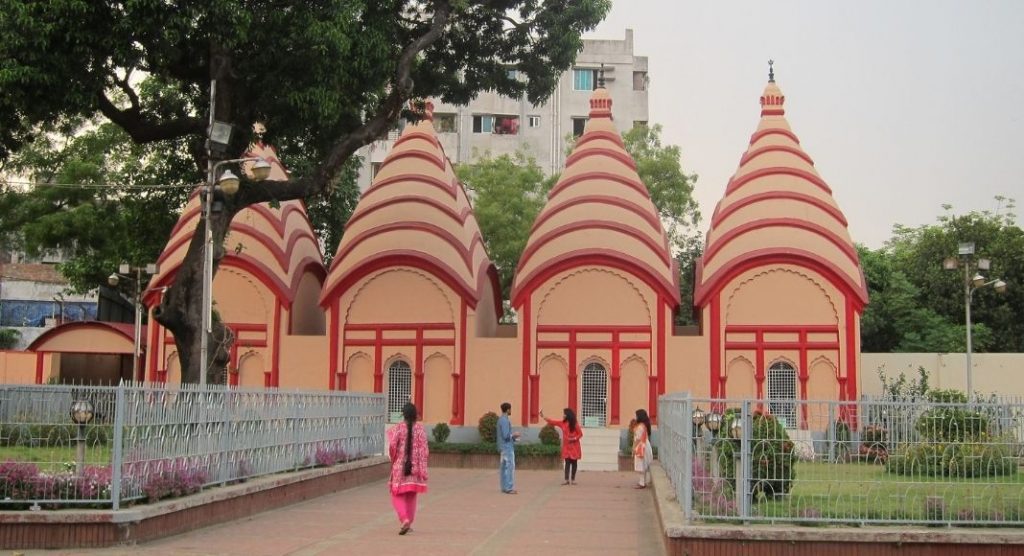 The Dhakeshwari Temple is a state-owned Hindu temple in Dhaka. The name Dhakeshwari means "Goddess of Dhaka". This 'National Temple' was built by a Mangat Ray who was also known as Ballalsena. He was younger brother of Arakanese king Shrisudharma, son of famous Arakanese king Raja Malhana alias Husen Shah. Although the current building is modern construction, there has been a temple in this same place for nine centuries. The original statue was 800 years old. But it was vandalized by Pakistani soldiers during the liberation war in 1971. The temple complex was repaired, renovated and rebuilt several times in its long years of existence. Its current condition does not clearly indicate any of its original architectural sign.
There are four tiny temples of the same size, from east to west. The main temple is north of the nath-mandir. Temple is a three-room structure. The temple is open every day and spectators can enter. It is closed only in the afternoon from 2:00 pm to 4:00 pm. As it is a sacred place for Hindus. Please leave your shoes outside while entering the temple. Do not touch anyone or anything that belongs to the temple. Thousands of devotees throng the temple and its surroundings for Durga Puja in every year in September. However, it is time to see the best places to visit in Bangladesh to spend a joyful time.
How will you go to the temple?
You will have to reach Shahbagh from Motijheel in the capital by bus. Then take a rickshaw to reach this temple located at the south-western end of Salimullah Hall of Dhaka University. Moreover, you can go directly from Motijheel by rickshaw or CNG-run auto-rickshaw or taxi cab.
National Parliament
The House of the National Parliament of Bangladesh is one of the most important buildings of the 20th century. The famous architect Louis I Kahn designed it. Located in Sher-e Bangla Nagar, this building is the largest legislative complex in the world. The construction work of the National Parliament started in 1964. But the work was stopped due to the liberation war and was finally completed in 1982. The total complex is divided into three parts: The Main Square, the South Square and the Presidential Square.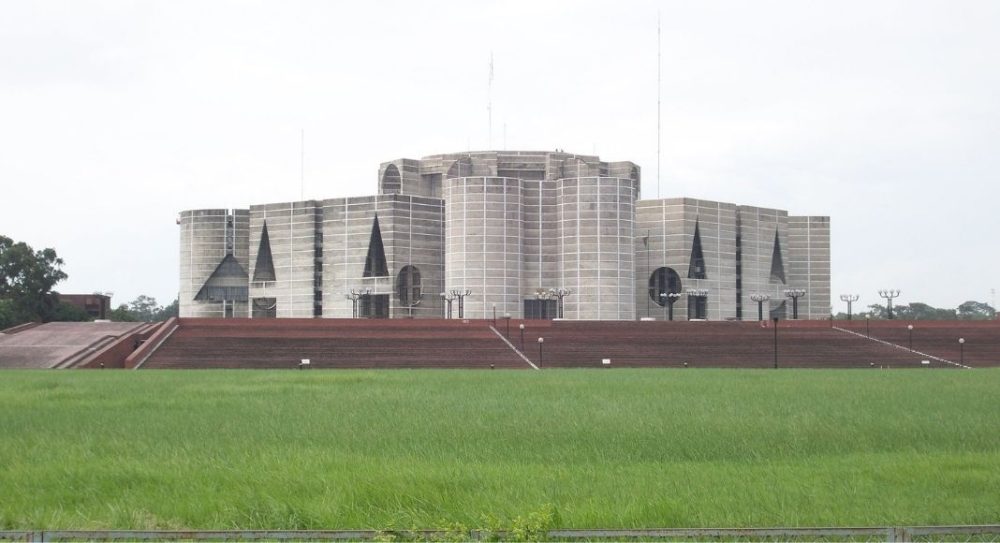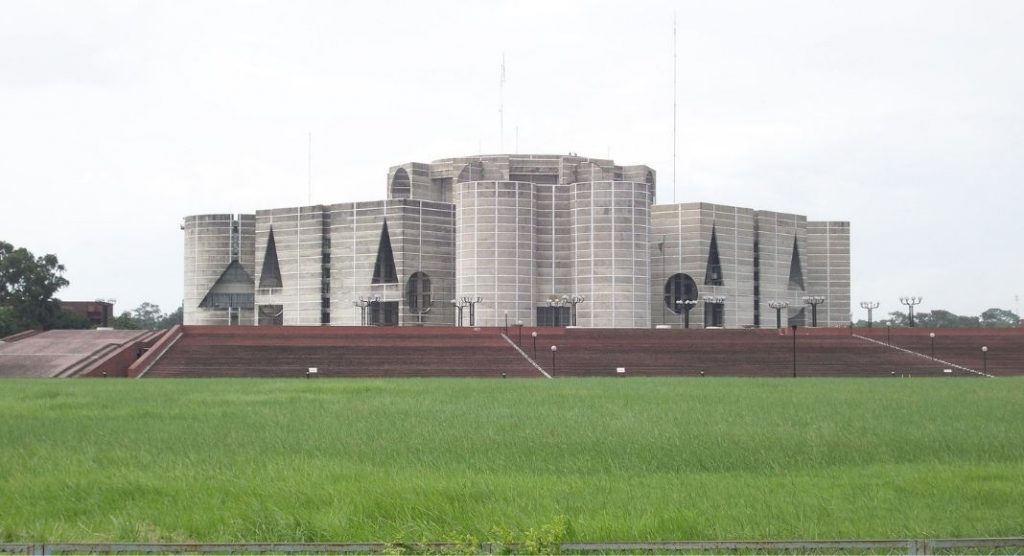 The main building is in the middle of the complex. The MP hostel is located on the outside of the complex. A beautifully designed man-made lake surrounds the main building. The north of the complex, side of Lake Road, has an intricately designed lake called Crescent Lake. There is a memorial to the late President Ziaur Rahman. The two complexes together attract the attention of tourists. Therefore, the complex is very popular with runners and skaters.
How will you go to the parliament to visit?
You can come to the parliament from any place of Dhaka by auto-rickshaw, bus and private car. Enjoy visiting the beautiful place in Bangladesh.
National Zoo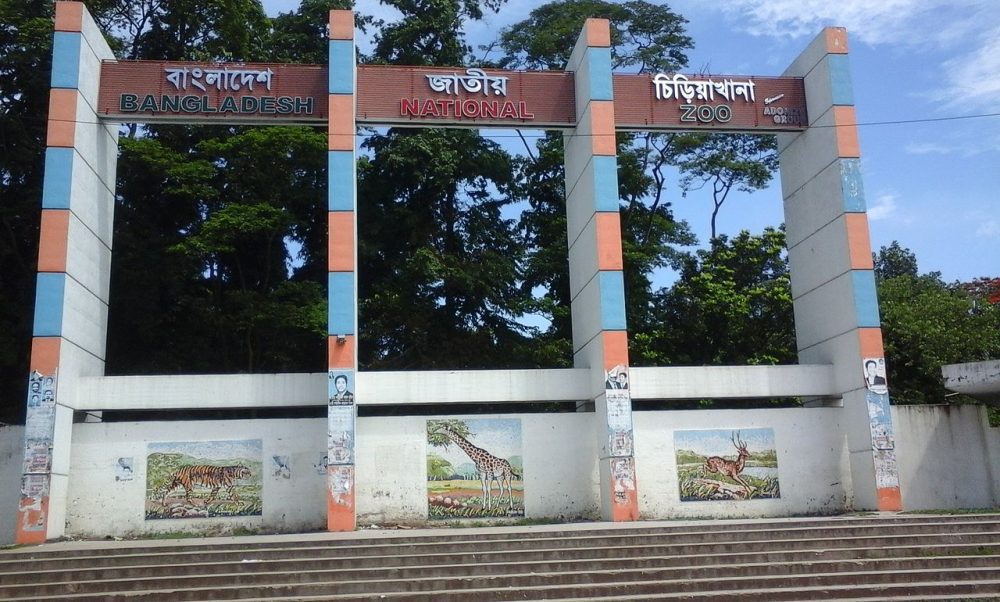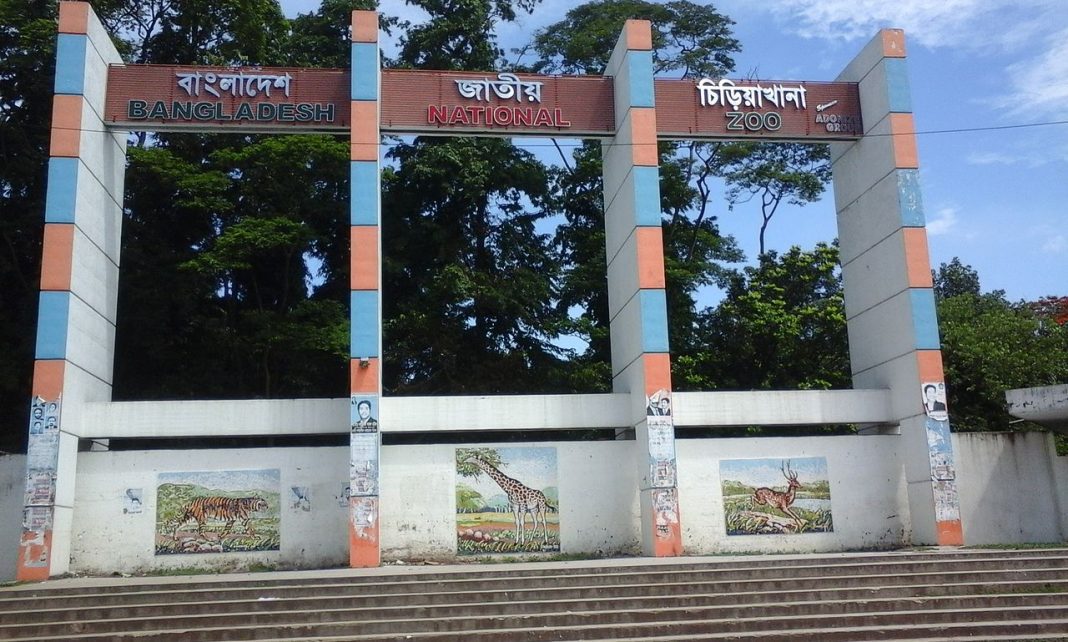 Located in Mirpur in Dhaka, the Bangladesh National Zoo is one of the key attractions among tourists. Moreover, there are more than 2,000 animals of 165 species in the zoo. It was established on 75.53 hectares of land in 1974. Around 10,000 spectators visit the National Zoo every day and the number increase on weekends and holidays. Among the animals, the key attraction is the Royal Bengal Tiger. It has a good collection of local and foreign birds, animals and wildlife. There are different types of animals, including lion, elephant, leopard, rhino, zebra, deer, giraffe, bear, monkeys, chimpanzees, baboons, etc. There are several bird shades in the zoo. Here, you will find different types of local and foreign birds.
What are special arrangements for visitors?
The zoo also has two picnic spots –Nijhum and Utsav –and children's park for entertainment and sports. Moreover, there are separate places of prayers for men and women.
What should visitors do or not there?
Be kind to animals.
Ensure collaborative behavior to Zoo staff
Visitors must leave the zoo before sunset.
Keep an eye to the kids.
Children should keep at a safe distance from the animals.
Visitors should not put their hands in cages or rooms of animals.
Keep away from feeding zoo animals.
National Botanical Garden
Next to the Dhaka Zoo, the National Botanical Garden is the largest plant conservation center in Bangladesh. Established in 1961 in an area of ​​approximately 84 hectares, it is for lovers of nature and botanists. Divided into 57 sections, this place has a collection of approximately 100 species of local and foreign plants.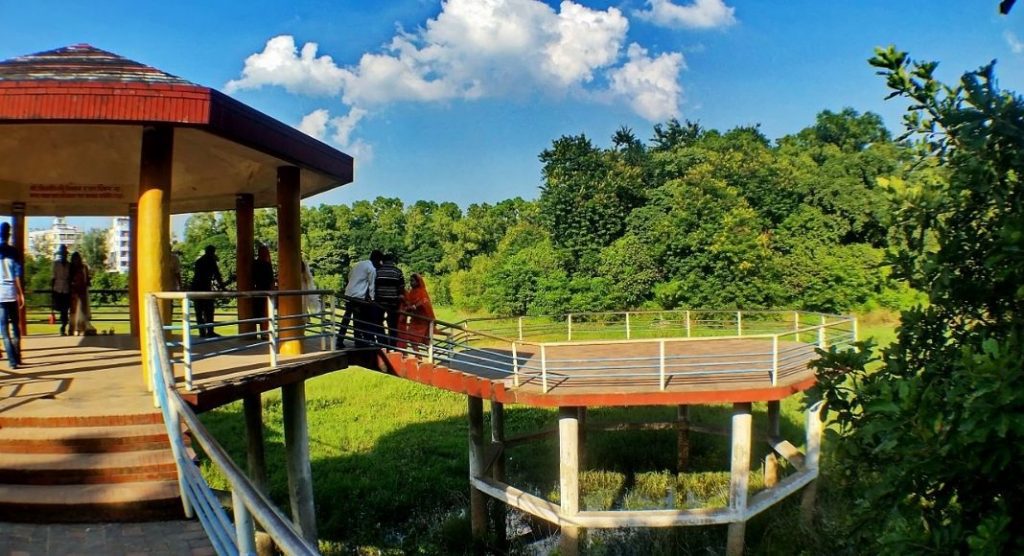 Hundreds of varieties of roses, multiple types of bamboo, sandalwood and old banyan trees are the key attractions. There is a cactus house, lily ponds, six lakes, two nurseries, an orchid house, a tissue culture research center. However, there is a lotus pond with extensive visitor facilities.
How to go to Botanical Garden?
You can go directly to the Botanical Garden by human hauler from the Gabtoli bus stand in the capital. The visitors also can go to the Botanical Garden by the buses that go to Mirpur-1 from Sadarghat.
Star Mosque or Tara Masjid
Located in Armanitola in old Dhaka, the Star Mosque is one of best places to visit in Bangladesh. It is decorated with floral and star patterns. It has ornamental designs and is decorated with blue star motifs. This beautiful building was built in the first half of the 19th century by Mirza Golam Pir. Unlike other Mughal architecture, no inscription is found in the mosque that mentions its founding year.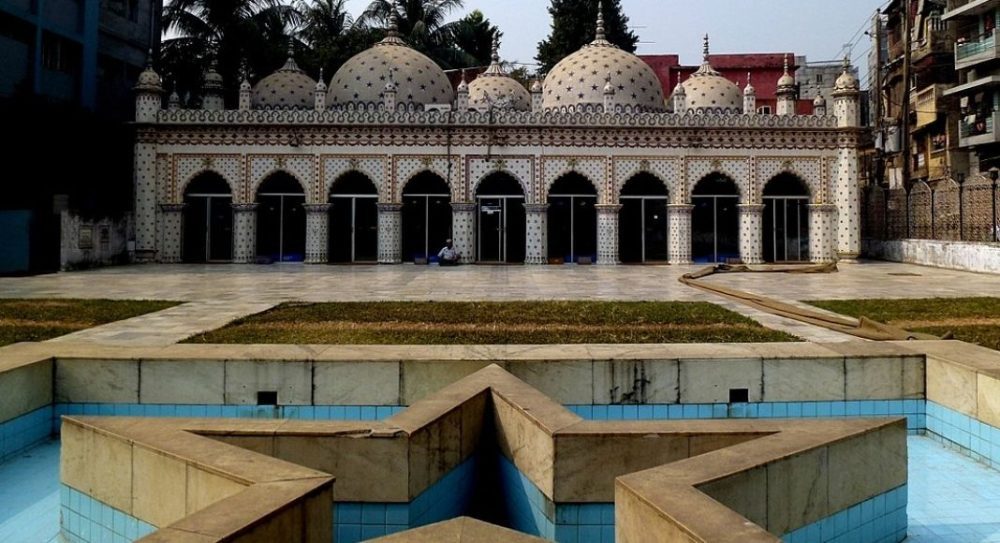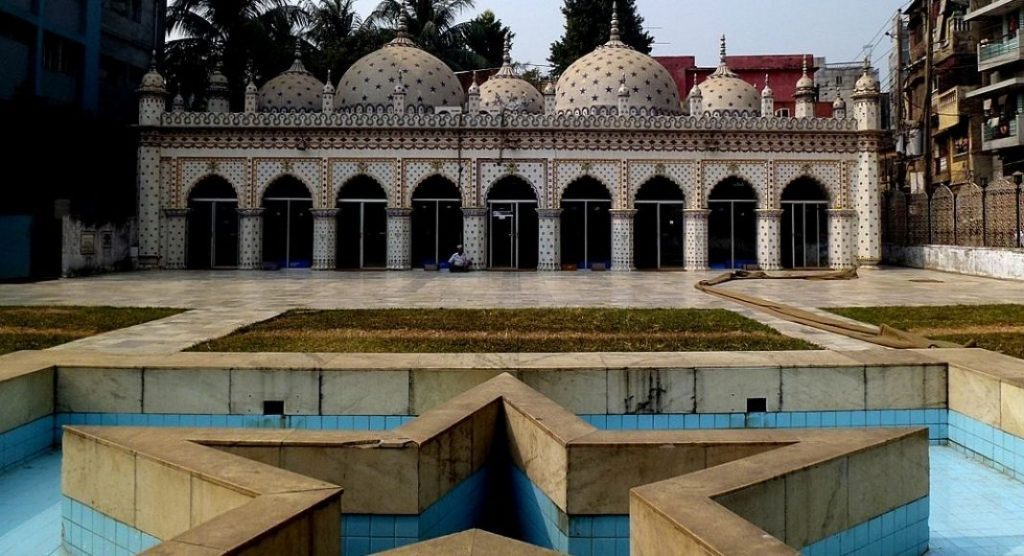 According to some people, this mosque was built in 1711. The Tara Mosque is one of the few buildings on this subcontinent. It has a special type of expanded Chinese clay mosaic, traditionally called Chini Tikri. At first, it was a small mosque with three domes. Its walls were not decorated. Ali Jaan Bepari, a wealthy merchant in the residential area of ​​Armanitola, wanted to renovate the mosque in 1926. He imported Chinese clay tiles from Japan and England. Ali further decorated walls of the mosque and domes with pretty floral and star-shaped Chinese clay.
Read Also: The Best Places in the United States for 2020
On the white marble background, bright engraved stars and floral motifs create a charming atmosphere of light and shadow. They reflect the sunlight at different angles. During this renovation work, the craftsmen carefully preserved the original design of the mosque and adorned the existing structure.
The star motif is decorated throughout the mosque, this is why the mosque got its name, the Star Mosque. In 1987, the archaeological department of the then government expanded the prayer room. It included two more domes, damaging its original historical structure. After all this, the Star Mosque is a magnificent work.
How will you go to Star Mosque?
Anyone can reach Armanitola of old Dhaka from any part of Dhaka by rickshaw or auto-rickshaw.
Kantaji Temple
The Kantaji Temple is a late medieval Hindu temple in Kantanagar, Dinajpur. This temple is one of the best examples of 18th century impressive religious buildings. It belongs to the Hindu god Krishna. This is why it is most popular with Krishna devotees in Bengal. Maharaja Pran Nath built this magnificent temple and dedicated it to Krishna and his wife Rukmini.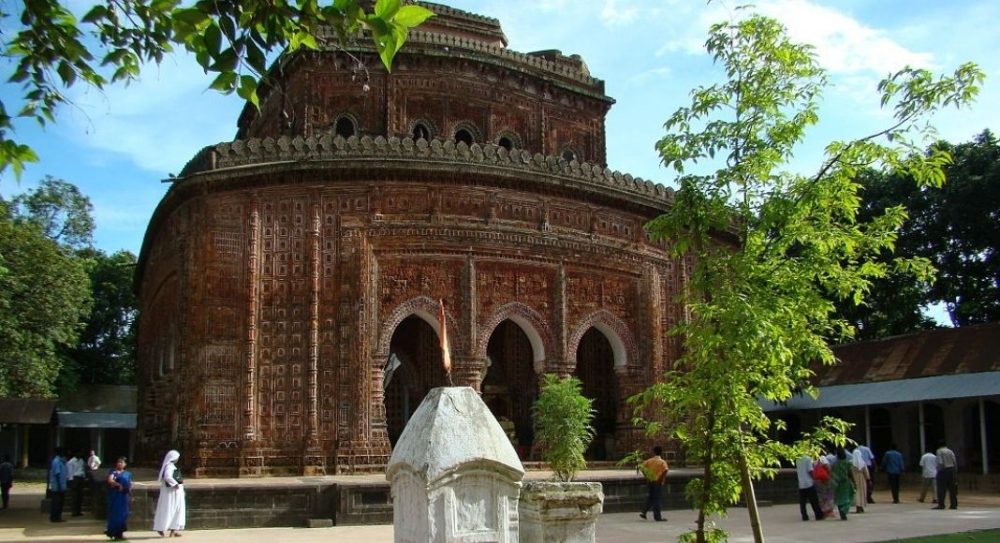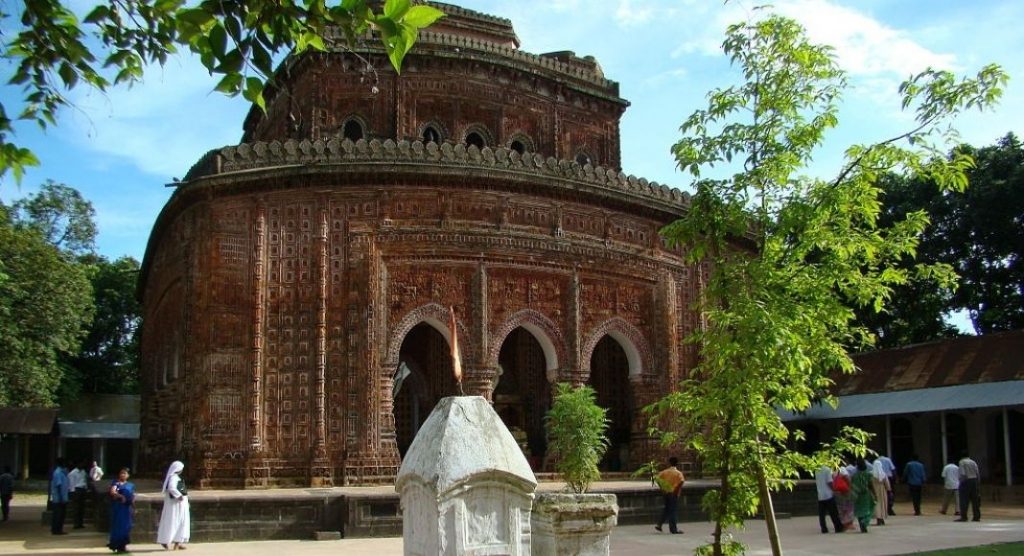 Construction work on this beautiful structure began in 1704CE and was completed in 1722 CE. The surfaces of its walls, both inside and outside, are adorned with terracotta art with figures and flowers.
The stories of Mahabharata and Ramayana are depicted on the wall through terracotta art.
How will you go there?
There are two ways to go to Dinajpur from Dhaka by bus and train. Dinajpur-bound buses usually depart from Gabtali and Kalyanpur of from Dhaka. Nabil Paribahan's AC bus runs on this route. Apart from this, non-AC buses of Hanif, SR, Keya, SA, Shyamoli and Nabil Paribahan also run on this route. Bablu Enterprise and Nabil Paribahan go directly to Dinajpur from Asadgate, College gate, Shyamoli, Kalyanpur, Technical and Gabtali. Moreover, you can go to Dinajpur by Drutojan Express and Ekota Express train. After that, you need auto-rickshaw to reach Kantajir Temple from Dinajpur town.
Mahasthangarh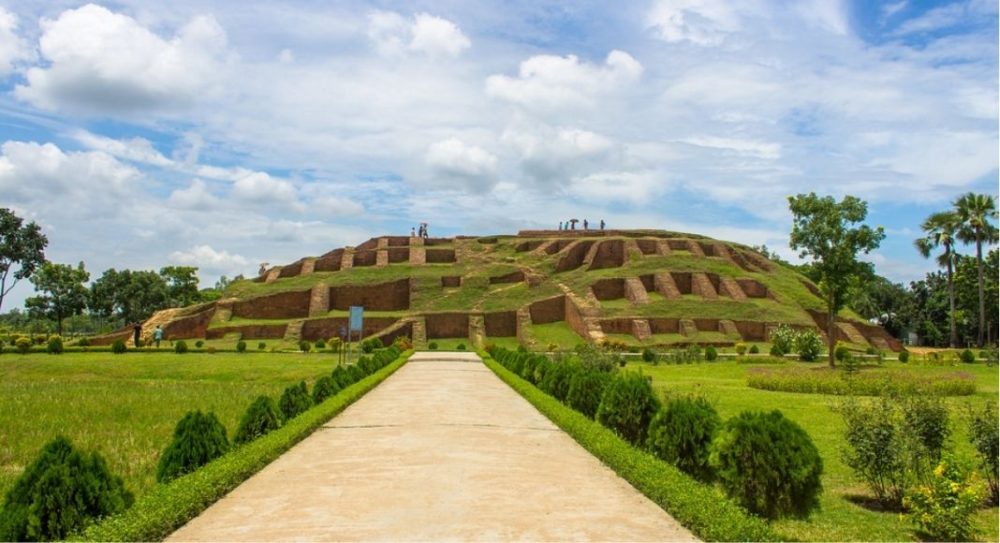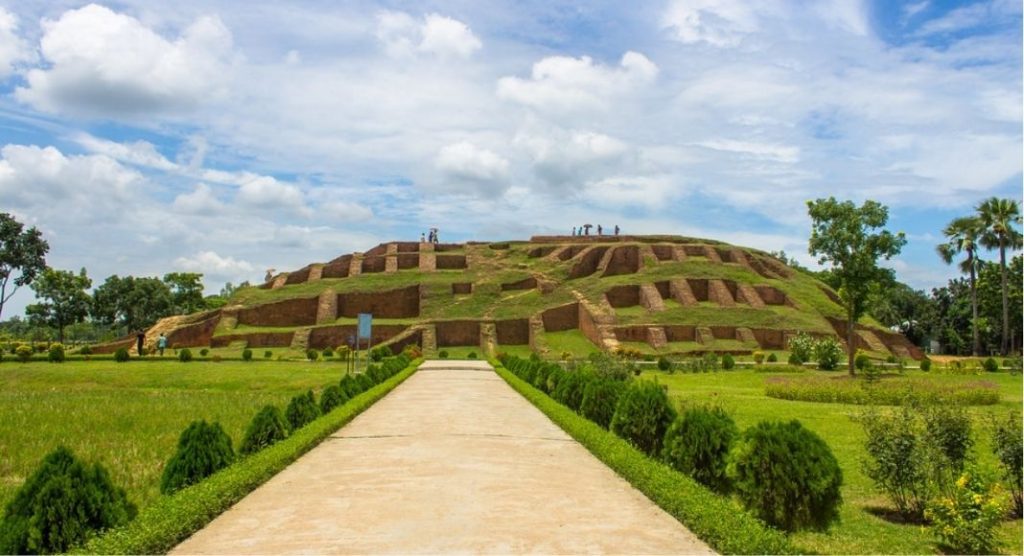 Mahasthangarh is the oldest city in Bangladesh. The word Mahasthan means a place with holiness and Garh means strong. The Mahasthangarh represents a majestic past of some 2,500 years of Pundranagar, the capital of ancient Pundra Vardhan. This place is located 13 km north of Bogura town. Once this rich town was fortified by brick walls. This is one of the highest areas in Bangladesh, about 36 meters above sea level. The fortified town is rectangular in plan and 1,525 meters long from north to south. Moreover, it is 1,370 meters wide from east to west and 5 meters high from the surrounding area. It is known that this city existed during the 3rd century BC. This area was until the 18th century AD.
Why visitors come to Mahasthangarh?
There are various historical places and important infrastructure in Mahasthangarh, which attract people to visit. Some of them are Mazar Sharif, Bairagir Vita, Kalidah Sagar, Khodar Pathar Vita, Shiladebir Ghat, Jiutkund Kup, Mankali Island. Skandher Dhap, Bhimer Jungle, Govinda Vita, Museum, Behular Basar Ghar and Parshuram Palace are also the important places.
How can you go to Mahasthangarh?
You can easily go to Bogura by road from Dhaka. The buses that go to Bogura from Dhaka include TR Travels, Shyamoli Paribahan, SR Travels, Hanif Enterprise. Taking an CNG-run auto-rickshaw from Dattabari of Bogura town is another alternative way to go there. The Lalmoni and Rangpur Express trains go to Lalmonirhat and Rangpur from Dhaka via Bogura. So, you can also come to Bogura by these trains. You can reach Mahasthangarh within half an hour by bus from Haddipatti bus stand of district town.
Ratargul Swamp Forest
Ratargul swamp forest is located on the Gowan River, Gowainghat. The swamp forest is the only freshwater swamp forest in Bangladesh. It is one of the few in the world. It is called the Amazon of Bangladesh. The beauty of this evergreen forest blooms mainly in the rainy season. This forest is flooded by the water coming from the hills of India during the monsoon.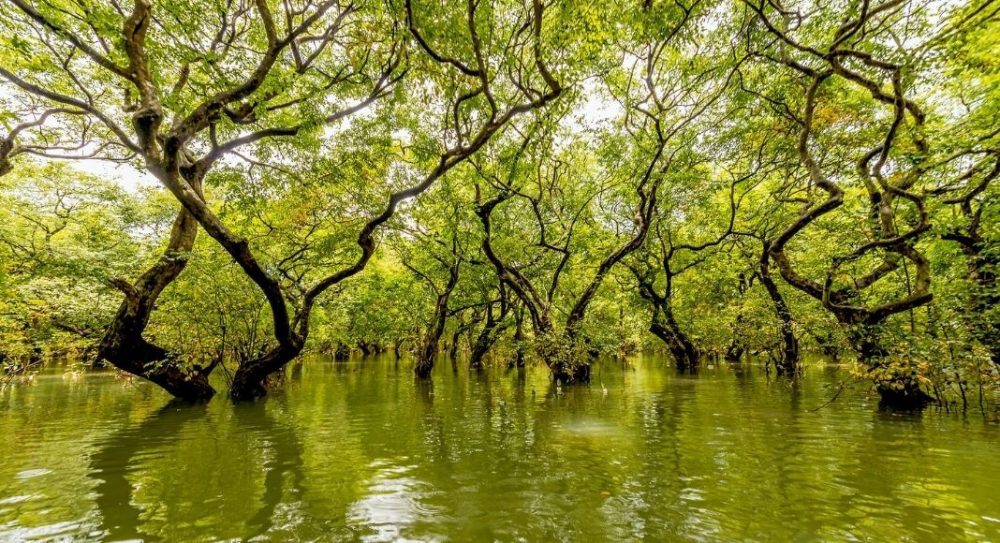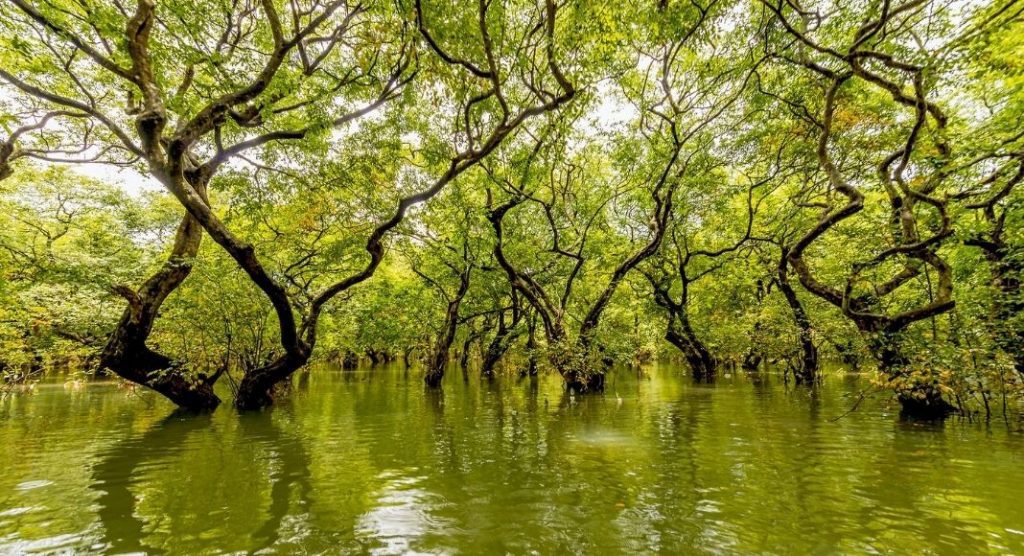 In other seasons it remains dry. The water in this forest is transparent. You can see the lower layer of this forest through this water. Here, the water level depends on the amount of rain. It could be 15-20 feet if the rain is high. The total area of ​​this swamp forest is 3,325 acres. The main trees in this forest are Koroch and Hizal. You can see monkeys, snakes, frogs and many types of birds in this forest. The best time to visit Ratargul is Monsoon. You can rent a local wooden boat and enjoy the stunning beauty of this forest all day. As top tourist places in Bangladesh, 80 percent of forest covered with umbrella of the trees attract tourists massively.
Why the forest is called Ratargul?
Ratargul is named after the Murta or Pati tree in the local language of Sylhet. The name of this forest is Ratargul after the name of that Murta or tree of Ratar.
How can you go to Ratargul forest?
You can reach Ratargul in several ways. But first, you will have to go Sylhet from anyplace of Bangladesh. You can come to Sylhet directly from Dhaka by road, rail, and air. The tourists can also come to Sylhet from Chattogram.
After reaching Sylhet, you will have to go to Gowainghat from Sylhet city directly via Sarighat on Jaflong-Tamabil Road. Later, you have to rent a trawler from Goainghat to come at Ratargul bit office. The journey will take two hours. Getting down to the bit office, you can enter the Ratargul swamp forest with a small boat.
Bandarban
Bandarban, which literally means "monkey prey" is a district of Chittagong division. The district is under Chittagong Hill Tracts Division. After the Chittagong Hill Tract Insurgency, it emerged as one of the most tourist attractions in Bangladesh.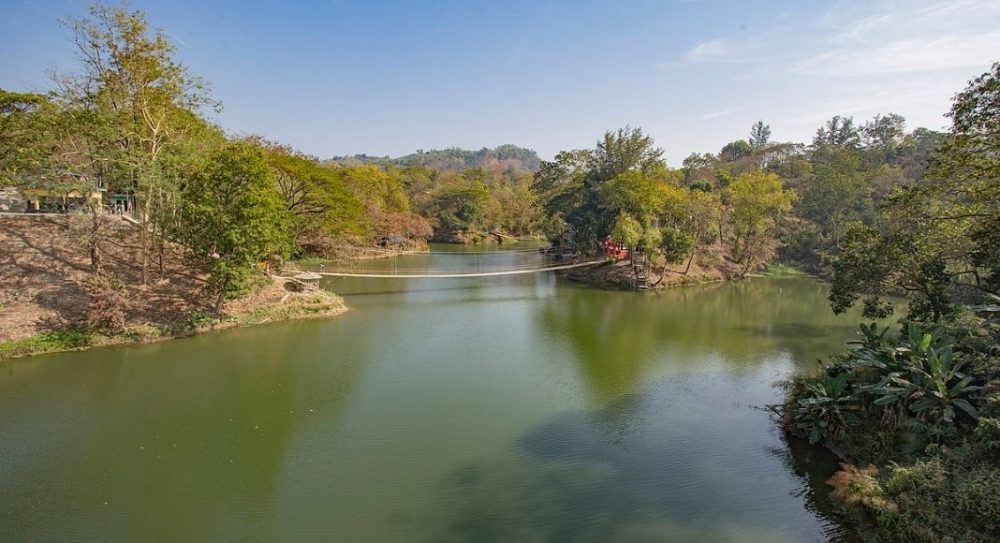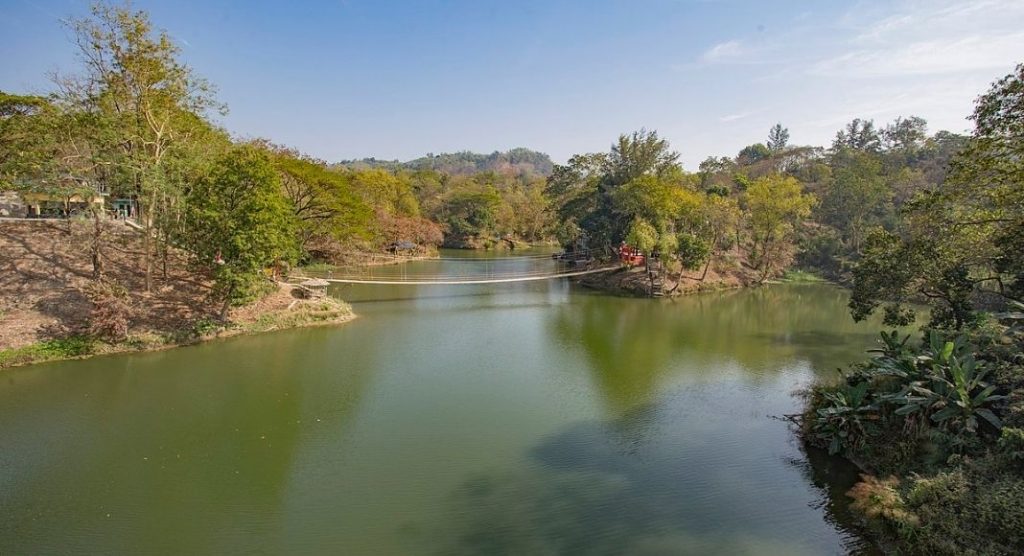 The beautiful mountain ranges scale the natural beauty of the surroundings. The largest Buddhist temple in Bangladesh, known as Buddha Dhatu Jadi, is located in Bandarban. Shoilo Propat waterfall in Milanchari is located in the district. There are various Buddhist temples such as Ujanipara Vihar and Raj Vihar. The Chimbuk hill and the tribal villages are seen in the district. The peaks like Nilgiri and Thanchi immensely fascinate the eyes of tourists.
Why do people come in Bandarban?
There are some places, which are Best Places to Visit in Bangladesh, in Bandarban for visiting.  
Shoilo Propat, Boga Lake, Nilachal, Nilgiri, Chimbuk Pahar, Swarno Mandir and Meghla are the main attractive places for tourists. Nafakhum, Jadupai, Tuinum Jhorna, Zingsiam Saitar, Tazing Dong (also known as Bijay), Wang Pa Waterfall), also attract tourists. Shilabandha, Langlok, Baktlai, Likkhyang, Sippi, Velakhum, Tinam, Marayan Dong and Mount Keokradong are the best places to visit in Bangladesh.
How will you go to Bandarban?
There are several buses including Shaymoly for going to Bandarban from Dhaka. If you want to go to Bandarban from Dhaka via Chittagong, you can reach Chittagong. Later, you can go to Bandarban by bus from Bahaddarhat bus terminal.
Rangamati
Know2n as the 'Lake City' of Bangladesh, Rangamati is full of unmatched beauty. It is one of the most visited tourist destinations in Bangladesh. It is located about 77 kilometers from Chittagong.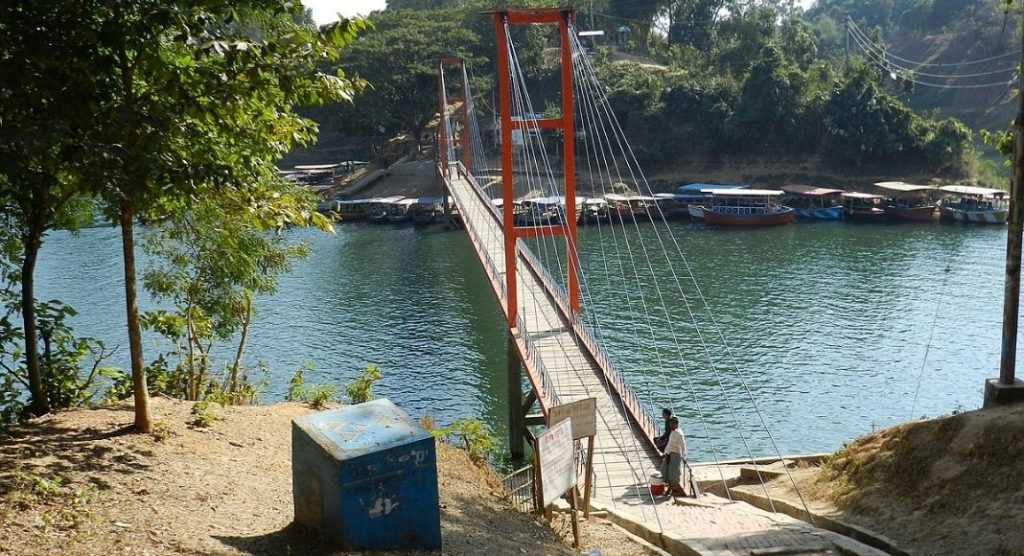 Rangamati Town, Suspension Bridge, Kaptai Lake, and the Indigenous Museum are among Rangamati's popular tourist destinations and highlights. Sufia International Hotel, Green Castle Hotel, Parjaton Motel and Banapura Tourist's Inn are some of the favorite hotels for tourists.
What places attract tourists in Rangamati?
Sajek Velly, Kaptai Lake, Hanging Bridge, Rajbon Bihar, Shuvolong Jharna, Hajachhara Jharna are the main attractive places for tourists. Many like to visit Palwell Park, Grave of Birshresto Munshi Abdur Rouf, Komolok waterfalls, Muppochhara Jhorna. Lake View Island, Furomown Hill, Tinmukh Pillar, Ghagra Waterfall, Gaskata Waterfall and Jurachhari massively fascinate tourists.
How to travel to Rangamati?
There are many bus counters in Fakirapul and Saidabad of Dhaka for going to Rangamati. All buses leave Dhaka between 8.00 am and 9.00 am and between 8.30 pm and 11.00 pm every day. You can take buses, taxis and some other private vehicles from Chittagong to Rangamati.
Chittagong
At the same time if you want to see the mountains, lakes, forests and sea, you can visit Chattogram. Chattogram is one of the ancient cities of Bangladesh. So, here you will find touches of modernity along with old patterns. You can see especially Mirsarai, Sitakunda and Fatikchari. Chittagong is quite a big city. The largest international sea port is located here. Shah Amanat International Airport connects Chattogram with various destinations around the world via air. Moreover, it functions as a national airport as well.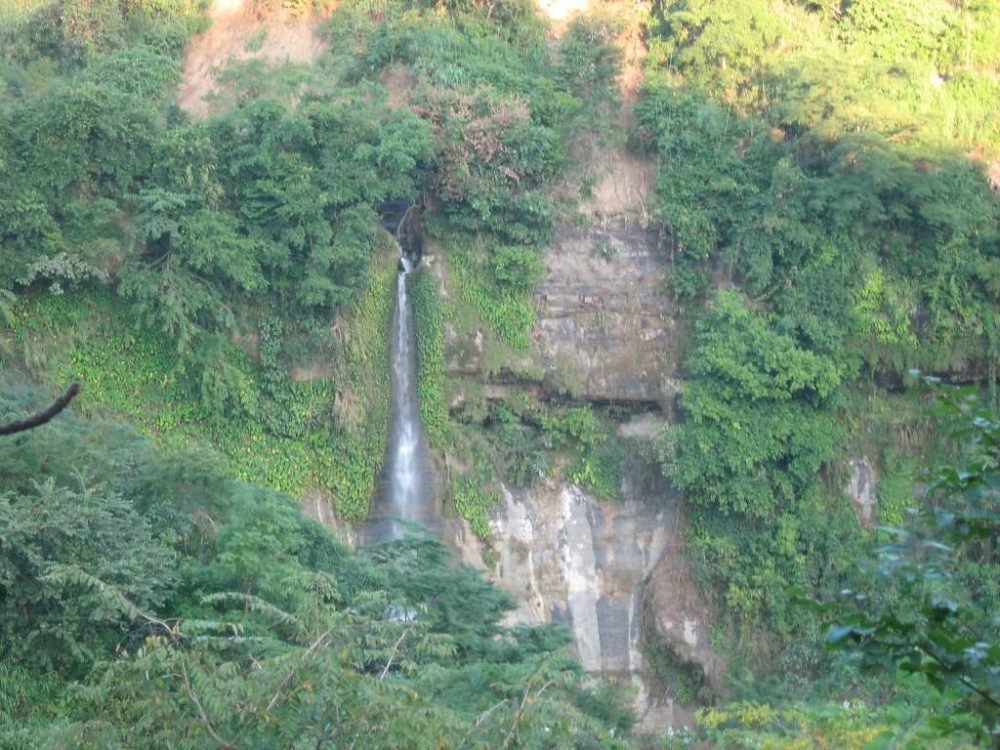 Painet Beach, Foy Lake, Baizid Bostami Shrine, WWII Cemetery, Ethnological Museum and Kattali Beach are the most popular tourist spots. There are several hotels of different categories in Chittagong that meet the needs of all types of tourists and visitors.
Other places
Historical and scenic places of Chittagong district include: Agunia Tea Garden – North Rangunia, Chittagong Zoo, Sandwip Beach, Andarkilla Jame Mosque, Commonwealth War Cemetery Chittagong, Kalurghat, Khankhanabad Beach, Banshkhali and Cheragi hills.
How will you go to Chattogram city?
Chittagong is connected with the rest of the country by road, air and rail. However, getting a train ticket is quite difficult to visit the beautiful places in Bangladesh. There are many hotels in Chittagong to stay. There are luxury hotels around the city's GEC junction, and you'll find budget hotels on Station Road.
Sylhet
Sylhet is called the queen of monsoon in Bangladesh. In the monsoon, the attraction of Sylhet increases manifold. Tea-gardens, forests, clear water rivers, springs are all in all. Therefore, Sylhet is an ideal place to spend a holiday. The first attraction of Sylhet for the tourists is the tea garden. Of the total 183 tea gardens in Bangladesh, 135 are in greater Sylhet. There are several tea gardens in Jaintapur, Kanaighat, Gowainghat, Companiganj and Sylhet Sadar upazilas of Sylhet district. Therefore, Malinichhara is one of the oldest tea gardens in the subcontinent.
If you don't visit Sylhet, you won't be able to see 'fascinating Bangladesh'. If you want to visit this district completely, you have to leave it at least ten days.
Set amid the picturesque landscape of the Surma Valley, Sylhet is such popular and visited tourist destination. So, no tourist wants to miss out on a visit. Therefore, Sylhet is the largest city in the Sylhet division of Bangladesh. It covers the population of more than 500,000 inhabitants.
What are best places in Sylhet?
Tamabil-Jaflong, Kalibari Temple, Sri Mahalaxmi Temple, Sree Mangal, and Lawacherra Rain Forest are really eye-catching in and around Sylhet. However, tourists can enjoy shopping at places like Al Hamra, Blue Water, Millennium, Aarong, Monorom, Artisti, Westecs and Kumarpara. There are various hotels like Hotel Supreme, Hotel Palash, Hotel Western, Hotel Golden City, Hotel Hilltown, and Niravana Inn. These hotels meet the holistic needs of the tourists who visit the top tourist place in Bangladesh.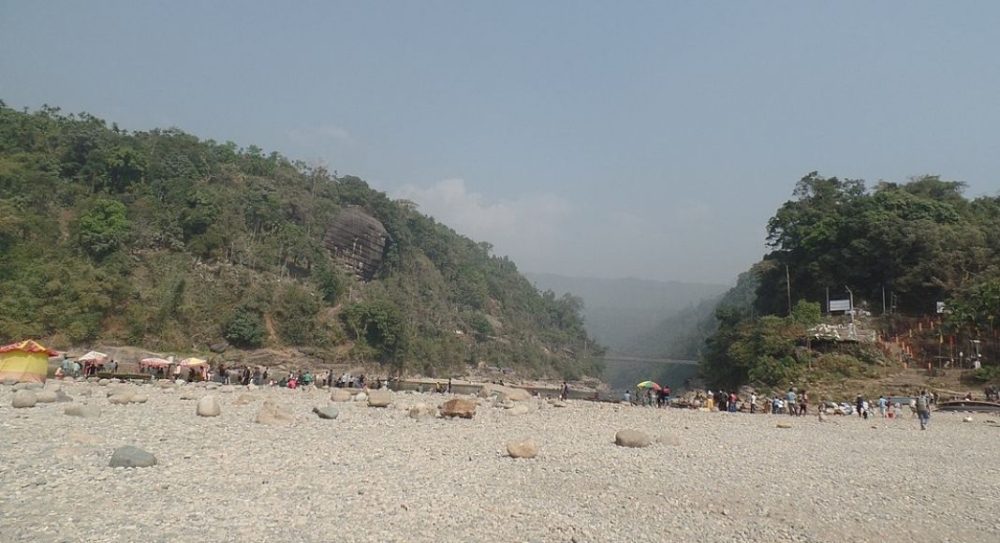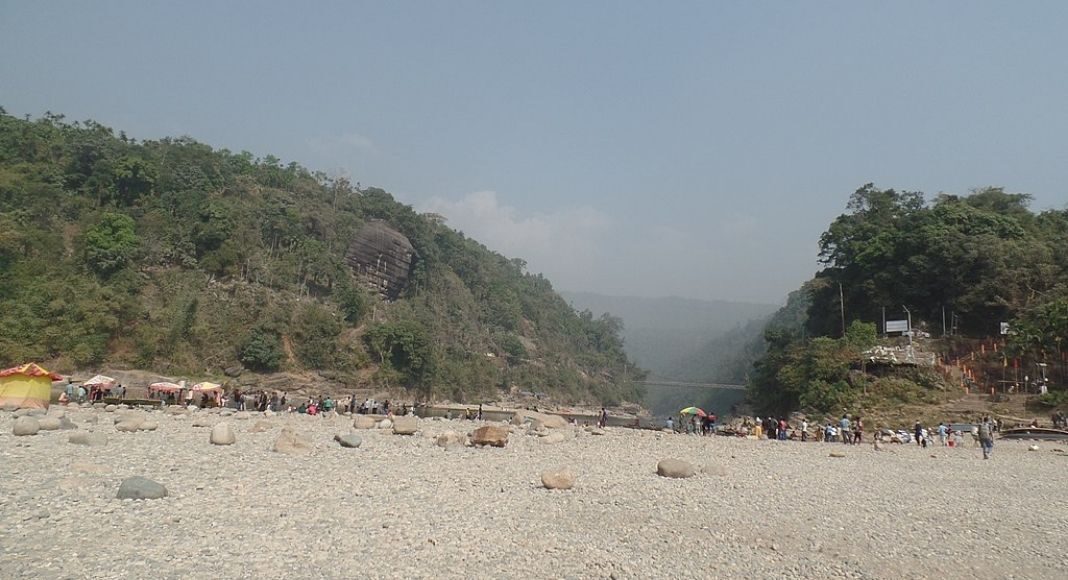 Ways to go to Sylhet?
You need to plan your trip to Sylhet properly. You can plan this in a few parts. First go straight to Sylhet for the sights of Sylhet. There are numerous hotels and resorts to stay at. There are more budget hotels near Dargah Gate of the city. Moreover, you can go to Sylhet by bus, plane, train. There are all the nice restaurants to eat in the district. Therefore, you should enjoy the tour that is the best places to visit in Bangladesh.
Cumilla
Cumilla, a large district in the Chittagong Division along the Dhaka-Chittagong highway, is a well-known tourist destination in Bangladesh. So, there are several places in Cumilla that fascinate tourists with many of the attractions there.
What places you can visit in Cumilla?
Lalmai Hills, Bangladesh Rural Development Academy, War Cemetery, Maynamoti Museum, Shah Shuja Mask and Comilla Zoo attract thousands of tourists from home and abroad every year. Hotels like Bangla Restora, Shalban Vihara, Nurjahan Hotel, Jur Kanon Hotel, Dina Hotel, Moynamoti Hotels are some of the best known and most popular hotels and restaurants in Cumilla. Therefore, you should not miss the beautiful places in Bangladesh like those of Cumilla.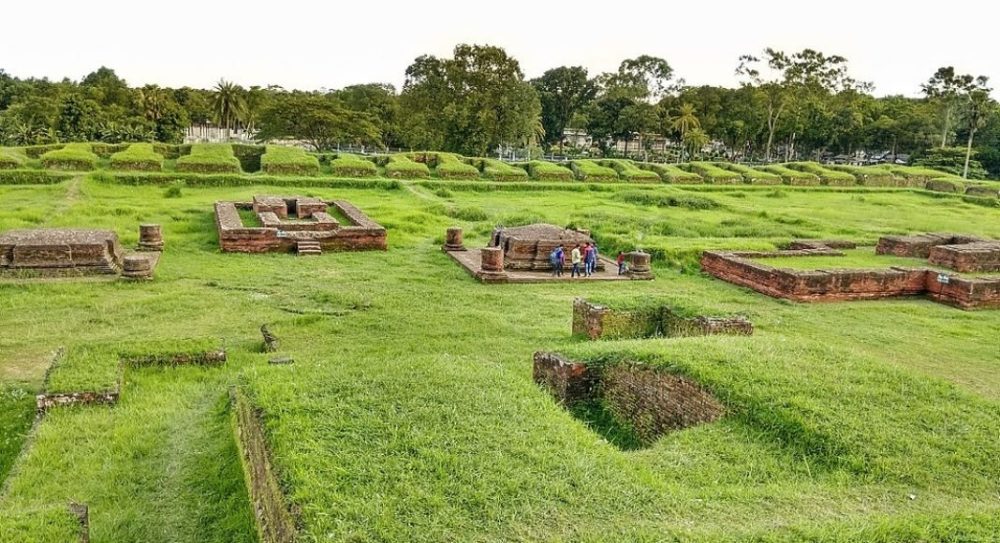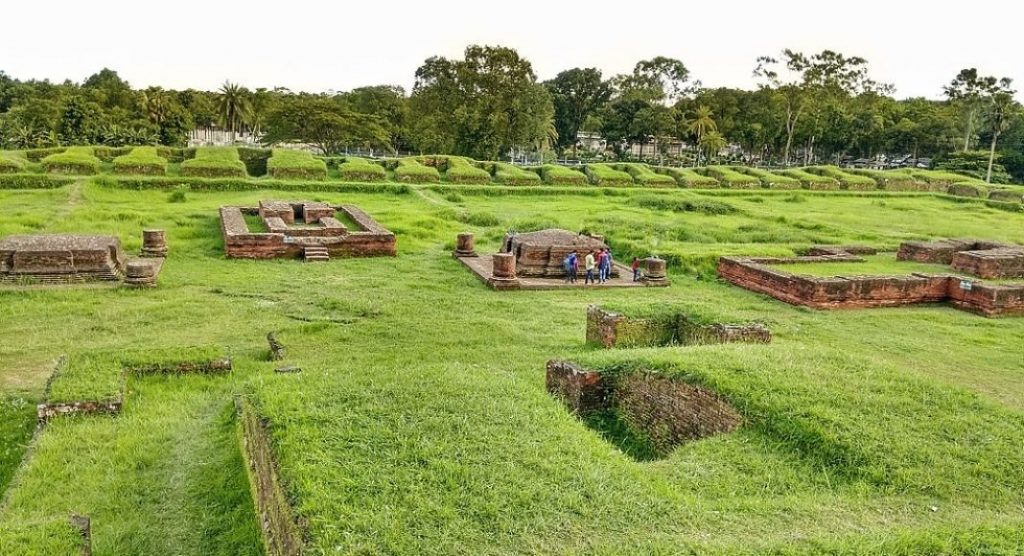 How to go?
Many buses leave Sayedabad of Dhaka for Comilla every day. If you want to get off at Cumilla, you have to get on Asia line. If you want to get off the world road, you have to take Asia Paribhan. And if you go to the cantonment, you can come with either Asia Line or Asia Paribahan. Or you can come by Royal Coach from Kamalapur. Those who will come from Chittagong, have to come to Tisha or Saudia. While returning, you will also get bus for Dhaka from any of the above places. And you can get CNG, auto, microbus to come to the tourist spots in Comilla.
Subscribe to Our Latest Newsletter
To Read Our Exclusive Content, Sign up Now.
$5/Monthly, $50/Yearly