Best Places to Visit in the UAE: Top 60 Must-Visit Destinations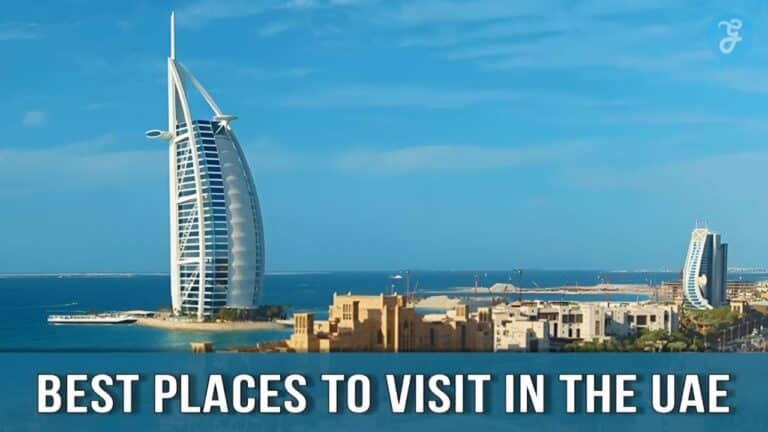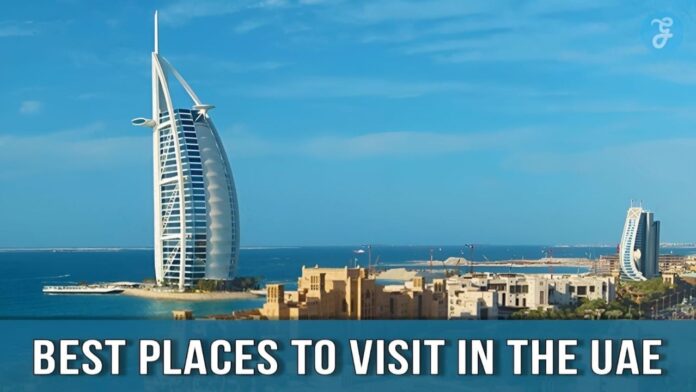 Are you looking to explore the beautiful culture and best places to visit in the UAE? Did you know that it has 7 emirates, The United Arab Emirates is an incredible destination for travelers from all around the globe. In this article, we'll help you discover some of the best places to visit in the UAE, along with the latest updates and tips for safe traveling.
From must-see attractions like The Palm Islands and Burj Khalifa in Dubai to unique cultural experiences around the Al Ain Classic Car Museum in Abu Dhabi, there's something here for everyone!
Get ready to be amazed by what awaits your exploration in this Middle Eastern paradise.
Content Highlights
Dubai, Abu Dhabi, Sharjah, Al Ain, and Fujairah offer diverse attractions, from iconic skyscrapers in Dubai to historical sites in Al Ain.

Dubai boasts a stunning skyline, man-made islands like Palm Jumeirah, luxurious resorts, vibrant nightlife, and cultural experiences in souks.

The capital city is known for its opulent architecture, including the Sheikh Zayed Grand Mosque and Qasr al Hosn Fort, reflecting a blend of modernity and heritage.

Sharjah, an arts hub, offers a rich cultural experience with museums, heritage sites, and outdoor activities like desert exploration and wildlife safaris.

Al Ain, known as "The Garden City," features an oasis, Jebel Hafeet's panoramic views, and family-friendly attractions like Al Ain Zoo.
Top 5 Cities to Visit in the UAE
Explore the immense diversity of the UAE with a visit to some of its most fascinating cities, such as Dubai, Abu Dhabi, Sharjah, Al Ain, and Fujairah.
Dubai
Dubai is an exciting city for tourists. Visitors to Dubai can be wowed by its impressive skyline, dominated by skyscrapers such as the iconic Burj Khalifa – the tallest building in the world.
Home to several man-made islands, like Palm Jumeirah, with luxurious resorts and residential properties, Dubai invites visitors from all around the globe. It's a great destination for entertainment and nightlife too locals have plenty of vibrant clubs, bars, and venues to explore that are filled with international travelers every night.
The city also has famous shopping malls where you can browse for designer labels or pick up local souvenirs from traditional markets known as souks. As part of your visit don't forget about its stunning beaches, desert safaris, and exciting water parks!
In addition to being a hub for international business and trade with a highly developed infrastructure, Dubai is one of the top destinations in the UAE – offering something special for everyone!
Abu Dhabi
Located in the United Arab Emirates, Abu Dhabi is the country's capital city and second-most populous. It's world-renowned for its splendor a city of towering skyscrapers, luxurious hotels, and shopping malls.
This cosmopolitan destination was once famous for its pearl diving industry and luxury trade routes before oil reserves were discovered. Tourists visit to marvel at beautiful architecture such as Sheikh Zayed Grand Mosque, Qasr al Hosn Fort, or sky-high Burj Khalifa that boasts leaner than Italy's Tower of Pisa!
Designed by a Japanese architect with meandering waterways weaving around low-lying garden islands connected by bridges and highways – it's no wonder this modern paradise has become one of the most sought-after holiday spots in the world!
Read More: 20 Best Places to Visit in Bosnia and Herzegovina in 2023
Sharjah
Sharjah is the third-most populous city in the United Arab Emirates and serves as both the capital of the Emirate of Sharjah and part of the Sharjah-Dubai metropolitan area. Known as the UAE's arts capital, this incredible metropolis boasts a rich cultural heritage intertwined with stunning architecture – including several museums, heritage sites, and key tourist attractions such as the Palm Islands and Sheikh Zayed Grand Mosque.
It's also considered one of the most traditional emirates in the Gulf region, drawing history lovers from around the world to explore its strong focus on Arabic culture linked to Islamic heritage.
This diverse destination caters to everyone's interests. You can explore art galleries, and embark on outdoor adventures like desert exploration and wildlife safaris. Family-friendly options include theme parks and classic car museums. Enjoy shopping at traditional markets called souks or simply relax by cruising on a Dhow boat along the beautiful Arabian coastlines.
Al Ain
Situated on the southeastern side of the Emirate of Abu Dhabi, Al Ain is one of the oldest cities in the United Arab Emirates and among its most popular tourist attractions. Located at an oasis surrounded by jebel (mountains), it is known as "The Garden City" because of its numerous green spaces and palm plantations.
One must-see destination in Al Ain is Jebel Hafeet, a mountain that offers breathtaking panoramic views. The city also houses animal habitats like Al Ain Zoo which are great for family outings with kids.
History enthusiasts should not miss touring around Al-Jahili Fort, a well-preserved structure that has stood since before 1891. There's something about this ancient emirate city's desert ambiance that draws visitors back time after time – come discover what awaits you in magical Al Ain!
Fujairah
Located in the UAE, Fujairah is full of attractions and offers plenty for travelers from all over. Known for its beautiful beaches and breathtaking views, Fujairah is a delight to explore.
Take a swim at one of its popular resorts or go scuba diving with experienced instructors. Don't miss touring some of its cultural sites like Al-Bidyah Mosque – the oldest mosque on the coast – and Fujairah Fort – an archaeological site that has stood here since 1670 AD! As the only Emirati capital city on the east coast, it makes a great base for exploration outside your stay in Dubai's hectic pace.
Visitors can also expect historic sites such as Sheikh Zayed Grand Mosque, charming souks, and markets packed with goodies from local produce to delicious street food – plus unique experiences through outdoor activities like camel riding or wandering around dunes!
It doesn't end there prepare yourself for an adventure exploring the Jebel Jais mountain range and immersing yourself into the vibrant culture within heritage villages showcasing traditional customs that still live on today.
Key Attractions in the UAE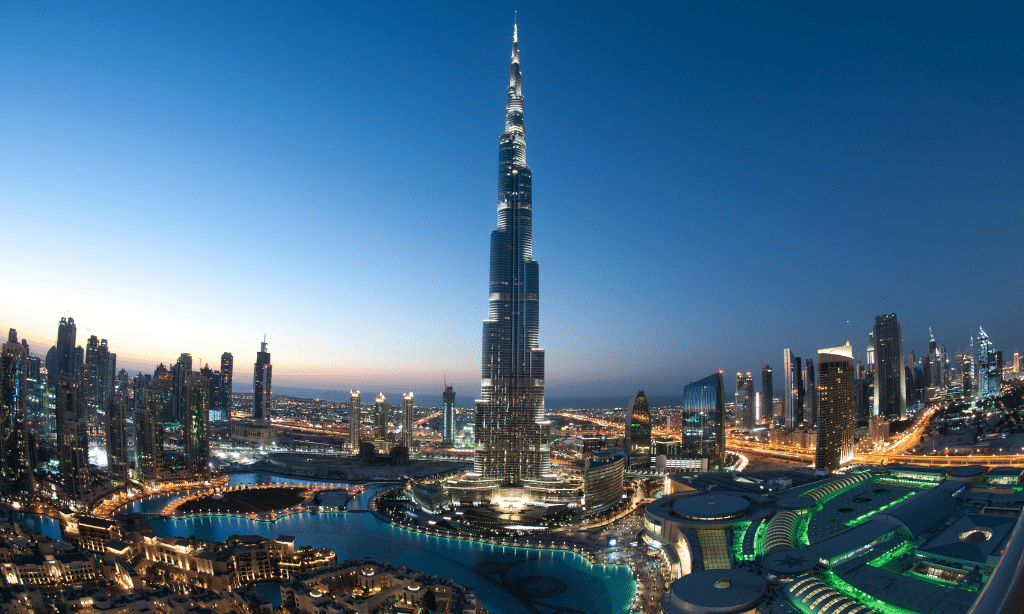 Explore some of the UAE's most impressive attractions, such as the Palm Islands, Sheikh Zayed Grand Mosque, Burj Khalifa, and Jebel Jais.
Palm Islands
The Palm Islands are an awe-inspiring feat of engineering, comprising three artificial islands located in Dubai. The three islands – Palm Jumeirah, Deira Islands, and Palm Jebel Ali – are surrounded by kilometers of beaches and crystal-clear waters.
Home to luxurious residences, world-class hotels, restaurants, spas, marinas, and entertainment centers at the heart of each island is the perfect spot for relaxation. Visitors can spend countless hours swimming or engaging in water sports like snorkeling or windsurfing as well as shopping within some of the sensational retail stores found on these palm-shaped islands.
Additionally, visitors often take scenic helicopter rides and boat tours around the Palm area to get a complete view of this remarkable manmade wonder from all angles.
Read Also: The Best Places for Introverts to Travel Alone: Solo Travel Tips
Sheikh Zayed Grand Mosque
is a stunning architectural and cultural landmark located in Abu Dhabi, UAE. It was built to honor the late Sheikh Zayed bin Sultan Al Nahyan and features intricate designs, luxurious marble floors, gilded chandeliers, detailed Islamic artwork, and 82 domes of various sizes.
With its awe-inspiring design elements spread over five courtyards, it is considered one of the most beautiful mosques in the world. The mosque covers an area of more than 22,400 square meters making it the largest mosque in UAE that can accommodate up to 40,000 people for prayers at any given time.
While its construction cost 2 billion dirhams (US$545 million), tourists can visit for free throughout the day and enjoy guided tours explaining all about the Mosque's fascinating history and significance as a Cultural symbol of UAE.
Burj Khalifa
The Burj Khalifa is an architectural wonder that stands tall as the world's tallest building at 829.8 meters (2722 feet). Reaching 2,722 feet the structure encompasses a total of 2,909 steps spanning from the ground floor to the 160th floor. This impressive skyscraper was designed to create a modern symbol of Dubai's emergence into the global economy.
It has taken on many records from its completion in 2010 including the highest occupied floor in the world and one of the fastest elevators at 10m/s that whisks visitors up to its observatory decks in just 55 seconds! To appreciate its grandeur, visitors can get sweeping views from the 124th or 125th levels.
In addition to these amazing records and specifications related to height and structure, its undeniable view will make any visitor feel awe-inspired by seeing Dubai's skyline for themselves.
Jebel Jais
Situated in Ras Al Khaimah, UAE, Jebel Jais is a paradise for outdoor lovers featuring stunning views and trails. It is the highest mountain in the United Arab Emirates with an elevation of 1,934 meters above sea level. Besides offering breathtaking scenery from its summit's panoramic viewpoints, Jebel Jais offers visitors plenty to do on their visit.
One of the most popular tourist attractions at Jebel Jais is its adventure activities like ziplining, it has been home to the world's longest zip line since 2018, spanning 2.83 kilometers! Other activities include hiking along its well-marked paths and biking down winding roads – great choices for more active adventurers looking for a thrill or just some time outdoors in the fresh air.
If you fancy a leisurely walk and want to immerse yourself in the beauty of nature while also relishing the chance for bird-watching, camping sites offer an ideal opportunity to reconnect with the outdoors. Mattar campsite, in particular, provides visitors with exclusive access to a secluded section of this breathtaking landscape, which is typically inaccessible by car. The area boasts award-winning beaches and is restricted to 4×4 vehicles for entry, ensuring a serene and untouched environment for those seeking a more intimate encounter with nature.
Louvre Abu Dhabi
Louvre Abu Dhabi is the first universal museum in the Arab World and opened its doors to millions of visitors from around the world with great fanfare. The impressive building that occupies a secluded island off the coast of Abu Dhabi, UAE was inaugurated in 2017 as part of a massive partnership between France and the United Arab Emirates, providing access to 600 pieces of historical, cultural, and artistic works on display throughout.
These collections range from ancient artifacts such as pottery exhibition galleries to Renaissance paintings and stunning examples of Islamic art. Guests can also explore an array of interactive exhibitions including conceptual spaces where immersive experiences transport them into different worlds for an exciting journey into history's past treasures.
Installation works also make up much of Louvre Abu Dhabi's offerings allowing curious minds to gain further knowledge through unique perspectives. With all these offerings available it is no wonder that the Louvre Abu Dhabi has become one destination not to be missed when visiting UAE.
Offbeat Destinations in the UAE
[Video Credits @AnAdventurousWorld]
For those seeking a break from the hustle and bustle of city life, UAE has plenty of unique sites to explore, such as Hatta, Musandam, Khor Fakkan, Dibba Al-Hisn, and Sir Bani Yas Island.
Hatta
Located in Dubai, United Arab Emirates, Hatta is a gorgeous mountainous region offering travelers an array of exciting attractions and activities. Visitors have the opportunity to experience kayaking or other water sports at one of its main attractions, the turquoise-hued Hatta Dam­.
Adventurous visitors can also embark on thrilling hikes or mountain biking through the Hajar Mountains or explore nearby Wadis (valley). Nature lovers should not miss out on glamping opportunities in breathtakingly beautiful Hatta Dome Park filled with spectacular views and nature's beauty.
Not only that, but Hatta is also historically significant being one of the oldest preserved heritage areas in the UAE. Therefore it offers a unique mountain safari for tourists wanting something different than typical city sightseeing tours something they will remember forever!
Musandam
is a peninsula of Oman located near Dubai that offers travelers an unforgettable and unique experience. Renowned for its breathtaking cliffs, stunning views of the ocean, and abundance of archaeological wonders, this destination stands out amongst other tourist spots in the area.
Visitors will find plenty to explore around Musandam – from soaking up the cultural heritage and visiting ancient sites to beach activities such as swimming or snorkeling. There are also plenty of day trips exploring remote villages by boat or simply enjoying the peacefulness brought on by a traditional dhow cruise complete with star-studded nights under the Arabian sky!
After all these adventurous experiences one can look forward to having a truly relaxing time while staying at one of many luxury lodges available throughout Musandam's rugged landscapes; making it perfect for families looking to escape their daily lives without straying too far beyond home.
Khor Fakkan
Located on the east coast of the Musandam Peninsula, facing the Gulf of Oman, Khor Fakkan is an exclave and port town in Sharjah's emirate. It is renowned for its beaches, spas, water sports, fishing scene, and breathtaking landscapes.
Popular attractions include Shark Park Beach with plenty of activities like snorkeling with turtles; a visit to Fisherman's Outlet for fresh seafood treats; QSai Caverns offering cave adventures; and Stunning Pools harboring deep-water marine life species.
With secluded coves in Wad Al Shamsi beckoning visitors every year, visitors may explore heritage museums that tell unique stories from the local culture such as Revolutionary Museum Mubarak Village or Al Hisn Fort will provide enriching experiences to tourists.
Also Read: Best Places to Visit in SE Asia for Adventure Lovers
Dibba Al-Hisn
Located on Sharjah's East Coast, Dibba Al-Hisn is a town part of two countries: Oman and the United Arab Emirates (Sharjah and Fujairah emirates). It boasts stunning landscapes, blue beaches, untouched nature reserves, and remarkable wildlife.
For travelers looking for an offbeat destination in the UAE, this enchanting place provides an escape from everyday life as they explore its rustic charm. There's something to suit all interests here such as exploring the remains of a 15th-century Portuguese fortress or simply soaking up its beauty.
As well as splendor outdoor activities like watersports awash with marine life can be enjoyed too. With so many attractions making it worth visiting, Dibba Al Hisn stands out as one of the most vibrant places in the UAE.
Sir Bani Yas Island
Situated off the southwestern coast of Abu Dhabi, Sir Bani Yas Island is the largest natural island in the UAE. This stunning destination offers a plethora of attractions that make it ideal for family-friendly outdoor exploration and adventure activities.
Visitors can enjoy an array of wildlife safaris, mountain biking, or kayaking tours. With its diverse flora and fauna including rare bird species, Sir Bani Yas Island promises a unique wilderness experience you'll never forget.
In addition to its lush forests filled with native plants and shrubs, there are archaeological sites such as ancient Christian monasteries and pre-Islamic temples on this beautiful piece of land making it perfect for art history or culture buffs too!
Outdoor Activities in the UAE
From desert exploration and water sports to hiking, mountain biking, and wildlife safaris, there are plenty of outdoor activities to be enjoyed in the UAE.
Desert Exploration
The UAE is a country full of exciting outdoor activities, and desert exploration is one of them. Dune bashing in Dubai is an incredibly thrilling experience, where visitors can drive through towering dunes in a 4×4 vehicle and feel the thrill of the rough terrain.
It's not just about adrenaline-pumping thrills though certain organizations offer guided tours for those looking to explore the desert in safer conditions – discover sandy plains, red & gold sunset views, rolling hills, coastal vistas, wildlife like camels & gazelles, and more!
On these trips, you'll be able to try out camel riding as well as quad biking across rugged Awafi paths to reach otherwise inaccessible lands. Desert safaris are guaranteed sources of entertainment and adventure with opportunities to meet nomadic Emiratis along your journey too.
Exploring the UAE's deserts allows travelers to get close up with the spectacular beauty and culture that this part of the world holds while giving an insight into ancient Arabian lifestyles.
Water Sports
The United Arab Emirates offers tropical weather perfect for outdoor activities and water sports. Visitors to the UAE can enjoy a variety of aquatic adventures from diving, jet-skiing, sailing, and swimming to marine tours.
Dubai is especially popular for its wide range of fun in the sun. Experience exciting activities such as jet skiing, flyboarding, and paddleboarding while cooling off from the scorching heat.
Adventure seekers will love kite-surfing or water skiing around man-made islands like Palm Jumeirah or The World Archipelago. For those who prefer sightseeing underwater, there are abundant opportunities with shipwrecks, coral reefs, and one of the world's largest artificial diving sites at Al Nakheel Beach in Abu Dhabi.
Hiking and Mountain Biking
The UAE is home to stunning mountain peaks, burnt-orange deserts, and crystal-clear lakes that make it a paradise for outdoor enthusiasts seeking new adventures. The Hajar Mountains provide excellent terrain for hiking and mountain biking, with many established routes such as the Dragon's Back offering spectacular views as well as challenging climbs.
For more adventurous climbers, the nearby Jebel Jais peak rises over 1 kilometer above sea level – one of the region's few true mountaineering destinations boasting some impressive trails to explore.
For avid mountain bikers biking venues are abundant in all corners of the UAE, from manmade tracks to off-the-beaten path excursions through valleys and dunes. With incredible trails like Al Wathba Cycle Track near Abu Dhabi or Hatta Mountain Bike Trail Centre on the Omani border, you'll have plenty of chances to hit amazing spots while living an unforgettable experience outdoors.
Wildlife Safaris
The UAE offers a wide range of wildlife safaris that allow visitors to experience the country's diverse animal life. From desert safaris to wild parks, visitors can explore the country's picturesque landscapes and get up close with some of its most iconic creatures.
For those looking for something unique, Sir Bani Yas Island is home to more than 16 species including Arabian oryx, giraffes, and cheetahs. Bus tours are available so you can witness these magnificent animals in their natural habitat.
Wildlife Safari Parks like Dubai Safari Park span 119 hectares and provide climate-suitable habitats for thousands of animals from different parts of the world with opportunities such as visiting gorilla and chimpanzee houses.
The Al Ain Zoo is another popular destination located in Abu Dhabi, it boasts a diverse range of animals along with interactive experiences like bird shows, exotic petting zoo areas, an amphibian enclosure, and endangered species exhibits.
Dhow Cruises
Dhow cruises have become increasingly popular among the tourists of the United Arab Emirates in recent years. Experiencing the sights of the iconic Dubai skyline or a relaxing sail across tranquil Dubai Creek while taking in breathtaking views is an unforgettable experience that can be enjoyed on these comfortable wooden vessels.
These floating Mercedes provide visitors with private options for functions and events, and they also offer exciting activities such as fishing, swimming, snorkeling, and live entertainment.
Evidence suggests that the most popular spot to go dhow cruising is along Dubai Marina which offers beautiful scenery through glass-bottom boats when traveling around its jetties and manmade islands like The Palm Jumeirah.
Family-friendly Attractions in UAE
Enjoy a fun-filled day with family at some of the most popular attractions like theme parks, Dubai Aquarium & Underwater Zoo, Warner Bros. World, and Ferrari World.
Theme Parks
The UAE is world-famous for its incredible theme parks, boasting a range of attractions. From the iconic Ferrari World Abu Dhabi to LEGOLAND Dubai and IMG Worlds of Adventure, there's no shortage of options suitable for everyone.
The largest indoor-themed entertainment destination in the world is IMG Worlds of Adventure, which features themed zones dedicated to global brands including Marvel and Cartoon Network.
Families can explore the splendor and thrills at LEGOLAND Dubai complete with 60 rides and an array of interactive services like 4D cinema shows while younger kids will love Sparkys Amusement Center located inside malls across UAE, providing unlimited fun experiences that spark imaginations.
For ultimate adventure seekers, Yas Waterworld enjoys a prime location on Yas Island offering more than 40 thrilling water slides as well as live entertainment performances that make it one unique experience.
Dubai Aquarium & Underwater Zoo
Situated at The Dubai Mall, one of the world's largest malls and a popular tourist destination is the Dubai Aquarium & Underwater Zoo. This aquarium is home to over 200 species of marine animals, including sharks and rays.
It showcases creatures from deep oceans as well as rivers in its spectacular underwater zoo that offers unlimited exploration opportunities for visitors. Boasting the world's largest suspended aquarium with a floor space spanning 10 million liters, more than 2000 different animals are living inside this animal kingdom.
From interactive educational experiences to behind-the-scenes tour packages – hotel stay plus tickets or ticket only – visitors will be able to find something suitable that meets their interests at this iconic attraction in Dubai.
Warner Bros. World
Abu Dhabi is the world's largest indoor theme park, boasting an impressive 29 rides and interactive family-friendly attractions to explore. A contactless experience awaits all guests at this spectacular destination – with various lands, rides, attractions, shopping outlets, and dining options available.
The theme park also features immersive lands based on popular movies and TV shows such as Batman: Knight Flight, Looney Tunes Land, or Bedrock Bowl – each one providing visitors with a unique way to interact with the iconic characters that have populated our TVs for years.
Whether it's taking a thrilling spin in Superman 360 or discovering mesmerizing 4D effects as you fly alongside Shaggy & Scooby-Doo on their Magical Mystery Ride. Warner Bros World brings its live-action heroes together in an unparalleled location guaranteed to provide fun for young and old alike!
Read More: Top 5 Best Places to Visit in Turkey
Dreamland Aqua Park
Located in Umm Al Quwain, Dreamland Aqua Park is one of the largest water parks in the UAE. The highlight attractions include 30 thrilling rides, ranging from Family Raft Ride and Slide Five to Twister, Black Hole, and Twisting Dragons.
Visitors can enjoy a rafting river chase, explore intense waterslides, or relax with gentle waves in the wave pool. With 28 acres of family-friendly adventures and entertainment on offer at Dreamland Aqua Park, there's something for everyone! Kids can explore thrilling slides while adults take some time off to lounge by the tranquil waterways.
Filled with fun activities such as Dare Drop Body Slides and Lazy River Snails Zone as well as classic favorites like Spin Tower & Wave Pool – this park allows visitors to make wonderful memories without having to worry about safety as all its rides are designed for utmost security standards.
Ferrari World
Located in Abu Dhabi, UAE, Ferrari World is an unforgettable experience for kids and adults alike. Situated on Yas Island – a leisure and entertainment paradise – this is the world's largest indoor theme park filled with amazing rides and attractions devoted to the legendary Italian supercar marque. The attraction offers mini versions of the popular rides for kids who look to take it slow age-wise but enjoy all the Ferrari thrills that their parents can handle!
Alongside exciting rides such as Fiorano GT Challenge which simulates life in a race car driving at high speed or Turbo Track – where roller coaster admirers face five G-forces through hairpin bends like Formula One drivers – are some more relaxed activities such as karting and surfing, plus tons of live shows like comedy acts by fun characters from its original F1 cartoon making it not just great fun but also educational too!
Cultural Sites and Museums in the UAE
From the Al Fahidi Historical Neighbourhood to Qaryat Al Torath Heritage Village, there are a range of cultural sites and museums for visitors to explore in the UAE.
Al Fahidi Historical Neighbourhood
Al Fahidi Historical Neighbourhood, also known as Al Bastakiya, is a historic district of Dubai located along the banks of the Dubai Creek. The district was established to preserve much of its original infrastructure and culture including traditional housing, wind tower architecture, and cobblestone alleys.
It is home to the iconic Dubai Museum which showcases stories about ancient trade between East Asia and the UAE as well as artefacts from archaeological excavations in the city. Those interested can visit Al Fahidi Historical Neighbourhood for just 3 Dirhams admission fee – a great way to experience some of the oldest traditions that are alive in modern-day Abu Dhabi!
Sharjah Museum of Islamic Civilization
The Sharjah Museum of Islamic Civilization is a leading cultural attraction and museum in the UAE, providing an insight into Islamic art and history through its permanent collection.
It covers works from the 7th to 14th century AH, with over 5,000 artifacts including calligraphy, carvings, ceramics, and manuscripts. These artifacts help visitors appreciate the evolution of science, civilization, and discoveries in the Arab world.
On display are various elements such as jewelry boxes made from ivory as well as fine embroidery work crafted by masters during this era. The museum offers guided tours for adult groups which provide a comprehensive tour through the history of Islamic culture and heritage – all under one roof!
Al Ain Classic Car Museum
Located in Al Ain near Jebel Hafeet, the Al Ain Classic Car Museum provides a fascinating look at the evolution of automotive design. Established in 2009, this museum is associated with other cultural sites and museums in the UAE, including the Sheikh Zayed Photo Museum and Heritage Village.
The impressive collection at this museum includes captivating classic cars from different eras dating back to over 120 years ago. From iconic British models like Aston Martin's DB5 to vintage American European roadsters such as a BMW Isetta 300 Minis.
It is also considered one of the top sources for classic cars in all of the United Arab Emirates, giving car lovers an eye full that cannot be replicated elsewhere.
Qaryat Al Torath Heritage Village
Located in Al Ain, Abu Dhabi's lush garden city, Qaryat Al Torath Heritage Village is a great place to explore and learn more about the rich heritage and culture of the UAE. The village features souq stalls where visitors can find traditional Emirati crafts and foods as well as experience the traditional way of life through various exhibits and activities available.
From pottery wheel demonstrations to Arabian horse shows, from henna painting to camel riding sessions – there's something for everyone! Visitors can also take part in dhow building workshops or watch a blacksmith at work while strolling along its narrow winding streets lined by authentic mud-brick houses.
At Qaryat Al Torath, you are sure to leave with an understanding of what a truly unique experience it is to be immersed in this blending of ancient customs with contemporary Emirati lifestyle – all lovingly preserved in this magnificent oasis!
Abu Dhabi Heritage Village
Located on Marina Mall Island in Abu Dhabi, the Abu Dhabi Heritage Village offers a wide range of insight into the history and culture of the UAE. Featuring an old-world souk, visitors can enjoy traditional shopping experiences at the local marketplaces, while witnessing craftspeople at work making pottery or weaving fabrics by hand.
Additionally, there is also a mosque and camp for guests to explore; providing fascinating details about life before modern times in this region. By visiting Hereford Heritage Village you'll learn more about what it was like before electricity and other luxury items that are commonplace today.
Whether you're interested in architecture, food, or fashion, spending time here will give you a greater appreciation for all aspects of life in the past as well as its importance to modern-day UAE.
Shopping and Souks in the UAE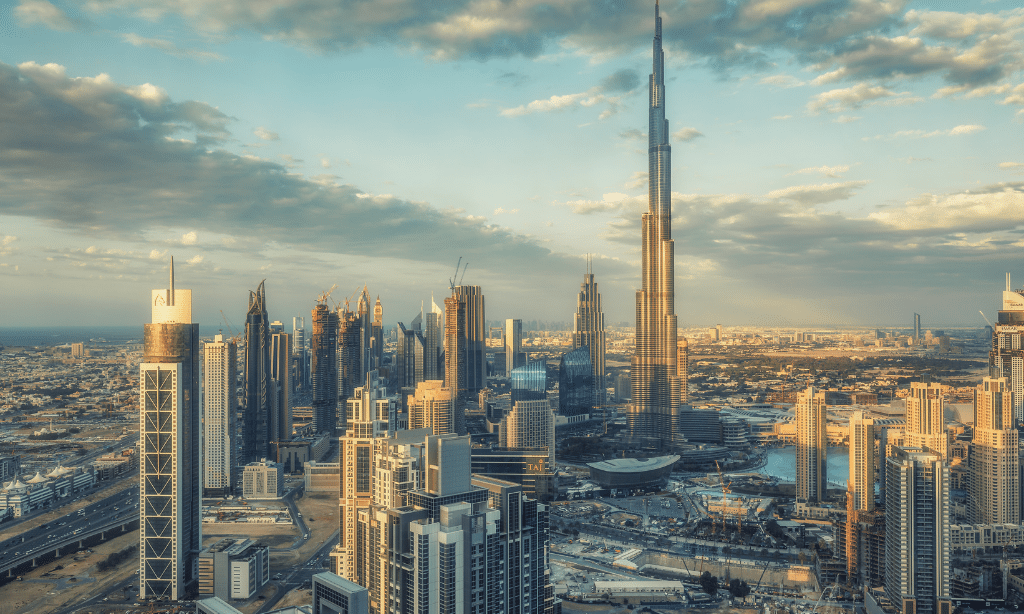 Explore the UAE's traditional and modern markets, including the vast Gold Souk in Dubai, Madinat Jumeirah, and Ajman City Center.
Gold Souk
Located in the heart of Deira, Dubai; the Gold Souk is a traditional market and one of the municipality's most visited tourist destinations. The area abounds with gold shops where you can find a variety of jewelry design pieces crafted from pure yellow and white gold, and silver plus stones such as diamonds and rubies.
It's both an architectural feast for tourists' eyes – with fascinating doorways, and walkways with multi-hued merchandise on display – but also a shopkeeper paradise that offers competitive prices for their wares.
As well as jewelry galleries offering intricately designed items that make perfect souvenirs to take home, the market area features numerous eateries serving up delicious dishes after a day of bartering.
Souk Madinat Jumeirah
Souk Madinat Jumeirah is an amazing shopping and dining destination in Dubai. It's located next to the iconic Burj Al Arab, giving visitors a breathtaking view of this modern masterpiece.
The souk spans across 3 km of lush gardens and wondrous waterways that take you on a journey through old, traditional marketplaces along with plenty of modern shops providing all kinds of goods from souvenirs to fabrics and clothing.
Its unique mix of old-world charm and modern amenities make it one popular tourist spot for people taking part in Dubai city tours. The luxurious atmosphere combined with its variety of attractions makes Souk Madinat Jumeirah the perfect place for anyone looking for an unforgettable experience in Dubai.
Ajman City Center
Ajman City Center is one of the popular shopping malls in the United Arab Emirates. Spanning six commercial floors, Ajman City Centre hosts a variety of luxurious shops such as Max, R&B, LC Waikiki, and Babyshop & Home Center.
It also features a stunning Carrefour supermarket offering an array of fresh produce and grocery items from around the world. The mall provides an exquisite range of products with its specialty clothing stores along with a compulsion dry fruits shop for those obsessed with healthy foods and vibrant looks jewelry store for fashionistas and homeware outlets for decor enthusiasts.
Ajman City Center has something to offer everyone making it a perfect destination to explore new trends, old favorites, or just simply get lost discovering gifts for loved ones!
Dubai Mall
Located in Dubai, UAE, the Dubai Mall is the largest shopping mall in Dubai. Covering a massive 5.9 million square feet inside, The Dubai Mall includes 3.77 million square feet of space available for lease. It features over 1,200 retail stores, two main department stores, and a variety of more than 200 places to eat and drink.
Visitors can explore a variety of experiences at this thrilling destination with 22 restaurants, cafes, and lounges available for both locals and tourists alike. Not to mention stunning views from its souk of the nearby Burj Khalifa as well as other sites around Dubai City.
From fashion apparel and electronics outlets to department stores and souvenir shops – shoppers will find whatever they need inside this giant mega-mall. With something suitable for everyone's tastes–this attraction continues to be a popular draw among travelers since opening in 2008.
Mall of the Emirates
Mall of the Emirates is a shopping mall located on Interchange 4 of Dubai's Sheikh Zayed Road in the Al Barsha district. It is one of Dubai's best malls and one of the largest malls in the world that boasts four floors of retail and dining establishments with over 630 retail outlets and 100 restaurants and cafés, including luxurious boutiques across 80 designer stores.
Many visitors head to Mall of The Emirates (MoE) for its diverse range of eateries and shops which offers something for every budget, taste, style, or interest. Known for its luxury ambiance, MoE promises big names in fashion as well as exclusive sports labels such as Nike Town or Adidas Originals too, plus you'll find electronics outlets like Apple Store all under one roof!
Making it a perfect destination to shop around fulfilling all your needs in-between relaxed cafe visits & movie watching sessions with family or friends experience!
Other 25 Best Places to Visit in the UAE
Let's break down the list with explanations:
Ras Al Khaimah
Nestled in the heart of the UAE, Ras Al Khaimah emerges as a captivating emirate that beckons travelers with its multifaceted charm. A canvas painted with natural beauty, Ras Al Khaimah invites exploration of its stunning landscapes, from the rugged Hajar Mountains to the pristine shores along the Arabian Gulf.
Rich in historical treasures, the emirate boasts ancient sites that echo tales of bygone eras, providing visitors with a profound sense of connection to the region's storied past. Outdoor enthusiasts can revel in a myriad of adventures, whether it be desert safaris, mountain excursions, or simply soaking in the tranquility of its beaches.
Ras Al Khaimah stands as a testament to the UAE's commitment to offering a diverse tapestry of experiences, ensuring every visitor finds a piece of paradise tailored to their desires.
Yas Island
Yas Island, an animated jewel within Abu Dhabi's embrace, is a pulsating hub that caters to the whims of every traveler. Beyond being a mere destination, Yas Island is an experiential journey, promising an adrenaline-fueled escape.
Home to globally renowned attractions like Yas Waterworld and Ferrari World, the island orchestrates a symphony of excitement and thrills. Families, adventure seekers, and leisure enthusiasts converge on this dynamic island to partake in the sheer joy of heart-pounding rides, aquatic adventures, and world-class entertainment.
Yas Island stands as a testament to Abu Dhabi's commitment to curating an immersive playground where the spirit of exploration and enjoyment knows no bounds.
Saadiyat Island
Saadiyat Island emerges as a sanctuary for those seeking a harmonious blend of culture, nature, and luxury. Beyond its sandy shores and luxurious resorts, the island unveils a cultural haven where world-class museums weave narratives of artistic brilliance.
Visitors can stroll through the Louvre Abu Dhabi, where masterpieces tell stories transcending borders and time. Saadiyat Island's beauty is not confined to its pristine beaches, it extends to its commitment to environmental sustainability, ensuring that every aspect of the island harmonizes with nature.
It's a testament to the UAE's vision of creating spaces where art, nature, and luxury converge, offering a transformative experience for every discerning traveler.
Ajman Museum
Ajman Museum, nestled within the heart of the emirate, is a treasure trove that invites visitors on an immersive journey into Ajman's vibrant history and cultural evolution.
Housed within an architectural gem, the museum becomes a portal to the past, showcasing artifacts and exhibits that narrate the tale of Ajman's growth and heritage. The museum's galleries unfold the emirate's journey, from its maritime traditions to the intricacies of daily life.
Ajman Museum stands as a testament to Ajman's commitment to preserving its cultural roots and sharing them with visitors, ensuring that every step within its walls is a step back in time, allowing for a deep appreciation of the emirate's rich heritage.
Jumeirah Beach
Jumeirah Beach, an iconic stretch of coastline in Dubai, epitomizes the fusion of natural beauty and vibrant urban life. The golden sands sprawl along the azure waters, offering a haven for relaxation, water activities, and memorable moments.
Beyond being a sun-soaked retreat, Jumeirah Beach reflects Dubai's dedication to providing a recreational paradise. Families, tourists, and locals converge to partake in the lively atmosphere, engaging in water sports, picnics, or simply reveling in the breathtaking sunset.
Jumeirah Beach is not just a destination, it's a testament to Dubai's commitment to creating spaces where leisure, beauty, and community intertwine, ensuring that each visit is a captivating experience along the mesmerizing shoreline.
Bastakia Quarter
Transport yourself into a living tapestry of history as you step into the captivating Bastakia Quarter in Dubai. This historical district is a delightful journey back in time, boasting well-preserved architecture, traditional wind towers, and a collection of charming art galleries.
Wandering through its narrow alleys feels like traversing the pages of a storybook, where each building holds tales of a bygone era. The authenticity exuding from the quarter creates a cultural haven, making it an indispensable stop for those yearning to delve into Dubai's rich heritage amid the contemporary cityscape.
Dubai Marina
Dubai Marina stands as a gleaming testament to modern urban luxury, offering an unparalleled blend of sophistication and waterfront allure. This upscale neighborhood is celebrated for its awe-inspiring views, with a skyline adorned by architectural marvels. The vibrant cosmopolitan lifestyle thrives along the marina's bustling promenade, where an array of dining and shopping options cater to every taste.
Dubai Marina isn't just a residential enclave, it's a lifestyle destination, inviting both residents and visitors to immerse themselves in the epitome of urban living against the shimmering backdrop of Dubai's iconic skyline.
Al Marmoom Desert Conservation Reserve
For those yearning for a respite in nature's embrace, the Al Marmoom Desert Conservation Reserve in Dubai unfolds as a sanctuary of tranquility. This protected area emerges as an oasis within the desert, beckoning nature enthusiasts to explore its vast expanse. Tailored for desert exploration, the reserve unveils the mesmerizing beauty of the desert landscape.
From unique flora and fauna to the serene silence enveloping the rolling dunes, Al Marmoom becomes a canvas where the essence of the desert is meticulously preserved, offering a serene and unparalleled retreat from the hustle and bustle of urban life.
Jebel Hafeet
Jebel Hafeet, proudly standing as the UAE's loftiest mountain, extends an invitation to adventurers seeking an escape into majestic landscapes. With panoramic views that stretch as far as the eye can see, it becomes a favored sanctuary for those yearning for a serene reprieve from city life.
The mountain's slopes are a playground for hiking enthusiasts, and its summits provide a spectacular vantage point for picturesque picnics. Jebel Hafeet transforms into not just a mountain but a serene retreat, where the beauty of nature unfolds with each step toward its lofty peak.
Zaya Nurai Island
Zaya Nurai Island, nestled near Abu Dhabi's shores, emerges as a paradisiacal retreat embodying the epitome of luxury and tranquility. This private island resort is a haven for those seeking an exclusive escape. Its pristine beaches, caressed by crystal-clear blue waters, create a secluded paradise that feels a world away.
Beyond the natural splendor, the island's luxurious accommodations redefine opulence, providing a sanctuary where time seems to pause. Zaya Nurai Island stands as a hidden gem, inviting guests to unwind and immerse themselves in a world where luxury and serenity intertwine seamlessly, creating an experience that transcends the ordinary.
Dubai Miracle Garden
Nestled in the heart of the city, the Dubai Miracle Garden stands as a testament to nature's artistry. This vibrant spectacle unfolds like a living canvas, showcasing a myriad of blooming flowers and unique displays.
As you wander through its enchanting pathways, you're greeted by a burst of colors, creating a delightful and colorful oasis within the urban landscape. The garden becomes a haven where visitors can immerse themselves in the beauty of meticulously landscaped gardens, each corner revealing a new floral masterpiece.
It's not just a garden; it's a celebration of nature's boundless creativity, inviting all to revel in the mesmerizing tapestry of blooms.
Sharjah Art Museum
For art enthusiasts, the Sharjah Art Museum is a cultural haven that beckons with its rich tapestry of artistic expression. Immerse yourself in a world where paintings, sculptures, and diverse artistic forms come together to narrate compelling stories. This museum, nestled in the heart of Sharjah, becomes a vibrant hub where creativity knows no bounds.
The extensive collection on display provides a journey through various periods and styles, offering a profound appreciation for the depth and diversity of the art scene. Whether a seasoned art connoisseur or a curious visitor, the Sharjah Art Museum opens doors to a world where every stroke and form becomes a gateway to cultural enrichment.
Khor Kalba
Nature's tranquility unfolds at Khor Kalba, a scenic mangrove area in Sharjah that offers a serene escape from the hustle of city life. This picturesque haven becomes a sanctuary for nature lovers, providing a tranquil retreat surrounded by lush greenery and mangrove forests. It's not merely a scenic spot Khor Kalba invites visitors to connect with the natural world.
As you wander along its winding paths, the rustling of leaves and the call of diverse bird species create a harmonious melody, making it a haven for birdwatching enthusiasts. Khor Kalba is a treasure trove for those seeking solace in the beauty of untouched landscapes.
Ajman Corniche
Ajman Corniche emerges as a postcard-perfect waterfront area, offering a picturesque setting for strolls, family outings, and moments of serene contemplation. This charming destination along the coastline of Ajman is more than just a scenic spot, it's a canvas painted with the refreshing sea breeze and rhythmic waves.
Families can enjoy leisurely walks along the promenade, taking in the panoramic views of the sea and enjoying the vibrant atmosphere. Ajman Corniche becomes a retreat where the soothing sounds of the waves create a backdrop for cherished moments, making it an ideal destination for those seeking a blend of coastal beauty and laid-back charm.
The Green Planet
Step into the heart of biodiversity at The Green Planet in Dubai, an indoor tropical rainforest that transcends traditional notions of conservation. This immersive experience invites visitors to explore a lush ecosystem, teeming with diverse flora and fauna.
Each step through its verdant pathways reveals the wonders of the rainforest, from vibrant plant life to exotic creatures. It's not just an attraction. The Green Planet becomes an educational journey, offering insights into the delicate balance of nature.
The captivating sights and sounds create a unique experience, making it a must-visit destination for those seeking an enchanting encounter with the world's rainforest ecosystems, right in the heart of the city.
Yas Waterworld
For those seeking an aquatic adventure like no other, Yas Waterworld on Yas Island emerges as a thrilling haven for water enthusiasts of all ages. This waterpark transcends ordinary expectations, boasting an array of slides, rides, and attractions that promise an adrenaline-fueled experience.
Whether it's the heart-pounding drops, meandering lazy rivers, or interactive water playgrounds, Yas Waterworld creates a water wonderland where the spirit of fun knows no bounds.
Nestled on Yas Island, this aquatic gem becomes a destination where families, thrill-seekers, and water lovers converge to create memories soaked in excitement and laughter.
Al Fahidi Fort
At the heart of Dubai's historical tapestry stands Al Fahidi Fort, an architectural gem that not only holds historical significance but also houses the Dubai Museum. This fort, with its distinctive wind-tower architecture, provides a captivating journey into the city's past.
As visitors wander through its corridors, they are transported to an era when Dubai was a bustling trading hub. The Dubai Museum within the fort adds depth to the experience, offering a curated collection that unveils the evolution of the city.
Al Fahidi Fort becomes a time capsule, allowing visitors to glean valuable insights into the rich history and cultural heritage that define Dubai.
Dubai Opera
In the heart of Downtown Dubai, the Dubai Opera stands as a cultural beacon, inviting patrons to immerse themselves in a world of artistic splendor. This world-class venue transcends traditional notions of entertainment, hosting a variety of performances, from concerts to operas. The Dubai Opera's iconic architecture is matched only by the caliber of productions it stages.
As the curtains rise, visitors find themselves enveloped in an atmosphere of sophistication and cultural enrichment. Beyond a mere venue, Dubai Opera becomes a destination where the performing arts take center stage, promising an unforgettable journey into the realms of music, drama, and artistic brilliance.
Al Majaz Waterfront
For families and leisure seekers, Al Majaz Waterfront in Sharjah unfolds as a vibrant oasis, offering not just scenic beauty but a lively array of recreational activities. This waterfront destination is adorned with parks, fountains, and promenades, creating an ideal setting for family outings and strolls.
The lively atmosphere is complemented by a range of recreational facilities, making it a popular choice for families looking to spend quality time together. Al Majaz Waterfront transforms into a hub where the soothing sounds of water, the greenery of parks, and the laughter of families converge to create a wholesome and memorable experience.
Mleiha Archaeological Centre
Delve into the ancient mysteries of Sharjah at the Mleiha Archaeological Centre, an archaeological site that offers a fascinating journey into the region's rich past. This center becomes a gateway to the historical treasures buried beneath the sands, providing a glimpse into the lives of ancient civilizations.
Visitors can explore archaeological exhibits, uncover artifacts, and embark on guided tours to archaeological sites, including pre-Islamic tombs and remnants of ancient settlements. Mleiha Archaeological Centre isn't just an attraction, it's a portal to a bygone era, where every artifact and excavation tells a story, offering an immersive and educational experience for those intrigued by the mysteries of the past.
Sheikh Zayed Bridge
Embark on a visual feast as you marvel at the architectural brilliance of the Sheikh Zayed Bridge in Abu Dhabi. Renowned for its intricate design and captivating LED lighting, the bridge transcends its utilitarian purpose to become a symbol of artistic expression.
Whether admired against the daytime sky or illuminated against the night, the Sheikh Zayed Bridge stands as a testament to human ingenuity and the seamless blend of technology and aesthetics.
Each visit becomes an exploration of engineering marvels, offering an opportunity to appreciate the intersection of functionality and artistic elegance that defines this iconic structure.
Al Noor Island
Al Noor Island in Sharjah unfolds as a tranquil haven, inviting visitors into a world where nature and art coalesce in perfect harmony. This serene escape boasts lush botanical gardens, contemporary art installations that captivate the imagination, and a mesmerizing butterfly house. It's not just a destination, Al Noor Island becomes a sensory experience, where the vibrant colors of flora meet the creativity of human expression.
As visitors stroll through the gardens and encounter the curated art pieces, they find themselves immersed in a unique blend of natural beauty and artistic inspiration, making Al Noor Island a haven for those seeking moments of tranquility and creative inspiration.
Dubai Frame
Standing tall as a symbol of Dubai's dynamic evolution, the Dubai Frame is more than just an architectural marvel; it's a bridge connecting the city's past and present. This iconic structure offers panoramic views that capture the essence of old and new Dubai, creating a visual narrative that spans the city's transformative journey.
The Dubai Frame becomes a vantage point where visitors can witness the city's skyline against the backdrop of its historical roots. It stands as a testament to Dubai's commitment to preserving its heritage while embracing a futuristic vision, providing a captivating experience that transcends time and architectural innovation.
Ras Al Khor Wildlife Sanctuary
For those with an appreciation for the wonders of the natural world, the Ras Al Khor Wildlife Sanctuary in Dubai emerges as a protected haven, where diverse bird species find refuge in a thriving wetland ecosystem.
his sanctuary becomes a paradise for nature enthusiasts and birdwatchers, offering a serene retreat within the urban landscape. The expanse of the wetlands unveils a symphony of bird calls and the graceful movements of resident and migratory species.
Ras Al Khor Wildlife Sanctuary invites visitors to connect with the beauty of the natural world, providing an immersive experience where the rhythm of nature takes center stage.
Al Jahili Fort
Nestled in Al Ain, Al Jahili Fort stands as a living testament to the region's rich heritage, showcasing traditional Emirati architecture with its distinctive adobe walls and watchtowers. Beyond its historical significance, the fort transforms into a cultural hub, hosting events and exhibitions that offer a glimpse into the region's heritage.
Visitors can explore the intricacies of Emirati life, from the architecture of the fort to the exhibits that unfold within its walls. Al Jahili Fort becomes not just a historical treasure but a living museum, where the past is preserved, celebrated, and shared, ensuring that every visit becomes a journey into the heart of Emirati culture and tradition.
Latest Updates and News for Traveling in the UAE
Stay up-to-date on the latest developments for traveling in the UAE, including attractions, events, tour information, and safety measures.
New Attractions and Events
The UAE is packed with exciting activities and attractions. Recently, new experiences have been added to some of the country's top areas, such as Dubai City, Burj Khalifa, and Palm Islands.
At Global Village, you can take part in a variety of shopping and entertainment activities during its five-month run from November through to April each year. Miracle Garden offers moments of peace between lush green foliage and innovative displays like floral sculptures, and garden furniture installations among other features.
The world's biggest viewing platform has opened on Level 828 meters high at the iconic landmark Burj Khalifa pumping up your adrenaline downtown for thrill seekers! For nature lovers – the Qasr Al Hosn Festival delivers a unique cultural experience celebrating local heritage with folk music dancing, and talks from academics all offering visitors an insight into Emirati culture old and new.
Tourist Safety Measures and Travel Tips
When visiting the UAE, tourists should take necessary precautions to ensure their safety; researching before arrival is key. Work with a tour guide or use your GPS if you're unfamiliar with an area and stay in well-lit places at night.
Before going out, make sure to stay up-to-date on entry requirements, as VISAs may be needed depending on nationality and purpose of travel. Additionally, exercise caution in crowded places such as theme parks, markets, shopping malls, transportation hubs, etc., and monitor local media for any breaking events that could affect safety.
Travel health information should also be taken into account in case of illness or accident while overseas. Finally, pack smartly by bringing enough water supply when outdoors, especially during summer days.
Frequently Asked Questions (FAQs)
Now, let's find out about some usual questions related to the best places to visit in the United Arab Emirates(UAE).
1. What are the best places to visit in the United Arab Emirates (UAE)?
The UAE is home to some of the most luxurious and iconic attractions, from stunning architecture like Sheikh Zayed Grand Mosque in Abu Dhabi to modern wonders such as Dubai Mall. Other notable spots include Burj Al Arab and Burj Khalifa in Dubai, Abu Dhabi Corniche beachfront, Ferrari World theme park on Yas Island, etc.
2. How can I access updates about exciting events and attractions?
Latest information about upcoming events or activities can be accessed through various sources such as online blogs or travel websites that offer up-to-date information, social media platforms for real time feeds from fans besides tour company tips.
3. Do I need a visa if I'm visiting the UAE?
Pre-bookings must be done for all necessary visa requirements depending on your nationality before entering any part of the UAE – more details about which countries require visas can also be found online easily.
4 Where can find news about Godzilla Minus One's location?
Godzilla Minus One is an incredibly rare space rock discovered at Al Wathba Observatory by scientists who made their observations available in academic journals as well as general science magazines online that could provide you with the latest updates regarding its whereabouts around different astronomical sites across the world including some parts of UAE occasionally!