Hungry? Here's Your Ticket to Culinary Bliss: The 100 Best UK Food Delivery Apps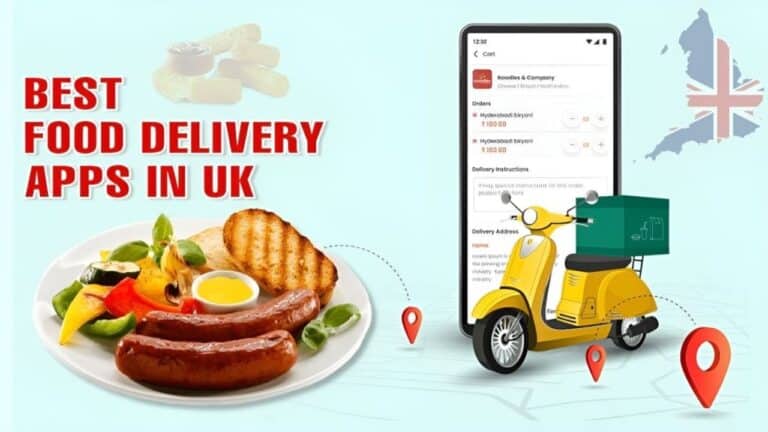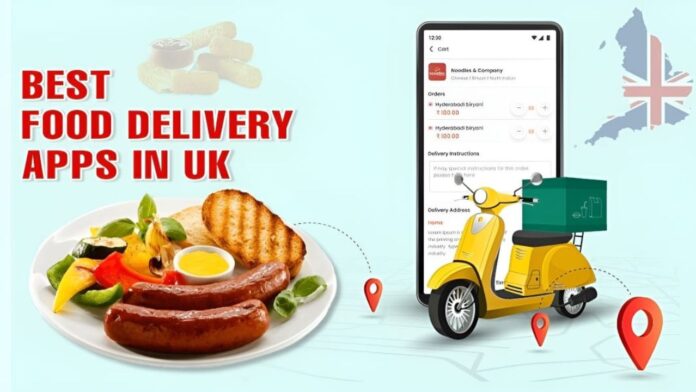 The food delivery industry in the UK has grown exponentially over the past few years, catering to busy lifestyles and providing convenience to people. But with so many options available, it can be hard for customers to decide which food delivery app is best for them.
In this article, we will talk about the Best Food Delivery Apps in The UK. We will discuss their features, services, customer experience, and satisfaction level, as well as the latest updates, such as the integration of home devices and contactless deliveries.
Everything you need to make an informed choice about your favorite food delivery app today!
So read on to have all your questions answered!
Content Highlights
Popular food delivery apps in the UK include JustEat, Deliveroo, UberEats, Food Hub, Gorillas, Scoffable, and more.
These apps offer features such as contactless delivery options, advanced tracking systems, and loyalty programs for customer convenience.
These services provide customers with access to various cuisines from all around the world that can be ordered conveniently online or on their app.
Other than restaurant deliveries, some platforms offer meal kit subscriptions or grocery shopping services for added convenience and variety.
20 Best Food Delivery Apps in the UK
Explore the best choices for convenient food delivery apps in the UK, including JustEat, Deliveroo, UberEats, Food Hub, Takeaway.com, Glovo, and more.
JustEat
JustEat is one of the leading food delivery apps in the UK, mostly known for its swift and reliable service. Since its inception in 2001, JustEat has been delivering takeaway and restaurant meals to consumers across the country.
The app offers customers a range of delivery options, from quick-order takeaways to dining experiences with Tablebooker that can be tailored to their preferences. Customers have access to regular discounts and rewards programs when they order through JustEat's extensive network of restaurants and couriers.
More recently, JustEat has also partnered with Sainsbury's Supermarkets Group PLC, Asda Stores Limited & Co-operative Food Retailers Ltd., expanding their services into grocery shopping as well.
Deliveroo
Deliveroo is a well-known food delivery app in the UK, founded in 2013 by Will Shu and Greg Orlowski. It has partnerships with some of the country's best restaurants, making it invaluable to hungry foodies looking for amazing food experiences from their favorite spots.
Its market share in the UK is significant due to its track record for speed and accuracy of deliveries. With its comprehensive range of cuisines and user ratings plus reviews, Deliveroo does an impressive job spinning what could be mundane tasks into truly enjoyable culinary adventures.
The company has been successful in generating revenue and growing its customer base through loyalty programs, special offers, and discounts available only on Deliveroo. In addition to this already impressive list of features, it continuously seeks innovations such as integrating with smart home devices, contactless delivery options, and improved user interfaces – solidifying its importance within the industry.
Uber Eats
Uber Eats is recognized in the UK as one of the best food delivery apps due to its wide range of features and services. It offers fast delivery options, along with a broad selection of cuisines from different high-quality restaurants.
Moreover, customers can get real-time updates on their order processing, as well as read reviews and ratings from other customers to ensure quality standards. In addition, Uber Eats extends special offers and discounts for loyal patrons every month.
Furthermore, it has integrated advanced technology, such as smart home devices, into its platform so users can control orders from handsets or voice commands conveniently. With more than 10 million downloads in 2022 alone, according to Statista market research report, UberEats' ranking among food apps continues to rise annually, making it an important player within this competitive industry.
Food Hub
Food Hub is a UK-only food delivery startup, founded by Adi Mula and Mohammed Shakil. It has quickly become one of the most attractive options for potential riders looking for convenient ways to order their favorite meals online.
With Food Hub, users can enjoy an array of cuisines from around the world, including Indian, Chinese, Italian, and more. Additionally, it offers numerous delivery options, such as pick-up or express delivery, so that you can get your meal at lightning speed with no fuss.
What's more? Customers also get access to multiple savings with special discounts and loyalty programs, along with reviews and ratings that help them make informed decisions when ordering online.
Furthermore, what sets Food Hub apart from other apps is its user-friendly app design, which makes it easier than ever before to locate restaurants around town as well as find out about new dishes they have on offer.
Takeaway.com
Takeaway.com is one of the most popular food delivery platforms in the UK, allowing customers to find local takeaway restaurants and order instantly for convenient fast food options. It previously operated its own online ordering business but sold this component of its operation Just to Eat.
However, Takeaway.com remains closely connected with other apps such as UberEats, Food Hub, and Gousto through its larger umbrella company, Just Eat Takeaway.com, which operates various ordering platforms across European countries. As a result of these connections, customers can benefit from access to various cuisines wherever they are located, allowing them to explore different cultures right at home or workplace!
Additionally, Takeaway.com is frequently mentioned among the list of top successful global food delivery apps due to its excellent customer service and enhanced tracking features, making it an ideal choice if you looking for a reliable food delivery platform that's readily available across many parts of Europe!
Getir
Getir is a game-changer in the realm of food delivery apps in the UK, offering a unique and efficient service with its tagline, "Groceries in Minutes." The app lives up to its promise by delivering essential groceries swiftly, providing unparalleled convenience to users. With Getir, users can browse through a diverse range of grocery items, from fresh produce to pantry staples, and have them delivered to their doorstep within minutes.
One of the standout features of Getir is its focus on speed and efficiency. The app streamlines the grocery shopping experience, allowing users to complete their orders in a matter of minutes. The swift delivery service ensures that users can have their groceries in hand shortly after placing an order, eliminating the need for time-consuming trips to the supermarket.
Getir's user-friendly interface adds to the overall positive experience. Navigating through the app is intuitive, and the clear categorization of products simplifies the shopping process. The app also incorporates personalized recommendations, making it easier for users to discover new items or quickly reorder their favorite products.
HelloFresh
HelloFresh, a prominent player in the food delivery app scene in the UK, stands out for its innovative approach to meal kit delivery. With its tagline "Meal Kit Delivery," HelloFresh brings the concept of convenient and delicious home cooking to a new level. The app provides users with the opportunity to explore a wide variety of chef-curated recipes and delivers pre-portioned ingredients straight to their doorstep.
One of the key strengths of HelloFresh is its emphasis on simplicity and culinary diversity. The app caters to users with varying cooking skills, offering recipes that are easy to follow yet result in restaurant-quality meals. Users can choose from a weekly menu featuring an array of cuisines, ensuring a diverse and enjoyable dining experience.
The user-friendly interface of the HelloFresh app enhances the overall customer experience. Browsing through recipes, customizing meal plans, and managing deliveries are seamlessly integrated into the app's design. The step-by-step cooking instructions and included pre-measured ingredients take the stress out of meal preparation, making it an ideal choice for individuals with busy lifestyles.
GoPuff-Alcohol & Food Delivery
GoPuff, a distinctive player in the realm of food delivery apps in the UK, sets itself apart by offering a diverse array of products beyond just meals. The app's tagline, "Alcohol & Food Delivery," succinctly captures its focus on meeting food and beverage needs. Catering to a wide audience, GoPuff combines convenience with an extensive product selection, delivering not only meals but also a variety of snacks, beverages, and even alcohol.
What distinguishes GoPuff is its commitment to swift deliveries, often within minutes, making it an ideal choice for those seeking immediate gratification. The user-friendly interface simplifies the ordering process, allowing customers to explore a wide range of items, including snacks, groceries, and beverages, all available at their fingertips.
The inclusion of alcohol in GoPuff's offerings adds a unique dimension, addressing the demand for a comprehensive delivery service. Users can seamlessly add their preferred alcoholic beverages to their orders, making GoPuff a one-stop shop for a variety of cravings.
Gorillas
Gorillas, a rising star in the UK's food delivery landscape, specializes in revolutionizing the grocery delivery experience. The app's focus on "Grocery Delivery" succinctly captures its commitment to providing users with a seamless and efficient way to access their everyday essentials. What sets Gorillas apart is its unique approach to ultra-fast delivery, promising to bring groceries to customers' doors in just a matter of minutes.
The app's user-friendly interface makes grocery shopping a breeze, allowing users to navigate through a curated selection of products, including fresh produce, pantry staples, and household items. Gorillas' emphasis on speed is a game-changer, catering to the needs of those seeking quick and reliable grocery deliveries without compromising on quality.
Gorillas operates on a dark store model, meaning it maintains its inventory in local warehouses rather than traditional retail spaces. This strategy enables the app to fulfill orders swiftly, ensuring customers receive their groceries promptly. The curated product range encompasses well-known brands and Gorillas' private label items, providing a balanced mix of choices.
Glovo
Glovo, a prominent player in the UK's food delivery scene, offers a versatile and convenient platform for users seeking a diverse range of culinary delights delivered right to their doorstep. The app's primary focus on "Food Delivery" encapsulates its commitment to bringing a myriad of cuisines from local restaurants and popular chains directly to users' homes.
What sets Glovo apart is its broad spectrum of offerings beyond just meals. In addition to delivering restaurant-prepared food, the app caters to various needs, including grocery deliveries, pharmacy items, and even essentials from local stores. This comprehensive approach positions Glovo as a go-to app for users looking for a one-stop solution for their daily needs.
Navigating the Glovo app is a user-friendly experience, allowing customers to explore an extensive list of restaurants, cafes, and shops available in their vicinity. The app's interface is designed for seamless ordering, with features like real-time order tracking enhancing the overall user experience.
Gousto
Gousto, a prominent food delivery app in the UK, stands out for its unique approach to meal kit delivery. Unlike traditional food delivery services, Gousto focuses on providing customers with all the ingredients they need, along with step-by-step recipes, to cook delicious and freshly prepared meals at home. This innovative concept appeals to individuals who enjoy the process of cooking and want to create restaurant-quality dishes in the comfort of their kitchens.
One of the key strengths of Gousto is the variety and quality of its meal options. The app offers a diverse menu with a range of cuisines and dietary preferences, allowing users to customize their meal plans based on their tastes and dietary requirements. This flexibility makes Gousto suitable for a wide audience, from busy professionals seeking convenient cooking solutions to food enthusiasts looking for culinary adventures.
Navigating the Gousto app is a straightforward experience, with a user-friendly interface that allows customers to browse recipes, select meals, and manage their accounts seamlessly. The app also provides helpful features such as nutritional information, cooking times, and portion sizes, ensuring users have all the information they need to make informed choices.
Scoffable
Scoffable, a prominent food delivery app in the UK, has gained popularity for its efficient and convenient service, connecting users with a diverse range of local restaurants. The app focuses on delivering delicious meals from neighborhood eateries directly to the customers' doorsteps, providing a seamless solution for those craving a variety of cuisines without leaving their homes.
One notable feature of Scoffable is its extensive restaurant network, offering users a wide array of dining options to suit different tastes and preferences. From traditional favorites to trendy newcomers, Scoffable's platform encompasses a diverse selection of culinary experiences, making it a go-to app for individuals seeking variety in their meal choices.
Navigating the Scoffable app is a user-friendly experience with a straightforward interface that allows customers to easily browse through restaurant menus, place orders, and track deliveries in real-time. This simplicity contributes to the overall positive user experience, especially for those who appreciate a hassle-free and efficient ordering process.
Sainsbury's Groceries
Sainsbury's Groceries, a leading food delivery app in the UK, offers a convenient and user-friendly platform for customers to access a wide range of grocery products. With a focus on providing quality and freshness, Sainsbury's Groceries allows users to order essential items, including fresh produce, pantry staples, and household goods, all from the comfort of their homes.
One of the standout features of Sainsbury's Groceries is its extensive product selection. The app provides a comprehensive inventory, ensuring customers can find everything they need for their daily essentials. From fresh fruits and vegetables to dairy, meat, and non-perishable items, Sainsbury's Groceries aims to be a one-stop shop for household needs.
Navigating the app is a straightforward process, allowing users to browse through categories easily, add items to their virtual carts, and complete the checkout process with a few simple taps. This simplicity contributes to a positive user experience, making it accessible to individuals of all technological backgrounds.
Domino's
Domino's is one of the top UK food delivery apps, specifically focused on providing fast and delicious pizzas. It has become a household name thanks to its quick delivery service, a wide range of menu options –from traditional pizzas to pasta dishes, sandwiches, and more– as well as special offers and discounts.
Domino's also stands out with its innovative Pinpoint Delivery technology that allows deliveries almost anywhere –even parks!– in addition to its improved user interface, enhanced tracking feature, which provides real-time updates for customers, as well as sustainable packaging initiatives.
All these features make Domino's an ideal choice for pizza lovers who are looking for a convenient way to enjoy quality meals on the go.
Zomato
Zomato is a leading online food delivery service operating in over 1,000 cities across India and 500 cities worldwide. With Zomato, you can enjoy maximum convenience with an extensive selection of takeaways and restaurants to choose from.
Additionally, the app provides complete insight into menus along with user ratings and reviews for each outlet. Customers are also offered exclusive discounts and offers on special occasions, as well as loyalty programs that reward loyal users.
Zomato's contactless delivery feature ensures the safety of its customers by providing real-time tracking updates as well as sustainable packaging initiatives for minimal environmental impact both during transit and upon delivery.
Hungry House
Hungry House was a leading food delivery app in the UK, offering customers access to thousands of restaurants nationwide. Established in 2006 as an online takeaway ordering and delivery service, it boasted a network of over 10,000 restaurants.
The platform allowed customers to search for and order food from local restaurants servicing their area – providing fast and convenient options for delicious take-out meals.
Hungry House also offered loyalty programs for frequent users, special discounts on select orders, and regularly provided reviews by customers who had used the app before. Customers could easily rate their experience with Hungry House's intuitive user interface design – adding another layer of convenience that ensured better experiences going forward.
SUPPER London
SUPPER London is a high-end food delivery app operating in the UK that sets itself apart from other popular apps by offering luxurious and upscale meals. This luxury service offers takeaways straight from some of London's finest restaurants right to customers' homes. With its association with Michelin Star restaurants, SUPPER London allows users to enjoy restaurant-quality takeaway cuisine at home or work.
In addition to its delivery services, SUPPER London has also partnered up with popular platforms such as Deliveroo, Uber Eats, Just Eat, and Bolt Food, which makes ordering from it even more convenient. SUPPER London prioritizes providing top-notch meals that consistently receive high ratings from consumers.
To ensure a seamless ordering experience, the platform has established partnerships with leading third-party providers. SUPPER London is dedicated to delivering the finest dishes sourced directly from internationally acclaimed restaurateurs, many of whom boast one or more Michelin stars. This approach grants customers the privilege of enjoying gourmet cuisine straight from the most prestigious kitchens in town.
Top Food Delivery Apps in the UK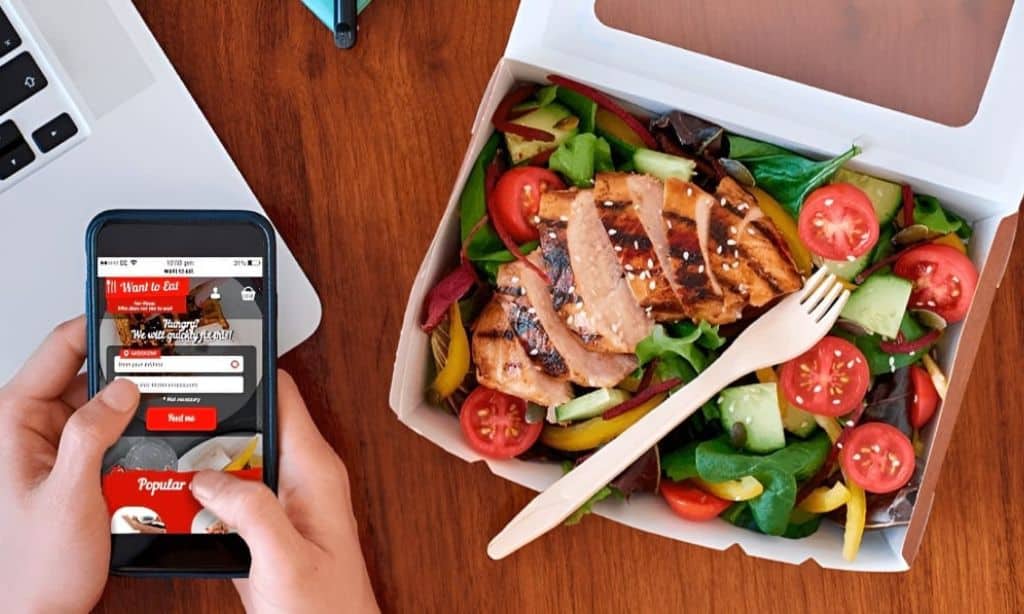 Here, we have listed an additional 50+ top food delivery apps in the UK with operating hours and main service areas.
| App | Typical Operating Hours | Main Service Areas |
| --- | --- | --- |
| Just Eat | 24/7 | Nationwide |
| Deliveroo | 12 pm-11 pm | Over 800 UK locations |
| Uber Eats | 11 am-11 pm | Over 700 UK locations |
| Foodhub | 11 am-11 pm | London, Manchester, Birmingham, Brighton |
| Glovo | 8 am-midnight | Central London, Manchester |
| Pizza Hut Delivery | 11 am-11 pm | Nationwide |
| Domino's | 10am-midnight | Most areas nationwide |
| Pizza Express Delivery | 12 pm-11 pm | Selected locations |
| Papa John's | 10am-midnight | Nationwide |
| Wagamama Delivery | 11:30 am-10 pm | Where available |
| Burger King Delivery | Varies | Select locations nationwide |
| KFC Delivery | Varies | 500+ locations nationwide |
| Starbucks Delivery | Store hours | Via Uber Eats |
| Five Guys Delivery | 11 am-10 pm | Where available |
| Leon Delivery | 8 am-11 pm | Key city centers |
| Pret A Manger Delivery | 7 am-7 pm | Where available |
| It Just Wings Delivery | 12 pm-9 pm | London via Deliveroo |
| Burger & Lobster Delivery | 12 pm-10:30 pm | Where available |
| Dishoom Delivery | Set lunch & dinner times | Where available |
| The Breakfast Club Delivery | 9-11:30 am weekends | London via Deliveroo |
| MeatLiquor Delivery | Varies | By location |
| Patty & Bun Delivery | Varies | By location |
| Pizza Pilgrims Delivery | 11 am-11 pm | Daily |
| Ping Pong Delivery | 11:30 am-10 pm | Daily |
| Franco Manca Delivery | Varies | By pizzeria |
| Zizzi Delivery | 12 pm-10 pm | Daily where available |
| ASK Italian Delivery | 11:30 am-10 pm | Nationwide |
| Prezzo Delivery | Varies | By location |
| Côte Brasserie Delivery | 12 pm-9:30 pm | Daily where available |
| Las Iguanas Delivery | Varies | By restaurant |
| Gourmet Burger Kitchen Delivery | 11:30 am-10 pm | Daily |
| Byron Delivery | Varies | By location |
| Honest Burgers Delivery | Varies | By site |
| Tortilla Delivery | 10:30 am-10 pm | Nationwide |
| K10 Delivery | Varies | By restaurant |
| Itsu Delivery | Varies | By store |
| PAUL Bakery Delivery | 7 am-7 pm | Daily where available |
| German Doner Kebab Delivery | 10:30 am-3 am | Daily |
| Millie's Cookies Delivery | 12 pm-12 am | Via Deliveroo |
| Crussh Fit Food Delivery | 7 am-5 pm weekdays | Where available |
| Island Poke Delivery | 12 pm-9 pm | Daily where available |
| Neat Burger Delivery | 11 am-10 pm | Daily |
| Shake Shack Delivery | Varies | By site |
| Wingstop Delivery | 11 am-11 pm | Daily |
| Chopstix Noodle Bar Delivery | 11 am-10 pm | Daily |
| Abokado Sushi Delivery | 11:30 am-9 pm weekdays | Where available |
| Joe & The Juice Delivery | 7 am-7 pm | Daily via Deliveroo |
| Pure Delivery | 8 am-6 pm weekdays | Where available |
| Tossed Delivery | 11 am-9 pm | Daily where available |
| Pod Delivery | 11 am-9 pm weekdays | Where available |
| Grind Delivery | Varies | By location |
| Creams Cafe Delivery | Varies | By location |
| Black Sheep Coffee Delivery | 7 am-6 pm weekdays | Via Uber Eats |
| Breddos Tacos Delivery | Set lunch & dinner times | Weds-Sun |
| Homeslice Pizza Delivery | Varies | By location |
| Steak & Honour Delivery | 11 am-11 pm | Daily where available |
| Poppies Fish & Chips Delivery | 11 am-10 pm | Nationwide |
| Meat Mission Delivery | 10 am/11 am-10 pm | Weekdays/Weekends |
Table: List of Best Food Delivery Apps in the UK with Hours and Service Area
Comparison of Features and Services
Get an insight into the features, services, and offerings of some of the top food delivery apps in the UK to find out what works best for you.
Delivery Options
UK consumers have a range of delivery options to choose from when ordering food through popular apps. JustEat, Deliveroo, UberEats, Food Hub, and others offer standard home delivery as well as the ability to pick up orders at participating restaurants or locations.
Gousto and Domino's also provide dedicated order pick-up services in addition to their standard restaurant delivery services. On the other hand, Zomato and Hungry House cater solely to restaurant food deliveries, while SUPPER London specializes in hot meal subscription boxes with door-to-door drop-offs.
All listed apps allow users to have a contactless delivery option for their safety amid COVID-19, where customers can pay online before receiving their order at the doorstep, avoiding any physical contact with the driver/rider by scanning either the QR code or menu barcodes right on their app itself.
Range of Cuisines
The top food delivery apps in the UK offer a wide variety of cuisines and meals to choose from. JustEat, Deliveroo, and UberEats provide global cuisine such as Chinese, Italian, Indian, Mexican, Thai, Japanese and more.
Other apps like Food Hub serve classic British takeaways like fish & chips and other favorites. Takeaway.com specializes in Dutch cuisine with options like croquettes or bitterballen, while Gousto offers healthy recipe-based meals for those looking for healthier options.
Domino's has an extensive menu of pizzas ranging from classics to unique flavors while Zomato provides popular Indian dishes prepared by local chefs around the country, including biryani served in chain restaurants.
User Ratings and Reviews
As an important source of information, user ratings and reviews can provide insights into the quality of service, reliability, and overall customer satisfaction. Customers rely heavily on this feedback to make informed decisions when selecting a food delivery app in the UK.
Reading through genuine customer experiences from trusted sources can help users identify which services are good or bad based on submitted scores and comments. This removes much of the guesswork that may exist for generic online search results.
Ratings not only reveal if customers have had satisfactory or unsatisfactory experiences, but they also give readers a glimpse at how satisfied they were with different aspects, such as the accuracy of order arrival times and overall value for money spent.
Loyalty Programs
Loyalty programs in food delivery apps offer customers discounts or cashback to encourage them to stay loyal and keep coming back. These incentives bring financial benefits to both businesses and consumers; businesses benefit from improved customer retention rates, while customers can enjoy discounted prices for their favorite dishes.
Paid loyalty programs are proven to be effective at motivating customers as they demonstrate value through immediate rewards that foster an emotional connection with the brand. Many restaurants have adopted these strategies to increase customer loyalty, attract new users, and improve their business in the long run.
Loyalty programs also serve as an excellent way of engaging customers beyond traditional offerings such as promotional campaigns or discounts.
Latest Updates and Innovations
[Video Credits @MarieWeaver]
Stay updated with the latest innovations in food delivery apps, like contactless delivery options and enhanced tracking. Check out which app suits you best!
Integration with Smart Home Devices
Advances in the Internet of Things are bringing many changes to the food delivery service industry. Food delivery apps in the UK now allow customers to integrate their accounts with smart home devices, such as Amazon Echo and Google Home, for enhanced convenience when ordering online.
This provides users with an improved experience by enabling remote monitoring and management of deliveries through voice-controlled instructions. Furthermore, personalized recommendations based on past orders can be made quickly using these apps, which allows for a faster ordering experience.
Moreover, seamless payment processes enable customers to securely pay via their contactless card or other popular payment methods within seconds after placing orders. Ultimately, this technology is overshadowing traditional ways of getting takeout meals without having to get off the couch at all.
Contactless Delivery Options
Contactless delivery has become increasingly popular among food delivery services in the UK, especially during the COVID-19 pandemic. Contactless delivery allows customers to get their food orders without contact.
The process usually includes leaving food orders at the customer's doorstep or a designated safe place. This helps ensure safety and convenience while ordering food online. Integration of existing technologies can help businesses provide a seamless customer experience with contactless deliveries where they will be able to track and monitor their proceedings minutely in real-time using a variety of automated technologies like GPS tracking systems.
Implementing real-time updates at every stage of the delivery process until the order reaches the customer's doorstep or a designated safe pickup location significantly enhances user satisfaction. This feature simplifies the management of customer expectations throughout the entire process.
Major delivery platforms like Just Eat and Deliveroo have embraced contact-free delivery options, gaining popularity due to their substantial benefits. These include upholding safety protocols and efficiently meeting customer needs cost-effectively compared to traditional methods.
Enhanced Tracking and Real-Time Updates
Food delivery apps in the UK incorporate high-tech tracking and updates to ensure consumers have a better user experience. This technology includes GPS mapping so customers can track the real-time location of their delivery agents and monitor the progress of their orders, such as when they've been collected from the restaurant or when they're predicted to arrive.
Knowing an accurate estimated time of arrival helps reduce customer anxiety about missing deliveries, making it easier for businesses to operate efficiently. Additionally, real-time updates allow restaurants to customize menus for individual customers, increasing order sales opportunities while also providing valuable data that can be used to optimize menus and improve overall customer satisfaction.
Improved User Interfaces
Technology has revolutionized food delivery, making it easier and more convenient for users to order restaurant meals. Whether it is ordering from JustEat or Gousto, modern-day food delivery services rely heavily on technology to make the user experience smoother, faster, and simpler.
Innovations such as integration with smart home devices, contactless delivery options, and enhanced tracking capabilities contribute to an improved user interface. The process of ease-of-use has been further streamlined by tech startups like Deliverect, who have created central hubs between food delivery service providers and restaurants.
This means that orders can be quickly processed in real-time, saving both customers time waiting for their meal as well as reducing waste in kitchen preparation times, something UK consumers have come to expect from any service provider they use.
Sustainable Packaging Initiatives
In the UK, food delivery services are increasingly aware of their environmental impacts and taking steps to reduce them. Many have implemented sustainable packaging initiatives such as biodegradable materials, reduced plastic use, reusable containers, and recyclable labeling.
By eliminating unnecessary packaging components or switching to alternative materials with lower environmental footprints, these apps are cutting down on waste production and reducing their impact on our planet.
Some innovative companies have even introduced contactless pick-up services that allow users to access takeout items directly from restaurants without having them delivered in traditional packaging.
Customer Experience and Satisfaction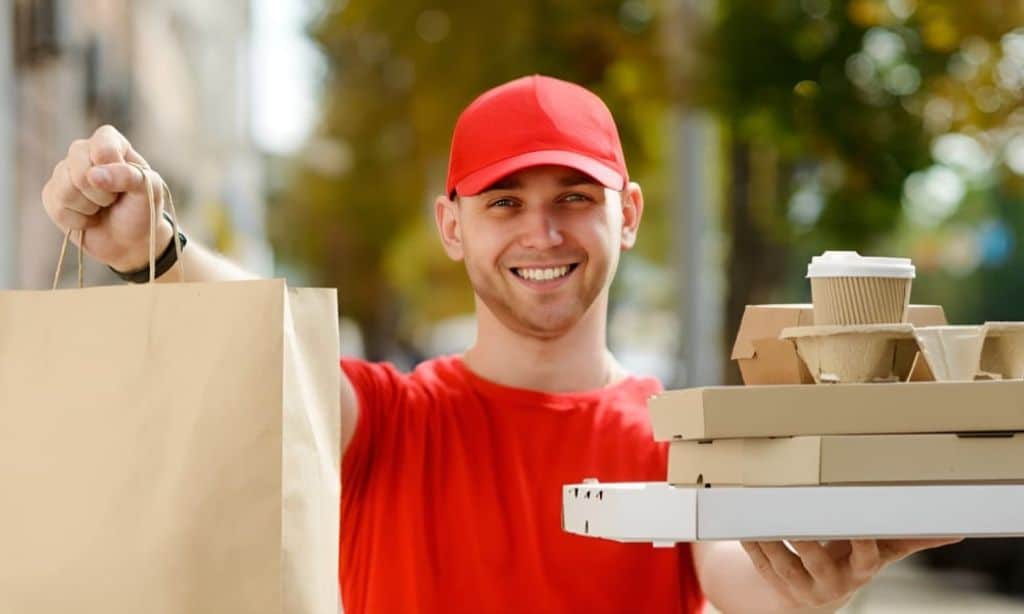 Get a glimpse of the quality and reliability metrics that each app offers, with key measures such as speed of delivery, food quality, customer support responsiveness, and user-friendly design.
Explore now to find your perfect match!
Speed and Accuracy of Deliveries
is essential for customers looking for a convenient food delivery service. Whether it's a lunchtime quick fix or an evening takeaway, fast and accurate delivery is key to ensuring customer satisfaction.
Delivery accuracy relates to the consistency between what customers order and receive. Incorrect orders can turn even the most satisfied customer into an unhappy one! Innovations such as GPS tracking, real-time updates, predictive algorithms, and contactless deliveries help ensure that food arrives on time, allowing customers to avoid uncertainty about when their meals will arrive.
Customers also benefit from faster deliveries due to automated booking systems, which reduce transaction times significantly so orders can be processed quickly with minimum fuss. In addition, reliable customer support means any discrepancies or problems with orders can be easily sorted out.
Quality of Food and Packaging
The quality of food and packaging is a key factor that affects customer satisfaction with online food delivery services. Poor-quality ingredients, incorrect order information, and inadequate packaging can lead to an unsatisfactory product that fails to meet customers' expectations.
Delivery apps need high standards when it comes to the selection of food items and packaging materials to ensure safe and hygienic deliveries. Users demand fast turnaround times combined with reliable products, so they have complete confidence in ordering from the platform.
By upholding rigorous protocols when it comes to sourcing ingredients, setting appropriate portion size limits for each item on their menus, and utilizing recyclable or biodegradable containers for takeout orders, food delivery services can guarantee user satisfaction as well as minimize wastage during transit time.
Customer Support and Responsiveness
are essential components to providing great customer service for food delivery apps in the UK. Positive customer interactions with timely support and a responsive platform create higher levels of customer satisfaction, leading to positive word-of-mouth marketing that can further drive company success.
Companies like Amazon, Starbucks, and Lexus have effectively used strategies such as 24/7 phone support lines, live chat with knowledgeable representatives, and automated notifications that provide updates on shipping statuses or deliveries; others have implemented personalized service tracking systems and feature enhanced tracking for accountability purposes.
These practices serve across multiple industries, from retail to food delivery services, as customers today expect fast responses to their queries and high-quality products/services provided at an affordable rate.
User-friendly app design and navigation are key components of customer satisfaction for food delivery apps. A food delivery app must have an intuitive user interface, easy-to-understand features, and simple directions for navigating the various screens.
A well-designed, easy-to-use app helps restaurant owners improve their customer experience and leads to improved customer satisfaction. Customers can quickly find what they need with minimal effort and increased overall efficiency of their orders.
With many of today's food delivery apps introducing enhanced tracking services as well as contactless payment options, streamlined user interfaces are an integral part of delivering users smooth experiences both during ordering as well as during deliveries.
Digital product designers must balance aesthetics with usability for customers to place orders confidently without feeling exasperated by clunky UX designs or unresponsive buttons that get in the way of completing transactions smoothly or browsing menus effortlessly.
Frequently Asked Questions (FAQs)
Now let's learn about some common questions on the best food delivery apps in The UK
1. What is the most used food delivery app in the UK?
Deliveroo is widely favored as the most used food delivery app in the UK, known for its extensive restaurant choices and efficient service.
2. What are the top 3 food delivery apps?
The top three food delivery apps in the UK are Deliveroo, Just Eat, and Scoffable. These platforms offer a diverse range of cuisines for convenient and quick deliveries.
3. Who is UberEats competitor UK?
Just Eat is a prominent competitor to Uber Eats in the UK. Both platforms compete for customer attention by providing various restaurant options and efficient delivery services.
4. Does the UK have DoorDash?
No, DoorDash does not currently operate in the UK. While DoorDash is one of the most popular food delivery platforms in the United States, it has not yet expanded its services to the UK market. The main players delivering food from local restaurants to UK customers continue to be apps like Deliveroo, Uber Eats, Just Eat, and some smaller regional operators like Foodhub.
5. Does Swiggy work in the UK?
No, Swiggy does not currently operate in the UK. Swiggy is an Indian food delivery platform that is mainly focused on the Indian market.
Takeaway
Choosing the right food delivery app to meet your needs can seem like a daunting task. With so many options available, it's important to consider all of the features and services offered by each one.
JustEat, Deliveroo, Uber Eats, FoodHub, and Gousto are some of the top apps for food delivery in the UK and offer a range of services, from contactless delivery to loyalty programs. It's important to take into account user ratings and reviews as well as overall customer experience when selecting an app.
Additionally, special offers and discounts should be considered when deciding which one is right for you. When making this decision, you should factor in just how convenient it will be when ordering your meals; taking advantage of various features such as tracking systems or search filters may help with that selection process, too!
At the end of the day, there's no wrong choice – what matters most is which option works best for you!