Best Food Delivery Apps in Indonesia: Here Are the Top 10 Apps to Satisfy Your Crave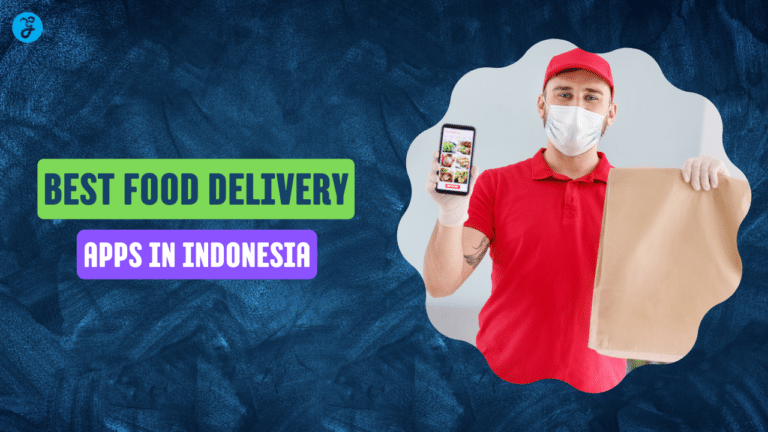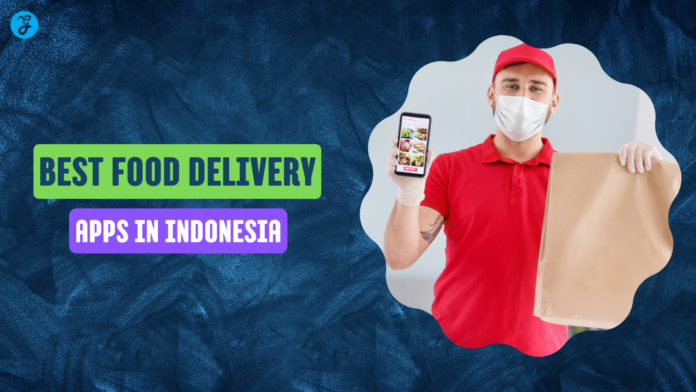 Are you looking for efficient ways to deliver your favorite meal directly to your doorstep? Indonesia has recently seen explosive growth in food delivery services as people prefer the convenience of having their meals at home during the pandemic. In this article, we will discuss some of the best food delivery apps in Indonesia and what makes them unique so you can pick one according to your needs and preferences.
We'll also talk about important updates and developments related to these apps, along with safety measures taken by them during times like these. From pricing comparisons to customer service guidelines, you'll find everything here!
So, dive right in and learn about the best Indonesian food delivery services.
Content Highlights
GoFood, GrabFood, and McDelivery Indonesia have become increasingly popular due to their convenient, affordable services.
Customers consider factors such as speed of delivery, range of options available, payment options, and user reviews/ratings when choosing a food delivery app.
Popular apps in Indonesia include GoFood, GrabFood, McDelivery Indonesia, HappyFresh, Uber Eats, and Jumia Food Delivery, to name just a few.
When selecting an online food delivery service, compare wait times for orders, pricing modules, loyalty programs or rewards offered, and user reviews/ratings before settling on one that best meets your criteria.
10 Best Food Delivery Apps in Indonesia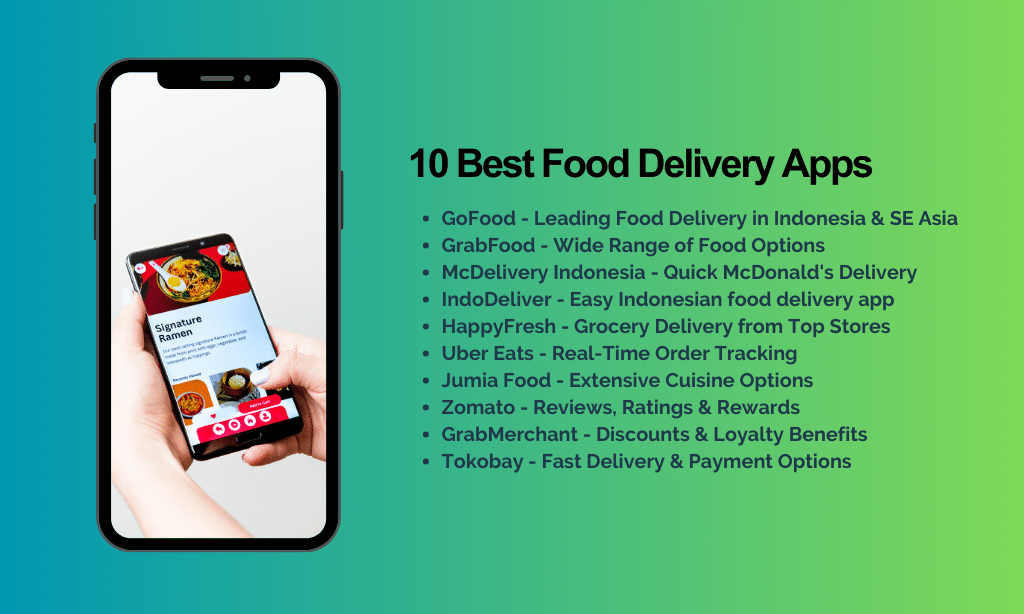 This section covers the most popular apps for food delivery in Indonesia, from GoFood to GrabMerchant and Tokobay.
GoFood
GoFood is the leading online food delivery service in Indonesia and Southeast Asia, run by Jakarta-based ride-hailing and super app GoJek. It has become the most popular food delivery platform in Indonesia with 400,000 sellers and millions of monthly customers due to its high-quality services.
In 2021, 78% of respondents surveyed stated that GoFood was their most frequently used food delivery app, offering a wide range of options and increasing the speed of deliveries. Its success can be attributed to its affiliation with GoJek and improved convenience for customers and merchants, including special offers, discounts, and loyalty programs through seamless payment options.
This makes it an ideal choice for Indonesians when looking for the best food experience while ordering from home or on the go.
GrabFood
GrabFood is one of the most popular food delivery apps in Indonesia. Owned by Grab, a popular ride-hailing and super-app platform, this app stands out from the competition due to its expansive range of food options on offer.
User experience has been enhanced further with faster deliveries and contactless payment methods such as e-wallets. GrabFood also offers competitive pricing and special deals to help customers save more money on their orders.
It has become even more widespread following recent collaborations with restaurants like KFC Indonesia and Burger King Indonesia for convenient home delivery services. With frequent updates that improve user feedback, it's easy to see why GrabFood leads the industry in providing top-quality online food deliveries throughout the country.
McDelivery Indonesia
McDelivery Indonesia is a premier food delivery app in Indonesia and one of the first apps to be developed for this market. The app makes ordering their favorite McDonald's menu items quick and easy, such as burgers, chicken nuggets, fries, and more.
It can be downloaded on both the App Store and Google Play platforms. The registration process with McDelivery requires customers to fill out basic personal details, including their name, contact information, and address, while also agreeing to specific terms & conditions set by McDonald's Delivery service.
Customers can place McDonald's orders easily from their iPhones or iPads. The app has a wide menu to choose from. The app is designed to make ordering simple and fast. Users don't have issues checking out or finding menu options.
McDelivery Indonesia is great for quick meals delivered to your home or office. You can get your food fast after ordering. This saves time compared to sitting in traffic jams in cities like Jakarta and Bali. The app makes it easy to get McDonald's delivered. It's convenient when you want fast meals without hassle. This makes it very popular for busy Indonesians who want fast food delivered.
HappyFresh
HappyFresh is a widely popular on-demand grocery app in Indonesia that has revolutionized the food delivery market. Boasting over 600 supermarkets and fresh markets across major cities in Indonesia, it allows users to shop from top stores such as Tesco, Big C, and Sunshine with convenience.
In addition to that, HappyFresh takes care of the tedious task of grocery shopping by offering a wide range of options for customers – they can choose their preferred time slot for delivery or even select various payment methods.
HappyFresh offers clear user reviews and ratings to guarantee satisfaction while keeping customers informed. What's more, they can also customize orders according to their needs.
Uber Eats
Uber Eats is one of the top food delivery apps in Indonesia, offering its users convenience and choice when it comes to ordering their favorite meals from local restaurants. It allows customers to track their orders in real-time, providing visibility at every step with notifications such as order confirmation, pick up, and expected time of delivery.
Additionally, Uber Eats provides a broad range of culinary options that give customers access to food even outside the traditional opening hours of most restaurants. On top of this, riders can count on payment options that were specially tailored for the Indonesian market, including debit/credit cards or cash on arrival, depending on each user's preference.
Moreover, customer satisfaction has been highly rated as reviews indicate people enjoy the user-friendly experience Uber Eats offers while special offers are regularly provided for loyal users.
Jumia Food Delivery
Jumia Food is one of the leading food delivery apps in Indonesia, providing customers with a convenient platform to order meals from hundreds of restaurants and shops. The app is associated with other popular food delivery apps such as Gojek, Grab, McDelivery Indonesia, Pizza Hut Indonesia, HappyFresh, and Uber Eats.
Jumia Food has a value of $1 billion and operates in nine countries across all Southeast Asian regions. It offers users an extensive range of cuisine options to easily find something that suits their tastes and preferences.
Additionally, consumers can expect fast deliveries thanks to Jumia's efficient ordering system plus access to various payment options ranging from cash on delivery (COD) to credit cards or bank transfers, making it easier for them to shop without any hassle.
Zomato
Zomato is an extremely popular food delivery app in Indonesia. It has gained users' trust and loyalty due to its extensive range of meal options, fast delivery services, secure payment options, user reviews and ratings, rewards programs, and frequent special offers and discounts.
This app stands out from other competitors thanks to its restaurant aggregator business model – allowing customers to compare menus between various restaurants before deciding what they like best.
Additionally, it simplifies the order tracking process with its real-time tracker feature that lets users stay updated on the estimated arrival time of the food orders. Its success can also be attributed to customer feedback being considered when developing new features and updates for a more satisfying experience.
IndoDeliver
IndoDeliver, a trailblazing force in Indonesia's food delivery landscape, redefines the dining experience with unparalleled convenience. Serving as a culinary bridge between consumers and a rich tapestry of flavors, IndoDeliver ensures swift and reliable delivery of diverse cuisines right to the doorsteps of eager patrons.
Its user-friendly interface seamlessly navigates through an extensive array of local and international culinary gems, offering a delightful feast for every palate. IndoDeliver's commitment to customer satisfaction is evident in its efficient service and thoughtfully curated selection of restaurants. It not only delivers meals but transforms ordinary moments into extraordinary gastronomic adventures.
GrabMerchant
GrabMerchant is a leading food delivery app in Indonesia associated with the top apps, such as GoFood, GrabFood, and McDelivery Indonesia. It offers special features that make it an ideal choice for users looking for convenience and savings during their order.
Through partnerships with local businesses, GrabMerchant provides customers with various discounts on orders, particularly those placed on certain days of the week. Furthermore, to ensure maximum benefits when purchasing from shops or restaurants directly through the app, users can take their existing loyalty cards, which they have previously created from partner locations, to receive additional offers and promotions.
In addition to this service-based benefit, Grab recently launched its dine-in feature, allowing customers in 15 cities across Singapore, Thailand, and Indonesia to pre-purchase vouchers through the Grab app at discounted prices, especially helping people save costs during these uncertain times caused by COVID-19.
Tokobay
Tokobay is a leading food delivery app in Indonesia, offering users a wide range of food options from local restaurants and franchises. With their exclusive partnerships with top Indonesian businesses and restaurants, Tokobay can provide customers with convenient access to the menu items they desire.
In addition to a good selection of meal choices, Tokobay stands out from other offerings due to its speedy delivery service and various payment options such as debit cards, credit cards, or e-wallet payments.
The app also caters to user reviews and ratings, giving customers valuable insight into the meals they order before purchasing them. Furthermore, for those who want discounts on their meals, special offers such as loyalty programs are available through either Top Hooked or Catch Reward Points when customers shop at certain merchants via Tokobay. Additionally, you can also read Best Food Delivery Apps in Singapore.
Overview of the Food Delivery Market in Indonesia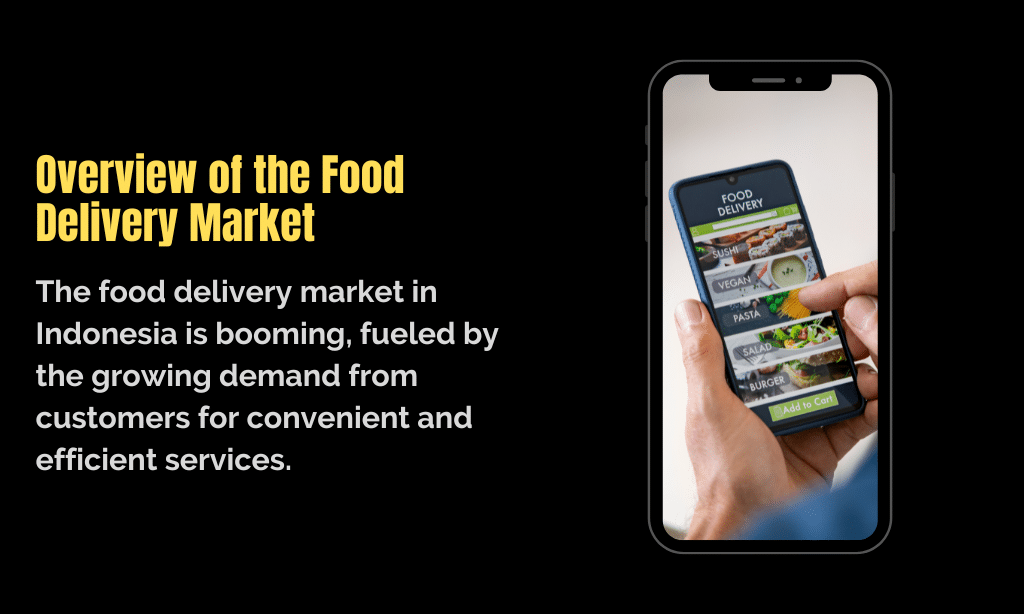 The food delivery market in Indonesia is booming, fueled by the growing customer demand for convenient and efficient services.
Growth and Popularity
Indonesia's online food delivery market is projected to reach US$33.21 billion by 2027, signifying an impressive growth of 20.03%. Food delivery apps like GoFood, GrabFood, and McDelivery Indonesia have seen tremendous success within the last five years due to their convenience and affordability. With every passing month, more people switch from traditional dining out or cook-at-home options to ordering from digital platforms for a much wider selection of dishes at competitive prices.
Surveys show that 75% of people in Indonesia regularly order food delivery. Platforms like Jumia Food Delivery and Uber Eats have made it easy for customers to access various restaurants right from their homes. These apps provide an excellent user experience through features that let you easily browse menus, customize your order, and even leave feedback on specific dishes. This level of control and customization is not possible with dine-in options.
Food delivery apps give a sense of flexibility and convenience that many Indonesian customers greatly appreciate. The ability to get food from numerous cuisines delivered right to your door has driven the popularity of these services. It's an efficient way to enjoy a meal of your choice without the hassle of going out or cooking yourself. The high adoption rate shows how food delivery changes how Indonesians access and enjoy dining experiences.
User Preferences and Behavior
In Indonesia, online food delivery services have experienced tremendous growth in the past decade. Customer behavior towards these platforms differs from that of traditional food delivery services as customers now look for more convenience and personalized experiences.
A study by Deloitte identified factors influencing customer preferences for online food delivery, with 75 percent of respondents rating GoFood as their favorite app. Factors such as speed of delivery, range of options available, payment options, and user reviews or ratings are what people consider when choosing an app to use.
Apart from this, The Impact on Eating-Out Habits in Indonesia report discussed how consumers' decisions to dine out or order at home have changed due to the rise in popularity of online food deliveries.
Customers are increasingly looking for value-added services such as reliability and quickness while considering price-conscious features like discounts or promotional codes from apps like Zomato, Uber Eats, and other popular platforms. If you're interested, you can also read Best Food Delivery Apps in New Zealand.
Features and Benefits of Each App
[Video Credit: @GigHustle]
Compare Indonesia's various food delivery apps to find the one that best meets your needs.
Range of Food Options
Food delivery apps in Indonesia offer a wide variety of cuisines covering both local and international dishes to satisfy the different culinary cravings of users. Gojek's GoFood offers Indonesian classics such as nasi goreng, soto, and ayam geprek, which are popular on the streets of Jakarta.
GrabFood has expanded its offerings with famous brands like reigning mie pangsit champs 'Kang Koan' noodle shop from East Java. McDelivery also presents celebrities' home-cooked recipes through collaborations with food icons like chef Sisca Soewitomo.
HappyFresh serves up dishes from top grocery retailers such as Ranch Market, Farmers Kitchen, Humana Grocery Store, and other specialty outlets for unique ingredients not readily available elsewhere.
Delivery Speed
Food delivery apps have become increasingly popular in Indonesia with the introduction of new technologies and improvements in their services. Delivery speed is an important factor for users when choosing a food delivery app, as they want to get their order as soon as possible without spending too much time waiting.
The top food delivery apps, GoFood, GrabFood, McDelivery Indonesia, HappyFresh, Uber Eats, and Jumia Food Delivery, offer quick deliveries with average times ranging from 15 minutes to 30 minutes.
These apps use intelligent routing technology to scan various fast routes and assign orders accordingly to reduce transit duration. They also employ real-time monitoring techniques that track drivers' location at any given moment and deliver orders quickly based on the location information they collect.
Furthermore, most of these providers give customers updates on order statuses via emails or notifications so they can know exactly when their meal will arrive at minimal wait times.
Payment Options
In Indonesia, customers have plenty of choices regarding payment methods for food delivery apps. Cash on delivery, credit card payments, and mobile payment methods are the most common forms of payment available.
For example, GoFood is an immensely popular app in Indonesia that likely offers multiple payment options for convenience-seeking customers. Likewise, Grab and Foodpanda have recently enabled dine-in orders as well as contactless food deliveries that may offer additional ways to pay for your cuisine.
However, due to a lack of differentiation and transparency among different services within the food delivery ecosystem in Indonesia. customers may not be aware that some apps charge more fees or take longer time frames to process certain payments than others do.
User Reviews and Ratings
Having user reviews and ratings handy when searching for the best food delivery apps in Indonesia is essential. User feedback helps provide direct insights into the quality of service, delivery speed, and overall customer experience offered by different providers.
It also gives consumers an insider's view regarding specific restaurants without having to visit them or order a meal beforehand physically.
Take GoFood for example. The app has been praised among Indonesian residents for its convenience due to its quick response time and reasonable fees; hence, it was voted as the preferred food-delivery app according to a survey by Rakuten Insight. Around 75 percent of respondents chose it ahead of other available options.
According to surveys conducted on the Google Play Store, Gojek's associated mobile application has maintained a high rating of 4 stars or above out of all submissions received from users throughout Indonesia since 2019.
Special Offers and Discounts
Discounts and special offers are effective strategies used by food delivery apps in Indonesia to attract new customers and increase customer loyalty. Some popular discounts and offers available on top food delivery apps include reward programs, cashback programs, loyalty programs, and promotional codes.
For instance, GoFood is one of the leading food delivery applications in India offering attractive discounts on its services. It has a loyalty program for regular users that rewards them points every time they make an order or refer a friend.
These points can then be used to get additional discounts on future orders. Similarly, GrabFood also provides discounted vouchers that allow loyal customers to enjoy free meals upon reaching certain spending limits.
Updates and Latest Developments
Keep up to date on the new developments within the food delivery market in Indonesia and see how each app is evolving with features, partnerships, and customer feedback. Read more to find out!
New Features
Many food delivery apps have launched new features to improve user experience and safety. GoFood, for instance, has integrated AI-based technology to track customer orders more accurately and provide better ETAs.
GrabFood has released a 'No Contact Delivery' feature by leveraging contactless payment options such as Apple Pay or Google Pay. HappyFresh now offers free 30-minute express grocery deliveries in Jakarta with no minimum order amount.
HappyFresh partners with local retailers to offer products at discounted rates, ranging from fresh fruits and vegetables to daily household essentials. Uber Eats includes nutrition labels for all items on its menu boards, which can be viewed before ordering a meal.
Jumia Food plans to diversify its product range beyond just restaurant meals and introduce additional categories, including prepared home-lifted meals, ready-to-cook meal sets, freshly baked cakes, and grocery shopping services soon.
Partnerships and Collaborations
The food delivery market in Indonesia is growing rapidly, and several different companies have established crucial partnerships to maximize their benefit. Companies like GoFood, GrabFood, McDelivery Indonesia, and HappyFresh have engaged in retail collaborations with popular brick-and-mortar stores to expand their presence and influence.
By partnering with partners such as MatahariMall, Alfamart, and Indomaret, these platforms can leverage the network of on-ground outlets, maximizing geographical coverage while adding value for customers.
In addition to this, many brands also utilize influencer marketing campaigns across social media using Instagrammers or YouTubers that can help increase user awareness. Influencers from ALIGULI who have worked with deciding effective partnerships between Grabfood & Nando's as well as food Dirry, who successfully increased sales after teaming up with Gofood, are just some examples of successful partnership strategies implemented by Indonesian brands hoping to capitalize on this trend.
Expansion Into New Cities
Indonesia's top food delivery apps have been rapidly expanding into new cities and regions to meet the increasing demand for online food delivery. This expansion has brought about several benefits for both users and app companies.
For instance, by expanding their coverage area, these companies can provide even more convenience to customers who don't live or work in the more densely populated areas where most restaurants are located.
Additionally, partnerships with local businesses allow them to offer a wider range of menu options that wouldn't otherwise be available. Popular locations for expansion include Bali and Jakarta, as well as other major cities across the country like Surabaya and Medan.
GrabFood and Foodpanda-owned Gofood have each also recently announced dine-in services, which will be made available at 15 locations throughout Singapore, Thailand, and Indonesia, with plans for further growth later this year.
User Feedback and Improvements
User feedback plays a critical role in the success of food delivery apps in Indonesia as it helps companies understand user needs and preferences better, as well as any issues or problems users may be facing.
Listening to the voices of customers helps businesses strengthen their product offerings and provide an enhanced experience for customers. Many food delivery apps have implemented customer feedback into their business model by introducing surveys and rating systems, amongst other features.
By knowing how users feel about products or services, brands can develop meaningful changes that enhance customer satisfaction levels. For example, GoFood introduced a new 'Rapid Pick Up' button, which lets customers quickly re-order previously purchased items with no hassle; this was put into place based on customer requests from their feedback forms.
Comparison of Apps
It is important to analyze the pricing structure, delivery coverage, customer service levels, and interface of each leading food delivery App in Indonesia before making a selection.
Pricing
In Indonesia, food delivery apps offer consumers varying prices for different meals. Meal price markups over the recommended list price (RLP) in this country can fluctuate between cities.
Users should pay attention to the meal cost when ordering from any of these services to be aware of potential differences in pricing that may occur. In addition, there may also be a service fee associated with some orders, depending on the delivery app and location.
Delivery fees are another cost users must consider, as they will change according to the market or area where a user lives and chooses his order. Thus, customers need to understand their options properly before using a particular food delivery app, allowing them to make maximum savings on their orders.
Delivery Coverage
The top food delivery apps in Indonesia all offer extensive coverage, reaching most urban areas and many smaller cities and towns. Most provide free delivery within a predetermined radius, which can range from 10 to 25 kilometers.
GoFood is one of the largest providers, with over 800 service points across several Indonesian cities, including Jakarta, Bandung, Yogyakarta, Surabaya, and Bali. GrabFood similarly boasts a wide reach with services available in five major Indonesian cities and other popular tourist destinations such as Malang and Lombok.
McDelivery offers a nationwide service via partner restaurants like McDonald's, while HappyFresh covers more than 25 provinces throughout the country. Meanwhile, Uber Eats brings thousands of restaurant options at over 40 locations throughout Indonesia while Zomato caters to both international cravings through its global network and local cuisines that vary by city/region served.
Customer Service
The top food delivery apps in Indonesia provide excellent customer service experiences: many of them are highly responsive to user queries and requests, with live chat support available from numerous platforms.
The quick resolution rate of customer complaints is outstanding, with most issues being resolved swiftly by the attentive staff. User satisfaction is also generally high due to the level of personalization offered – users can customize orders as they like or submit special requests, which are often fulfilled quickly.
Furthermore, several services offer loyalty rewards for repeat customers, such as discounts and free deliveries, so their customers keep returning for more. In addition, feedback systems allow customers to leave reviews for different meals and general ratings about their overall experience, which help other users decide what dishes look delicious while providing invaluable data from real consumers on how these apps compare in terms of customer service excellence.
App Interface and User-Friendliness
Regarding food delivery apps, a well-designed user interface is essential for providing a smooth and seamless ordering experience. App design plays an important role in creating an enjoyable and easy-to-navigate user journey, which can significantly impact customer satisfaction levels.
With the right combination of visuals, text navigation options, menu browsing features, payment methods, and more, users should be able to place orders with the tap of a finger.
Additionally, user-friendliness is key when searching menus quickly or finding the most relevant dish for your taste – ensuring that customers are satisfied with their purchase decision as soon as they confirm each order.
User Tips and Recommendations
Provide helpful advice on making the most of food delivery services, such as when is the best time to order and which restaurants offer discounts.
How to Maximize Convenience and Savings
Several strategies and tips can help users increase their convenience and save money when using food delivery apps in Indonesia. Utilizing user tips and recommendations is key to making informed choices; customers can research ratings and feedback from other users to identify the best services available and any potential pitfalls or problems.
Popular dishes and restaurants should also be considered: some platforms may offer discounts for ordering popular menu items, while others may have exclusive partnerships with certain vendors.
Customers can also use customization options, such as adjusting portions or adding additional toppings. Loyalty programs offered by most delivery apps provide another convenient way to maximize savings as they reward frequent orders with discounts on future orders.
Best Times to Order
Ordering food through delivery apps is a great way to enjoy delicious meals at home during these challenging times. To make the most out of this experience, it is important to consider peak hours and plan accordingly.
Generally, mid-afternoon and late evening (roughly between 12-4 PM and 8-10 PM) are the busiest times with higher demand for orders as many restaurants typically close earlier than usual in Indonesia.
This means that getting an order done quickly can be more difficult during rush hour periods, so it might be better to opt for early morning or off-peak order timings (around 11 AM – 1 PM).
Popular Dishes and Restaurants
Food delivery apps in Indonesia have access to a vast range of cuisines and dishes from different restaurants, making it easy for anyone to order their favorite meal. From savory rendang curry to tantalizingly sweet pisang goreng (fried banana) dishes, these food delivery apps offer something for everyone's taste buds.
Furthermore, many restaurants are specifically tailored to the specific dietary needs of Indonesian customers, such as vegan options and Halal certification by Muslim organizations.
Popular outlets include Orh Nee Cafe and Bakery, which offers customers an array of Western-style cakes with an Indonesian twist; Gubug Mang Engking, which provides authentic traditional Javanese cuisine; Asli restaurant popular for its classic meat therapies combined with local heirloom vegetables; and Roti Bawah Pohon serving up a light yet tasty nasi gohuo or coconut soup rice offerings.
Customization Options
Customization options are essential for delivering an exceptional user experience for food delivery apps. This includes choices such as dietary restrictions, ingredient substitutes, location-specific recommendations, and more.
For instance, GoFood lets users customize their orders by adding special requests, choosing preferred cuisines, or sorting out restaurants according to their ratings. Customers can specify seafood or pork-free recipes based on allergies and intolerances while ordering from the restaurant of their choice through custom food delivery apps like Tokobay.
Moreover, with these applications, it's possible to add a personal message when sending meals as a gift, even allowing you to attach little details like messages for no plastic bags or napkins in case the person receiving them is eco-friendly!
Additionally, different customization options help customers easily access top locally available dishes from multicultural regions, which otherwise would have gone completely unnoticed.
Loyalty Programs
Loyalty programs have become increasingly popular among food delivery apps in Indonesia, providing businesses with a range of new opportunities to increase revenue growth and improve customer retention.
Customers are incentivized to stay loyal through special offers and discounts, while businesses benefit from tracking user order history through analytics. Based on this data, effective loyalty strategies can then be implemented, helping them tailor campaigns that target the most profitable users.
Through loyalty programs, restaurants can also create new offers to drive engagement further while keeping customers satisfied by ensuring they receive their favorite meals at discounted prices.
Safety and Hygiene Measures
Adopt strict safety and hygiene measures to ensure contactless delivery, sanitization protocols, and quality control.
Contactless Delivery
Contactless delivery has revolutionized the food delivery industry by reducing contact between merchants, delivery persons, and customers. Contactless delivery helps maintain safety and hygiene protocols during order preparation and in transit.
Merchants are encouraged to follow a sanitization protocol before using the packaging materials. Delivery people will not knock on doors or pick up signatures but leave their packages at safe locations once all payment procedures are met without face-to-face interaction with customers.
Research suggests that restaurants providing contactless food deliveries have experienced positive financial performance despite challenging economic times through increased orders from existing customers and higher footfall of new ones due to perceived safety and security measures provided by these services compared to traditional offline ordering methods.
Sanitization Protocols
Food delivery apps in Indonesia have taken significant measures to ensure that their food is safe and hygienic. As part of their sanitization protocols, each app has implemented stringent safety procedures for its workers, including close monitoring of employee health issues, personal hygiene guidelines, and the use of personal protective equipment (PPE).
For instance, apps such as GrabBag provide special training modules for all drivers so that they understand the importance of delivering clean and fresh food products. This includes covering distance care tips such as hand-washing or using sanitizers in between deliveries, regular checks on temperatures by medical professionals, and conducting thorough inspections before handling food items.
These efforts are aimed at building customer trust through seamless customer experiences. Apps also encourage customers to check driver hygiene levels' rating scores, which helps build confidence among diners about the foods' safety standards during transit.
There's also a concerted effort to reinforce healthy practices around contactless delivery operations, including limiting conversations outside transactions whenever possible and maintaining social distancing norms at pick-up points or time/distances, keeping them from customers during product donation scenarios.
Quality Control
Quality control is essential for the best food delivery experience in Indonesia. The responsibility to ensure food safety standards are met lies with the National Agency of Drug and Food Control (NA-DFC).
NA-DFC works hard to protect consumers by implementing novel control approaches, such as regular testing, inspections, and audits for the various online food delivery platforms operating in Indonesia.
Quality control measures are implemented to reduce any potential risks associated with ordering from these services. Sanitation protocols are practiced at merchant stores, ensuring that only safe and hygienic meals reach customers' doorsteps.
Frequently Asked Questions (FAQs)
Now, let's look at some frequently asked questions about Indonesia's best food delivery apps.
1. What are the best food delivery apps in Indonesia?
Indonesia's top food delivery apps include GrabFood, Go-Food, and Foodpanda.
2. Are there any restrictions on what types of food can be ordered through these services?
Minimum order values may apply to some restaurants, but generally, all restaurants will provide a wide range of menu options.
3. Do I have to pay an additional fee for using a delivery app?
Yes, most delivery apps charge a service or convenience fee, usually $2-4 USD, depending on the restaurant you're ordering from.
4. Does each food delivery app offer discounts or promotional codes?
Yes, they typically run promotions and offers that benefit customers, such as discounted deliveries and promo codes for extra savings on their orders.
Takeaway
With so many food delivery apps available in Indonesia, choosing the right one can be overwhelming. Through this article, we have provided an overview of Indonesia's top food delivery apps and their features and benefits to help users make an informed decision.
Each app has its strengths, from a large selection of dishes and restaurants to fast deliveries for convenience, so choosing your preferred food delivery app based on what fits your needs best is key.
Additionally, safety protocols must also be taken into consideration when using such services due to COVID-19. The last piece of advice is to compare different food delivery apps before choosing one. Read reviews from other users about their service. Check the prices on each app if you can. See how long each one takes to deliver food.
Some apps give loyalty rewards or discounts. These can help you save money. Choose the app that fits what you want. The right app will give good service, fast delivery, and maybe discounts. Checking reviews and comparisons first helps you find the best app for your needs.