20 Best Food Delivery Apps in the USA: Features and Comparison Details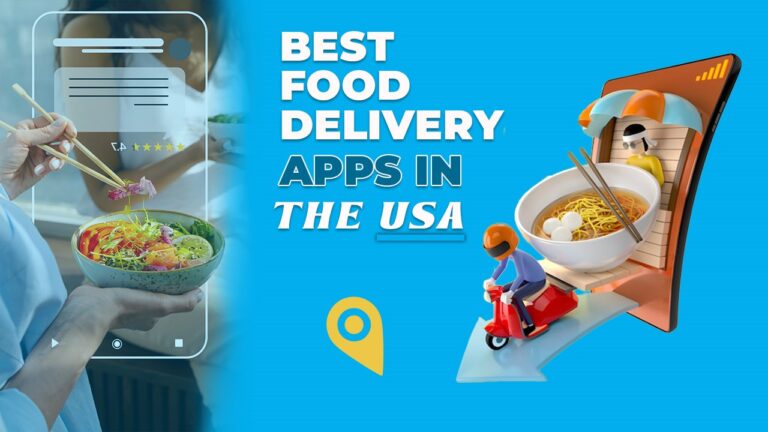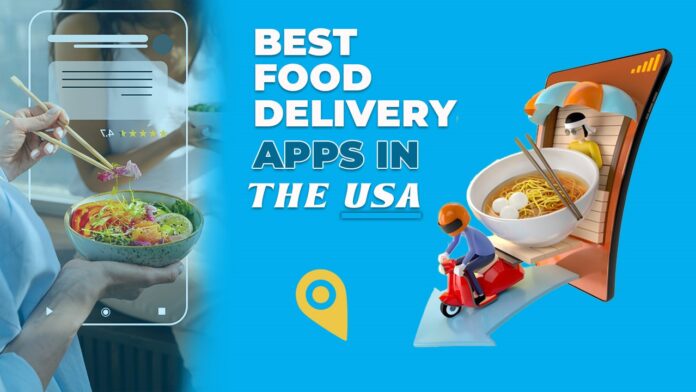 With busy lives and demanding schedules, finding the time or energy for meal planning and cooking can be hard. Thankfully, food delivery apps make it easier to deliver delicious meals right to your door! In this blog post, we will explore the best food delivery apps in the USA – including Grubhub, Uber Eats, DoorDash, Postmates, Seamless, and others – so you can choose the one that meets your needs perfectly.
According to Zion & Zion, GrubHub is America's most popular food delivery app now, with a market share of 37.8%.
With our insights on each platform's features and benefits, along with the latest updates in the Food Delivery market- you'll have all of the info you need to decide which option is best for you.
So, let's dive right into our comprehensive guide about Food Delivery Apps today!
Content Highlights
The best food delivery apps in the USA are Grubhub, Uber Eats, DoorDash, Postmates, and Seamless.

Food delivery apps provide innovative features such as push notifications, loyalty programs, tracking, and payment options for a convenient and safe ordering experience.

Profile customization helps customers personalize their orders according to dietary preferences, and reviews/ratings help users easily find new restaurants.

Loyalty programs offer loyal customers real-time discounts or cashback vouchers, adding additional value to users' food delivery experience.
Best Food Delivery Apps in the USA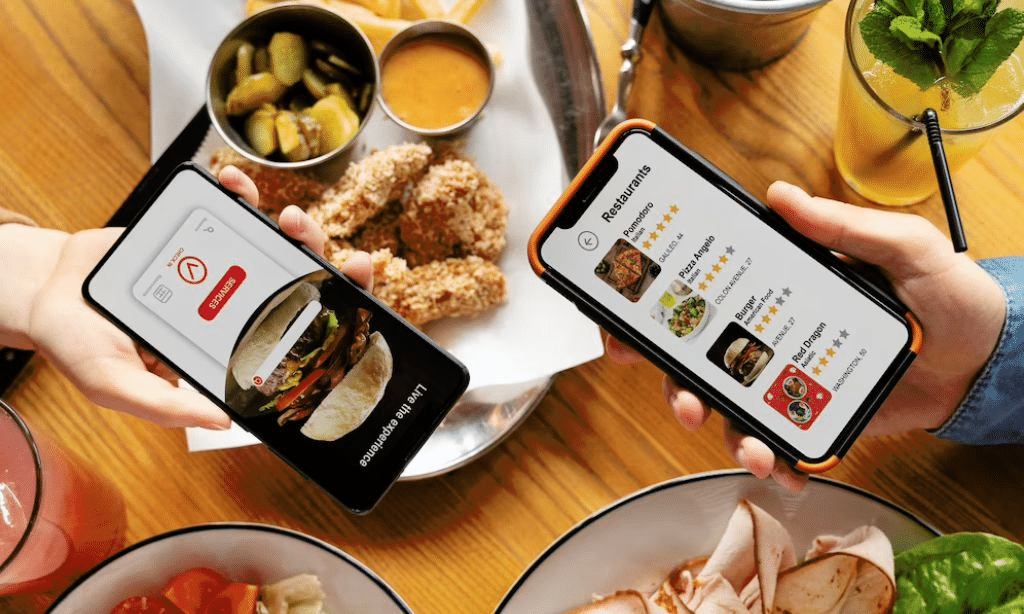 The best food delivery apps in the USA include GrubHub, Uber Eats, DoorDash, Postmates, and Seamless. Besides these apps, you'll also get several other options. Fortunately, we'll discuss all of them to help you make the right choice. 
GrubHub
Grubhub is one of the top food delivery apps in the USA and provides a corporate plan for employers to provide meals for their employees. It features an extensive selection of restaurants from which customers can order in any city across America.
With its user-friendly interface, ordering food through Grubhub is done with just a few clicks. Customers can even customize their orders according to taste or dietary preferences, and it lets them track their deliveries until they reach their doorstep safely.
Furthermore, GrubHub also offers loyalty programs that reward customers with points after every successful order. What sets it apart from other competitors is the national partnership with fast-food chains such as Wendy's and KFC, which allows customers to receive popular menu items faster than ever while protecting customer health information through integrated payment systems like Apple Pay or cryptocurrency transactions when ordering food online via the GrubHub app. In addition, you can also read an article on- Best Food Delivery Apps in New Zealand: Top 10 List in 2023
Uber Eats
Uber Eats is a leading food delivery app in the US that offers customers convenience and reliability when ordering food for pickup or delivery. It has quickly become one of the most popular apps for home-delivered meals due to its user-friendly interface, wide selection of restaurants, and reliable customer service.
Its intuitive design allows users to easily personalize orders by adding special instructions like additional toppings or dietary preferences without calling in, saving time and energy.
Uber Eats makes payment hassle-free with several secure payment options, including integrated online bank transfers and Apple Pay. Customers can also benefit from loyalty programs such as Refer A Friend, where they can earn discount codes for future orders and track their deliveries through real-time tracking features on the app's map view.
DoorDash
DoorDash has emerged as one of the top food delivery services in the US market, dominating 65% of shares in 2020 alone. With partnerships like McDonald's and Starbucks, DoorDash provides a wide selection of restaurants with timely deliveries and reliable customer support.
The convenience and ease of use make it attractive for users seeking great home dining experiences. Its trend-setting approach has also positioned it for remarkable growth potential in coming years, making it one of the most rewarding food delivery apps to invest your time and money into.
Postmates
This is one of the best food delivery apps in the USA. It earned 2 percent of the U.S. meal delivery market and is considered one of the most popular ordering apps in this industry. Postmates offers convenience to users with 24/7 availability, 365 days a year for delivery from favorite restaurants, grocery stores, and more.
It also has strong partnerships with other major food delivery services such as Seamless, GrubHub, Uber Eats, and DoorDash to provide better coverage to its customers all over America.
Along with these features, it provides excellent customer support through push notifications, loyalty programs tracking your deliveries, and simple payment options, allowing customers to customize their profiles according to delivery.
[Video Credits @iCoderz Solutions]
Seamless
Seamless is one of the top food delivery apps in the USA, offering an impressive selection of restaurants and catering to various dietary preferences and restrictions. The app provides real-time tracking so customers can monitor their orders from start to finish, ensuring that meals arrive on time.
Seamless also offers loyalty programs for frequent users, which reward them with discounts or special offers. For those who want more than just convenience, Seamless allows users to customize their profiles and curate personal recommendations based on likes and dislikes – making it easy to find something new they'll love every single time.
Whether you need a quick lunch takeout, plan for dinner delivery, or have a craving late at night, Seamless has your back!
Instacart
Initially based solely on grocery delivery, Instacart has now started to offer meal delivery from local restaurants.
This expanded service offers a one-stop solution for people looking for ingredients and completely prepared dishes.
Instacart has become a much more flexible option for hungry households with its user-friendly app and continuous commitment to satisfying customers. If you want, you can also read- 20 Best Food Delivery Apps in Thailand
ChowNow
ChowNow sets itself apart with a specific approach that lets restaurants develop customized apps and websites for online ordering and delivery.
This model fosters stronger connections between neighborhood eateries and their loyal patrons, cultivating community engagement.
In a niche dominated by third-party services, ChowNow prioritizes offering restaurants independence while giving diners a seamless way to have their favorite meals. The company puts diners first while ensuring customers can order with ease.
Caviar
Caviar partners with top restaurants to offer exclusive dining experiences straight to the homes of food enthusiasts.
The app appeals to those with polished tastes, featuring a curated combination of restaurants dedicated to superior cuisine. Caviar has redefined the idea of a lavish night by giving the comfort and ease of upmarket meals delivered on demand.
With delicious and luxurious dining now just a few taps away, Caviar caters to patrons who appreciate the supreme things in life.
Delivery.com
Delivery.com offers more than meal delivery, alcohol drop-off, and laundry services.
With its diverse range of facilities, the platform is flexible enough to accommodate users searching for various delivery needs.
Despite managing many bases, Delivery.com still ensures a convenient, smooth experience through its natural app design. By going beyond food, Delivery.com has become a one-stop delivery solution.
Slice
Catering only to pizza lovers, Slice is a delivery app laser-focused on that cheesy speciality.
Collaborating closely with independent pizzerias, Slice streamlines pizza ordering and provides exclusive promotions and a personalized interface. This targeted model resonates with pizza purists who appreciate authenticity and ease.
For those who crave that slice, Slice delivers convenience, simplicity, and the pizza itself.
goPuff Delivery
GoPuff transcends the general food delivery app, offering users far more than a quick bite. Customers can order anything from drinks and snacks to household necessities and personal care goods.
Initially focused on food, goPuff expanded its delivery facilities to include virtually any product imaginable. A mentionable feature is the fixed $2 delivery fee, a more affordable choice than other services.
The app's highly intuitive AI search algorithms make finding products seamless. Users can search by brand, category, name, or related items, easily accessing a diverse inventory beyond standard takeout fare. More than just meals, goPuff offers convenience across the board.
EatStreet
With a mission to boost local restaurants, EatStreet spotlights eateries in college towns and smaller cities. By partnering with these neighborhood joints, the app lets users sample authentic local cuisine.
EatStreet's focus on hometown food not only appeases cravings but also champions local businesses and fosters community.
Beyond delivery, EatStreet celebrates the distinct flavors that make each town unique. Its collaborations with local favorites help these restaurants thrive while giving diners that city's taste.
Eat 24
Living up to its name, Eat24 provides food delivery 24 hours a day, 7 days a week. Built on the premise of round-the-clock service, the app aims to offer meals and drinks anytime.
Eat24 has partnered with restaurants and cafes across the US that remain open past regular hours to fulfill late-night cravings.
Through working with various eateries, Eat24 implements an automated coupon system that showcases the best deals on food for users. It ensures users satisfy their cravings irrespective of the time while saving money. With constant usability and savings, Eat24 offers convenience day and night. 
You May Find Interest: Best Food Delivery Apps in Singapore to Order Your Favorite Food in 2023
Munchery
This app offers both food delivery and meal kits, letting customers order freshly made meals ahead of time. It charges a flat monthly fee of $9 for membership, with no hidden commissions on orders.
As an independent delivery platform, the selection of restaurants and cafes is limited compared to third-party apps. The app sets itself apart by offering a changing daily menu, ensuring users always have new options. This rotating choice keeps things fresh and exciting for regular users.
While its restaurant options are fewer, Munchery makes up for it with its advanced meal plans and constantly updated menus, providing a unique take on food delivery.
Here is a comparison table of the best food delivery apps in the USA:
| | |
| --- | --- |
| App | Key Features |
| GrubHub | Extensive restaurant selection, user-friendly interface, loyalty rewards program, partnerships with fast food chains |
| Uber Eats | Wide restaurant selection, easy-to-customize orders, multiple payment options, real-time order tracking |
| DoorDash | Partnerships with major chains like McDonald's and Starbucks, large market share, convenient and easy to use |
| Postmates | 24/7 availability, partnerships with other delivery services, customizable user profiles |
| Seamless | Real-time order tracking, loyalty programs for frequent users, customized profile recommendations |
| Instacart | Grocery and restaurant meal delivery, user-friendly app, continuous customer satisfaction |
| ChowNow | Customized restaurant apps and websites foster community engagement and independence for restaurants |
| Caviar | Curated high-end restaurant selection, delivers refined dining experiences |
| Delivery.com | Diverse delivery services beyond just food, convenient and smooth user experience |
| Slice | Focused solely on pizza delivery, partners with independent pizzerias |
| goPuff | Delivers far beyond just meals, huge product selection, affordable $2 delivery fee |
| EatStreet | Spotlights local restaurants, especially in college towns, celebrates distinct local flavors |
| Eat24 | 24/7 delivery service, automated coupon system for deals |
| Munchery | Meal kits and food delivery, flat monthly membership fee, constantly updated daily menus |
Key Features of the Best Food Delivery Apps in the USA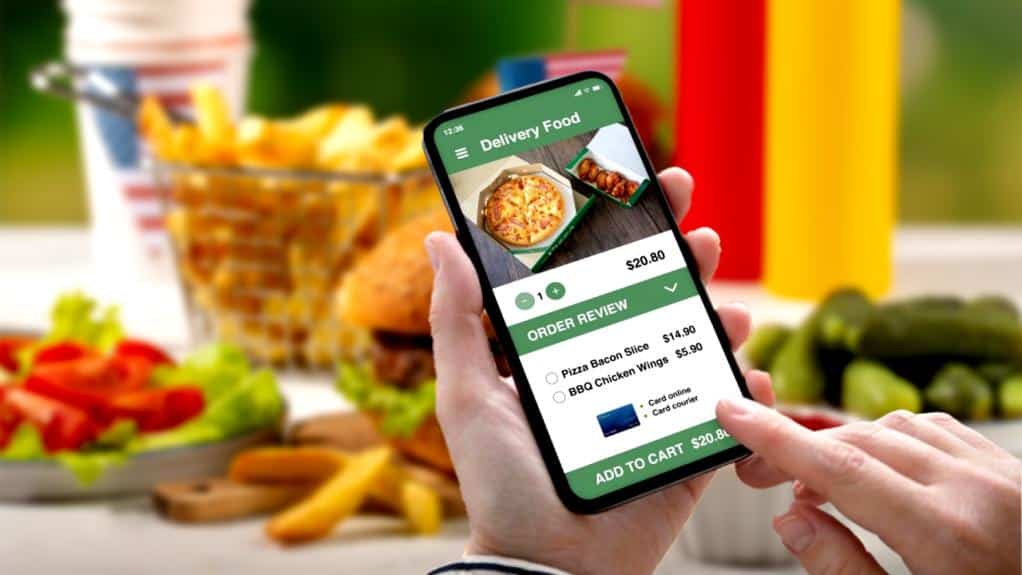 Many popular apps have convenient features such as push notifications, loyalty programs, delivery tracking, simple payment options, and profile customization.
Push Notifications
Push notifications in food delivery apps are essential features for customers. Push notifications provide real-time updates to customers regarding their orders, exclusive deals, and delivery status.
This feature keeps customers up-to-date on all aspects related to ordering from online food delivery services. Through push notifications, customers can be informed of when their orders are being prepared, out for delivery, and even when they have been delivered – providing convenience and peace of mind.
Furthermore, push notifications to inform the customer about special offers or discounts that may be available through the app, which helps make online ordering more convenient and rewarding than ever before.
Loyalty Programs
Food delivery apps offer loyalty programs to their customers, aiming to achieve strong customer retention and profitability. These loyalty programs often include gamified features like reward points for the most faithful users and chances to explore new restaurants or acquire discounts through them.
Instant benefits of these loyalty programs can come in the form of real-time discounts, cashback, vouchers, etc., thus providing a better experience for customers. Analyzing successful fast food and restaurant loyalty programs can provide great insights into boosting revenue through rewards.
Restaurant loyalty app plays a significant role in keeping customers engaged, happy, and satisfied, thus further contributing to customer lifetime value (LTV).
Delivery Tracking
Delivering food isn't as simple as ordering it. With apps providing tracking capabilities for orders in real-time, customers can follow the progress of their meal on its way from the restaurant to their doorstep.
Delivery tracking lets users watch when their favorite dishes arrive at the right place and time. For instance, Grubhub displays estimated delivery times throughout the order process so customers know when to expect their food to arrive hot and fresh.
Other features, such as map view, help restaurant riders determine the most efficient route between several delivery locations, ensuring expedited service that keeps customers and drivers happy. 
Simple Payment Options
Simple payment options are a key feature of the best food delivery apps in the USA, and they have become an integral part of creating a positive user experience for customers. These options allow customers to pay quickly and easily without any extra hassle.
Common types of simple payment options include online payment platforms such as Apple Pay or Google Pay, mobile wallet top-ups like PayPal, and loyalty points, which can be collected to redeem discounts.
By offering these easy payment methods, companies ensure customer satisfaction as users can enjoy their meals faster by making quick transactions on their chosen platforms.
Additionally, loyalty programs help build stronger relationships with loyal customers after each successful transaction is conducted via one of the various simple payment methods available on the app.
Contactless Delivery Option
Contactless delivery has become increasingly popular in recent years, as it offers a safe and convenient way to get food without contacting the delivery person. This was especially important during the COVID-19 pandemic, as it can help reduce the virus's spread.
Most food delivery apps now offer contactless delivery as an option. When choosing this option, customers will generally be asked to specify a safe place to leave their food, like their doorstep or a designated area in their lobby. The delivery person will leave the food in that location and return to a safe distance to let the customer receive it.
Some food delivery apps also offer contactless payment options, which can further reduce the risk of spreading germs. These options generally involve using a credit card or mobile payment app to pay for the order in advance.
Contactless delivery is a superb way to enjoy your favorite food while staying safe and healthy. If you want this option, check with your favorite food delivery app to see if they offer it.
Profile Customization
Profile customization is a key feature of many of the best food delivery apps in the USA. It allows users to create a personalized and tailored dining experience catering to their taste buds and dietary restrictions.
Users can customize their orders according to their preferences: simple requests such as specifying extra ingredients or special requests can be easily included. Restaurants can register with the respective food delivery app and share pertinent details about themselves, including their name, address, menu offerings, prices, etc., making it easier for customers to discover relevant options near them instantly.
Furthermore, the availability of order customization and discounts may vary depending on your local restaurants. All these benefits make profile customization an extremely useful tool – allowing for a more convenient ordering process while providing customers access to exciting new venues they may never have discovered!
Reviews and Ratings
Reviews and ratings are key features found in most food delivery apps today. They provide customers with an easy way to learn whether a restaurant is right for them, making it easier to find the best food options without having to leave their homes.
Reviews and ratings from other users also serve as reliable sources of information that can help people get an accurate idea of how good or bad a particular dish is from the restaurant they're ordering from.
Furthermore, reviews provide valuable insights into new restaurants and foods that users may not have discovered yet, which helps expand their cuisine options. As such, user-generated reviews and ratings have become invaluable tools used by millions when deciding what type of meals they want delivered right at their doorstep!
Benefits of Using Food Delivery Apps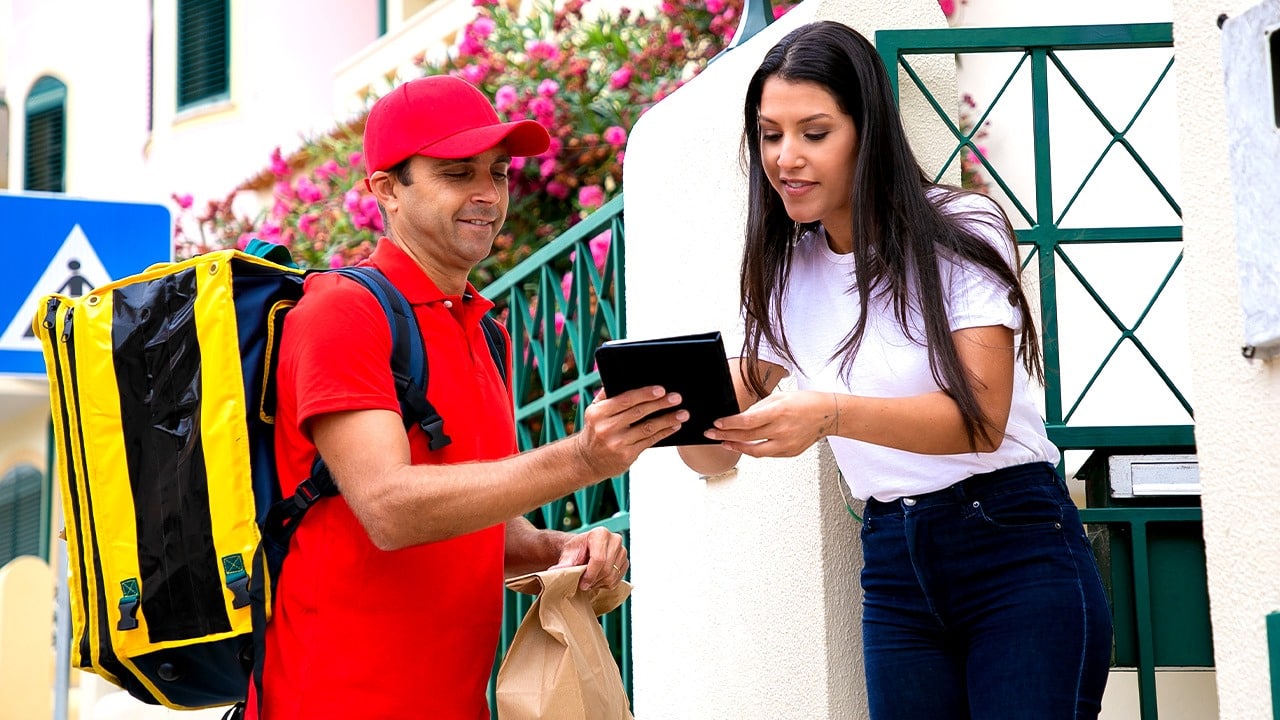 With food delivery apps, users can enjoy convenience, a wide selection of restaurants, timely and accurate deliveries all in one place, and reliable customer support.
Convenience
Food delivery apps have revolutionized the way in which people order restaurant-quality meals. Users can access various popular restaurants and place orders for delicious takeout or home delivery with just a few taps on their mobile devices.
Customers benefit from simple payment options, push notifications when food is ready, tracking features that show the current status of each order, and much more. For restaurant businesses, food delivery apps offer tremendous convenience by eliminating time-consuming steps such as preparing receipts and dealing with cash transactions, resulting in increased efficiency.
Additionally, food delivery apps enable merchants to expand their customer base while engaging customers through promotional offers and loyalty programs. Combined with improved user experience due to easy navigation tools found on modern food delivery apps, it's clear why these platforms are becoming increasingly popular amongst diners across America.
Wide Selection of Restaurants
Food delivery apps like GrubHub, DoorDash, and Uber Eats provide customers with the convenience of ordering food from various restaurants. These apps partner with large chain restaurants and local independent eateries to give users an expansive selection of their meals.
This allows customers to find meals that meet their tastes or dietary needs, as they can choose from the vast selection of cuisines available through these services. Independent restaurants benefit from this partnership since it gives them more exposure and often increases their customer base.
For customers, having access to a wide range of options means they can enjoy different types of food whenever they want without having to travel far distances. Furthermore, these delivery services allow users to order popular dishes worldwide with just a few clicks on their mobile phones.
Timely and Accurate Deliveries
Using top food delivery apps ensures that customers can confidently order meals, knowing they can expect their orders to arrive on time and as expected. Top food delivery apps prioritize delivering orders in a timely manner with precision.
Trusting that your order will arrive when you want it is part of the appeal of using these apps. With accurate deliveries, customers don't have to worry about getting the wrong order or something missing from their meal.
They also don't need to spend time and energy redoing the entire process due to inaccuracies in delivery times or items received, as this directly affects customer satisfaction and loyalty.
Reliable Customer Support
Food delivery apps provide an effective and reliable way to deliver delicious meals from your favorite restaurants quickly and conveniently. Reliable customer support is a key element of the food delivery app experience, ensuring timely and accurate deliveries and helping customers with any inquiries or issues they may have.
Many food delivery apps offer in-app customer support so users can contact the company directly. This ensures transparency between the user and service provider during both ordering and delivering stages, helping customers avoid mishaps such as unaccounted late deliveries.
Furthermore, many food delivery apps provide prompt customer service tailored to each request, efficiently addressing any questions or complaints for a positive overall experience.
Tracking Features
Food delivery apps offer customers a variety of tracking features that enhance the overall user experience and convenience. Real-time GPS tracking enables customers to follow their deliveries in real-time, providing transparency and convenience.
Customers can also track the estimated arrival time of their food orders, making it easier to plan around traveling or other daily commitments. Push notifications are another key component of tracking features, keeping customers informed on order confirmation, delivery status, etc., ensuring smooth transactions and reliable customer support.
Furthermore, restaurants benefit from these by obtaining data about customer preferences and delivery patterns that help them improve their services. Tracking features provide efficient ways for fast food outlets to meet customer demands while simultaneously providing an enjoyable user experience for both sides!
Factors to Consider When Choosing a Food Delivery App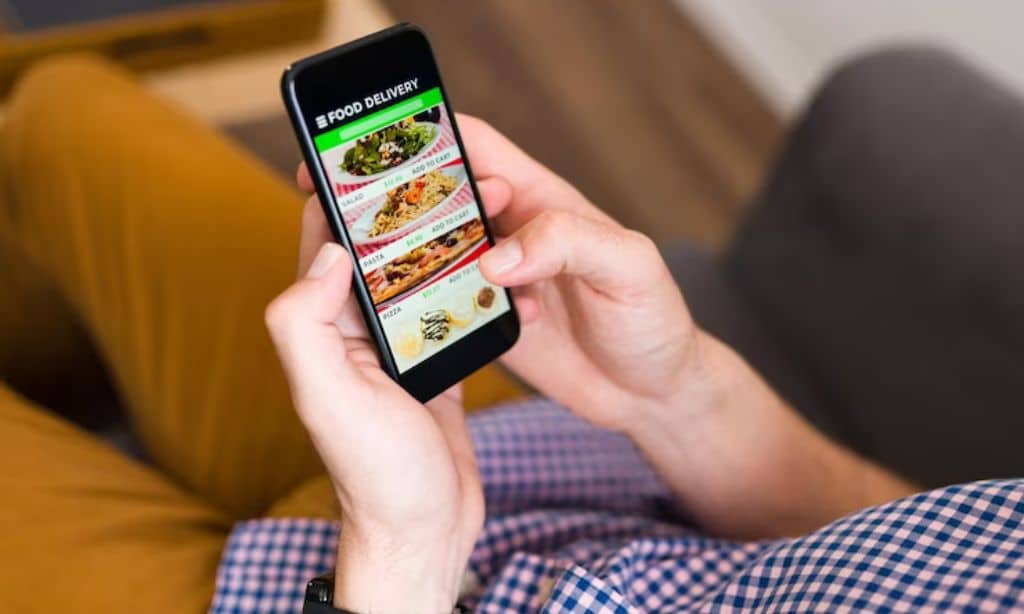 Before settling on a food delivery app, be sure to consider the delivery fees, availability in your area, restaurant options, user reviews and ratings, and special features or promotions offered.
Delivery Fees
When ordering food through a delivery service, it's essential to consider the fees. Delivery fees can vary based on the restaurant and the customer's location.
Some delivery apps charge restaurants high commissions, ranging from 20% to 30% or more. The two standard charges on food delivery apps are the "delivery fee" and the "service fee." The app lists these fees and can contribute significantly to your order's total cost.
Delivery fees typically fluctuate depending on market conditions in certain areas of the country; for instance, prices may surge during higher demand when there aren't enough drivers available.
Availability in Your Area
When choosing a food delivery app, it is essential to consider the availability of different options in your area to deliver delicious food quickly and easily. Certain apps may be more widely used depending on where you live or provide access to a greater selection of restaurants and cuisine offerings than others.
In recent years, there has been an increase in popular food delivery services, including Postmates, GrubHub, DoorDash, and many others. Studies have shown that almost half of the millennials living in cities frequently use these apps to order their meals; however, their availability can vary depending on the city or state you are located in.
Additionally, some apps might offer promotions like free shipping, making them even more appealing than other local services. As such, it is important to check out all the available options before settling on just one – doing so will equip you with better information regarding pricing plans and restaurant choices so that you can tailor your selections according to your tastes and preferences.
Restaurant Options
When selecting a food delivery app, having a wide variety of restaurant options is essential when curating your dining experience. Having access to countless meal choices provides the option for spontaneous culinary decisions.
Many restaurants offer an array of dishes that can cater to all dietary preferences and restrictions – such as vegan, vegetarian, or gluten-free cuisines – providing users with flexible menus and recipes.
With the best food delivery apps, you will likely be able to find whatever type of restaurant you are looking for quick takeout spots, Michelin-starred restaurants, or authentic local eateries across numerous cities in the USA.
User Reviews and Ratings
User reviews and ratings are an essential component of any successful food delivery app. Before making a purchase, customers often read other people's opinions, experiences, and feedback regarding the products they are interested in.
Food delivery apps are not different – consumers need to know what others think about them before settling on one particular app over another. This is why user reviews and ratings are important when choosing a reliable food delivery platform.
Reviews can help users make informed decisions as they contain detailed information on restaurants, meals offered, customer service responses, order execution time, and overall quality of experience.
Ratings serve as a summary of the collected data and provide users with general insight into the overall performance of the company without having to sort through hundreds of individual comments.
Companies rely heavily on user reviews for many reasons: positive feedback helps attract more business, while negative features may hamper their reputation or performance if not addressed promptly.
Special Features and Promotions
From discounts to cashback, the top food delivery apps in the USA offer a plethora of promotional offers and features. Top companies such as Grubhub, Uber Eats, DoorDash, Postmates, and Seamless provide users with various loyalty programs that are designed to reward every purchase they make or engagement interaction they have on the respective platform.
These rewards often come in measures from free orders to discounted meals, depending on what type of promotion is offered at a certain point. Many food delivery apps also grant rewards for referring friends or family members using special push notifications sent directly through their mobile phones.
Cashback options further help customers save money while ordering through these services, as some app providers allow you to earn credits for each order placed by redeeming them as discount codes later on down the road.
Tips for Using Food Delivery Apps Effectively
It's essential to watch for promo codes or discounts, read reviews and ratings before ordering, customize orders, provide clear delivery instructions, and monitor the order status to ensure a speedy delivery.
Check for promo codes or discounts
when using food delivery apps, as this is a great way to save money and get discounted prices or free delivery. Popular food delivery services such as DoorDash, GrubHub, and Uber Eats offer promo codes and discounts on different orders.
Customers can also find other special offers through app notifications or email promotions that help them enjoy reduced prices or exclusive deals while ordering meals. Promo codes are designed to attract new customers and reward existing users for loyalty.
Therefore, keeping track of such promotional updates is important to gain maximum benefit from using food delivery apps.
Read restaurant reviews and ratings
Reading restaurant reviews and ratings is an important part of ordering food through delivery apps. Reviews can provide valuable insight into each establishment's quality, service, customer experience, and price.
More often than not, customers rely heavily on online reviews as it takes away a lot of guesswork in evaluating which places are worth trying out. Reviews can also offer real-time feedback about a particular dish or type of cuisine before someone orders from a place they've never tried before.
Additionally, being able to scroll through previous customers' experiences provides further confidence when making decisions on where to order their next meal from. Therefore, reading restaurant reviews and ratings goes beyond personal recommendations; it serves as trusted information for potential customers who want reliable details before committing to any transaction.
Customize your orders
Food delivery apps allow customers to customize their orders in various ways. From dietary restrictions to food preferences and special requests, these apps make it easy for people to customize each order and have only what they want delivered.
Many food delivery apps adjust menu options based on time of day or allergies so that everything ordered is safe. For convenience, the customer can save past orders with saved ingredients for faster ordering next time.
Customers can search restaurants by cuisine preference and filter out those without gluten-free or vegan choices, as well as filter dishes alphabetically or by calorie count.
Through the profile customization feature within the app, customers can save favorite items and create list views with detailed ingredient descriptions for quick reference when making decisions about what meals they wish to be included in their order.
Provide clear delivery instructions
Providing clear delivery instructions when ordering meals on food delivery apps is important. For example, suppose the address and location, such as an apartment building with multiple entrances and units, can be confusing. In that case, you should specify exactly which unit or door to use for the delivery.
If someone else will be collecting your order onsite, it is important to mention that in your instructions. In addition, it helps to note any additional information, such as floor numbers for the elevator entry point, etc., The more detail you include in your crib notes, the easier drivers can spot their destination quickly.
Accurately specifying details like these helps ensure timely deliveries and prevents lost food orders caused by misinterpretation of directions. Providing detailed and accurate address instructions saves customers time by reducing unnecessary stress put on drivers within a given timeframe stuck searching wrong locations, avoiding irate customers waiting endlessly outside their destined spots.
Monitor order status and track deliveries
Food delivery apps such as GrubHub, Uber Eats, DoorDash, and more provide customers the convenience and peace of mind to place their orders. One key feature that ensures this is customers' ability to monitor their orders' status and track deliveries in real-time.
For example, they can use live GPS tracking on many food delivery apps to follow their delivery agent's progress until their food arrives at the door. This allows them to accurately estimate when they can expect delivery without worrying about potential delays or other unexpected situations arising during transit.
Plus, it helps reduce stress levels since customers no longer need to keep calling or messaging businesses individually, asking for updates whenever an issue arises. Through monitoring order status and tracking deliveries in real-time with food delivery apps, users are given greater confidence when placing orders with restaurants far away from where they live, knowing exactly how long it will take before they receive their meal each time.
Takeaway
The food delivery app industry is growing in popularity worldwide, and the USA has some of the best food delivery apps available on the market. Popular apps such as Grubhub, UberEats, DoorDash, Postmates, and Seamless offer customers an efficient way to order take-out or restaurant meals from their favorite restaurants with just a few clicks.
With loyalty programs, easy payment options, customized orders, contactless deliveries, and other special features found in most top-rated apps today, users have more control over their ordering experience than ever before.
As technology advances further into this space, so do customer expectations for convenience, accuracy, and personalized experiences – all of which can be provided by these innovative applications that allow customers to order online quickly and safely.
The future looks bright for the Food Delivery App Industry. Still, users need to consider factors like delivery fees, availability in your area & reviews when choosing which provider they choose.
Frequently Asked Questions (FAQs)
if you want to know more about the best food delivery apps in the USA, check the answers below.
1. What are the best food delivery apps in the USA?
The best food delivery apps in the USA include DoorDash, Grubhub, Postmates, Uber Eats, and Caviar. Various other options are also available. Please read the article on the best food delivery apps in the USA to learn more.
2. How does a food delivery app work?
A food delivery app connects users with restaurants through an online platform that allows customers to search for local eateries and place pickup or home delivery orders.
3. Are there any fees associated with using a food delivery app?
Yes, most food delivery apps charge service fees ranging from 5% to 25% of your order cost, additional convenience charges, and taxes.
4. When using a food delivery app, Do I need to enter payment information?
You typically need to enter payment information when using a food delivery app. This is because the app needs to be able to charge you for your order.