Terrell Owens Net Worth and Full Biography in 2023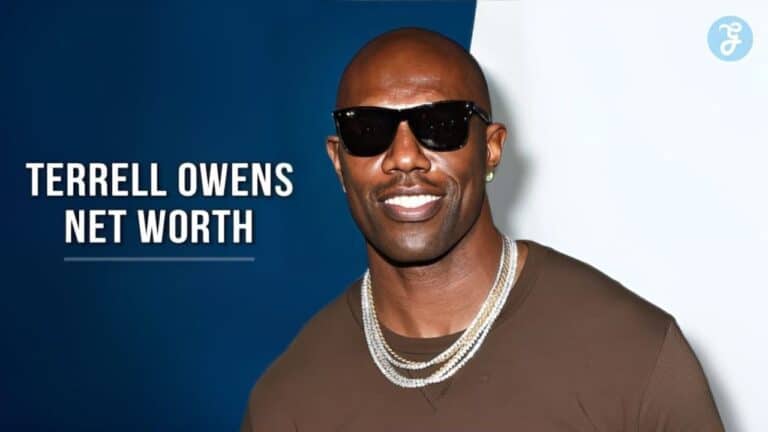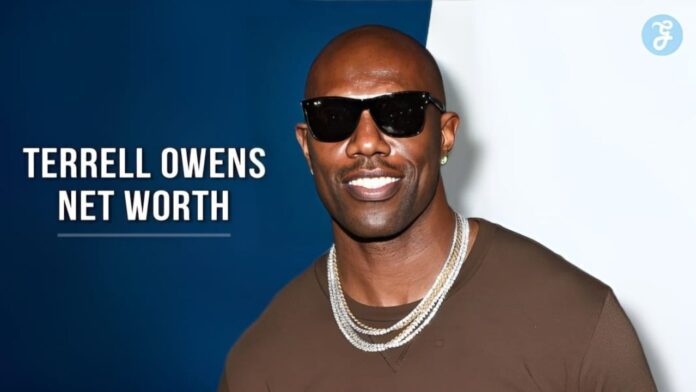 Listen to the Podcast:
Financial success is not always guaranteed in the glamorous world of professional sports. Terrell Owens, a former NFL superstar and Hall-of-Famer, might have made millions throughout his career but presently holds an estimated net worth of just $500,000 in 2023. So are you interested in Terrell Owens net worth?
This blog post will unravel Owens' journey from spectacular athletic feats to his current financial standing and lifestyle choices. Stay with us as we delve into an inspiring tale showcasing the highs and lows in the life of this sporting legend.
Key Takeaways
Terrell Owens, a former NFL superstar, and Hall-of-Famer, currently has an estimated net worth of $500,000 in 2023.

Despite earning millions throughout his football career and securing significant contracts with teams like the San Francisco 49ers and Philadelphia Eagles, poor financial planning and personal setbacks have negatively impacted Owens' net worth.

Owens' journey is a cautionary tale for athletes and celebrities about the importance of responsible money management, diversifying income streams, being cautious with endorsements and investments, planning for the future, and learning from past mistakes.
Terrell Owens Biography
Before we learn about Terrell Owens Net Worth, let's learn about the biography.
Terrell Owens, a former NFL player and Hall-of-Famer had a successful football career, with six Pro Bowl selections throughout his time in the league.
Early Life and Education
Born on December 7, 1973, in Alexander City, Alabama, Terrell Owens was young when his life took dramatic twists and turns. He was raised by his mother, Marilyn Heard, and didn't discover the identity of his father until he was a ten-year-old boy living across the street from him.
These early trials did not hinder Owens' progression but fueled it. Despite being brought up amidst poverty and loneliness, as described in his autobiography, he discovered solace in sports during high school.
Excelling at track, basketball, baseball, but most notably, football propelled Terrell's competitive spirit setting up a solid foundation for an illustrious NFL career later on.
NFL Career and Achievements
Terrell Owens launched his prolific NFL career in 1996, quickly establishing himself as a force to reckon with on the field. With NFL teams such as the San Francisco 49ers, Philadelphia Eagles, Dallas Cowboys, Buffalo Bills, and Cincinnati Bengals under his belt, he demonstrated an exceptional knack for game-changing plays and broke records.
Arguably one of the best wide receivers in NFL history, Owens ranks third for career receiving yards and touchdowns. His impressive statistics include 1,078 catches for a staggering 15,934 yards, an average of 14.8 yards per catch, and an awe-inspiring score of 153 touchdowns.
These achievements cemented his position in football lore and contributed significantly towards building Terrell Owens' net worth.
Personal Life and Family
Despite soaring to fame in the NFL, Terrell Owens manages a relatively low-profile personal life. Born and raised in Alexander City, Alabama, he has often spoken about enduring a challenging childhood riddled with poverty and loneliness that shaped him into the resilient person he is today.
Owens is the proud father of four children, his biggest fans off-field. Though specific information about his family remains under wraps, their support during his games proved instrumental in Owens' successful career trajectory.
His personal experiences testify to his tenacity amidst adversity – an integral part of the Terrell Owens biography.
Terrell Owens Net Worth In 2023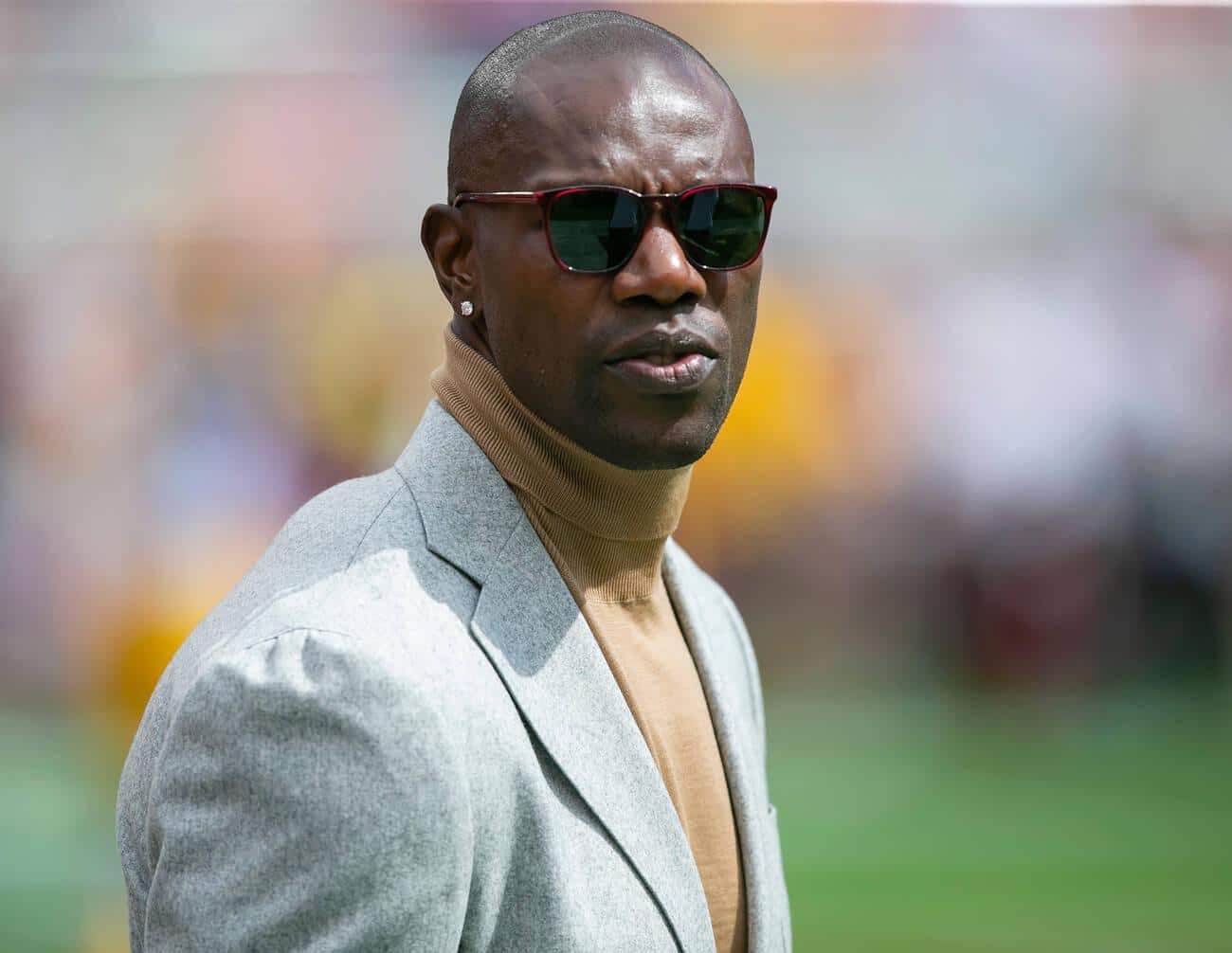 Terrell Owens' net worth in 2023 is estimated at around $500,000.
Estimated Net Worth
Terrell Owens' estimated net worth in 2023 is approximately $500 Thousand. This may come as a surprise, considering his past success and the millions he earned during his football career.
Terrell Owens was reportedly worth $80 million at the height of his fame, but some financial setbacks and personal issues have significantly impacted his wealth over the years. Despite this decline, Owens remains an iconic figure in the world of sports and has left a lasting impact on fans and aspiring athletes.
Factors that Contributed to His Net Worth
Terrell Owens' net worth has been influenced by various factors throughout his career. First and foremost, his lucrative contracts and endorsement deals played a significant role in building his wealth.
As one of the most talented wide receivers in NFL history, Owens secured multi-million dollar contracts with teams like the San Francisco 49ers, Philadelphia Eagles, and Dallas Cowboys. These substantial earnings from his football career helped him amass a considerable fortune.
In addition to his on-field success, Terrell Owens ventured into various business opportunities that added to his net worth. He launched clothing lines, appeared in commercials, and even had a reality TV show. 
Now, if you're interested, you can also check the Blueface net worth in 2023
Financial Lessons From Terrell Owens
Terrell Owens may have experienced a decline in his net worth, but there are still some valuable financial lessons we can learn from his journey. Here are some key takeaways:
Prioritize responsible money management: Despite earning millions throughout his career, Owens was in financial trouble due to poor money management and excessive spending. This serves as a reminder that it's essential to prioritize responsible financial habits, such as budgeting, saving, and investing wisely.
Diversify income streams: While Owens earned a substantial amount of money from his NFL contracts, relying solely on one source of income can be risky. By exploring additional opportunities and investments outside your primary profession, diversifying your income streams is essential.
Be cautious with endorsements and investments: Owens signed several endorsement deals during his career but did not always choose wisely. It's crucial to thoroughly research any investment or endorsement opportunity before committing financially. Don't be swayed by short-term gains; consider the long-term stability and potential risks.
Plan for the future: Professional athletes often retire relatively young, so it's crucial to plan for the future when earning substantial sums of money. Setting aside funds for retirement, creating an emergency fund, and investing in assets that will appreciate over time can help ensure long-term financial security.
Learn from mistakes: While Owens faced significant financial setbacks, he has also been open about and learned from his mistakes. Recognize that everyone makes missteps, but how you learn from them matters most. Take responsibility for your financial decisions and continually strive to improve your financial literacy.
Terrell Owens' Career Earnings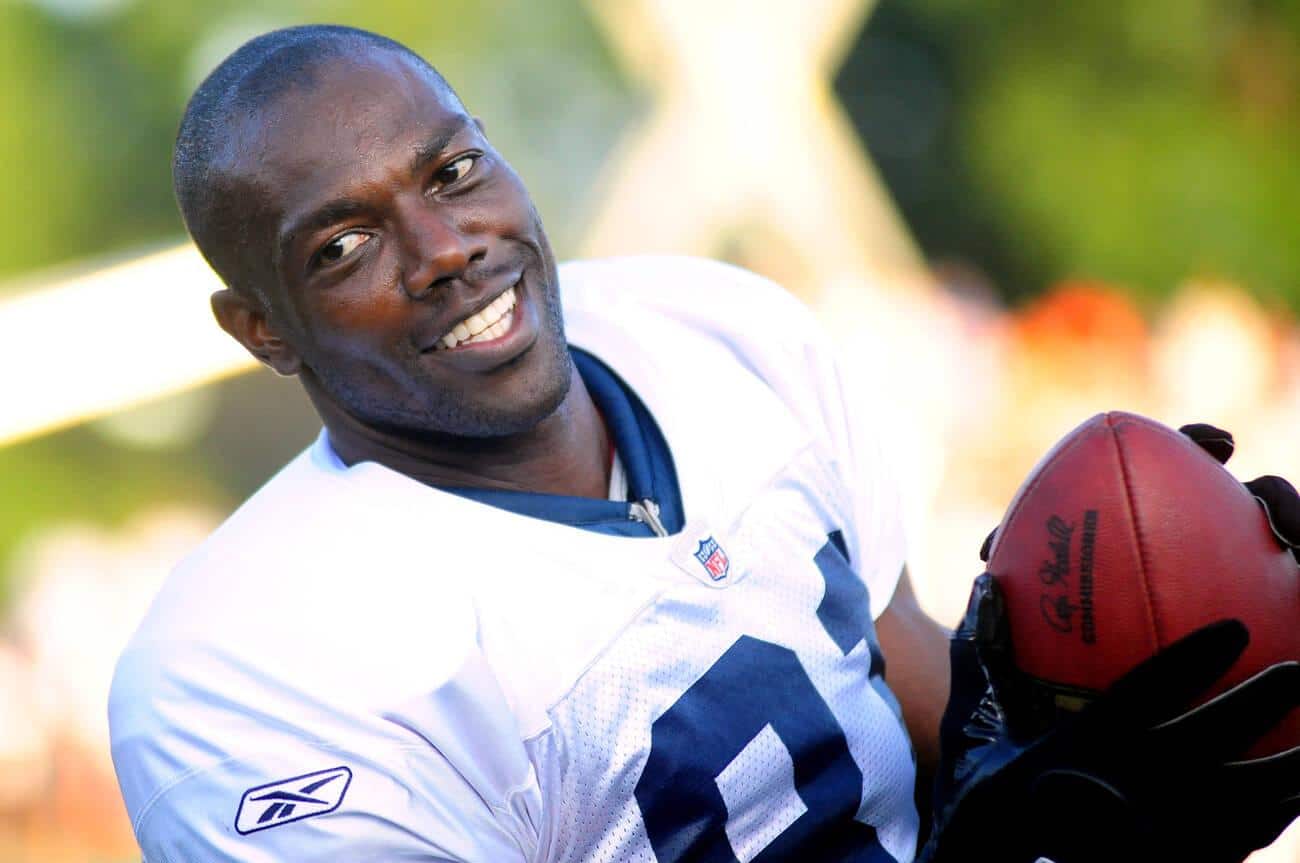 Terrell Owens earned millions of dollars throughout his NFL career and through significant endorsement deals. Discover the breakdown of his earnings and how he became one of football's highest-paid players in our blog. Let's get some ideas on it.
Breakdown of Earnings From NFL and Endorsements
Throughout the course of his NFL career, Terrell Owens earned impressive amounts both from his salary as an American football player and from his various endorsement deals. The table below provides a detailed breakdown of Owens' earnings from these sources.
| | |
| --- | --- |
| Source of Income | Amount |
| NFL Career Salary | $79.6 million |
| Endorsements | $400,000 |
| Total Career Earnings | $80 million |
To elaborate, Owens earned approximately $79.6 million in salaries alone during his active years in the NFL. This hefty earning doesn't account for the additional income he amassed through endorsement deals, which totaled around $400,000.
Upon summing up his career salary and endorsements, Owens' earnings reach $80 million. Despite these substantial earnings, Owens' current net worth in 2023 is estimated at around $500,000, which paints a vivid picture of his financial trajectory post-retirement.
Major Contracts and Endorsements
Throughout his illustrious NFL career, Terrell Owens secured numerous major contracts and lucrative endorsement deals that significantly contributed to his net worth. One of the most notable contracts in Owens' career was the eight-year, $80 million deal he signed with the Philadelphia Eagles in 2004.
This record-breaking contract at the time solidified Owens as one of the highest-paid wide receivers and showcased his undeniable talent on the field.
In addition to his impressive contracts, Owens had several endorsements that added significant value to his net worth. Some of his most prominent endorsement partnerships included companies like Nike, Campbell's Soup, and VitaminWater.
These collaborations provided substantial financial gains and amplified Owens' visibility off the football field.
Terrell Owens' Assets and Investments
Terrell Owens' assets and investments include properties, real estate holdings, and various business ventures and investments. Discover how he has diversified his wealth to ensure long-term financial success.
Read more to learn about Terrell Owens' intelligent investment strategies.
Properties and Real Estate Holdings
Terrell Owens has invested significantly in real estate during his NFL career, with one of his notable investments being a $4 million property in New Jersey. Let's break down his significant real estate holdings.
| | | |
| --- | --- | --- |
| Property | Location | Estimated Value |
| Residential House | Deerfield Beach, Florida | Not publicly disclosed |
| Investment Property | New Jersey | $4 million |
Despite his past financial setbacks, Owens maintains his residence in Florida while holding onto his New Jersey investment property. His real estate holdings remain a significant part of his net worth in 2023, approximately $500,000.
Business Ventures and Investments
Terrell Owens, known for his exceptional football career, has also dabbled in various business ventures and investments. While specific details about his ventures are not readily available, it is clear that Owens has explored opportunities beyond the realm of sports.
With a net worth that once reached millions, he undoubtedly had the financial means to pursue profitable endeavors. However, as mentioned earlier, Owens made several bad decisions that ultimately cost him much of his fortune.
He may still be involved in undisclosed business projects or investments despite this setback. As someone highly influential in professional football, it would not be surprising if Owens continued to explore entrepreneurial opportunities even after retiring from the sport.
Terrell Owens' Lifestyle and Spending Habits
Terrell Owens enjoys a luxurious lifestyle, indulging in luxury purchases and hobbies such as expensive cars and designer clothing. Curious to know more about his spending habits? Read on!
How He Spends His Money
Terrell Owens, known for his flashy lifestyle on and off the field, is no stranger to extravagant spending. Owens has indulged in his fair share of lavish purchases, from luxury cars to designer clothes.
He's been spotted driving around in expensive sports cars like Lamborghinis and Rolls-Royces, showcasing his love for flashy wheels. When it comes to fashion, Owens doesn't hold back either – he's often seen wearing top designer brands and attending high-profile events looking sharp and stylish.
Despite facing financial challenges in recent years, Owens hasn't completely abandoned his love for the finer things in life.
In addition to splurging on himself, Terrell Owens also enjoys giving back through philanthropy and charitable contributions. He understands the importance of using his wealth to impact society positively.
Luxury Purchases and Hobbies
Terrell Owens, known for his extravagant lifestyle, indulged in various luxury purchases and hobbies as an NFL star. Here are some of the opulent items he acquired and activities he enjoyed:
Expensive Cars: Owens had a penchant for high-end automobiles. He owned several luxurious cars, including a Lamborghini Murciélago, a Mercedes-Benz SLR McLaren, and a Bentley Continental GT. These vehicles showcased his love for speed and style.
Fine Jewelry: Owens often donned elegant jewelry pieces, such as diamond-encrusted watches, custom-made pendants, and elaborate bracelets. His taste for exquisite accessories added to his overall image of wealth and extravagance.
Designer Clothing: As a fashion enthusiast, Owens splurged on designer clothing brands like Gucci, Louis Vuitton, Versace, and Balenciaga. He frequently wore tailored suits, trendy streetwear, and stylish footwear.
Luxury Real Estate: Owens invested in prime properties in different locations across the United States. He owned multiple upscale residences, including mansions with state-of-the-art amenities like private pools, home theaters, and expansive landscapes.
Traveling in Style: With a desire to explore the world in utmost comfort, Owens embarked on luxurious vacations to exotic destinations around the globe. Private jets and exclusive resorts were part of his travel preferences.
Collecting Sports Memorabilia: As a sports icon himself, Owens had an appreciation for sports memorabilia from various athletes and sports events. He collected autographed jerseys and game-worn equipment like helmets, cleats, and other unique keepsakes.
Wealthy Hobbies: Besides his expensive purchases, Owens also engaged in hobbies that reflected his affluent lifestyle. These included playing golf at prestigious country clubs and participating in high-stakes poker games.
Philanthropy and Charitable Contributions
Terrell Owens is known not only for his success in the NFL but also for his philanthropic efforts and charitable contributions. Throughout his career and even after retirement, Owens has been actively involved in various charitable initiatives. Here are some of how Owens has made a positive impact through philanthropy:
Terrell Owens established the Catch a Dream Foundation, a charity dedicated to helping underprivileged families. Through this foundation, he has provided financial assistance, educational resources, and mentorship programs to those in need.

Owens has organized numerous charity events and fundraisers to raise money for causes close to his heart. These events have supported organizations such as the Boys & Girls Clubs of America, the Alzheimer's Association, and breast cancer research.

In 2006, Terrell Owens donated $2 million to his alma mater, the University of Tennessee at Chattanooga (UTC), for their athletic program. This generous contribution helped support scholarships and facilities enhancements for student-athletes.

Owens has also participated in various community service initiatives. He has visited children's hospitals, volunteered at youth camps, and spoken at schools to inspire and motivate young people.

Throughout his career, Terrell Owens has used his platform to raise awareness about social issues. He has been vocal about advocating for equal rights, supporting diversity, and promoting positive change within communities.
Terrell Owens' Social Media Presence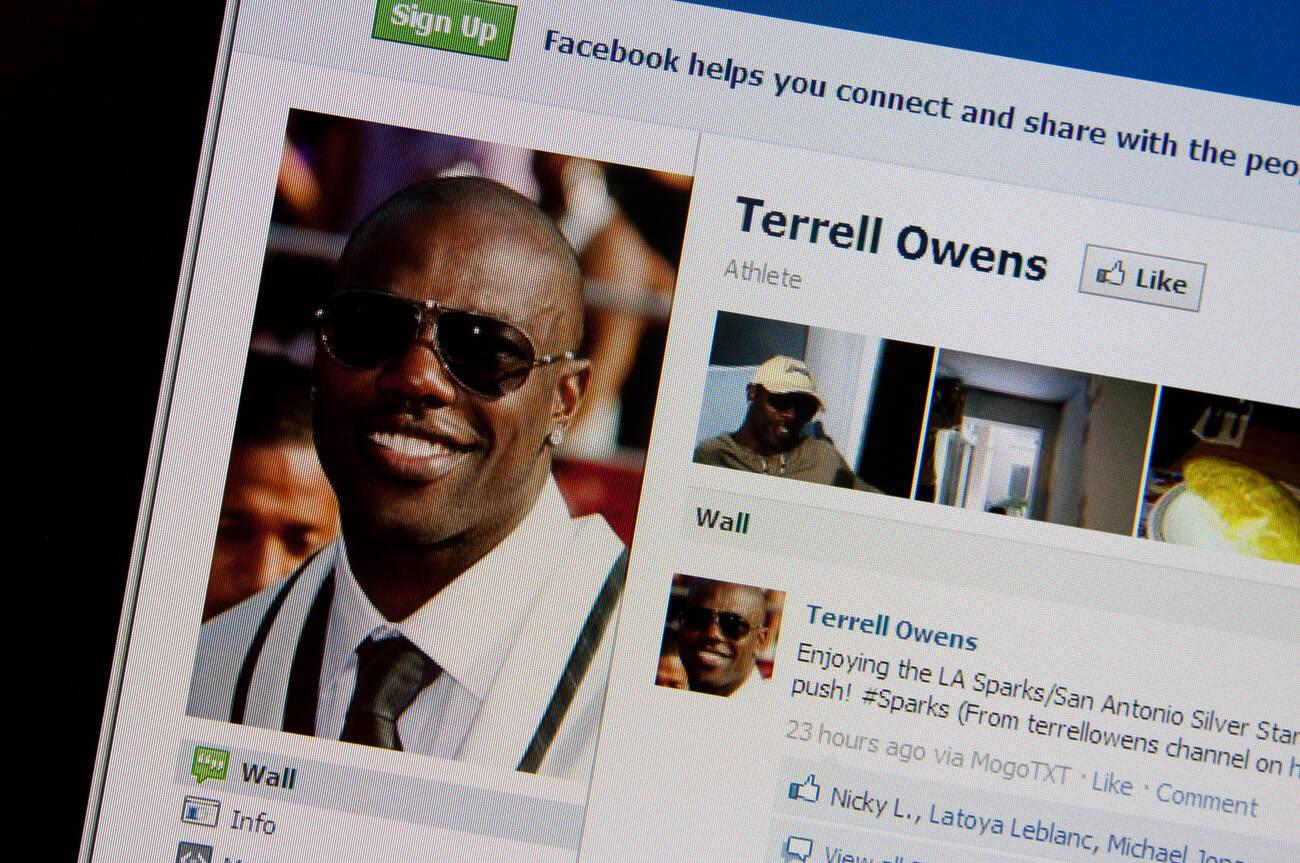 Terrell Owens maintains a solid social media presence, with active accounts on various platforms and many followers.
Overview of His Social Media Accounts and Followers
Terrell Owens is an influential figure on social media with remarkable followers across various platforms. His public life as a sports star continues on digital platforms, where he connects with fans, shares insights into his personal and professional life, and engages in various brand endorsements.
| | |
| --- | --- |
| Social Media Platform | No. of Followers (As of 2023) |
| Instagram | 1.2 Million |
| Twitter | 1.5 Million |
| Facebook | 1 Million |
| YouTube | 200K Subscribers |
Terrell's social media presence is not just a pastime; it's a significant channel that contributes to his income and net worth, as established in his biography and net worth in 2023. His social media statistics indicate his extensive reach and influence, making him a sought-after figure for endorsements and partnerships.
Influence and Impact on Social Media
Terrell Owens has significantly impacted social media, utilizing platforms like Facebook, Twitter, and Instagram to connect with his fans. With more than 1 million followers on Facebook alone, he has built a large following and engaged audience.
Terrell Owens shares insights into his personal life, career updates, and motivational messages through his posts and interactions.
His active social media presence has contributed to his overall net worth and helped shape his public image. By sharing glimpses of his luxurious lifestyle and philanthropic endeavors, Terrell Owens has maintained relevance in the public eye even after retiring from professional football.
Terrell Owens' Future Plans and Projects
Terrell Owens continues to pursue various ventures and projects, including collaborations with brands and companies, as he expands his presence in the entertainment industry.
Current Ventures and Projects
Terrell Owens is currently involved in several ventures and projects. One notable project is his documentary series titled "T.O.: The Terrell Owens Story," which chronicles his life and career from humble beginnings to NFL superstar.
The series provides an intimate look into his challenges on and off the field, shedding light on his determination and resilience. In addition to this, Owens is also actively involved in various philanthropic efforts, mainly focusing on advocating for mental health issues within the sports community.
Terrell Owens continues to positively impact through these endeavors while sharing his inspiring story with audiences worldwide.
Future Goals and Aspirations
Terrell Owens has always been known for his drive and determination on the football field, and even in retirement, he continues to set ambitious goals for himself. Looking ahead to 2023, Owens has several exciting projects and plans.
One of his main focuses is expanding his business ventures and investments, seeking new opportunities to grow his wealth. Additionally, he is actively involved in various philanthropic endeavors, using his platform and resources to impact the world positively.
With his relentless work ethic and entrepreneurial mindset, there's no doubt that Terrell Owens will continue to push boundaries and achieve great things in the future.
FAQs
Readers often have questions about Terrell Owens Net Worth, such as what it is in 2023, how he made his money, his annual income, and the source of his wealth.
What Is Terrell Owens' net worth in 2023?
Terrell Owens' net worth in 2023 is estimated to be $500,000, according to Celebrity Net Worth. Despite being one of the NFL's most accomplished and talented wide receivers, financial setbacks and mismanagement have significantly impacted his wealth.
How did Terrell Owens make his money?
Terrell Owens made his money primarily through his successful football career in the NFL. As one of the top wide receivers in the league, Owens earned a significant amount from contracts and endorsements.
What is Terrell Owens' annual income?
Terrell Owens currently earns an annual income of $250,000 as of 2023. Despite his impressive career in the NFL and various endorsements, his income has significantly decreased due to poor financial planning. With a net worth estimated at $500,000, Terrell Owens' financial situation is a cautionary tale about the importance of wisely managing wealth.
What Is the source of Terrell Owens' wealth?
Terrell Owens' wealth primarily stems from two sources: his NFL income and his endorsements. As a former American NFL wide receiver, Owens had a successful career that spanned over 15 seasons and earned substantial salaries and bonuses.
Wrapping Up
In conclusion, Terrell Owens Net Worth in 2023 is estimated at around $500,000. Despite his impressive NFL career and achievements, his wealth has significantly decreased.
However, Owens remains a prominent figure in the sports world and continues to pursue various ventures and projects for the future.
Subscribe to Our Latest Newsletter
To Read Our Exclusive Content, Sign up Now.
$5/Monthly, $50/Yearly