Similarities Between Sachin Tendulkar and Lionel Messi
Listen to Podcast:
Fans always want to know about their favorite players. Sachin Tendulkar and Lionel Messi are the top players who are all time favorite to the fans across the world. Here we focus about the similarities between Sachin Tendulkar and Lionel Messi.
First of all, we can say that both legends are blessed by God. Because Tendulkar and Messi both have the similarity in the birth date number. Tendulkar was born on April 24 and Messi was born on June 24. So, the birthday number "24" is the big similarity between them. 
Apart from this, we bring in discussion the other similarities between Tendulkar and Messi. Both Lionel Messi and Sachin Tendulkar, who are arguably the two most well-known figures in football and cricket, had to wait until their final World Cup appearance to win a trophy.
There are many parallels between Tendulkar's realization of his World Cup ambition and Messi's edition of the lone title lacking from his trophy case that give us the impression that their stories were written by God himself and that they were both destined for greatness. Trophies do not always indicate a sports person's greatness, but they certainly enhance their legacy.
By contrasting, a photograph of Lionel Messi's World Cup journey with India's Sachin Tendulkar has been shared. In the midst of the elaborate preparations for Argentina vs France FIFA World Cup championship game, Indian cricketing icon Sachin Tendulkar posted a graphic image contrasting Lionel Messi's World Cup trip with his own.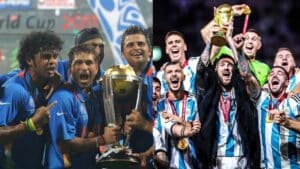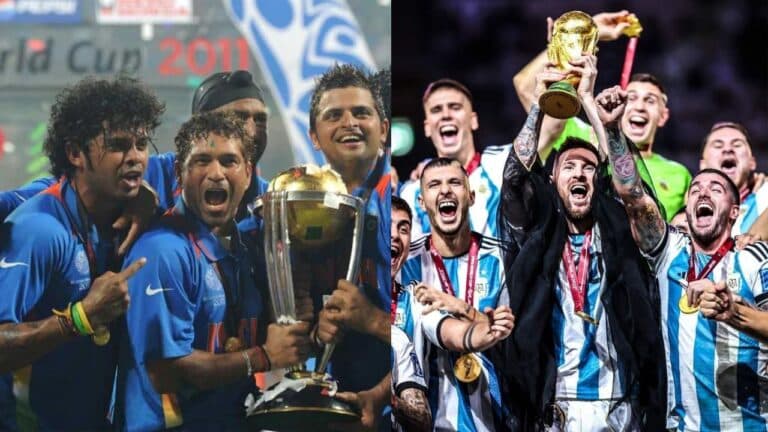 Tendulkar's 2011 cricket World Cup run and Messi's FIFA World Cup 2022 run were compared in the image, which was first posted by CrickTracker. It's interesting to note that for their respective national teams, both illustrious athletes don the recognizable number 10 jersey shirts.
Tendulkar stated that India won the 2011 Cricket World Cup in the post's caption. In addition, he asked his followers who they thought will win the 2022 World Cup. "India won the 2011 Cricket World Cup, but in 2022? What do you people think?" Tendulkar posted a message.
2011 India Cricket World Cup Champions

2022 ?

What do you think guys?#FIFAWorldCup https://t.co/U5OMmg0XSB

— Sachin Tendulkar (@sachin_rt) December 18, 2022
The image also demonstrated that Messi lost the summit match eight years prior, in 2014, whereas Tendulkar lost a World Cup final in 2003. Prior to competing in the finals, both illustrious players were also named Player of the Match for their respective nations during the semifinal.
Just a few hours ago, Tendulkar posted the article, which has since received more than 11,000 likes and hundreds of retweets. One user commented, "Messi will win like You Sir. My Both Idols End his Careers at Peak." "If our number 10 succeeds, then it will also be his success because number 10 has always been lucky. Messi will take home the FIFA World Cup 2022 as well," another remarked.
Sports legends Tendulkar and Messi both have a similarity of their birthday numbers.
The birthday Number "24" is First Similarity between them  
Cricket legend Tendulkar was born on April 24, 1973, while football legend Messi was born on June 24, 1987. So, they have the similarity of their birthday number which is 24.       
Their Teams Won Their Last World Cup In the 1980s
The Indian cricket team won the World Cup for the first time in 1983 under the direction of Kapil Dev, but the Men in Blue had to wait until Tendulkar's final World Cup appearance before they were presented with a trophy.
As Diego Maradona worked his magic in Mexico, Argentina too won their last World Cup in the 1980s, and they too had to wait until Messi's final World Cup to claim another global championship.
Performances in the semifinals by Player of the Match
Indian cricketer Sachin Tendulkar scored 85 runs against Pakistan to help his country reach the 2011 ICC World Cup final. The famous batsman won the award for man of the match for his half-century, which Pakistan couldn't handle.
A No.10 reaching a World Cup final after losing a final eight years ago. We have seen this before👀

Can Lionel Messi end his World Cup career on a high like the great Sachin Tendulkar?#FIFAWorldCup pic.twitter.com/FsxO5yULCv

— CricTracker (@Cricketracker) December 15, 2022
In the FIFA World Cup 2022 semifinal encounter against Croatia, Messi not only scored but also provided Julian Alvarez with two assists, earning him the title of player of the game.
Highest run scorer and goal scorer for their respective teams
At the end of the ODI World Cup, Tendulkar had amassed 482 runs from nine games, making him India's top run-scorer overall.
Messi scored seven goals during the FIFA World Cup 2022 in Qatar, finishing the competition as his team's top scorer.
8 Years Ago, World Cup Heartbreaks
8 years passed before Tendulkar and Messi were able to hold the World Cup trophy in their hands.
In the top match in 2003, Australia handed India a crushing defeat, leaving Tendulkar heartbroken. Eight years later, he exacted retribution.
A late Mario Gotze goal in the 2014 FIFA World Cup final denied Messi of winning the trophy despite him coming agonizingly close.
Likewise, it took the Argentine superstar eight years to take home his first World Cup trophy.
They won their last World Cups
Sachin Tendulkar and Lionel Messi both made it clear they wouldn't play in the following World Cup, and they both gave it their all to close their respective careers with medals.
Subscribe to Our Latest Newsletter
To Read Our Exclusive Content, Sign up Now.
$5/Monthly, $50/Yearly