Discover the Ultimate Route 66 Map for a Thrilling Adventure in 2023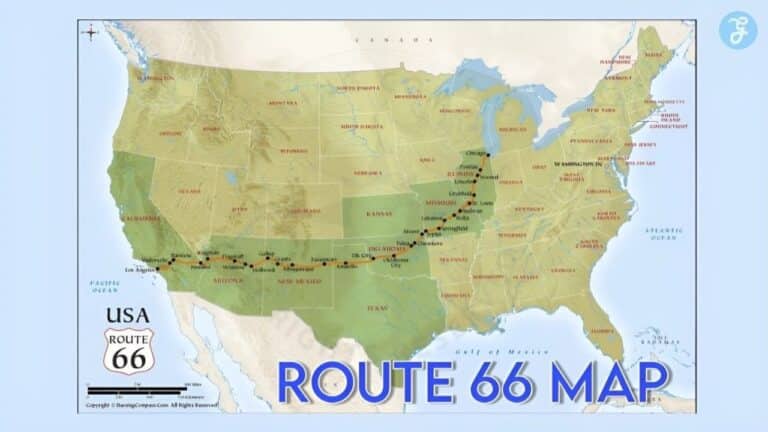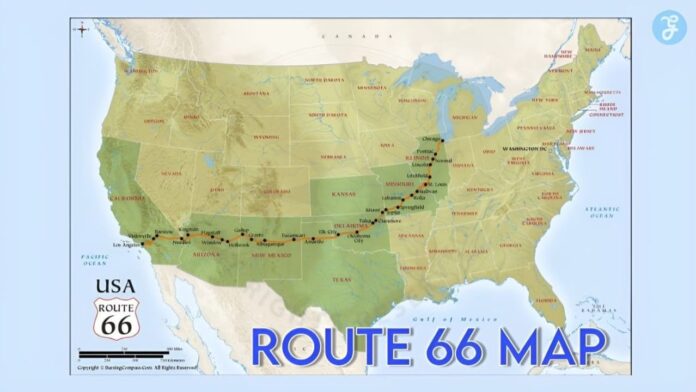 Planning your epic road trip along the iconic Route 66 in 2023? From Chicago to Santa Monica, this legendary highway unfolds a treasure trove of Americana across approximately 2400 miles.
This guide has interactive Route 66 maps, unique must-see stops, and practical travel advice to fuel your adventurous spirit. Get ready for an incredible journey of discovery!
Content Highlights
Route 66, also known as the "Mother Road," is a historic route from downtown Chicago to Santa Monica, covering a total distance of about 2,400 miles.

During its heyday, Route 66 attracted families who wanted to explore small towns and awe – inspiring landscapes along the way.

Must-see stops along Route 66 include classic car museums, quirky roadside attractions, retro neon signs, world-renowned museums, and spectacular national parks.

When planning your Route 66 road trip, consider transportation options such as renting a car or motorcycle. Determine your route based on your interests and available time. Create an itinerary that includes popular attractions and landmarks as well as quirky roadside attractions. Utilize resources like interactive maps and state-by-state guides for planning.
Overview of Route 66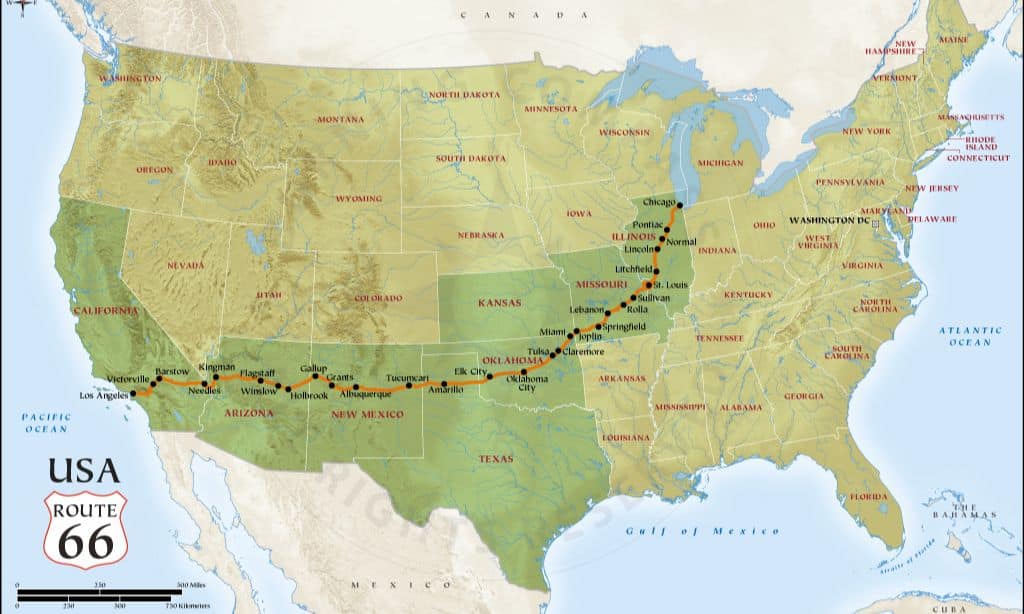 Route 66, also known as the "Mother Road," is a historic route that spans from downtown Chicago, Illinois to Santa Monica, California, covering a total distance of about 2,400 miles (3,900 km).
History of Route 66
Route 66, also known as the Main Street of America, has a rich history that dates back to the early 20th century. The road construction began in the year 1926 with the aim of providing an efficient travel route from Chicago to Los Angeles.
Oklahoma businessman Cyrus Avery is recognized as the "Father of Route 66," contributing significantly to its development and promotion. Route 66 stands out as one of the first national highways for motor vehicles in America, embodying progress and innovation during that period.
Over time, it gained popularity and eventually became ingrained in American culture as an iconic symbol representing freedom and adventure on open roads. Its extraordinary influence continues even after its official decommissioning in 1985 by offering travelers a unique opportunity to experience historic America up close and personal.
Route 66 Heyday
During its heyday, Route 66 unfolded a canvas of American freedom and adventure. This legendary road traced a path through several cultural hotspots, including Missouri, Kansas, Oklahoma, Texas, and New Mexico.
Its fame surged as families piled into cars to explore the bustling small towns and awe-inspiring landscapes that marked the route.
This period became known as the "Route 66 heyday", with thousands flocking to discover what lay along this iconic highway. The map of Route 66 was much more than a navigation tool—it symbolized endless possibilities for explorers aiming to soak up an authentic Americana experience.
Even though times have changed since then, some travellers still yearn for those good old fuss-free road trips across the heartlands of America.
Starting and Ending Points of Route 66 Map
Embarking on a Route 66 road trip takes you from bustling city centers to stunning natural landscapes. This legendary highway begins and ends at two iconic landmarks worth exploring.
Downtown Chicago, Illinois: Traditionally recognized as the starting point of Route 66, downtown Chicago offers visitors a bustling metropolis rich in history and culture. Exploring "The Windy City" is an excellent way to kick off your journey.
Santa Monica, California: After covering approximately 2,400 miles across eight states, your Route 66 journey concludes upon reaching the breathtaking coastline of Santa Monica. Celebrate the end of your road trip with a stroll along the famous Santa Monica Pier or a sunset view by the Pacific Ocean.
Read Also: A Guide to the Top Road Trips in United States
Must-See Stops on Route 66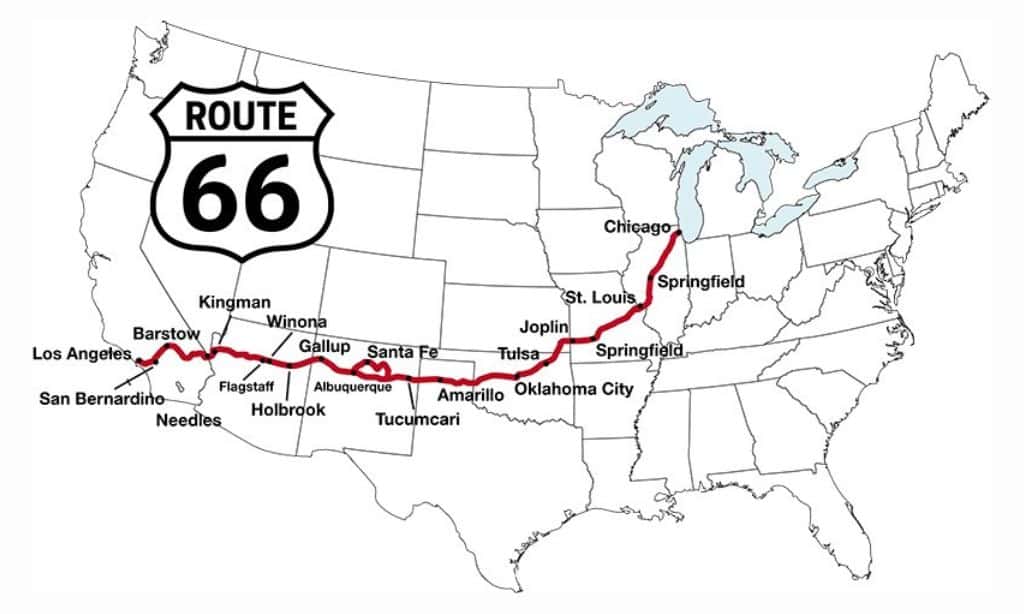 Discover popular attractions and landmarks, quirky roadside stops, and breathtaking national parks along the historic Route 66.
Popular Attractions and Landmarks Along the Route
Route 66 has popular attractions and landmarks that will make your road trip unforgettable. Here are some must-see stops along the route:
Classic cars: Immerse yourself in the nostalgia of Route 66 by visiting classic car museums and shows.
Quirky roadside attractions: From oversized statues to unique art installations, you'll encounter fascinating and Instagram-worthy sights along the way.
Retro neon signs: Capture the essence of Route 66 with its iconic neon signs that light up the night sky.
World-renowned museums: Explore museums dedicated to famous figures like Abraham Lincoln and Route 66 itself, showcasing its historical importance.
Spectacular national parks: Take a break from driving and marvel at the natural wonders found near Route 66, including Petrified Forest National Park and Grand Canyon National Park.
Quirky Roadside Attractions
Route 66 is famous for its assortment of quirky roadside attractions that add a unique touch to your road trip experience. As you drive along this iconic route, make sure to keep an eye out for these interesting and unusual sights:
Giant statues: From towering dinosaurs to colossal lumberjacks, Route 66 is home to some truly enormous sculptures that are sure to catch your attention.
Retro neon signs: Look out for the vibrant glow of retro neon signs that adorn classic diners, motels, and other establishments along the route. These vintage signs are a nostalgic throwback to the heyday of Route 66.
Art installations: Be prepared to come across fascinating art installations that range from whimsical to thought-provoking. These artistic creations can be found in unexpected places and are often a delightful surprise.
Roadside oddities: Route 66 is full of odd and peculiar sights, including strange buildings, unique architecture, and one-of-a-kind structures. These bizarre attractions are guaranteed to make you do a double-take.
Quirky museums: Take a break from driving and explore the offbeat museums scattered along Route 66. From museums dedicated to aliens and ghosts to collections of unusual artifacts, there's something for every curious traveler.
Planning Your Route 66 Road Trip
Choose your transportation, determine your route, create an itinerary, and find resources to help you plan the ultimate Route 66 road trip. Start your adventure now!
Choosing Your Transportation
Consider renting a car for maximum flexibility and convenience.

Explore the option of renting a motorcycle for a thrilling and unique experience on Route 66.

If you prefer a more immersive journey, consider cycling along the route.

Join an organized group tour for a hassle-free experience with transportation provided.

Consider driving a vintage car or RV along Route 66 for those seeking a nostalgic adventure.

Take advantage of public transportation options such as buses or trains to explore different sections of the route.
Determining Your Route
To plan your ultimate Route 66 road trip, determine your route. Here are some steps to help you decide on the best path for your adventure:
Research the Route: Familiarize yourself with the different sections of Route 66 and the attractions along each stretch. This will give you a better understanding of what each state has to offer and allow you to prioritize your stops.
Consider Your Interests: Consider what interests you the most – historical landmarks, natural beauty, or quirky roadside attractions. Tailor your route to include the places that align with your preferences.
Determine How Much Time You Have: Consider how many days or weeks you have available for your road trip. This will help you decide how much distance you can cover each day and how many stops you can make.
Plan for Flexibility: While having a rough itinerary is good, leave room for flexibility in case you encounter unexpected detours or discover new places that weren't initially on your radar.
Consult Online Resources: Use online resources like interactive maps, travel blogs, and forums dedicated to Route 66 to gather insights from fellow travelers who have already experienced this iconic road trip.
Creating a Road Trip Itinerary
Plan your starting and ending points along Route 66 based on your preferences and available time.

Research the popular attractions and landmarks along the route to include in your itinerary.

Don't forget to include quirky roadside attractions that make Route 66 unique.

Consider adding national parks along the way for a nature-filled experience.

Allocate enough time at each stop to fully explore and appreciate what it offers.

Take into account the distance between stops and plan your driving time accordingly.

Utilize a Route 66 road trip planner resource to help organize and map your itinerary.
Route 66 Road Trip Planner Resources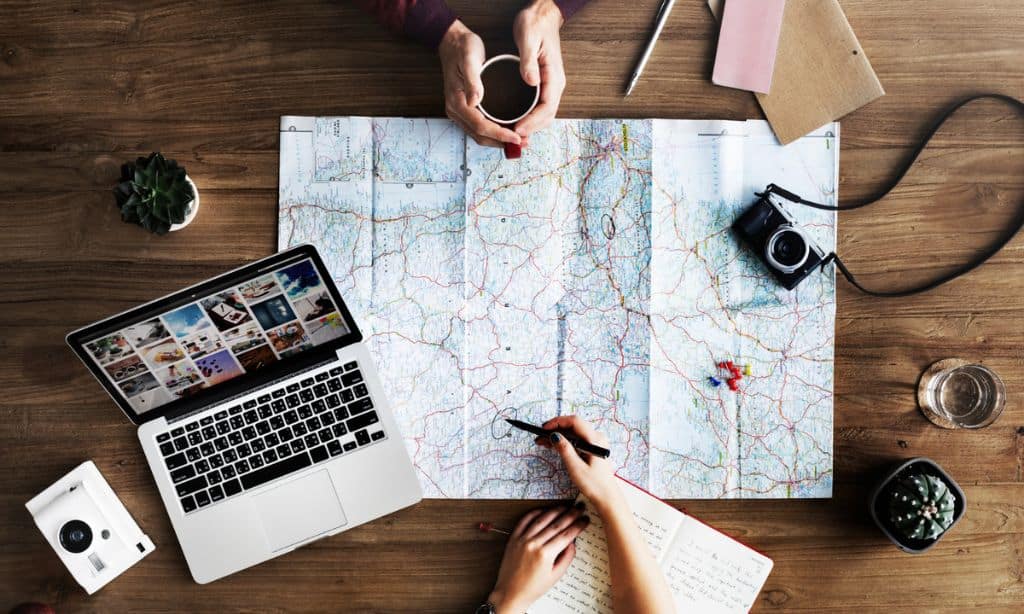 Plan your perfect Route 66 road trip with these helpful resources:
The Route 66 Road Trip Guide: A comprehensive resource for planning your route along Route 66. Find information on attractions, accommodations, and travel tips.
The Travel Guide: Historic Route 66 provides detailed information on hotels, travel tips, and must-see sights. It's a great tool to help you make the most of your trip.
The Route 66 Road Trip Planner: Use this resource to create a detailed itinerary for your Route 66 adventure. It includes interactive maps and state-by-state stops.
Interactive Maps: Explore high-resolution maps of Route 66 to get a visual overview of the route and its key attractions.
State-by-State Guides: Discover the unique attractions and must-see stops in each state along Route 66. These guides will help you plan your journey and ensure you don't miss anything exciting.
One Week Route 66 USA Road Trip Itinerary: If you have limited time, this itinerary provides day-by-day instructions, attractions, and lodging options for a one-week road trip on Route 66.
Route 66 by State
Route 66 stretches across eight states, including Illinois, Missouri, Kansas, Oklahoma, Texas, New Mexico, Arizona, and California.
Route 66 in Illinois
Route 66 in Illinois stretches approximately 2,400 miles and is a must-see destination for road trip enthusiasts. The historic route starts or ends in downtown Chicago, offering an iconic starting point.
Illinois showcases numerous attractions and landmarks along the Route 66 journey, including museums, diners, motels, and quirky roadside oddities. With its rich history and diverse offerings, Illinois promises an unforgettable experience for those traveling along this legendary road.
Route 66 in Missouri
Route 66 in Missouri spans 317 miles, taking travelers through both bustling cities and charming small towns. Known as the "Mother Road," this historic route is beloved by road trip enthusiasts.
Along Route 66 in Missouri, you'll find a variety of attractions and landmarks to explore, making it an exciting addition to any road trip itinerary. Whether you're interested in nostalgic roadside stops or picturesque natural scenery, there's something for everyone along this iconic stretch of highway.
Route 66 in Kansas
Kansas is home to the shortest leg of Route 66, but don't let its size fool you. This stretch of the historic highway is packed with sights, memorabilia, and a rich history that will captivate any traveler.
Despite its brevity, there are plenty of opportunities for exploration along the Kansas portion of Route 66. From quirky roadside attractions to iconic landmarks, you can discover the charm and significance of this famous route through Kansas.
To make the most of your road trip to Kansas, utilize interactive maps and guides to help you navigate this fascinating slice of Route 66 history.
Route 66 in Oklahoma
Route 66 in Oklahoma spans approximately 400 miles, showcasing the state's rich history and iconic landmarks. Travelers can explore attractions like the National Route 66 Museum to learn about the road's significance and heritage.
Along the route, visitors will also come across unique sites such as the Blue Whale of Catoosa and the Round Barn. Driving through Oklahoma on Route 66 offers breathtaking views of scenic landscapes that capture the essence of this historic journey.
The Oklahoma Route 66 Association is dedicated to preserving and promoting the history of Route 66 in this state, ensuring its legacy lives on for future generations.
Route 66 in Texas
Route 66 in Texas is a notable section of the iconic Route 66 that stretches across eight states in the United States. One must-see stop along this route is Amarillo, a popular destination for travelers seeking to immerse themselves in the history and charm of this historic road.
As you journey through Texas on Route 66, you'll have the opportunity to explore various small towns and discover unique roadside attractions that make this road trip experience truly memorable.
In The Ultimate Road Trip Guide in 2023, we provide comprehensive information about Route 66, including photos, maps, travel tips, hotel recommendations, and exciting things to see along the way in Texas.
Read More: Tips for Planning an off-Road Camping Trip
Route 66 in New Mexico
Route 66 in New Mexico spans about 250 miles and offers breathtaking scenery, including stunning desert landscapes, mesas, and the iconic Route 66 signage. You'll find popular stops like Albuquerque, Santa Fe, Tucumcari, and Gallup along this stretch.
Explore its historic Nob Hill district in Albuquerque, and don't miss out on dining at the famous Route 66 Diner. Santa Fe is known for its unique blend of Native American, Spanish, and Anglo cultures; visit the historic Plaza and immerse yourself in the city's art galleries and adobe architecture.
Route 66 in Arizona
Route 66 in Arizona is a captivating part of the iconic Route 66 road trip that spans multiple states. Spanning across Arizona, this "The Mother Road" stretch offers a unique and unforgettable road trip experience.
As you drive through this beautiful state, you'll encounter stunning desert landscapes and an array of historic towns, museums, and attractions. From the famous Wigwam Motel in Holbrook to the breathtaking scenery of the Painted Desert, there is so much to see and explore on your journey through Route 66 in Arizona.
Whether you're interested in history or want to soak up the scenic beauty, Arizona's section of Route 66 has something for everyone. So get ready to hit the open road and discover all this fascinating state along "The Mother Road.".
Route 66 in California
Route 66 in California is a significant part of the iconic Route 66 road trip that stretches from Chicago, Illinois, to Santa Monica, California. Along this stretch, you'll find some incredible stops and attractions.
One popular stop is the El Garces Hotel in Needles, known for its stunning Spanish Revival architecture. Another must-see is Amboy, a ghost town with the famous Roy's Motel and Café.
Don't miss out on other unique spots like Bottle Tree Ranch, McDonald's Museum, Wigwam Motel, Cucamonga Service Station, and Aztec Hotel.
Top Attractions in Each State
Explore the must-see stops and attractions in each state along Route 66, from iconic landmarks to hidden gems waiting to be discovered.
Must-see Stops and Attractions in Each State Along Route 66
Illinois: Explore the iconic city of Chicago and visit attractions like Grant Park, Navy Pier, and the Art Institute of Chicago. Don't miss the Route 66 Welcome Center and the Gemini Giant in Wilmington.
Missouri: Experience the charm of St. Louis with its famous Gateway Arch and ride on a historic riverboat. Visit Meramec Caverns, one of the largest cave systems in the state.
Kansas: Take a detour to Galena, where you can see Cars on the Route, a quirky shop featuring vintage cars from the movie "Cars." Embrace nature at Big Brutus, a giant electric coal shovel.
Oklahoma: Discover Tulsa's art deco architecture and visit the Will Rogers Memorial Museum. Explore Oklahoma City and its unique Western heritage at the National Cowboy & Western Heritage Museum.
Texas: Stop by Amarillo and witness the famous Cadillac Ranch, an outdoor art installation. Visit Palo Duro Canyon State Park, often called the Grand Canyon of Texas.
New Mexico: Explore Albuquerque's Old Town and enjoy breathtaking views at Sandia Peak Tramway. Discover Native American culture at Acoma Pueblo, one of North America's oldest continuously inhabited communities.
Arizona: Marvel at nature's wonder at Grand Canyon National Park and hike along its breathtaking trails. Experience nostalgia at Radiator Springs inside Cars Land at Disneyland Resort.
California: Reach your final destination in Santa Monica and soak up the sun on its beautiful beaches. Enjoy amusement rides on Santa Monica Pier or stroll along Hollywood Boulevard in Los Angeles.
Route 66 Lodging and Accommodations
Discover the variety of lodging and accommodation options along Route 66, including charming hotels and motels that capture the essence of the historic route. From retro-themed establishments to modern boutique hotels, there is something for every traveler's taste and budget along this iconic road trip.
Hotels and Motels Along Route 66
There are a variety of historic motels and hotels along the entire stretch of Route 66 from Chicago to Santa Monica. These accommodations offer a unique experience for travelers staying along Route 66. Lebanon, a town along Route 66, provides a range of lodging options, including Hampton Inn, Munger Moss Motel, Holiday Inn Express & Suites, Super 8, and others.
There are iconic and historic hotels on Route 66 that offer a memorable stay for visitors. There are vintage motels along Route 66 that provide a nostalgic charm and are worth considering for a stay. This guide provides a detailed list of 51 best Route 66 hotels and motels to help travelers choose the perfect accommodation for their trip.
Route 66 Camping Options
Route 66 offers a variety of camping options for travelers who prefer the great outdoors. Here are some popular choices along the route:
KOA Campgrounds: Known for their amenities and customer service, KOA campgrounds can be found at various locations along Route 66.
National Forests: Several national forests near Route 66 offer camping facilities, such as the San Bernardino National Forest in California and the Coconino National Forest in Arizona.
State Parks: Many states along Route 66 have state parks with campground facilities, including Lake Thunderbird State Park in Oklahoma and Meramec State Park in Missouri.
Private RV Parks: Numerous privately-owned RV parks along Route 66 provide full hookup sites and additional amenities like swimming pools and playgrounds.
Free Camping: For those on a budget, there are also opportunities for free camping in certain areas, such as dispersed camping in national forests or boondocking on Bureau of Land Management (BLM) land.
Road Trip Tips and Resources
Plan your road trip along Route 66 with these helpful tips and resources, including estimated driving times, a packing list, recommended books and guides, and valuable planning resources to make your journey unforgettable.
How Long It Takes to Drive Route 66
Driving Route 66 can take 10 to 14 days, depending on how much time you want to spend exploring the different attractions. Most travelers take at least two weeks to experience the journey fully. Some road trippers prefer to spend a week focusing on a specific section of Route 66, giving them more time to delve into that area's unique sights and culture. Route 66 covers approximately 2,400 miles (3,900 km) from downtown Chicago, Illinois, to Santa Monica, California.
Packing List for a Route 66 Road Trip
Be prepared for your Route 66 road trip by packing these essential items:
GPS: Ensure you stay on track and don't miss any important turns.
Car trash can: Keep your vehicle clean and organized during the long drive.
Water bottle with straw: Stay hydrated easily without having to stop frequently.
YETI tumbler: Keep your drinks hot or cold for hours, perfect for long stretches of driving.
EZ66 Guide Book: This recommended resource will provide all the information you need for a successful journey.
Packing cubes: Stay organized by using these handy tools to separate your clothes and belongings from your luggage.
Road trip snacks: Stock up on non-perishable snacks to keep you fueled and satisfied.
Travel first aid kit: Be prepared for any minor injuries or illnesses that may pop up along the way.
Comfortable clothing and shoes: Opt for comfortable and versatile clothing for various weather conditions.
Camera or smartphone with a good camera: Capture all the amazing sights and memories along Route 66.
Portable phone charger: Keep your devices powered up, especially if you rely on GPS navigation or take lots of photos.
Emergency car kit: Include items like jumper cables, a flashlight, and a tire pressure gauge in case of any roadside emergencies.
Recommended Route 66 Books and Guides
Looking for some recommended books and guides to enhance your Route 66 road trip? Check out these resources that will provide valuable insights and tips for your journey:
"Route 66 Traveler's Guide and Roadside Companion" by Tom Snyder – This comprehensive guidebook offers detailed information about attractions, landmarks, and quirky roadside stops along Route 66.
"EZ66 Guide for Travelers" by Jerry McClanahan – Known as the "bible" for Route 66 travelers, this guide provides turn-by-turn directions, maps, and information on historic sites and dining options.
"Route 66 Adventure Handbook Expanded Third Edition" by Drew Knowles – This book covers the entire route from Chicago to Los Angeles, offering recommendations on accommodations, restaurants, and must-visit sights.
"Ghost Towns of Route 66" by Jim Hinckley – Dive into the history of abandoned towns along the Mother Road with this captivating guidebook that takes you off the beaten path.
"Route 66: The Highway and Its People" by Susan Croce Kelly and Quinta Scott – This book explores the cultural significance of Route 66 through fascinating stories, photographs, and interviews with people who have lived along the route.
Road Trip Planning Resources
Looking to plan your epic Route 66 road trip? Check out these road trip planning resources to help you navigate your journey along the Mother Road:
The Route 66 planning guide: This comprehensive guide provides valuable information on when to go, how many days are needed, and tips for renting a vehicle.
The Ultimate Route 66 Road Trip Guide: This guide is your go-to resource for planning the route along Route 66. It features many roadside attractions and landmarks you won't want to miss.
Route 66 road trip planner: Use this planner to map out your stops, create an itinerary, find lodging options, and even make a packing list for a successful road trip.
Historic Route 66 Travel Guide: Offering detailed information on planning a road trip, this travel guide includes a suggested one-week itinerary with recommendations for attractions and lodging.
Best stops along Route 66: Take advantage of various resources that highlight the top attractions and must-see stops along every state on Route 66 for an unforgettable journey.
Additional Route 66 Travel Resources
Interactive online maps provide detailed information about Route 66, including state-by-state stops.

A Route 66 road trip planner is available to assist you in planning your trip and creating a custom itinerary.

Recommended guidebooks offer insights and tips from previous travelers who have experienced Route 66.

Popular road trip websites offer forums and discussion boards where you can find advice and recommendations from other travelers.

The National Park Service provides information on the national parks along Route 66, including visitor centers and hiking trails.

Historic preservation organizations offer resources for learning about the history of Route 66 and its significance as a cultural icon.

Online travel blogs and websites publish articles with insider tips and personal experiences to help you make the most out of your Route 66 adventure.

Social media groups dedicated to Route 66 provide a platform for sharing photos and stories and connecting with other enthusiasts.

Local tourism offices along the route often have brochures, maps, and additional resources available for visitors.

Road trip apps with features such as GPS navigation, points of interest, and real – time traffic updates can enhance your journey on Route 66.
Frequently Asked Questions (FAQs)
If you still have queries on route 66, you can check below the answers to some commonly asked questions.
1. What are the must-see attractions along Route 66 in 2023?
Some must-see attractions along Route 66 in 2023 include the Grand Canyon, Cadillac Ranch, Santa Monica Pier, Petrified Forest National Park, and the Gateway Arch.
2. How long does it take to drive the entire length of Route 66?
Driving the entire length of Route 66 can take around two weeks if you're consistently driving each day. However, many travelers choose to spread it out over a longer period to enjoy all the sights and experiences along the way fully.
3. Are there any recommended accommodations options along Route 66?
Along Route 66, you'll find various accommodation options ranging from budget-friendly motels to boutique hotels and charming bed and breakfasts. It's advisable to book in advance during peak travel seasons.
4. What is the best time of year to embark on a road trip on Route 66?
The best time for a road trip on Route 66 is typical during spring or fall when temperatures are milder and crowds are smaller than in summer. However, it depends on individual preferences and desired weather conditions for outdoor activities or sightseeing at specific destinations.