Power Book IV: Force – Cast, Plot, Synopsis, and Upcoming Season Updates [Detail Guide]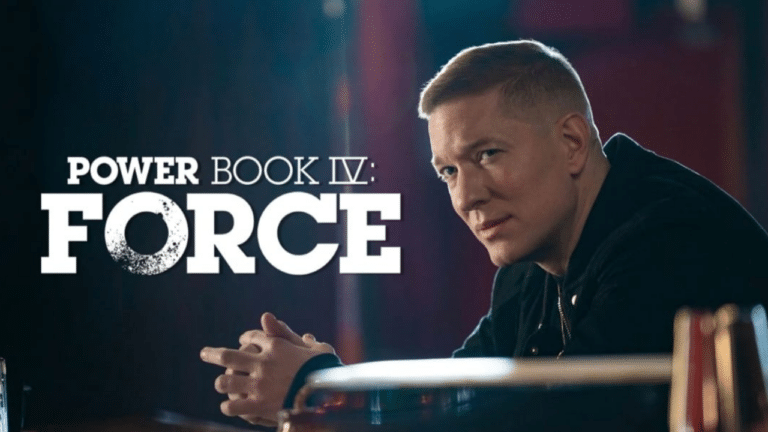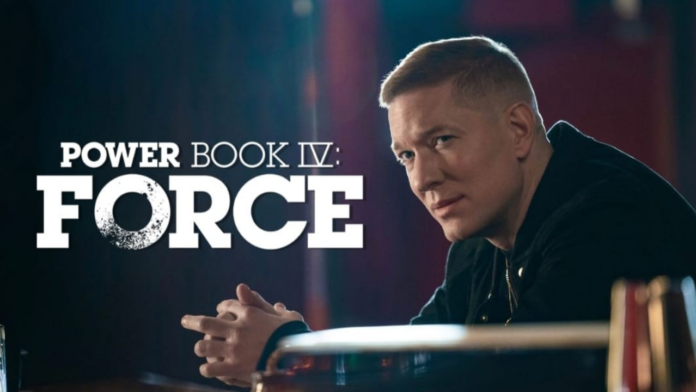 Are you ready to discover the details of Power Book IV: Force? With the Emmy-winning show returning for its 2nd season, we have exciting news about the Power Book 4 cast, plot, and new season release date. This blog will go into detail about what fans can expect from this upcoming installment of the series.
From new relationships to intriguing plot twists, it looks like Power Book IV: Force will be another hit show by executive producers Courtney A. Kemp and Curtis 50 Cent Jackson.
Let's dive into all you need to know about this highly anticipated Netflix series!
Content Highlights
The return of Power Book IV: Force will feature a star cast including Carmela Zumbado, Manuel Eduardo Ramirez, and Miriam A Hyman.
Tariq embarks on a mission to take control of the drug game with the help of a mysterious new partner.
Tommy Egan returns for season two seeking revenge on his mortal enemy Vic Flynn.
Plot twists introduce more tension between characters, forming new dynamics among enemies and allies while offering viewers unexpected surprises throughout every episode.
Release Date and Trailer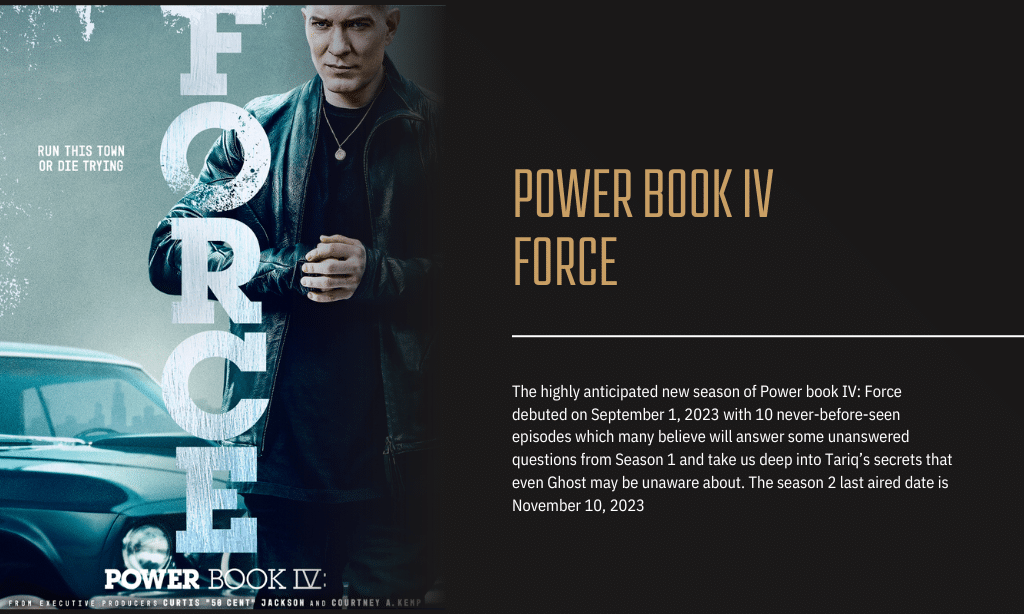 Power Book IV: Force made its debut on the 1st of September, 2023, marking an exciting start to the series's second season,
Premise and Release Date
Power Book IV: Force is the fourth installment in the popular Power series. A spoiler-filled season one finale aired on April 17, 2022 leaving fans eagerly awaiting for more. The official teaser of Season 2 was released 6 months later on May 22, 2023 and further whetted up anticipation for its release.
The highly anticipated new season of Power book IV: Force debuted on September 1, 2023 with 10 never-before-seen episodes which many believe will answer some unanswered questions from Season 1 and take us deep into Tariq's secrets that even Ghost may be unaware about. The season 2 last aired date is November 10, 2023
The premiere episode escalated fan interest levels exponentially as it followed Tariq's journey to his new college life while also juggling a criminal lifestyle as he gets pulled back into the drug world by Tommy Egan & Christina Hart.
Trailer
[Video Credit: @RottenTomatoesTV]
The release date and trailer of Power Book IV: Force season 2 have been highly anticipated by fans. The teaser trailer for the new season confirms its premiere on September 1st, and is expected to feature more suspense, drama, and action from the upcoming season.
Fans can look forward to discovering insights into the new cast and plot that will be revealed in this trailer – particularly as it promises explosive moments of surprise and thrilling events for viewers throughout every episode.
This eagerly anticipated return of Emmy-winning show is set to captivate audiences with all-new relationships, intriguing plot twists, and a familiar yet unique style – offering up an entertaining ride with intense adrenaline rushes right through to its finale!
Read More: Bridgerton Season 3: Plot, Cast, Trailer and Latest Updates 2023
Cast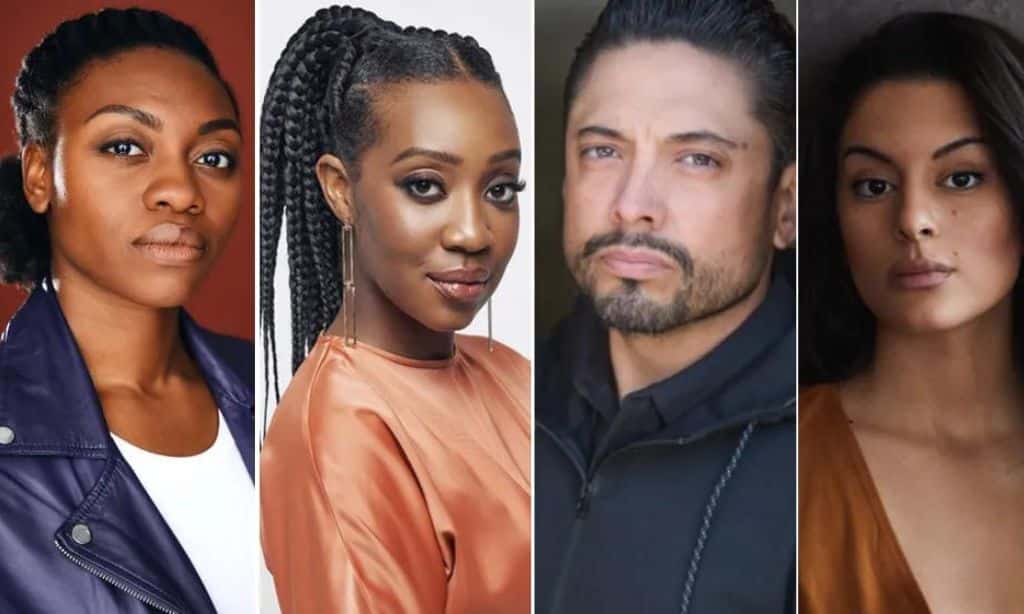 Teaser images have been released for the new Power Book 4 starring Michael J. Fruits, Monique Jones, and Thomas Green-Vargas.
The recently released teaser for the fourth season of "Power Book II: Ghost" offers fans a first look into what they can expect in Power Book 4. The brief clip introduces new cast members Carmela Zumbado, Manuel Eduardo Ramirez, and Miriam A.
Hyman and also hints at a few new plot developments in store for the show's next chapter. Fans will be delighted to know that fan favorite Lili Simmons and Gabrielle Ryan have joined the cast this season as well! With its combination of intense music and stunning visuals, the teaser builds anticipation for Power Book 4 by whipping up images of high octane drama while presenting an entire roster of exciting newcomers who promise to bring extra excitement to each episode.
Main Cast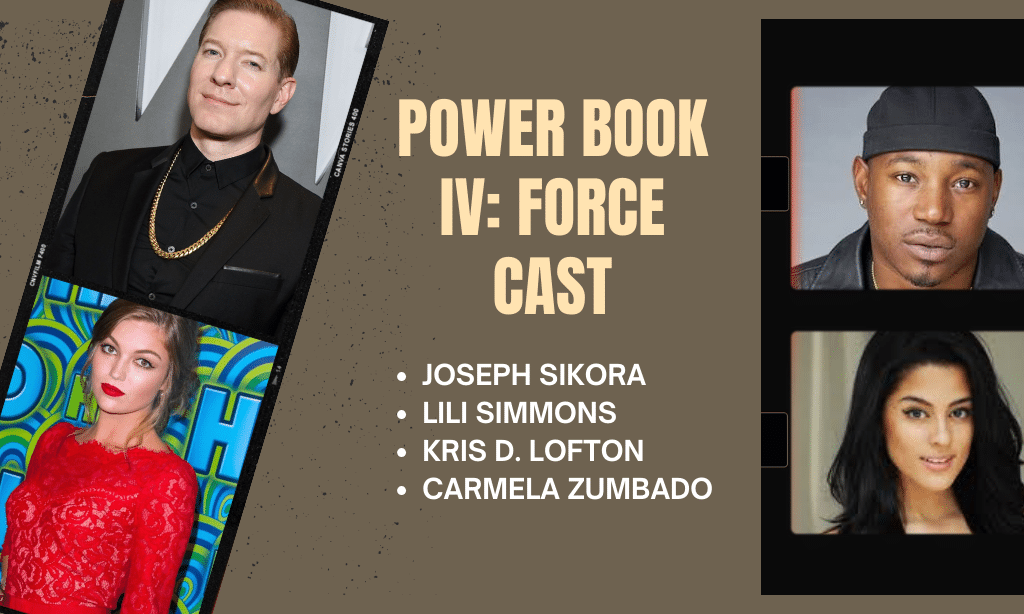 | Name | Character |
| --- | --- |
| Joseph Sikora | Tommy Egan |
| Isaac Keys | David "Diamond" Sampson |
| Lili Simmons | Claudia "Claud" Flynn |
| Gabrielle Ryan | Gloria (season 1) |
| Shane Harper | Victor "Vic" Flynn |
| Kris D. Lofton | Jenard Sampson |
| Anthony Fleming | JP Gibbs |
| Lucien Cambric | Darnell "D-Mac" McDowell |
| Tommy Flanagan | Walter Flynn (seasons 1–2) |
| Miriam A. Hyman | Stacy Marks (season 2, guest season 1) |
| Adrienne Walker | Shanti 'Showstopper' Page (season 2) |
| Carmela Zumbado | Mireya Garcia (season 2) |
The main cast of Power Book IV: Force includes Joseph Sikora as Tommy Egan, Isaac Keys as David "Diamond" Sampson, Lili Simmons as Claudia "Claud" Flynn, Gabrielle Ryan as Gloria (season 1), Shane Harper as Victor "Vic" Flynn, Kris D. Lofton as Jenard Sampson.
Anthony Fleming as JP Gibbs, Lucien Cambric as Darnell "D-Mac" McDowell, Tommy Flanagan as Walter Flynn (seasons 1–2), Miriam A. Hyman as Stacy Marks (season 2, guest season 1), Adrienne Walker as Shanti 'Showstopper' Page (season 2), and Carmela Zumbado as Mireya Garcia (season 2). This core group of actors portrays the central characters driving the narrative of Power's spinoff show Force, which focuses on Tommy Egan's experiences after leaving New York.
Recurring Cast
| Name | Character |
| --- | --- |
| Audrey Esparza | Liliana (season 1; guest season 2) (voice) |
| Jeremih | Elijah (season 1) |
| Chanell Bell | Lauryn Williams |
| Konstantin Lavysh | Rodovan Mirkovic |
| Guy Van Swearingen | Paulie "Pierogi" Muzaski (seasons 1–2) |
| Ahmad Nicholas Ferguson | Marshall Cranon |
| Phil Donlon | Simon McDougal (season 1) |
| Debo Balogun | Seamus Bennigan |
| Barton Fitzpatrick | Blaxton (season 1) |
| Mirelly Taylor | Mrs. Soto |
| Paulina Nguyen | Mai Liet (season 1) |
| Blythe Howard | Adrienne |
| Patricia Kalember | Kate Egan |
| Monique Gabriela Curnen | Detective Blanca Rodriguez |
The supporting cast features Audrey Esparza as Liliana (season 1; guest season 2), Jeremih as Elijah (season 1), Chanell Bell as Lauryn Williams, Konstantin Lavysh as Rodovan Mirkovic, Guy Van Swearingen as Paulie "Pierogi" Muzaski (seasons 1-2), Ahmad Nicholas Ferguson as Marshall Cranon, Phil Donlon as Simon McDougal (season 1), Debo Balogun as Seamus Bennigan, Barton Fitzpatrick as Blaxton (season 1), Mirelly Taylor as Mrs. Soto, Paulina Nguyen as Mai Liet (season 1), Blythe Howard as Adrienne, Patricia Kalember as Kate Egan, and Monique Gabriela Curnen as Detective Blanca Rodriguez. This ensemble of supporting characters provides depth and nuance to the world of Force, fleshing out relationships and subplots revolving around the main characters. The mix of allies, enemies, and neutral parties offers a complex web of interactions that propels the overarching narrative.
Plot
[Video Credit: @STARZ]
Power Book 4 is set to bring back its high-octane drama as the characters prepare for an entirely new storyline while still navigating life after Ghost.
Story Overview
The second season of Power Book IV: Force promises to be packed with action and intrigue, as well as some unexpected twists. Tommy Egan (Joseph Sikora) attempts to build his own criminal empire in Los Angeles while Vic Flynn (Shane Harper) returns for the season, determined to track him down.
Their clash forms a central part of the plot as they try to outwit one another,. Meanwhile fan favorite Kelvin (Isaac Keys) teams up with D-Mac (Lucien Cambric), forming an unlikely duo that can take on even the most dangerous adversaries.
From volatile confrontations between rival gangs to the return of old enemies, viewers can expect plenty of intense drama throughout Power Book IV: Force's second season.
The Challenge of Power Book 4
Power Book 4 promises intense action, drama, and suspense for viewers. Tommy Egan is the main character in "Power Book IV: Force" and his mission is to take over the drug game with an unpredictable new partner.
The show follows their journey as they fight against powerful rivals and try to seek revenge for the death of Liliana. With this series being a spinoff of 'Power', fans already know what kind of entertainment it will bring; but Power Book 4 offers fresh storylines that will keep even long-time viewers intrigued throughout.
Not only is their palpable tension between characters due to an increase in competition but there are also some plot twists at play that can turn everything upside down – making Power Book 4 uniquely thrilling among other dramas! It's no wonder why this installment has already created so much hype around itself; we're sure it won't be disappointing once it finally releases!
The Return of a Fan Favorite
Tommy Egan is the fan-favorite character making a grand return to Power Book IV: Force for its second season. As one of the original characters from the modern classic, Power, his comeback has been much anticipated and welcomed by fans around the world.
Many followers of Tommy have remained loyal since his emergence in 2014 and are eagerly awaiting his vengeance-motivated mission to be unleashed on screen. This highly captivating character brought chaos and trouble wherever he went during his six seasons as part of the star-studded cast, become legendary for many memorable moments that made viewers continually root for him throughout this epic journey.
Now that Joseph Sikora, who plays Tommy himself, promises explosive content coming up in season two – fans will no doubt be expecting answers about unresolved questions posed over multiple seasons as they prepare themselves for more drama with their beloved 'Tommy' back at the heart of it all!
Read Also: The Rookie Season 6 Cast, Plot, Release Date and Latest Updates in 2023
What to Expect
Power Book 4 will feature new relationships, intriguing plot twists and a return of the Emmy award-winning show's style. Be sure to catch every update as this captivating story unfolds.
New relationships
In the fourth season of "Power Book IV: Force", viewers can expect a few interesting new connections that will challenge Claire and Jaime's relationship. The show introduces Jenard Sampson, Lili Simmons, Shane Harper, Tommy Flanagan and Lucien Cambric as characters that may complicate the dynamics between these two.
Meanwhile in the third season of "Power Book II: Ghost," Tariq's plans are disrupted by a mysterious connection from his past. Fans will have to tune into this highly-anticipated season to find out how these looming relationships threaten not only Claire and Jamie's bond but also Tariq's already precarious position within both New York's fierce gangster circle and with society at large.
Intriguing Plot Twists
Intriguing plot twists are essential for maintaining the suspense and engagement of a show such as Power Book 4. Unexpected surprises set up by these twists often keep the audience on their toes, leaving them hungry for more.
One great example is Tommy's mission to avenge Liliana's death with the help of Tariq and a band of unlikely criminals – this unexpected twist has caused many fans to order additional popcorn from excitement! Plot twists also create interesting tension between characters, allowing new dynamics between allies and enemies to form in previously unforeseen ways.
Plot twists can even impact episodes two or three seasons down the road – when done correctly, they provide an added layer of depth that keeps viewers engaged and eagerly anticipating every new episode.
A Return of the Emmy-Winning Show's Style
In Power Book 4, fans can look forward to a return of the Emmy-winning show's style. This style is known for its captivating storytelling and creative writing that has been associated with the Emmy-winning series in past seasons.
The return of this acclaimed show's style signals an exciting new chapter set to unfold as we are reunited with returning characters and welcomed by fresh faces.
Where to Watch
Power Book 4 will be available to stream across a variety of platforms and channels, giving fans the opportunity to watch from anywhere.
Streaming Platforms
viewers can easily immerse themselves in the show's new plot and cast by streaming it on multiple platforms. "Power Book IV: Force" season 2 is available to watch on Starz.com and through the Starz app, which can be downloaded from iTunes, Google Play, or Amazon.
Additionally, viewers located in Canada and the US have easy access to stream the entire second season via the Starz app platform with a paid subscription. It thus provides great convenience for fans of PowerBook 4 who are looking for an exciting way to stay up-to-date with each episode as soon as it releases without having to worry about their location being unable to view content they love.
TV Channels
"Power Book IV: Force" is available to watch on the main television channel associated with this show – Starz. Fans of the series can also stream it online through popular platforms such as Vudu, Amazon Prime Video and Apple TV.
Every episode of Power Book IV: Force Season 2 can be watched on Starz.com, enabling viewers to enjoy their favorite show at any time, from anywhere in the world. Moreover, with an active streaming subscription from one of these popular digital services, fans gain direct access to all episodes and will not miss a single second of action-packed drama.
Creators
Showrunner and creator Courtney. A Kemp has returned to executive produce Power Book 4 along with Mark Canton, 50 Cent, and Randall Emmett.
Background
"Power Book IV: Force" is the fourth installment of the "Power" franchise created by Robert Munic. Initially premiering in 2022, viewers get an up close and personal look into what happened after lead character Tommy Egan (Joseph Sikora) decides to cut all ties with his past life in New York City.
Featuring supporting actors Shane Harper, Isaac Keys, Lucien Cambric, Lili Simmons, Gabrielle Ryan, and Kris D. Lofton as series regulars, this show promises a thrilling ride packed with new relationships, unexpected plot twists, and a return to the same Emmy-winning style that entertained fans years ago.
Related Read: Archer Season 15 Release Date, Plot, Cast, and Latest Updates
Style
The style of Power Book IV: Force sets it apart from the rest of the "Power" franchise. Its cinematography is notably dark, capturing a world dominated by shady lifestyles and street justice.
The storytelling often relies on montages that not only move along Tommy Egan's story arcs but also serve to bring attention to subtle details found in everyday life in fictional cities of Los Angeles and New York City.
Other steep moments interchange between thrilling action sequences to raw emotional ones due to its captivating soundtrack packed with R&B, Jazz, and hip-hop beats. From executive producers 50 Cent and Courtney Kemp's natural ability for impeccable storytelling, Power Book IV: Force has been able to gain mass critical acclaim as well as one Emmy win since its debut last year making it a series worth watching this upcoming season releases.
Reviews
Reviews from such entertainment media outlets as ScreenRant, Collider, and Digital Spy Features offered interpreted with spicy insights on Power Book 4.
ScreenRant
ScreenRant is one of the most widely respected entertainment and culture destinations for reviews and opinion pieces about shows like Power Book 4: Force. They provide insightful commentary, breaking news coverage, and in-depth analysis on everything from actors to plot lines.
Their thoughtful perspectives encourage readers to dive deeper into the show's content while giving viewers an expert opinion before they press play. Knowing when a show has jumped a shark or if it may turn out great provides a sense of assurance that basing fan theories off Reddit threads doesn't always provide.
Reading ScreenRant allows passionate viewers insight into all aspects of the series so that no detail goes unmissed!
Collider
The Large Hadron Collider (LHC) is a powerful particle accelerator consisting of a 27-kilometer-long, circular superconducting magnet. This device is used to study the fundamental particles and forces that make up our universe.
The LHC is operated by the international scientific organization CERN. It's important to note that while this cutting-edge technology has been referenced in "Power Book IV: Force," its exact connection to the show's plot remains unclear.
However, it may hint at more thrilling events than what fans could have expected; perhaps revealing some exciting secrets and facts about our world we weren't formerly aware of.
Digital Spy Features
is an article that provides valuable information regarding the new spinoff series "Power Book IV: Force". The article has confirmed that the fourth season of "Power Book II: Ghost" will be happening and also provided viewers with hints regarding the plot of "Power Book IV: Force".
As suggested by Power 4's trailer, it looks like there will be plenty of chaos brought about by a drug feud between different crime syndicates. Moreover, Tariq's criminal enterprise from Power 2 returns in this series as he continues to deal with his father's legacy.
From Digital Spy Features' description, we can confirm what kind of relationships and setups fans are likely to witness when watching "Power Book IV: Force" as well as anticipate some interesting plot twists that could possibly occur in the future.
Poll
Polls for Power Book 4 are a great way to see how the audience is engaging with the series, so be sure to cast your vote!
Vote for your favorite Power Book 4 character
Power Book IV: Force has an incredibly talented cast of actors and actresses from many different backgrounds. Among these stars are Joseph Sikora, who plays Tommy Egan, the series' lead character; Kris D.
Lofton as its villain Dmitri; Gabrielle Ryan as Paz Valdes, a former flame of Tommy's; Lili Simmons who joins in Season 2 as LaKeisha Grant; Shane Harper as Slimoffsky Amaretto "Slim", a fixer looking to make his own name in the criminal world; Anthony Fleming III playing Vincent "Blax" Elway-Mesereau; and Lucien Cambric portraying Jermaine Armstrong, LaKeisha's protégé.
All these characters bring something unique to their roles on Power Book IV: Force – be it Joseph Sikora's memorable performance as tumultuous antihero Tommy Egan or Kris D. Lofton's cunningly powerful portrayal of the nefarious Dmitri– which is why we want you all choose your favorite! Who will you pick? Cast your vote now for your favorite character in Power Book 4!
Also Read: Lockwood and Co Season 2 Cast, Plot, Release Date and Latest Updates in 2023
Vote for Your Most Anticipated Plot Twist
The return of Power Book 4 is eagerly awaited by fans. Throughout the series, there have been numerous Appreciations twists and turns that left people stunned with surprise. Now readers can pick their most anticipated plot twist for the upcoming season on a special poll hosted by the showrunners.
Fans already know about Angela's reunion with Ghost, Kanan Stark's possible involvement in Tommy's schemes as well as Frosts attempt to align himself with rival casinos – just imagine how much more dramatic this season will be! The anticipation has reached its peak, so cast your vote now to make sure you don't miss out on anything promising from this next installment!
Vote for Your Favorite Power Book 4 Scene So Far
In order to cast your vote for the most dramatic and exciting Power Book 4 scene, viewers can access an online poll or submit their choice through a social media platform by using #PowerBook4Voting.
Whatever option you choose, voting for your favorite scene of Power Book 4 will give you the chance to be part of this award-winning show in a special and meaningful way! Your votes will help decide which unforgettable moment from the series is ultimately commemorated with special rewards or recognition.
So join in on the conversation today and make sure that your opinion matters when it comes to celebrating our favorite characters' journeys!
Frequently Asked Questions (FAQs)
Here get some common questions on Power Book 4
1. What is Power Book 4 all about?
Power Book 4 is an upcoming installment in the popular drama series Power. It follows the journey of various characters after the events of Final Betrayal, focusing on new and existing cast members as well as new plot lines.
2 Are there any new storylines for this show?
Yes, there are several new storylines including Ghost's son being embroiled in a drug scandal; Tommy Egan becoming an "anti-hero"; Tariq St Patrick finding redemption and struggling with his criminal lifestyle; Tasha St Patrick trying to make amends for her past mistakes and many more intriguing plots between supporting characters..
3. Will previous seasons 1-4 protagonists return or appear throughout season four?
Yes, most major protagonists from seasons one through four seem likely to at least cameo at some point during season four due to their influence within New York City's underworld crime scene.