PDFLiner Review – The Versatile Online Document Management Software in 2023
Listen to the Podcast:
Are you looking for PDFLiner Review? PDFLiner is a readily available, user-friendly, and 100 percent secure PDF editor that requires no further software installation. Its reasonable subscription won't leave you with an empty wallet. 
Its user interface and functionality are simple enough for beginners to grasp. It won't take long to become used to its convenient features. The software can greatly improve your document management if you intend to use PDFLiner for work, education, or other purposes. Let's examine the benefits of this multipurpose platform that you can use to manage your online content effectively.
What is PDFLiner?
PDFLiner is an all-inclusive online platform for managing PDF files. Here, you are able to upload any PDF or Picture and edit it in just seconds. It also features a huge Forms Library with numerous useful forms. Simply locate the form you need and complete it.
Using PDFLiner, you may modify your PDF files, electronically sign them, and protect them with a password and watermark, if necessary. The service also includes the ability to convert any image to PDF and back. These are just a handful of document-related tasks you can perform on our platform. There is so much more to discover.
Read More: Veed Review
PDFLiner Benefits
PDFLiner's primary benefits include PDF editing, document creation, and collaboration.
Enables PDFs Editing
PDFLiner provides tools for editing, drawing, and writing on images and documents. You may create many forms, including circles, arrows, and lines. For censored materials, you can also highlight text and whiteout or blackout information. PDFLiner permits the generation of electronic signatures that are maintained securely by the platform. It also permits the addition of images to the document.
Creates Documents
PDFLiner enables the creation of PDF files from scratch. It provides a collection of templates that can be modified to suit your needs. It also permits the creation of fillable PDF templates. PDFLiner permits the addition of content such as custom texts, signatures, dates, and watermarks. It also includes a converter that converts PDFs to PNG and vice versa.
Allows Collaboration
PDFLiner facilitates collaboration with your staff and clients. It enables document sharing via a public sharing link or a custom URL. Also, you can share or publish it on Facebook or email it via Messenger. PDFLiner enables you to monitor all of your papers in a shared folder.
Compress and Merge
The PDFLiner Compress and Merge tool is used to combine numerous PDF files into a single PDF file and to reduce the file's size. It permits the merging of numerous PDF files into a single PDF file and the compression of the resulting file.
Read Also: Flexispy Review
How Much Does PDFLiner Cost?
PDFLiner begins at $ 9 per month for a subscription. It offers many price plans:
Basic:  This plan is for a single user and allows you to access the most significant PDF editing tools, such as fillable fields, sign your documents electronically, and share them with others for only $9 per month or $109 per year. Included are watermarks, high-level encryption, and PDF conversion.
Pro: At $19 per month or $229 per year, you can invite two other friends to share your feature pack, which is comparable to the basic plan but can be expanded to include friends.
Premium:  The most expensive package is $29 per month or $349 per year for up to five people. The feature set is identical to the aforementioned plans.
It also offers users a free trial.
PDFLiner Workflows
Marketing
Marketing puts MQLs into the PLG engine to get the first users to join viral loops.
MQL activities are:
Sales
Sales get PLG signals to follow up with product-qualified leads that look good. Still, they also reach out to marketing-qualified leads to get their first users.
Customer Success
Customer service teams are given playbook tasks to help new users who are having trouble with certain features. They also act on PLG churn risk signals and try to bring back paying customers who are leaving.
Also Read: How to Edit A Pdf
PDFLiner Affiliate Program Benefits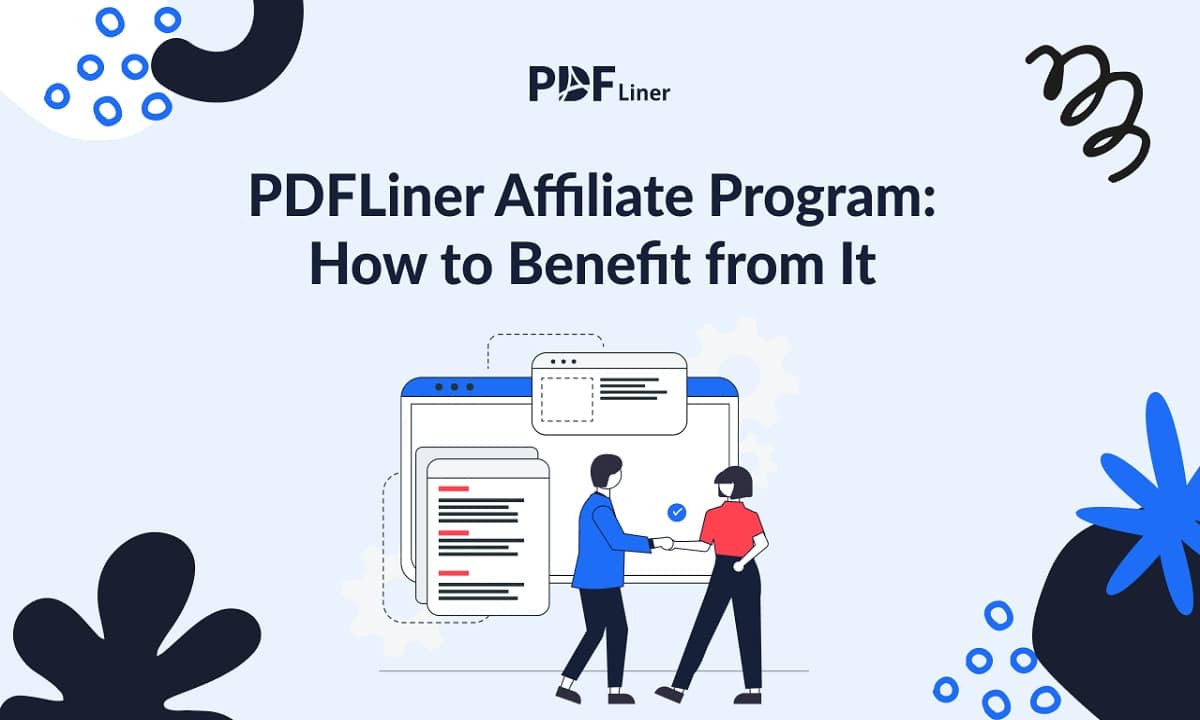 The PDFLiner has a lot going for it:
High commission rates include 40% on the first purchase and 20% on all other purchases.

Payment on time and regularly (the lower limit that you need to achieve to get paid is just 100 USD).

The affiliate Manager is always there to help.

A helpful dashboard with useful statistics will help you determine how to use the program and ensure you are on the right path to success.
There's no reason to wait, as you can see. Just sign up for the PDFLiner Affiliate Program and wait for the rewards to come.
Read Also More: Translate a PDF Document
Pros and Cons of PDFLiner
Pros:
Accessibility: You can easily edit your files using either a phone, laptop, or tablet. The interface is easy to use and understand, and all you need to run the service smoothly is a Web browser and a stable Internet connection;
Extensive library of PDF forms: Whether you work in construction, insurance, real estate, court, government, or any other field, all you have to do to fill out a form is type its name into the search bar. There are also a lot of tax forms that can be used by anyone;
Protected data with high-level encryption: You can be sure that all your important information is stored safely with it. No one else will ever be able to see it. You can also add watermarks and passwords to your files.
Cons:
There is no offline version, and to work on your documents, you need a reliable Internet connection;

With USB dongles, you can't use the e-signature feature;

No integrations have happened yet.
PDFLiner Customer Support
PDFLiner provides consumers with top-tier, top-quality support that is easily accessible via the "Contact us" form. Professionals are always willing to lend a helping hand, are responsive, and are sensitive to any PDF-related issues you encounter.
Throughout testing, we enjoyed that PDFLiner offers a money-back guarantee if you are dissatisfied with the software's functionality. There is no deadline that could prohibit the return of your monies. Moreover, the platform is "alive": numerous how-tos, instructions, and new information are published frequently on the user blog.
It also provides an affiliate program through which you can earn 40% commissions on all initial orders and 20% commissions on recurring payments. Affiliate marketing presents a lucrative possibility, particularly for individuals with websites.
Also Read More: Why Are pdfs So Important
Conclusion
PDFLiner is a terrific solution for those who regularly deal with the paperwork and are seeking to optimize it, as evidenced by the fact that it has been demonstrated. After evaluating all of its useful features, we can say that it is worth a go. A 5-day free trial, to put it mildly. Determining whether the platform will fulfil your paper's wants is sufficient.
Frequently Asked Questions (FAQs) about PDFLiner
What problems are PDFLiner solving, and how is that benefiting you?
I understood that I did not need to waste my time at the office producing document templates for any occasion. PDF Liner helped me resolve this issue. Before this method, I had to make additional time in my schedule to focus on the several papers that I believed no one would ever read. Now I am one click away from all the templates I currently use or will use in the future.
Does PDFLiner have a student discount?
Yes, PDFLiner gives verified studs 20% off.
Is the PDFLiner student discount available all year?
Student App Center discounts can and do change often. PDFLiner's current discount can be changed or taken away at any time. Don't pass up 20% off if you think it's a good deal.