New Mercedes-Benz GLC Coupe: Features, Price and Technical Sheet
Listen to the Podcast:
Last summer, we learned all the details of the new Mercedes-Benz GLC Coupe for the first time. The successful SUV of the Germans now receives a new generation of its coupe version, which may be the last if the rumors published in recent weeks are fulfilled.
The Mercedes-Benz GLC Coupé maintains the design lines of the SUV already presented but, above all, it also comes with the three plug-in hybrid versions that we already saw in the previous body. In other words, the new model can be chosen from six different combinations with a Zero Emissions sticker if we add the bodies and the engines.
Technical Sheet of the Mercedes GLC Coupe
|   | MERCEDES GLC COUPE |
| --- | --- |
| BODY TYPE. | Five-seater SUV. |
| MEASUREMENTS AND WEIGHT. | 4,763mm long, 1,890mm wide, 1,605mm high. 2,888mm wheelbase. From 1,915 kg for the gasoline model, which is less powerful, to 2,415 kg for the diesel PHEV. |
| TRUNK. | Between 390 and 545 liters |
| MAXIMUM POWER. | 48 Volt gasoline: 258 CV. 48 Volt Diesel: 269. Gasoline PHEV: 381 HP. Diesel PHEV: 335 hp. |
| WLTP CONSUMPTION. | 48 Volt petrol: 7.1-8.2 l/100 km. 48 Volt diesel: 5.1-6.1 l/100 km. PHEV petrol: 0.5-0.6 l/100 km. PHEV diesel: 0.4-0.6 l/100 km.. |
| ENVIRONMENTAL BADGE. | ECO and Zero emissions |
| DRIVING AIDS (ADAS). | Adaptive cruise control with emergency braking. Lane keeping up to 210 km/h. 360º camera and parking assistant. |
| OTHERS. | The screen for the instruments is 12.3 inches, and the net for the entertainment system is 11.9 inches. Compatibility with Android Auto and Apple CarPlay. MBUX artificial intelligence system. Projection of information on the road. Connectivity with home automation systems. |
| ELECTRIC HYBRID. | Yes. There are 48 Volt versions of two gasoline engines (204 and 258 CV) and two diesel engines (197 and 269 CV). |
| PLUG-IN HYBRID. | Yes. Two plug-in hybrid versions of gasoline (313 and 381 CV) and another diesel (335 CV). |
| OTHERS | No. |
| PRICE AND RELEASE. | On sale in July. Price to be confirmed |
The Same Attractions, with a Coupe Body
The coupe SUV continues to be a big draw for many premium and general vehicle drivers.In recent years, the number of models on the market has exploded, which shows that this is true. Still, it is manufacturers such as Mercedes, BMW, and Audi that are taking the most advantage of the concept.
With the Mercedes-Benz GLC that has already been on the market for a few months, now it is the turn of the Mercedes-Benz GLC Coupé that expands the options for the customer with a body that leaves less space in the rear seats and reduces the trunk to a range of between 390 and 545 liters, losing more than 50 liters. And all despite measuring 47 millimeters longer than his brother. But for many customers, the way these cars look is still the deciding factor when it comes to buying one.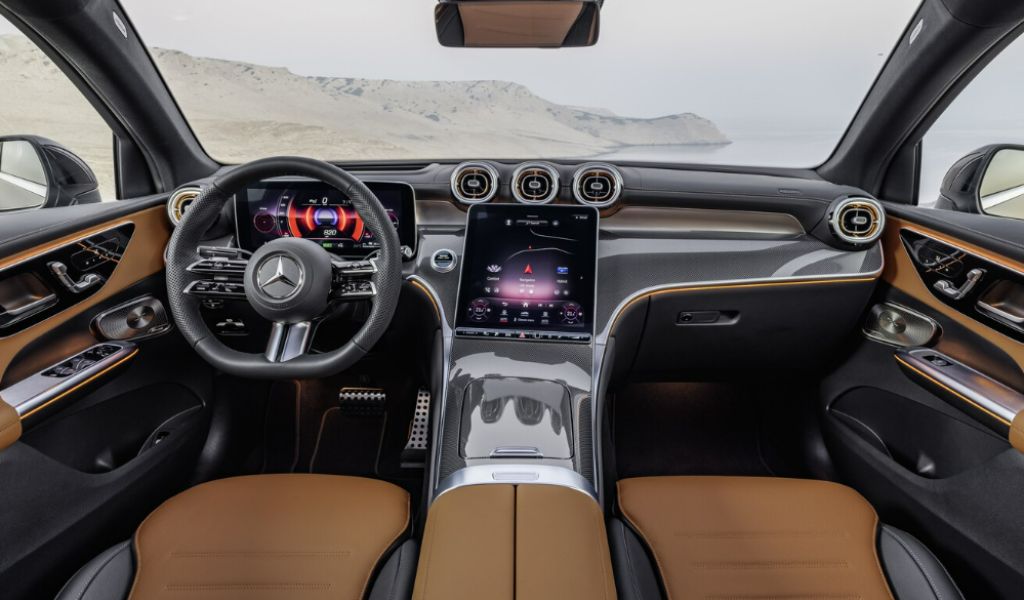 Therefore, inside, little changes. The Mercedes-Benz GLC Coupé is committed to the MBUX artificial intelligence system, presenting the information on its two screens. 12.3 inches for the instrument panel and 11.9 inches for the central touch screen, which can grow to 12.4 inches as an option. In this environment, MBUX Smart Home is added and is in charge of controlling home automation from the car.
In addition to the expected high-definition screens or wireless charging, the technological commitment of the Mercedes-Benz GLC Coupé is overwhelming. As an option, we have the Head-Up Display, which projects information on the road thanks to its digital lights (they are full LED as standard, and multibeam LED headlights can also be ordered) or the "transparent hood," which facilitates maneuvers outside the road. road so as not to trip over an obstacle.
The SUV coupé once again carries all of the brand's technological weight in terms of its active and passive security endowment, with a sizable selection of ADAS systems.  Among them, we find: adaptive cruise control with the ability to react to vehicles that are stopped on the road up to a speed of 100 km/h; an improved lane centering system with the 360o camera; and active up to 210 km/h. Dynamic panel changes, such as new speed restrictions or construction on the road, are reflected in sign recognition. Sensors identify alterations in the asphalt, like wetness.
The Mercedes-Benz GLC Coupé comes with 4MATIC all-wheel drive and a directional rear axle that allows the rear wheels to rotate by 4.5 degrees, but, as an option, this functionality can be extended up to 10 degrees of rotation, as in the older brothers.
As for its engines, the Mercedes-Benz GLC Coupé is available with two versions: gasoline and diesel. All the engines have a displacement of two liters and yield 204 and 258 CV in their gasoline versions and 197 and 269 CV in their diesel versions. All of these options have only a little bit of hybridization, so they all have the DGT ECO label.
Above, the Mercedes-Benz GLC Coupé also comes with three plug-in hybrid engines. All of them have four-cylinder engines plus a 136-hp electric motor that enables for up to 140 km/h of entirely electric driving. The battery is 25.7 kWh, which allows the SUV to travel between 100 and 130 kilometers in electric mode.
These engines will be available in a diesel or gasoline version.With diesel, the combustion engine contributes 204 CV and, when combined with the electric one, produces 335 CV. The combined output of the 197 CV and 252 CV gasoline engines is 313 and 381 CV, respectively.
As standard, the car supports 11 kW of charging, but these can be increased up to 60 kW, which allows 80% of the car's charge to be ready in 31 minutes. The arrival of this new body at dealers is expected in July, but their prices have not been confirmed.
Subscribe to Our Latest Newsletter
To Read Our Exclusive Content, Sign up Now.
$5/Monthly, $50/Yearly