Discover the Top 25 Mango Producing Countries [Latest Information 2023]
Listen to the Podcast:
The mango is a tropical fruit that grows on trees that are more than 100 feet tall and 12 feet in diameter. Due to the fruit's solitary pit, it is categorized as a stone fruit. Mangoes are available in various hues, including orange, red, green, and yellow. This fruit is indigenous to India, Bangladesh, and Pakistan, and is closely related to sumac and poison ivy. This post included the top 25 mango producing countries in the world.
As early as 2000 BCE, when it was domesticated in India, it has been important to humans. Between 500 and 400 BCE, after domestication, the mango was introduced to East Asia. By the 15th century, it had reached the Philippines, and by the 16th century, Africa and Brazil. In India, Akbar, a Mughal sovereign, planted over one hundred thousand mango trees in what is now known as Lakhi Bagh. Mango trees are currently located in a variety of tropical climates.
Mango cultivation dates back centuries. Today, it is a significant crop in South America, Hawaii, Central America, Asia, the Caribbean, and Africa. Grafting is commonly used by mango cultivators to increase fruit production. Grafting is also more efficient than seeding. In 2013, the global production of mango reached nearly 43 million metric tons. Although there are numerous other varieties available, the majority of these mangoes are of the Tommy Atkins type.
Top 25 Mango Producing Countries in The World At a Glance
| | | |
| --- | --- | --- |
| Rank | Area | Value (Tonnes) |
| 1 | India | 18,779,000 |
| 2 | China | 4,771,038 |
| 3 | Thailand | 3,432,129 |
| 4 | Mexico | 2,197,313 |
| 5 | Indonesia | 2,184,399 |
| 6 | Pakistan | 1,606,091 |
| 7 | Brazil | 1,417,149 |
| 8 | Egypt | 1,277,008 |
| 9 | Bangladesh | 1,161,685 |
| 10 | Nigeria | 917,617 |
| 11 | Philippines | 827,075 |
| 12 | Sudan | 785,940 |
| 13 | Kenya | 734,658 |
| 14 | Viet Nam | 725,306 |
| 15 | Haiti | 670,878 |
| 16 | Tanzania | 427,586 |
| 17 | Cuba | 420,191 |
| 18 | Yemen | 405,774 |
| 19 | Peru | 377,382 |
| 20 | Colombia | 314,034 |
| 21 | Nepal | 288,998 |
| 22 | Madagascar | 287,908 |
| 23 | Democratic Republic of the Congo | 259,803 |
| 24 | Niger | 181,968 |
| 25 | Guinea | 175,070 |
Top 20 Mango Producing Countries in The World
1. India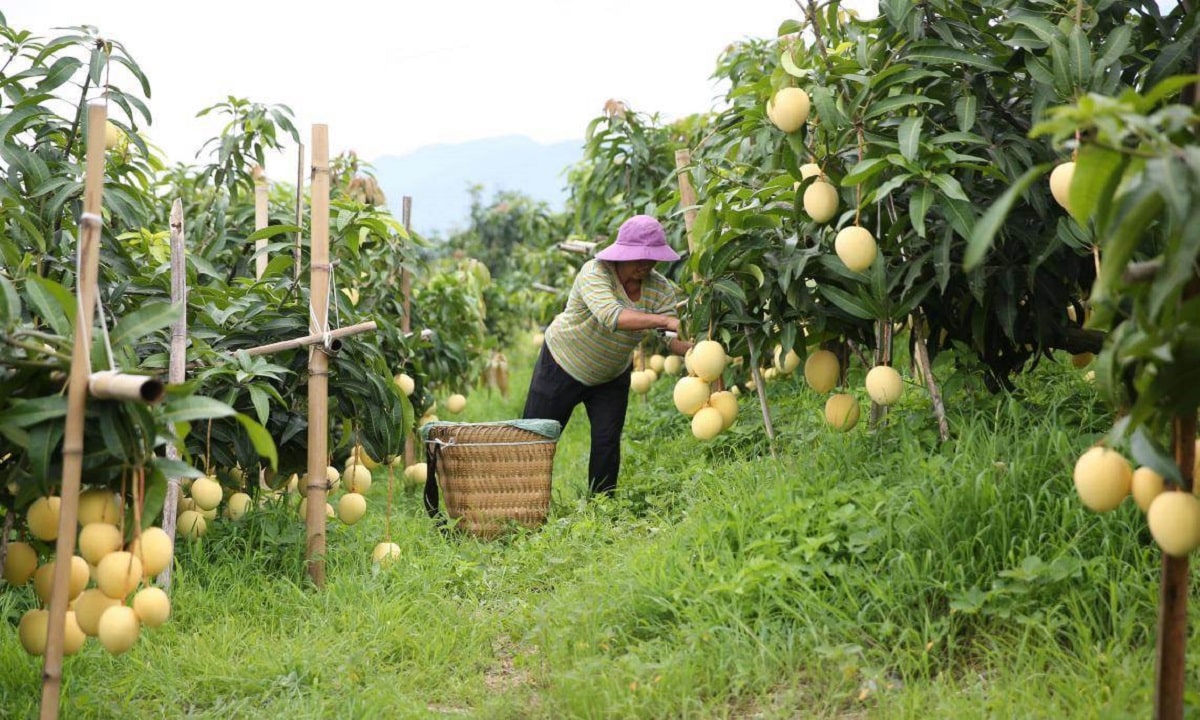 India is the world's foremost mango producer, producing an estimated 24.7 million tons per year. This represents nearly half of the total global mango production. Despite the fact that mangos are grown and harvested in India, very few mangos are exported to international markets. Less than one percent of all mangos produced are made available for international trade or sale. India is the largest mango consumer in the world and utilizes the majority of its own production.
2. China
China is the second greatest mango producer with 4.77 million tonnes. These figures include Taiwan's mango production. Mangos have been grown in China for centuries, but significant commercial production did not begin until the 1960s. The majority of mango plantations are located in the south, where temperatures are higher. China's major mango importers include Russia, Japan, and South Korea.
3. Thailand
Thailand is the third largest mango producer in the globe in 2016, producing 3.4 million tonnes. About 753,670 acres in Thailand are devoted to mango production. This fruit is processed and exported by Thailand in a variety of forms, including fresh, frozen, canned, and desiccated. However, the vast majority of raw mangoes are sold in domestic markets. South Korea, China, Japan, Malaysia, and Singapore import only about 2% of the world's fresh fruit. Sales of mango exceed $50 million.
4. Mexico
Similar to China, Mexico produces 2.2 million kilos of mangos annually. The mild, almost tropical climate of Mexico makes it an ideal location for mangos. Many Mexican mangoes are exported to the United States annually, making it a lucrative crop for Mexican producers.
5. Indonesia
Indonesia is the world's greatest mango producer. Indonesia generates approximately 2,1 million tons of mangos annually. Indonesia's optimal climate and ample farmland for cultivating and harvesting mangoes make it a global leader in mango production. Despite producing far fewer mangos than India, Indonesia exports and dispatches more mangos than any other nation.
6. Pakistan
Approximately 1,600,000 metric tons of mangos are produced annually in Pakistan. Pakistan, which is located adjacent to the mango capital of the world, India, has a thriving mango industry. Mangoes from Pakistan are exported worldwide, and the United States Department of Agriculture imports a number of mangoes from Pakistan. Typically, a 4 kg package of mango in the United States will cost about $5.74.
7. Brazil
The mild climate of Brazil is ideal for mango cultivation. Brazil generates 1,400,000 tons of mangos annually. Many of these mangos are distributed and consumed in South America, but others are exported to countries around the globe.
8. Egypt
The business of exporting mangoes from Egypt is thriving in 2022, according to industry leaders. Egypt has demonstrated excellent potential for many years, and exporters report that the country's ongoing efforts to enhance processes are now reflected in the number of goods exported this season.
According to Indji El-Shahawy, senior export sales manager for Egyptian exporter HNTS Group, "The Ministry of Agriculture employs stringent procedures to guarantee that all Egyptian mango exports satisfy the exact standards and requirements of foreign markets. This is crucial for the image and reputation of Egyptian mangoes among international consumers."
9. Bangladesh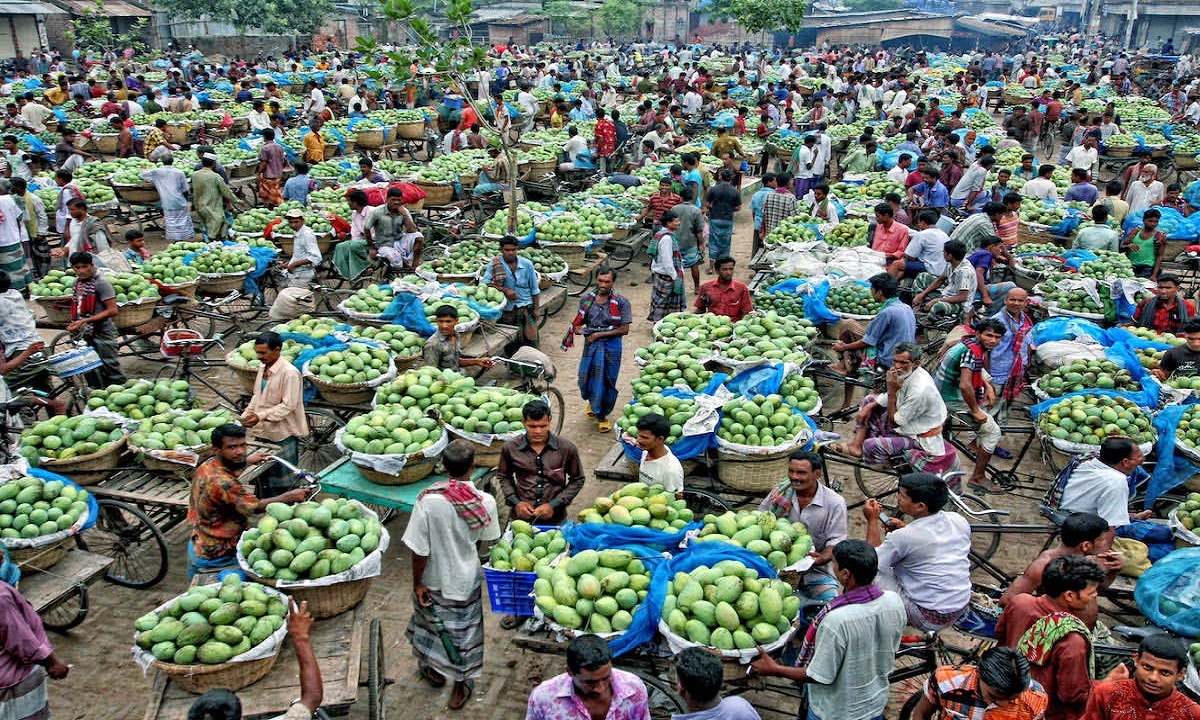 The South Asian and Southeast Asian neighbors of Bangladesh, such as India, Pakistan, and Thailand, have long dominated key export markets, and mango exports have generated substantial revenues for these economies. In the previous fiscal year, Bangladesh earned only $50,000 from mango exports, compared to $101 million for Pakistan (the world's sixth-largest mango producer) and $137 million for India (the world's largest mango producer).
Bangladesh has ambitious mango expansion plans. Some of the fruit's sweetest and tastiest cultivars have been grown in Bangladesh for a long time, with the country's annual national output reaching nearly 1.1 million tons this year. Consequently, Bangladesh is no longer content with such a low export volume.
10. Nigeria
Nigeria is one of the primary mango producers on the global market, despite the fact that the exact quantity in tons is difficult to determine. The majority of economists estimated that Nigeria generates approximately 900,000 tons of mangos. Nigeria produces eight varieties of mangos, which makes their mangos more in demand than those of other nations. Nigeria sells the majority of its mangoes domestically, but several fragrant or aromatic mangoes are exported.
11. Philippines
Mango is the Philippines' national food, and more than 7 million mango trees are grown by about 2.5 million small farmers. Compared to other crops grown in the Philippines, like rice, corn, coconut, and sugarcane, mango is a very valuable crop that helps the local and national economies a lot.
12. Sudan
One of the most important crops grown in Sudan is mango. It's important to the economy because it's grown in different parts of the country almost all year long. It is popular in the area and around the world because it tastes good and is good for you. It has a good chance of getting into new markets overseas.
The thesis is about how Sudan makes mangos and how hard it is to sell them abroad. In this study, I can see, for example, that even though the price of Sudanese mango in Saudi Arabia was good, less of it was sent there. 
13. Kenya
Kenya is one of the leading ten mango-producing nations in Africa. Mangoes are cultivated in various regions of the country, including the coast, the east, the rift valley, and the west. These regions have cultivars that are well-adapted to their local climates. Kenya cultivates the mango varieties Ngowe, Apple, Tommy Atkins, Kent, Keit, Vandyke, and Boribo. The mango varieties have distinctive flavors, textures, and processing and consumption suitability.  
Kenya's mango production is seasonal, with the majority of harvest occurring between December and March. During this time period, processing facilities and markets are typically flooded with mangoes. During the off-season, there is a fruit shortage, resulting in decreased production and, at times, the closure of some processing facilities.
14. Vietnam
While only a small percentage of mangoes are exported, there are approximately 40 countries where Vietnamese mangoes are sold. The United States recently opened its doors to this product in 2019. The mango is exported to Japan, Singapore, the Republic of Korea, Thailand, Australia, and New Zealand, among others. 
15. Haiti
Mangoes are an exceptionally popular fruit in Haiti, and all Haitians adore them. Haiti's economy relies heavily on mangoes, as the country consumes them extensively and exports them to other nations. Haiti has the best mangos in the world and generates over 100 varieties of mangos in the spring.
16. Tanzania
Mangoes are one of the most widely cultivated products in Tanzania. The nation is the sixteenth largest exporter of fruit in the globe, with a production margin of 500,000 tons in 2023. The vast majority of mangos from Tanzania are donated by impoverished rural producers. The majority of commercial cultivators are medium- and large-scale.  Native varieties such as Dodo and Bolibo are cultivated extensively. Viringe, Bonyoa, and Muyuni are others.
Almost every region of the nation produces mangoes. The principal markets include Kenya via Hola town, a northern neighbor. The remainder predominantly goes to the UAE. The season for mangoes in Tanzania occurs annually from November to January.
17. Cuba
In 2023, Cuba's mango crop production totaled approximately 420 thousand metric tons. This represents an increase of nearly 40 percent compared to the previous year when the country produced more than 292 thousand tons of mangoes.
18. Yemen
Yemen sold 18,987 tons of mangoes in 2019. Only in 2019, the market for Yemen mangoes (in the area of fruits) has gone down by -47.97% compared to 2018. Between 2017 and 2019, Yemen's mango exports fell by 43.96 percent, bringing in US$11.61 million for 2019. In 2019, Yemen produced 362,365 tonnes of mangoes. This number is expected to change by an average of 24.61% each year. About 26,114,00 areas of the country were used to grow mangoes.
19. Peru
Peru grows about the same amount as Colombia, and its best variety is Chato Da Ica, which is only sold in single-strength form and is seen by some as a good competitor to India's Alphonso. In general, it costs about the same as Alphonso. It's popular in the Americas, but it's not going to sell well in Europe because it's mango, like Alphonso, and there aren't as many Latin American buyers as there are Indian buyers.
20. Colombia
On the other hand, Colombia grows about 314,000 tons of fruit every year but only makes about 40,000 tons.
Conclusion
Mangoes are delicious, creamy fruits with multiple potential health benefits. The fiber, potassium, and vitamin content of mangoes all contribute to keeping the arteries open and reducing the risk of heart disease. Mango is cultivated in more than 80 nations on an area of more than 2.7 million hectares.
Subscribe to Our Latest Newsletter
To Read Our Exclusive Content, Sign up Now.
$5/Monthly, $50/Yearly