How Karnaphuli Tunnel Can Change the Economy, Infrastructure and Communication in Bangladesh?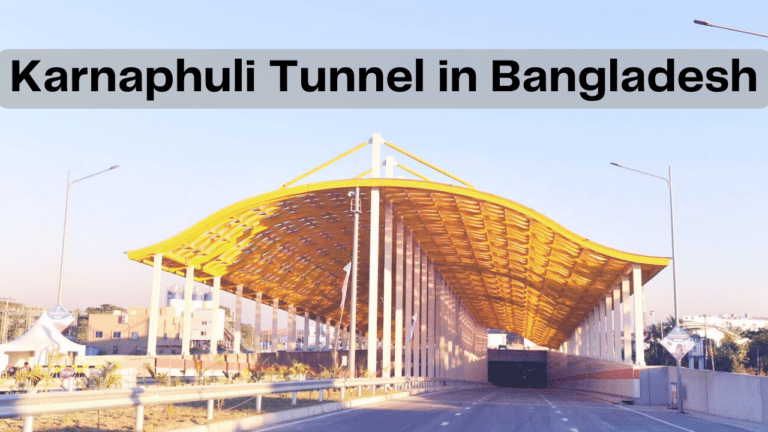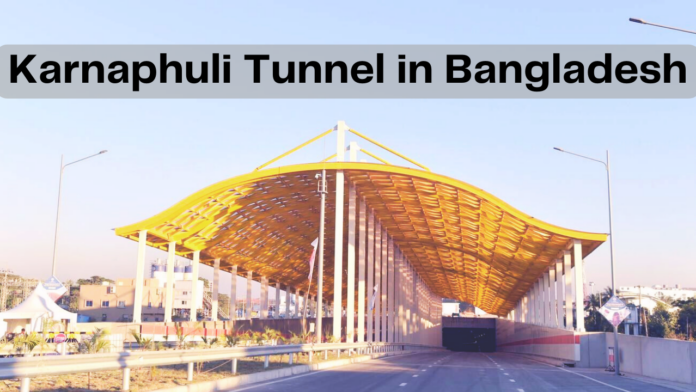 Bangladesh just entered the tunnel era when Prime Minister Sheikh Hasina inaugurated the Bangabandhu Tunnel (also known as the Karnaphuli Tunnel) on October 28, 2023. It is the longest road tunnel in Bangladesh and the 6th longest in Asia. The tunnel is 3.4 km long and connects the city of Chattogram with the district of Cox's Bazar.
Are you looking to find out how the Karnaphuli Tunnel in Bangladesh can improve its economy, infrastructure, and communication? The project is intended to boost connectivity between Chittagong and the rest of the country.
In this blog post, we will explore how this ambitious engineering marvel has the potential to revolutionize transportation, attract investments, and fuel economic growth in Bangladesh.
So, come along as we unravel some important facts about the magnanimous Karnaphuli Tunnel project!
Content Highlights
Karnaphuli Tunnel is a double-deck road tunnel inaugurated on October 28, 2023, jointly funded by Bangladesh and China.
The project has the potential to reduce traffic congestion in Chittagong city, reduce the travel distance between Chattogram to Cox's Bazar by 50 kilometers, and create easier access for ports and industries in Bangladesh.
It will have major impacts on infrastructure, such as smoother transportation of goods, and the economy, including trade facilitation, foreign investment attraction, and job creation, as well as communication due to improved mobility across borders.
It could revolutionize existing business networks across Southeast Asia through significant regional connectivity with efficient movement of goods along supply chains throughout the region.
Overview of Karnaphuli Tunnel in Bangladesh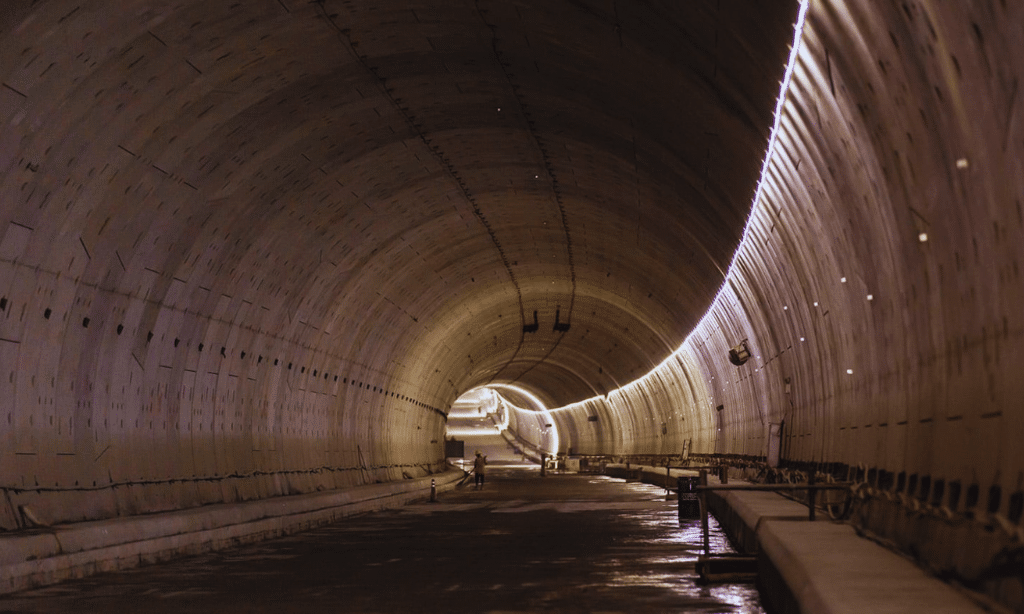 The Karnaphuli Tunnel (officially known as Bangabandhu Tunnel) is a road tunnel under the Karnaphuli River in Bangladesh. It is the longest road tunnel in Bangladesh and the sixth longest in Asia. The tunnel is 3.4 km long and connects the city of Chattogram with the district of Cox's Bazar. The tunnel was built by a joint venture of China Railway Construction Corporation and China Gezhouba Group Corporation. Construction began in 2014 and was completed in 2022. The tunnel cost about $300 million to build.
| Attribute | Details |
| --- | --- |
| Official Name | Bangabandhu Sheikh Mujibur Rahman Tunnel |
| Local Name | Karnaphuli Tunnel |
| Location | Chittagong, Bangladesh |
| Type | Underwater Expressway Tunnel |
| Total Route Length | 9.39 kilometers (5.83 miles) |
| Tunnel Length | 3.32 kilometers (2.06 miles) |
| Tunnel Diameter | 10.80 meters (35.4 feet) |
| Estimated Project Cost | US$1.1 billion |
| Financing Source | Exim Bank of China (Approximately half) |
| Inauguration Date | October 28, 2023, by Prime Minister Sheikh Hasina |
| Notable Achievement | First underwater road tunnel in South Asia |
| Construction Company | China Communications Construction Company |
| Important Dates | Foundation Stone – October 14, 2016; Tunnel Construction – February 24, 2019 |
| Tunnel Segment Production Location | Zhenjiang, China |
| Total Project Cost | BDT 10,374 crores |
| Loan Agreement Details | Exim Bank of China provided Tk 5,913 crores as a 20-year loan with a 2% interest rate |
Project Overview
The Bangabandhu Sheikh Mujibur Rahman Tunnel, known locally as the Karnaphuli Tunnel, is a remarkable infrastructure project located in Chittagong, Bangladesh. This tunnel represents an underwater expressway marvel, spanning a total route length of 9.39 kilometers (approximately 5.83 miles). The core of the tunnel itself extends for an impressive 3.32 kilometers (about 2.06 miles), with a substantial diameter of 10.80 meters (equivalent to 35.4 feet).
This ambitious project carries an estimated cost of US$1.1 billion and is primarily financed by the Exim Bank of China, which covers approximately half of the total funding. It's anticipated that this groundbreaking tunnel will be completed by the year 2023, marking a significant achievement as the first underwater road tunnel in South Asia.
The China Communications Construction Company has been entrusted with the construction, while the journey began with the laying of the foundation stone on October 14, 2016, and continued with the official inauguration of tunnel construction on February 24, 2019. Notably, the tunnel segments were produced in Zhenjiang, China.
Financing and Agreement Details
The financing of the tunnel project comes to a total of BDT 10,374 crores, with a significant portion provided by the Exim Bank of China. A loan agreement, signed during the visit of Chinese President Xi Jinping to Dhaka in October 2016, saw the Exim Bank of China extend Tk 5,913 crores as a 20-year loan with an exceptionally favorable interest rate of 2 percent.
The remaining funding is being sourced from the government of Bangladesh, making this a collaborative effort to bring this groundbreaking project to fruition. The tunnel is set to usher in new possibilities for transportation and connectivity in the region, establishing itself as a monumental achievement in the realm of infrastructure development.
Impact on Infrastructure
The Karnaphuli Tunnel has the potential to significantly reduce traffic congestion and travel times, bringing better access to ports, industries, cities, and regions.
Easier Access to Ports and Industrial Areas
The Karnaphuli Tunnel will greatly improve access to ports and industrial areas in Bangladesh. By connecting the river city of Chittagong with other parts of the country, the tunnel would create an uninterrupted network from Dhaka to Cox's Bazar – the southernmost point of Bangladesh.
This means that people and goods can travel more quickly between different cities through a single direct route rather than having to rely on multiple transfers across several roads.
The resulting reduction in transit time could have a significant impact on trade and transportation—helping businesses move shipments faster and enhancing economic growth throughout the region.
Reduction in Traffic Congestion and Travel Time
The Karnaphuli Tunnel project aims to reduce the distance between Chattogram and Cox's Bazar by 50 kilometers, greatly facilitating smoother transportation of goods and people. This will have a direct positive impact on Bangladesh's economy, infrastructure, and communication as travel times are reduced.
Businesses will benefit from faster delivery of goods with increased economic opportunities arising for everyone involved in trade activities. By attracting foreign investments to take advantage of improved transportation links resulting from the tunnel's construction, new job opportunities may be created both during construction and after completion.
As well as encouraging tourism through enhanced mobility access across borders bordering India and Myanmar, the people-to-people exchange would also increase due to more frequent travels between cities or regions inside the country itself, making it easier than ever before for commuters traveling within Bangladesh for leisure or business trips alike.
Improved Connectivity Between Cities and Regions
The Karnaphuli Tunnel is expected to dramatically reduce the travel distance between Chattogram and Cox's Bazar by 50 kilometers. This will enable a more efficient transportation of goods throughout Bangladesh, thus boosting trade and commerce in different regions.
The tunnel is also expected to enhance traffic flow in Chittagong city and improve connectivity along the Dhaka-Chittagong-Cox's Bazar Highway, providing travelers with faster access to surrounding cities such as Teknaf, Ramu, and Cox's Bazar within less time.
In addition, the tunnel project is predicted to further boost economic activities throughout Bangladesh due to its improved connection between cities and regions that capitalizes on its strategic location to facilitate better cooperation among government departments, businesses, and citizens alike.
Impact on Economy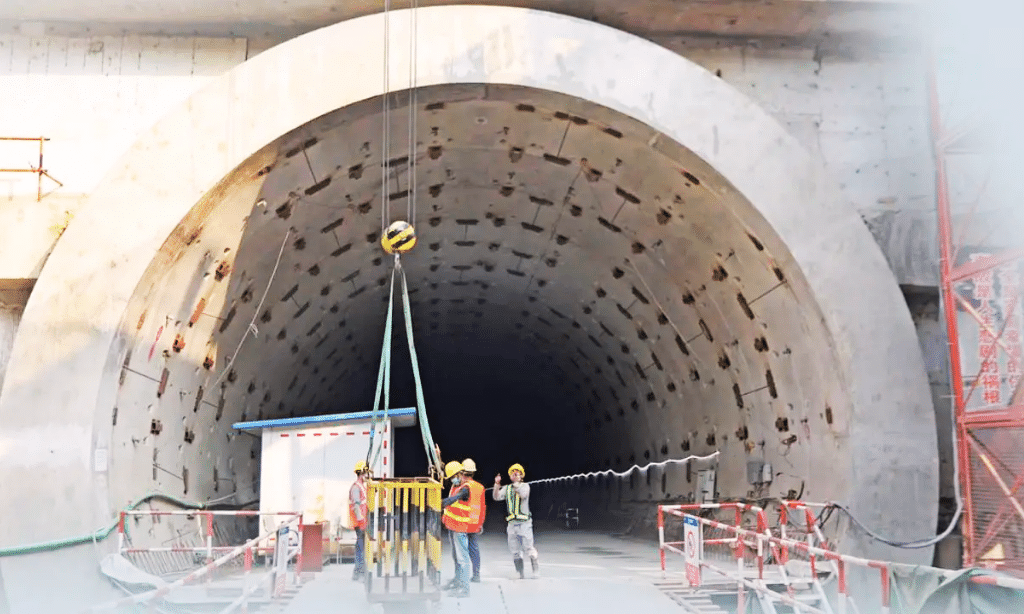 Boosting trade and transportation, attracting foreign investments, and creating job opportunities are expected to be the major economic impacts of the Karnaphuli Tunnel on Bangladesh.
Boost in Trade and Transportation
The Karnaphuli tunnel project is expected to bring a significant boost to trade and transportation in Bangladesh by providing both local and international access. Through the proposed 16 km-long road, businesses, goods, services, and people will be able to travel faster between the Chittagong port area on one side of the riverbank and Dhaka's commercial capital on the other.
The tunnel is also anticipated to improve connectivity with neighboring countries such as India or Myanmar for economic growth opportunities. Additionally, this infrastructure will provide easier access to ports (Matarbari) or industrial areas (Mirsharai Upazila), facilitating import/export activities within Bangladesh's borders.
Notably, research suggests that this development project might attract foreign investments due to improved accessibility and opportunities created by it. In turn, job opportunities would increase – offering better livelihoods for millions of Bengalis who depend heavily upon transport links across their country – ultimately leading to major socio-economic benefits for those living nearby or in concomitant regions.
Attracting Foreign Investments
Foreign direct investments (FDI) are a powerful engine for economic growth in developing economies like Bangladesh. Policymakers recognize the significance of infrastructure and identify it as an important factor that can attract foreign investments.
The Karnaphuli Tunnel project offers many opportunities to facilitate smoother trade relations with surrounding nations through better access to ports and industrial areas, reduced traffic congestion and travel times, improved connectivity between cities and regions, as well as increased mobility of goods and people around the country.
Consequently, there will be greater potential for attracting FDI into Bangladesh which is essential for achieving socio-economic goals such as boosting economic activity by increasing trade flows, creating job opportunities as well and enhancing capital resources investment in areas of the economy such as manufacturing which is pivotal in sustaining long term development within the nation.
Creation of Job Opportunities
The construction of the Karnaphuli Tunnel has opened up numerous employment opportunities for residents in the Anwara and Patenga areas of the Chittagong region. Thus, it has significantly increased job prospects in this area for people of all ages.
The tunnel project is seen as a major contributor to the economic growth of South Chattogram and Cox's Bazar with long-term benefits that reach far beyond just employment generation but also other fields such as reducing travel time, easing access to ports & industrial complexes, and encouraging foreign investments.
Additionally, improved connectivity between cities & regions facilitated by this project has further helped it serve as an important business hub within Bangladesh which was previously relatively isolated.
Impact on Communication
The Karnaphuli Tunnel facilitates smoother transportation of goods and people, encourages tourism and cultural exchange, and enhances communication between communities on either side of the river.
Facilitates Smoother Transportation of Goods and People
The Karnaphuli Tunnel is expected to provide an efficient transportation system for goods and people traveling in Bangladesh. With the tunnel, travel times between ports and industrial areas will be reduced thanks to easier access.
Furthermore, traffic congestion on roads historically prone to gridlock will also become a thing of the past as distributive confidence measures are implemented along with the tunnel's completion.
This improved connectivity will not only contribute significantly to citizens' daily commuting experiences but also give prospective businesses faster and shorter routes to transport their goods across different regions in the country.
Encourages Tourism and Cultural Exchange
The Karnaphuli Tunnel in Bangladesh is expected to have a transformative effect on the local economy and infrastructure, not least by giving a major boost to the country's tourism industry.
The improved access it will give to tourist destinations – such as those in the Chittagong Hill Tracts and Cox's Bazar – means travelers from all over the world will be more able to visit these areas than ever before.
Not only this, but increased connectivity between Bangladesh, India, and Myanmar has opened up cultural exchange opportunities like never before, with visitors able to easily cross borders between these countries thanks to the tunnel's efficient road network.
For example, while previously, visitors would take 8-9 hours just to travel from Dhaka city center to Cox's Bazar via land transport, with new expressways made possible by projects such as Karnaphuli Tunnel, they can now make that journey within 7 hours.
Enhances Communication Between Communities on Either Side of the River
The Karnaphuli Tunnel is the historic first multi-lane road tunnel under the River Karnaphuli, which is expected to bring about a new era of improved transport and communication in Bangladesh.
The tunnel facilitates the smooth transportation of goods and people across both sides of the river while also encouraging tourism and cultural exchange between communities on either side.
It enhances connectivity between cities and regions by providing easier access to ports and industrial areas, leading to increased trade opportunities through a reduction in traffic congestion and travel time.
Moreover, it helps improve access to Chattogram's deep seaport under construction at Matarbari, connecting this vital economic hub with major cities like Dhaka to move goods more efficiently throughout the country.
Improving interconnectivity between two sides of Bangladesh's immense river system through excellent infrastructure projects such as these ensures better access for everyone, thus helping connect local communities with global opportunities for movement.
Challenges Faced in Construction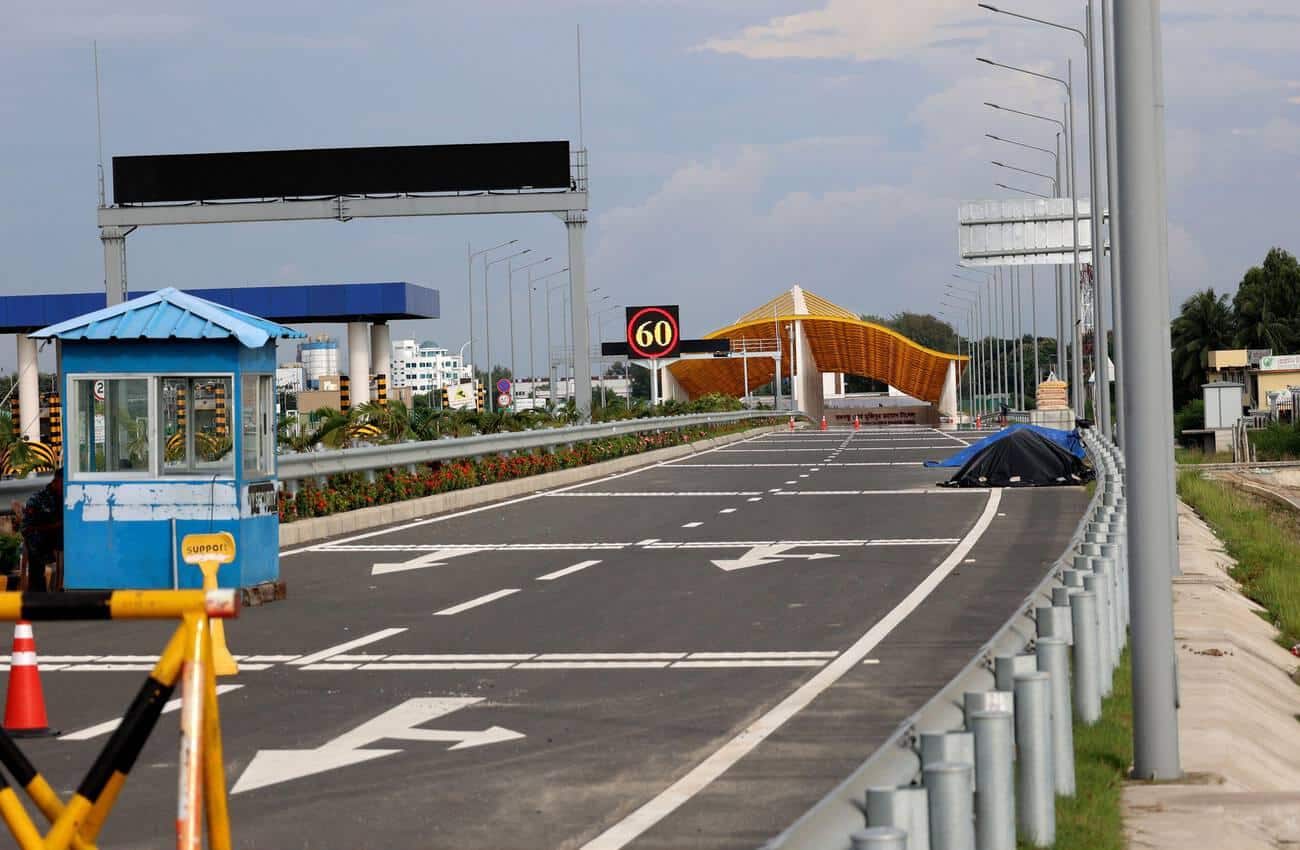 Despite the immense potential of the Karnaphuli Tunnel, complex technical and engineering challenges, as well as environmental concerns, have posed various difficult obstacles in its construction.
Technological and Engineering Challenges
The construction of the Karnaphuli Tunnel is not without its share of challenges, containing complex issues arising from building a tunnel under a mighty river. With only one of this kind in Bangladesh, Bangladeshi engineers had no direct experience with such a project before, and most of the technology employed was new to them.
To meet these challenges head-on, policymakers looked into different aspects of adaptive solutions and brought forward modern advanced technology for both management and execution to speed up the process while mitigating potential risks associated with it.
From sophisticated drilling rigs used deep below ground level to calculations done using 3D modeling software, technological advancements played an important role in how efficiently and securely the construction process was proceeding. All attention needs to be drawn towards finding better ways to keep costs low while increasing productivity through proper planning & risk mitigation techniques as well as acquiring expertise from experts abroad in order to enhance safety measures during operations carried out in such climates like Bangladesh's riverside terrain.
Environmental Concerns and Mitigation Measures
The Karnaphuli tunnel project is expected to have a significant impact on Bangladesh's infrastructure, economy, and communication. However, its construction could also have environmental implications that must be addressed.
The potential for soil degradation as a result of the project's construction activities has led to mitigation measures being implemented. A feasibility study was conducted with consideration given to the Environmental and Socio-economic impacts of the project in order to ensure it would meet high standards with regard to sustainability.
Amongst other points, this study highlighted several environmental concerns such as air pollution from dust particles, runoff water contamination from sedimentation at river mouths or open drainages, etc. To mitigate these issues, appropriate steps are being taken, including proper planning & risk management alongside various international collaborative efforts aimed at reducing the negative impacts of soil environment during the course of construction work and when built use afterward for smooth transportation between communities on either side of the river.
Funding and Financial Hurdles
The Karnaphuli Tunnel project has faced significant financial obstacles which have hindered the progress and completion of its construction. China initially funded the project. However, issues arose when payments slowed down because Bangladesh needed to generate more funds for the project from other sources.
In addition, due to a lack of capital resources within local banks in Bangladesh and limited government access to foreign loans or assistance, it became increasingly difficult for financing purposes.
To combat this problem, international partners such as India were brought in to provide financial assistance with features such as concessional loans, which help reduce the burden on Bangladesh's finances.
Solutions Implemented
To ensure the successful construction of the tunnel, various advanced solutions such as the use of modern technology and techniques, proper planning and risk management, and collaboration with international partners were implemented.
Advanced Construction Technology and Techniques
The Karnaphuli Tunnel project incorporates modern construction techniques and solutions that allow for increased efficiency, cost-effectiveness, safety, sustainability, and faster completion time.
To achieve these goals, civil engineers and construction professionals have conducted systematic analysis utilizing SWOT assessments to ensure that the tunnel is built, taking into account realistic constraints of the environment and other factors.
Specialized equipment such as state-of-the-art boring machines are employed for underwater tunneling methods developed to minimize risks related to constriction deep beneath the river bed at great depths.
Innovative designs and materials also reduce installation time significantly while ensuring the long-term durability of the structure. In addition, enhanced quality control measures involving a range of sophisticated sensors help detect any potential structural defects during regular inspections throughout the course of its operation.
Proper Planning and Risk Management
Proper planning and risk management are essential for the successful implementation of the Karnaphuli tunnel project. To ensure that environmental and social risks are managed properly, a Strategic Master Plan (SMP) for Chittagong Port has been introduced.
This plan aims to improve the infrastructure surrounding the port in order to integrate economic development with sustainable environmental management. Although it remains uncertain how long key infrastructures associated with the Karnaphuli tunnel will take to be completed, extensive research into local ecosystems, industries, and land use patterns helps identify potential risks associated with its construction.
Moreover, advanced construction technology and techniques alongside sustained collaboration with international partners have been implemented in order as part of solutions that can reduce these risks while still meeting desired objectives and outcomes – making proper planning and risk management vital for its success.
Collaboration With International Partners
The Karnaphuli Tunnel is a major infrastructure project in Bangladesh that involves many specialized engineering and construction techniques. These require advanced technology and expertise, which international partners have been eager to provide.
This demonstrates the strong bond between Bangladesh and other Asian and African countries through resources such as engineering knowledge being shared among them. Cooperation with these foreign entities brings vital resources into the tunnel project – for example, essential financing of up to $4 billion dollars from global sources has helped make this plan an ambitious reality.
This external aid will give a major push to economic development in Bangladesh, leading to new transport links across regions and further trade opportunities beyond existing national borders.
Potential for Expansion
Not only can the Karnaphuli Tunnel have positive impacts within Bangladesh, but it may also affect or be connected to projects in neighboring countries like India and Myanmar.
Impact on Neighboring Countries Like India and Myanmar
The Karnaphuli Tunnel is part of the Bangladesh-China-India-Myanmar (BCIM) Economic Corridor, which will promote increased economic linkages between Bangladesh and its neighboring countries.
The improved connectivity facilitated by the tunnel will make it easier to move goods across borders and enhance cross-border trade opportunities, leading to greater opportunities for investment in all countries involved.
Additionally, this enhanced integration has potential benefits for regional cooperation and understanding; more visitors from India and Myanmar may travel through the Karnaphuli Tunnel on their way into Bangladesh, further connecting these two regions through people's movements as well as goods.
Moreover, tourism in South Chattogram and Cox's Bazar is likely to rise with better transportation access due to the tunnel, which will promote the economic growth of these towns significantly.
Possibility of Future Tunnel Projects in Bangladesh
The Karnaphuli Tunnel is paving the way for further tunnel projects in Bangladesh to be completed in the future. With this project, the country has already demonstrated that it possesses both financial and technological capabilities for such a venture.
In addition, thanks to initiatives like China's Belt and Road Initiative (BRI), there have been numerous opportunities for collaboration with foreign companies on infrastructure development ventures.
As such, they would likely be willing to contribute financially and/or technologically if countries take part in more major tunnel projects like Karnaphuli again. Subsequently, these projects could become ideal investments, not only helping boost connectivity but also aiding the economic growth of industrial areas located near ocean ports or river crossings.
Recent Development Projects in Bangladesh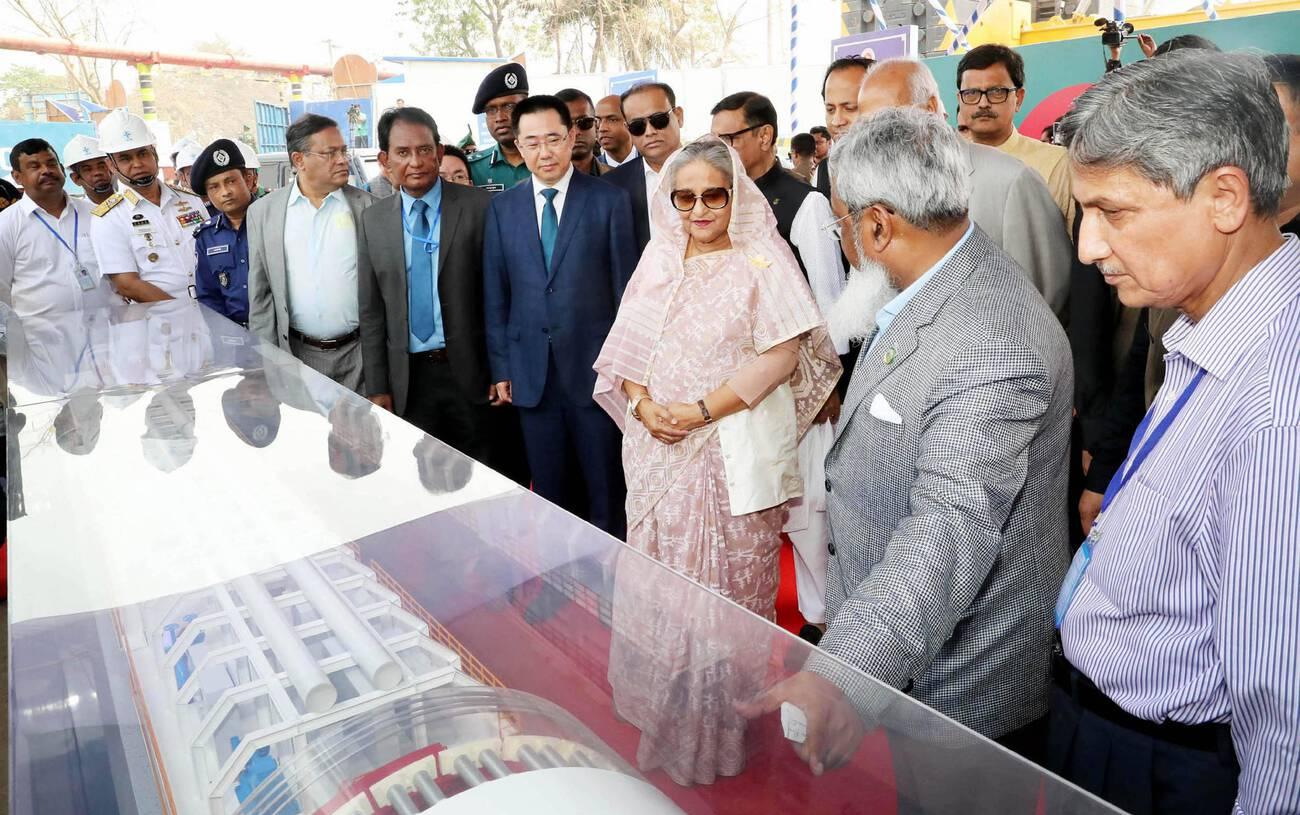 Bangladesh has undertaken numerous ambitious development projects such as the Rooppur Nuclear Power Plant Project, Bibiyana III 400 MW Power Plant, and Dhaka Airport Terminal 3 Soft Opening.
Rooppur Nuclear Power Plant Project
The Rooppur Nuclear Power Plant project is a major infrastructure development in Pabna District, located approximately 87 miles (140 km) west of Dhaka. It began construction in 2017 and is expected to become operational by 2023 providing 2.4 GW of electric power capacity.
Bangladesh established the NEPIO (Nuclear Energy Programme Implementing Organization) in 2010 for supervision of the project with an aim to reduce dependency on imported fuels to produce electricity as well as diversify its energy resources.
Once completed, it will be one of the largest nuclear plants in South Asia and provide a renewable power source while boosting the country's economy, reducing environmental pollution, and creating jobs for local people.
Bibiyana III 400 MW Power Plant
The Bibiyana III 400 MW Power Plant in Sylhet, Bangladesh, is owned and operated by the Bangladesh Power Development Board (BPDB). The gas-fired plant is one of the recent development projects in Bangladesh focused on improving infrastructure and communication.
Installed to promote economic growth, it will also be beneficial toward meeting rising energy demands across the country. By providing a cleaner source of power generation, Bibiyana III could help reduce carbon emissions as compared to many other traditional sources used in Bangladesh.
Additionally, its construction has created job opportunities for locals and has attracted foreign investments, which could have positive implications for the overall economy. With such capacity of generating electricity along with various other developmental benefits ensured by this project, it is expected that linguistically diverse regions like the Chittagong Hill Tracts will benefit significantly from increased transportation network availability due to improved infrastructural facilities associated with this project when completed soon.
Meghnaghat 718MW Combined-Cycle Power Plant
The Meghnaghat 718MW Combined-Cycle Power Plant is a planned power project in Bangladesh, being developed in Meghnaghat, Narayanganj district of the country. The project involves the construction of two gas turbines, one steam turbine, two heat-recovery boilers, and a substation with an expected completion in 2023.
It is estimated to cost around $295 million, and it is believed that when operational, this plant will have importance to Bangladesh's energy production as its output can provide electricity for over 4 million Bangladeshi households annually.
The advanced technologies used in the construction are world-class and include supercritical combustion technology for higher efficiency. Combined cycle plants run on natural gas or other fuel sources like diesel or liquid petroleum gas, which will reduce emissions from existing conventional power plants while also providing greater flexibility and reliability to meet peak demands better than single-generation systems.
Chittagong Elevated Expressway
The Chittagong Elevated Expressway is an ambitious development project in Bangladesh that seeks to improve the country's infrastructure, economy, and communication. By providing a direct route between Dhaka and Chittagong City, the expressway will reduce travel time as well as alleviate traffic congestion.
It will also enable easier access to ports and industrial areas, increasing trade activity in the region. Additionally, foreign investment opportunities are expected to grow by improving connectivity between cities and regions of the country.
The construction of this project has been made possible through collaboration with international partners who have supplied advanced technologies for reinforcing its engineering challenges.
Additionally, proper planning regarding environmental concerns and risk management has been done before commencing its work which will ensure that benefit from this expressway can be fully exploited without resulting in any potential harm to nature after completion of it.
Dhaka Airport Terminal 3 Soft Opening
The long-awaited soft opening of Dhaka Airport Terminal 3 is finally on the horizon, with plans to partially open it on October 7 of this year. The project started in December 2019, and there was initially a budget of Tk21,300 crore set aside for the terminal.
Despite delays due to the pandemic, it is expected that when operational, this new terminal will have a significant impact on passenger and cargo handling services at Bangladesh's largest airport.
It is anticipated that with improved infrastructure from Terminal 3, travel time can be reduced significantly for passengers arriving or departing from the airport while also providing more efficient service for passengers using cargo and mail handling facilities present within its walls. This will go a long way towards improving commerce and international relations between Bangladesh and other countries around the world as well as improving overall quality standards at Dhaka Airport.
Dhaka Metro Rail Project Second Phase
The second phase of the Dhaka Metro Rail project aims to reduce traffic congestion in key areas of the city by connecting remote areas with the rest of the points. This phase is a unique engineering feat due to its complex system of tunnels, bridges, and electric trains.
With completion expected by 2023, it will have two lines with 33 stations covering 45 km, providing improved rail infrastructure for both passengers and freight transportation. The construction phase has enhanced economic growth in multiple ways, including job creation opportunities from government contracts related to metro stations and service personnel, as well as increased foreign investments through the introduction of hi-tech technology specific to such projects.
However, challenges faced during construction comprise financing problems along with technological and environmental issues that require careful planning and risk management techniques which can only be solved domestically or by international collaboration among countries through a strategic partnership model on large-scale initiatives like this one.
Dhaka Subway
The Dhaka Subway is a major infrastructure project for the development of Bangladesh's capital. It will be a part of an integrated public transport system that encompasses multiple modes, such as rail, road, and water.
This ambitious project is expected to enhance connectivity in Dhaka city, reduce traffic congestion, and improve urban planning. The subway network will create smoother transportation links between communities on either side of the river, facilitate quicker travel times, and stimulate trade and economic activities in Bangladeshi marketplaces.
Moreover, the introduction of comprehensive transport systems like subway projects can play an important role in shaping Bangladesh's international image as well as attracting foreign investments into its economy through tourism opportunities.
Padma Railway Communication
The Padma Railway Communication is a highly ambitious project associated with the recent development projects in Bangladesh. It aims to significantly improve inter-district connectivity and facilitate seamless travel between Dhaka and Jashore city.
The bridge alone will span over 6 km, while the railway line along its sides will extend up to 127 km connecting numerous central districts and regions of Bangladesh. Moreover, this project is expected to link other adjoining nations, such as India and Myanmar, creating an effective gateway for international business opportunities and trade exchange among them.
Not only intended for ease of transportation but also strategically planned to draw foreign investments, which could further boost economic growth in Bangladesh via facilitating communication, trade, and industry.
Cox's Bazar Railway Expansion
The Cox's Bazar Railway Expansion is a major infrastructure development project with the potential to drive significant changes to Bangladesh's economy, infrastructure, and communication sectors.
The expansion will create efficient transport of goods and people between Cox's Bazar and Chattogram. It is part of Bangladesh's efforts to improve connectivity levels within the country, promote economic growth, and make transportation more seamless.
The railway expansion includes laying tracks as well as building bridges through hills in order to enable easier access for both freight and passenger trains. This will facilitate better trade activity between Dhaka, Chittagong, and Cox's Bazaar city-regions which are widely separated geographically by the Bay of Bengal.
Studies suggest that completion of this railroad could decrease travel times significantly or even cut them to one-fourth of their current lengths while improving reliability for cargo movement across national borders into India or Myanmar via rail networks.
Bangabandhu Railway Bridge
The Bangabandhu Railway Bridge is a major bridge spanning the Padma river connecting the north-western part of Bangladesh with its eastern side. The construction of this critical infrastructure project began in December and has been heralded as a lifeline for the region that will ensure enhanced connectivity, simpler transportation routes, better communication systems, and improved overall national economic growth.
This essential piece of infrastructure facilitates smoother transit between cities with greater access to ports and industrial areas, reducing congestion on roads while greatly cutting travel time between them.
It also promotes tourism in the area by encouraging cultural exchange across different communities settled along either side of the Padma River resulting in job creation opportunities; furthermore, foreign investments into these regions can be attracted due to easy access and increased engagement from other continents, creating multiple economic spin offs benefitting both countries involved directly or indirectly.
Read Also: Dhaka Elevated Expressway
Frequently Asked Questions (FAQs)
Now, let's find out about some usual questions about the Karnaphuli Tunnel.
1. What is the Karnaphuli Tunnel?
The Karnaphuli Tunnel is an ambitious construction project that will connect Chittagong with Cox's Bazar, two of the most important cities in Bangladesh. It aims to revolutionize transportation and trade between these locations and beyond.
2. How does the Karnaphuli Tunnel benefit Bangladesh?
Once constructed, it will reduce travel time from Chittagong to Cox's Bazar, which can lead to faster economic growth as goods and people are more easily exchanged between ports and centers of industry in both cities. Additionally, better infrastructure for communication across southern Bangladesh can help improve living standards throughout the region.
3. Are there any environmental benefits to building the tunnel?
Yes, by reducing road traffic due to increased efficiency of travel time through its use, emissions from vehicles would be lowered significantly over time, helping protect air quality in this region of Bangladesh for generations to come.
4. How long has planning for this tunnel been underway?
Plans for constructing this tunnel began back in 2016 as part of an idea proposed during Sheikh Hasina's first stint at Prime Minister Ministership before being re-opened recently during her second tenure restarted work on making it a reality in 2019 upon regaining power after elections mandate in that year.
Takeaway
The Karnaphuli Tunnel is a revolutionary infrastructure project in Bangladesh, set to unlock the full potential of economic development for its southeast region while indirectly benefitting transportation and communication across the country.
By connecting Matarbari deep sea port with Dhaka and Chittagong, the tunnel will reduce travel time and congestion, thus encouraging investment opportunities that can boost local economies.
Construction of this grand project is already underway, and once it's completed, it will have a major impact on trade activities within Asia as well as changing stories for international businesses who rely heavily on road transportation across borders – thereby making Bangladesh an attractive destination for investments from around the world.
As such, the completion of the Karnaphuli Tunnel promises nothing less than a profound transformation in terms of economy, infrastructure, and communication for many decades to come.