Padma Bridge Rail Link Project: A New Era of Transportation for Bangladesh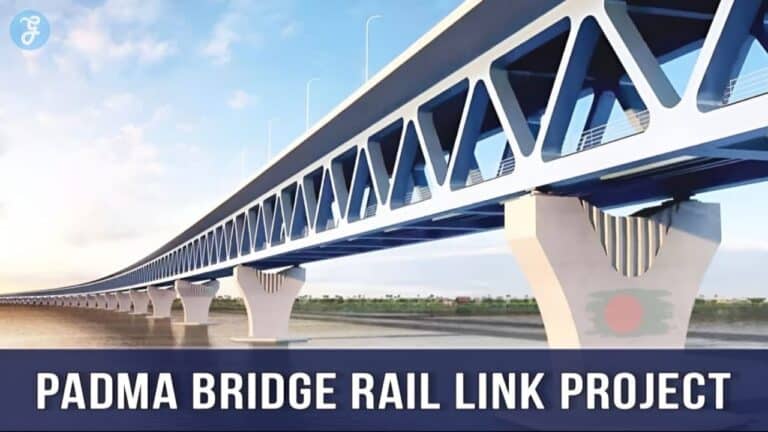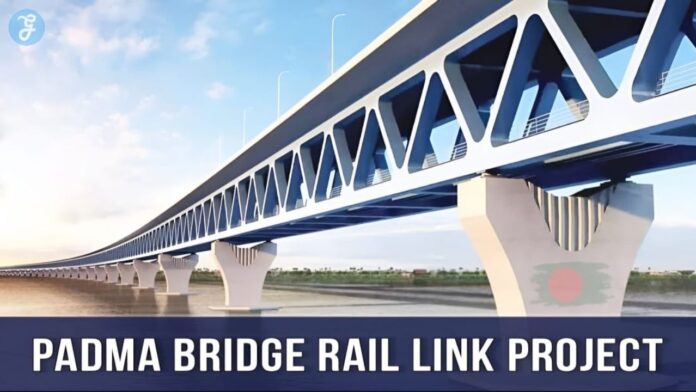 Do you want to know about the Padma Bridge Rail Link Project? The Padma Bridge Rail Link Project (PBRLP) is a 170 km long new railway line that is being built to connect the capital of Bangladesh, Dhaka, to the southwestern city of Jessore via the Padma Multipurpose Bridge.
Prime Minister of Bangladesh, Sheikh Hasina, inaugurated the 82-kilometre railway track connecting Dhaka to Bhanga upazila in Faridpur as part of the "Padma Bridge Railway Link Project today October 10, 2023. The ceremony took place at Mawa Railway Station in Munshiganj. PM Sheikh Hasina will travel to Faridpur by train and is scheduled to deliver a speech at 2 p.m. (BD Time) at Kazi Abu Yusuf Stadium in Bhanga Upazila.
Creating a more efficient transportation system in Bangladesh is a key agenda of the government, and this Rail Link project has many benefits that are expected to improve connectivity among different parts of the country.
This article will provide an insight into the Padma Bridge Railway and its significance for Bangladesh. We will be looking at its history, design details, development process, financing challenges, and inauguration.
If you want to learn about this important bridge rail link project or why it's so beneficial for Bangladesh, keep reading! Let us take you on a journey full of ideas that will help you understand all aspects related to the Padma Bridge Rail Link Project.
Content Highlights
The Padma Bridge Rail Link Project is a 172km railway link connecting Dhaka, Bangladesh's capital, to Jashore with a two-level road-rail bridge across the Padma River.
This $3.9 billion project was funded by China (85%) and Bangladesh (15%), using government bonds for repayment instead of loans or grants.
A total of 66 major bridges are being constructed, with the highlight being the impressive 6.1-kilometer-long Padma Bridge.
In addition to major bridges, 244 minor bridges will be built, along with one underpass and 29 level crossings, contributing to a combined bridge length of over 30 kilometers.
History of the Padma Bridge Rail Link Project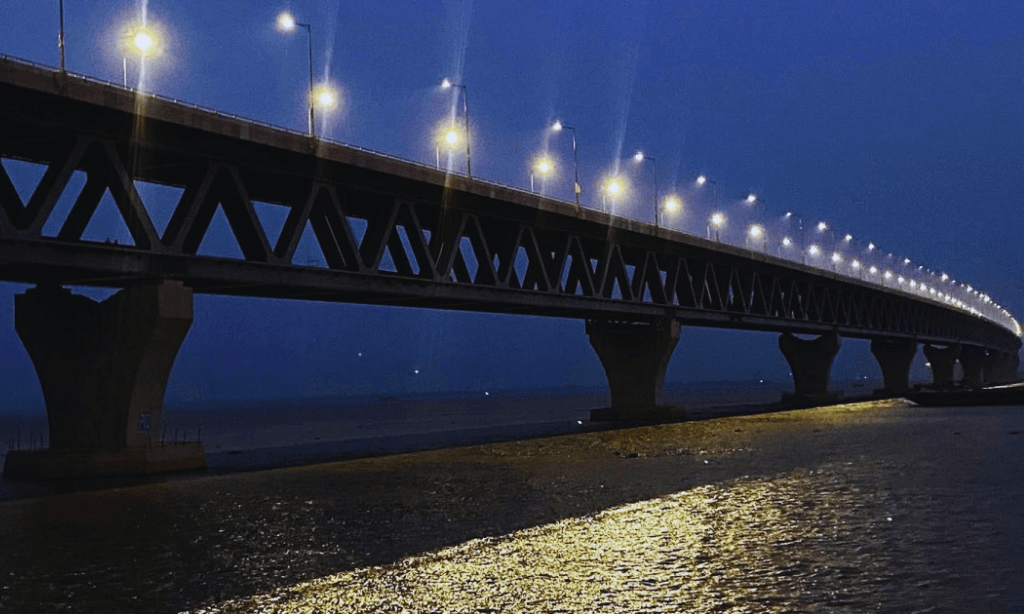 The Padma Bridge Rail Link Project is a 170 km-long railway project that will connect Dhaka city to the Jashore district, connecting the capital city of Bangladesh with the South-West. The rail link was proposed in 2001 by Prime Minister Sheikh Hasina and approved for implementation in 2016, which is currently estimated to be completed by 2021.
It is being implemented by the China Railway Group Limited (CREC), focusing on developing capacity-building skills, enhancing safety standards, and modernizing locomotives in Bangladesh.
CREC has invested over $5 billion dollars in infrastructure development for this project; they are also supplying high-quality rails, carriages, and other equipment necessary for running the railway line efficiently.
Once complete, this bridge will bring greater connectivity throughout Bengal, providing faster transportation links between major cities and emancipating citizens from long-distance travel through poor roadways often congested with traffic or subject to severe flooding during monsoon season.
This grandiose statement symbolizes not only better transportation but provides economic benefits due to its increased transport capacity allowing rural areas access to external markets previously inaccessible, leading towards socio-economic opportunities nationwide. 
Read More: Dhaka Airport Third Terminal Inauguration
Overview of the Project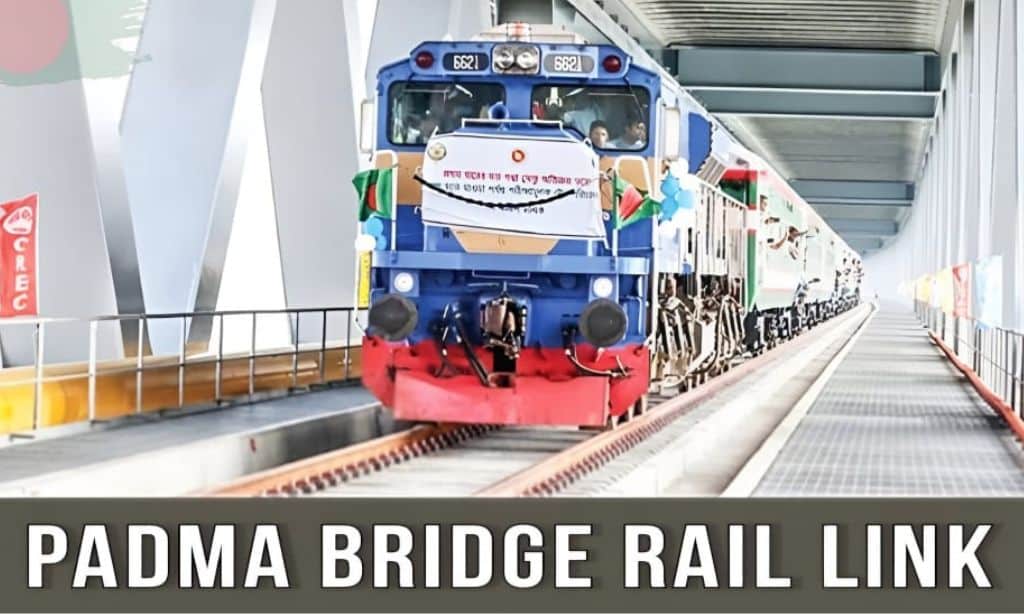 The Padma Bridge Rail Link Project (PBRLP) is a 170km-long railway link connecting Dhaka, Bangladesh's capital, to Jashore with a two-level road-rail bridge across the Padma River.
| Specification | Details |
| --- | --- |
| Project Scope | Padma Bridge Rail Link Project (PBRLP) |
| Total Rail Length | 170 kilometers |
| Sections | Dhaka to Gandaria (3 km) |
| | Gandaria to Mawa (37 km) |
| | Mawa to Bhanga (42 km) |
| | Bhanga Junction to Jessore (87 km) |
| Loop and Siding Lines | 43.2 kilometers |
| Total Track Length | 215.2 kilometers |
| Infrastructure | 66 major bridges, including the 6.1-kilometer Padma Bridge |
| | 244 minor bridges |
| | 1 underpass |
| | 29 level crossings |
| | Total bridge length exceeding 30 kilometers |
| | Total viaduct length of 23.7 kilometers |
| Padma Bridge Location | Within the Mawa-Bhanga section of the rail link project |
| Station Buildings | Construction of 14 new station buildings |
| Station Renovation | Remodeling of six existing station structures |
| Land Acquisition | Acquisition of 1,796 acres of land |
Padma Bridge Rail Link Project: Route and Design Details
The Padma Bridge Rail Link Project (PBRLP) encompasses a 170-kilometer rail link divided into four sections. These segments consist of a 3-kilometer link connecting Dhaka and Gandaria, a 37-kilometer stretch from Gandaria to Mawa, a 42-kilometer section from Mawa to Bhanga, and an 87-kilometer portion extending from Bhanga Junction to Jessore. Additionally, the project includes 43.2 kilometers of loop and siding lines, resulting in a total track length of 215.2 kilometers.
PBRLP involves the acquisition of 1,796 acres of land and the construction of 66 major bridges, including the impressive 6.1-kilometer Padma Bridge. Additionally, 244 minor bridges, one underpass, and 29 level crossings will be constructed along the route. The collective length of the bridges on the route will exceed 30 kilometers, while viaducts will span a total length of 23.7 kilometers.
The Padma Bridge, situated within the Mawa-Bhanga section of the rail link project, will establish a vital connection between Mawa and the existing western zone network of the Bangladesh Railway through the Bhanga-Faridpur-Pachuria-Rajbari rail line.
Furthermore, the rail link project encompasses the construction of 14 new station buildings, the renovation of six existing station structures, and the implementation of state-of-the-art computer-based railway relay interlocked signaling and telecommunications systems for 20 stations.
Executing Agency and Project Period
Bangladesh Railway is the executing agency responsible for the Padma Bridge Rail Link Project. This project involves creating a 169-kilometer rail line from Dhaka to Jashore, now connected via the Padma River.
The project period of this project started on January 1, 2016, and will continue until June 30, 2024. During this time frame, Bangladesh Railway has been actively working towards completing this ambitious infrastructure development initiative meant to increase connectivity in Bangladesh and boost its transportation system.
It has been estimated that with necessary progress being made by teams overseeing work related to land acquisition and construction works undertaken on different routes associated with the link system, it can easily be completed within the timeframe as summarised above. Additionally, you can also read about- Sheikh Hasina – The Superwoman of Bangladesh
Sponsoring Ministry
The Padma Bridge Rail Link Project is an ambitious railway infrastructure project in Bangladesh, which is sponsored by the Ministry of Railways in Bangladesh and overseen by the executing agency, Bangladesh Railway.
The sponsoring Ministry has taken its responsibilities seriously, being dedicated to making this revolutionary rail link a reality for the region. It holds a strong commitment to ensure that all aspects of planning, construction, and development are properly addressed throughout the course of action.
Working side-by-side with other relevant stakeholders involved in the project, such as funding sources and contractors, provides clarity on vision and strategies related to technical aspects as well as finance management to propel the realization of this important public investment initiative according to plan.
Furthermore, it recognizes its importance as this dream project not only offers many benefits – including improving the transportation system & boosting connectivity between the Northern part of Dhaka city – but also opens up significant economic potentials for national socio-economic growth.
Construction and Development
Construction on the Padma Bridge Rail Link project started in October 2018 and is expected to be completed by 2023 with significant progress being made so far.
Progress Report and Estimated Completion
The Padma Bridge Rail Link is a 170 km-long railway link connecting the capital city of Dhaka to Jashore, a major industrial region in southwestern Bangladesh. To bridge this vital supply corridor, 568 bridges and culverts had to be constructed with four tunnels and two Viaducts as the centerpiece for the entire project.
The major works on this grand venture commenced officially in 2018 after an eight-year period of preparation and negotiation related to costs, contractors, design specifications, etc. In 2020, construction progress surged ahead due to various initiatives taken by both local and foreign funding sources.
A loan from the Japan International Cooperation Agency (JICA) played an instrumental role in augmenting the timely completion of sections like the Joydebpur – Ishwardi line which was commissioned earlier than expected.
Currently, much of the track laying activities have been completed with only select portions left remaining such as cutting through mountain passes which will take another 6 months approximately before its estimated completion date sometime within 2021/2022 depending heavily upon weather conditions among other factors governing proper installation procedures.
Challenges Faced
The construction of the Padma Bridge Rail Link Project has been faced with a number of obstacles. The fast-flowing nature of the Padma River presented risks during the monsoon season, while constructing a bridge of its length and number of spans (6.15 km long, 41 spans) posed several significant engineering challenges.
The complexity was further compounded by the nearly 8 years it took to build the project. Additionally, because it is an iconic bridge in Bangladesh, careful planning and execution had to be carefully undertaken in order to preserve its special status as part of Bangladeshi history and culture.
Finally, the Bangladesh government has needed to commit significant funding for this multi-million dollar megaproject due to its scale and ambitions. Despite these challenges however, upon completion many areas surrounding however are expecting positive economic development from increased activity at ports connected via this new railway link infrastructure that serves Dhaka directly with southern districts like Munsiganj for better transportation hub connectivity for trade between Asian Countries especially along Indian Ocean Rim / ASEAN countries such as India & Singapore.
Contractors Involvement in Padma Bridge Rail Link
Various contractors have been actively involved in the Padma Bridge Rail Link Project (PBRLP), contributing their expertise to different aspects of the initiative:
CREC and Subsidiaries: CREC, along with 12 of its subsidiary companies, has been at the forefront of PBRLP's construction efforts.
CRRC Tangshan: In May 2021, CRRC Tangshan, a Chinese rolling stock manufacturer, was contracted by CREC to supply 100 broad-gauge passenger carriages, including their spares and associated services.
China Major Bridge Engineering: A subsidiary of CREC, this company was tasked with the construction of the Padma multi-purpose bridge.
AECOM: A U.S.-based professional and engineering services firm, AECOM provided the initial design for the Padma bridge. This design was subsequently certified and finalized by Flint & Neill UK (now COWI).
Ringtech: As a subcontractor under CREC, Ringtech was responsible for completing the remaining bridges, culverts, and underpasses for the project in 2020.
Corps of Engineers of the Bangladesh Army: This organization was appointed as the construction supervision consultant for the project in January 2017.
SMEC and ACE Consultants: These entities were contracted by the Corps of Engineers of the Bangladesh Army in July 2017 to provide construction supervision consultancy services for the Padma Bridge rail link project.
DORP: Working as an implementing non-governmental organization (NGO), DORP managed resettlement activities under the supervision of the Construction Supervision Consultant (CSC Cell), Corps of Engineers, Bangladesh Army.
Bashundhara Cement: A subsidiary of the Bashundhara Group, Bashundhara Cement secured a contract in May 2019 to supply 700,000 metric tons of cement for the project's construction.
Strategi Consulting: This firm was responsible for construction supervision services, including property acquisition, resettlement plans, clearing rights, utility relocation, contractor review, technical support, and safety assurance.
SIMEX: A Bangladeshi construction company, SIMEX, completed the construction of a 3,000 square-meter steel pile drive for the project in just 30 days, utilizing sheet piles and H/I beams.
Other Contractors: Additional contractors involved in the project encompass Hifab International (a construction engineering company), SSF International (a project management company), Sinorock (a rock bolt manufacturer), and Garden Centre (a landscape company).
Read Also: Dhaka's First Elevated Expressway: A Game Changer for the Capital
Carriages and Bridge Design
The carriages for the Padma Bridge Rail Link Project are designed and manufactured in China by CRRC Tangshan Co Ltd. These carriages feature innovative technology with air-conditioning systems, advanced lighting systems, video surveillance cameras, real-time monitoring devices, and an emergency alarm system all integrated into the design to ensure maximum passenger safety.
The suspension bridge deck of the Padma Multipurpose Bridge has been designed to carry both rail (track) and road traffic simultaneously ensuring efficient transportation on either type of vehicle as necessary.
Additionally, special track switches have been included along the route allowing trains to change tracks while crossing bridges or entering platforms thus facilitating further operational efficiency at no extra cost.
Financing and Contractors
Learn about who funded this immense project and who played a critical role in its construction.
Funding Sources
The Padma Bridge Rail Link Project is one of the biggest infrastructure projects in Bangladesh, funded almost entirely by the Government of Bangladesh. In fact, 85% of the funding for this project comes from China while Bangladesh itself provides 15%.
The total cost that has been estimated for this ambitious project stands at $3.9 billion, and no loans or grants have been taken up to cover it; instead, the total amount has already been paid back through a mix of issuing government bonds and other sources.
This makes it clear that despite a huge cost implication, investing in infrastructural development is an important priority for both China and Bangladesh who are eager to fully finance such vital projects without any need for outside help or financial aid.
Companies Involved in the Construction
Chinese construction companies have a major role in the Padma Bridge Rail Link project. China Railway Group and China Major Bridge Engineering Co have been prominent players in constructing as well as upgrading the bridge system of Bangladesh.
Both of these companies have constructed at least three other bridges within the country prior to Padma Bridge such as Karnaphuli Knitwear, Chittagong Bypass, and Power Plant Bridges. Their expertise and understanding of the local conditions ensure further development of infrastructure as well as connectivity in the region.
Controversies and Rumors
Explore the speculation and controversies surrounding the Padma Bridge Rail Link project and find out what is its current status.
Past Speculation and Challenges
The project of the Padma Multipurpose Bridge, of which the ongoing construction is a part, has been marred by several controversies and conspiracies since its inception. The World Bank was initially a primary lender for this ambitious project, which had to comply with its procurement guidelines in order to provide finance but then abruptly withdrew it amidst charges of corruption.
This led other donors such as the Asian Development Bank also withdraw their funds causing further delays in progress works due to a lack of resources that were caused due to false charges against Bangladesh's ruling party at the time according to many sources.
Despite these obstacles being encountered government's own funding sourced locally ensured that construction eventually started after 8 years and despite strong opposition within its structure managed to continue ahead slowly making small milestones every now and then leading us into present times with a proclaimed inauguration ceremony just around corner scheduled soon without major uncertainty hallmarks associated with this projects past decade preceding it in air!
The Current State of the Project
The Padma Bridge Rail Link Project is currently underway and progressing well since its inception in 2016. The project, which involves constructing two rail lines on both sides of the Padma Bridge, has seen much development with over 360 kilometres of route now complete.
It is estimated that around 75 percent of the total length needed for both routes has been completed so far. This massive project has included completing new railway tracks between Gauragha and Munshiganj as well as building several bridges and stations along the way.
Despite some delays due to land acquisition problems, schedule adjustments due to relaxations during the Covid-19 pandemic, and financial shortfalls faced by Bangladesh Railway throughout 2019 – 2020 had to be sorted out before the project could move forward again.
Funding Details for the Padma Bridge Rail Link
The funding details for the Padma Bridge rail link project are as follows:
China is covering 85% of the project's total cost, with the Government of Bangladesh contributing the remaining 15%.
In April 2018, the Economic Relations Division (ERD) within the Ministry of Finance of the Government of Bangladesh entered into a loan agreement worth $2.67 billion with the China Exim Bank to secure financing for the project.
The overall commercial contract value of the project stands at $3.13 billion. Under this arrangement, China will extend $2.67 billion (equivalent to 85%) in the form of preferential buyer's credit, while the Government of Bangladesh will invest the remaining $470.81 million (representing 15%) towards the project's funding.
Benefits of the Padma Bridge Rail Link
The completion of the Padma Bridge Rail Link project will bring immense economic, transportation, and connectivity benefits to Bangladesh.
Potential Impact on Transportation in the Region and Connectivity
The Padma Bridge Rail Link Project will have a huge positive impact on transportation in the region and connectivity. The bridge is expected to improve transport efficiency and reduce travel time and costs between distant cities.
It will also enhance accessibility for commuters thus connecting different parts of the country. Industries and businesses stand to benefit from this infrastructure with increased trade opportunities, improved logistics capabilities, as well as reduced transport costs impacting their bottom line positively.
Moreover, It seems that the text you provided is a mix of various phrases and keywords, and it's not clear what specific message or context you're trying to convey. If you could provide more information or clarify your request, I'd be happy to assist you in writing a coherent and meaningful paragraph or document. Please provide additional details or specific content you'd like to discuss or elaborate on.
Boost to the Economy
The Padma Bridge Rail Link project is expected to have a significant impact on the economy of Bangladesh, both in the southern region and nationally. Connecting transit between Dhaka and Khulna will link northeast India with Burma, further increasing economic potential through increased trade.
Furthermore, studies estimate that there could be an increase of 2% annually of GDP for South Bengal upon completion and about 1.3 – 2% contribution towards the national GDP growth rate due to this initiative.
As already mentioned, it will also drive activity at the Mongla Port which opens up many additional possibilities related to exports and imports using the port's improved infrastructure.
In addition to that, the apparel industry is likely to benefit from greater market access offered by new person-to-person business links as well as quicker transportation options for their goods within surrounding countries.
Potential for Tourism
The Padma Bridge Rail Link Project is expected to have a positive effect on tourism in the area, giving tourists from within and outside of Bangladesh more opportunities to discover new places.
By creating regional connectivity and mobility in traffic movement, it will make it easier for people to travel around the country. This could open up new markets for tourist attractions, accommodations, restaurants, and other businesses related to the tourism industry.
Furthermore, this project has tremendous potential economic benefits that could attract more visitors to the region such as increased job opportunities and infrastructure development which may enhance their traveling experiences.
How the Rail Link Will be Used
The Padma Bridge Rail Link will provide a high-speed service for passengers and freight traffic, significantly improving mobility in Bangladesh by reducing travel time and enabling direct connections between ten districts of the country.
This expansive rail link project is expected to revolutionize transportation in Bangladesh as it creates an easy access point across the Padma River connecting Dhaka with southwestern parts of the country.
The rail route connects major towns like Rajbari, Faridpur, Barisal, Bhola, and Tangail which are economically important but previously had limited access to nearest commercial centers due to lack of efficient modes of transportation.
With this new rail line, commuters need not worry about facing traffic hassles or overcrowding while going from one place to another, as they can easily reach their destinations within shorter periods than before.
Additionally, passenger freight ships on this route will help boost local economic activities bringing socio-economic benefits such as job creation and revenue generation for both rural and urban areas along its path.
Read More: Dhaka Metro Rail
Benefits for Travelers and the Local Economy
The Padma Bridge Rail Link project will have huge benefits for travelers and the local economy. By connecting Bangladesh's last geographical divide, improved transportation and connectivity will be enabled throughout the region.
This will lead to an increase in mobility, making traveling between regions easier than before. Additionally, it is expected that this increased accessibility could encourage more tourists to visit the area and contribute to a boost in business activity in the region.
It has been proposed that with this increased economic activity, poverty levels are likely to decrease due to a corresponding rise in incomes of all involved businesses and individuals.
Inauguration and Opening Ceremony
The Padma Bridge had its inauguration ceremony on June 25, 2022. On April 4, 2023, a significant milestone was achieved as a trial train successfully traversed the bridge, making its journey from Bhanga to Mawa in Munshiganj.
During the trial, the train completed its journey to Faridpur in precisely two hours and ten minutes. Departing from Kamalapur at 10:07 a.m., it crossed the Padma Bridge at 11:34 a.m. Subsequently, the train arrived at Bhanga station at 12:17 p.m., having traversed ten stations along the route.
Significance for the Country
The Padma Bridge Rail Link Project is of great significance to Bangladesh, as it has the potential to improve transportation and trade in the country vastly. The opening ceremony of the bridge serves as a symbolic representation along with tangible proof that major infrastructure projects can be successfully completed in Bangladesh despite numerous challenges.
As one of the longest bridges spanning 170km between Dhaka and Jashore, it will have an immediate impact on travel times and connectivity. Furthermore, its completion shows that government initiatives are being taken seriously by encouraging private-public collaboration for development projects that bring positive change while boosting economic growth through increased trade access.
In this regard, the Padma Bridge Rail Link project highlights Prime Minister Sheikh Hasina's determination to forge progress with innovative large-scale projects across the whole nation – her speech at the inauguration ceremony describing the rippling impacts of the project from affecting thousands of commuters' lives to furthering international relationships displays solemn determination for building improved Bangladesh through better& faster modes of transportation network in whole South Asia region.
Future Projects and Impact
This project is expected to open up opportunities for future development with the potential for more railway projects in the region.
Potential Long-Term Impact on the Country's Infrastructure and Transportation System
The Padma Bridge Rail Link Project will have a significant long-term impact on the country's infrastructure and transportation system. The project aims to connect Bangladesh's capital, Dhaka, to Jashore through a new 170 km-long railway link.
This would reduce travel time for both people and goods, thus improving connectivity within the region. Furthermore, this bridge is designed to last not only for 70 years but up to a hundred with proper maintenance, meaning that it can serve as an invaluable asset for generations to come.
With these improvements in route options, travelers who previously had difficulty crossing Bangladesh can now benefit from better modes of transport while businesses gain access to more clients or potential markets due to shorter routes that are expected when using the Padma Bridge Rail Link.
As such, there is potential here for large economic growth stemming from increased trade among other sectors like agriculture and industry, which suffer losses due to the existing ways of transportation and lack of infrastructure connections along certain areas of Bangladesh's geography.
Takeaway
The Padma Bridge Rail Link Project is an ambitious and groundbreaking project which has made considerable progress since its initial announcement in 2009. With approval from the Bangladesh government, construction began on the railway link in 2017 with funding entirely from the Bangladeshi government.
The track was recently completed after a lengthy construction period, with trains running across it for the first time earlier this year.
Besides providing much-needed connectivity between Dhaka and Jashore, economists see great potential benefits to other related sectors such as trade, transport, and tourism for all who reside near or use these transportation links.
As Bangladesh is poised to inaugurate its newest rail infrastructure later this month with dignitaries, both local and international, present at what will be a promising milestone for transportation development within the country, we can only hope that further opportunities created by efficient mechanisms like these are also leveraged around the region to maximize projected economic gains achieved thus far.
Frequently Asked Questions (FAQs)
Here learn about some FAQs on The Padma Bridge Rail Link Project.
1. What is the Padma Bridge Rail Link Project?
The Padma Bridge Rail Link Project is a railway connectivity project that seeks to link the southern part of Bangladesh with the rail network through the Padma Bridge by 2024.
2. Who will benefit from this project?
This project will benefit not only the people in southern parts of Bangladesh but also commuters who want to travel between Dhaka and other major cities quickly and more conveniently.
3. When was the inauguration of this project?
The inauguration of this project took place on 26th December 2020 in a virtual ceremony at Bangabhaban attended by Prime Minister Sheikh Hasina as well as many dignitaries from home and abroad.
4. How far does this new rail route extend?
It extends up until Jashore Station, covering 195 Km distance with proposed 13 large-span bridges, 25 small-span bridges, 20 culverts, and 2 tunnels along its entire length, preventing catastrophic damage from flooding or climate change-related disasters in future years.