Dhaka Airport Third Terminal Inauguration: A Symbol of Bangladesh's Development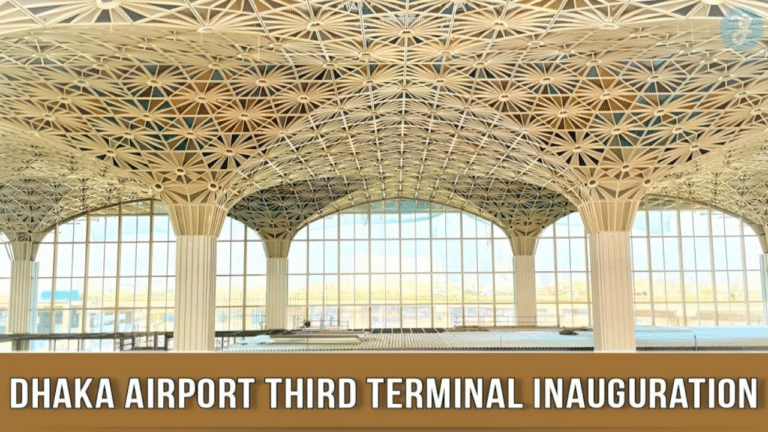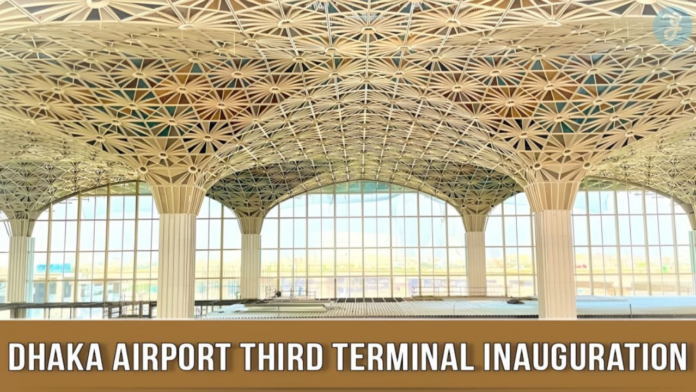 Are you curious to learn about Dhaka Airport's third terminal inauguration? Prime Minister Sheikh Hasina inaugurated the new terminal today, October 7, 2023, and will bring world-class passenger service together with enhanced safety measures. The terminal is not expected to be fully operational for about another year. It has limited functionality, which is why the Civil Aviation Authority calls its launch a 'soft opening.'
In this blog post, we will look at Dhaka's Hazrat Shahjalal International Airport's new terminal – the construction timeline, project details, and facilities – as well as its potential impact on Bangladesh's aviation sector.
Get ready to discover how this exciting endeavor could transform our nation into an 'aviation hub'!
Overview of Dhaka Airport's Third Terminal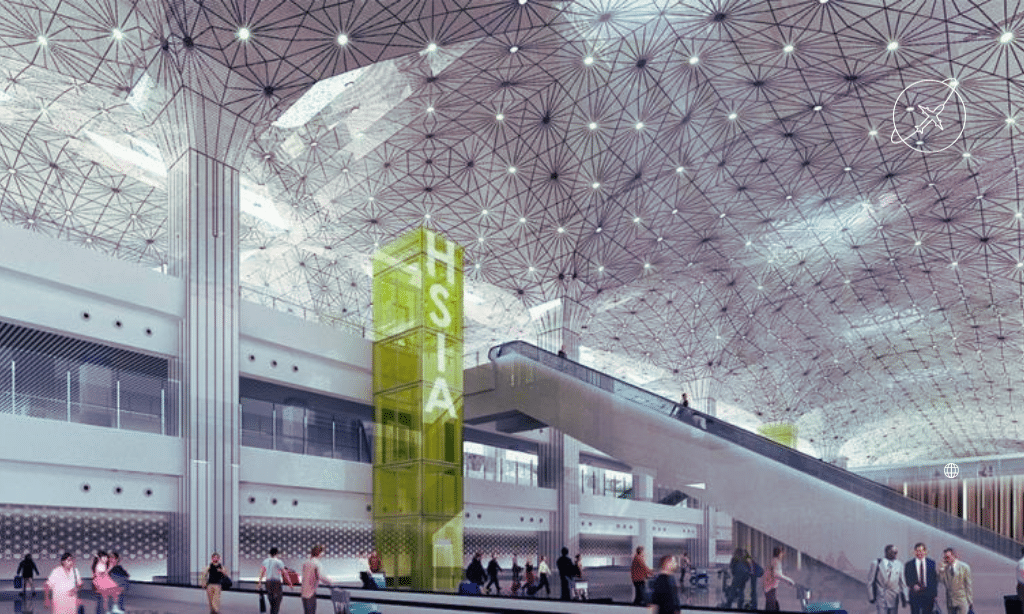 Dhaka Airport's third terminal will serve as Bangladesh's primary maritime hub, and Prime Minister Sheikh Hasina inaugurated the new terminal on October 7.
| Information | Details |
| --- | --- |
| Inauguration Date | October 7, 2023 |
| Initial Cost Estimate | Tk 21,300 crores |
| Construction Started | December 2019 |
| Architect | Rohani Bahrain (interior design) |
| Terminal Area | 5,42,000 square meters |
| Boarding Bridges | 26 (12 to be opened in October) |
| Check-in Counters | 115 (including 15 self-service check-in counters) |
| Immigration Counters | 10 self-service passport control counters, 66 external immigration counters |
| Arrival Passenger Check-in Counters | 5 self-service check-in counters |
| Baggage Belts (Arriving Passengers) | 16 (including separate belts for oversized luggage) |
| Facilities on Second Floor | Arrival lounge, cantina, boarding bridges, Duty-Free shop, and arrival lounge |
| Total Terminal Building Area | 230,000 square meters |
| Passenger Handling Capacity | 12 million passengers annually |
| Baggage Handling Area | 54,000 square meters |
| Fire-Fighting Station | 4,000 square meters |
| Import Cargo Terminal | 27,000 square meters |
| Export Cargo Terminal | 36,000 square meters |
| Connecting Taxiway | 66,500 square meters |
| Rapid Exit Taxiways | Two rapid exit taxiways, covering 41,500 square meters |
| Customs Hall and Channels | Hall and six channels for customs for passengers arriving from other countries |
| VIP Services Area | Dedicated 3,650-square-meter area for VIP and VIP pa |
Construction and Inauguration Timeline
In December 2019, the Bangladesh government granted approval for the construction of a third terminal at Dhaka's Hazrat Shahjalal International Airport.
Construction began in late February 2020, with Mitsubishi and Fuji firms serving as lead investors and contractors on the project. Several South Korean businesses have assisted in design and implementation efforts alongside these major companies.
The Japanese operations of ANA Holdings are helping manage various aspects of terminal management, including gaining access to supply chain partners to help import items for installation within the building itself.
Flight tests at the new airport site were conducted over recent months to ensure compatibility between structures currently existing around Dhaka, its airspace regulations, and planned operational protocols once fully functional.
Potential Impact on Bangladesh's Aviation Sector
The completion of Dhaka Airport's third terminal is expected to boost Bangladesh's aviation sector significantly. The airport's cargo handling capability is predicted to increase threefold, helping to strengthen export markets for agricultural products and other goods from the country.
On top of this, the introduction of world-class passenger services is likely to play an important role in improving Bangladesh's international image as an emerging market economy and transport hub.
In addition, opening up new opportunities in terms of air travel within Shake also means there will be increased economic activities around the airport areas that will generate more jobs and other benefits for local businesses.
However, it should be noted that all such major construction projects also come with their own associated risks and challenges. This includes managing infrastructure constraints due to tight timelines when it comes to project delivery and cost overruns potentially impacting budgets installed by government authorities responsible for overseeing development work at the site itself.
Dhaka's Hazrat Shahjalal International Airport Set for Third Terminal Inauguration on October 7, 2023
Prime Minister Sheikh Hasina inaugurated the 3rd terminal of Dhaka's Hazrat Shahjalal International Airport on Saturday. on October 7, 2023. With an initial cost estimate of Tk 21,300 crores and construction started in December 2019, the airport boasts world-class passenger service with global architectural expertise that will significantly increase capacity and improve upon quality of service.
Dhaka Airports' new three-story terminal will be managed under operations provided by a Japanese firm, and this will have a huge impact potential for turning Dhaka into an 'aviation hub' as well as benefit for the country's image.
Moreover, it could also provide increased flight opportunities within Bangladesh as well as potential connecting flights internationally, leading to improved connectivity between Bangladesh with other destinations worldwide.
Project Details and Features
[Video Credit: @We5tv]
Fusing world-class passenger service, global architectural expertise, and increased capacity with Japanese operations management – get ready to experience the spectacular arrival of Dhaka's most advanced airport terminal!
World-Class Passenger Service
The new terminal of Hazrat Shahjalal International Airport in Dhaka will offer world-class passenger services, from the capacity to handle up to 24 million passengers each year, to offering modern amenities and features.
The Civil Aviation Authority of Bangladesh assures that passengers will experience a pleasant journey due to the availability of 26 boarding bridges, ensuring quick boarding for departing flights.
Furthermore, there is a dedicated parking apron for 37 aircraft which promotes an efficient turnaround time for incoming planes. From luxurious lounges equipped with high-end facilities such as Wi-Fi and comfortable sitting areas; duty-free shopping options and fine dining restaurants; transportation access points; and convenient immigration counters ready at all times—these are just some of the features that make this airport so sought after by travelers around the world.
Global Architectural Expertise
Global architectural expertise has played a key role in the design and construction of Dhaka Airport's third terminal. Renowned architect Rohani Bahrain was selected to carry out the interior design, bringing world-class passenger service which is expected to improve overall facilities and amenities significantly.
The project sources have implemented close monitoring of the construction process, making sure that specifications and timelines are met according to global standards. CAAB chief expressed confidence that with its state-of-the-art amenities and services, Dhaka airport will be able to solidify Bangladesh's image as an international hub for aviation travel.
The Bangladeshi government approved this expansion project in recognition of how global architectural expertise can aid infrastructure improvements across the country on various levels, from passenger experience and safety measures up to visual aesthetic features giving a strong economic boost for local employment opportunities as well as tourism growth potential.
Increased Capacity and Service Quality
The new Dhaka Airport Terminal is designed to offer world-class passenger services under global architectural expertise. It can double the existing annual passenger handling capacity from over 5 million passengers per year to approximately 10 million and triple cargo handling capacity from 2 lakh tonnes per annum to around 5.47 lakh tonnes, significantly improving connectivity within Bangladesh as well as with other areas of the world.
Along with this, a range of additional amenities have been incorporated into the design such as expanded check-in counters and faster security processes, upgraded international standard VIP lounges that are equipped with advanced telecommunication amenities, and direct boarding facilities for passengers traveling by international flights.
Moreover, Japanese operations management has also been implemented which ensures top-quality service standards while providing peace of mind for all travelers. Additionally, environmental sustainability measures including rainwater harvesting will ensure minimal waste is generated at peak traffic periods while maintaining an eco-friendly atmosphere for both travelers and employees alike.
Japanese Operations Management
Japanese firm, Nippon Koei Co., Ltd has proposed to take on the operations and maintenance of Dhaka airport's third terminal. This marks a major step forward for Bangladesh as Japan will effectively provide its aviation expertise in terms of operations management, allowing for increased levels of efficiency with improved quality control standards.
Loaded with world-class passenger services from one of the most renowned engineering firms in Asia, this is set to increase the standard that Dhaka International Airport can offer its passengers significantly.
Additionally, it will also bring some financial benefits for Bangladesh due to the proposed revenue-sharing agreement between both parties to aid economic growth within the country.
Connecting Bangladesh With the World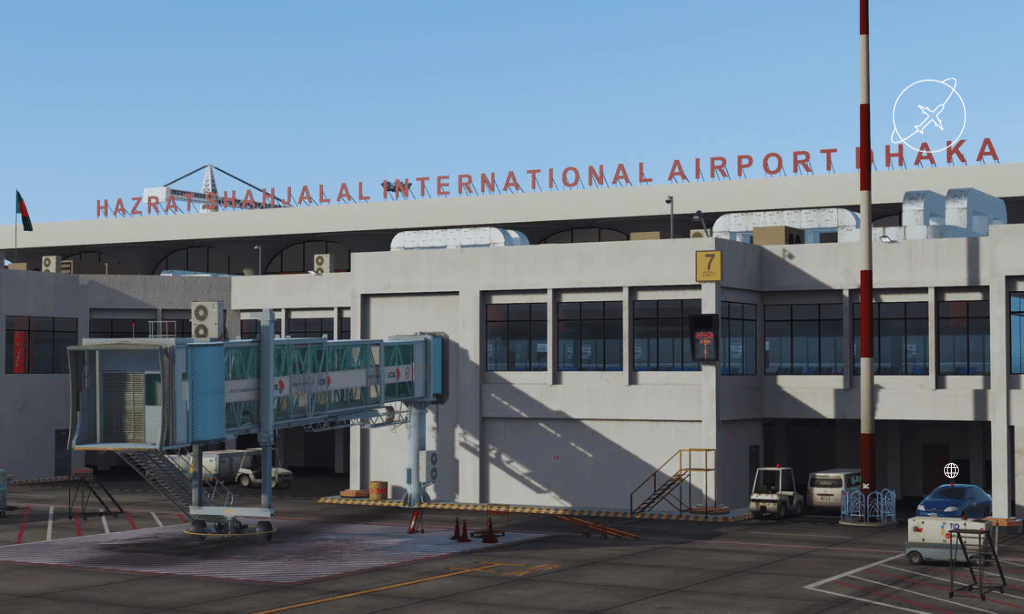 Through the Dhaka Airport Third Terminal, Bangladeshi citizens would be able to effectively reach their destinations all around the globe with improved accessibility and connectivity.
Japanese Firm to Handle Operations
At Hazrat Shahjalal International Airport in Dhaka, Bangladesh, a Japanese firm has been selected to handle the operations of its third terminal. This public-private partnership project is funded mainly by Japan's International Cooperation Agency (JICA), and it has proposed a contract to operate and maintain the terminal while discussions are ongoing regarding revenue sharing.
The recent selection of this experienced Japanese company promises to bring world-class passenger service, enhanced safety and security measures as well as improved capacity and quality of services for Bangladeshi people when they travel through Dhaka Airport.
Moreover, JICA's investment will also help turn Dhaka into an "aviation hub" connecting Bangladesh with the world through efficient international connections resulting in great benefits for the country's image.
Potential for Turning Dhaka into an 'Aviation Hub'
The Bangladesh government aims to turn Dhaka's Hazrat Shahjalal International Airport into an aviation hub and compete with other international hubs such as Singapore. Already popular among foreign airlines due to the high volume of flights that operate daily, the development of a third terminal will further increase the capacity of this main entry point to Bangladesh.
Flight tests for two flights – operated by Regent Airways from the Dhaka-Chattogram route and US Bangla Airlines from the Sylhet-Dhaka route – have been successfully conducted as part of preparations for the inauguration on October 7th, 2023.
The new world-class passenger service standards set at this airport are expected to provide a major improvement in passenger experience, while eco-friendly design features and enhanced safety training are sure to be yet another drawcard for international carriers looking for Bangladeshi destinations.
Additionally, improved infrastructure across the country due to these developments can create job opportunities and boost economic growth through increased tourism revenue which gives greater insight into life in Bangladesh.
Benefits for the Country's Image
The Third Terminal of Hazrat Shahjalal International Airport is expected to dramatically change Bangladesh's image in the global aviation industry with its world-class amenities and services.
The preliminary flight tests have already been conducted at the terminal, which will ensure a quality passenger experience when it officially opens on October 7, 2023. With advanced features such as global architectural expertise, increased capacity and service quality standards, Japanese operation management, and enhanced safety measures -the third terminal can really boost the country's reputation internationally.
In addition, this project has attracted support from national airlines allowing them to expand their routes worldwide with flights from Dhaka airport further connecting Bangladesh as an international hub for air travel.
Moreover, this infrastructure development is likely to create numerous direct economic opportunities like job creation in the local economy while creating awareness about the country's potential abroad through tourism promotion across parts of the South Asia region opening up various indirect benefits such as foreign investment flows. If you're interested in Dhaka Metro Rail then check the linked article.
Flight Tests and Trial Runs
With the successful completion of trial flights, anticipation is increasing for the partial inauguration of Dhaka Airport's third terminal on October 7.
Successful Completion of Flight Tests
The Hazrat Shahjalal International Airport authorities have recently supervised the flight tests and trial runs for two flights with a successful result. The Civil Aviation Authority of Bangladesh is managing and operating the third terminal of Dhaka Airport, where these trials were carried out to ensure optimal service quality for passengers.
This marks an important milestone in the project timeline; completion of such tests signifies that all technical aspects are correctly functioning before passenger traffic begins using the facility.
Such rigorous testing also ensures that safety standards are being met as well as confirming whether operations can be handled smoothly or not. This reinforces current preparations and paves the way to completing the overall development by 2024.
Anticipation for Partial Inauguration on October 7
The partial inauguration of Dhaka Airport's third terminal on October 7 is a milestone in Bangladesh's aviation history as it marks the successful completion of flight tests and trial runs conducted by Japanese operations management.
Prime Minister Sheikh Hasina, who will inaugurate part of the terminal, plays an invaluable role in this development which could potentially propel Bangladesh into becoming an 'aviation hub'.
The new passenger service boasts world-class features such as increased capacity, enhanced safety measures, and higher-quality services. It has also brought global architectural expertise to upgrade the airport with major benefits for boosting the country's image and improving the local economy through job opportunities.
Best Facilities for Bangladeshi People
This terminal offers an unprecedented level of comfort and convenience to Bangladeshi passengers, providing a memorable experience like no other. Explore the latest amenities this Terminal has to offer today!
Improved Passenger Experience
The new third terminal of the Hazrat Shahjalal International Airport in Dhaka is being designed to incorporate world-class passenger services and amenities. This means that travelers to Bangladesh can look forward to increased protection and security measures, improved customer service, streamlined processes for checking in and out of flights, short queues at immigration counters, modern facilities like digital walls with updated flight information displays, complimentary Wi-Fi access with dedicated lounges throughout the airport.
There will also be a range of retail outlets offering refreshments or souvenirs as well as extensive duty-free shopping options. Additionally, state-of-the-art x-ray machines have been installed for enhanced safety monitoring requirements while eco-friendly practices such as LED lighting have been incorporated into all areas of the terminal design transforming it from an outdated international gateway into one that aligns itself with global standards and expectations for travelers visiting Bangladesh.
Enhanced Safety and Security Measures
The Dhaka Airport Third Terminal project is set to provide travelers with the best facilities and world-class passenger services from October this year. To ensure maximum safety for passengers, advanced security measures have been implemented at the airport.
Three digital technologies – Digital Airport Service App, AvSec ID System, and Height Clearance system – are key features of these enhanced security measures that will help improve service quality and protect against potential threats.
The Digital Airport Service App provides an integrated online experience where passengers can check in without queuing up in long lines or forfeiting their time dealing with paper forms by utilizing automated smart technology with facial recognition.
It's also expected to enhance one's overall travel experience from arriving until leaving the airport premises through its comprehensive functionalities such as access to e-boarding passes, fast-track clearance systems, ticket booking & payment options, etc.
Moreover, DHASIA's fully automated ground handling version 2 (AGHV2) AvSec ID System ensures every flight participant identification verification along each stage while providing a secure environment. It is within aircrew movement between designated working areas like baggage hall or loading bridge.
For example, which has been designed according to ICAO standards meeting international aviation community requirements, the Height Clearance system helps detect people outside normal parameters while accurately measuring everyone wishing to enter restricted areas on board any aircraft by validating all IDEs registered in the database before allowed entry & preventing unauthorized personnel gain access under any pretext ensuring extra layer when it comes to keeping high standardized protocols applied
Eco-Friendly and Sustainable Design
The Dhaka Airport's Third Terminal has been designed with sustainability at its core, reflecting the commitment of Bangladesh to reduce its environmental footprint. The terminal will have state-of-the-art green technologies and infrastructure such as solar panels, rainwater harvesting systems, LED lights for energy efficiency, and rain gardens to promote sustainable waste management.
It also incorporates design features encouraging air circulation and natural ventilation by using plants while windows utilize geothermal cooling instead of artificial HVAC systems.
All these initiatives promise a more eco-friendly atmosphere that supports the harmonious functioning of nature while reducing operating costs considerably. Moreover, CAAB has put in place stringent safety protocols mandating limited bitumen usage onsite with adequate reclamation plans post-development phase thus preserving flora and fauna around it. These practices all signify how serious Bangladesh is when it comes to embracing responsible environmental stewardship through smart infrastructure planning – something that gives hope for a cleaner future generation. If you're interested also read on Padma Bridge.
Construction Timeline and Costs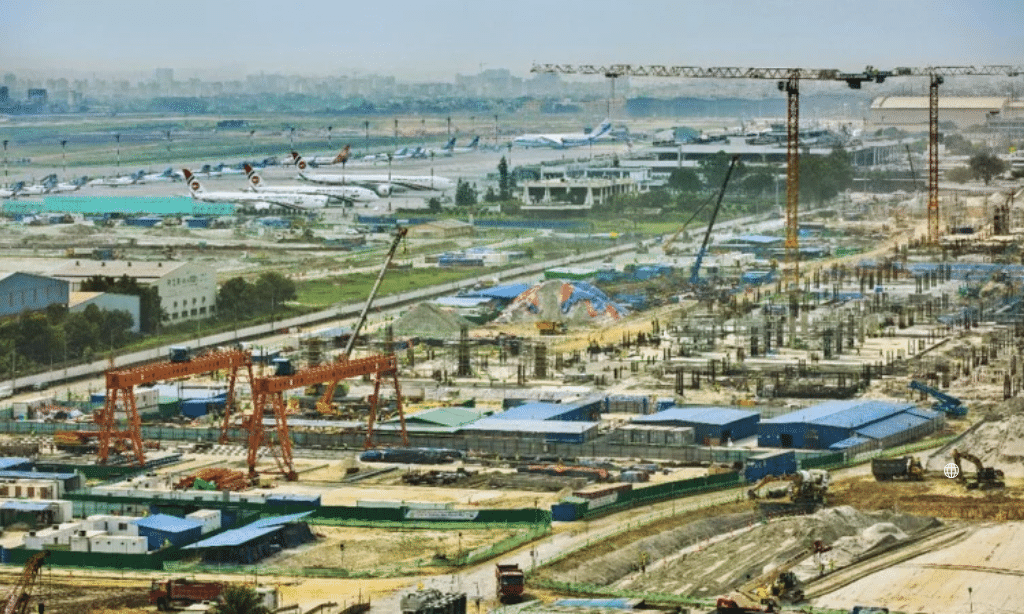 The project began in December 2019 with an initial cost estimate of Tk21,300 crores.
The Project Started in December 2019
The Dhaka airport third terminal project began in December 2019 to improve and modernize the existing two airports of Dhaka with a total estimated cost of Tk21,300 crores. The project received approval from the Government of the People's Republic of Bangladesh in May 2015 and has since been well-supported by both local and international stakeholders as an important development goal for Bangladeshi citizens.
It is expected that upon completion it will have increased capacity and improved passenger service quality while also turning Hazrat Shahjalal International Airport into an aviation hub connecting Bangladesh regionally with global destinations.
In addition, this infrastructure improvement should also provide positive economic effects on the tourism industry throughout the nation while simultaneously creating job opportunities for locals.
Initial Cost Estimate of Tk21,300 Crores
The initial cost estimate of Tk21,300 crores for the construction of Dhaka airport's third terminal is an investment that will enable Bangladesh to realize its ambition of turning into a global "aviation hub" in South Asia.
This project started back in December 2019 and was estimated to cost around 13,610.47 crores. However, it increased by 40 percent due to inflation and stringent regulatory standards being applied before permitting commercial operations at this facility.
This significant investment entails global expertise through architectural designs with world-class passenger service, increasing its capacity and levels of service quality through Japanese operating management systems.
Furthermore, passengers can expect improved safety and security measures as well as eco-friendly design elements when visiting this terminal which has gone through successful flight tests prior to partial inauguration on October 7th, 2023.
Positive Effects on the Local Economy
The construction of Dhaka Airport's third terminal is expected to create job opportunities and economic growth within the local region while boosting the Bangladeshi tourism industry.
Job Opportunities and Economic Growth
The construction of the third terminal at Dhaka Airport is expected to have far-reaching positive impacts on Bangladesh's economy. Not only will it fuel trade and commerce by improving air connectivity potential but also provide job opportunities for many who live in the vicinity of the airport, especially those employed by aviation-related businesses such as hotels and restaurants.
With increased capacity, better service quality, low carbon emissions standards, improvements in safety and security measures all contributing significantly to larger passenger numbers thus increasing operations overall; this development can become a catalyst for growth across various industries within Bangladesh.
This includes providing more opportunities in tourism which fuels economic activity due to hotel owners having more guests stay over or catering companies supplying airline meals etc. It would also attract foreign investments into South Asia as investors look towards securing profitability through long-term expansion arrangements with the country's growing aviation sector.
Benefits for the Tourism Industry
The construction of the third terminal at Hazrat Shahjalal International Airport in Dhaka is set to open up several possibilities for Bangladesh's tourism industry. The improved airport will enhance connectivity enabling domestic and international travelers alike to experience all that Bangladesh has to offer.
Moreover, increased capacity from the new terminal will help reduce delays and queues, while enhanced services like better baggage handling, better customer experience, and more modern facilities are expected to improve convenience for passengers.
Furthermore, incentives for local airlines could attract more tourists into the country through packages such as discounted tickets or exclusive deals which ultimately leads to an increase in revenue for the tourism sector.
Importance of Infrastructure Development
Government investment into infrastructure has been proven essential for the growth and success of a region, with Dhaka benefiting significantly from its plans to develop a third terminal.
The Government's Focus on Infrastructure Improvements
In Bangladesh, infrastructure such as roads and bridges have played a fundamental role in the development transformation that has taken place in recent years. The Civil Aviation Authority of Bangladesh (CAAB) has been making continued investments to improve air transportation infrastructures and facilities to keep up with the growing needs.
Improving connectivity between airports and adjacent populations is always at the forefront of their priorities when it comes to infrastructure developments.
Particularly for this project, the Government's focus on developing high-quality passenger services, world-class global architectural expertise, increased capacity and service quality as well as connecting Dhaka Airport internationally with safe flight tests and trial runs resulted in the successful completion of work towards the inauguration of Dhaka Airport's third terminal set for October 7th 2023.
Positive Impact on Overall Development
The Dhaka Airport third terminal development and inauguration offer a tremendous opportunity for Bangladesh to develop and expand its aviation sector. The construction of the terminal will bring world-class technologies, passenger service facilities, safety mechanisms, design expertise, and operational management that will strengthen air transport networks in the country.
As well as creating job opportunities for around 5,000–6,000 people in airports across Bangladesh – more than double compared to current levels. In addition to addressing the increasing demand for air transportation infrastructure – it also presents the potential for increased connectivity between foreign countries by positioning Dhaka as an aviation hub which could be a strong catalyst for building tourism in and out of Bangladesh.
All these elements come together to create a positive impact on the overall development of the country's infrastructure as well as socio-economic progress within Bangladeshi society – establishing a long-term sustainable future that sets Bangladesh apart from other developing nations worldwide. Additionally, you can also read on Dhaka Elevated Expressway.
Bangladesh Prime Minister Sheikh Hasina's Involvement and Significant Role to Develop this Project Successfully
Bangladesh Prime Minister Sheikh Hasina has played a major role in the successful development and inauguration of the Dhaka Airport's third terminal. As soon as her government was elected, she declared the commencement of this project to improve Bangladesh's transport infrastructure.
Her investment and commitment to building a world-class aviation center has had an immense impact on advanced air services at Hazrat Shahjalal International Airport (HSIA). Not only did she inaugurate its construction but also announced for the Boeing Dreamliner 'Sonar Tori' with 126 passengers which is expected by January 2021.
The Prime Minister stayed involved throughout the project's completion from beginning to end, expressing gratitude towards international investors from some thirty countries who were willing to work hand-in-hand with local stakeholders on such an ambitious endeavour.
Sheikh Hasina played a pivotal role in overseeing the development strategy of the project. She regularly reviewed progress reports from HSIA aviation specialists. She also collaborated in planning joint ventures between interested airlines and various sectors, including food and beverage outlets.
Additionally, she implemented stringent safety standards for all railway routes within the airport premises and personally approved processes. Sheikh Hasina consistently introduced fresh ideas, subjecting them to rigorous test runs, including noise regulation tests. Her active involvement was crucial in ensuring the project's successful launch on October 7, 2023.
Future Plans and Considerations
Potential plans are in place to further expand the third terminal and increase connectivity, potentially leading to a greater level of economic growth.
Further Developments and Expansions
Plans to upgrade and improve services such as immigration, customs, security, baggage handling, airside lounges, etc.
Enhancing mobile technology for a seamless passenger experience.
Improved flight operations with new control protocols and procedures in place.
Connecting regional hubs within Bangladesh and other countries through infrastructure expansion.
Effective disaster management policy in the airport area to provide quick evacuation in times of emergency.
Space allocation for businesses, retail stores, duty-free outlets, and other facilities that would create employment opportunities & enhance the overall visitor experience.
Setting up an independent regulatory body to ensure strict compliance with applicable aviation regulations and standards.
Connecting Dhaka Airport directly to a railway system will increase the convenience for both international and domestic passengers.
Potential for Increased Connectivity and Growth
The development of Dhaka Airport's third terminal and its subsequent inauguration on October 7, 2023, will provide a major boost to the increased connectivity and growth in Bangladesh.
The terminal will include additional facilities which are expected to facilitate agricultural exports through the city's Osmani International Airport. In addition, passengers will benefit from enhanced ground transportation links such as connection to the metro rail and Dhaka Elevated lines.
Biman Bangladesh Airlines also plans to expand its fleet, routes, and range of destinations which could potentially double passenger movement in the country if successful. Furthermore, with an annual capacity of around 20 million passengers, this expansion is set to provide significant growth potential for commercial trade throughout Bangladesh while providing key access points for tourists entering or departing from abroad.
Frequently Asked Questions (FAQs)
If you're still interested then check some FAQs on Dhaka Airport Third Terminal.
1. What is the Dhaka Airport Third Terminal Inauguration?
The Dhaka Airport Third Terminal Inauguration is a project to develop and open the third terminal at Hazrat Shahjalal International Airport in Bangladesh, which will provide the latest world-class facilities for Bangladeshi people.
2. When will the new terminal be opened?
Prime Minister Sheikh Hasina inaugurated the new terminal on Saturday, October 7, 2023.
3. What are some of the features of this proposed new terminal?
This proposed new terminal has many features, such as modern passenger services, state-of-the-art shops, restaurants and cafes, dedicated immigration counters for VIPs, and a flexible baggage delivery area with trackers for lost items, among other amenities.
Takeaway
The development of the Dhaka airport's third terminal is an integral part of Bangladesh's ambitious plans for becoming an aviation and maritime hub. Comprising world-class facilities, increased capacity, and improved safety measures this new addition will significantly better the passenger experience at Hazrat Shahjalal International Airport.
Whether it be via another flight test or on October 7 as part of its partial inauguration – with Prime Minister Sheikh Hasina taking a lead role in overseeing proceedings – the introduction of such advanced technology has put Bangladesh on course to become one of Asia's most dynamic transit points and major cities.
It has also created job opportunities for local people whilst generating a positive economic benefit for further establishing Bangladesh within the international stage as well as expanding potential options for modern infrastructure developments in years to come.