Rapid Pass In Bangladesh: One Card For All Transport [In Depth Guide]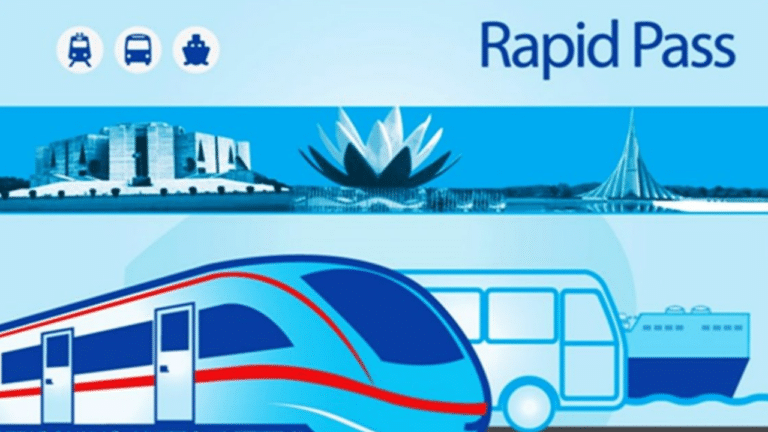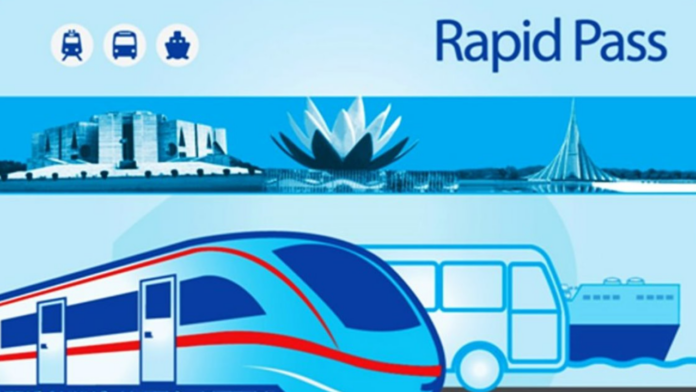 Are you looking for a convenient and cost-effective way to get around Dhaka? Have you heard of the Rapid Pass, an automated fare collection system designed to make transportation in Bangladesh more efficient? In this blog post, we will explore how the Rapid Pass in Bangladesh works, its features and benefits, the restrictions and criticisms surrounding it, and the plans for its expansion.
Let's find out what makes your rides in Dhaka smoother with one card – the Rapid Pass!
Content Highlights
Rapid Pass is a contactless smartcard that enables customers to easily access public transport services in Bangladesh.
The Rapid Pass offers users convenience and cost savings compared to other payment options with 10% discounts on metro rail travel, lifetime validity, and integration with different types of transport across the city.
Registration for the card requires the preparation of identity documents like national ID or driver's license, address proof, and submission at designated places and counters where cards are sold.
Verification processes such as providing personal information ensure added security against potential risks associated with usage while saving time from future transactions requiring no retyping credentials again once verified successfully.
What is Rapid Pass?
Rapid Pass is a contactless smartcard that enables customers to easily access public transport services in Bangladesh.
History and background
An automated fare collection system, Rapid Pass for Dhaka, was initiated in 2014 by the Dhaka Transport Coordination Authority for BDT 39.06 crore. The Japan International Cooperation Agency (JICA) funded and provided technical support for 73% of the project's budget. In May 2017, the relevant authorities decided to implement a trial run of the Rapid Pass service for Bangladesh Road Transport Corporation buses traveling the Abdullahpur-Motijheel route in the city.
The Prime Minister of Bangladesh, Sheikh Hasina, launched the Rapid Pass card service on January 4, 2018. The Dutch-Bangla Bank initiative to establish a clearing house bank for numerous transport services is expected to be completed in 2019. At a conference on 21 June 2022 to streamline bus routes, it was decided that the Rapid Pass would be accepted on all Dhaka buses and subways.
Rapid Pass works like similar systems worldwide, allowing commuters to access various modes of transport using one card quickly. Existing public transit fleets were equipped with touch panels that accept and process Rapid Pass transactions, making it easier than ever before for travelers to get from one place to another without having to carry exact change or paper tickets.
The card also offers online balance monitoring features and SMS notifications sent to users' mobile phones depending upon account balance status. This has enabled commuters to control their expenses while utilizing existing transport infrastructures for mobility.
Card usage and benefits
Rapid Pass is a smart card issued by the government in Dhaka, Bangladesh, for automated fare collection on public transit systems. The cards can be used to make payments for government services and are easily topped up via debit, providing convenience and cost savings compared to other payment options.
Rapid Pass is the only card issued by the Bangladeshi government that covers all kinds of public transport across Dhaka city. In addition to convenience and financial savings, it offers users discounts on metro rail travel – 10% off when traveling with this type of smart card.
Additionally, Rapid Pass benefits from lifetime validity, meaning no costly renewals are required. Plus, its daily transportation uses mean there's less time-consuming queuing at stations and more accessibility options available, as well as integration with different modes of travel across the city.
Related Read: Bangladeshi American Boy Becomes SpaceX's Youngest Employee
How to Purchase and Recharge Rapid Pass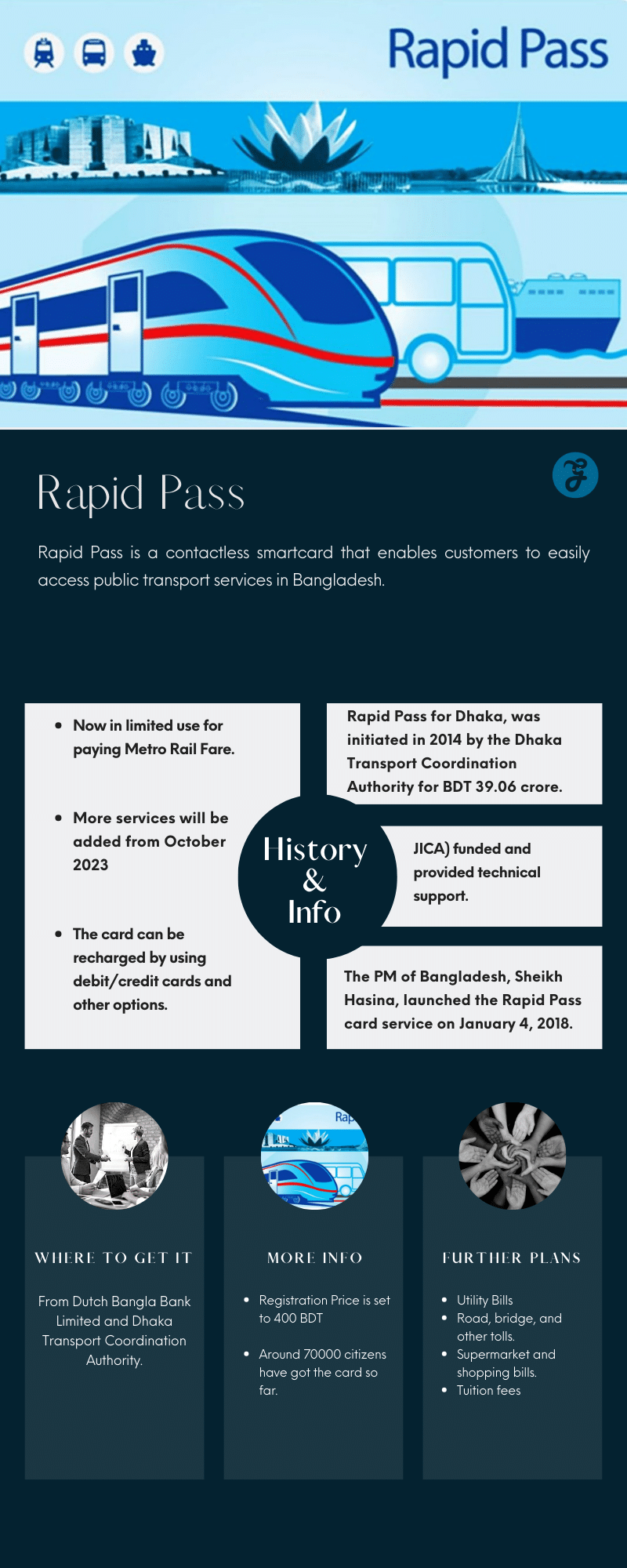 Users can purchase and recharge the Rapid Pass online or in person at designated points of sale.
Registration process
The process for registering for the Rapid Pass card is fairly straightforward and requires very minimal effort. To obtain a Rapid Pass card, users should follow these steps:
Prepare the following documents – National ID or driver's license with photograph and address proof (utility bills, bank statements, etc.).
Visit specified bus stoppages or designated BRTC counters in Uttara House Building, Banani, Shahbagh & Motijheel, where Rapid Pass cards are sold.
Submit identity proof and photographs at any place to initiate the registration process.
Receive verification call from DTCA confirming registration application has been accepted after submitting necessary documents and payment fees at any particular counter.
After completing the registration procedure, the user will be handed over a Quick Pass Card by the authority, which can also be purchased through Dutch Bangla Bank if preferred.
Verification of registration
Verifying one's registration for the Rapid Pass card is necessary to ensure safe and secure payments. This verification involves providing personal information and identification documents, which helps verify that the cardholder is legitimate and authentic.
The verification process also ensures no unauthorized payments or fraudulent activities occur using the Rapid Pass system. Examples of personal information required may include name, address, date of birth, and contact details, whereas identifying documents typically involve a copy of an existing photo ID such as a driver's license, passport, or national identity card.
Requiring this verification process before purchasing or recharging the cards safeguards against any potential security risks associated with usage while simultaneously saving time in future transactions using a verified Safe Ready-to-use account every time without reiterating all credentials each time one does a transaction.
Features and Benefits of Rapid Pass
Rapid Pass users benefit from convenient and efficient transportation, cost savings, integration with different modes of transport, and a long validity period.
Convenient and efficient transportation
Rapid Pass is an automated fare collection system for public transportation in Dhaka, Bangladesh that offers passengers convenient and efficient commuting. With just one card and a few finger taps, users can travel across different modes of transport, such as buses, metro rails, BRT systems, and Bangladesh Railway.
In addition to being cost-effective due to its prepaid fares, Rapid Pass also offers users greater access to all forms of transport with a conservation of time and energy. The smart travel card grants them lifelong usability as it has no expiry date or validity period – allowing users unlimited benefits and making it easier to use public transportation.
Easily accessible on multiple platforms, from web browsers and kiosks to mobile applications, makes this cashless payment much more secure, giving riders the assurance they need for a hassle-free journey every time!
Cost savings
The Rapid Pass provides passengers a convenient and cost-effective way to get around the city. It offers an enticing 10% discount on metro rail travel and potential savings for all those using multiple forms of transportation.
With its lifetime validity, which lasts until it reaches its preset limit or gets lost/stolen, users can take full advantage of the discounts that come with having a Rapid Pass card.
The card is accepted in any of Dhaka's participating eight public transit systems and beyond for daily commuting needs. Not only does this make commuting faster and fairer across districts, but it also helps reduce costs overall due to reductions applied to fare prices when more than one mode of transport is used consecutively within a certain time period.
Integration with different modes of transport
The Rapid Pass in Bangladesh card offers convenient and efficient transportation for users. This uniform integrated circuit-based card allows passengers to use it on buses, trains, and launches across the country.
The goal of the Rapid Pass is to provide a seamless travel experience for commuters by integrating with multiple modes of transport without having them rely on separate fares or modes of payment for each service.
Not only does this save travelers time and energy, but it also cuts back on costs since they can pay for their trips using just one card. As an added feature, some services offer bonus discounts when riders use their Rapid Pass cards instead of cash or tickets during peak hours.
Long validity period
The Rapid Pass card has a lifetime validity, allowing users to use the same transport card for an extended period without any additional fees. This convenience provided by this system not only eliminates time-consuming processes like registration and renewal but also saves money as no subscription fees have to be paid annually.
By purchasing a single Rapid Pass, commuters can easily enjoy efficient transportation as they don't need to worry about recharging or replacing their cards at regular intervals – making it a cost-effective public transport option in the Dhaka City Area.
The Dutch Bangla Bank provides financial support for the project, which is vital for its successful implementation in Dhaka and other areas. Furthermore, advancements are seen with steady updates on card availability and distribution along with government initiatives that have been launched recently in introducing campaigns related to the Rapid Pass program – all of which demonstrate its wide acceptance among residents.
Rapid Pass Criticisms and Concerns
[Video Credits @Daily Deals by SKT]
Despite the benefits of using Rapid Pass, users should be aware of some potential issues – such as availability and coordination delays. Read more to learn about these possible drawbacks.
Lack of coordination and delays in implementation
Implementing the Rapid Pass project in Bangladesh has been tensely marred with delays. First announced and implemented back in October 2019, the project's estimated completion date was June 2021; however, due to a lack of coordination between different government agencies working on this project, it remains incomplete today.
The delayed opening caused difficulties as a separate digital card had to be created for metro rail users, further complicating the issue. There have been no specific reasons given regarding why there are such delays. Still, one thing is certain – Rapid urbanization in Bangladesh necessitates planning intervention across different sectors that requires strong coordination amongst all involved parties to succeed.
It affects hundreds of commuters traveling daily through railway lines associated with projects like these, experiencing an uncertain wait time of 10-15 minutes for their trains to arrive, resulting in further confusion and aggravation among passengers.
Availability and accessibility issues
The availability and accessibility of Rapid Pass in Bangladesh have been highly scrutinized since its inception. Initially, only certain transport services were accepting the card for fare payments, limiting its usage to a specific area.
This lack of coverage caused widespread discontent among passengers, especially those traveling long-distance who had to pay additional charges as all modes of transportation did not accept the card.
Furthermore, delays in the implementation process and coordination issues between different authorities involved with distributing Rapid Pass cards/ recharge vouchers led to further dissatisfaction amongst citizens.
Potential privacy and security concerns
Several privacy and security risks have emerged after implementing the Rapid Pass system in Bangladesh. Transparency International Bangladesh (TIB) has expressed concerns about the potential implications for personal privacy, data security, and transparency.
These include issues around unauthorized access to information collected and stored on cardholder's cards; incorrect, inadequate, or incomplete data protection; lack of independent oversight over key management procedures; fraud risk due to poor authentication methods coupled with insufficient risk profile collection from users; as well as misuse of consumers' data by third parties without proper authorization, etc.
As such, there is an urgent need to address these gaps to ensure that all cardholders are adequately protected against any misuse or abuse while using Rapid Pass.
Keep updated with the latest news and events concerning Rapid Pass by following announcements from Dhaka Transport Co-ordination Authority (DTCA) on their website and social media accounts.
Updates on card availability and distribution
The Rapid Pass card is widely available for purchase and registration in Dhaka. It can be purchased at eight authorized locations: Ajanta Shopping Complex, Jamuna Future Park, Basundhara City, Karwan Bazar, Rampura TV Center, Elephant Road GEC Circle Point Cinema Hall, Banani 11, and Agargaon Taltola Councilor Office.
Additional stations have become available in the past few months, including Chinabondhur Govt. Boys' High School Abaitanik Gate Bhobon Dhana Mandir Peakchala Muisaki Shool and Munshihati Shivpurian Jamideonh discount bank.
Purchase And Recharge of Rapid Pass can be done from the following branches/sub-branches of Dutch Bangla Bank: 
1. Uttara Sonargaon Janapad Branch 
2. Uttara Branch 
3. Rabindra Sarani Branch 
4. Pallabi Branch 
5. Mirpur Branch 
6. Mirpur Circle-10 Branch 
7. Ibrahimpur Branch 
8. Shewrapara Branch 
9. Corporate Branch, Motijheel 
10. Indira Road Branch 
11. Khalpar Sub-Branch, Uttara 
12. Taltala Sub-Branch, Kafrul 
Government initiatives and campaigns
Bangladesh's Rapid Pass project aims to transform cities into smart, efficient, sustainable mobility ecosystems.
The government has actively promoted Rapid Pass cards among commuters for convenient transportation.
Dhaka Transport Coordination Authority (DTCA) is leading initiatives to integrate Rapid Pass with different modes of transport, including buses, metro rails, ferries, boats, and cycles.
The government is piloting a three-month free ride campaign where passengers can enjoy unlimited rides on public transport by using their Rapid Pass card during peak hours (9 a.m.-10 p.m.).
In June 2021, DTCA will launch the "One Card For All" campaign in which passengers can avail of a single national card for traveling all kinds of public transport in Bangladesh.
City authorities have also pushed campaigns such as "Go Green" and "Peaceful Rides Through Public Buses" that promote eco-friendly commuting practices through rapid passes.
Time and Date Limitations of Rapid Pass
The Rapid Pass card has a designated validity period and requires periodic renewals for continued usage.
Validity period and renewal process
The Rapid Pass is a smart payment card that makes public transport in Bangladesh more accessible and cost-effective. The card can be used to pay for different modes of transport, including rail, bus, waterbus, launches, and inland waterways.
Its validity period is unlimited years from the date of purchase. To continue enjoying its benefits after this period closes, users must renew it before the expiry date or within 3 months.
Renewal can be done online at Dhaka Transport Co-ordination Authority (DTCA) outlets. Those wishing to renew their cards online must submit copies of valid identification documents such as passport/birth certificate/national ID during registration along with their banking information details such as debit/credit card numbers and personal contact info.
Peak and non-peak hour restrictions
While Rapid Pass in Bangladesh has no peak and non-peak hour restrictions, passengers can use the card to pay for metro rail fares at any time and bus fares without time limitations.
This allows users to enjoy convenient and flexible mobility services with no sudden variation of rates, enabling a smooth journey experience. With the absence of stringent rules around utilizing Rapid Pass in terms of timing, it provides easy access to traveling stress-free with low-cost benefits, which is great news for commuters!
Copyright and Ownership of Rapid Pass
The Dhaka Transport Coordination Authority (DTCA) is responsible for the ownership and copyright of Rapid Pass.
Dhaka Transport Co-ordination Authority (DTCA)
The Dhaka Transport Coordination Authority (DTCA) is the governing body responsible for overseeing and managing the Rapid Pass system in Dhaka. Established by the Regulatory Framework for Public Transportation, it was constituted to coordinate, plan, and implement various transportation initiatives throughout the city.
The DTCA conducted a survey showing that 21 million trips are generated daily in this sprawling megacity. To address these congestion issues and overcrowding on public transport, DTCA implemented a comprehensive ticketing system integration project that created a single RFID-based Rapid Pass card.
This card gives passengers access to unlimited use of multiple conveyance modes ranging from bus to ferry services across the greater Dhaka metropolitan area with convenience fee discount offers applicable under certain terms & conditions.
Contact information
Knowing who owns the intellectual property (IP) rights to Rapid Pass is essential regarding its copyright and ownership. These rights are held by the Dhaka Transport Co-ordination Authority (DTCA).
This government organization was set up to provide a legal framework for overseeing, operating, and regulating this mode of transportation within Bangladesh. They ensure that all aspects of these cards comply with local laws and regulations regarding their usage, manufacture, distribution, marketing, sale, or other related activities.
Readers can contact the DTCA through various means, such as phone numbers or email addresses, for further information about intellectual property rights associated with Rapid Pass products and services.
Future Developments and Expansion of Rapid Pass
Plans are underway to expand the card's usability and integrate it with new modes of transport.
Plans for expanding the card's usability
The Rapid Pass in Dhaka, Bangladesh, is transforming into an all-inclusive smart card system. The decision to do this has been made in a meeting of the road transport and highways secretary to create a comprehensive intelligent card that can streamline transportation needs across all forms of public transit in the country.
This new form of Rapid Pass will be available from eight locations throughout Dhaka and other points registered under DTCA, making it easily accessible and convenient to purchase and register for users.
Once obtained, these cards will be accepted on various public transit systems such as buses, BRT systems, metro rail services, etc., allowing commuters to use their one-card solution on any form of transport they choose without having to worry about purchasing multiple tickets or passes – thus enabling them access anywhere within Dhaka seamlessly.
Additionally, with renewal periods lasting over 2 years and peak/non-peak hour restrictions applicable, customers get even more value out of their choice when deciding that this is what they want.
Integration with new modes of transport
Integrating new modes of transport into the Rapid Pass system is expected to enhance future developments and expand its usage within Bangladesh. By incorporating alternative modes of transport, the Rapid Pass Card allows commuters to take advantage of different transportation options while taking full advantage of its benefits without needing separate cards or tickets.
The streamlined services make traveling easier, more cost-effective, and more efficient for users and ensure a smoother journey by eliminating delays due to ticket purchase, validation processes, or manually changing from one mode of transport to another.
Furthermore, Integrating the card with multiple travel mediums gives it an unprecedented reach that will allow more people to conveniently access public transit – significantly reducing travel times and associated costs, leaving them with money saved for their daily needs.
Takeaway
Rapid Pass is a revolutionary card-based system that has greatly improved public transport in Bangladesh. This integrated circuit card provides convenience and cost savings for commuters and reduces reliance on cash transactions, thus increasing efficiency in fare collection processes.
With unlimited rides on local, express, as well as Rapid routes, light rail transportation, long validity period, and balance check options through online registration systems, this smartcard can be used to pay fares instead of traditional tickets.
The government initiatives have invested significantly in expanding the reach of Rapid Pass across different modes of transport with plans for future developments, such as integrating new technologies to revolutionize Bangladesh's public transport sector even more.