Dhaka Elevated Expressway: A Long-Awaited Dream Comes True
Suffering from Dhaka traffic? Are you curious about what the new Dhaka Elevated Expressway has to offer? The first of its kind in Bangladesh, this expressway is part of a major public-private partnership (PPP) program with an aim to reduce traffic congestion.
This article will give readers an overview of all they need to know about the project, including launching info and key features such as design and environmental considerations before construction commences.
Dhaka Elevated Expressway, connecting the Airport to Farmgate, is set to open this Saturday, September 2nd, 2023. Bangladesh Prime Minister Sheikh Hasina will inaugurate the mega project at an event in Dhaka's old Trade Fair grounds.
Get ready for a detailed insight into the projects that promise faster commuting!
Content Highlights
Dhaka Elevated Expressway is a public-private partnership project between the Italian-Thai Development Corporation Limited (ITD) and China Railway Construction Corporation (CRCC).
The expressway measures 27 kilometers in length, with 4 lanes in both directions that offer improved transportation infrastructure for commuters.
Vehicles traveling from Mirpur to places like Motijheel, Farmgate, or Kamalapur are expected to have travel time reduced from 2 hours to less than 10 minutes upon completion of the expressway in 2026.
This expressway incorporates features such as widened exit lanes, guardrails, and sensors along tunnels for enhanced safety while providing quicker access to arterial roads nearby too.
General Overview of Elevated Expressway in Dhaka
Before we discuss everything in detail let's have a quick overview of Dhaka Elevated Expressway
| Aspect | Details |
| --- | --- |
| Total Length | 46.73 km (29.04 mi) |
| Mainline Length | 11.5 km |
| Ramp Sections Length | 11 km |
| Elevated Length | 24 km (along expressways and protection land roads outside residential areas) |
| Purpose | To reduce traffic congestion in Dhaka and improve connectivity between nearby towns |
| Expressway Route Length | 13 km (from Kuril Bishwa Road Intersection to Kazi Nazrul Islam Avenue) |
| Number of Lanes | 4 lanes in both directions |
| Investment | Over $1.062 billion |
| Contractors | Italian-Thai Development Corporation Limited (ITD) – China Railway Construction Corporation (CRCC) |
| Expected Launch Date | Fully open in June 2026; Partial opening from September 2023 |
| Inaugural Ceremony Date | September 2, 2023 |
| Phases of Construction | Three phases: 1. Connector near airport USB road 2. Continuation until Torkhani bypasses 3. Completion |
| Connection Point | South Kawla Point in the airport area |
About The Launching Ceremony of Dhaka Elevated Expressway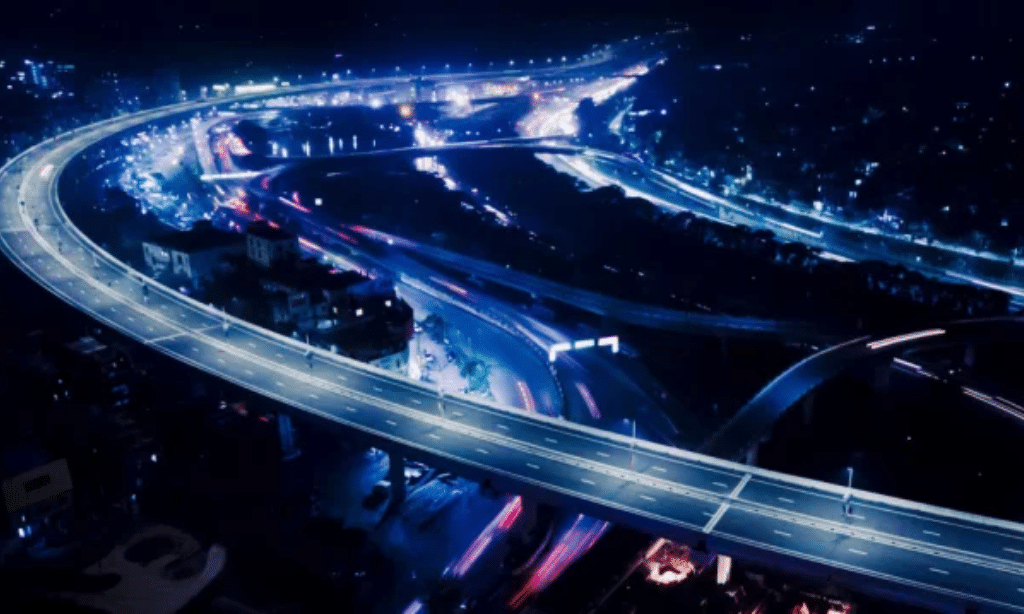 Dhaka Elevated Expressway, connecting the Airport to Farmgate, is set to open this Saturday, September 2nd, 2023. Bangladesh Prime Minister Sheikh Hasina will inaugurate the mega project at an event in Dhaka's old Trade Fair grounds.
The 11-kilometer stretch of expressway will be opened for public use the day after the inaugural ceremony. Workers are busy with last-minute preparations to get the expressway ready for traffic.
The government hopes this major infrastructure project will significantly reduce traffic congestion in Dhaka. They have announced toll rates for different vehicle types that will use the elevated expressway.
Once operational, the expressway is expected to improve connectivity and ease travel between Dhaka's international airport and the central business district at Farmgate. The inauguration marks a major milestone in Bangladesh's infrastructure development. Citizens eagerly await the launch of this project aimed at addressing the capital's perennial traffic woes.
Detailed Overview of Dhaka Elevated Expressway
The Dhaka Elevated Expressway is a 27-kilometer expressway that will connect Shahjalal Airport with Kutubkhali via Mohakhali.
Length and Route Map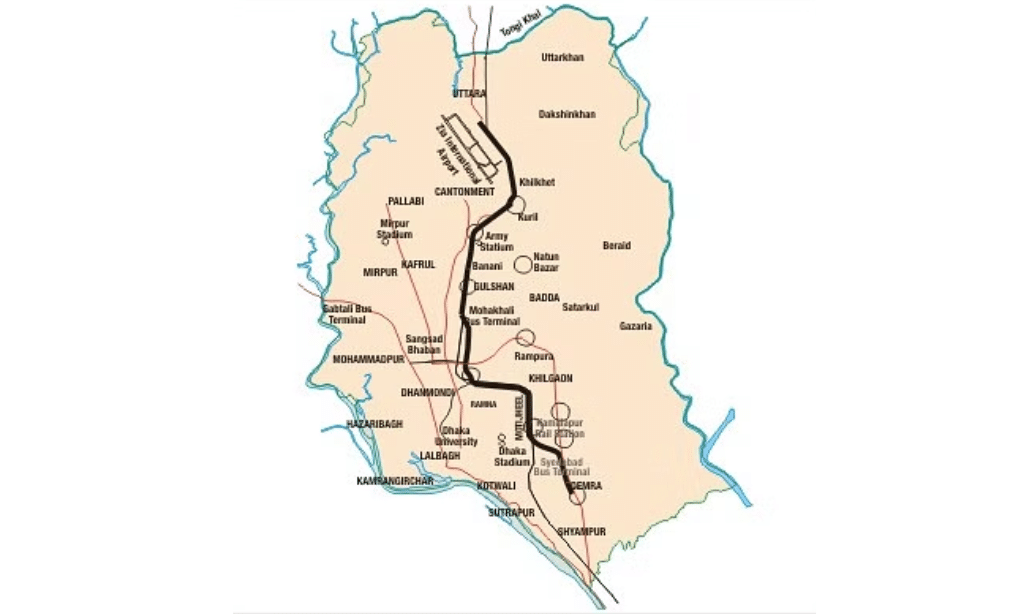 The Dhaka Elevated Expressway is an ambitious project that consists of a total length of 46.73 km (29.04 mi) spanning the city and its outskirts. The mainline portion is 11.5 km long, with an additional 11 km of ramp sections bringing the total to 22.5 km; the remaining 24 kilometers will be elevated along expressways and protection land roads outside residential areas saving 3 thousand acres in constructing space from street-level roads.
It will cover densely populated areas such as Kawla, Kuril, and Findishi Nagar along with bypassing departmental sectors 5–7 at Ashulia – all contributing towards easing traffic congestion within the capital city by providing alternate routes for commuters on both short-term and long-term basis while improving transport links between key cities located around Dhaka metropolitan area like Tongi City, Palashipara & Kalihati Town upazila etc.
This project is aimed at connecting dependent intermediate areas in a better way whilst creating job opportunities as well as making it easier for people living outside Dhaka to enter it faster than ever before – ultimately propelling economic growth for the whole of Bangladesh on a large scale too!
Purpose and Benefits
The Dhaka Elevated Expressway is a major construction project designed to reduce the severe traffic congestion in and around Dhaka. By improving connectivity between nearby towns, the expressway aims to create better transportation infrastructure with increased capacity for commuters.
The proposed length of the expressway route is 13 km from Kuril Bishwa Road Intersection to Kazi Nazrul Islam Avenue (KIA). It will comprise 4 lanes in both directions providing enhanced movement for vehicles leading to substantial relief in traffic conditions.
The expected benefits include reduced travel time due to improved road infrastructure and a smoother flow of traffic thereby increasing productivity and mobility within the city. Furthermore, it has potential economic advantages including job creation as construction progresses on site along with enhancement of local businesses due to improved connectivity between neighboring regions.
Contractors Involved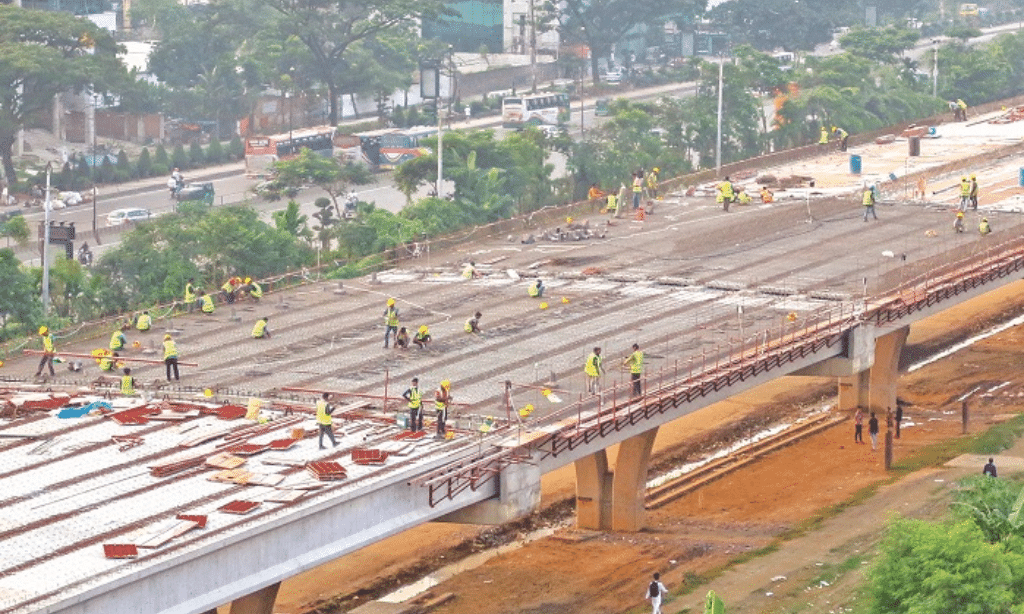 The Dhaka Elevated Expressway is a large-scale infrastructure project with over $1.062 billion invested for its construction, and the Italian-Thai Development Corporation Limited (ITD) has partnered up with China Railway Construction Corporation (CRCC) to lead the way.
News of this partnership has also reignited talk amongst other big names in highway, street, and bridge construction of potentially being involved in such a high-profile project – which includes Contracting Ltd., Gold Fields Bangladesh Pvt Ltd., and Eon Engineering & Services Ltd.
CRCC released information that they possess sufficient experience when it comes to complicated projects including bridges, roads and hydraulic structures, while ITD works hard on cultivating good relationships between clients by providing them exceptional services including design management as well as consultation on modern techniques within construction management.
Current Developments
The Dhaka elevated Expressway is targeted to launch in 2021, with toll rates finalized for the expressway and improvements to traffic flow planned upon its completion.
Launching Date and Details
The Dhaka elevated expressway is planned to open fully in June 2026, with the inaugural ceremony scheduled for September 2, 2023. The partial opening will be available from September of this year and is expected to benefit people from the northern, western, and central parts of Dhaka first.
This project will take place in three phases – reportedly starting with a connector near the airport usb road and continuing until Torkhani bypass. During each stage, various elements such as lanes widths and path lengths are subject to change according to certain conditions on site.
The two expressways span around 40 km in total and they're connected at South Kawla point in the airport area; At completion, it would reduce travel time significantly while easing congestion on important roads leading towards other areas like Gazipur or even outside Dhaka city limits.
Toll Rates
The toll rates for the Dhaka Elevated Expressway have been established by the government in an effort to ensure equitable use and ongoing maintenance of the roadway. These rates have been fixed and announced by Road Transport and Bridges Minister Obaidul Quader, and apply to the 11.5-kilometer section of the expressway from Hazrat Shahjalal International Airport to Tejgaon.
The rates vary depending on the category of the vehicle, with four distinct categories recognized.
| Category | Vehicle Type | Toll Rate |
| --- | --- | --- |
| 1 | All types of buses with 16 seats or more | Tk160 |
| 2 | Cars, taxis, jeeps, SUVs, microbuses (with fewer than 16 seats), and light trucks (under three tons) | Tk80 |
| 3 | Medium-sized trucks (up to six wheels) | Tk320 |
| 4 | Trucks with more than six wheels | Tk400 |
These toll rates are designed to ensure that all users contribute to the upkeep of the expressway and that the cost of maintaining the expressway is distributed fairly among those who use it.
Impact on Traffic Congestion
The Dhaka Elevated Expressway is set to open in September and will bring considerable benefits to commuters in the city. The expressway has been designed to alleviate traffic congestion by allowing commuting time between crucial points of the city like Mirpur, Motijheel, Farmgate, and Kamalapur to be reduced from up to 2 hours or more currently, to less than 10 minutes.
Moreover, improved road conditions due to fewer vehicles on existing roads also are expected given that 15000 people are expected to switch from buses or cars onto this expressway every day once it opens and starts running at peak capacity.
This enhanced connectivity allows people traveling out of Dhaka into suburban areas that previously had no direct access through a single route such as Tongi Bazar, Mouchak etc expect better options now while commuting within Dhaka city; making transport significantly simpler for everyone across all sections of society with regards with locations that they daily need access.
Key Features of the Expressway
The Dhaka Elevated Expressway boasts cutting-edge design standards which offer a number of features to improve road safety, traffic flow, and overall experience while traveling on the highway.
Elevated Structure and Design
The Dhaka Elevated Expressway is set to change the way Bangladeshis experience travel. Originally envisioned as a four-lane freeway, it will instead be developed as an eight-lane expressway equipped with advanced features and technologies that are designed for convenience and safety.
For example, in order to improve visibility, exit lanes between the elevated roadway sections have been widened by 50 percent from their original width of 10 meters (33 feet). It also brings enhanced connectivity through the construction of feeder roads connected at various points along the length of the expressway.
These feeder roads create additional access methods for vehicles traveling both on and off the expressway itself. Furthermore, extended guardrails serve to provide extra protection while driving alongside steep slopes or dangerous curves located beneath overpass bridges across certain areas on this route.
Number of Lanes and Width
The Dhaka Elevated Expressway is a proposed highway that will span from Jahangir Gate across the Gulistan Intersection to Bangladesh University of Engineering and Technology (BUET).
It will be an elevated expressway measuring 6.7km in length, consisting of four lanes and an approximate width of 18 meters for its entire elevated section. The at-grade portion, however, will have a wider width spanning 32 meters with access points integrated with other existing local roads.
The four-lane system aims to reduce traffic congestion and ensure smoother flow while eliminating intersections on the stretch greatly improving road safety conditions for commuters.
Integration with Other Road Networks
[Video Credits @InfoTalkBD]
The Dhaka Elevated Expressway will provide seamless connectivity between the Hazrat Shahjalal International Airport and Kutubkhali via Mohakhali, Tejgaon, and other areas in the city.
This 33km expressway is designed to reduce traffic congestion on existing roads by offering commuters fast and efficient transportation options. The elevated highway will run parallel with the East-West corridor connecting all major points along its length.
It will allow vehicles to move freely without any obstruction or disruption at signalized intersections which often lead to long delays during peak hours. Additionally, side ramps have been incorporated into the design of the complete expressway, permitting quick access onto nearby arterial roads such as Rokeya Sarani Road and Manik Mia Avenue for further ease of movement in Dhaka's gridlocked roads.
As a result of this project, it is anticipated that travel times will be reduced significantly making commuting easier for residents across the city.
Environmental Considerations
Special attention has been paid to understanding the environmental footprint of the Dhaka Elevated Expressway, with measures in place to mitigate air pollution and noise levels within neighboring areas.
Mitigation of Pollution and Emissions
The Dhaka Elevated Expressway project takes great consideration for environmental impacts such as pollution and emissions. To reduce air pollution, measures have been taken to ensure the use of systems that recycle exhaust fumes on vehicles traveling through the expressways.
Traffic-related noise has also been minimized by installing impact-absorbing materials along parts of the expressway, a practice known as Acoustic Insulation Treatment (AIT). The AIT systems help reduce traffic-related noise in residential buildings situated alongside the new highway.
Additionally, advanced technologies are put into place with sensors placed along different points to measure concentrations of CO2 in outdoor air quality which will be used to work out emission levels from local areas during peak hours when more vehicle congestion occurs on expressways.
Impact on Surrounding Communities
The Dhaka Elevated Expressway project has the potential to bring both positive and negative impacts on the local communities along the expressway. It is likely to cause some disruption due to land acquisition and property loss, which could have an impact on livelihoods in surrounding areas.
The enhanced connectivity provided by this type of infrastructure can also lead to improved access to jobs, health services, schools, and markets within the vicinity; creating opportunities for more socio-economic stability within these local communities.
However, it is crucial that any large-scale infrastructure projects take into consideration key environmental factors such as air pollution generated by construction activities or increased vehicle emissions as a result of improved road networks.
Measures for Sustainability
The Dhaka Elevated Expressway has taken steps to address environmental concerns on a number of fronts. The project involves the integration of urban and green infrastructure components for improved air quality, water harvesting systems that will reduce surface run-off and contamination, landfill waste management systems with modern technologies like composting, waste segregation processes to reduce the potential for leaching into nearby water sources and solar panels to decrease energy consumption within residential areas.
In order to ensure safety while conducting operations related to construction or maintenance activities for the expressway; regular audits are also being undertaken. Furthermore, an independent body has been established by both government and private investors involved in this project which is responsible for monitoring progress around sustainability commitments such as carbon emissions reduction targets set forth in its agreement with global standards organizations.
This is done through initiatives like limiting diesel vehicle runs on new sections of roadways constructed by heavy machinery or requiring landscaping concessions from businesses found along these roads.
Economic Impact
The Dhaka Elevated Expressway is projected to create jobs, boost the local economy and provide significant potential for further development.
Boost to Local Economy
The Dhaka Elevated Expressway is expected to be a major boon for Bangladesh's economy thanks to its capacity and potential for economic development. The project can create thousands of jobs in the construction sector, both directly through contracted labor and indirectly through related services such as road maintenance, catering, accommodation etc. It has been estimated that the structure will generate approximately 503 million US dollars of economic output in accumulated terms over its lifetime.
By providing reliable transport infrastructure, it will reduce transportation time significantly with faster travel times from urban centers to rural areas leading to increased business opportunities throughout the region.
Furthermore, improved access and connectivity provided by the expressway could boost regional trade activity or provide essential linkages between cities which would further promote long-term economic growth across Bangladesh as well as lead to raising standards of living in surrounding communities due to additional job availability in various sectors.
Job Creation
The Dhaka Elevated Expressway will provide an economic boost to the region, and many industries will benefit from its construction. The project has already engaged a variety of contractors and specialists in engineering, architecture, material supply, and labor which have created thousands of job opportunities across these sectors.
Moreover, there are expected to be long-term spinoffs including additional job creation due to increased economic activity. Other key implications include accelerated urban development projects such as commercial zones that can create further employment opportunities for developers, managers, and skilled laborers.
In terms of numbers, it is estimated that about 10 million man-days will be spent during the project implementation phase leading to the generation of jobs for several thousand people directly or indirectly associated with the expressway construction process.
Potential for Future Development
The Dhaka Elevated Expressway will be a major infrastructure project in Bangladesh at over 12 km and has the potential to transform future development for decades. This expressway will open up opportunities by providing enhanced regional connectivity, enabling faster transportation of goods throughout the country.
Its construction is expected to bring economic growth for both urban and rural areas, while also creating job opportunities during its construction phase. The benefits it offers will extend beyond just efficiency, as it can potentially drive investments into the area due to more reliable transport links and shorter traveling times than ever before.
Additionally, this project can help reduce traffic congestion in the city center by dispersing vehicles along different corridors away from densely populated neighborhoods. With these features combined Dhaka Elavated Expressway stands out as a unique opportunity that could make an immense impact on Bangladesh's future development plans stemming from improved transportation system infrastructure across the nation.
Video Credit: The Daily Star
Safety Measures
To ensure the road is safe and secure, authorities have taken multiple measures like providing roadside emergency services, installing necessary signage, and incorporating existing safety systems.
Read on to find out more about how this expressway will be a boon for commuters!
Emergency Services and Response
The Dhaka Elevated Expressway includes a range of measures related to emergency services and response. These include dedicated phone lines, radio stations, early detection systems, and enhanced integration of existing safety systems.
Emergency response points will be strategically placed throughout the expressway so that in the event of an incident emergency services will be able to attend quickly. In addition, ramps have been built heads into the expressway at strategic locations for easy access by emergency vehicles if needed.
There are also dedicated signage and road markings in place to help guide emergency vehicles on their way to any incident. Finally, the expressway is equipped with advanced technology such as sensors and cameras which can detect any incidents occurring on the road. This allows for quicker response times by emergency services no matter what time of day or night it is.
Road Signage and Markings
The road signage and markings associated with the Dhaka Elevated Expressway are designed to enable safe and smooth traffic flow. The placement of the well-organized signs, arrows, texts, lines, and symbols along the expressway will provide drivers with clear visual guidance on speed limits, lane changes, or exits – enabling better navigation of their journey.
It also serves to alert drivers about hazards ahead such as construction sites or sharp corners they may need to navigate through cautiously. Additionally, various special signs like Stop Sign require vehicles to make complete stops for safety reasons at designated spots along this expressway, while "No U-Turn" signs will ensure that all vehicles adhere strictly to their respective lanes.
All these road signage features are instrumental in creating an environment free from any distractions or diversions that can lead to potential collisions due to vehicular negligence.
Furthermore, regular inspection is arranged by involved authorities which guarantee greater adherence to international standard connecting signaling systems used across related roads.
Integration With Existing Safety Systems
To ensure the safety of commuters on the Dhaka Elevated Expressway, a comprehensive system of integration with existing safety systems has been implemented. This includes the installation of CCTV cameras and speed limit signage throughout its route to monitor vehicular speeds and maintain road traffic regulations.
Additionally, emergency call boxes are placed in strategic locations along the expressway to ensure fast response times in case of accidents or other hazards. The government has also fixed minimum and maximum rates for toll payments to regulate pricing so that all vehicles can use it without paying excessive fees.
These measures have not only increased security but will also help facilitate smooth passage on this important infrastructure project.
Benefits for Commuters
Commuters will enjoy reduced travel time, improved connectivity, and better road conditions with the introduction of the Dhaka Elevated Expressway.
Reduced Travel Time
The Dhaka Elevated Expressway promises a potentially faster journey for commuters connecting Shahjalal Airport to Kutubkhali via Mohakhali. Due to its elevated structure, with four lanes and an 80m width, the expressway will significantly reduce travel times along the route compared to traditional roads.
This is mainly due to the lack of traffic jams at junctions as well as integration into other road networks which alleviates congestion further down the highway. Moreover, with a maximum speed limit of 60km/h in place, vehicles can traverse longer distances quicker than on regular city streets making these journeys much more efficient for passengers using public transport or their own vehicle.
Meanwhile, promising toll rates from Tk80-Tk400 mean that this expressway is visitor-friendly too. With such features already guaranteeing improved travel times between points A and B both within and outside the main city limits, the launch of Dhaka's accredited elevated freeway will certainly go a long way towards reducing commuting woes for citizens across Bangladesh. Additionally, you can also read on Padma Bridge
Enhanced Connectivity
The Dhaka Elevated Expressway is a key infrastructure project in the Bangladesh capital, connecting neighboring areas of Dhaka City. The express route stretches from Hazrat Shahjalal International Airport to Kutubkhali and covers a distance of 12 km.
It promotes greater connectivity between these two areas by forming an alternative gateway for commuters to cross over either through overlapping roads or bridges, thereby significantly reducing travel time.
This dramatically shortens commuting time on the popular routes where traffic jams usually congest daily and improves access to other parts of Greater Dhaka such as Mohakhali. Apart from linking up important locations such as the airport and Kutubkhali – both hotspots within city limits – this improved connectivity also encourages inter-city commuting by facilitating movement across Greater Dhaka's residential spots, commercial hubs, and upbeat destinations more swiftly than ever before.
Improved Road Conditions
The Dhaka Elevated Expressway, consisting of a 27 km overpass and bridge on the existing Panthapath-Airport Road and Airport-Jatrabari corridor, is designed to offer relief from Dhaka's notorious traffic congestion.
The expressway will improve road quality significantly, featuring a 3.2 m carriageway with two or four lanes depending on the section for a faster flow of traffic above roads that are able to accommodate at least 40 thousand vehicles per hour.
Its elevated structure and design allow easy integration with other networks like flyovers, highways, train systems, bus stations, etc., which minimizes the disruptions caused by construction work while maximizing connectivity benefits.
Challenges and Concerns
Potential issues may arise regarding the cost and financing of the project, disruption caused during construction, and long-term maintenance and upkeep of the expressway.
Cost and Financing
The Dhaka Elevated Expressway project is estimated to cost ৳122 billion (US$1.1 billion). The government has allocated Tk4,885 crore for land acquisition and 7% progress has been made in the past seven years, however, financing issues have contributed to delays in the construction of the expressway.
To ensure its completion, a loan of $1.2 billion from China's EXIM Bank has been secured by the Bangladeshi government, and work on this ambitious infrastructure project will begin soon.
Challenges remain though with regards to paying back such a large amount over time while ensuring return on investment through tolls collected from users along with other economic activities generated by the successful implementation of the project.
Disruption During Construction
Construction of the Dhaka Elevated Expressway is no small feat, and it comes with a significant economic cost. The process has brought on traffic diversions that cause disruption to commuters as well as the local businesses located around these routes.
As construction progresses, several roads are expected to be closed in order to make way for expressway work, forcing buses and other vehicles onto narrower or poorly maintained back roads that struggle under additional stress.
In addition to this, since the project uses multiple contractors spread across different stages of work from site inspection through completion processes, their operations may lead to further roadblocks for locals navigating their commute on alternate routes.
Maintenance and Upkeep
The successful operation of the Dhaka Elevated Expressway depends on its maintenance and upkeep. Regular inspections, monitoring, and preventive care are essential to ensure that commuters enjoy a safe, comfortable ride along the expressway while also reducing the risk of damages or accidents caused due to failures in infrastructure.
The Bangladesh government has enabled round-the-clock patrolling for early detection of any potential defects which pose a threat to safety and security as well as creating quick response facilities for emergency services.
Proper drainage systems have been designed with distributed catchment areas across each part of the elevated structure in order to ensure proper mitigation during periods of heavy rainfall.
Road and Communication Development of Awami League Government's 3rd Term (2019-2023)
[Video Credits @ReTyphoon]
The Bangladesh government has been working really hard to build important projects to make traveling easier and boost the country's growth. Below we've added a table overview of the road development activities in Bangladesh.
| Project Name | Status | Length/Height | Cost |
| --- | --- | --- | --- |
| Padma Bridge | Completed (25th June 2022) | 6.15 km | $3.6 billion |
| Padma Rail Link | 72.5% completed (Launching soon) | 169 km | $4.63 billion |
| Bangabandhu Railway Bridge | 52% completed (Launching soon) | 4.8 km | $1.6 billion |
| Rupsha Rail Bridge | Completed (June 2023) | 5.13 km | $500 million |
| Karnaphuli Tunnel | 95% completed (Launching soon) | 3.32 km | $1.2 billion |
| Dhaka Elevated Expressway | Completed (2nd September, 2023) | 46.73 km | $1.63 billion |
| Chittagong Elevated Expressway | 60% completed (Launching soon) | 18 km | $4 billion |
| Chittagong-Cox's Bazar Railway Link | 80% completed (Launching soon) | 100 km | $2.13 billion |
| Dhaka MRT Line-6 (first phase) | Completed (29th December 2022) | 21.26 km | $2.8 billion |
| Dhaka MRT Line-6 (second phase) | 92% completed (Launching soon) | N/A | N/A |
| Dhaka MRT Line-6 (third phase) | In progress | N/A | N/A |
| Dhaka MRT Line-1 (Purbachal Route) | Proposed | 11.8 km | N/A |
| Dhaka MRT Line-1 (Airport Route) | Proposed | 18.8 km | $6.1 billion |
| Dhaka MRT Line-2 | Proposed | N/A | N/A |
| Dhaka MRT Line-4 | Proposed | 16 km | $2.8 billion |
| Dhaka MRT Line-5 (Northern Route) | Proposed | 20 km | N/A |
| Dhaka MRT Line 5 (Southern Route) | Proposed | 17.4 km | N/A |
| Dhaka Subway | Proposed | 238 km | $8 billion |
| Dhaka – Tangail Highway | N/A | 57.51 km | N/A |
Frequently Asked Questions (FAQs)
If you still have some queries about the Dhaka Elevated Expressway, check the answers below.
1. What is the Dhaka Elevated Expressway?
The Dhaka Elevated Expressway is a 16-kilometer highway constructed in and around the Bangladesh capital city of Dhaka to improve its transportation system.
2. When will the Dhaka elevated expressway be launched?
The Dhaka elevated expressway is set to launch officially by December 2021 after approaching completion at an estimated cost of $508 million US dollars.
3. How long will it take for me to traverse through the expressway?
It is expected that traveling through the full length of 16 km corridor can be completed in less than half an hour, compared to much longer travel duration in normal peak hours when using current roads within urban areas in Dhaka city.
4. Will there be any toll collected from people who use this road?
Yes, upon launching, vehicles passing through selected entry and exit points on the elevated expressways will need to pay a certain amount as toll charges determined by authorities managing these roads' maintenance works regularly.
Takeaway
The Dhaka Elevated Expressway is a major public-private infrastructure initiative in Bangladesh that will provide tangible benefits to commuters and local communities. On completion, the expressway will reduce travel times, enhance connectivity between airports and cities, improve road conditions for both drivers and pedestrians alike, and create economic growth.
Additionally, through its high standards of safety measures such as emergency response services and its mitigation of pollution emissions via state-of-the-art design solutions; it has also been designed to be an environmentally sustainable project that prioritizes long-term sustainability