How to Become a Digital Marketing Expert?
Digital marketing is a booming industry. It has taken the business world by storm and created a whole new pool of job opportunities and positions for everyone worldwide. With the likes of SEO, PPC and social media having such a massive impact on how we go about our lives, it is no surprise that many individuals are looking to land a job in digital marketing due to the pool of benefits that go hand-in-hand with this flourishing industry.
But what is digital marketing? Digital marketing is the areas of marketing that utilize the online and digital sphere. This typically means the internet as well as any digital technologies that can help a person access businesses online, such as desktops, tablets and smartphones. It also means marketing over social media as well as other platforms like Etsy, eBay and even Amazon.
Brands will harness digital marketing to promote and advertise themselves to their target audience in the hope of gaining traction and connecting with their potential customers. This is a valuable form of marketing as much of the population is online and tend to use online platforms such as Twitter, Facebook, and Instagram on a regular basis. Email marketing is also a well-used form of digital marketing.
The average salary of a digital marketer in the United States is $56,188. However, the more knowledgeable you become and the higher the ranks you climb, a digital marketing manager can make around $117,946 per year. Are you considering a career in digital marketing? If so, this handy guide is going to help explain how you can go from digital marketing newbie to digital marketing expert. Read on to find out more.
Obtain the Right Qualifications
There is a lot to understand in the world of digital marketing, and most companies will only employ or consider candidates that possess the right qualifications, such as a university degree in a relevant field. While university is not the only way to enter the digital marketing industry, it can be one of the most effective – especially if you want to become an SEO copywriter as well as a digital marketing executive.
The right qualifications can help you get your foot in the door, but this does not necessarily mean you can only study digital marketing at university, for example.  
University
University is typically seen as the universal gateway to numerous industries and jobs. Heading off to university to study is the norm when it comes to young adults looking to expand their horizons and gather an in-depth knowledge and understanding of a certain subject, and for digital marketing, heading to university can be greatly beneficial.
Digital marketing courses are proving popular, and the curriculum that numerous universities offer is designed to help students understand why digital marketing is so important, how you can create digital marketing campaigns, the tools you may use, and how you can reach and resonate with your target audience. The jobs you can land with a digital marketing degree are quite broad, too. Therefore, if you are unsure as to which part of digital marketing suits you and resonates with you best, then a digital marketing degree can offer you a variety of different avenues for you to take. For instance, if you graduate with a degree in digital marketing, you could apply for the following roles:
Content Manager
Content Strategist
SEO/SEM Specialist
Email Marketing Specialist
Digital Marketing Manager
Digital Marketing Director
UX Designer
An entrepreneur who owns their own digital marketing agency
Of course, for the latter, you will also need to have good business sense and understand how to build and maintain your own business. However, if digital marketing is your passion and you wish to be your own boss, this could be an exciting and profitable business endeavor that greatly pays off.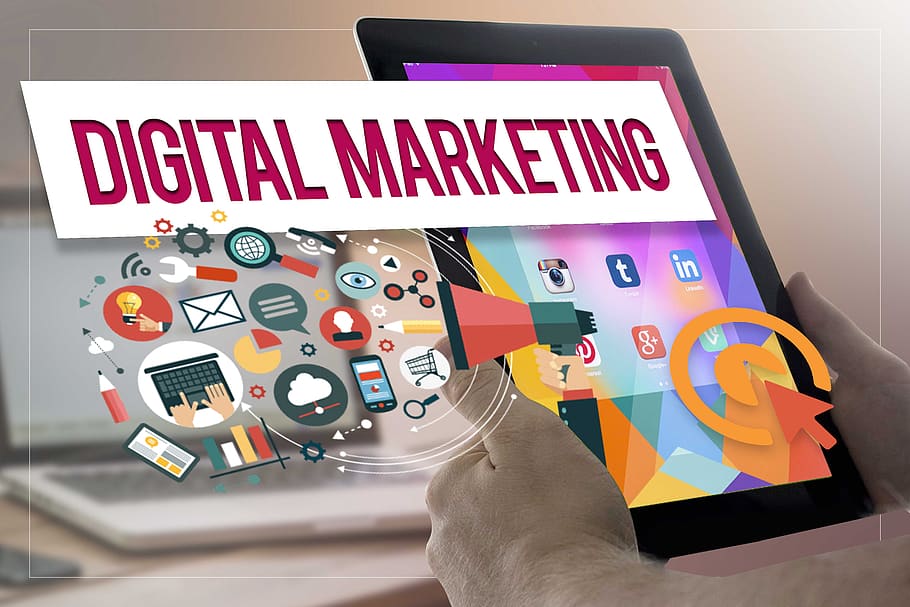 Apprenticeship
An apprenticeship can be a great way for those who do not wish to go to university to get their foot in the door. This is because you can work for a digital marketing agency and learn on the job while undergoing in-depth and intense training. Usually, a company who offers an apprenticeship will then hire the apprentice once they have completed their training so that they can become a full-time member of the team.
Not everyone wishes to go to university, and if you are sure that digital marketing is the right career choice for you, then this could be the best way for you to learn. You can search online for apprenticeships, but if you are unable to find any, do not hesitate to reach out and contact digital marketing agencies nearby.
Work Experience
Are you unsure as to whether digital marketing is the right career for you? If so, then work experience allows you to examine the digital marketing sphere before you commit to it by applying for an apprenticeship or heading off to university. This can be a great way to also bulk out your resume.
Study for a Master's Degree
If you have studied at university and graduated but are looking to continue your studies and specialize in a certain area, then studying for a master's degree could be one of the best things you ever do. A master's degree in digital marketing can help you become the go-to expert in a certain area of digital marketing, plus it can help you secure a higher up job and a better wage. All of this can be a great incentive to continue your studies.
For instance, are you interested in data analytics? Do numbers excite you? If so, then earning a master's in marketing and data analytics from a well-known and reputable university like Emerson College could be a great way to start your career. A masters, however, is also ideal for any existing digital marketers who want to further their knowledge.
Understand the Skills Needed
As a digital marketer, you may want to check if you possess the right skills that can help you excel at your job. For example, digital marketers should usually have a solid foundation of technical skills such as:
Copywriting
PPC
Email marketing
However, they will also need soft skills like:
Communication
Teamwork
Leadership
Creativity
Critical thinking
If you think you fall short in one of these categories, there are numerous courses that you can take to expand your knowledge.
Never Stop Learning
You should never stop learning. The world of digital marketing is constantly progressing, whether it be a change in SEO after the latest algorithm update or the introduction of a new tool that can help digital marketers analyze their current campaigns. Usually, digital marketing agencies will provide training to those who need to improve their knowledge on certain subjects, especially if a new tool or a change has occurred. Do not be afraid to ask for further training if you believe that learning about a certain subject could help you become a more well-rounded digital marketer. If you are looking for SEO marketing companies, you can take help from Bear Fox Marketing. 
Land Your First Job (and work upwards)
Sometimes, the best way to excel in your chosen field is to start from the bottom and work your way up. While there is nothing wrong with being ambitious, it can sometimes be better to take an entry-level job and learn from your superiors. This can be a smart way to gain training. Plus, your superiors can act as a mentor by offering you advice and guidance.
Start a Blog
Having an online presence and starting a blog can be a fruitful and prosperous venture for anyone, but especially digital marketers. This is because you can help morph yourself into a thought leader and industry leader who people may turn to for advice. Plus, as a digital marketer, you should know how best to promote yourself and get your blog seen and viewed.
The best way to become an industry leader is to:
Publish high-quality and thought-provoking content on your website
Create a LinkedIn profile
Be active on LinkedIn
Create and attach free resources on the latest digital marketing trends
Keep up to date on the latest industry news and write pieces that educate your audience
Reach out to other industry leaders in your field and collaborate with them
Network and meet likeminded individuals
Attend conferences
Speak at conferences
One of the best ways to become a thought leader is through copy creation. If you are unable to put your thoughts into words (as writing is not always everyone's strong point), then you could always hire a freelance copywriter to help you.
The digital marketing industry is a flourishing and thriving business which is showing no signs of slowing down. Therefore, if digital marketing interests you, this could be a profitable business venture for you to take. Remember to learn all there is to know about the industry and become a thought leader who can help teach other young minds about the digital marketing industry. Consider all the avenues above and hopefully you'll find yourself pursuing a career that you love.
Subscribe to Our Latest Newsletter
To Read Our Exclusive Content, Sign up Now.
$5/Monthly, $50/Yearly