Unleash The Potential of Emirates Wifi: Your Ultimate Guide To In-Flight Entertainment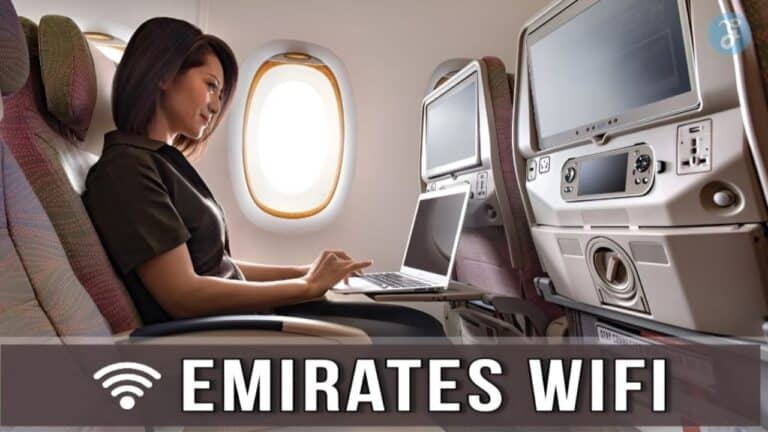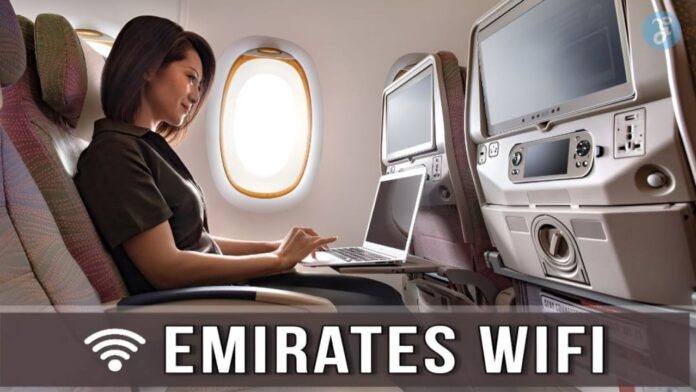 Listen to the Podcast:
Welcome aboard the digital world of Emirates flights! As one of the leading airlines in providing top-notch inflight services, Emirates aims to enhance your travel experience by offering seamless connectivity and a plethora of entertainment options.
This comprehensive guide will walk you through everything you need to know about Emirates Wifi, from pricing plans and speed to their cutting-edge ICE (Information, Communication, Entertainment) system.
Say goodbye to dull hours in the sky and embrace the opportunity for productivity or leisure while flying thousands of feet above the ground.
Key Takeaways
Emirates offers a variety of wifi plans, including pay-as-you-go and complimentary basic wifi for all passengers.

The inflight connectivity is fast and reliable, with speeds up to 500Mbps on major international routes.

Passengers can enjoy an extensive entertainment library through the Emirates' ICE system, offering over 4,500 channels of movies, TV shows, music albums, podcasts and games to choose from.

Tips for optimizing your in-flight internet experience include choosing the right plan for your needs, connecting early and keeping your device charged as Wi-Fi uses battery life.
Overview of Emirates Wifi
Emirates offers various types of wifi packages with different pricing options depending on the flight duration, which include high-speed internet access and unlimited text messaging.
Types of Wifi Available
Emirates offers a variety of wifi options to cater to the diverse needs of its passengers. Travelers can choose from the following types of wifi services available on board:
Pay-As-You-Go Wifi:

Flexible, paid plans for various durations and data limits, with prices starting at $2.99.

Complimentary Basic Wifi:

As announced on May 19, 2023, all passengers can now enjoy basic inflight wifi free of charge, regardless of their cabin or travel class.

Unlimited Messaging:

In partnership with T-Mobile and Gogo, Emirates provides unlimited text messaging on select flights at no additional cost.

Skywards Subscription Wifi:

Members of Emirates' loyalty program, Skywards, can receive special offers and promotions for in-flight wifi services.

Specialized Wifi Packages:

Tailored packages are offered on some flights to accommodate passengers' specific needs and preferences.
These options ensure that travelers have access to seamless connectivity throughout their journey with Emirates Airlines.
Availability And Coverage
Emirates Wifi is available on nearly all the aircraft in their fleet, ensuring passengers stay connected and entertained throughout their journey. This extensive coverage spans Emirates' flights operated by Boeing 777 and Airbus A380 aircraft.
It is worthwhile to note that while most flights offer inflight Wifi, some routes or specific flights might not have it due to operational constraints or regional regulations.
To ensure seamless connectivity during your travel with Emirates, always check the availability of Wifi service before boarding by visiting the airline's website or contacting customer support.
Pricing Options
Emirates offers various pricing options for their in-flight wifi, depending on the length of the flight and the passenger's membership status. The previously available $1 plan has been discontinued, and now the prices range from $9.99 to $19.99. Skywards members can enjoy free inflight wifi or messaging. Here's a breakdown of Emirates wifi pricing options.
| | | |
| --- | --- | --- |
| Passenger Status | Flight Duration | Wifi Price |
| Economy Class (Non-Platinum) | Short Haul | $9.99 |
| Economy Class (Non-Platinum) | Long Haul | $19.99 |
| Emirates Skywards Member | Any Flight Duration | Free Inflight Wifi or Messaging |
It is important to note that the lower-priced options come with certain restrictions, such as no seat selection or cancellation, higher change fees, and no lounge access. Be sure to keep these factors in mind when choosing the most suitable wifi plan for your travel needs.
Speed And Reliability
Emirates has made significant investments in its inflight WiFi service to ensure fast and reliable connectivity during air travel. The airline uses satellite technology to provide a stable connection, allowing passengers to access the internet with minimal interruption.
On average, Emirates WiFi can provide speeds of up to 500Mbps for major international routes, which is faster than many other airlines' services.
Passengers can rest assured that they will have a seamless online experience while onboard an Emirates flight. The inflight connectivity system is designed to keep everyone connected at all times so that they can work or entertain themselves as they see fit.
How To Connect To Emirates Wifi?
Create an account, connect to the wifi network, troubleshoot connection issues, and optimize your experience with tips – learn all about connecting to Emirates Wifi for a seamless in-flight internet experience.
Creating An Account
To access Emirates Wifi, passengers must first create an account. This can easily be done by selecting the wifi network and clicking on the "Sign up" option.
From there, you will be prompted to enter your personal details and payment information if necessary. For those who are Emirates Skywards members, free wifi or messaging is available upon simply logging in with their membership details.
It's important to note that some flights may offer complimentary basic wifi services without requiring a login but for longer flights or faster speeds additional payments may need to be made. Avoid potential connection issues by creating an account prior to takeoff and ensuring all information entered is accurate.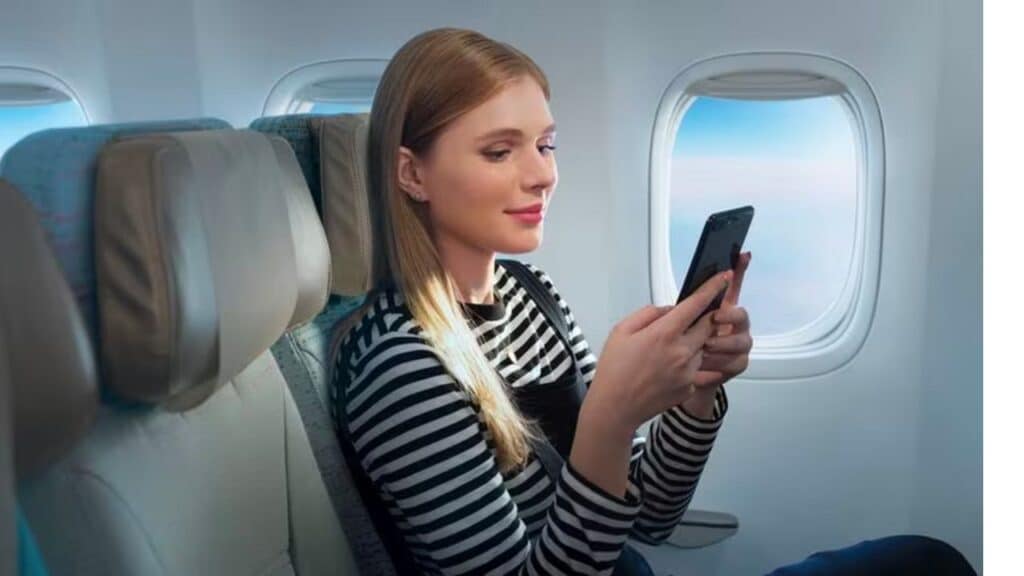 Connecting To The Wifi Network
To connect to Emirates Wifi, travelers need to first create an account on the Emirates website or mobile app. Once onboard, they can turn on their device's WiFi and select the "Emirates Wi-Fi" network.
They will then be prompted to sign in using their Emirates Skywards membership details or by purchasing a plan with a credit card. If passengers encounter any connection issues, such as slow speeds or dropped connections, they can try resetting their device's internet settings or contacting the cabin crew for assistance.
It's important to note that data usage is limited and additional time can always be purchased at affordable prices according to [IMPORTANT FACTS].
Troubleshooting Connection Issues
If you are experiencing connection issues with Emirates Wifi, try these troubleshooting steps:
Check your device settings:

Ensure that the wifi on your device is turned on and that you have selected the correct network from available options.

Reset your device:

Turn off your device and turn it back on after a few minutes to reset the connection.

Move closer to the router:

If you are having trouble connecting to the wifi, move closer to the router to ensure a stronger signal.

Clear cache and cookies:

Clearing cache and cookies can help resolve connectivity issues by releasing any stored information that may be interfering with your connection.

Contact support:

If none of these steps works, contact Emirates customer support for further assistance in resolving connection issues.
Remember, connection disruptions can also occur due to unforeseen circumstances such as weather or other external factors. However, taking these steps should help you stay connected during your flight with Emirates.
Tips For Optimizing Your Wifi Experience
To ensure that you have a smooth and uninterrupted wifi experience on Emirates flights, here are some tips to optimize your connection:
Choose the right plan:

Emirates offers various plans with different speeds and data limits. Choose a plan that suits your needs, depending on your internet usage.

Connect early

: It's always best to connect to the wifi network as soon as possible after boarding the flight. This way, you can avoid any potential network congestion issues later on.

Keep your device charged:

Wi-Fi can be draining on your device's battery life, so make sure you have plenty of power before connecting to the network. You can use the in-seat charging ports while using Emirates Wifi.

Use a VPN: To protect your online privacy and security, consider using a VPN connection when accessing public wifi networks like Emirates Wifi.
Disable automatic updates:

Automatic software updates for apps or operating systems could use up valuable bandwidth and slow down your connection speed significantly.

Close unnecessary apps:

Close any unnecessary apps running in the background, which could also eat into your device's processing power and slow down browsing speed.

Avoid streaming too much content: Though Emirates wifi is fast enough to stream movies and TV shows, it may not support high-quality streaming for long periods without compromising its speed.
By following these simple tips, you can optimize your wifi experience onboard Emirates flights and make sure you stay connected throughout your journey!
Entertainment Options On Emirates Wifi
Emirates offers a wide range of entertainment options on their Wifi, including the ICE (Information, Communication, Entertainment) system with movies, TV shows, music, games and in-flight apps.
ICE (Information, Communication, Entertainment) System
Emirates' ICE (Information, Communication, Entertainment) system is a world-renowned inflight entertainment platform that offers passengers an extensive selection of options to keep them occupied and entertained during their flight.
Passengers can get lost in the vast library of content available on Emirates' ICE system; with up-to-date movie releases and classic films like Jurassic Park or Titanic.
The entertainment system does not disappoint either when it comes to games – it has everything from puzzles to racing games and single-player favorites like Solitaire.
Movies, TV Shows, And Music
Emirates WiFi offers a vast selection of entertainment options, including movies, TV shows, and music. Here are some highlights:
Movies: Passengers can enjoy the latest blockbuster movies and classic films in different languages. The Emirates in-flight entertainment system includes over 4,500 channels to choose from making it one of the largest selections available on any airline.
TV Shows: Catch up on your favorite TV shows with Emirates' extensive collection of box sets and series episodes. Whether you're into comedies or dramas, there's something for everyone.
Music:

Emirates' music library features albums spanning various genres and artists. Passengers can create their own playlists or enjoy pre-selected collections like Top 40 hits or classical compositions.
With such an extensive collection of movies, TV shows and music to choose from, passengers will never be bored during their flight with Emirates.
Games And In-flight Apps
Emirates Wifi enables travelers to enjoy exciting games and useful in-flight apps that can help make their journey more enjoyable. Here are some of the games and apps that you can access while on board:
Games:

Emirates has a wide selection of fun games for all ages, including popular titles like Angry Birds, Candy Crush, and Solitaire. Passengers can also play multiplayer games with fellow travelers on the same flight.

In-Flight Socializing Apps:

Emirates offers passenger-connect services such as Sky Chat and ICE messages to enable networking and sending messages to fellow travelers on the same flight.

Travel Apps:

Passengers can download travel-specific apps like Citymapper or Triplt to assist in managing travel plans.

Language Learning Apps:

Emirates is among the few airlines offering passengers education opportunities while flying; these include language learning apps like Rosetta Stone.
With the vast array of games and in-flight applications available on Emirates' WiFi, you'll have an enjoyable time while flying to your destination.
Live TV And News Updates
Passengers on Emirates flights can stay up-to-date with the latest news and current events while onboard, thanks to the airline's live TV and news updates available via their inflight entertainment system.
With a variety of channels broadcasting major international news networks such as CNN, BBC News, and Sky News, travelers can keep themselves informed about developments from around the globe.
Emirates delivers a seamless experience for its flyers by providing almost flawless WiFi service at all times during their journey. Whether catching up on world events mid-flight or keeping tabs on daily occurrences at home in real-time online, Emirates' WiFi ensures an uninterrupted connection to what matters most to passengers.
Working And Productivity On Emirates Wifi
Passengers can stay productive during their flight with Emirates' wifi, which offers access to productivity tools and apps, email services, and in-seat power options – read on to discover how you can maximize your work output while soaring through the skies.
Productivity Tools And Apps
If you need to stay productive while flying, Emirates Wifi and Entertainment System has got you covered. Here are some of the productivity tools and apps available on your Emirates flight:
Microsoft Office Suite: With Emirates' onboard wifi, you can access the full suite of Microsoft Office programs, including Word, Excel, and PowerPoint. Create or edit documents for work or personal use during your flight.
Adobe Creative Cloud:

For creative professionals, Emirates offers access to Adobe Creative Cloud applications such as Photoshop and Illustrator. Use this opportunity to work on graphic design projects or enhance your portfolio.

In-flight Email Service:

Emirates has an in-flight email service that allows passengers to send and receive emails via their personal devices. You can stay connected with colleagues even when traveling thousands of miles above the ground.

Priority Baggage Delivery:

As a Skywards member, enjoy priority baggage delivery after landing so you can quickly get out of the airport and onto your next destination.

Honeywell PPE Mobile Apps: Stay updated with safety guidelines through Honeywell PPE mobile apps that offer accessible information at any time during your flight.
With these productivity tools and apps available on Emirates flights, you can make the most of your time in the air and arrive at your destination prepared for whatever comes next.
Accessing And Sending Emails
Staying connected with work is essential, and Emirates Wifi makes it easy to access your emails on the go. With a stable internet connection, you can check your inbox, send business messages, and even download attachments effortlessly.
Emirates offers a web-based email service that travelers can use from their seats or personal device while onboard. You can also configure your preferred email client on Emirates Wifi-enabled flights.
Here's another important tip: Ensure that your browser cache is cleared before attempting to log into an email account during the flight. This simple action reduces page loading times and prevents errors caused by some stored data conflicts encountered when browsing from different locations over an extended period of time.
Staying Productive During The Flight
To make the most of your time in-flight, Emirates provides a variety of tools and apps that can help you stay productive. From creating spreadsheets to sending emails, Emirates' WiFi system allows you to work remotely while onboard their flights.
The ICE (Information, Communication, Entertainment) System offers a dedicated section for productivity apps with office software as well as language-learning programs like Rosetta Stone.
For those who need to catch up on some reading or want to listen to lectures in their field of study, access thousands of magazines and newspapers through PressReader or check out TED Talks presented by industry experts.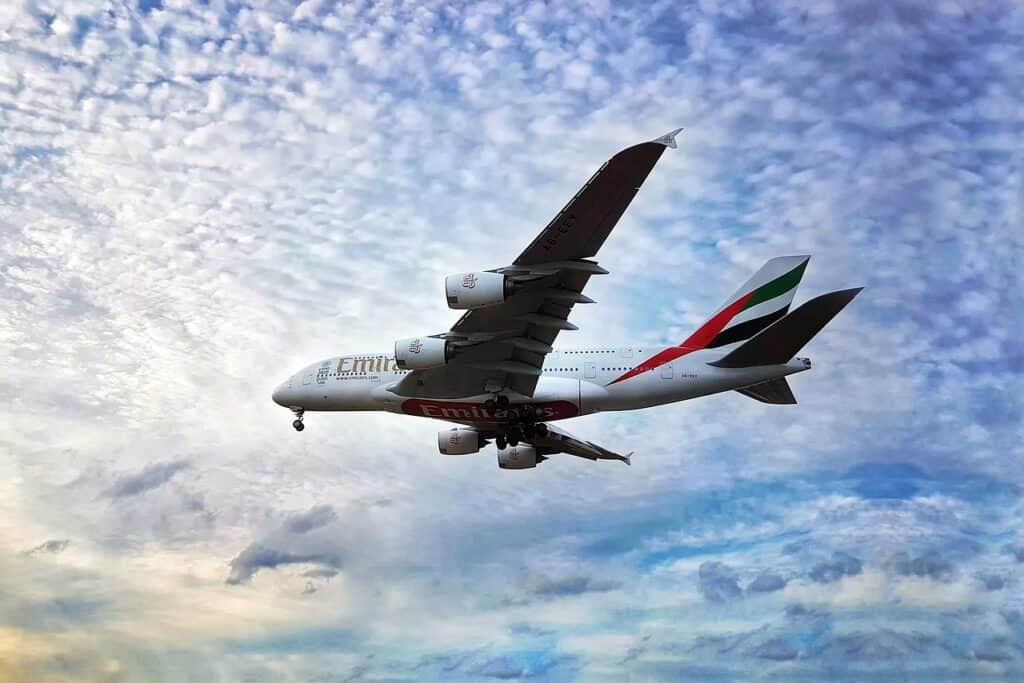 Accessing Social Media On Emirates Wifi
Stay connected with friends and family during your Emirates flight by accessing social media via their onboard Wi-Fi.
Usage Policies And Guidelines
Emirates WiFi offers passengers a convenient way to stay connected during their flight. However, it is essential to be aware of the usage policies and guidelines associated with using Emirates WiFi. Here are some important points to keep in mind:
Emirates has strict policies against accessing inappropriate content, including websites that promote violence, pornography, or gambling.

Emirates also restricts the use of VoIP applications and video conferencing services on their inflight Wi-Fi network.

Passengers are advised not to share personal information or conduct any financial transactions over the inflight Wi-Fi network.

The Emirates WiFi service is only for personal use, and commercial use is strictly prohibited.

As per the Emirates website, if a passenger engages in any objectionable behavior while using the inflight Wi-Fi, they may be subject to legal action or prosecution.
Overall, using inflight Wi-Fi can be a great way to stay connected while in the air. Still, it is crucial to adhere to the usage policies and guidelines set forth by airlines such as Emirates to ensure a safe and enjoyable experience for everyone onboard.
Restrictions And Limitations
Accessing social media on Emirates Wifi comes with restrictions and limitations. While basic access to social media is now complimentary, full internet access still requires payment for a plan.
Additionally, certain websites and apps may be blocked or restricted due to local laws or airline policies.
It's important to read the terms of service carefully before connecting to Emirates Wifi, as violating them could result in the cancellation of your connection or even legal action.
Remember that inflight wifi can also have limited bandwidth, so it's best not to stream videos or download large files which would consume lots of data and slow down the network for everyone else onboard.
Tips For Staying Connected With Friends And Family
Staying connected with loved ones during a flight can make the experience much more enjoyable. Here are some tips for staying connected while using Emirates Wifi:
Utilize social media platforms such as Facebook, Twitter, and Instagram to stay in touch with friends and family.

Use messaging apps such as WhatsApp or Viber to send messages and make calls to loved ones.

Plan ahead by informing your contacts of your travel plans beforehand so they know when they can expect to hear from you.

Take advantage of the in-flight entertainment system to watch movies or TV shows with others who are traveling with you.

Consider purchasing a Wi-Fi package that allows you unlimited access so you can check in regularly without worrying about data limits.
By following these tips, travelers can stay connected with their loved ones during their flight using Emirates Wifi.
In-Seat Power Options
Emirates provides in-seat power options for charging your devices, including charging ports and sockets that are compatible with different types of devices.
Charging Ports And Sockets
Emirates flights offer to charge ports and sockets for passengers to keep their devices powered throughout their journey. Here are some important details:
New charging sockets on Emirates flights provide a greater amount of power than older USB 2 standards using rectangular sockets.

In-seat power supply systems are available in Economy Class on Korean Air flights and provide a place to charge electronic devices like laptops and smartphones.

Some domestic economy seats on Hawaiian Airlines have USB power ports but no AC plugs, so make sure you bring the right adapter or power bank if you need to charge your device during the flight.

Air Canada's in-flight entertainment system features live TV, movies, games, music, and podcasts, as well as high-speed Wi-Fi. Passengers can also find USB charging ports conveniently located on every seat.

Don't forget to check if your device is compatible with the charging port available on your flight. This information can usually be found on the airline's website or by contacting their customer service team.
No matter which airline you're flying with, it's always a good idea to ensure that all your devices are fully charged before boarding the plane. Happy travels!
Compatibility With Different Devices
Emirates understands that travelers use a variety of devices to stay connected and entertained during flights. That's why inflight WiFi is compatible with different types of smartphones, tablets, and laptops.
Whether you have an Apple device or an Android one, you can connect to the WiFi network easily and start browsing the internet or using your favorite apps. In addition, Emirates provides charging ports and sockets in all seats so you can keep your devices powered up throughout your flight.
Special Features For Families And Passengers With Disabilities
Emirates provides a range of special features for families traveling with children, including kids' channels and games, as well as parental control options.
Kids' Channels And Games
Emirates offers a wide variety of entertainment options for kids, including:
Dedicated children's channels with popular shows and movies

Interactive games that can be played on the ICE system

Coloring books and other activities available on the ICE system

Kids' packs that include soft toys, blankets, and puzzles to keep young travelers entertained during long flights

Child-friendly headphones so youngsters can listen to their favorite music and shows without disturbing other passengers.
Emirates is committed to providing a stress-free travel experience for families, ensuring that parents can relax while their children are entertained in flight. From dedicated children's channels to interactive games and activity packs, Emirates has everything kids need to stay occupied during their flight.
Parental Control Options
Emirates' parental control feature allows parents to have greater control over what their children are watching on the in-flight entertainment system. Here are some of the available options:
Parental Lock Feature:

This feature enables parents to restrict access to certain channels, movies, and TV shows that they feel are not age-appropriate for their children.

Viewing History:

Parents can check what their children have been viewing during the flight by accessing the viewing history on the ICE system. This allows them to monitor their children's Internet usage and ensure that they are not exposed to inappropriate content.

The Circle Parental Control Device:

Emirates also offers families The Circle device, which provides comprehensive control over WiFi and mobile devices onboard the flight. This device allows parents to set limits on internet usage, block certain websites, and track children's location.

Kids' Channels and Games:

Emirates also offers a range of kids' channels and games that are suitable for different age groups. Parents can use these options as a way to keep their kids entertained during the flight while ensuring that they are not exposed to unsuitable content.

Accessibility Options for Passengers with Disabilities:

Emirates provides accessibility options for passengers with disabilities, including those with visual or hearing impairments.
By using these parental control options, families can enjoy their inflight entertainment experience safely and without worrying about unsuitable content for younger passengers or those with disabilities.
Accessibility Options For Passengers With Disabilities
Emirates Airlines has a range of accessibility options available for passengers with disabilities. Here are some of the features that are available:
Wheelchair Assistance:

Emirates offers wheelchair assistance to passengers with disabilities, which can be requested during online booking or by contacting customer service. This service is available both at the airport and during the flight.

In-Flight Entertainment Options:

Passengers with disabilities can access special features on Emirates' in-flight entertainment system, such as audio descriptions for movies and TV shows, subtitles, closed captions, and more.

Special Seating Arrangements:

Emirates offers special seating arrangements for passengers with disabilities to ensure their comfort and safety during the flight. These seats may have extra legroom or be located near the bathroom.

Assistance Animals:

Service animals such as guide dogs are welcome on board Emirates flights at no extra cost.

Pre-Travel Planning Tool: Emirates works in collaboration with Dubai International Airport to create a pre-travel planning tool for passengers with hidden disabilities to make their travel more accessible and comfortable.
Emirates Airlines remains committed to providing excellent customer service to all passengers, including those with disabilities. Customers can always contact their customer service department for any additional information or concerns related to accessibility options and special assistance.
Emirates Skywards And Wifi
Emirates Skywards members can earn and redeem miles for purchases of Wi-Fi on board Emirates flights.
Earning And Redeeming Skywards Miles With Wifi Purchases
Emirates Skywards members can earn miles by purchasing wifi on Emirates flights. The number of miles earned depends on the pricing option chosen. For example, Economy Class passengers will earn 150 Skywards Miles for purchasing one hour of wifi. while First Class and Business Class passengers can earn up to 1,500 Skywards Miles for unlimited wifi usage during their flight.
These earned miles can be redeemed for future trips, hotel stays, live events, and more. Enrolling in Emirates Skywards is free and members begin earning miles right away. So next time you fly with Emirates and need some wifi onboard, consider earning some extra miles while staying connected!
Special Offers And Promotions For Skywards Members
Skywards members can enjoy exclusive benefits and promotions when using Emirates Wifi on their flights, including:
Free internet access: First-class passengers and Silver, Gold, and Platinum Skywards members can enjoy unlimited free internet on Emirates flights.
Earn Skywards Miles:

Members can earn Skywards Miles for every purchase of Emirates Wifi on board.

Special offers and discounts:

Skywards members may receive special discount codes or vouchers for Emirates Wifi purchases.

Access member-only content:

Members can access exclusive content not available to other passengers on the ICE (Information, Communication, Entertainment) system through their Skywards account.

Tier-based privileges:

Depending on their tier level, Skywards members may receive additional benefits such as increased data usage limits or faster internet speeds.
With these special offers and promotions, Emirates Wifi becomes an even more valuable asset for travelers looking to stay connected while in the air. And with the ability to earn miles while doing so, it's a win-win situation for frequent flyers who are also members of the Emirates Skywards program.
Drawbacks And Limitations of Emirates Wifi And Entertainment System
Below. I'm mentioning some drawbacks and limitations of Emirates WiFi. 
Connection And Payment Issues
When traveling on Emirates flights, passengers may encounter connectivity and payment issues when trying to access the onboard Wi-Fi. To ensure a smooth experience, it's important to choose the right pricing plan ahead of time and create an account if necessary.
It's also important to note that while some Wi-Fi plans may be free for Emirates Skywards members, others require payment using debit or credit cards. Passengers should check their data usage limit to avoid unexpected fees at the end of their flight.
Device Compatibility
Emirates' inflight WiFi and entertainment system is compatible with a wide range of devices, including laptops, tablets, and smartphones. However, it's important to note that not all devices may be compatible or supported on certain flights.
Additionally, Emirates offers in-seat charging ports for most major device types such as USB ports for phones and tablets along with AC power outlets suitable for laptops.
Data Usage Limit
Emirates offers a variety of Wi-Fi plans for passengers to purchase during their flights. However, it's important to note that there is a data usage limit on all plans.
For those who are not Skywards members, it's essential to keep an eye on their data usage as additional charges may apply if they exceed the allotted limit.
When purchasing a Wi-Fi plan, it's crucial to consider one's internet needs during the flight and choose a plan that will suffice.
Regardless of what plan one chooses; Emirates staff ensures that all passengers have access only to legal websites while onboard (e.g., no pornography etc.)
Frequently Asked Questions (FAQs):
This section covers common concerns travelers may have regarding Emirates Wifi and entertainment services, including connection issues, device compatibility, and data usage limits.
Is Emirates Wifi available on all flights?
Emirates Wifi is available on most of its aircraft, but it's essential to check the availability and coverage before boarding. You can use the Emirates App or website to confirm if wifi is offered for your specific flight.
What devices are compatible with the Emirates in-flight entertainment system?
Emirates offers a wide selection of in-flight entertainment options that can be accessed through their ICE (Information, Communication, Entertainment) platform using seatback screens. The system is compatible with various personal devices such as smartphones, laptops and tablets – just make sure your device has a valid browser installed!
How do I access Emirates Wifi onboard?
To connect to Emirates Wifi during a flight, you need first turn on aeroplane mode and then switch back on Wi-Fi functionality from your phone's settings menu or via laptop connectivity options while flying above 10,000 feet.
Do I have to pay extra to access entertainment or internet services while flying with Emirates?
Most economy class tickets include complimentary access to both internet connection & ICE content within an allocated time limit; however, passengers who wish to extend their online activity may upgrade by purchasing additional data pass packages – provided they're not operating any activities that could violate airline rules/regulations risking restricted air travel privileges! Business & First-Class passengers usually get more flexibility in terms of service allowances depending upon fare conditions/preferred entitlement criteria at the booking stage.
Final Thoughts
In conclusion, Emirates Wifi and Entertainment System offer great opportunities for travelers to stay connected with the world during their flights. The service provides various options for internet access and inflight entertainment that cater to all passengers' needs.
The step-by-step guide on how to connect and optimize your experience is a helpful tool. Moreover, the article offers essential information about pricing, coverage area, speed, common issues, and tips for better connectivity.
With its special features for families and disabled passengers along with Skywards rewards program benefits with Wi-Fi purchases, Emirates Airlines has become a leading player in this field.
Subscribe to Our Latest Newsletter
To Read Our Exclusive Content, Sign up Now.
$5/Monthly, $50/Yearly