Top Picks: 15 Best Free VPN for Android in 2023
Listen to the Podcast:
It can be hard to find a good VPN. But it's even harder to choose the best free VPN for Android, and it's even more of a hassle if you need a tool that works well on your Android device.
Since so many devices use Android, hackers are often interested in it. Using a VPN can help keep you safe from these threats, but it's not easy to find a free VPN that doesn't put you in more danger. A lot of free VPNs aren't reliable, and even the ones that are can be too slow to use.
My team and I tried out 63 free VPNs on Android to find the best ones that are safe to use. There are a lot of bad free VPNs out there, but I found a few that don't have any malware and work better than the rest. But even the best free VPNs have some problems, like slower speeds, smaller server networks, data limits, or bad streaming performance. So, get your Android ready: soon, you'll be able to download a great VPN that will help you access foreign content and keep your browsing private.
What is a VPN?
A VPN, which stands for "virtual private network," routes your data through its servers and encrypts it before sending it to the website you are visiting. To put it simply, a VPN changes your IP address, making it look like you're somewhere else than where you really are. For example, if you live in Germany and connect to the internet through a VPN server in the US, the website you visit will think you're in the US.
There are many good things about this. One of them is to get around geo-restrictions that some streaming services have put in place. For example, Netflix subscribers in the US can watch a lot more shows and movies than those in most other parts of the world. So, if you use a US VPN to connect to the Internet, you can watch a lot more movies and TV shows.
With a VPN, you can go online without being tracked. When you use it, your browsing history is hidden from everyone, including your ISP, if the VPN provider doesn't keep logs. Yes, if you don't use a VPN, your ISP can see what sites you've visited and can sometimes sell that information to third parties like advertisers, which we'll talk about in more detail later on. 
Read More: Best Free VPN for PC
The Best Free VPN for Android: It's Important to Choose Wisely
Here's the thing: we don't like free VPNs because you have to be even more careful with them than with a paid VPN. If it's a free VPN with ads, for example, it's likely that your data is being used to make money, which may defeat the whole purpose of a VPN. If privacy isn't an issue, you'll have to deal with things like slower speeds, a limit on how much data you can use, or a limit on which countries you can connect to.
In the end, if you really want to use a VPN all the time, you should pay for the privilege. Some VPNs charge the equivalent of $5 or less per month, so there are options that won't break the bank. We know, though, that not everyone agrees with this view. Some people just want something quick and easy to use without having to pay for yet another service.
So, here are the best free VPNs that we know of. Check out our complete list of the best VPNs to see what you can get with a paid service and which ones we recommend the most.
15 Best Free VPN for Android – Our Detailed List
There are so many best free VPN for Android on the Google Play store that it's tempting to just install the first one you see. But I wouldn't suggest doing that because you might install a dangerous app.
You should instead choose a service from the list below. We tested dozens of mobile VPNs for you and only chose the ones that met our strict standards.
Nord VPN

PrivadoVPN 

ExpressVPN

ProtonVPN

Atlas VPN

Hide.me

Surf Shark

TunnelBear

Speedify

Windscribe

CyberGhost

IPVanish

Freedome VPN

Avira Phantom VPN

ZoogVPN Free
1. Nord VPN 
NordVPN is probably the best VPN you can get because it is fast and has a lot of features. This is a premium solution that is perfect if you want the best VPN for your device without putting any money at risk.
NordVPN works well with streaming services and torrenting, so it's a great choice if you want to watch movies on the go, no matter where you are. And as you browse, NordVPN keeps you safe with the best security features available.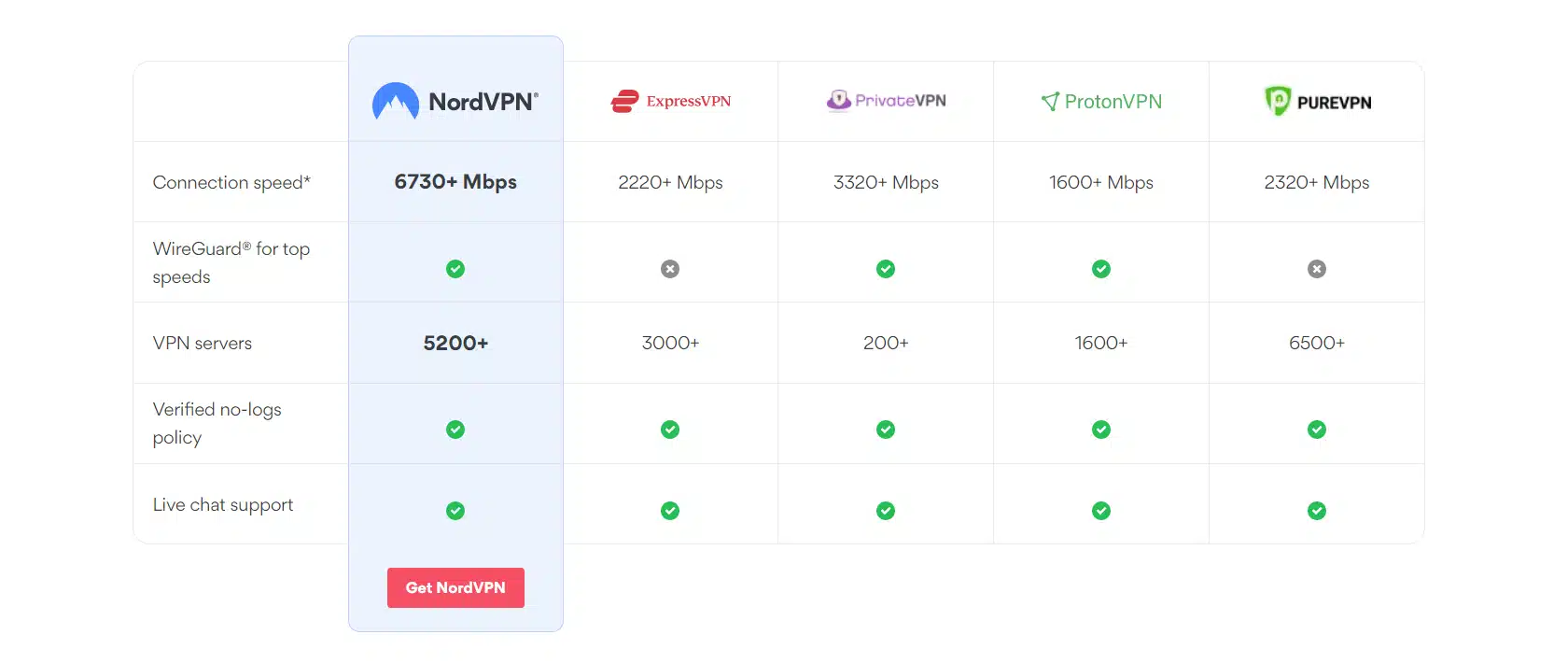 With RAM-only servers, the provider can't store any of your data, and 256-bit encryption makes sure that everything about your connections is completely safe.
The powerful Android app has all the main features, like split tunnelling, a kill switch, and reliable auto-connect options.
Even better, you can get a free trial of NordVPN and use it for free for 30 days. It's a great, risk-free alternative to free VPN apps for Android that gives you access to premium services for free.
Pros
The list of features is great.
Top server speeds
It works well with platforms for streaming
Torrenting is allowed
Unlimited data
It has an ad-blocker.
Money-back guarantee for 30 days
Cons
No free forever plan
No app for the router
2. Privado VPN 
PrivadoVPN is a free premium VPN service with zero logs that is based in Switzerland, which is known for having strong privacy laws. It gives you 10GB of access per month, unlimited speeds, and no ads. It's also the only free VPN that works with both streaming services like Netflix and BBC iPlayer and torrenting.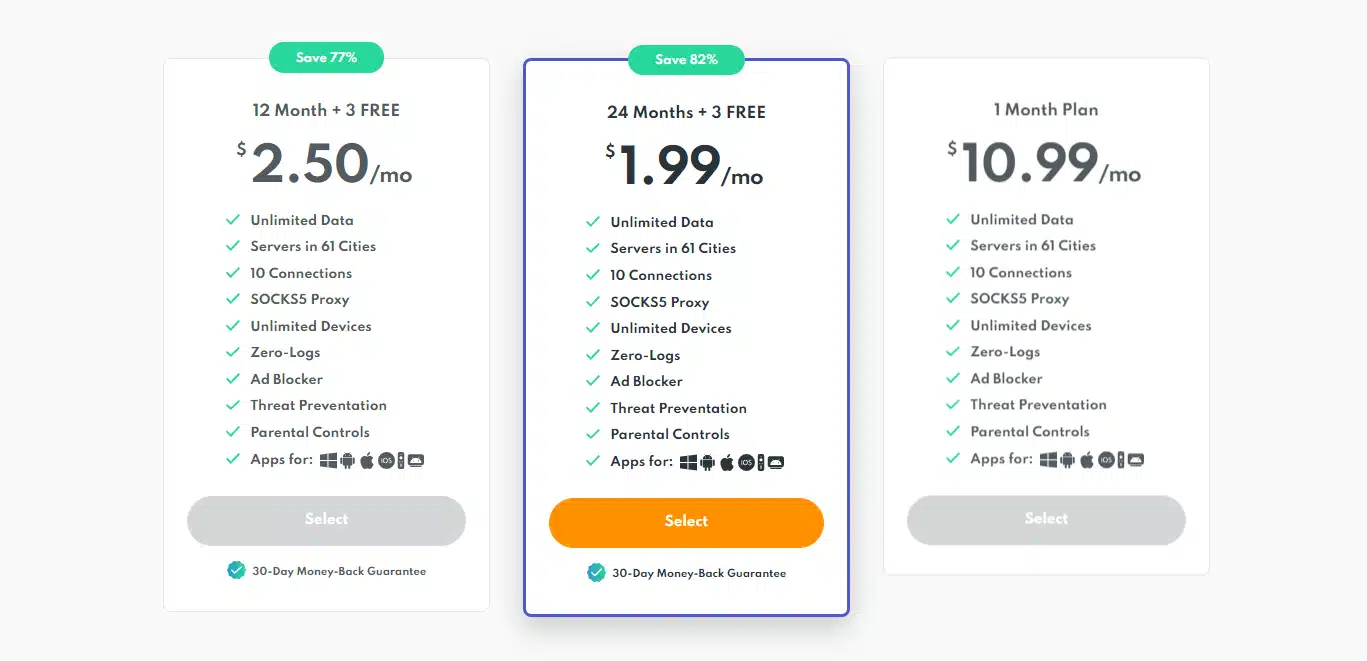 It's easy to set up and comes with free apps for Windows, iOS, macOS, Android TV, Fire TV, and Android TV. Once you've downloaded the app you want, you can connect to any server right away, change protocols, and even turn on the Internet Kill Switch that comes with the app.
The service uses 256-bit AES encryption from beginning to end and has a strict "no logs" policy across its own global network. Whether you choose the free plan or a paid one, you'll always get unlimited speeds with no risk of being slowed down.
Pros
Nice client apps
Good speeds
Stop button
Good policy on privacy and logging
Hardware servers
Streaming works well enough
Secure VPN protocols
Cons
Help for customers could be better.
PrivadoVPN doesn't know if its own service works in China.
The website with no information
No support for WireGuard
Desktop apps are the only ones with a kill switch.
There are too many costs
Read Also: Fastest VPN for PC
3. ExpressVPN
ExpressVPN is the biggest premium VPN service in the world, with servers in 94 countries. Because of this, ExpressVPN is the best way to get around geo-blocks. If you want to watch Netflix shows that aren't available in India, you can change your IP to a different country with ExpressVPN.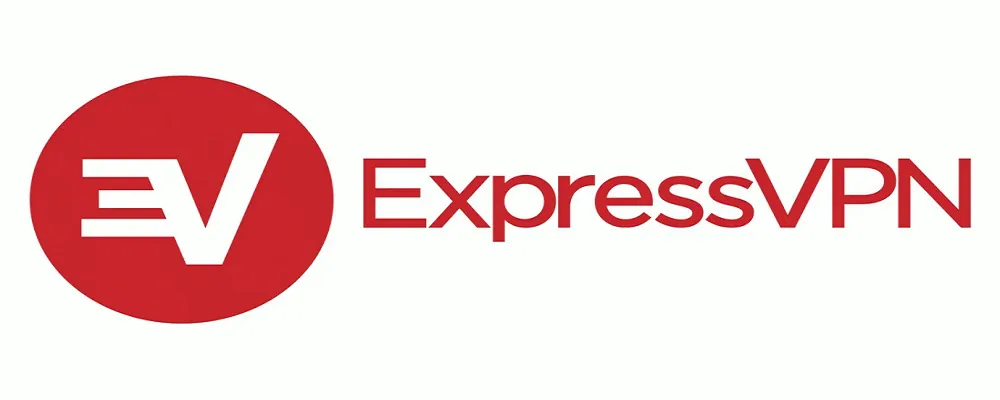 It's not just Netflix, either. With ExpressVPN, you can listen to music, use social media, watch videos, and do many other things from anywhere in the world. The net-gen Lightway VPN protocol used by ExpressVPN makes it easy to download or stream all of this content. Lightway is faster, safer, and more reliable than the open-source protocols that other VPNs use because it was built from the ground up by ExpressVPN.
Also, we like ExpressVPN because of how seriously they take privacy. It doesn't keep any records of your connections or activities, so you can browse without worrying about your actions being tracked. Even the VPN itself is very safe. Even if your connection drops, you will still be safe and anonymous online thanks to their best-in-class encryption and Network Lock kill switch.
Pros
The best encryption and a "kill switch" for the network help keep your internet activity private.
Unblocks websites and services like U.S. Netflix that are blocked or blocked in India.
Lightway protocol, which was made just for these servers, makes them very fast and safe.
Real, well-trained people are there to help customers 24/7.
Rated "Excellent" by over 8,000 real customers on Trustpilot, who gave it a score of 4.5 out of 5.
Helps hide your IP address so you can be more anonymous online.
Keeps no records of what you do or who you connect with.
Cons
Compared to other VPNs, it costs more.
Does not support IPV6.
4. ProtonVPN

The main reason Proton VPN Free doesn't come in first place on our list is that its free plan only has three server locations. This usually slows down downloads, but the Android VPN app is surprisingly quick.
You can use your Android phone or any other device to browse the Internet anonymously for as long as you want, but your speed will slow down, especially when there are a lot of people online. You can choose from the Netherlands, Japan, or the United States.
Pros
Unlimited data
AES-256 encryption
OpenVPN protocol
Decent speeds
No-logs policy
User-friendly
Cons
Medium speeds for users who don't pay
Netflix might not work with the free app
One connection
5. Atlas VPN
Atlas VPN is yet another great Android VPN that is free. Keep in mind, though, that it has a monthly limit of 10GB, so if you want to stream or download a lot of files, you might want to consider the paid version.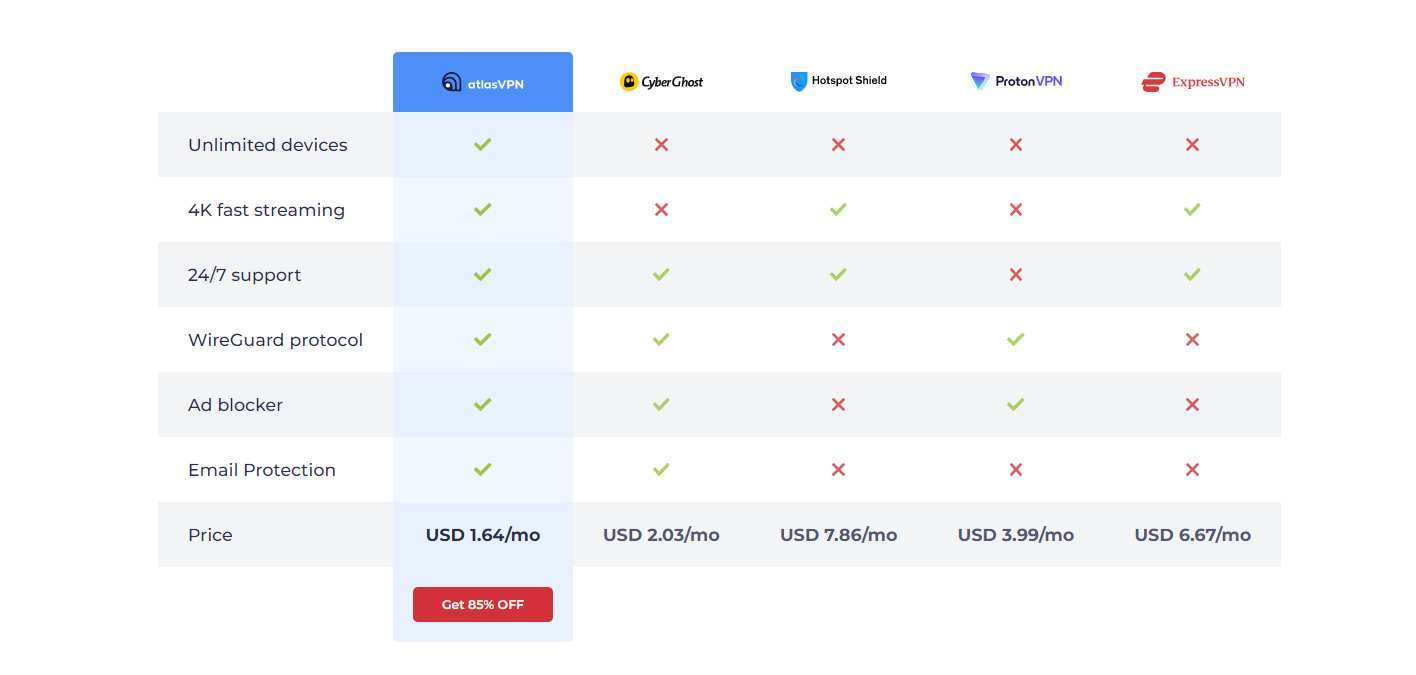 Aside from that, the free Android app lets you connect to three places: the Netherlands (Amsterdam), the United States (Los Angeles), and the United States (New York) (New York). You'll also have a kill switch that will protect your privacy if the VPN connection goes down. But your account can only be used on one device at a time.
Atlas VPN is also very safe because it uses AES-256 encryption, safe tunnelling protocols like WireGuard and IKEv2, and a trustworthy no-logs policy.
Pros
Option for free VPN
Netflix and other streaming services can be accessed with the paid version.
No logs of information that could be used to identify a person
Decent speeds
Affordable premium plans
Cons
From the United States
Not available for Linux or routers
Problems with details
6. Hide.me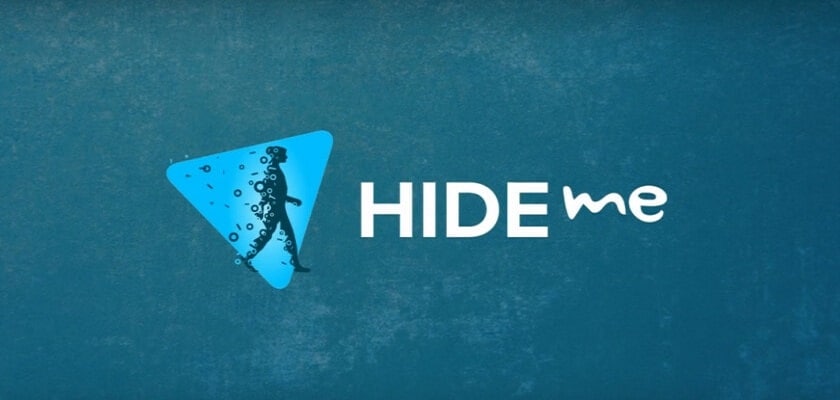 The VPN service Hide.me is a well-known name. This service provider lets you choose between paid and free subscriptions. The free subscription gives you access to five servers in four countries: one each in the Netherlands, Canada, and Germany, and two in the USA (East and West).
Hide.me is a zero-logs VPN. This means that the provider doesn't keep any information about what you do on the internet, which is good news for people who care about their privacy. With the free version of Hide.me, you can also reach customer service at any time.
In the past, people couldn't use the free version of Hide.me to download torrents. Now, this policy has changed, and free users can actually use torrent sites to download. When downloading, they do need to remember that they can only use 10GB of data per month.
Free Hide.me users can go as fast as they want. Also, the Hide.me app works on many operating systems, including Windows, iOS, macOS, Android, Linux, and Fire TV.
Pros
10 GB of data per month
Four places
Split tunnelling
P2P connections
No slowing down of speed
Cons
The free version doesn't have WireGuard.
A simple way to use it
It might not work with Netflix if it's free.
Also Read: Fastest VPN for Android
7. Surfshark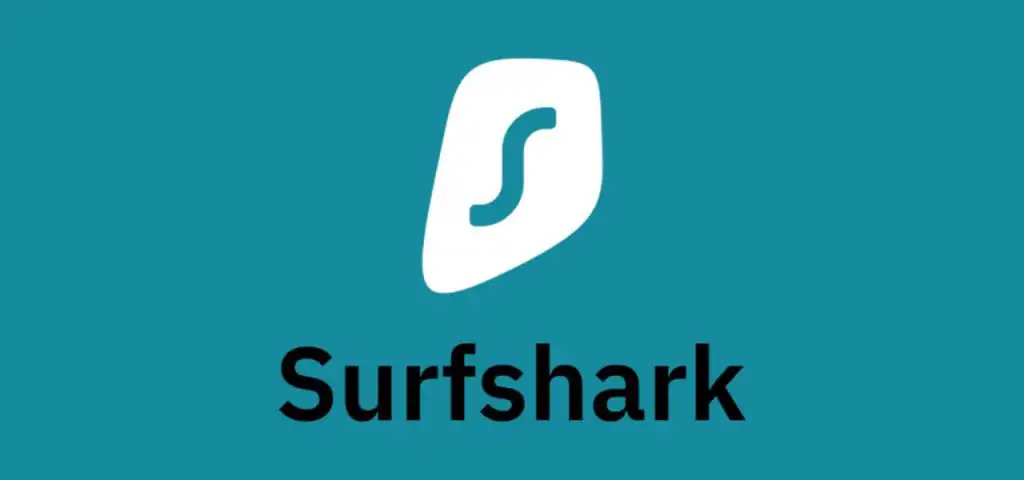 SurfShark is a lightweight VPN and network security app that lets users of all skill levels easily secure their network connections with a highly reliable VPN that will reroute all network requests and data communication through a network of independent and secure routing servers.
By using the latest methods to stop people from tracking your online activities, finding out where you are in the real world, or actively monitoring the data you are accessing, as well as a streamlined interface that makes it easy to find all the most important tools and features, has quickly become one of the most popular premium VPN solutions for saving time on the World Wide Web.
Pros
Provides safe and private browsing.
It works with a lot of different apps.
The customer service for this India VPN is good.
Offers the best connection speed to the server.
Using the 256-bit AES encryption method, you can keep your data private.
This VPN works well to hide your location so that the Proxy doesn't know where you are.
Cons
It doesn't let you use the Tor browser through a VPN.
Setting up this software is a difficult process.
Weak presence on social media.
8. TunnelBear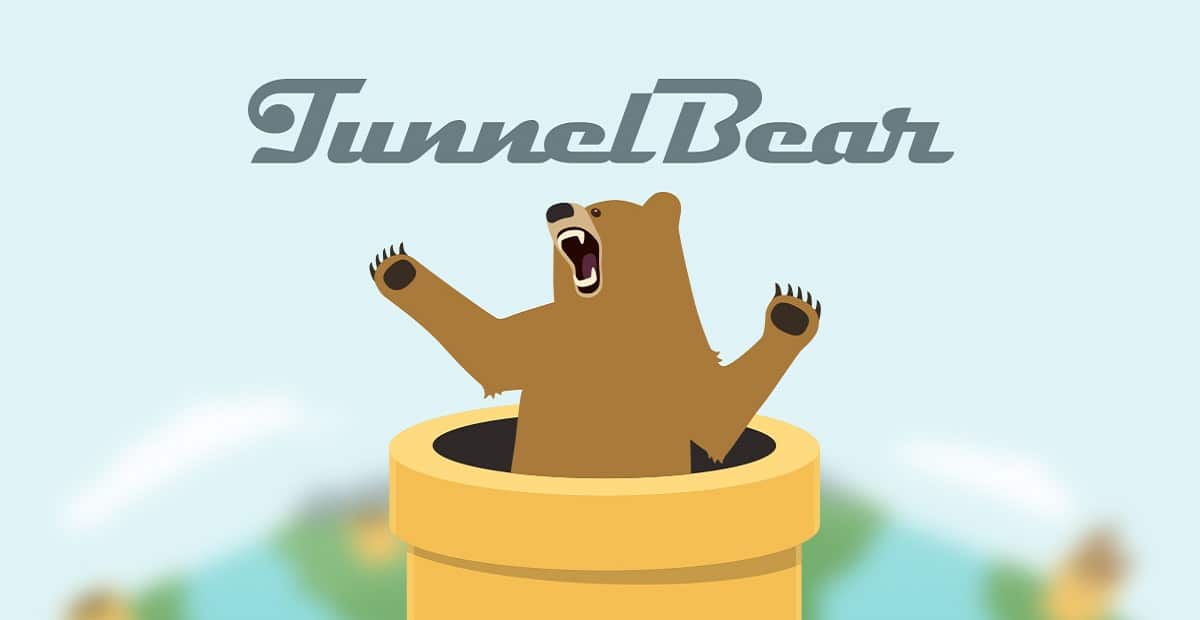 McAfee owns TunnelBear, a free VPN app for Android that gives you 500MB of data per month. It's very easy to use, and you don't need a credit card to join. You can choose from servers in 23 different countries, such as the United States, Germany, Australia, India, and more.
TunnelBear doesn't keep logs for your peace of mind and doesn't have ads even though it's free (hooray). It gives extra free data for a month to people who tweet about the provider, download the TunnelBear app on their PC, or invite a friend who then signs up for the service. The data you don't use doesn't carry over to the next month.
If you need more than 500MB of data per month, you'll have to pay for a better plan. If you pay ahead for two years, the price starts at $4.17 per month.
Pros
Free plan
DNS servers that it owns
Colourful, moving UI
Helps all of the major platforms
Switch Off
Cons
Unstable speeds
Free 500 MB per month
traffic that is not protected
Doesn't work on some new platforms
There are no settings for other VPN clients or routers.
iOS only has a few features.
9. Speedify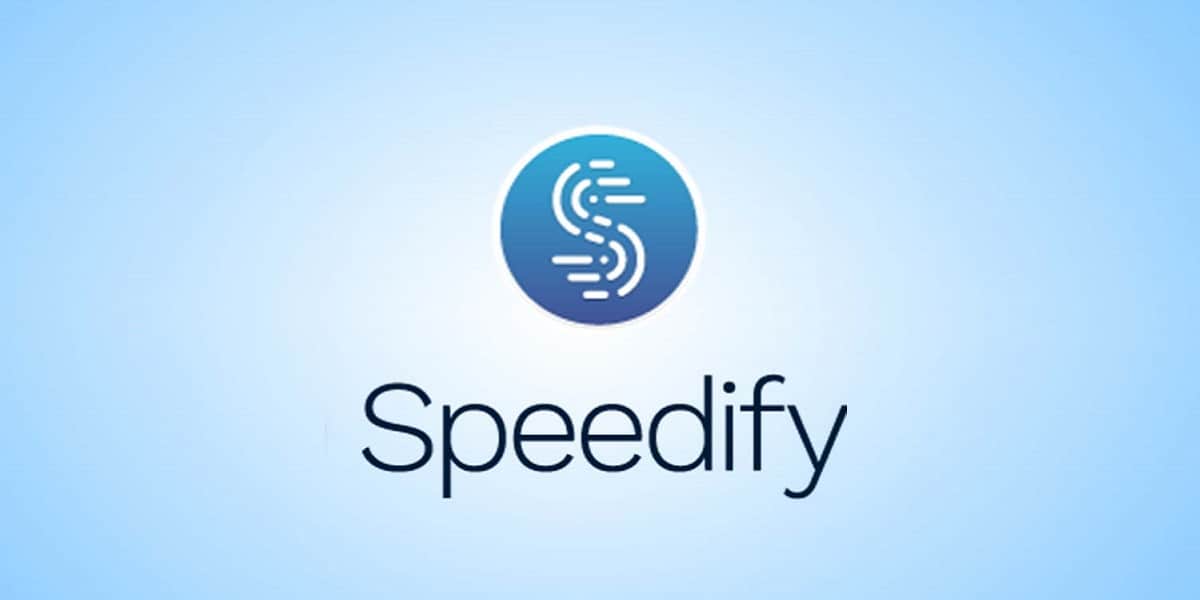 Speedify is a VPN program that does more than most other programs that do the same thing. In addition to protecting your privacy online and encrypting your traffic, it can also safely combine and use multiple Internet connections at the same time on any iOS, Android, macOS, or Windows device. And the best part is that you don't need any big, expensive hardware to do it.
Instead, it's done by the software itself with the help of channel link/bonding aggregation. Speedify also has a lot of other features that you can use. One of them is making the internet more reliable and faster by combining every VPN, 3G, 4G, and Wi-Fi that is available and using the latest encryption standards. Traffic is routed through a tunnel to the system's advanced VPN server to protect you from hacking and other security risks. This works even when you are using a public Wi-Fi channel.
Pros
With local servers, speeds are very fast.
The ability to link channels
Custom VPN protocol
Long-term plans with competitive prices
Cons
Not able to get into streaming sites
No check by a third party for logging claims
A member of 5 Eyes based in the U.S.
To Know More: VPN Benefits for Digital Marketers
10. Windscribe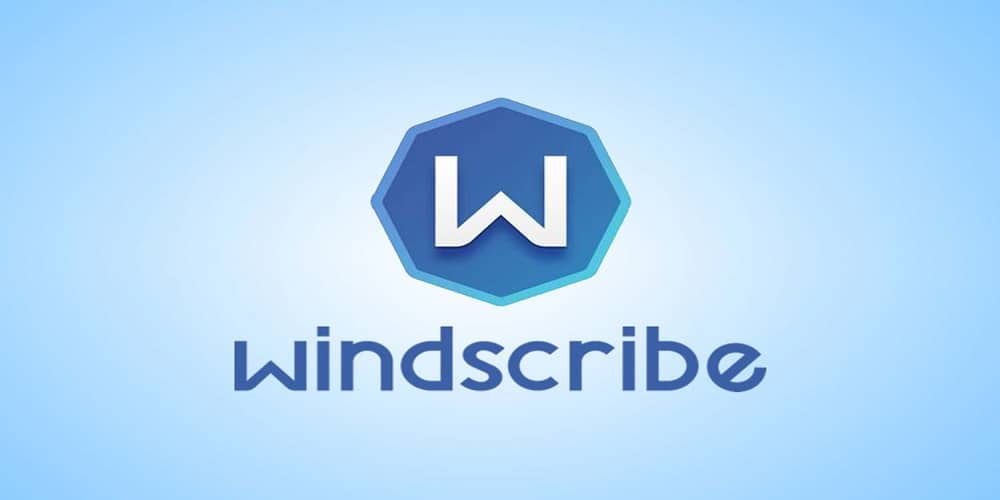 Windscribe is the best free VPN overall and the best free VPN app for Android. It's a fast and safe free VPN that doesn't need to be signed up for. You won't see big drops in speed either, even if you're streaming or downloading big files.
Pros
User-friendly Android app
Fast speeds in the same country
Six Netflix regions and BBC iPlayer are unblocked.
No credit card/payment details required
Minimal web usage logs
Unlimited connections at the same time
Cons
10GB monthly data cap
Android doesn't come with a kill switch.
Doesn't unblock US Netflix
There is no live chat with a person.
Free VPN vs Paid VPN – Which is Right for You?
When we get something for free, we don't expect it to be perfect. We just want to know if it's good enough for our needs. If you have to choose between a new stove and an old, worn-out one that your neighbour is giving away, the question isn't which one is better, but how often you cook.
VPNs work in the same way. Millions of people use free VPN services every day, so it's clear that they do some things right. They also have problems, so you need to know how to find those problems and decide if they will get in the way of what you want to do online.
How do Free VPNs Make Money?
Your browsing information is being tracked and sold. You might think that no one cares what you do online, but you'd be surprised how valuable your information is to some buyers. Data brokerage companies buy the information that users give them and then sell it to advertisers. A database with information about how you use the Internet could be in high demand.
The companies that run free VPNs can see what websites you visit, what you buy, how long you spend online, and even what kind of device you use. Then, they can sell your information without your permission and make money.
The Problems with Free VPNs
There is usually a good reason why free VPN services don't cost anything: the provider will make money in some other way, usually by showing you annoying ads or selling your browsing history to third parties (rather than defeating the whole drive for privacy in the first place).
Plus, free services usually have limits on how much data you can use and how fast you can use it. This makes them almost useless for streaming video, torrenting, and adding a reliable layer of security to your everyday online life. And don't expect the kind of easy-to-reach support or server range that you get with paid services.
Before we get into our list of the best free VPN downloads, it's important to note that a paid version can cost as little as $2/£2 per month and offer much better performance and security.
You can Read: Apple TV VPN
Conclusion
Even though a free VPN comes with its limitations, it's still better to get one than to leave your Android without any protection. A free tool will still give you plenty of data, a few popular locations to connect to, and a few security features like a kill switch and AES-256 encryption.
However, in case you want more convenience without the need to think about how much data you've already used, I suggest you invest in a paid Android VPN. A VPN like this will not only have no limits, but it will also have some really advanced features, like servers that hide their IP addresses or protection against malware.
Frequently Asked Questions(FAQs) About Best Free Vpn for Android
Which VPN is Safe for Android?
ExpressVPN is currently CNET's top pick for the best Android VPN because of how well it works, how fast it is, and how easy it is to use. It's not the cheapest VPN out there, but it's the fastest one right now. Surf Shark is a close second when it comes to the best VPN apps for Android. It has a simple and useful app.
Are free VPNs good?
The short answer is no. Most free VPNs can't unblock streaming sites like Netflix, have slow speeds, and have other restrictions that make them almost useless. Some of them have harmful malware built into them, and others have been caught selling private information to third parties.
Which free Android VPN is best?
The best free VPN for Android is ProtonVPN because, unlike many other services, it lets you use as much data as you want. You'll also have security that can't be broken and access to 24 servers in three countries.
Can the Police Track a VPN?
Police can't track encrypted VPN traffic in real-time, but if they have a court order, they can go to your ISP and ask for connection or usage logs. Since your ISP knows you use a VPN, they can tell the police where to find it.
What is the Safest VPN?
NordVPN is a VPN that is very strong and safe. NordVPN is the safest VPN service out there. It is based in a place that is good for privacy, uses the latest encryption and security technology, and has many other features for safe browsing, entertainment, and more.
Do I need VPN on my Android?
Smartphone VPN services are a reliable way to protect your internet activities. Since a lot of personal information is sent when you use your phone, hackers love to go after this information. Whether you use your cellular connection (3G, 4G, 5G, etc.) or Wi-Fi, your smartphone leaves you open to identity theft and other cyber threats.
Does VPN Harm Your Phone?
Recent research shows that many VPNs for Android have privacy and security problems, which makes it even harder to choose a good VPN.
Can VPN Expose Bank Account?
When you use a VPN, you'll: Stay safe on public WiFi. Cyberattacks can happen on unprotected public WiFi networks, like those at the mall or at work. VPNs hide your login, password, and any other information you type into your bank's website or app, so hackers can't see or steal your information.
What are Alternatives to VPN?
Software-defined WAN (SD-WAN) and Secure Access Service Edge are two of the most popular options (SASE). SD-WAN is meant to be a better alternative to a VPN.
Can VPN see Passwords?
A VPN can't see anything you type on your computer or phone, including your passwords. It can only see the information you send to the service.
Is VPN better than a Proxy?
Yes, a VPN is better because it keeps your traffic private and safe by sending it through a secure VPN server and encrypting it. A proxy just sends your traffic through a server that acts as a middleman. It doesn't necessarily give you more security.
Subscribe to Our Latest Newsletter
To Read Our Exclusive Content, Sign up Now.
$5/Monthly, $50/Yearly