Top 10 Best Watches for Women and Men in 2022
Designer Watches| Famous People and their Watches
Many of us take timekeeping for granted. We use our phones to tell the time or take an occasional glance at a watch that is probably more valuable as a fashion item rather than its ability to describe the time accurately.
People have been fascinated by mechanical movements since around 1505 when German locksmith Peter Henlein created what historians considered to be the first pocket watch. Since then, there have been many advances in watch-making technology, using different materials and creating new designs which are sometimes aesthetically pleasing pieces of jewelry even without their multi-functional capabilities. Of course, these functions vary from watch to watch.
Today, we will only focus on wristwatches and confident critical design choices and developments made throughout history that have helped shape these timepieces into what they are today. Men's and women's watches are gorgeous-looking fashion items that are practical and affordable, with discounted designer brands, and a suitable accessory to almost any outfit.
1. Cartier
Cartier is famous for being one of the most refined brands in the world. It has designed watches for King Edward VII of England, French President Charles de Gaulle, and Queen Marie of Romania, to name a few. It has developed different lines, including Tank Louis Cartier (1920), Pasha de Cartier(1937), and Tortue (1941).
The famous people who have owned a Cartier are …..
Audrey Hepburn: The actress who epitomized class and sophistication throughout her life is rumored to have owned a Cartier watch. Friends said it accompanied her everywhere, even onto the silver screen as she wore it in Breakfast at Tiffany's- not just once but twice due to difficulties with lighting. A claim that no one has been able to verify thus far!
Steve McQueen: One of Hollywood's most notorious bad boys had a refined taste for luxury items such as his Cartier watch, which was purchased from the famous jewelers on Rue de la Paix in Paris, France
Daniel Craig: James Bond (otherwise known as Mr. Craig) wears his Cartier Tank Louis wristwatch in Casino Royale (2006).
If you are looking for a men's Pioneer Chronograph, you can take proper help from Google.
2. Jaeger-LeCoultre
Jaeger-LeCoultre was founded in Switzerland in 1833; the luxury watch manufacturer has become well known for its striking timepieces, inspired by vintage pocket watches from around 1850. Famous people who have owned a Jaeger-LeCoultre are…
Jamie Foxx wore this watch to the Golden Globe Awards in 2010, and Will Smith wore this watch to his wedding! Rumors are that Beyonce Knowles wears this watch when she is on stage.
3. Breitling
Breitling, founded in 1884 by Léon Breitling, a Swiss watch manufacturer is well known for its reliable working watches designed with pilots in mind. Breitling said that their watches could time accurately over periods of to 12 hours when fully wound. The stars who have owned a Breitling are…
Steve McQueen, Arnold Schwarzenegger, Leonardo DiCaprio, Tom Cruise, and David Beckham!
4. Audemars Piguet
Audemars Piguet was founded in 1875 by Jules Édouard Louis Joseph Audemars and his colleague Edward Auguste Piguet; this luxury watch partnership decided to join forces due to their shared passion for watches. Originally from Switzerland, they relocated to Le Brassus in 1896, where they remained until moving to their present location in Geneva.
Audemars Piguet is well known for its ultra-slim watches, which are luxurious and polished with fine craftsmanship. The stars who have owned an Audemars Piguet include…
Roger Moore wore this watch when he was James Bond in Octopussy (1983). Kylie Jenner is most often seen wearing this watch!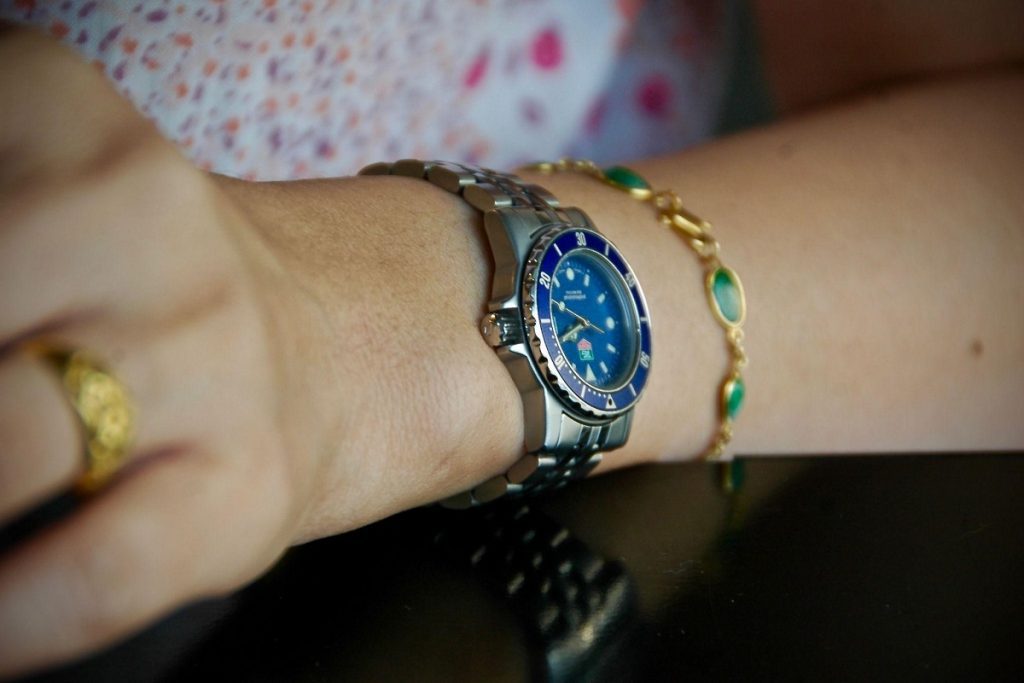 5. Tag Heuer
This Swiss luxury watch manufacturer has been around since 1860 and has maintained high-quality standards throughout the years, with each model becoming an object of desire to many. The stars who have owned a Tag Heuer include…
David Beckham wore this watch as a model for Armani Exchange, and Tom Cruise wore this watch in the film Knight and Day (2010).
6. Rolex
Founded by Hans Wilsdorf from Bavaria, this luxury Swiss company has been around since 1905 and is famously known for its Oyster watches made from gold or steel. In 1910 the waterproof wristwatch was created using an inner case filled with oil to withstand pressure to depths of 100 meters!
They also use other materials such as platinum and diamonds to create exquisite timepieces that maintain their strong reputation today. Jamie Foxx wore this watch to the Oscars in 2005. Tom Cruise wore this watch to his 2010 wedding with Katie Holmes.
7. Omega
This Swiss company was founded by Louis Brandt in 1848. It is most famously known for creating one of the first wristwatches worn by its inventor Hans Wilsdorf himself! The brand has maintained strong roots within sports and diving, mainly due to its high reliability and precise timekeeping capabilities.
Celebrities such as Justin Timberlake, Hugh Jackman, and Daniel Craig often wear Omega watches.
8. Patek Philippe Calatrava
Patek Philippe was founded in 1839 by Antoine Norbert de Patek and Jean Adrien Philippe; this luxury Swiss watch company was born after a merger of their companies.
Patek Philippe initially specialized in the production of pocket watches inspired by Breguet, a famous French horologist at the time. The celebrities who own a Patek Philippe Calatrapha include…
David Beckham wore this watch to the 2012 Olympics, where he went as an ambassador for Team GB!
9. The Swatch Watch
This fashion watch is part of this collection due to its affordability. The 1980s was when Swatch watches were in high demand, and before they became famous, numerous other fashion brands emerged due to their affordability.
Celebrities who have worn a Swatch watch include…
Dave Franco, an American actor, wore this watch when he visited New York City with his brother James Franco in 2017!
10. Timex Weekender
This stylish casual watch is known for its simplicity yet high-quality standard due to its leather strap, giving it a luxurious feel when worn on the wrist. Its affordable price means that it appeals to the masses and is in great demand among young adults because of its availability in various online retail stores.
Celebrities such as Zayn Malik and Miley Cyrus wear this fashion watch too many events due to its sleek, minimalistic design, which people can dress up or down!
Subscribe to Our Latest Newsletter
To Read Our Exclusive Content, Sign up Now.
$5/Monthly, $50/Yearly