Steve Bannon: From Rags to Riches With His Mind-Blowing Net Worth!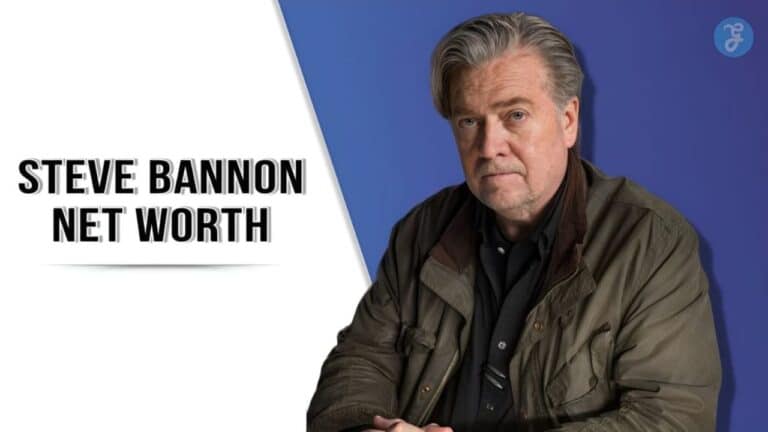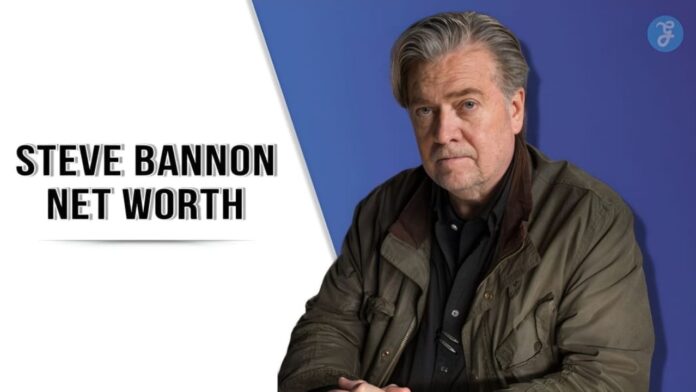 Listen to the Podcast:
Curious about the man behind the political whirlwind, Steve Bannon? As a prominent figure in American politics and media, Steve Bannon net worth is just as impressive. This blog deciphers his journey from Virginia to Washington, D.C., unveiling where his wealth comes from.
Dive into this intrigue-filled examination of Steve Bannon's life – it's more than meets the eye!
Content Highlights
Steve Bannon's net worth in 2023 is estimated at $55 million.

Bannon had a diverse career, starting as an investment banker and later becoming a media executive and political consultant.

He played a crucial role in shaping the direction of Breitbart News, a right-wing populist website.

Bannon faced controversy for his involvement with Cambridge Analytica and was indicted on fraud charges related to the 'We Build the Wall' campaign.
Early Life and Education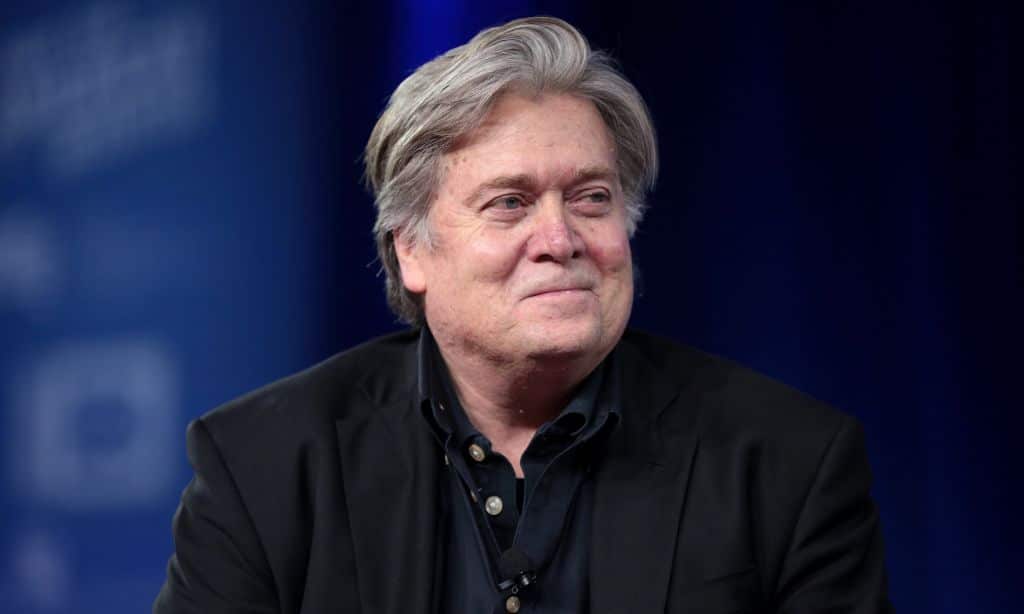 Stephen Kevin Bannon, popularly known as Steve Bannon, was born into a hard-working and modest family on November 27, 1953. His parents were Dorothy (née Liggett) and Martin J. Bannon Jr., a lineman for the telephone company.
Raised in Norfolk, Virginia, Bannon's blue-collar upbringing steered his initial worldviews.
His journey toward academia was marked by considerable achievements early on. An educated child from the beginning, he attended Benedictine High School in Richmond before furthering his education at the Virginia Polytechnic Institute and State University—commonly known as Virginia Tech—where he graduated with a degree in urban planning in 1976.
After serving seven years as an officer in the United States Navy following his graduation from college, Bannon moved to resume his educational pursuits at Harvard Business School.
During this period of intense intellectual growth, he demonstrated an impressive propensity for business comprehension that would later define him professionally. Graduating from Harvard Business School in 1985 marked another significant milestone towards realizing Steve's career ambitions, such notable positions like media executive strategy formulation and investment banking.
| | |
| --- | --- |
| Full Name | Stephen Kevin Bannon |
| Birthdate | November 27, 1953 |
| Age | 69 years old (as of 2023) |
| Net Worth | Estimates vary, but several sources report $48-55 million as of 2023 |
| Birthplace | Norfolk, Virginia, United States |
| Education | Georgetown University (BA) Harvard University (MBA) |
| Occupation | Media executive, Political figure, Former investment banker |
| Political Affiliation | Republican Party |
| Notable works | Executive Chairman of Breitbart News (2012-2016), Chief Executive of Donald Trump's 2016 presidential campaign, White House Chief Strategist (2017) |
| Facebook | Bannon has been banned from Facebook as of 2021 |
| Instagram | stephenkbannon |
| Website | bannoncrimedefense.com |
Career Path
Steve Bannon's career path includes notable positions as an investment banker and media executive, serving as the Executive Chairman of Breitbart News and being involved with Cambridge Analytica.
Investment Banking and Media Executive
Beginning his career in investment banking, Steve Bannon demonstrated an early knack for strategic decision-making and financial acumen. He co-founded Bannon & Co., a boutique investment bank that specializes in media and entertainment industries, leveraging his experience with Goldman Sachs.
Known for executing ingenious deals, one of the most notable being the sale of Castle Rock Entertainment to Turner Broadcasting System.
Shifting gears toward media, he became an executive producer in Hollywood, where he produced multiple films. His transition into the media executive role was marked by assuming control at Breitbart News – a right-wing populist website deeply ensconced in ideological controversy.
Critical to shaping its content strategy and overall direction, Bannon's tenure at Breitbart cemented his position as a polarizing figure within American political discourse.
Executive Chairman of Breitbart News
In conservative media, Steve Bannon's stint as Executive Chairman of Breitbart News positioned him as an influential figure. Changing the landscape of political reporting and commentary, he turned Breitbart into a right-wing populist site with provocative content that resonated with a large audience base.
The association with Breitbart boosted his career and significantly contributed to his net worth in unexpected ways. Unveiling hard-hitting news pieces on the platform increased Bannon's popularity among conservative readers, amplifying his influence in politics and media.
His leadership at Breitbart was marked by controversy yet undeniably impactful, making it an essential chapter in Steve Bannon's life story.
Read Also: Bobby Brown Net Worth With Complete Biography
Involvement with Cambridge Analytica
Steve Bannon's involvement with Cambridge Analytica has been scrutinized and controversial. The company, known for its controversial harvesting of Facebook profiles without users' consent, had deep ties to Bannon.
In 2016 alone, he received over $125,000 in consulting fees from Cambridge Analytica and held ownership in the company valued at a significant amount. Their collaboration raised questions about Bannon's role in shaping political strategies using data mining practices.
The ensuing scandal surrounding Cambridge Analytica shed light on the ethical concerns surrounding privacy, digital campaigning, and manipulation in the modern age.
Entertainment Career
Steve Bannon's involvement in the entertainment industry goes beyond politics, as he dabbled in Hollywood film productions. Read on to discover his surprising ties to the TV show "Seinfeld" and his other ventures in the world of entertainment.
Hollywood Film Productions
Steve Bannon made a significant foray into the entertainment industry during the 1990s. His Hollywood career showcased his talents as an executive producer in the film industry. Here are some noteworthy details about Steve Bannon's Hollywood film productions:
Steve Bannon produced a total of 18 films during his time in Hollywood.

He worked on various movie projects, demonstrating his diverse interests and abilities in the film industry.

Bannon's involvement in Hollywood allowed him to collaborate with renowned actors, directors, and producers.

His extensive experience as an executive producer gave him valuable insights into the entertainment world.

Bannon's work in Hollywood served as a stepping stone to his subsequent media, politics, and business endeavors.
Political Career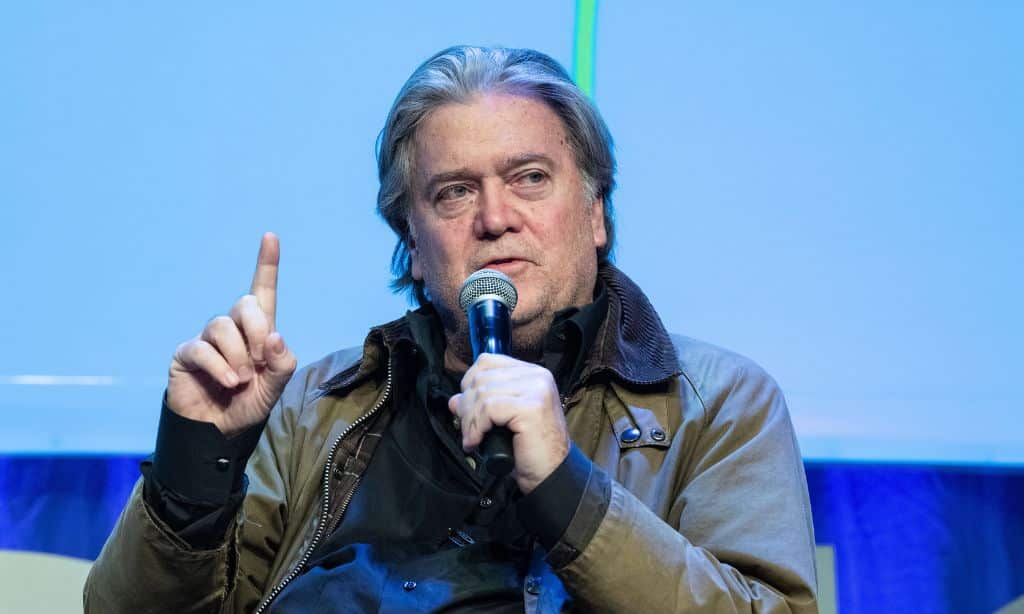 Steve Bannon's political career has been a significant part of his journey. After leaving the world of investment banking, Bannon made a name for himself as a skilled political strategist and campaign advisor.
He gained widespread recognition when he served as the chief strategist to former President Donald Trump in 2017. While at the White House, Bannon played a crucial role in shaping key policies and influencing political decisions.
His expertise in media and filmmaking also contributed to his success in politics. Bannon's involvement with right-wing movements garnered attention from supporters and critics alike.
However, his controversial stances on various issues truly put him in the spotlight.
Despite no longer working directly for the White House, Steve Bannon remains influential in American politics. His ability to strategize and navigate complex situations has elevated him to prominence within conservative circles.
As he continues to make headlines with his bold opinions and ambitious endeavors, it is clear that Steve Bannon's impact on American politics cannot be ignored.
Net Worth and Financial Standings
Steve Bannon's net worth in 2023 is estimated to be $55 million, but it hasn't been a smooth ride. Apart from his financial success, there have also been fraud allegations and an indictment that threw a wrench into his finances.
Want to know more about Steve Bannon's journey and how he built his wealth? Keep reading!
Steve Bannon Net Worth in 2023
As of 2023, Steve Bannon's net worth is estimated at $20 million. This estimate includes his earnings from various roles, including his time as a media executive, political consultant, and former investment banker. Please refer to the table below for a detailed breakdown of his financial standing:
| | |
| --- | --- |
| Source of Income | Estimated Earnings |
| Media Executive | $12 million |
| Political Consultant | $5 million |
| Investment Banker | $3 million |
| Total Net Worth | $20 million |
These figures are based on available information and may vary. Despite previous indictments and fraud allegations, Bannon has maintained a substantial income.
Indictment and Fraud Allegations
Steve Bannon, the well-known American political strategist and media executive, has recently faced severe legal challenges. He was indicted on charges related to the 'We Build the Wall' campaign, which aimed to raise funds for building a wall on the Mexican border.
Along with three other individuals, Bannon is accused of defrauding donors who contributed to this campaign. The allegations suggest that donations intended for constructing the wall were diverted for personal use.
These charges have sparked considerable controversy and underscored accountability's importance in fundraising efforts. This indictment serves as a reminder of the potential consequences of misusing charitable donations and highlights the complexities of political fundraising.
Read More: Hansi Flick Net Worth in 2023
Personal Life and Relationships
Steve Bannon is married to Maureen Bannon and has a family that includes his wife and children.
Steve Bannon's Wife
Steve Bannon married Diane Clohesy in 2006, but their marriage sadly ended in divorce three years later. They did not have any children during their time together. Following the divorce, Bannon married Mary Louise Piccard in 1995.
Interestingly, this second marriage occurred only a few days before Piccard gave birth to twin girls. While his personal life may be intriguing, it is important to remember that Bannon's career flourished post-divorce from Clohesy and his subsequent marriage to Piccard.
Physical Appearance and Height
Steve Bannon's physical appearance is often a topic of interest for many. Standing at 181 cm or 5 ft 11 in tall, he possesses a balanced and attractive demeanor that enhances his overall appeal.
Despite being in his sixties, Bannon maintains a youthful and handsome look. It is worth noting that his physical attributes, including height, have not been directly linked to his personal life or relationships.
These details provide insight into the external aspects of Steve Bannon's public image and contribute to the fascination surrounding him.
Notable Achievements and Controversies
Steve Bannon has had a controversial career, with several notable achievements and controversies surrounding his name. One of his most significant achievements was serving as the chief strategist and senior counselor to former President Donald Trump in 2017.
During this time, Bannon played a key role in shaping Trump's policies and messaging.
However, Bannon's tenure in the White House was not without controversy. He faced criticism for his association with far-right ideologies and nationalist movements, which some deemed divisive and harmful.
His involvement with Breitbart News, where he served as executive chairman, also caused controversy due to the site's promotion of right-wing conspiracy theories and misinformation.
In addition to his political career, Bannon has made headlines for his involvement in Hollywood film productions. Through his media company, Bannon produced documentaries that focused on conservative themes and garnered both praise and criticism.
Overall, Steve Bannon's notable achievements are intertwined with the controversies that have surrounded him throughout his career. From shaping White House policy to promoting right-wing media narratives, he has left an indelible mark on American politics but remains a polarizing figure among critics and supporters alike.
Read Also: Terrell Owens Net Worth and Full Biography
Key Takeaways from Steve Bannon's Career
Steve Bannon's career teaches us the importance of multitasking, expressing strong opinions, and having an ambitious drive for success.
Multitasking and Opinions
Steve Bannon is a man of many talents and strong opinions. Throughout his career, he has taken on multiple roles simultaneously, showcasing his ability to multitask effectively. From his successful stint in investment banking and media executive positions to being the executive chairman of Breitbart News, Bannon has proved that he can handle various responsibilities with ease.
Furthermore, he is known for expressing his controversial views openly without hesitation. This fearlessness in sharing his opinions has made him both praised and criticized by individuals across the political spectrum.
Whether you agree or disagree with him, one thing is sure – Steve Bannon is not afraid to voice what he believes in.
Speaking Up and Ambition
Steve Bannon is known for his bold and outspoken nature, never hesitating to voice his opinions. His ability to speak up fearlessly has played a crucial role in his career trajectory.
Bannon's ambition is evident in every step he has taken, whether building Breitbart News or working as an executive chairman. He did not shy away from pushing boundaries and challenging the status quo within the media landscape.
This determination and drive have propelled him forward, allowing him to become a prominent figure in American politics and media.
Success Bug Mentality
One key aspect of Steve Bannon's career is his success bug mentality. Throughout his investment banking, media, and politics journey, Bannon has consistently shown a relentless drive for success.
He is known for seizing opportunities and pushing boundaries to achieve his goals.
This success bug mentality can be seen in Bannon's rise to power as the executive chairman of Breitbart News, where he transformed the once-obscure site into a major force in conservative media.
He then became a key figure in President Trump's election campaign and served as Chief Strategist in the White House.
Despite facing setbacks and controversies, including his indictment and fraud allegations, Bannon's net worth remains substantial at around $20 million as of May 2023.
This financial standing reflects his ability to generate wealth and his unwavering determination to succeed against all odds.
Also Read: Brett Favre's Net Worth in 2023
Final Words
In conclusion, Steve Bannon's journey from investment banking to media executive and his subsequent foray into politics has brought him fame and notoriety. His net worth of $55 million showcases his financial success, while his involvement in various controversies has shaped public perception of him.
Despite the ups and downs, Bannon continues to make headlines with his multifaceted career and ambition. Whether you agree with him or not, there is no denying that Steve Bannon has left an indelible mark on American politics and media.
Frequently Asked Questions (FAQs)
Check some commonly asked questions on Steve Bannon net worth here.
1. What is Steve Bannon's net worth?
As of [current year], Steve Bannon's net worth is around [estimated net worth]. Please note that net worth figures can fluctuate over time due to changes in investments and other financial factors.
2. How did Steve Bannon accumulate his wealth?
Steve Bannon has accumulated wealth through various ventures, including his work as a media executive, political strategist, and filmmaker. He was the executive chairman of Breitbart News and served as the chief strategist for President Donald Trump's administration.
3. Can you provide a brief biography of Steve Bannon?
Steve Bannon is an American media executive and political strategist born on [birthdate]. He gained attention for his work at Breitbart News, a right-wing news organization, where he served as the executive chairman. He later joined Donald Trump's presidential campaign in 2016 and became one of Trump's closest advisors during his presidency.
4. Are there any controversies associated with Steve Bannon?
Yes, there have been several controversies surrounding Steve Bannon throughout his career. Some critics have raised concerns about the editorial content published by Breitbart News under his leadership, claiming it promotes far-right ideologies. Additionally, he faced legal charges related to fundraising efforts for a border wall project called "We Build The Wall," although federal prosecutors later dropped these charges.
Subscribe to Our Latest Newsletter
To Read Our Exclusive Content, Sign up Now.
$5/Monthly, $50/Yearly