Men's 80s Outfits – Latest Insights and Style Tips!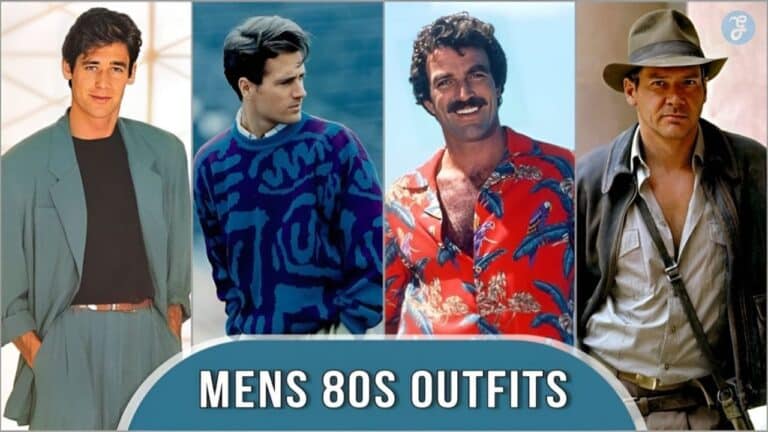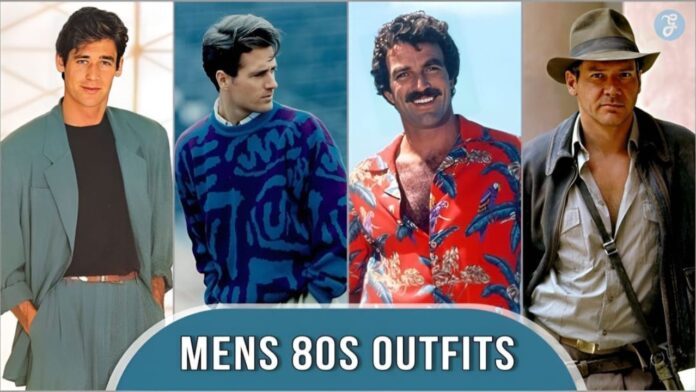 Feeling nostalgic about the men's 80s outfits or curious to incorporate some vintage style into your modern wardrobe? You're not alone, as many fashion-forward men in 2023 are turning back time.
This article is packed with tips and tricks to help you navigate the key fashion trends from this unforgettable era, seamlessly merging them with today's best styles. Let's embark on a stylish journey with the mens 80s outfits through time!
Content Highlights
The 80s fashion trends for men included relaxed tailoring, preppy style, hip-hop influences, double denim, bomber jackets, Hawaiian prints, baggy jeans, tracksuits, neons, and retro sneakers.

You can incorporate 80s fashion into your wardrobe in 2023 by mixing and matching with modern pieces, choosing statement accessories like metallic accents or colorful pops of color, experimenting with bold colors like neon green and hot pink,
Iconic 80s fashion brands to look out for include Ralph Lauren (known for preppy styles), Calvin Klein (famous for its minimalist aesthetic and designer underwear), Versace (renowned for glamorous creations), and Adidas (associated with Hip Hop and basketball).
Key 80s Fashion Trends for Men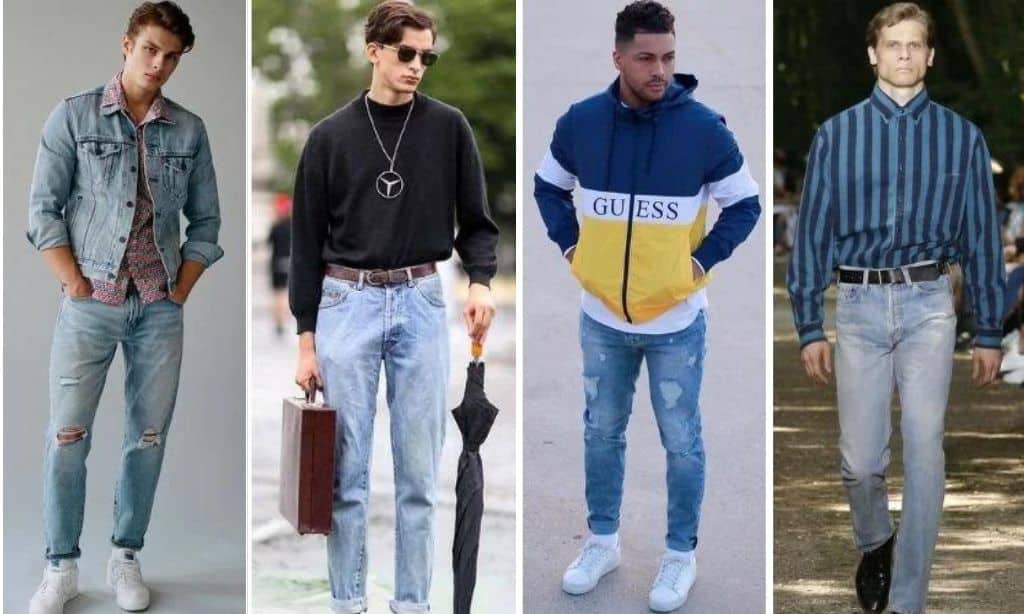 Men in the 80s embraced relaxed tailoring, preppy style, hip-hop influences, double denim, bomber jackets, Hawaiian prints, baggy jeans, tracksuits, neons, and retro sneakers.
Relaxed Tailoring
In the 1980s, menswear saw a shift towards relaxed tailoring. This trend veered from traditional stiff and restrictive cuts to favor looser fits and lighter fabrics. Miami Vice-style outfits exemplified this approach with their comfortably draped suits made for cruising the beachfront or navigating a bustling office in style.
The boxier cuts characteristic of this period signaled a departure from form-fitting silhouettes, making way for casual elegance that effortlessly bridged work-life balance during the decade.
Fast forward to today, renowned fashion houses are reclaiming relaxed tailoring, fusing it with modern trends to create innovative yet nostalgic, stylish, and comfortable pieces.
Preppy Style
The preppy style stood out as a definitive mens 80s outfit. It championed clean lines, classic patterns, and an all-around polished appearance. This look commonly incorporated elements such as argyle sweaters, chino pants, button-down shirts in crisp white or pastel shades, and loafers or boat shoes.
Currently enjoying a resurgence, the modern interpretation of the preppy style retains its roots while embracing current fashion trends. Original components like polo shirts and penny loafers still hold their place but are often integrated with contemporary pieces for a fresh twist on this vintage aesthetic.
Ivy League affiliations aren't necessary to sport this look; anyone appreciating timeless elegance can embrace the preppy style effortlessly.
Hip Hop Influences
Hip-hop culture made a bold statement in the 80s, stamping an indelible mark on men's fashion. From its humble beginnings in New York, hip-hop quickly became a global phenomenon that transformed music and style.
Throughout this era, famous rappers like Run-D.M.C became trendsetters and played pivotal roles in popularizing oversized and baggy jeans – a stark departure from the previously favored tight-fitting denim.
The influence didn't stop at just pants; wide-leg jeans or 'baggy' styles became emblematic attire of men's 80s outfits within the hip-hop community. Despite decades since these trends first emerged, their impact endures with modern designers regularly revisiting classic elements of hip-hop-influenced fashion for inspiration.
Double Denim
Double denim was a popular fashion trend in the 1980s, where individuals wore denim tops and bottoms. Acid-wash jeans were particularly popular during this time. In 2023, double denim is making a comeback as a versatile style that can be dressed up or down.
This trend is closely associated with key 80s fashion trends for men and offers an effortless yet stylish look. Whether you opt for a classic blue denim pairing or experiment with different washes and colors, double denim allows you to embrace the nostalgia of the 80s while still staying on-trend.
Bomber Jackets
Bomber jackets were a popular fashion trend for men in the 80s. They were associated with "bad boys" and rogue bikers, but anyone could wear them as everyday clothing. These versatile and stylish jackets can be worn in transitional and cold weather.
Tom Cruise's character in Top Gun made bomber jackets even more popular, adding to their iconic status. Also known as flight jackets, they remain a classic choice that adds a cool edge to any outfit.
Hawaiian Prints
The Hawaiian print, known as the "Aloha shirt," was a major trend in men's 80s fashion. These prints brought a fun and tropical vibe to casual outfits, making them stand out in a crowd.
With their vibrant colors and bold patterns, Hawaiian prints were considered a statement-making choice for men who wanted to showcase their unique style. Fast forward to 2023, and Hawaiian prints are still cool and on-trend.
They have made a comeback in recent years and continue to be popular among those seeking a retro-inspired look. So if you want to add some flair to your wardrobe, consider incorporating Hawaiian prints into your outfits for that effortlessly stylish touch.
Baggy Jeans
Baggy jeans were a popular fashion trend for men in the 80s. These wide-leg jeans, also known as baggy pants, became increasingly fashionable. They featured a yoke front design on the waistband inspired by Western wear.
Many of these jeans also had cargo pockets added to them. Baggy jeans were often paired with other iconic 80s fashion trends like leather jackets, gold chains, and band t-shirts.
Tracksuits
Tracksuits were a major fashion trend for men in the 80s. Made from materials like nylon, velour, cotton fleece, or polyester, these outfits were often brightly colored and featured bold patterns.
Coordinating tracksuit sets were a popular choice back then. Nowadays, tracksuits continue to be worn by both athletes and those looking to make a fashion statement.
Neons
Neon clothing was a major trend in the 1980s and is now back in 2023. These bright, vibrant colors symbolized hope and a new mood. Wearing neon clothes allowed individuals to make a statement and show they were part of the fashion trend.
Neon colors weren't just limited to clothing; they could also be seen on billboards and theater signs throughout the 80s. If you want to embrace the spirit of this iconic era, incorporating neons into your outfits is a must!
Retro Sneakers
Retro sneakers are a key 80s fashion trend for men that will continue to be popular in 2023. These classic kicks add a touch of nostalgia and style to any outfit. From iconic brands like Adidas and Nike, retro sneakers bring back the timeless charm of the 1980s.
The article suggests retro-futuristic silhouettes with bold colors inspired by the 00s are trending in sneaker fashion. The best part is that you can easily incorporate these retro sneakers into modern outfits, pairing them with jeans and a t-shirt for a casual look or tailored trousers for a more polished ensemble.
So go ahead and step back in time with these stylish throwback shoes!
Mens 80s Outfits: How to Incorporate in 2023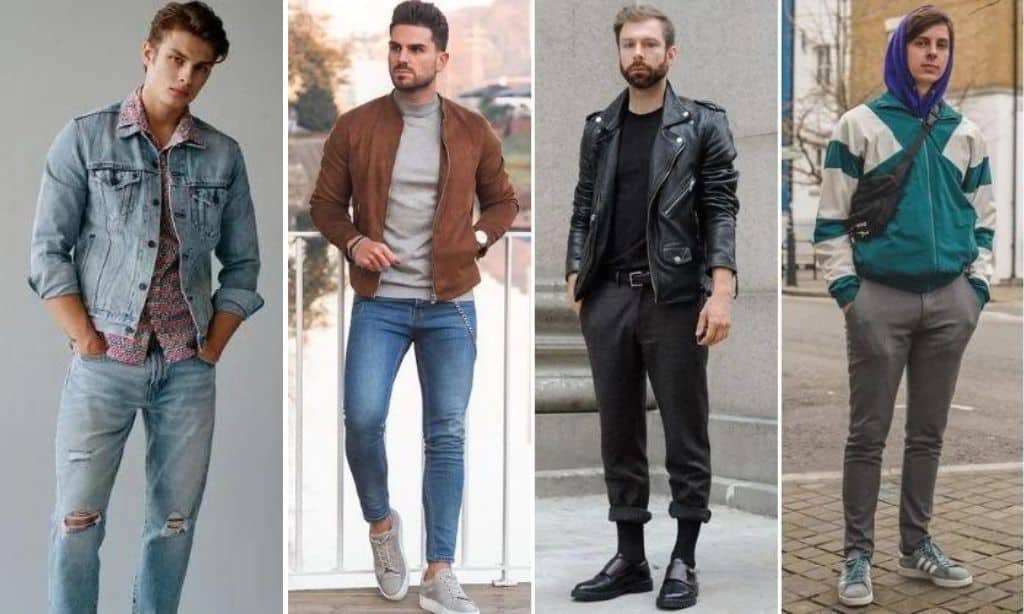 To incorporate 80s fashion trends into your wardrobe in 2023, try mixing and matching them with modern pieces. This allows you to create a unique and contemporary look while still nodding to the iconic styles of the past.
Pair an oversized blazer from the 80s with a fitted graphic tee, or combine baggy jeans with a sleek button-down shirt. Experimenting with different textures, patterns, and colors can bring new life into classic 80s pieces.
Don't be afraid to layer bold prints or accessorize with statement jewelry for a truly eye-catching outfit that seamlessly blends retro and modern elements.
Choose Statement Accessories
Statement accessories are a key trend in 2023 fashion, taking inspiration from the bold and vibrant styles of the 80s. These accessories are bold focal points to enhance your outfit and make a statement.
Metallic accessories like bags and boots, popular in the 80s, are predicted to be a spring trend in 2023. So, don't be afraid to add shine with metallic accents or opt for colorful accessories that pop.
In this fashion comeback, it's all about expressing your individuality and embracing the adventurous spirit of the 80s through your choice of statement accessories.
Experiment With Bold Colors
Bold colors from the 80s are making a major comeback in 2023 fashion trends. This vibrant and eye-catching style inspires men to step outside of their comfort zones and experiment with bold hues like neon green, electric blue, and hot pink.
Whether it's through statement pieces or daring color combinations, incorporating bold colors into your outfits can instantly add a retro touch to your look. Not only will you stand out from the crowd, but you'll also embrace the confidence and fearless attitude that defined 80s fashion.
So don't be afraid to mix and match different shades, try out color-blocking techniques, or even rock head-to-toe monochromatic ensembles – just let your imagination run wild!
Embrace Oversized Silhouettes
Incorporating the 80s fashion trend into your wardrobe in 2023 means embracing oversized silhouettes. Think big sweaters, baggy trousers, and voluminous blazers to achieve that stylish retro look.
These oversized pieces are trendy and provide a comfortable and relaxed feel. Whether going for a casual everyday outfit or dressing up for a night out, opting for larger sizes will give you that authentic 80s vibe.
So don't be afraid to go big with your fashion choices this year!
Related Read: The Ultimate Guide to Women's 80s Outfits in 2023!
Iconic 80s Fashion Brands to Look Out
Iconic 80s fashion brands to look out for include Ralph Lauren, Calvin Klein, Versace, Adidas, and Nike.
Ralph Lauren
Ralph Lauren is an iconic fashion brand that became popular in the 80s and continues to be a staple today. Known for their preppy style, Ralph Lauren's clothing line included polo shirts, chinos, Harrington-style jackets, and jumpers worn loosely over the shoulders.
The brand's classic menswear styles, like blazers and button-down shirts, were embraced by American designers during this era. In fact, there was even a gang in Brooklyn that had a reputation for collecting Ralph Lauren clothing in the late 80s.
With its timeless designs, Ralph Lauren remains a go-to choice for those looking to incorporate the 80s fashion trends into their wardrobe.
Calvin Klein
Calvin Klein emerged as an iconic fashion brand in the 1980s. Known for its minimalist aesthetic and sensual imagery, Calvin Klein became famous for its designer underwear and denim lines during this time.
The brand introduced fashionable underwear options for both men and women, quickly gaining popularity. Today, Calvin Klein continues to specialize in mass-market ready-to-wear clothing for all genders, offering stylish and sophisticated designs that many love.
Versace
The iconic Italian fashion designer Versace was renowned for his daring and glamorous creations in the 80s and 90s. With a focus on power furs, leather, and shiny fabrics, Versace's designs exuded confidence and luxury.
In 1978, he launched his first clothing line in Milan, Italy, marking the beginning of his successful career. Today, Versace is an internationally recognized luxury fashion house that offers a wide range of products including accessories, fragrances, makeup, home furnishings, and clothes.
Adidas
Adidas, a sportswear giant with a rich history in the industry, is often associated with Hip Hop and known for its innovations in basketball. In the 80s, Adidas sneakers, especially those without laces, were incredibly popular.
The brand has also collaborated with iconic 80s fashion brands over the years. Consumers can find Adidas products at various retail locations, making it easily accessible for anyone looking to incorporate this classic brand into their 80s-inspired outfits.
Nike
Nike, a renowned brand in the world of sports and fashion, is closely associated with iconic 80s fashion trends for men. This brand made its mark during that era and continues to do so today.
One notable example of Nike's connection to the 80s is seen in the film "Air," where costumes featuring Nike products took us back in time. Nike stands out among its competitors because of its high-performance marketing and strong brand building.
The Air Jordan 1 'Chicago' is a perfect example of how Nike reimagines their classic designs from the 80s, paying homage to the original AJ1 released in 1985. With its success and innovation, Nike remains a staple choice when it comes to sporting an authentic 80s look.
Styling Tips for 80s-Inspired Outfits
Layer different clothing pieces to create a bold and eclectic look. Tuck in your shirt, roll up your sleeves, and add a statement belt for an extra touch of 80s style.
Layering
Layering is a key styling technique when it comes to creating 80s-inspired outfits for men. It not only adds depth and visual interest to your look, but it also allows you to mix and match different pieces in order to create unique ensembles.
By layering clothes, you can easily experiment with different textures, patterns, and colors while also adapting your outfit to changing weather conditions. Whether pairing a graphic tee with a bomber jacket or adding a denim shirt over a printed button-down, layering is an essential tool for channeling the spirit of 80s fashion in 2023.
Tucking in Shirts
Tucking in shirts was a significant aspect of 80s men's fashion, and it remains relevant today. It adds a polished and put-together look to any outfit. To achieve this style, opt for a full tuck with a culotte, wide-leg, or trouser-style bottoms.
This creates clean lines and highlights the waistline. However, leaving your shirt untucked is also an option if you prefer a more casual vibe. So go ahead and experiment with tucking in shirts to elevate your 80s-inspired outfits and make a stylish statement.
Rolling Up Sleeves
Rolling up sleeves was a popular styling tip in 80s fashion for men. It was associated with a cool and on-trend look. Men often rolled up the sleeves of their button-down shirts layered over knit shirts, creating a casual and relaxed vibe.
Rolling up sleeves was commonly paired with denim and sneakers, adding to the overall laid-back aesthetic of 80s outfits.
Adding Statement Belts
Statement belts were a popular accessory in the 1980s, and they are coming back in 2023. These belts are known for their bold designs, loud colors, and unique buckles. Adding a statement belt is a simple way to try out the 80s trend and add flair to any outfit.
Whether you're wearing jeans or another type of bottoms, a statement belt can instantly elevate your look and show off your personality. It's an easy way to make a fashion statement without going overboard.
So go ahead and add some excitement to your wardrobe with a stylish statement belt!
Top Vintage Stores to Shop for 80s Fashion
Goodwill, thrift stores, and online vintage retailers are great options for finding 80s fashion pieces.
Goodwill
Goodwill stores are a treasure trove for finding the best deals and vintage items at unbeatable prices. With locations in NYC renowned for their vast selection, you'll need to roll up your sleeves and dig through the racks to uncover hidden gems.
Former thrift store employees recommend visiting on days when new stock is put out, ensuring you have first access to fresh finds. Not only do Goodwill and other thrift stores offer incredible bargains, but they also play a pivotal role in changing the perception of buying used clothes.
Thrift Stores
Thrift stores have been around since the 1950s and have become popular for fashion lovers looking for unique, vintage clothing. These stores cater to high-end clientele and offer a wide range of items at affordable prices.
With the rise of fast fashion, thrift stores have faced challenges recently, but they remain an important part of the secondhand scene. Cities like San Francisco and Los Angeles are known for their thriving vintage clothing shops, offering a treasure trove of options for those seeking 80s-inspired outfits.
Whether you're searching for that perfect bomber jacket or baggy jeans, thrift stores are worth exploring.
Online Vintage Retailers
Plenty of online vintage retailers cater to fashion enthusiasts looking for 80s-inspired outfits. These retailers offer a wide range of clothing from different eras, including the 1980s.
Some popular options include Depop, Unique Vintage, and Vogue's recommended list of the best places to shop vintage online. Whether searching for a specific brand or a unique piece, these online stores provide a convenient way to explore and purchase retro styles without leaving your home.
Plus, many offer size-inclusive options and provide tips on building your vintage brand if you're interested in selling vintage clothing.
Don't underestimate the power of online vintage retailers when finding authentic and stylish 80s fashion pieces. With just a few clicks, you can discover hidden gems and add retro flair to your wardrobe.
Celebrity Style Inspiration from the 80s
Michael Jackson, Prince, Madonna, and Tom Cruise were iconic celebrities who influenced 80s fashion with their bold and eccentric style choices.
Michael Jackson
Michael Jackson, one of the most iconic figures in music history, significantly influenced fashion trends of the 80s. His signature style included bold choices like trophy jackets that inspired many during that time.
In addition to his musical talent, Jackson set an incredible 39 Guinness World Records, showcasing his immense impact and popularity. Beyond fashion and music, he also influenced cultural studies in celebrity studies, visual culture, and gender and sexuality studies.
Furthermore, Jackson was known for using his music to fund various charitable causes by organizing concerts. Even today, designers still draw inspiration from Michael Jackson's fashion choices, particularly in menswear.
Prince
Prince, the legendary musician and style icon, significantly influenced fashion in the 80s. His androgynous style and unique fashion choices inspired designers like Versace, Justin Bieber, and Matthew Williamson.
Known for his flamboyant stage presence, Prince's iconic fashion moves and outfits remain a major inspiration for fashion enthusiasts today. Prince's distinctive personal style made a lasting impact, from his signature dancing curls to his high-stacked heels.
Challenging traditional fashion norms with gender-bending outfits, he played a pivotal role in changing the face of fashion during that era.
Tom Cruise
The iconic Hollywood actor Tom Cruise was known for his impeccable fashion choices during the 1980s. He favored basics such as dark jeans and simple shirts, which became staples of his signature style.
Tom Cruise's fashion choices in the 80s included other classic pieces that showcased his clean-cut good looks and timeless charm. While the 90s saw a shift in fashion trends, it was during the 80s that Tom Cruise truly made a mark with his iconic sense of style.
Latest Updates in 80s Fashion Trends for Men
Revamped Canadian tuxedos are making a comeback, with denim jackets and jeans in matching washes being paired together for a bold and cohesive look.
Revamped Canadian Tuxedos
Revamped Canadian tuxedos are considered one of the best 80s fashion trends for men that are still cool in 2023. The Canadian Tux, also known as double denim, was a popular outfit choice for men during the 80s.
It's all about wearing denim from head to toe – think jeans paired with a denim jacket or shirt. In recent years, this iconic look has been updated with new cuts, colors, and washes.
Whether you opt for a classic blue denim combo or experiment with different shades and textures, rocking a revamped Canadian tuxedo will make a stylish statement in any casual setting.
Bold Patterns and Prints
The 1980s were known for their bold and vibrant fashion choices, and men's outfits were no exception. Bold patterns and prints were a key element of 80s fashion trends, allowing men to express their individuality and make a statement with their clothing.
From geometric designs to polka dots, these eye-catching patterns brought a fun and energetic vibe to menswear during this era. Whether it was on shirts, pants, or even accessories like ties or socks, bold patterns, and prints added an extra layer of flair to any outfit.
These iconic 80s patterns are returning in contemporary fashion as designers draw inspiration from the past while putting their modern spin on it. So if you want to add excitement to your wardrobe, don't be afraid to embrace bold patterns and prints just like they did in the raddest decade ever!
Statement Jewelry
Statement jewelry is a key element in the latest updates of 80s fashion trends for men in 2023. It adds a bold and eye-catching touch to any outfit, allowing you to make a statement and express your style.
Popular options include bold pendants with mixed metals from designers like John Atencio, incorporating leather and colored gemstones into their designs. Timeless pieces such as pearl studs, drop styles, and hoop earrings are also chic and sophisticated choices.
Chunky statement pieces like gold tank bracelets and door-knocker style earrings are on-trend for those looking for a more vintage vibe. So don't be afraid to accessorize with striking jewelry to elevate your 80s-inspired look!
Acid Wash Denim
Acid-wash denim was a popular trend in the 1980s and 1990s. Inspired by surfer culture, these jeans have a faded and distinctive pattern created by applying bleach or acid to the fabric.
Acid wash denim is predicted to come back in 2023, offering a way to tap into the 80s trend in menswear. So get ready to rock this retro style and stand out from the crowd with your acid-wash jeans!
How to Dress for Different Occasions with 80s Fashion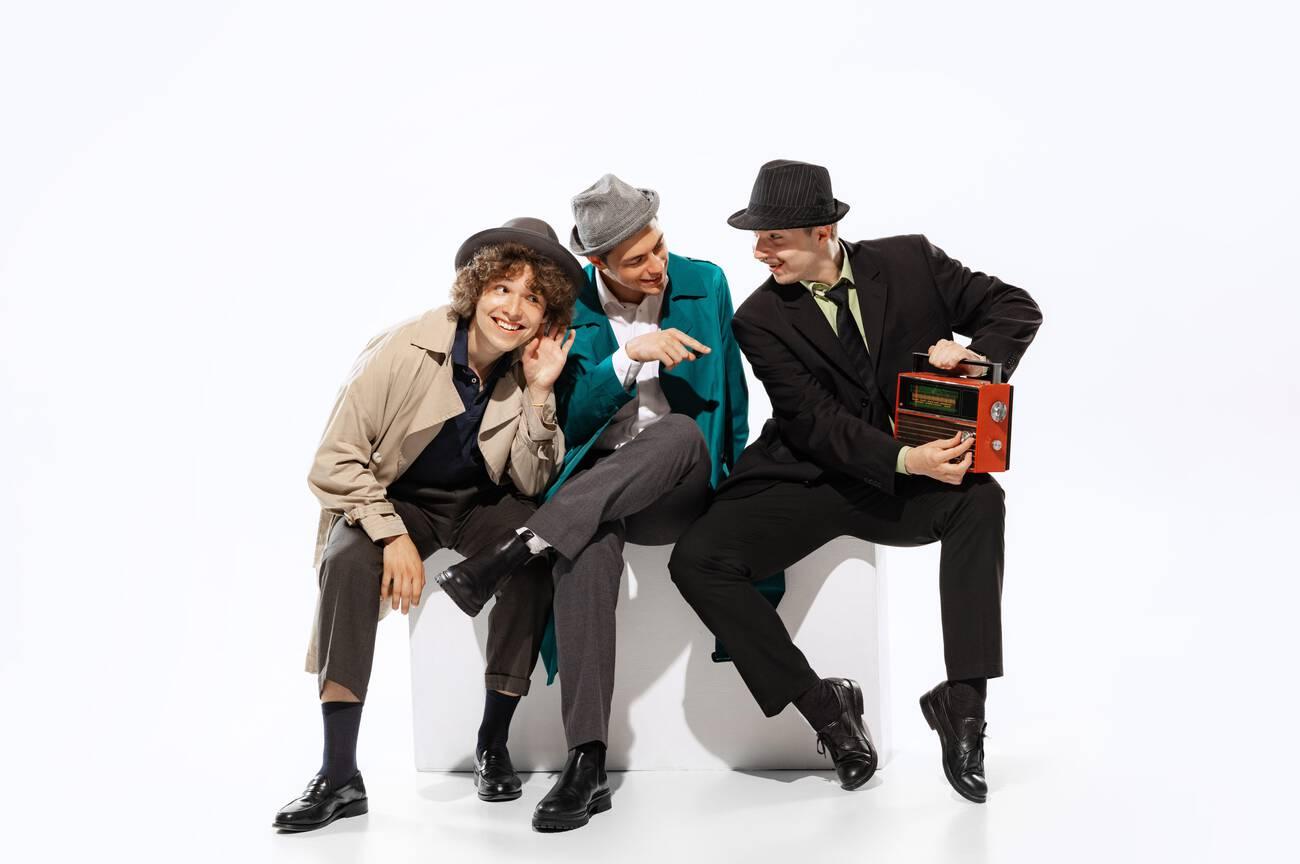 Rock an 80s-inspired look for any occasion and stand out from the crowd with your bold fashion choices.
Casual Everyday Looks
Men looking to incorporate 80s fashion into their everyday outfits can opt for casual yet stylish looks. One popular choice is to pair a relaxed-fit bomber jacket with a graphic t-shirt and baggy jeans.
This combination gives off a cool, retro vibe while still being comfortable and easy to wear. Hawaiian prints are another trendy option for casual everyday looks inspired by the 80s.
By wearing a Hawaiian print shirt with shorts or rolled-up chinos, men can add a touch of fun and nostalgia to their outfits. Tracksuits are also making a comeback as an athleisure staple, perfect for those seeking both comfort and style in their daily ensembles.
Party and Nightlife Outfits
80s fashion for men wasn't just about casual wear; it included party and nightlife outfits influenced by power dressing and punk rock. These looks incorporated bold colors, statement accessories, and edgy silhouettes to make a lasting impression on the dance floor.
Think oversized blazers with shoulder pads, leather jackets, skinny ties, and slim-fit pants in vibrant hues. Celebrities like Prince and Madonna were known for their daring ensembles during this era, inspiring those looking to create their own stylish party looks.
So whether you're headed to a retro-themed party or hitting the town for a night out, embrace the spirit of the 80s with your attire.
80s-Inspired Formalwear
The 80s were known for their bold and luxurious fashion trends, and formal wear was no exception. Men in the 80s often paired nicer suits with simple t-shirts or turtlenecks, creating a unique blend of casual and classy.
Power dressing was also popular during this time, with men confidently donning suits that exuded authority. The distinct aesthetic of brightly-colored geometric prints that defined 80s formal wear is coming back in 2023 style trends, proving that this iconic look is still timeless today.
Whether you're attending a special event or simply want to make a statement, embracing 80s-inspired formalwear can give you a cool and on-trend look that pays homage to this influential decade in fashion history.
Frequently Asked Questions (FAQs)
If you have queries on men's 80s outfits, you can check the answers of some commonly asked questions below.
1. What are some popular trends for men's 80s outfits in 2023?
Some popular trends for men's 80s outfits in 2023 include neon colors, oversized blazers, acid wash jeans, graphic tees, and statement accessories like fanny packs and snapback hats.
2. Where can I find authentic vintage clothing from the 80s?
You can find authentic vintage clothing from the 80s at specialty thrift stores, online marketplaces like Etsy or eBay, or through dedicated vintage clothing websites that curate collections from various sellers.
3. Can I incorporate elements of 80s fashion into my everyday wardrobe without looking outdated?
Absolutely! You can incorporate elements of 80s fashion into your everyday wardrobe by pairing a single retro piece with modern basics. For example, you could wear an oversized denim jacket, plain t-shirt, and contemporary jeans to achieve a fashionable yet timeless look.
4. Are there any specific hairstyles that complement men's 80s outfits?
While there is no one-size-fits-all answer to this question, some popular hairstyles that complement men's 80s outfits include mullets, spiked hairdos with excessive hairspray or gel, and side-swept bangs with longer layers on top. Experimenting with different styles can add an extra touch of authenticity to your overall look.
Subscribe to Our Latest Newsletter
To Read Our Exclusive Content, Sign up Now.
$5/Monthly, $50/Yearly