Get Ready to Rock the Retro Look: The Ultimate Guide to Women's 80s Outfits in 2023!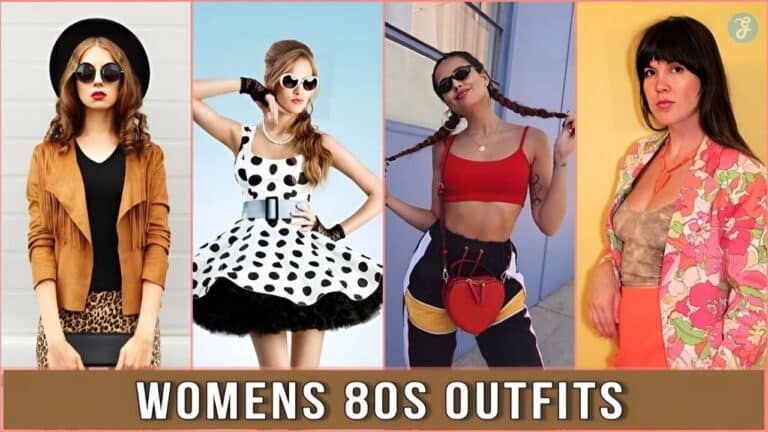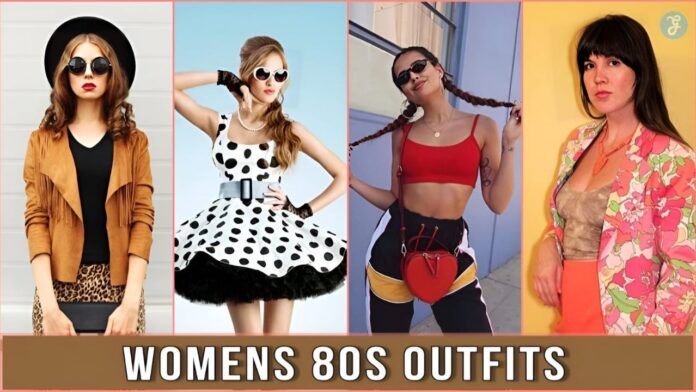 The 80s fashion trends are back with a bang in 2023, and you may be wondering how to pull off this iconic look. Bright colors, oversized blazers, and acid-washed jeans were all staples of the 1980s wardrobe that are making a stylish comeback today.
In this blog post, we will dive into the top women's '80s outfits trending in 2023, from power suits to mom jeans, and provide practical tips on incorporating these retro pieces into your contemporary style.
Read on for flashbacks and fashion inspiration!
Content Highlights
Oversized blazers, acid-washed jeans, power suits, leg warmers, polka dots, metallic clothing, mom jeans, denim jackets, bold accessories, and off-the-shoulder tops are all popular 80s fashion trends making a comeback in 2023.

Celebrities like Beyoncé, Harry Styles, and Kim Kardashian embrace 80s fashion with their outfit choices and inspire others to do the same.

Occasions such as 80s-themed parties, music festivals, and casual outings are perfect for embracing the vibrant and playful spirit of 1980s fashion.
Womens 80s Outfits: Trends Making a Comeback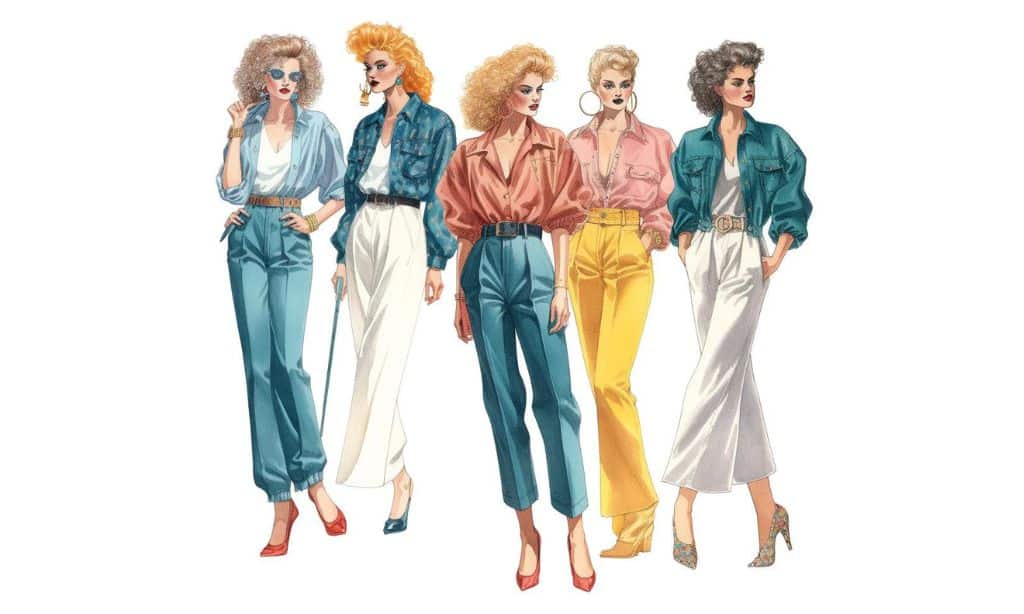 Oversized blazers, acid-washed jeans, power suits, leg warmers, polka dots, metallic clothing, mom jeans, denim jackets, bold accessories, and off-the-shoulder tops are all popular 80s fashion trends making a comeback in 2023.
Oversized Blazers
Oversized blazers are back on the fashion front, taking inspiration from the 80s. These vintage pieces serve as a functional layer and add elegance and style to any outfit.
The trend is gaining momentum due in part to popular Netflix shows like "Stranger Things," which feature these iconic pieces prominently. Fashion stylist Christina Jaide mentions oversized blazers with shoulder pads as her favorite 80s comeback trend.
This resurgence of classic styles reflects how modern fashion continues to draw upon nostalgic elements while incorporating fresh interpretations for today's world.
Acid-Washed Jeans
Acid-washed jeans, a staple of 80s fashion, are making a significant comeback in today's style trends. Known for their distinct faded and distressed appearance, these denim pants became hugely popular in the era of rock and roll.
The unique manufacturing process, which involves soaking denim in acid solutions, gives them an edgy appeal that further complements their retro charm.
In 2023, fashion predictions expect to see acid-washed jeans dominating wardrobes again. Style influencers and celebrities continue reviving this classic look on platforms like Instagram posts and red-carpet events.
As part of women's 80s outfits resurgence trend, these jeans pair excellently with modern clothing elements bringing back the nostalgia rooted in 80s culture vibrantly alive.
Power Suits
Power suits of the '80s are storming back on the fashion scene in 2023, adding an element of strength and sophistication to many women's outfits. Specifically tailored for women, these power suits feature padded shoulders, lending an aura of authority and a stylish touch.
They have evolved as a symbol of female empowerment—a testament to the bold and independent woman. The trend is shifting towards bold, bright colors that turn heads whenever you enter a room.
Complementing this vibrancy, metallic fabrics enhance the glamour quotient of power suits, making them an even more desirable part of your wardrobe this year.
Leg Warmers
Leg warmers, created for dancers in the 80s, are making a big comeback as a popular fashion trend in 2023. These cozy accessories can be incorporated into the ballet core trend that is currently popular.
In the 80s, they were often worn over leggings or tights during the fitness craze. Surprisingly revived as a fashion statement in 2022, leg warmers are a fun and stylish way to add retro flair to your outfit.
Polka Dots
Polka dots were a popular pattern in 80s fashion, and they are making a stylish comeback in 2023. This classic print is perfect for the warm weather seasons, adding a touch of playfulness to any outfit.
For this year, polka dots have been given a sophisticated update, with designers like Saint Laurent and Halpern embracing them as one of the biggest prints for 2023. So whether you're rocking a polka dot dress or incorporating this pattern through accessories, get ready to make a bold statement with this timeless trend.
Read More: The Y2K Fashion Trends Still Going Strong in 2023!
Metallic Clothing
Metallic clothing is returning in 2023 as part of the popular 80s fashion trends revival. Expect metallic fabric, such as in pants, jackets, and tops, to become a key element of style influenced by the 1980s.
From metallic dresses and tops to bags and boots, all these pieces that were once popular in the 80s are expected to dominate the fashion scene this year. Designers are reimagining 1980-style clothes with metallic work by incorporating flowy skirts, sequins, and new-age fabrics like metallic chenille.
Alongside other trends like denim on denim and oversized blazers, statement-making metallic clothing is back in style for those who want to make a bold fashion statement.
Mom Jeans
Mom jeans, a popular 80s, and 90s fashion trend, have returned in recent years. These jeans were favored by women seeking comfort and practicality. However, they fell out of favor for a while as skinny jeans took center stage.
Now, mom jeans are seen as cool and trendy once again. This revival showcases how fashion trends often cycle back into popularity, with styles from the past being embraced by new generations.
Mom jeans are just one example of how old-fashioned looks can become fashionable again in today's ever-changing world of style.
Denim Jackets
Denim jackets will remain popular in 2023, with the denim-on-denim trend taking center stage. These timeless pieces from the 80s fashion style are being paired with jeans for a cool and casual look.
Acid wash and distressed styles of denim jackets are particularly trendy, adding a touch of edginess to any outfit. Whether you're going for a retro vibe or just looking for a versatile jacket to wear year-round, denim jackets are a must-have staple that never goes out of style.
So go ahead and rock this classic piece with confidence!
Bold Accessories
Bold accessories from the popular 80s fashion era are returning in 2023. Metallic dresses, tops, bags, and boots are considered one of the flashiest new trends for spring 2023.
Additionally, this year, bold and bright colors and polka dots are in demand for 80s fashion trends. Stylists are embracing oversized blazers and power suits as part of the 80s fashion revival in 2023.
So if you want to rock an authentic 80s look, don't forget to accessorize boldly!
Off-the-Shoulder Tops
Off-the-shoulder tops are back in style and key to the popular 80s fashion trends coming back in 2023. These trendy tops were all the rage back then and have returned with a vengeance.
They effortlessly combine style and femininity by exposing just the right amount of skin. Off-the-shoulder tops can be paired with anything from jeans to skirts, making them versatile and perfect for any occasion.
They add a touch of glamour to your outfit and flatter your shoulders and collarbone, giving you an elegant and sophisticated look. So go ahead and embrace this fabulous trend that is sure to turn heads wherever you go.
Off-the-shoulder tops have made such an impact that even top designers are incorporating them into their collections for Paris Fashion Week Fall/Winter 2023 runway shows. These tops perfectly embody the strong shoulder trend from the 80s, adding drama and flair to any ensemble.
Celebrities and Influencers Embracing 80s Fashion in 2023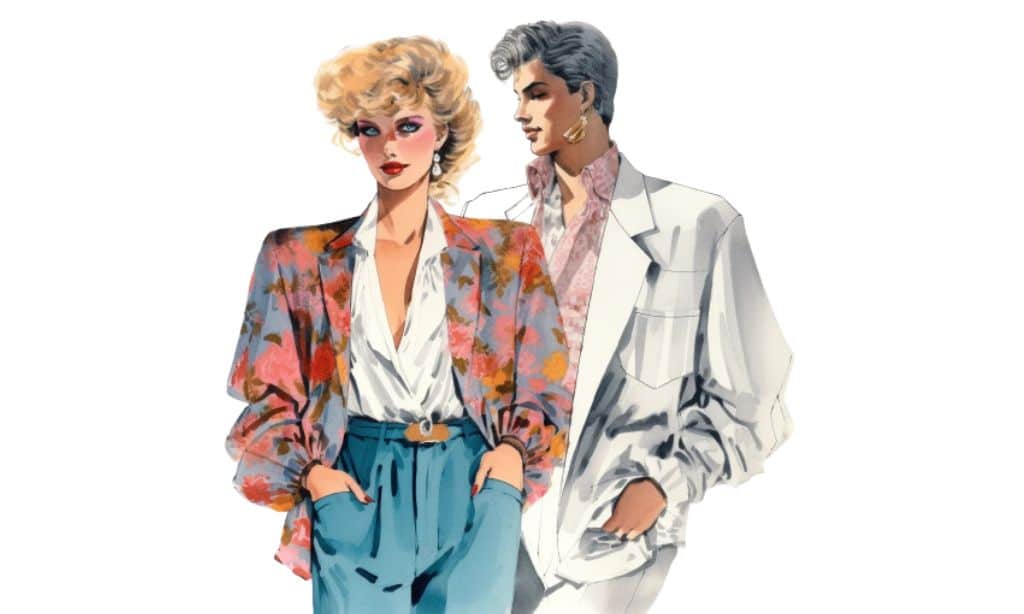 Celebrities like Beyoncé, Harry Styles, and Kim Kardashian are embracing 80s fashion with their bold outfit choices, inspiring others to do the same. Read on to discover how to incorporate these trends into your wardrobe.
Beyoncé
Beyoncé, one of the most influential artists of 2023 according to Rolling Stone, is embracing 80s fashion in her wardrobe for the Renaissance tour. Her outfits have been styled by renowned fashion experts Turini, Moody, and Sarr-Jamois.
With Beyoncé leading the way, it's clear that 80s fashion trends are making a big comeback this year. Fans and fashion enthusiasts alike can draw inspiration from her tour outfits and incorporate these iconic styles into their wardrobes.
Harry Styles
Harry Styles, the popular singer and fashion icon, is embracing 80s fashion in 2023. Known for his bold and eclectic style, he has been spotted wearing oversized blazers, acid-washed jeans, and off-the-shoulder tops reminiscent of the 80s.
With his daring choices and innovative combinations, Harry Styles is leading the way in returning these iconic trends from the past. Harry Styles inspires fashion enthusiasts with his unique take on 80s fashion, whether on stage or off-duty.
Kim Kardashian
Kim Kardashian, a prominent figure in the fashion industry, has been at the forefront of embracing 80s fashion in 2023. Known for her trendsetting style, she has been seen rocking the hottest bangs trend of this year.
Kim recently made headlines as she officiated Lukas Gage's wedding, showcasing her influence and involvement in the industry. In a Skims shoot last year, Kim sported an 80s-inspired look with her blonde hair and a new haircut, further solidifying her status as a fashion icon.
With her expertise in lingerie and underwear as outerwear trends, Kim continues to push boundaries and inspire others to incorporate 80s fashion into their wardrobes.
Occasions to Dress Up with 1980s Fashion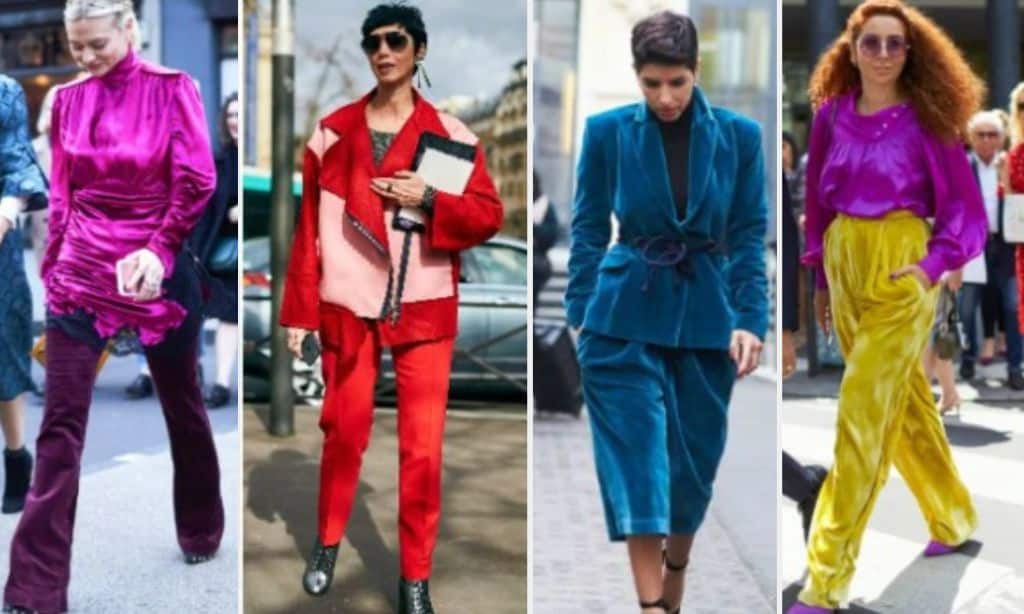 80s-themed parties, music festivals, and casual outings are perfect occasions to embrace the 1980s fashion trends.
80s Themed Parties
80s-themed parties are popular for people to dress up in 1980s fashion and blast. These parties allow individuals to channel their inner Madonna or Michael Jackson, embracing iconic trends from the era.
From big hair and bold makeup to neon colors and flashy accessories, everyone can let loose and enjoy the nostalgia of the 80s. So if you're looking for a fun event where you can rock leg warmers, acid-washed jeans, and oversized blazers without judgment, an 80s-themed party is the perfect excuse to go all out with your outfit.
Music Festivals
Music festivals are a perfect opportunity to showcase your love for 80s fashion. This year, ruffles are making a comeback in a big way, especially when it comes to festival fashion.
Whether you're rocking a ruffled top or adding some flair with ruffled details, this trend will make you stand out in the crowd. Alongside ruffles, other 80s staples like acid-washed jeans, oversized blazers, and statement socks also make waves at music festivals.
So embrace the vibrant and playful spirit of the 80s as you dance away at your favorite festival.
Read Also: Top Summer Fashion Trends in 2023
Casual Outings
The 1980s fashion trend was all about loose-fitting denim and layers of bright shades for casual outings. Oversized blazers and jackets were a classic choice during this era, and they remain cool in 2023.
T-shirts, straight-cut jeans, and leather jackets were popular staples for casual outings in the 80s. High-waisted trousers, printed blouses, ankle boots, and wrist sweatbands were also go-to options.
Creating a casual outfit inspired by 80s fashion is easy with regular clothes that capture the era's essence. These outfits are often associated with the vibrant spirit of the 80s.
Renewing the 80s Trends in 2023
Fashion trends from the 1980s are making a strong comeback in 2023. Women can expect to see a revival of bold colors, oversized silhouettes, funky prints, and leg warmers reminiscent of the iconic decade.
Metallic dresses, tops, bags, and boots that were popular in the '80s will also be a major trend for spring 2023. Fashion experts predict this year's trends will draw inspiration from the fun accessories, splashy fabrics, and bold silhouettes that defined 1980s fashion.
Embrace the nostalgia and incorporate these renewed '80s trends into your wardrobe!
How to Incorporate 80s Fashion in Your Wardrobe
Get ready to rock the 80s style with mini skirts, distressed jeans, and ruffled tops – learn more about incorporating these iconic fashion trends into your wardrobe in 2023!
Mini Skirts
The miniskirt became a fashion sensation in the 1960s and has had several comebacks. Mini skirts are still a popular choice today, especially when channeling the iconic style of the 80s.
For a casual or dressy look, incorporating mini skirts into your wardrobe can help you achieve that retro vibe. Pair them with bold accessories and ruffled tops for an authentic 80s feel, or go for a preppy style by pairing them with statement socks and leather jackets.
With their timeless appeal, mini skirts are a must-have item if you want to embrace the fashion trends of yesteryear in 2023.
Bodysuits
Bodysuits were all the rage in the 80s, and according to stylist Teresa Jaide, they are still a must-have for modern wardrobes. These versatile one-piece garments can be worn for any occasion and paired with other 80s fashion trends like oversized blazers and jackets.
Adding a bodysuit to your wardrobe allows you to effortlessly incorporate the unapologetic attitude of the 80s into your everyday style. Try styling your bodysuit with big shoulders for that iconic power-dressing look from the era.
Whether going for a casual outing or dressing up for a special event, bodysuits are a trendy choice that will never go out of style.
Distressed and Acid-Wash Jeans
Distressed and acid-wash jeans were a notable fashion trend in the 80s and are returning as a cool fashion trend in recent years. These jeans, typically casual denim with rips or tears, were often high-waisted during the 80s.
The acid wash effect on the denim created a marbled and mottled appearance through stone washing techniques. Nowadays, you can find these trendy jeans that add an edgy and vintage-inspired touch to any outfit.
Preppy Styles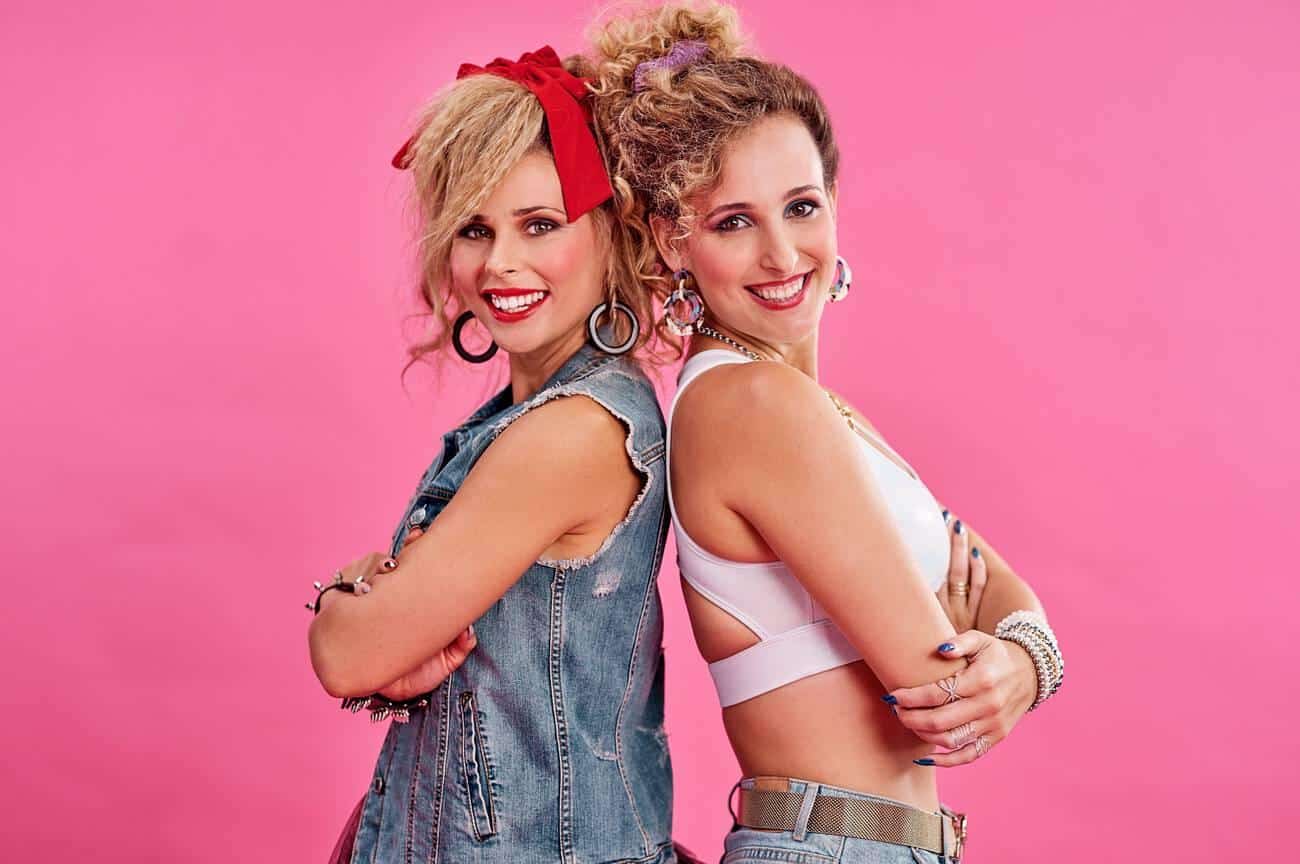 The preppy style of the 80s and 90s is coming back in 2023. Designers are twisting this classic look, giving it a dark and twisted edge. Preppy outfits from that era often featured tailored garments like button-down shirts, knit sweaters, and loafers.
In 2023, some essential preppy-style items include velvet ballet flats and leather loafers. It's not just about clothing; the preppy aesthetic extends to wallpapers, room decor, and overall design.
Animal Prints
Animal prints were all the rage in the 80s, and they're making a fierce comeback in 2023. From zebra stripes to leopard spots, animal prints are expected to be seen on runways and in fashion collections.
These timeless patterns can add a bold statement to any outfit, whether it's through clothing or accessories. You can even incorporate animal prints into your home decor. So unleash your wild side with some eye-catching animal print pieces!
Leather Jackets
Leather jackets were a fashion staple in the 1980s and continue to be popular in 2023. Celebrities like Morten Harket and Madonna rocked leather jackets, making them even more iconic.
The oversized blazer trend from the 80s has carried over into current fashion, making leather jackets a versatile and timeless piece. Whether for an edgy or sophisticated look, you can easily incorporate a leather jacket into your wardrobe for an 80s-inspired vibe that never goes out of style.
Statement Socks
Statement socks were a popular accessory in 80s fashion for women. They were used to add bolder elements to outfits and could be worn with various clothing items such as tops, jackets, pants, skirts, dresses, shoes, and bags.
In 2023, incorporating 80s fashion into your wardrobe can include wearing statement socks. This trend is a fun and trendy way to incorporate the vibrant style of the 80s into your everyday looks.
Ruffled Tops
Ruffled tops are making a strong comeback in 2023 due to the resurgence of 80s fashion trends. These feminine and flirty tops feature layers of fabric that create cascading ruffles, adding a touch of playfulness to any outfit.
Ruffles can be found on various clothing items such as tops, jackets, pants, skirts, dresses, shoes, and bags. In the 80s, ruffles were popular for adding spice to clothing designs, especially in prom dresses.
However, the trend of ruffled tops in 2023 is a modern adaptation of the 80s style. Incorporating ruffled tops into your wardrobe is a stylish way to give a nod to the iconic fashion trend from decades past.
Latest Updates on 80s Fashion Trends in 2023
Designers and brands continuously update their collections to reflect the resurgence of 80s fashion trends in 2023. Metallic clothing, a staple in the 1980s, is making a strong comeback this year.
From shimmering dresses to eye-catching tops and even metallic boots and bags, these bold pieces are set to dominate the fashion scene in spring. Alongside metallics, other key updates include oversized silhouettes that were popular during the era and funky prints and vibrant colors that add an element of fun to any outfit.
The latest updates on 80s fashion trends show designers embrace nostalgia while infusing modern touches into their creations for a fresh take on retro styling.
Where to Shop for 80s-Inspired Fashion
Looking to rock some 80s-inspired fashion? Check out these places to find the perfect pieces:
Vintage clothing stores: Search for hidden gems and authentic vintage finds at local thrift shops or specialty vintage boutiques. You never know what treasures you may uncover!
Online retailers: Browse websites specializing in retro fashion or offer various options from different eras. Look for keywords like "vintage," "retro," or "throwback" when searching.
Second-hand marketplaces: Explore online platforms where individuals sell their pre-loved clothing, such as Depop or Poshmark. It's a great way to score unique items at affordable prices.
Fashion brands with 80s-inspired collections: Keep an eye on contemporary brands that frequently incorporate throwback trends into their designs. Some popular examples include Urban Outfitters, Zara, and ASOS.
Remember, when shopping for 80s-inspired fashion, prioritize quality over quantity. Opt for well-made garments that will stand the test of time and allow you to showcase your retro style confidently!
Read More: 6 Fashion Accessories Every Woman Must Have
Styling Tips for Pulling off 80s Fashion
To pull off 80s fashion, follow these styling tips:
Embrace bold colors and patterns to make a statement.

Opt for oversized blazers, jackets, and tops for an authentic 80s look.

Accessorize with chunky jewelry, colorful belts, and statement sunglasses.

Experiment with different textures such as sequins, leather, and lace.

Don't be afraid to mix and match prints for a fun and eclectic outfit.

Pair high-waisted jeans or skirts with crop tops or tucked-in shirts to accentuate your waistline.

Add volume to your hair using a scrunchie or by teasing it for that iconic 80s big hair look.

Mix casual and formal elements by pairing sneakers with dresses or suits with graphic tees.

Complete your outfit with bold makeup like bright eyeshadow or bold lipstick.
Frequently Asked Questions (FAQs)
You can check below if you have queries on 80's style and women's 80s outfits. Here we answered some commonly asked questions.
1. What are some popular women's 80s outfits in 2023?
Popular women's 80s outfits 2023 include neon-colored leggings, oversized graphic t-shirts, high-waisted acid wash jeans, shoulder-padded blazers, and chunky sneakers.
2. How can I style an authentic 80s outfit for a themed party?
To style an authentic 80s outfit for a themed party, consider wearing a combination of bold patterns and bright colors, accessorize with jelly bracelets or big hoop earrings, tease your hair into voluminous styles, or go for a crimped hair look and complete the look with statement-making makeup.
3. Are there any modern updates to the classic 80s fashion trends?
Yes, there have been modern updates to classic 80s fashion trends. For example, designers have incorporated retro-inspired elements into contemporary clothing pieces, such as incorporating neon accents into sleek dresses or adding exaggerated puff sleeves to tops.
4. Where can I find affordable women's 80s outfits?
You can find affordable women's 80s outfits at thrift stores, online vintage shops, and websites specializing in retro fashion. Additionally, some mainstream retailers may also carry trendy items inspired by the 80s at more budget-friendly prices.
Subscribe to Our Latest Newsletter
To Read Our Exclusive Content, Sign up Now.
$5/Monthly, $50/Yearly