Best Ride Sharing Apps in Cambodia: Try These 10 Ride Apps to Get Around Cambodia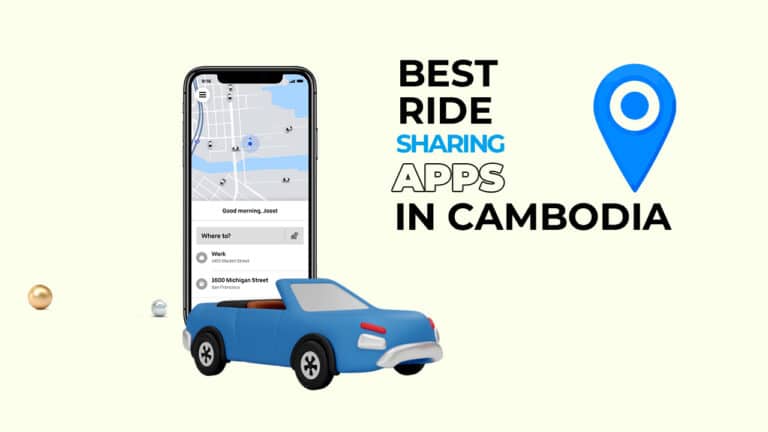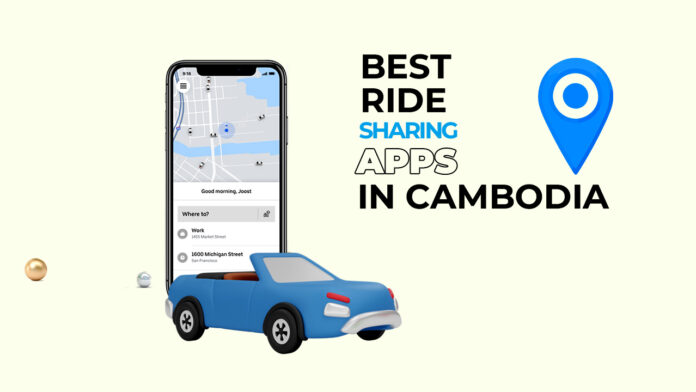 Introducing the best ride sharing apps in Cambodia! Did you know that the top ride-hailing services in Cambodia are Grab and PassApp? Our article will provide all the information about these popular apps, their features, and the latest updates. Whether you need to get around the city or hail a taxi from your destination, these two apps are essential for transportation needs.
Let us help you navigate through this article to make sure your rideshare crossings go smoothly.
Content Highlights
Cambodia offers a range of ridesharing apps, including well-known services like Grab and PassApp, as well as niche providers like GreenCommute and MekongRide.

PassApp is a major player in Cambodia's ridesharing market, providing convenient options like taxis, tuk-tuks, and rickshaws. Its widespread availability in major cities contributes to its prominence.

ExNet, originating as a motorcycle taxi service, has evolved to include tuk-tuks and regular taxis. Its popularity stems from user-friendly features, cashless payments, and real-time tracking for enhanced convenience.

Users in Cambodia enjoy the benefits of convenience, safety features, and cash payment options when using ridesharing apps like Grab and PassApp. These services enhance the overall transportation experience in the country.
10 Best Ride Sharing Apps in Cambodia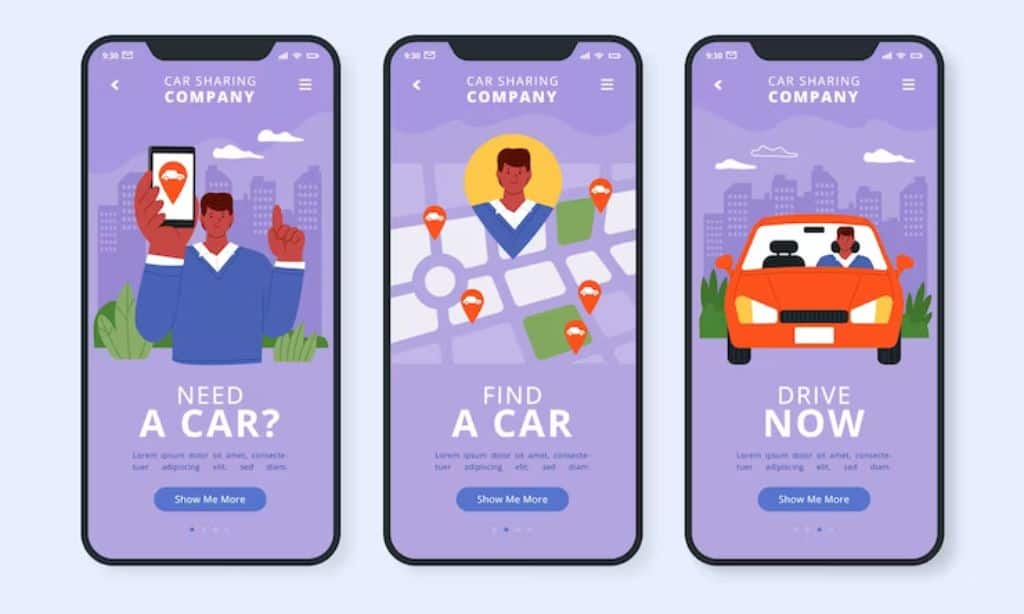 Cambodia has various ridesharing options, such as Grab, PassApp, and others. Let's check them below.
Grab
Grab is widely regarded as the leading ridesharing app in Cambodia. It began as a taxi-hailing application but has since multiplied its offer to be an on-demand ride service, food delivery, and financial provider.
Grab now operates across 8 countries in the region, including Myanmar and Cambodia. The company also recently acquired Indonesian startup Kudo, facilitating its entry into Indonesia's digital payments market with its GrabPay feature.
Furthermore, they have challenged the dominance of PassApp in the Cambodian ride-sharing market by offering more competitive services such as cash payment options, safety features, and easier booking due to their global reach capabilities.
PassApp
PassApp is one of the major ridesharing apps in Cambodia that allows users to book taxis, tuk-tuks, and rickshaws with a taximeter. PassApp is available in most major cities in Cambodia such as Phnom Penh, Siem Reap, Battambang, Sihanoukville, Kampot, and Poipet City making it the biggest ride-hailing service provider in Cambodia.
It offers a variety of convenience features for customers, like cash payment options, and safety features like driver ratings so customers can track their journey comfortably. PassApp charges a taxi-like fee for its services, which vary based on distance traveled.
Therefore, by using this app, users can access reliable transportation trusted by many Cambodians who appreciate the benefit of booking convenient vehicles at an affordable price point compared to metered taxis or traditional means of transport through drivers or public transportation systems.
ExNet
ExNet is a well-liked ride-sharing app in Cambodia that began by offering motorcycle taxi services. Over time, it expanded its services to include tuk-tuks and regular taxis, providing more options for users.
People enjoy using ExNet because it's easy. The app is designed to be simple, and you can pay for your rides without using physical cash. One handy feature is real-time tracking, allowing users to see exactly where their ride is at any moment. This makes planning and waiting for your ride more convenient.
The popularity of ExNet can be attributed to its reputation for reliability and affordability. Many Cambodians find it to be a top choice when it comes to transportation services. The user-friendly features, ease of payment, and real-time tracking of rides make ExNet a preferred option for those seeking convenient and cost-effective transportation in Cambodia.
CamRide
CamRide stands out as a major app in Cambodia's ride-sharing world, offering a variety of transportation choices. Whether you need a taxi, a tuk-tuk, or even an SUV, you can book it through the CamRide app. What makes CamRide special is the way it treats its regular users. They have a loyalty program, meaning you can get some extra benefits if you use the app often.
Another cool thing about CamRide is that they appreciate good service from their drivers. If a driver does a great job, they can get rewards. This helps create a positive experience for both the riders and the drivers. CamRide takes safety seriously, making sure that the users feel secure during their rides. Plus, they make it a point to be very clear about how much your ride will cost, avoiding any surprises when it's time to pay.
This commitment to safety and transparent pricing has earned CamRide a group of loyal customers, especially in cities like Phnom Penh, Siem Reap, and Sihanoukville. People like knowing they can rely on CamRide for a safe and clear ride-sharing experience.
GoMoto
For people looking for fast and easy motorcycle taxi rides in Cambodia, the GoMoto app is a great choice. With GoMoto, you can book a motorcycle driver to pick you up and take you where you need to go with just a few taps on your phone. It's much quicker than waiting to flag down a passing driver on the street. The app makes booking super simple – just put in where you are and where you want to go.
GoMoto will match you with a nearby driver. Prices are very reasonable too, usually cheaper than regular taxis. This makes GoMoto perfect for short trips around the city when you need to get somewhere fast. Another good thing is that GoMoto has a large network of trusted drivers. The drivers are trained to follow rules and drive safely. They also know the city well, so they can find the best routes to avoid traffic jams. You don't have to worry about your driver taking you the long way for more money!
On top of rides for passengers, GoMoto drivers can also deliver small packages or documents. This can be very helpful if you need to send something urgently across town. A GoMoto driver can pick it up and deliver it faster than regular mail. With easy booking, fair prices, and reliable drivers, GoMoto makes getting around Phnom Penh and other cities so much easier. Next time you need a ride in Cambodia, open the GoMoto app for the fastest and most convenient motorcycle taxis!
SwiftGo
In Cambodia, the SwiftGo app is a great choice for booking different types of rides. It offers taxis, tuk-tuks, and private cars. SwiftGo's use of eco-friendly vehicles like electric and hybrid cars makes it special. This is better for the environment. The SwiftGo app makes booking any type of ride simple. Just enter where you want to be picked up and dropped off.
You will see the price upfront, so there are no surprises. The app has information and reviews about each driver, too. This helps you feel more comfortable knowing about your driver ahead of time. With SwiftGo, you don't have to worry about haggling over fares with drivers or dealing with older, polluting vehicles. Their modern fleet is reliable, clean, and quiet. This makes for a more pleasant ride.
Whether you need a quick tuk-tuk ride to the market or a larger car for the whole family, SwiftGo has options. The app lets you choose based on price, vehicle size, estimated time, and your preferences. For commuters looking for an easy, sustainable transportation solution in Cambodia, SwiftGo is a great app to use. The transparent pricing, focus on eco-friendly vehicles, and vetted drivers help ensure a smooth experience getting around the city. Give SwiftGo a try for your next trip!
CityHop
CityHop is a different kind of ride service in Cambodia. They focus on carpooling and sharing rides between people going the same way. This helps cut down on traffic and helps the environment, too. With CityHop, you tell the app where you are starting from and where you want to go. CityHop's special technology looks at all other riders and tries to match you with someone going a similar route. This way, you can share the ride and split the cost.
It's cheaper than taking a taxi by yourself. By having people in the community share rides, there are fewer cars on the road. Less traffic means less pollution, too. CityHop wants to provide an affordable transportation option that's also eco-friendly. As CityHop expands into more major cities in Cambodia, it's becoming a popular choice for commuters. People like saving money while also helping the planet.
And it's a nice way to meet locals headed in the same direction, too! CityHop focuses on the community sharing economy. It brings people together through smart ride-matching technology and a shared mission of reducing environmental impact. Next time you need a ride across town, consider opening the CityHop app. Join the community working towards sustainable transportation in Cambodia!
MekongRide
The MekongRide app lets you book rides in Cambodia and nearby countries like Vietnam and Laos. You can get taxis, motorbikes, nice cars and more. What makes MekongRide special is it makes travel between countries easy. With most ride apps, you can only book rides within one country. But MekongRide works across borders.
So you can use it to get rides locally in Phnom Penh. Or you can book a car to take you from Siem Reap, Cambodia, to Vientiane, Laos. This makes travel in Southeast Asia so much simpler. You don't have to figure out different apps in each country. Just use MekongRide for rides of any distance – whether it's a quick taxi in Ho Chi Minh City or a longer car ride from Cambodia to Vietnam. MekongRide has all kinds of vehicles available at various prices.
And it provides services like currency conversion, so you don't have to worry about that. Drivers are licensed, background-checked, and speak English. MekongRide is the perfect transportation solution for people traveling around Cambodia or neighboring countries. With its cross-border capabilities and range of ride options, you can rely on MekongRide to get you wherever you need to go in the region.
GoldenWheel
In Cambodia, the GoldenWheel app provides luxury rides with fancy, high-quality vehicles. This includes executive sedans and personal chauffeur services. GoldenWheel is focused on excellent customer service for people wanting a more upscale travel experience. Their drivers are professionally trained to provide polite, prompt assistance. The vehicles are top models from brands like Mercedes and BMW, with leather seats, stylish interiors, and ample legroom.
With GoldenWheel, you can ride in comfort and style. Open the app and order a premium car or chauffeur to your location. The driver will greet you and take care of your luggage. They know the city very well, avoiding heavy traffic when possible. The app has features like vehicle tracking to watch your driver's approach on the map. You can also select preferred drivers for a more personalized experience.
GoldenWheel caters to professionals, businesspeople, and anyone seeking luxury transportation in Cambodia. Whether headed to the airport or an important meeting, GoldenWheel provides elegant, high-end rides with outstanding service. Looking for a first-class commuting experience? Open the GoldenWheel app and book a premium car or chauffeur for your luxurious travels across Cambodia.
GreenCommute
GreenCommute is a rideshare app with a focus on eco-friendly transportation in Cambodia. Their goal is to help the environment by having people use bicycles, electric scooters, and other green travel options for short rides in the city. The app makes it easy to find and connect with other users willing to share trips. For example, you can find someone biking to work and ride along, splitting costs.
GreenCommute encourages things like carpooling to reduce emissions from half-empty cars. The app matches you with people traveling along similar routes. By sharing rides, there are fewer solo trips and less pollution. The app is designed to be user-friendly. You simply enter your start and end points, and GreenCommute shows your options. Fares are fixed, so there's no haggling. Payment is also handled seamlessly through the app.
For people in Cambodia looking for sustainable and affordable ways to commute, GreenCommute is a great choice. By facilitating the sharing of bikes, scooters, and car rides, GreenCommute promotes an eco-conscious community. Next time you need to travel a short distance in the city, open the GreenCommute app. Find a green rideshare alternative that helps you and the planet!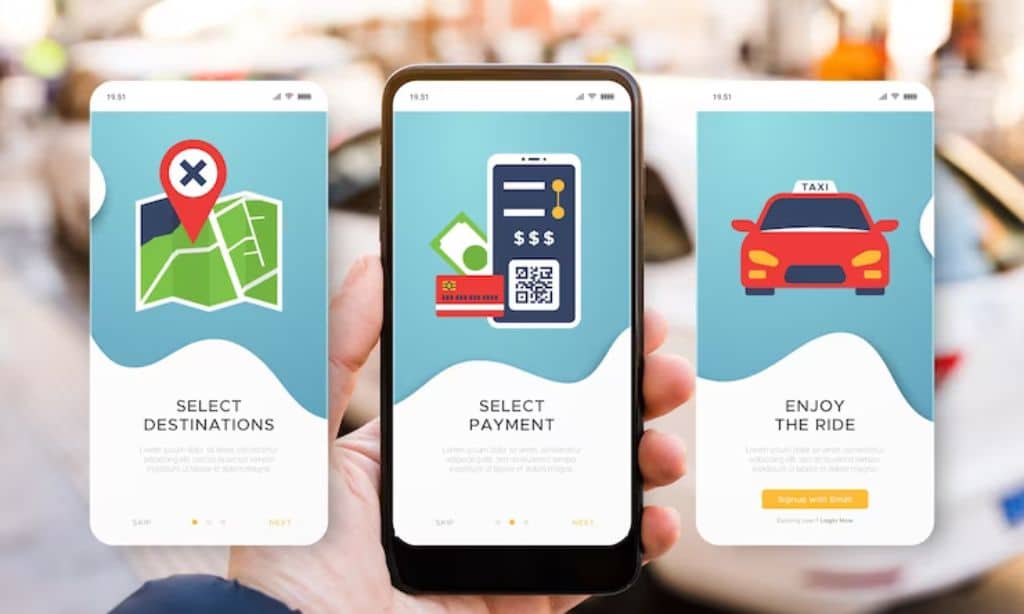 Users can enjoy advantages such as convenience and ease of booking, safety features, and cash payment options.
Convenience and Ease of Booking
Ride-sharing apps offer unparalleled convenience, safety, and efficiency when it comes to mobility solutions in Cambodia. They are often cheaper than traditional taxis, and their user-friendly interface allows for a seamless booking experience that takes the fuss out of transportation arrangements.
With features like real-time tracking, multiple payment options, and booking rides up from minutes to hours beforehand, you can add peace of mind knowing your ride will be on time and with a car that matches your specifications.
Grab and PassApp are some of the most popular services available within Cambodia. They offer reliable drivers ready at any hour for whenever you need them, not to mention cash payment options, making these apps all-inclusive for both local and international travelers.
Safety Features
Ridesharing companies in Cambodia prioritize the safety of their passengers and drivers while traveling. Ride-sharing apps are outfitted with an array of safety features to ensure passenger security, such as SOS buttons, business license plates, cashless payments, and verified driver identities displayed on the app.
Passengers can also double-check that the car make, model, and color correspond to what is shown in the ride request summary before getting into a vehicle.
These advanced safety protocols are continuously being updated as well; for example, some rideshare apps now use IoT technology, which establishes two-way connections between users' smartphones, increasing timely response during emergencies.
Cash Payment options
Cashing out while using ridesharing apps in Cambodia is easy and convenient. Most rideshare services, such as Grab and PassApp, offer riders the option to pay their fare with cash upon delivery.
To make transactions smoother, it is advisable to carry small bills if selecting this payment method – this makes calculating fares much easier for drivers who only have limited change on hand.
Cash payments are available in many of the major cities across Cambodia meaning you can hop onto a cab or tuktuk without any worries. This also allows for more flexibility when it comes to budgeting your expenses since digital payment methods may not always be accessible due to network issues or lack of access due to security reasons.
Make sure to check for an unlocked smartphone, the ability to receive text messages, compatibility for international use, and Wi-Fi access before using ride-hailing apps in Cambodia. Keep reading to find out more!
Unlocked Smartphone
Using ride-hailing apps like Uber and Lyft in Cambodia requires an unlocked smartphone for a smooth experience. An unlocked smartphone allows the user to have access to international usage, which is necessary since ride-hailing apps work differently in other countries or regions.
It also enables downloading of the app without any restrictions and receiving texts messages for completing rideshare bookings. In addition, it is important to note that most rideshare apps reject dual SIM cards, therefore drivers should ensure they are using single SIM phones that meet their specifications as set out on their websites or support page.
Furthermore, if you want to make sure your phone doesn't cause problems while accessing ridesharing services it would be wise to check the minimum requirements mentioned by popular providers such as Grab and PassApp before deciding what device best suits your needs when operating a ride-hailing app in Cambodia.
Ability to Receive Text Messages
This is one of the most important features required on your smartphone when using ridesharing apps in Cambodia. Using text messages, you can stay up to date with valuable information sent directly from the app provider, such as trip details and driver arrival notifications.
Without having a phone that can receive text messages, passengers may not be able to keep track of their booking or confirm pickup times – this could result in missing out on international airport pickups or long waits for drivers at dangerous locations.
Additionally, many payment methods will require access to a secure code sent via SMS for verification purposes without being able to receive text messages, customers may face difficulty paying through certain digital payment platforms incorporated into popular rideshare services such as Grab and PassApp.
Check Compatibility for International Use
When using rideshare apps in Cambodia, it's important to check if your smartphone is compatible with the local network. Before downloading a rideshare app in Cambodia, make sure that your phone indicates compatibility for international use and supports a Cambodian SIM card.
International phones should have two main features: unlocked GSM bands and dual-SIM capabilities or eSIM support. Unlocked GSM bands are needed so that you can insert the Cambodian SIM card while dual-SIM capabilities will allow you to access both data providers (ie home network and overseas network) at once on your trips abroad.
Also, some journeys through Cambodia require an unlocked phone so travelers need to confirm that the model they're carrying enough meets those requirements for them. Without double-checking this crucial information before departure, riders may find themselves stranded without any way of getting around or not enjoying their full experience due to limited network coverage offshore or inability to pay electronically when riding with Grab or PassApp as these rely on digital payments.
Using Wi-Fi for App Access
This is an essential requirement when it comes to getting the best out of your rideshare experience in Cambodia. With Wi-Fi access, riders can easily and conveniently book a ride from one of the leading apps such as Grab or PassApp with just a few taps on their smartphone.
Not only does this provide for a smoother booking process, but also allows passengers to track their ride in real-time, ensuring greater safety and peace of mind during their journey.
When you use apps powered by Wi-Fi, there are additional useful features. You can customize fare estimates by using features that calculate the estimated wait time. This helps you plan your expenses better. The apps often provide options for cash payments and support various digital wallets, making payment more convenient for you.
Moreover, these apps may also connect with accommodations and lodging services, simplifying your travel experience. Additionally, the online capability of these apps allows for easy purchase of travel insurance policies, offering you a comprehensive and hassle-free travel experience with various conveniences at your fingertips.
Read More: Best Ride-Sharing Apps in Japan
Payment Options
Riders in Cambodia have the option to pay both cash and digital payment methods for their rideshare.
Cash Payment
In Cambodia, cash payment is one of the most popular methods for ride-sharing services. Traditional payment options such as physical currency, paper money, and coins are accepted in the country instead of digital payments.
Due to the lack of integration with e-commerce law in Cambodia, customers find it easier to use cash when using rideshare services. Ride-sharing apps like GrabPay also offer a cashless payment system that allows customers to pay digitally while keeping their account details secure.
The National Bank of Cambodia has implemented ABA PayWay as an online mobile gateway that regulates digital payments within the country, promoting safe transaction practices and encouraging wider adoption of modern payment systems amongst Cambodian riders seeking convenience without compromising security or privacy.
Digital Payment Methods
Now check about some digital payment options for the ride cost.
Pi Pay: Pi Pay is a cashless payment platform/app in Cambodia. It allows users to pay for food, drinks, services, and products at restaurants, bars, cafes, and stores both connected and non-connected with the app. Payment methods accepted include Visa & MasterCard debit cards, Boggle (local E-wallet) & MPU (local prepaid card).
Visa and Mastercard debit cards: These international payment cards are accepted widely in Cambodia for digital payments. Transactions are made quickly and securely without the need to carry physical cash or change.
Boggle: Boggle is an E-wallet that enables consumers to store value on their phone as digital money and pay for bills quickly, easily, and securely from any networked merchant who accepts the payment mode. The wallet also offers various discounts on products and services to customers making use of the service.
MoneyPlus Cards (MPU): These are prepaid cards issued by commercial banks that can be used like a regular debit card to make payments online or offline for goods or services purchased from merchants who accept the MPU Card as payment method. The card also offers discounts and rebates at selected merchants across Cambodia when used as a form of payment at these stores.
Accommodations and Lodging
[Video Credit: @ConradRichardshon]
Cambodia offers a variety of accommodations for travelers using ride-sharing apps, ranging from budget guesthouses and hostels to luxury hotels. Hotel bookings through the Grab app are becoming increasingly popular in Cambodia due to their ease and convenience.
Depending on your needs, hotels can provide a range of amenities such as laundry service, bar/restaurant, spa facility, or swimming pool – ideal for relaxed stays in Cambodia's major cities.
For those expecting an active vacation or sightseeing trip throughout the country, guesthouses offer more private rooms with shared dining areas – perfect if you prefer homely comforts over spacious grounds when indulging yourself on holiday.
Hostels are also a good option for backpackers, providing clean bedding and communal lounges in exchange for lower rates than most accommodation services usually charge per night.
Before you choose where to stay in Cambodia, think about a few things. Check if it's close to places you want to go or if there's safe transportation nearby. See if there's stuff like a kitchen you can use. Also, make sure the place is safe and has good reviews from other people before you book it!
Travel Insurance
Traveling in Cambodia can be a thrilling adventure, but it also leaves travelers vulnerable to unforeseen risks and uncertainties. It is important for people coming to visit as well as those living long-term in the country to get adequate travel insurance coverage. Travel insurance provides peace of mind that you are covered if anything unexpected happens during your trip, such as medical emergencies, flight cancellations or delays, lost luggage or personal items, and other issues that could disrupt your plans.
InsureMyTrip offers travel insurance for Cambodia which covers the abovementioned incidents along with work-related accidents normally not found on standard policies. Allianz and Forte Insurance are popular choices when it comes to purchasing a plan suitable for your needs when traveling in Cambodia.
InsureMyTrip lets customers compare quotes from multiple insurers and helps them select one that fits their budget and requirements best by offering free online quoting services. It is important to note however that the NSSF (National Social Security Fund) does not provide comprehensive coverage for international visitors. This fund only provides limited protection for Cambodians working legally in the country since only 10% of workers have access to this scheme currently.
Travelers should look through a range of plans carefully before choosing one that works for them specifically while being mindful of where they will be going whether urban cities or remote regions as various concepts apply depending on locations visited. Travel insurance usually comes with good customer service that works well in many countries.
It helps you out if you need it, and if something urgent happens, like needing to leave a place quickly, they have plans to give your money back or help you continue your trip. This is especially important if unexpected things like emergencies disrupt your plans. Having travel insurance can make it easier to handle tough situations, giving you more flexibility and peace of mind. This way, you can focus on making the most of your trip without worrying too much about unexpected problems.
Frequently Asked Questions (FAQs)
Now, let's find out some questions people often ask about the best ride-sharing apps in Cambodia.
1. What ride-sharing apps are available in Cambodia?
Popular ride-sharing apps available in Cambodia include Grab, PassApp, ExNet, GoMoto, and others.
2. How do I sign up for a ride-sharing app?
You can usually sign up for a ride-sharing app by downloading it onto your mobile phone from the App Store or Google Play store and then entering your personal information, such as name, address, and phone number.
3. Are there any discounts available on popular ride-sharing apps in Cambodia?
PassApp offers discounted fares when passengers traveling together share a cab via its "Share Now" feature; while EXNET provides cash voucher codes and traffic referral programs to new customers who use the service regularly throughout the weekdays.     
4. Is riding with these apps safe?
Riding with these apps is generally considered safe if you follow safety measures such as verifying driver identity upon getting into the vehicle and monitoring your trip progress throughout its duration using built-in tracking services provided by the respective operators within their applications.
Takeaway
Ride-sharing apps provide a convenient, safe, and affordable alternative to traditional taxis in Cambodia. Popular ride-sharing platforms such as Grab and PassApp make it easy for customers to book rides with just a few taps on their phones.
The two main ride-sharing services offer safety features such as being able to share an estimated time of arrival (ETA) with friends or family members before the start of the journey and also various payment options like cash payments and digital solutions.
This makes them both trustworthy transportation apps that are reliable sources when traveling around Cambodia or seeking accommodation. To use these apps, customers need an unlocked phone that can receive text messages from these apps.
It is recommended that customers should look into purchasing SIM cards suitable for international use if they wish to get connected while using rear-sharing services in Cambodia. With updates always rolling out, riders can rest assured knowing their travel will be comfortable and safer than ever before when Silicon Valley's best meets South East Asia's hustle!