Best Ride Sharing Apps in Japan that Will Secure Your Journey [Top 20 List]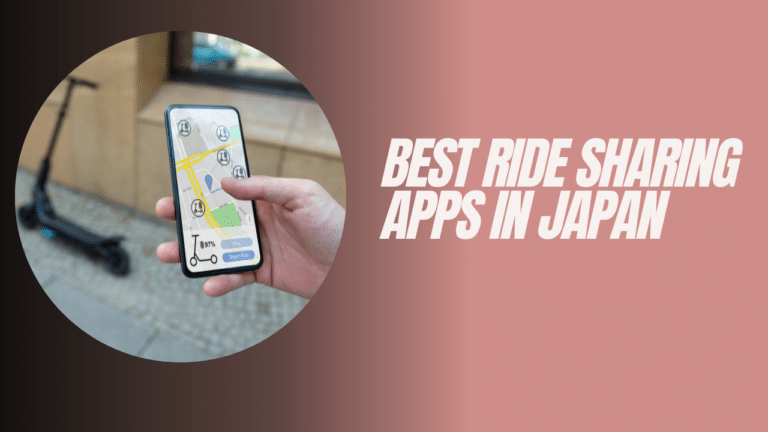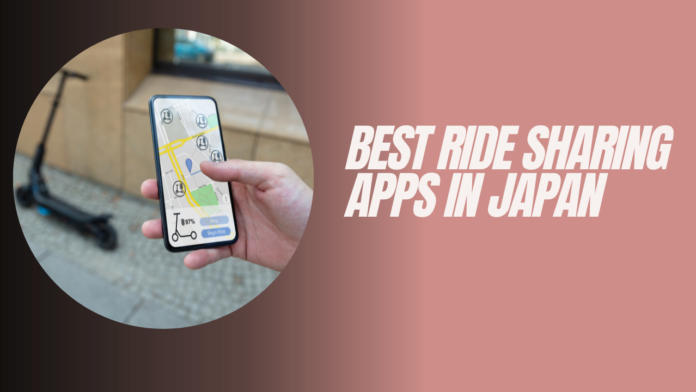 Are you planning to travel to Japan and looking for the best ride sharing apps in Japan? The ride-hailing industry in Japan is rapidly growing, with companies such as Uber, Furukuru, DiDi, and many more offering their services to customers.
In this blog post, we will discuss the top 10 best ride-sharing apps in Japan that can help make your journeys smoother and safer. We'll also explore alternatives to taxis like Go! Go! Nihon and public transportation options.
Plus, we will provide essential tips on etiquette when riding a taxi in Japan, along with some other useful information about staying safe while traveling. So, if you are searching for convenient transport solutions during your stay in Japan, keep reading!
Content Highlights
Uber is one of the major ridesharing apps in Japan but is mainly used for taxi services.
Ride-sharing companies operating in Japan, such as Go!, SmartCar, Uber, Lyft, Furukuru, DiDi, Vibe Rides, etc. all offer unique features.
Taxi stands are a great way to find taxis in Japan that can be booked beforehand on app-based services like Go! or SmartCar.
It's important to consider safety features when selecting a ride-sharing service, such as driver ratings and real-time GPS tracking during trips.
The Top Ride Sharing Apps in Japan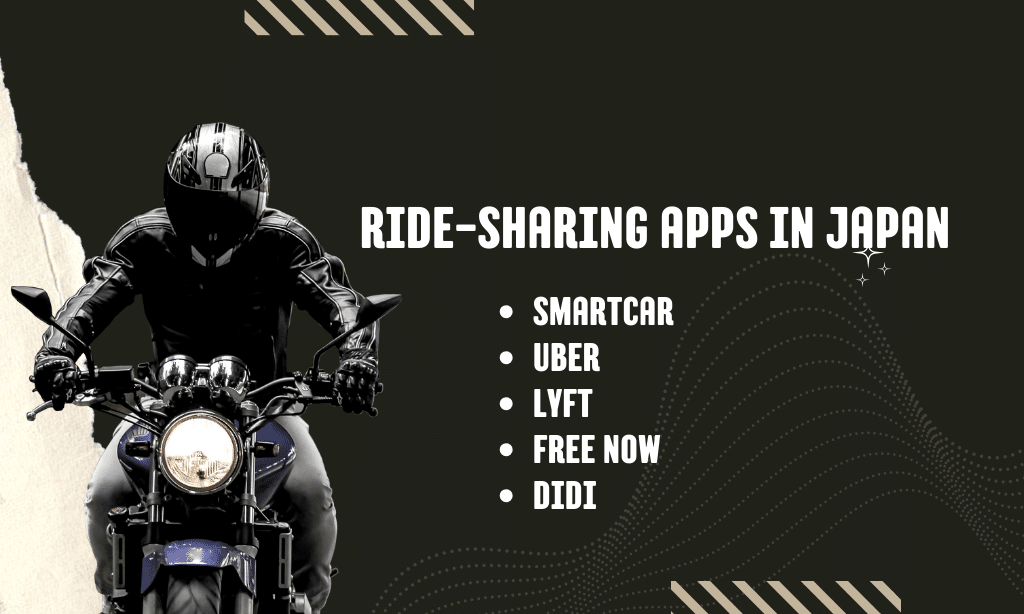 Explore the various popular ride-sharing apps available in Japan, such as Go, SmartCar, Uber, Lyft, Furukuru, DiDi, Vibe Rides, etc.
Go
This is one of Japan's leading ride-hailing apps developed by GO Inc., which recently received a $1 billion investment from Goldman Sachs. It provides an easy way for customers to find and book taxis operated by Hinomaru Limousine, Tokyo MK Corp, and Ecosystem with the touch of a button.
On top of this, Go offers local transport solutions that optimize the user experience by providing fast pickup times in even congested urban areas.
The official GO app has also seen recent updates and features added, including location-sharing options and support for stored payment information so you don't have to worry about having cash on hand when taking a taxi or ordering food from the rideshare service.
SmartCar
SmartCar is a Japanese ride-sharing app developed by the company behind Japan's newest unicorn. It allows users to connect with various taxi companies quickly and easily, letting them book rides in just a few taps.
As one of Japan's top ride-sharing apps, SmartCar offers an extensive selection of vehicles, from luxury sedans to budget hatchbacks, servicing anywhere between short local journeys and high-speed long trips all around the country.
This makes it especially popular for business travelers and commuters because they can choose the right car according to their preferences and needs at any given time. Moreover, customers who use this app benefit from its integrated payment system, which instantly verifies credit information before taking off; plus, there are no fare price changes during peak periods due to prearranged fares determined beforehand.
Uber
In Japan, Uber is not considered the top rideshare app and instead is primarily used for hailing taxis. Despite this, it remains popular due to its cheap and easy transportation options in Tokyo.
Beyond the taxi service, Uber also offers suggestions for local activities and meals, making it an ideal choice for exploring the city without breaking the bank. Additionally, Uber provides a variety of features, such as estimated time of arrival before reserving a ride and regularly updated maps with detours that alert users of traffic conditions that minimize long wait times.
While not Japan's most widely used ridesharing platform, they remain a viable option for those on tight budgets who don't mind waiting consistently shorter periods than those taking conventional taxi services or other apps.
Lyft
Lyft is one of the major players in Japan's ride-sharing industry, competing with Uber for a share of the growing market. Although Lyft currently has a lesser market share than its competitors, it offers users some unique features such as real-time pricing transparency and reliable driver ratings to increase customer satisfaction.
Additionally, Lyft's offering includes deep discounts on rides in rural areas to help people access transportation more easily. These services have been well received by Japanese commuters who are increasingly turning towards alternative modes of transportation like mobile apps due to convenience and cost savings.
Despite still having room for growth, Lyft has found practical solutions that set it apart from other ride-sharing companies operating in Japan.
Furukuru
The "Furukuru" app presents a convenient option for taxi services in the Kanto region, specifically covering Tokyo and parts of Yokohama. Users can benefit from a pickup fee waiver, making it an appealing choice for those seeking cost-effective transportation. The app allows users to hail a taxi with a unique feature – a simple shake of the smartphone.
One distinctive advantage is the absence of a registration requirement, streamlining the user experience. However, it's important to note that the app has limitations, such as occasional difficulty dispatching a taxi and the inability to reserve one. Additionally, "Furukuru" exclusively accepts cash payments, which could be a drawback for those who prefer electronic payment methods.
For spontaneous and cash-friendly taxi rides in designated areas, Furukuru offers a straightforward and no-frills solution.
Read Also: 15 Game-Changing Innovations That Will Transform Travel
DiDi
DiDi is one of the leading on-demand ride-sharing services in Japan. It provides a wide range of services, such as ride-sharing, bike-sharing and movers. To operate within Japanese regulations, DiDi has partnered with official taxi services.
This gives riders access to dependable transportation options allowing them to book rides online or through the app. Furthermore, it recently merged two major Chinese ride-hailing firms, giving it more control over competition in China and allowing its business model to evolve beyond just providing ride-sharing service into other areas such as personal finance and gas stations.
With its reliable service and increased features offered across China & Japan, DiDi continues to be a popular choice for commuters seeking convenient transportation solutions in both countries.
Vibe Rides
Vibe Rides is an advanced and convenient ride-sharing app that provides passengers with on-demand transport solutions in Japan. It enables users to book a ride from the comfort of their phones or tablets easily through its seamless and intuitive user interface.
With instant notifications, price comparisons, and tracking confirmation messages sent directly to your device, ordering rides with Vibe Rides couldn't be easier. The service also provides additional safety features such as driver reviews so users can feel safe when ordering a pickup with them.
To top it off, there are no hidden costs, long waiting times, or overcrowded vehicles – making Vibe Rides one of Japan's most trusted transportation services today!
Curb Business
Curb Business is a leading on-demand ride-sharing app in Japan that offers users a safe and reliable transportation service. With the Curb Business app, passengers can access licensed Taxi drivers in their area for short-distance and long-distance trips.
It has an extensive range of cars available, including luxury sedans and economical models – ensuring there's something to suit every traveler's needs. The Curb Business app also allows for efficient trip tracking, so riders know exactly where they are throughout their journey.
With its competitive fare rates and sleek payment system, it quickly becoming one of the most popular ride-share services among commuters across Japan. Furthermore, to minimize language barriers during rides, the App provides translation options to help customers communicate more effectively with drivers.
Karos
Karos is a popular ride-sharing app in Japan that offers an easy and affordable way to book transportation for any type of journey. This platform stands out with its seamless user experience, comprehensive safety measures, and competitive pricing compared to similar services.
The intuitive interface allows users to make their plans efficiently while quickly considering instructions, estimated time frames, options along the route, cost analysis, and customer reviews for various driver profiles.
On top of all this, Karos has strong safety features that include a certified driver system as well as real-time GPS tracking during trips, which enables users to feel safe during rides.
Voila Cabs
Voila Cabs is one of the top ride-sharing apps in Japan, designed to offer a safe and convenient way for users to get around. It enables fast pickups and a direct connection between riders and nearby drivers.
Unlike other ridesharing services, Voila Cabs connects riders with vetted professional drivers highly rated by customers. This app also offers excellent service at economical rates, including access to larger cars such as SEDANs​ or luxury vans when needed.
Additionally, Voila Cabs allows customers to pay via a mobile wallet or cash upon pick-up for maximum convenience. With its continued commitment to quality customer experience and reliability of service, it has become very popular among travelers and locals alike in Japan.
5 Bonus Best Ride Sharing Apps In Japan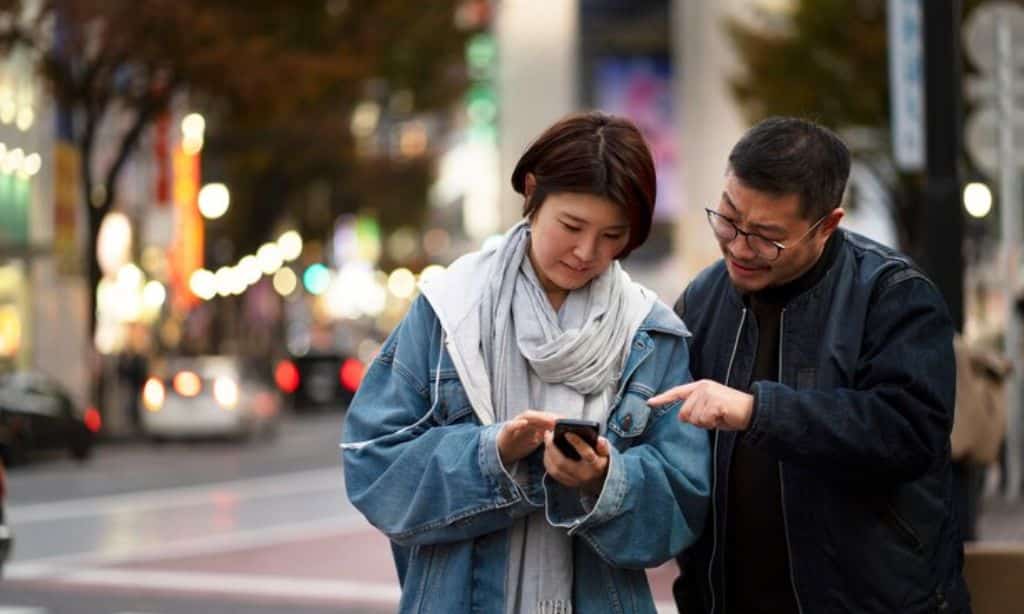 Still looking for more? Below, we're adding 5 more apps.
Esuraido: Elevating Transportation Convenience
Esuraido goes beyond being just a ride-sharing app; it's a daily companion for users seeking enhanced transportation convenience. Its user-friendly design ensures that everyone, regardless of tech-savviness, can effortlessly navigate and avail themselves of its services. Esuraido's commitment to making daily travel a seamless experience sets it apart in the Japanese ride-sharing landscape.
MK Taxi: Your Trusted On-the-Go Companion
When it comes to reliability, MK Taxi shines as a trusted on-the-go companion. This app has established itself as a go-to choice for those who prioritize a smooth and trouble-free journey. MK Taxi's commitment to excellence resonates with users, making it a reliable partner for navigating the streets of Japan.
Tsubame Taxi stands out by providing a navigation experience that goes beyond the ordinary. Tailored for those who seek efficiency and stress-free travel, Tsubame Taxi has become a favored choice for exploring Japan. Its seamless service ensures that every journey is not just a commute but a delightful experience.
Daiichi Kotsu Taxi: Unparalleled Taxi Services
For unparalleled taxi services, Daiichi Kotsu Taxi is a name synonymous with excellence and reliability. This app has earned its reputation by delivering top-notch transportation solutions that cater to the diverse needs of users. Choosing Daiichi Kotsu Taxi means opting for a service that prioritizes excellence at every turn.
Sanwa Kotsu: Redefining Taxi Travel
Sanwa Kotsu takes the concept of taxi travel to new heights with its unique and customer-centric approach to ride-sharing. Beyond being a mode of transportation, Sanwa Kotsu strives to offer a comfortable and enjoyable commuting experience through Japan's dynamic cities and picturesque landscapes. Choosing Sanwa Kotsu is an investment in redefined and elevated taxi travel in Japan.
How to Find and Book Taxis in Japan
There are various ways for travelers to find and book taxis in Japan, from app-based services to traditional taxi stands. Keep reading to learn more!
Using Taxi Stands
Taxi stands, or ranks, can be a convenient option for finding a taxi in Japan. Hailing taxis directly on the street is not common outside major cities. Instead, many roads have designated taxi stands where you can line up to catch a ride.
While this may seem daunting to some travelers, it's quite easy since most Japanese taxi stands are clearly marked with big yellow signs and poles that bear likening images of cabs.
Another advantage of using these stands is that passengers can easily book their rides through smartphone apps such as Go and SmartCar before they arrive at the stand. This makes navigating Tokyo much easier since riders no longer need to worry about language barriers or hailing down an open cab on the streets – they simply hop in when their already-booked ride arrives!
Hailing Taxis on the Street
Hailing Taxis on the street in Japan is a simple process. All you need to do is stand in an open space where the taxi can easily spot you, wave your hand, or wait at a railway station for one to come by. Taxis are relatively abundant on city streets, and their availability decreases as you move towards local areas.
To make matters easier, installing a ridesharing app specific to Japan like Go can give riders peace of mind when looking for taxis on the street – this will ensure that there's no language barrier and also provide tracking of every cab ride with the name & contact info of the driver.
Additionally, travelers should remember not to hail from places with 'no entry' signs; otherwise, they could face fines from police or other related authorities. Therefore, hailing taxis remains a very convenient process all across Japan with little effort required!
Booking Through Phone Calls
Booking a cab via phone is one of Japan's oldest and most reliable methods. As many taxi companies offer their services through dedicated 24/7 call centers, it remains one of the most efficient ways to travel locally or from the airport to an area for tourists.
While booking over calls can be more expensive than other ride-sharing options, some taxi companies do carry out special promotions from time to time. Taxis booked by phone also provide direct contact with drivers, which allows passengers to have direct communication and better control over details related to routes and duration, making them ideal for those who wish to customize their trips according to location needs.
Furthermore, when passengers book cabs by telephone, they receive that cab plate number and assigned taxi along with all useful driver information prior to arrival, allowing travelers peace-of-mind, especially if traveling alone at night and needing additional safety precautions while traveling on main roads located within Japanese prefectures.
Using Taxi Apps
Taxi booking apps in Japan are designed to provide convenient, efficient service. By downloading an app like Go Taxi, Uber, or DiDi onto your smartphone, you can quickly hail a taxi wherever you may be.
Enter your current location and desired destination, then track the progress of your cab's arrival on the app. The virtual taxi stands feature even allows users to find taxis nearby in real-time without waiting outdoors for too long.
Some of these apps also offer an English language service, which is quite helpful for foreign travelers visiting Japan who are not fluent in Japanese yet need a taxi service.
Cost of Taking Taxis in Japan
Japanese taxis are among the most expensive in the world, with a typical cab ride in Tokyo costing around 400-750 yen for the first kilometer. Additional kilometers are often priced between 80-100 Yen each and can increase if you ride during peak hours or over certain bridges.
Some companies also add surcharges to their fares depending on the time of day or holiday seasons, and young passenger surcharges range from 100-350 yen per person under 12 years old.
Etiquette and Essential Phrases for Riding Taxis in Japan
Ride-sharing services are not the only way to get around Japan – taking a taxi can also be an option. While taxis in Japan are often seen as more expensive than other forms of transportation, understanding certain etiquette and essential phrases for riding in a Japanese taxi is necessary for getting from one place to another.
When riding a taxi in Japan, greetings such as "Ohayo!" (Good morning) and "Konnichiwa!" (Hello!) should be said when entering the car. Upon reaching your destination, it is polite to say, "Arigato gozaimashita!" (Thank you very much).
Drivers will usually open the door for passengers so they can easily enter and exit; however, this may vary among different companies. Be sure to thank them by saying "Domo Arigatou gozaimasu" upon arriving at your desired destination.
It is important to note that tipping is not expected but appreciated if done correctly within cultural norms – cash transactions should be rounded up or possibly split between two denominations if paying with coins.
It's great to practice some basic Japanese words containing directions you wish to take before speaking with any drivers—for example, left (hidari), right (migi), and straight ahead (massage).
If these phrases are difficult to remember, try using relevant verb stems such as doko ni instead of direction verbs – Dochira e? / Doko ni itte moi desu ka?(Where should I go?) When talking about destinations, many locals would use a form derived from their native language called Furigana, which combines kanji characters and hiragana letters above them.
To ensure clear communication, ask the driver beforehand how he/she wants his fare displayed so that there won't be issues later on during payment time due to its complexity at times – Kawanake de ii desuka?"(Is it okay just like this?).
Make sure riders follow these simple yet useful etiquette rules
Alternatives to Taxis in Japan
Go! Go! Nihon provides an affordable option for traveling around Japan alongside public transportation and ride-sharing services.
Go! Go! Nihon
This is a ride-sharing app specifically designed for international travelers and expats visiting Japan. It aims to make travel in the country more convenient, secure, and enjoyable by providing English-speaking drivers and support staff with easy payment methods like credit/debit cards.
The app provides pick-up services from airports, train stations, or even local addresses, allowing users to book private vehicles, such as sedans and minibus vans, depending on their needs.
What sets Go! Go! Nihon, apart from other transportation apps is that it also allows users to specify the size of their luggage when making reservations so that travelers don't have to worry about not being able to bring larger suitcases with them during a trip.
Public Transportation Options
Japan is well-known for its efficient, reliable, affordable public transport networks. Tourists often opt to take widely available trains to get around quickly between cities in Japan like Tokyo and Kyoto.
Train travel can range from metro lines connecting urban areas to longer-distance Shinkansen (bullet train) routes. Buses may be a better option for tourists visiting destinations off the beaten track or less connected tourist sites as they run all across the country at a lower cost than other alternatives, such as getting around by car or taxi services.
Taxis also offer a comfortable way of traveling, though it can be expensive compared to other transport options. As an alternative to hailing taxis from the street, riders can use mobile apps that provide hub pick-up locations and support cash payments upon completion of rides, making travel easier and smoother from one destination to another.
Ride Sharing Services
Ride-sharing services have revolutionized how people travel in Japan, providing a more convenient and affordable alternative to traditional taxis. Ride-sharing apps such as Uber, Japan Taxi, DiDi, and Go Inc., backed by Goldman Sachs, allow users to easily find and book a ride with just two taps on their smartphone.
With these services, travelers can quickly locate nearby taxis operated by various companies while tracking their progress in real-time. Once the car arrives for pickup, you can enter the vehicle without having to worry about paying cash or waiting for change.
Furthermore, these high-tech solutions also offer discounts compared to standard taxi fares, making them alluring budget options.
Takeaway
Ride-sharing apps in Japan make it easy for travelers to hail taxis and retain their preferred companies easily. Apps like Go!, SmartCar, Uber, Lyft, DiDi, and Vibe Rides, are available in major regions and offer comprehensive services from booking rides to tracking arrivals in real-time.
Additionally, specific applications are available for foreign visitors that allow them to manage their travel needs more efficiently. With more advanced options such as taxi stands on the streets of Japan or public transportation modes also accessible, businesses must consider different ride-sharing options before settling on one depending upon requirements like pricing or availability of certain features.
Researching various ride-sharing providers and comparing reviews can help find what best suits a business' interests when traveling around Japan smoothly and safely.
Frequently Asked Questions (FAQs)
It's time to discuss some quick FAQs on this topic
1. What are the best ride-sharing apps in Japan?
Japan's most popular ride-sharing apps include Go, SmartCar, Uber, and others.
It's important always to follow the appropriate safety measures when taking a shared car, such as wearing your seat belt and refraining from using electronic devices while driving.
3. Can I book multiple rides all at once?
Most major ride-sharing services in Japan allow users to stack multiple reservations so they can book more than one journey at one time