Ride-Sharing in Taiwan: Your Guide to the 20 Best Apps for Seamless Travel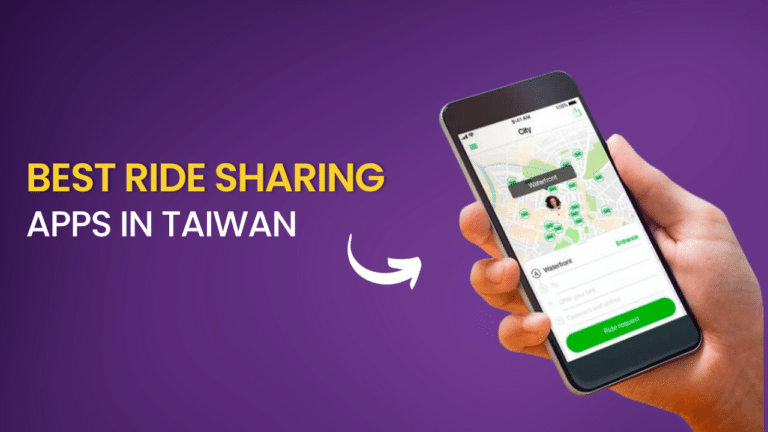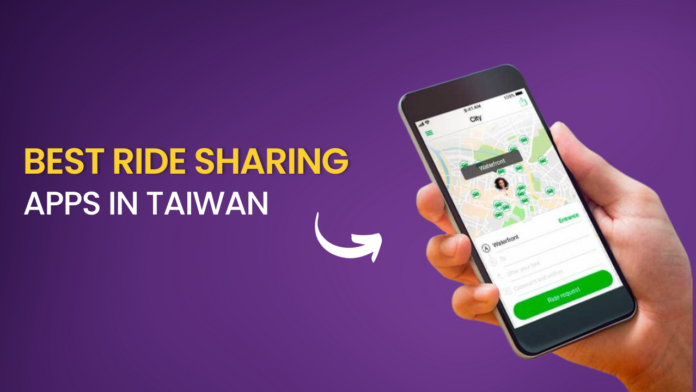 Are you planning to visit Taiwan soon? Looking for the best ride-sharing apps that can help you explore this beautiful country safely and affordably? Well, look no further. Ride-hailing providers like Uber are the only major apps available in Taiwan. Still, there are also a variety of other transportation and communication apps that can make your travel easier.
In this article, we'll dive into everything about these best ride sharing apps in Taiwan with the latest updates so you can plan your trip smarter and save more.
Get ready for an enjoyable journey in beautiful Taiwan!
Content Highlights
Transportation apps like Tripool, Go! Taipei Metro and Bus+ make getting around Taiwan easy and convenient.
General travel apps such as Klook, YouBike 2.0, Uber, and Agoda can help travelers in Taiwan plan their trips smarter and save more money.
Wise is an award-winning mobile banking app that allows users to manage their money while traveling away from home in Taiwan.
Weather Apps such as 'Taiwan Weather' are essential for planning enjoyable activities when traveling in this beautiful country.
Best Ride Sharing Apps in Taiwan: General Travel Apps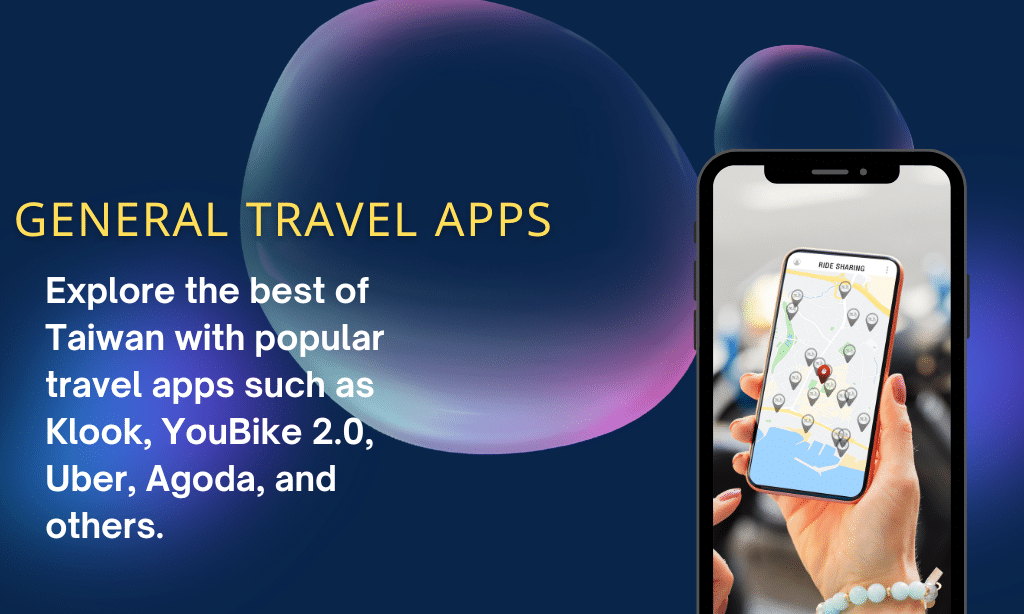 Explore the best of Taiwan with popular travel apps such as Klook, YouBike 2.0, Uber, Agoda, and others.
YouBike 2.0
YouBike 2.0 is a popular bike-sharing system in Taiwan, first launched in Taipei in 2012 as an initiative between the local government and Giant Bicycles. It is available for residents and visitors in major cities such as Taipei, New Taipei City, Kaohsiung, and Taichung.
This shared bicycle service provides people with convenient access to quick transportation options that are affordable and environmentally friendly. With its success so far it has plans of expanding its reach by installing 700 YouBike stations by the end of 2021 and 1,500 more by 2025 in New Taipei City alone.
Residents and travelers alike appreciate this great service for being handy while also maintaining sustainable transport practices which should be encouraged universally.
FindTaxi (Taiwan Taxi Finder)
FindTaxi is an efficient, reliable, and convenient taxi-searching platform for travelers in Taiwan. The app enables users to quickly find a taxi using their location or an address they enter.
Furthermore, it allows them to read up on reviews and profiles of drivers before choosing one for the ride. This helps guarantee users a safe and comfortable trip with a trustworthy driver.
FindTaxi's Android application can be easily downloaded from the Google Play store free of cost making it highly accessible to all travelers. It is also popularly considered one of the best apps for hailing taxis in Taiwan due to its easy navigation, comprehensive drivers database, and quick access service it provides – helping tourists save time when moving around Taiwanese cities!
Uber
Uber is a widely known and popular rideshare app that allows users to order taxis directly from the app. With its convenience, Uber faced challenges in finding success in Taiwan since ride-sharing services are regulated differently there compared to many other countries worldwide.
To bridge the gap between taxi fleets and consumers, Uber formed partnerships with local companies in Taiwan that allowed them to offer ride-hailing services in multiple cities across the island.
UberX is a discount service that allows riders and drivers to agree on fares before each trip is made available. It quickly gained popularity among those looking for cheaper transport options while getting out of their comfort zone.
Klook
Klook is an excellent general travel app that offers discounted tickets to attractions, tours, and experiences. By using the Klook platform, travelers in Taiwan can easily access information on activities they may engage in as well as book flights, hotels, and rental cars.
With its easy-to-use interface, users can discover popular destination sights with interactive maps, discounted prices for top attractions around Taiwan, and deals tailored specifically for them.
Furthermore, Klook also allows travelers to enjoy unique experiences such as city day tours or cooking classes offered by local hosts. Through this app, travelers can access a wide variety of activities ranging from cultural sightseeing visits to adventure sports like mountain climbing or scuba diving!
With all these features readily available on the app's user-friendly platform, Klook makes planning your journey stress-free and enjoyable! Those who wish a more comprehensive overview of the app & benefits it provides can read reviews available online – which include first-hand accounts written by its frequent users.
Agoda
Agoda is one of the best travel apps for Taiwan, offering both locals and travelers a comprehensive range of features. Agoda helps users find new deals and cash rewards for Tainan hotels with its rates guarantee feature, allowing people to book more affordably.
Not only does Agoda help customers save money when booking accommodations in the city or country, but it also offers convenient flight and hotel promotions that are sure to delight all visitors looking to explore Taiwan at its fullest.
With such a great selection of amenities available in just one platform, it's no surprise that Agoda has reached such a high status as an app preferred by many when it comes to visiting places in Taiwan.
Transportation Apps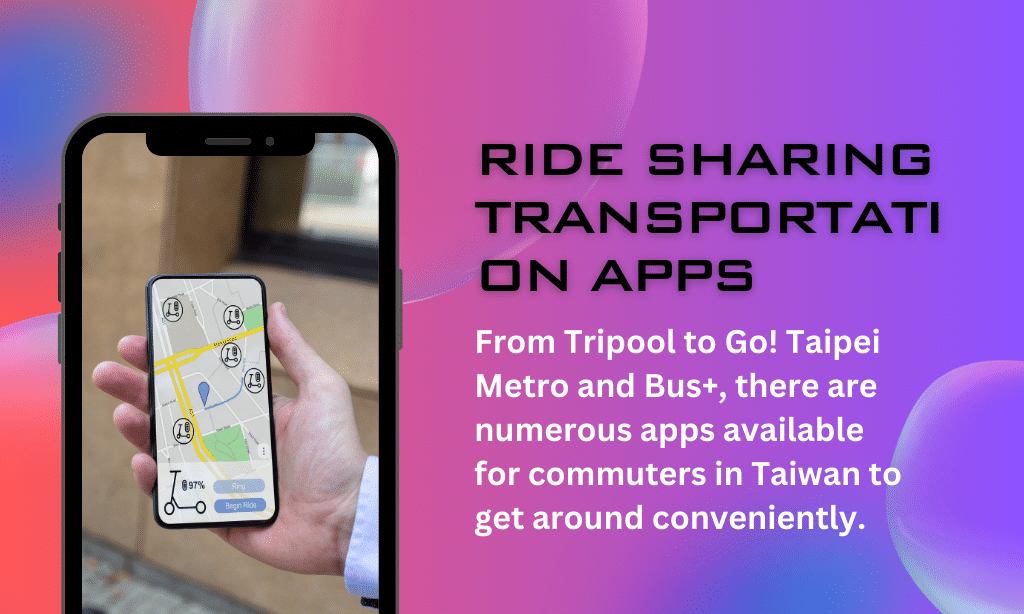 From Tripool, Go! Taipei Metro and Bus+, there are numerous apps available for commuters in Taiwan to get around conveniently.
Tripool
Tripool is a private hire driver app that operates throughout Taiwan. It's a subsidiary of Round Taiwan Round, an established travel company in the country that helps arrange direct transportation services such as airport shuttles, business trips, and even hiking transport.
Tripool has become increasingly associated with ride-sharing apps and transportation apps in Taiwan and offers specific travel options, particularly in the Nantou region. Their user-friendly interface makes it extremely easy for users to access their services quickly whenever they desire with accurate fare estimates provided before booking any rides.
With their freshly updated technology, customers can be sure to receive hassle-free customer service where concerns related to pricing or safety are considered significantly when compared to other competitors out there in this market space.
Go! Taipei Metro
This app enables passengers to quickly find the nearest metro station and navigate their way around Taipei's metro system. It includes convenient features such as real-time alerts for train service, line schedules, current fares and tickets, and station locations.
Additionally, passengers can use its "train meet-ups" feature which allows them to easily share their location and plan a meet-up with others while using the metro in Mandarin.
This helps users save time by finding their destination faster while reducing network connectivity issues from crowdsourced data-sharing services such as Uber or Tripool when traveling in Taiwan.
T Express
T Express is a ride-sharing app in Taiwan that provides travelers and locals with an affordable way to get around. It is one of the most popular apps for transportation in Taiwan, as it helps people easily and quickly find their desired destination.
It is especially useful due to its availability in major cities like Taipei, New Taipei, Kaohsiung, and Taichung. T Express not only offers rides but also serves as a navigation tool – users can plan trips and access real-time traffic information from within the app.
On top of this convenience, T Express allows travelers to enjoy even cheaper fares when taking cars or scooters via discounts offered through partnerships between the company and local businesses.
Bus+
Bus+ is a comprehensive transportation app designed to make navigating within Taiwan easy and efficient. Unlike ride-sharing services like Uber or Grab, Bus+ does not offer private car service. Instead, it features routes for traveling by buses, taxi cabs, and subway systems across the greater metropolitan area of Taiwan.
Bethlehem's unique interactive maps also allow users to find bus routes, plan their trips ahead of time, and even buy tickets in advance for travel within various regions of Taiwan. Additionally, its integration with Google Maps offers users step-by-step navigation as they move about within the country.
With Bus+, riders can always stay informed on current road conditions and traffic situations to ensure a safe journey throughout Taiwan—a great feature that is especially helpful for visitors who are unfamiliar with the roads here!
Alipedia
Alipedia is an online transportation service in Taiwan that allows users to quickly find convenient rides. It is the most suitable solution for those who are new to the country or need a way to access multiple ride-sharing options in one place.
With Alipedia, users can search through different ride-sharing apps such as Uber, Tripool, and GoTaipei Metro on the same platform and can compare their prices. Additionally, it provides information about other services like bike rentals, which are perfect for traveling across Taiwan's many mountainous areas.
Alipedia also provides detailed travel guides for popular locations in Taiwan, along with an insight into cultural norms and etiquette when traveling within it ensuring you have all of the best tips before your journey abroad! If you're interested you can also read Best Ride Sharing Apps in the UK.
Useful Apps for Travelling in Taiwan
[Video Credits @LeoDoesLife]
Now we'll check out a few more useful apps you may need while traveling in Taiwan.
Google Translate (Lens)
Google Translate (Lens) is a must-have for traveling in Taiwan. With the updated translation app from Google, users can now use text/voice input and image recognition technology to translate different languages conveniently.
It eliminates the tedious typing out of phrases that you want to be translated by using voice input or photographing the words you need to be translated with the help of its Lens function. As Taiwan is often regarded as Asia's melting pot, enhancing communication with locals can greatly improve their experience.
Therefore, this user-friendly translation tool provided by Google is an invaluable asset for travelers in Taiwan looking to converse with natives regardless of language ability levels.
Taiwan Weather
Taiwan Weather is an essential app for travelers visiting the country. It provides timely and comprehensive weather updates so you know what to expect when planning activities during your stay in Taiwan, like temperature, humidity levels, precipitation chances, and more.
On average, the temperature in Taipei is around 23°C (73°F) year-round, making it very pleasant to explore the city regardless of season. Additionally, this invaluable tool makes it easy for tourists to plan their itinerary according to weather conditions – giving vital warnings that will allow them to travel smartly and safely while having a memorable experience in Taiwan!
Wise
Wise is an award-winning, all-in-one mobile banking and budgeting app that helps travelers in Taiwan manage their money. With Wise, users can connect to multiple bank accounts to get a real-time view of funds and have full control over spending decisions.
The Wise app also offers features like multicurrency exchange capabilities for easy international payments, chat custodians to ensure no sensitive data is lost in transit when making payments, budget trackers, automated saving plans with up to 20 savings goals, and IBAN generation amongst other benefits.
Whether looking for reliable transportation around town or needing help managing their finances while traveling – Wise aims to make life easier for those away from home either temporarily or permanently. Additionally, you can also read Best Ride Sharing Apps in Singapore.
KKDay
KKDay provides access to various unique activities and tourist experiences in Taiwan. With more than 30,000 offerings across categories like sightseeing tours, transportation services, food & drink experiences, short-term accommodations, or cultural events – KKDay has something for everyone! Its mobile app simplifies the booking process by allowing users to browse its catalog and easily book their preferred activity/tour or hotel stay.
Furthermore, the "Travel Buddies" feature allows members to connect with local friends and guides who can help you better plan your holiday experience in Taiwan. All bookings made on KKDay are also covered by Travel Insurance – perfect for those seeking peace of mind when traveling around Taiwan.
Booking
Booking is an app designed for travelers that makes finding and booking accommodations, transportation, and other travel-related services hassle-free. With Booking in Taiwan users can quickly find the best deals on flights, trains, buses, hotels, and more.
Additionally, they get access to exclusive offerings only available through the app such as discounts on car rentals from designated areas. Through this app, travelers can track their reservations easily with just one tap of a button while searching for their preferred travel options at any hour.
It also helps them to save time by automatically comparing flight prices instead of having to enter search information into multiple flight aggregator sites manually. Booking allows you to book your tickets within minutes with instant confirmation after payment or even book instantly for same-day check-in!
Whether it's last-minute trips or well-planned schedules up ahead – this service will offer convenience for all traveler types in Taiwan looking for great value deals when traveling in our beautiful country!
Taiwan Railways Administration
The Taiwan Railways Administration (TRA) is the most comprehensive transportation network provider in Taiwan. It operates an extensive railway system in Taiwan, connecting major cities throughout the country and serving as a crucial transport link between Taipei and other critical urban centers like Taichung, Kaohsiung, and Tainan.
TRA provides convenient modes of transportation for travelers—from express trains that reach their destinations quickly to commuter lines providing easy access to local hotspots.
The TRA offers regular updates and improvements to enhance the overall travel experience of all train passengers; this includes new ticketing systems that ensure smooth payment transaction processes with fewer queues or delays on its various rail corridors.
Pleco (Chinese Dictionary)
is a Chinese dictionary and flashcard app that offers great value and convenience for those looking to translate Chinese. It has all the features one would expect in a translation app: an audio function for pronunciation practice, various learning modes to cater to different levels of learners, as well as support for both simplified and traditional Chinese characters.
Pleco is praised for its simplicity and practicality in translating phrases or words quickly and accurately in everyday conversations. As the recognition of its accuracy grows over time, users have increasingly relied on it as an essential tool while visiting Taiwan or engaging with locals online.
Furthermore, native English speakers can also benefit from this app by using its advanced functionalities such as writing practice entries or locking screens.
Benefits of Using Ride Sharing Apps in Taiwan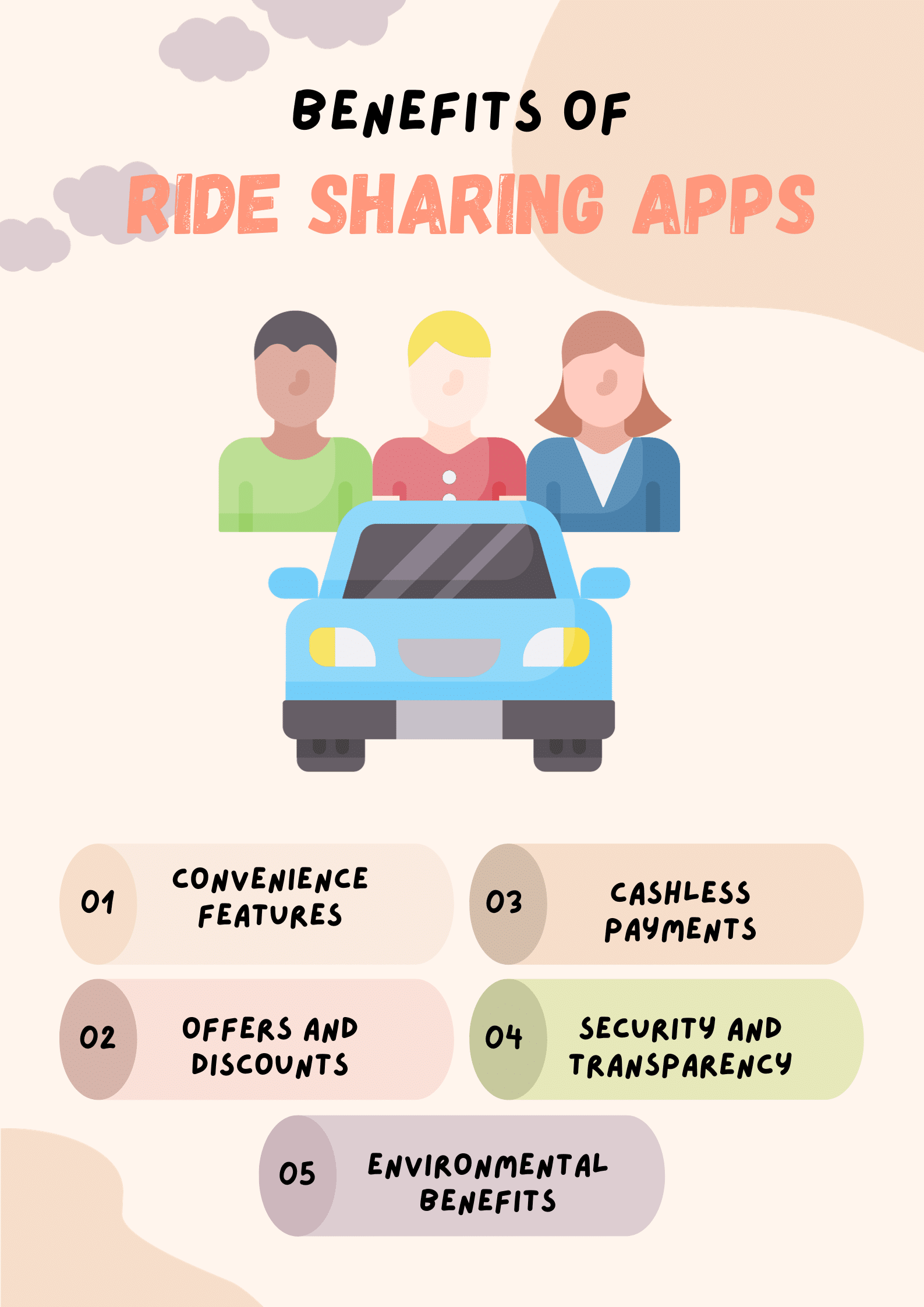 Ride-sharing apps are gaining popularity in Taiwan due to the convenience, cost savings, safety, and environmental benefits they offer. The apps make travel easy, affordable, and eco-friendly.
More Convenient Transportation
Ride-sharing apps provide an incredibly convenient way to get around major cities and towns in Taiwan. Instead of having to hail a taxi on the street or navigate confusing public transportation systems, you can simply use your smartphone to request a ride within seconds. The driver will come directly to your location, eliminating the need to walk to a bus stop or train station. This saves significant time and energy when traveling.
Ride sharing also gives you access to door-to-door service, allowing pickup and drop-off at your destination, unlike buses or trains with fixed routes. Overall, ride-sharing offers unparalleled convenience compared to traditional transportation methods in Taiwan.
Affordable Prices
In addition to superior convenience, ride-sharing apps often provide cheaper fares compared to taxis in Taiwan. The apps are designed to dynamically set competitive, budget-friendly prices based on supply and demand at any given time. They also run frequent promotional offers, coupons, and discounts to keep costs low for riders.
You can additionally split the fare with friends by booking shared rides, increasing the per-person price. With options to book standard, premium, or shared rides, riders have control to choose the most affordable ride for their needs. The pricing flexibility and affordability make ride-sharing very appealing financially in Taiwan.
Improved Safety
Ride-sharing companies implement various important features that prioritize customer safety. When you book a ride, you can see your driver's name, photo, and vehicle details to confirm the right person to pick you up. Every ride is tracked using GPS mapping technology so you can follow your route in real-time and share it with others if needed.
After each trip, you can rate your driver to provide feedback on any safety issues, which helps flag problems. With these screening, monitoring, and accountability layers, ride-sharing offers a far safer transportation option than unregulated taxis.
Reduced Traffic and Emissions
Widespread use of ride-sharing apps can have significant positive impacts on road congestion and environmental pollution in Taiwan's urban areas. By enabling people to share trips in one vehicle rather than traveling separately, ride-sharing inherently reduces the total number of cars on the roads. Fewer vehicles directly alleviate traffic congestion, especially during high-volume times.
Additionally, the sophisticated algorithms used by ride-sharing companies optimize routing and dispatching to minimize unnecessary driving and idling on Taiwanese streets. With fewer vehicle miles traveled these apps help lower air pollution and greenhouse gas emissions. Ride-sharing promotes more eco-friendly transportation in Taiwan.
Tips and Tricks for Maximizing Your Ride-Sharing Experience in Taiwan
Here, get some easy tips and tricks to make your journey smoother. 
Research Apps Thoroughly
Spend time before your trip reading reviews and comparing the top ride-sharing apps used in Taiwan like Uber, Grab, GoShare, Moovn, and more. Look at their coverage areas, pricing models, vehicle options, and rider promotion perks. Download at least two different apps to have flexibility.
Setting up accounts beforehand prevents hassles when arranging rides on the fly after you arrive. Choosing the app that is most widely used in the region you are visiting ensures more driver availability.
Keep Your Phone Charged
A fully charged phone is essential when relying on ride-sharing apps abroad. Bring a compact power bank that can quickly recharge your phone several times. A low battery means you temporarily lose access to your ride. Avoid getting stranded without a ride due to an uncharged phone.
Also, be sure to enable international roaming or get a local SIM card so you can use mobile data to access the apps. Staying connected is key.
When traveling with family or friends, maximize savings by booking shared rides whenever possible. Uber and Grab can select a shared ride that matches you with others headed the same way. The total fare gets divided among all passengers.
Taking one shared car instead of two separate cars is cheaper per person and reduces congestion. Shared rides are a great option for airport transfers and longer trips.
Cash in on Promotions
Sign-up bonuses, free rides, and referral codes provide lucrative incentives when using a ride-sharing app in Taiwan. Compare new user promotions across apps and take advantage of the best deals. Using referral codes from blogger reviews is one way to unlock discounts.
Loyalty programs also give you points towards free rides the more you use the app. Cash in on these savings to stretch your travel budget further.
Be Clear on Pickup/Dropoff Spots
Input your pickup location when hailing a ride, providing landmarks, building names, and other details so drivers can pinpoint you. Also, check that your entered destination is correct before booking.
Providing accurate addresses upfront prevents wasted time from drivers searching for you or going to the wrong locations. Clear communication and details help ensure seamless door-to-door service.
Rate Fairly and Constructively
Drivers rely heavily on your ratings and reviews, so provide thoughtful feedback. Keep in mind language and cultural barriers before rating poorly for minor issues. But rate constructively when improvements could be made, like suggesting drivers use GPS if they get lost frequently. Clear communication and constructive feedback lead to better overall service.
Scooter & Bike Rental Apps
Experience the versatile means of local transportation by downloading "YouBike" – Taiwan's largest bike-sharing platform, for your convenience.
YouBike
YouBike is Taiwan's public bicycle-sharing service, providing an alternative form of transportation for those visiting or living in major cities like Taipei, New Taipei City, Kaohsiung, and Taichung.
It uses an electronic managerial system to allow users to rent from one location and return bikes from another conveniently. With its low prices and convenience, YouBike has become an increasingly popular way to navigate the city.
Its environmental benefits also make it a preferred option among travelers – reducing carbon dioxide emissions by up to 13%. YouBike lets you explore anywhere within their designated areas quickly and easily!
Takeaway
Ride sharing apps in Taiwan can make exploring the country more convenient and enjoyable. From booking accommodations with Klook and Agoda to navigating transportation systems with Google Maps, Uber, Tripool, and Go! Travelers can rely on these apps to get around in Taipei Metro or T Express effortlessly.
Additionally, you can find scooter & bicycle rentals via YouBike for eco-friendly transportation, communication tools like LINE or Skype for easy conversations with local people, and food delivery services such as Uber Eats and FoodPanda when hungry.
With all of these ride-sharing apps available at your fingertips (and language translation), there's no reason not to venture out into Taiwan confidently.
Frequently Asked Questions (FAQs)
Now, let's find out some things that people often ask about the best ride sharing apps in Taiwan.
1. What are some of the best ride-sharing apps available in Taiwan?
The most popular ride-sharing apps in Taiwan are Uber, Line Taxi, and YouBike.
2. How can I use each of these apps to get a taxi?
On Uber and YouBike, customers can easily request a taxi by entering their pickup location, destination, payment method, and other details into the app. With Line Taxi, users must go through a two-step booking process that involves choosing the desired pickup time or summoning an immediate cab from within the app.
3. Are all types of payments accepted on these apps?
Yes! All major payment methods such as credit card services, Apple Pay, and Google Pay are accepted across multiple ride-sharing platforms in Taiwan for convenient transactions.
4. How do I stay updated with promotions offered by these sites?
Each platform has its website where you can be informed about any discount offers they have going on currently or subscribe to receive regular promotional updates via newsletters or email notifications directly from them!