10 Best Ride Sharing Apps in New Zealand: Traveling is Fun With these Apps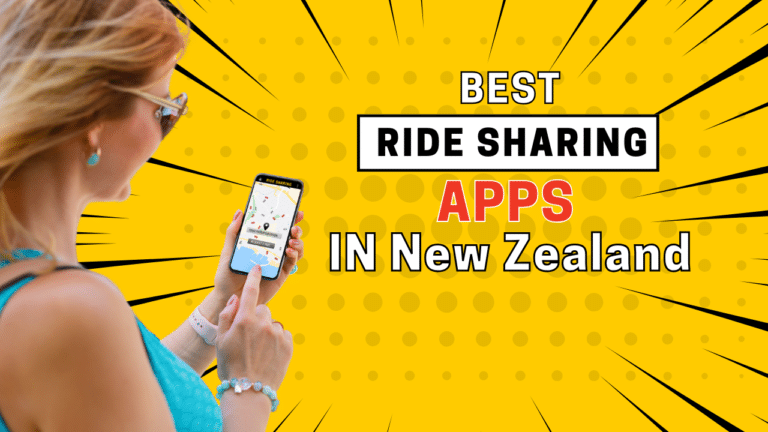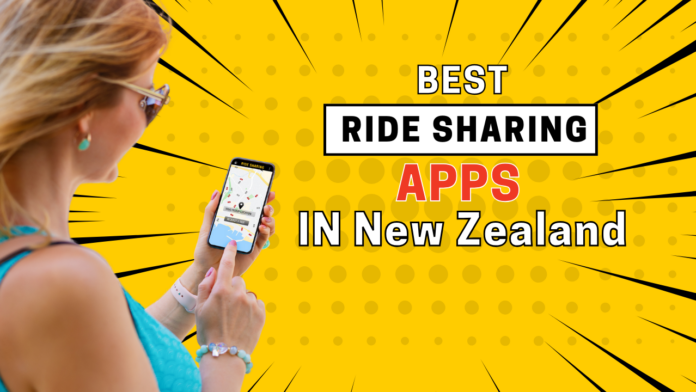 The search for the best ride sharing apps in New Zealand can be overwhelming. There are many great apps available, from internationally known companies to locally owned ones. In this post, we'll provide an overview of the top three ride-sharing apps– Zoomy, Uber, and Ola – and compare their features so you can make the most informed decision when selecting one for your needs.
We will also take a look at promo codes and discounts available with these services to maximize your budget. By the end of this article, you should have all the information necessary to choose the perfect ride sharing app in New Zealand that best suits your needs!
Content Highlights
Zoomy is the only locally owned and operated ride sharing app in New Zealand.
Users of Uber, Ola, and Zoomy can access drivers that have been vetted for safety as well as get discounted fares with promo codes.
These apps also provide users with convenient features such as fare estimates to help budget trips, GPS integration for navigation purposes, and audio/video calling capabilities if needed.
Additional perks like Split Fares on Uber allow riders to share costs when traveling in a group while the 'Share My Trip' feature keeps families informed of the rider's location during their journey.
Overview of Best Ride Sharing Apps in New Zealand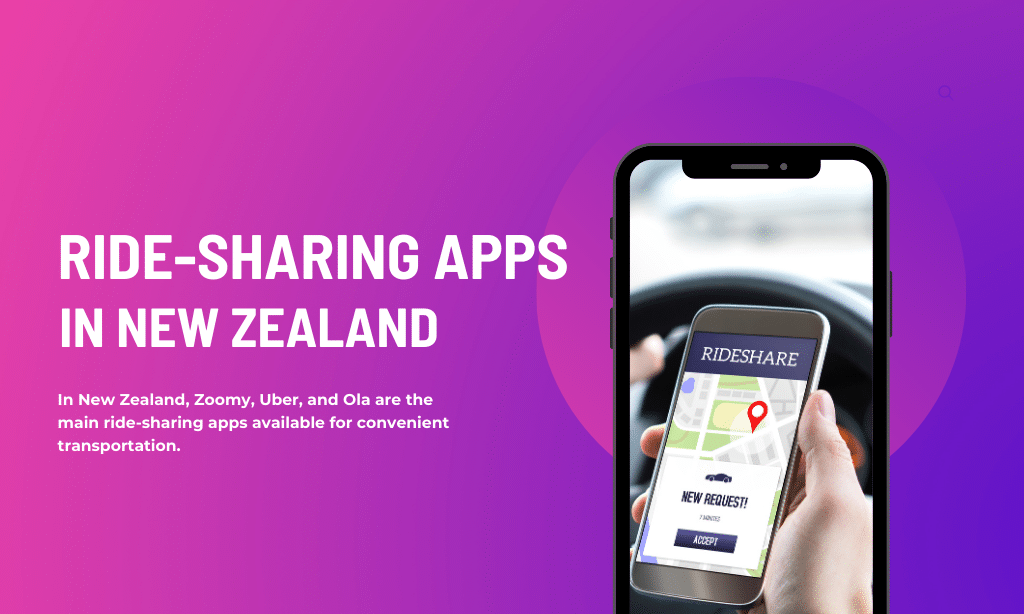 In New Zealand, Zoomy, Uber, and Ola are the main ride-sharing apps available for convenient transportation. There are even more. Let's explore them all.
Zoomy
Zoomy is an app-based ride-sharing service in New Zealand that offers affordable transportation with just a few taps on the screen. It stands out from other services as it is the only transport-sharing app that's locally owned, giving it strong ties within New Zealand and an understanding of its local communities.
Zoomy operates throughout Auckland, Wellington, Christchurch, Tauranga, and Hawke's Bay providing quick access to a diverse variety of vehicles when users need them most. Passengers benefit from accurate fare estimates before they even get in their chosen vehicle type so there won't be any surprise costs or hidden fees.
What's more Zoomy puts safety first – each driver has gone through strict vetting measures to ensure customers are taken care of whenever they use the service. Thanks to its convenience and low-cost rides everyone in New Zealand can enjoy dependable transport options at competitive prices while experiencing of kind interface designed for fast & easy bookings.
Uber
Uber is a ride-hailing service offered in New Zealand that allows riders to catch comfortable, secure rides with just the tap of a button. The platform offers convenience, cashless payments, professional service, competitive pricing, and safety for drivers.
With Uber's expansion across the country, you can now use its services in popular cities such as Wellington, Queenstown, and Christchurch. Riders pay the same fare structure as traditional taxis making it much more cost effective than owning or using other alternatives such as rental cars or hop-on buses.
In addition to regular rides that passengers can book through the app or online site, they also offer several other safety features like Ride Check – an integrated feature that proactively checks if riders are safe during their journey from start to end with real-time GPS data monitoring and proactive notifications from drivers regarding upcoming stops along your route.
Ola
Ola is a widely used ride-sharing app in New Zealand, offering reliable and convenient transportation options. It has over 300,000 drivers and taxis in more than 100 cities, making it one of the world's largest ridesharing companies.
On this platform, users can find rideshare services for any budget – from cheaper rides with shared routes to luxury services. The riders have plenty of options to choose from about pricing estimates and coverage areas.
Additionally, its user interface is designed for ease of use while safety measures like driver vetting provide essential security for passengers during their journeys. Besides these great features that come standard on Ola, there are also promo codes offered regularly which reduce rider costs even further making their journey value for money!
DriveHer
DriveHer is a rideshare service just for women in New Zealand. It lets women travel comfortably and safely. All the drivers are female so riders can feel more secure. DriveHer checks each driver carefully to make sure they are trustworthy.
Women can use the DriveHer app on their phones to order a ride. They get matched with a female driver close by. The rides are affordable, with no surprise fees. If any problems come up during a ride, DriveHer has 24/7 support to help.
They focus on giving women peace of mind with safe rides from female drivers. This makes it easy for women in New Zealand to get around.
Shuttlz
Shuttlz is an airport ride service used in the main cities of New Zealand. It takes travelers to and from the airport for an affordable price. Shuttlz offers reliable and timely airport transfers. Customers know the set price beforehand so there are no surprises.
The drivers have a lot of experience driving routes to the airports. They know how to provide a smooth, stress-free ride. Shuttlz uses real-time tracking so customers can follow their driver's location on the way to pick them up.
This gives peace of mind when coordinating airport pickups. With affordable fixed prices, experienced drivers, and real-time tracking, Shuttlz makes airport transfers simple for travelers in New Zealand cities. The reliable service gets travelers to the airport without hassle or overpaying.
Need-A-Ride
Need-A-Ride is a service that lets people request rides from private drivers in New Zealand. Users can order a ride either on the Need-A-Ride app or by calling them on the phone. It operates in various regions around New Zealand. Need-A-Ride is known for quick pickups when users request a ride.
The private drivers aim to arrive promptly to get riders to their destination on time. The service also has competitive pricing compared to other options. Riders don't have to pay too much for the convenience of a private driver ride.
Between the fast pickups and affordable prices, Need-A-Ride is a convenient transportation choice for many areas of New Zealand. It connects users to safe, reliable rides from local drivers who know the neighborhoods well. Need-A-Ride focuses on providing an accessible and hassle-free ride experience.
YourDrive
YourDrive is a ride service that matches up riders with private drivers for rides across New Zealand cities. It aims to provide customized rides based on the rider's needs. Users can request a driver on the YourDrive platform based on things like vehicle size or languages spoken. YourDrive focuses on good customer service when connecting riders and drivers.
Users can expect a pleasant experience with courteous drivers who know the city well. The service also offers competitive pricing so riders get reasonable fares for their private rides. YourDrive cares about tailoring the ride experience and offering affordability.
With its customized rider-driver matching and competitively-priced trips, YourDrive strives to make private transportation hassle-free for people traveling in New Zealand cities. It's an accessible way to get around with a personalized touch.
RidePlus
RidePlus is a ride service that lets users book professional drivers for trips around New Zealand. Riders can schedule their rides in advance through the RidePlus app or website. This allows them to plan out and reserve rides when needed. RidePlus has fixed pricing so users always know what a ride will cost beforehand.
There are no surprise charges or fees. For safety, RidePlus has features like driver background checks and the ability to share trip details with loved ones. Riders also get professional drivers who know the city well and aim to provide excellent service.
With the reliability of booking rides ahead, transparent pricing, and safety features, RidePlus makes it easy to get around New Zealand with confidence in a professional driver. The service gives control and assurance when planning travel in New Zealand.
Cabify
Cabify is a ride service in major cities across New Zealand. It offers different transportation choices to match what riders need. Options include standard car rides as well as premium vehicles like luxury cars and vans. This variety lets customers find the right ride for any situation. Cabify also has innovative features that make rides more convenient.
For example, users can have packages delivered during their trip so they don't have to carry items around. Cabify aims to provide an efficient, hassle-free experience. With its range of ride types and useful features like package delivery, Cabify gives choices for easy travel within New Zealand cities.
Riders can customize their ride to fit their needs whether that's a quick trip or a luxurious night out. Cabify brings innovation and flexibility to getting around.
Karhoo
Karhoo makes booking rides easy by bringing different options together in one place. On their platform, users can find and compare taxis, private cars, and rideshares. Karhoo aggregates all these providers so travelers can conveniently choose the best ride and price for their needs. The service compares fares across the many transportation choices.
This allows riders to get optimal value without having to check multiple apps. Karhoo also integrates billing so users can manage all rides in one place. With its price comparison, diverse ride choices, and consolidated billing, Karhoo simplifies booking the ideal ride.
Comparing the Features and Services of Zoomy, Uber, and Ola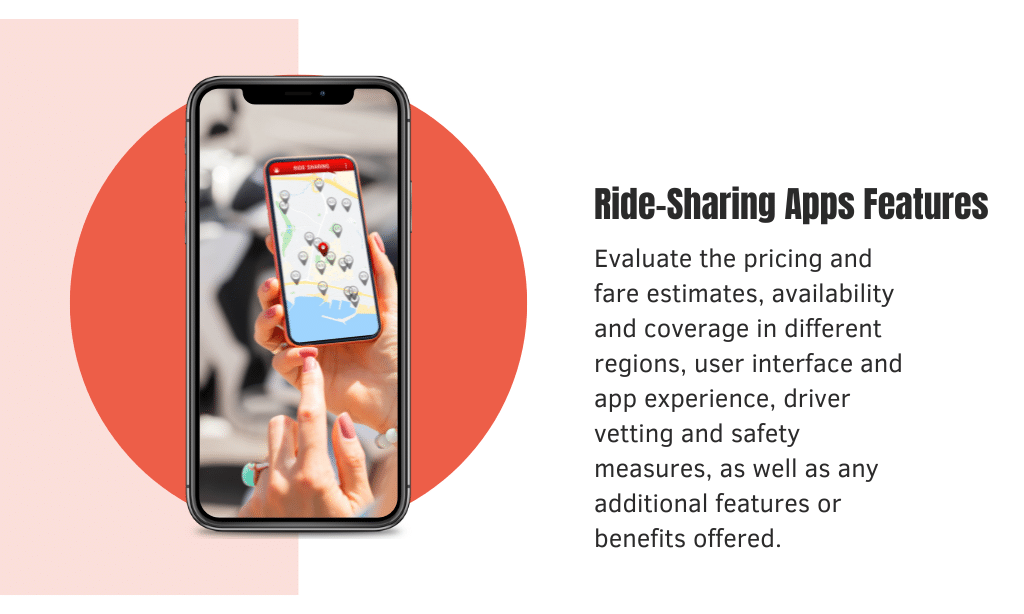 Evaluate the pricing and fare estimates, availability and coverage in different regions, user interface and app experience, driver vetting and safety measures, as well as any additional features or benefits offered.
Pricing and Fare estimates
Different ride-sharing apps in New Zealand, such as Zoomy, Uber, and Ola have different pricing structures. For example, while UberX fares start at a base of NZD 1.30 and are calculated based on the distance of the journey, other companies may implement surge prices during busy times.
Additionally, users can obtain fare estimates from these apps for their journeys to help plan trips and manage budgets better by knowing how much they will pay up-front before any additional fees or charges are applied.
Users can also check estimated arrival times for ridesharing services like Uber where available to ensure that they efficiently plan their transportation needs. Companies that offer fare estimation features include Lyft, Ola, Didi, and Zoomy which allow riders to search for prices based on specific locations in addition to being able to compare pricing between ride-sharing services offered in different cities across New Zealand.
Availability and Coverage in Different Regions
Ride-sharing services are becoming increasingly popular throughout the country, making travel hassle-free and cheaper than ever. Apps like Zoomy, Uber, and Ola offer a range of services for passengers from all over New Zealand.
Both Uber and Ola have wider availability across the nation compared to Zoomy. In fact, in terms of coverage, both apps extend their reach beyond major cities into smaller towns such as Tauranga or Whangarei.
Meanwhile, Zoomy is more limited with its availability typically being concentrated in main urban areas such as Auckland City Centre or Wellington Central Business District.
Consequently, it can be seen that depending on where you live or visit determines which ride-hailing service will be more beneficial to you – when traveling to certain rural locations outside larger cities it may be better to go with Uber or Ola which has greater coverage rather than relying on Zoomy's localized service alone.
User Interface and App Experience
Ride-sharing apps in New Zealand provide an easy and enjoyable user experience for customers, with sleek interfaces, simple booking processes, and useful features. Zoomy, Uber, and Ola are all designed with intuitive navigation menus to help riders find what they need quickly, as well as providing the ability to input destination information via text search or drop-down menus for wider coverage areas.
Booking a ride is quick and straightforward on all platforms; Riders can enter pickup and dropoff locations along with other preferences that will tailor their journey – such as vehicle type – before selecting 'confirm' to be matched with a driver.
Additionally, once paired up users benefit from real-time tracking of the car's location allowing them to watch its progress towards pick-up – this also helps drivers avoid stalls while finding addresses.
Driver Vetting and Safety Measures
Ride-sharing apps in New Zealand like Zoomy, Uber, and Ola go to great lengths to ensure the safety of passengers. These apps screen all drivers by verifying their licenses and other forms of identification before allowing them onto the platform.
They also have systems for detecting any unsafe driving behavior during a ride. This includes tracking speed, monitoring braking habits, and logging sudden turns or stops that could potentially cause passenger discomfort or be indicative of impaired driving.
Furthermore, these apps provide features such as Share My Trip which allows passengers to share their current location with friends and family so that they can track their trip in real time – increasing both the safety and convenience of outride-sharing services.
Additional Features and Benefits
Ride-sharing apps in New Zealand offer a variety of useful features and benefits. For instance, the Uber app provides users with options like split fares, so they can split the cost of their ride with friends easily and conveniently.
It also allows riders to add more than one stop or destination when booking their journeys. On top of that, people who use this service will be able to get real-time status updates about their rides.
Other apps such as Zoomy employ driver vetting technologies to ensure additional safety for passengers each time they book a ride. Plus, with features such as fare estimates and seeing your driver before ordering available through both the mobile app and website, Zoomy offers customers an excellent user experience on any device they choose to use.
Furthermore, drivers using Ola can earn extra rewards by referring clients to the platform while also accessing exclusive promo codes for discounts when placing orders from certain areas in New Zealand.
Promo Codes and Discounts for Ride-Sharing Apps in New Zealand
Unlock exclusive discounts and promotions on Zoomy, Uber, and Ola with up-to-date promo codes.
Zoomy Promo Code
Zoomy is offering customers a valuable $10 discount on their first ride! Simply enter the promo code HELLOCHCH when booking and you could save yourself some money. Using this promotional code not only offers customers a cost reduction but also provides an additional benefit of giving the person who referred you another $10 off.
This confidence in their product has resulted in more than 12 people taking advantage of this offer so far! When looking for savings on your next journey around New Zealand, make sure to remember Zoomy's promo code – HELLOCHCH – and take advantage of these amazing savings.
Uber Promo Code
Uber in New Zealand offers exclusive promo codes and discounts for customers to save money on ride sharing services. Customers can redeem the codes by adding them to their Uber wallet before requesting a trip.
When entering the code, riders can apply for a 50% discount on their total fare price. Discounts can be used when booking rides during both Black Ferns and All Blacks match days but customers should note that promo codes cannot be redeemed more than four times per active Uber account.
To use an Uber promo code, customers need to download or open the app, enter their valid payment method information, and then go into the 'wallet' section of the app where they can input their promotional code under the "Referral Code" item box provided onscreen.
Ola Promo Code
Ola offers a range of promo codes and discounts for customers in New Zealand, with various deals available to help users save money. Currently, there are 9 Ola coupon codes offering up to 50% discount on rides in New Zealand.
Customers can also benefit from the $10 off code which is available until August 2023 – perfect for large group bookings or regular commuters. Aside from this discounted fare offer, there are also different bank and wallet deals that Ola provides, as well as promotions specifically tailored to new users who sign up for a ride-sharing app account.
With this wide variety of discounts already being offered by Ola in New Zealand, customers can take advantage of and maximize the savings gained from using ride-sharing apps.
Rate Comparison of Ride Sharing Apps for Popular Routes in New Zealand
Compare the rates of Zoomy, Uber, and Ola for some of New Zealand's most popular routes to find the best ride sharing app for your needs.
Auckland: Britomart Place to the SkyTower
Auckland is home to a variety of exciting nightspots, and cultural hotspots, and the area also hosts the tallest building in New Zealand – The Sky Tower. Travel from Britomart Place to SkyTower is made easy with ride-sharing companies such as Zoomy, Uber, or Ola.
These apps allow users to easily order rides at affordable prices. Depending on which app you choose, customers can accurately calculate approximate fare estimates with respective pricing algorithms and see real-time availability for drivers in the region.
For easier navigation, these apps provide full directions including overview maps upon arrival at destinations while highlighting ideal routes for shorter travel times. From Britomart Place to the Sky Tower takes approximately 18 minutes in good traffic conditions so make sure you plan your route accordingly!
In addition, most of these services offer value add-ons such as promotional discount codes as well as reward points that can be used later down the line when booking subsequent rides through their platform.
Wellington: Wellington Airport to the Railway Station
Traveling from Wellington Airport to the railway station is an easy choice with all major ride-sharing apps available. Zoomy, Uber, and Ola provide reliable transportation options for passengers in New Zealand's capital city. These services offer competitively priced fares and fare estimates so that riders can see how much their trip will cost before confirming their ride.
In addition, these companies also make sure that cars arrive quickly by prioritizing availability within the region, meaning riders don't have to wait long for a vehicle to be dispatched.
Furthermore, these apps are designed with intuitive user interfaces that enable users to request trips easily and securely while providing additional safety features like driver vetting measures to ensure passengers can trust who they're riding with.
Christchurch: Cathedral Square to the Gondola
Traveling from Cathedral Square in the heart of Christchurch to the Gondola overhead doesn't have to be a hassle. With ride-sharing apps like Zoomy, Uber, and Ola you can book your journey with just a few taps on your smartphone.
All three offer competitive fares for travel along this route and provide reliable driver estimates when booking trips. Depending on traffic conditions, it usually takes around 20 minutes to complete the roughly 10-kilometre drive from Cathedral Square to reach the towering cable car at The Gondola in New Zealand's South Island.
What's more, Riders may find added benefits while traveling with these services as they could be eligible for advance discounts or cashback offers when using certain promo codes available via each platform.
New Plymouth: Pukekura Park to Paitutu Rock
Pukekura Park is located in the heart of New Plymouth, Taranaki, and covers an area of 52 hectares (128 acres). It's a popular botanical garden and a must-visit for anyone visiting New Zealand.
From Pukekura Park you can reach the stunning Paritutu Rock by following the 10km coastal walkway which starts from Paritutu Rock and ends at Te Rewa Rewa Bridge. The rock offers fantastic views; although it requires little courage to climb but worth it, when you reach up there, overlooking Back Beach and Sugar Loaf Islands.
It's an epic view unlike any other that will make your trip truly unforgettable!
User Reviews and Ratings for Ride Sharing Apps in New Zealand
Reviews and ratings from users provide insightful information on the overall experience of ride sharing apps in New Zealand.
Positive Reviews and Feedback
Choosing the right ride-sharing app can be a challenge, and it is important to take customer reviews into account when making your decision. Positive reviews indicate reliability and satisfaction with the service, giving customers confidence that their journey will be satisfactory.
They can also point out any potential issues or areas for improvement such as cleanliness of vehicles, politeness of drivers, or overall user experience on the platform.
Examples of popular New Zealand ride-sharing apps such as Zoomy, Uber, and Ola have all received positive feedback from their customers, with riders citing helpful drivers and good prices amongst other benefits.
Negative Reviews and Common Complaints
When it comes to ride-sharing apps, users in New Zealand often have reservations due to safety concerns and the overall user experience. Common complaints include issues such as drivers taking a longer route than necessary, arriving late or not at all, disengaging GPS navigation while en route, driving too quickly and dangerously, failing to follow road rules, or using inappropriate language during the ride.
Further, ride-sharing companies' ability for quality driver vetting has been challenged with reports of cars being registered without proper background checks around credentialing.
There is also the issue of surge pricing which can lead to financial stress when a customer needs an urgent trip somewhere but cannot afford it because of steep prices caused by high demand for drivers.
Latest Updates and Developments in Ride Sharing Apps in New Zealand
Recent changes in the ride-sharing landscape include new features and expansions, along with partnerships between app providers and other major players.
New Features and Improvements
Ride-sharing apps in New Zealand have seen a significant improvement, both from the introduction of locally owned platforms such as Zoomy and ubiquitous global services like Uber, to updated features and improvements.
Many of these new features focus on enhancing user convenience and interface experience. For example, the use of native iOS 16 with iPhone devices has ushered in a slew of updates for ride-sharing apps that include richer mapping data displays as well as hands-free access to turn-by-turn navigation without needing to open the app itself.
Furthermore, some brands are now also offering discounted rides if traveling between scheduled metro train stops or other fixed points which replace former restrictions related to time traveled or pick-up locations previously imposed by individual operators.
Expansion of Services and Coverage Areas
Ride-sharing apps in New Zealand have seen phenomenal growth over the past few years, with their services and coverage areas expanding accordingly. Through this expansion, people living in both urban and rural areas are now able to enjoy access to convenient transportation options like never before.
Urban dwellers can benefit from a more efficient way of traveling around their city while those living outside cities can now move between towns easily and affordably. Furthermore, businesses located out of the main city centers have also benefited by having ride share drivers closer at hand for potential client pick-up or delivery needs.
Expansion of service areas has not only supplied convenience for passengers but also increased earning opportunities for drivers looking to maximize profits through location preference settings within respective ride-share apps.
Partnerships and Collaborations
Ride-sharing apps in New Zealand have formed partnerships with other brands and services. For example, Uber has partnered with restaurants to provide food delivery services across the country.
This benefits both sides – Uber drivers can make additional money delivering meals, while restaurant customers can get their orders faster. Additionally, corporate partnerships between ride sharing apps and big-name brands such as banks or retailers can drive revenue for the app through advertising deals and promotions offering rides at discounted rates or points-related rewards.
Other major ride-hailing companies operating in New Zealand include Lyft and Ola which also offer similar types of collaborations with local businesses to bolster their reach within the market.
Such partnerships enable these ride-sharing companies to expand their coverage areas across cities like Wellington, Queenstown, or Christchurch where alternative transportation options are more limited than in larger metropolitan areas.
Benefits of Using Ride Sharing Apps in New Zealand
Ride sharing apps offer many advantages such as convenience, cost savings, and fewer environmental effects – it's easy to see why they are becoming increasingly popular in New Zealand!
Convenience and Ease of Use
Ride sharing apps in New Zealand offer customers convenient and easy access to transportation. With just a few taps on their smartphones, users can get a ride without having to wait for buses or call taxi services.
Additionally, the user-friendly interface of these apps ensures customers have no difficulty navigating through different features such as searching for destinations or booking rides.
Furthermore, with real-time GPS tracking these apps let you keep track of your ride so you know exactly when it will arrive. Other useful features include fare estimates before booking and safe payment methods which make the whole process quick and hassle-free.
Cost-Effectiveness Compared to Traditional Taxis
Ride-sharing apps in New Zealand offer cost-effectiveness compared to traditional taxis. These apps typically provide dynamic pricing, allowing users the flexibility to choose the most affordable option according to their travel needs and budget.
With real-time fare estimates, users can track expenses and know exactly how much they will be paying for their ride before taking it. Furthermore, these services are fully transparent; customers have access to all fees upfront along with maximum fares which help them keep an eye on prices without having any unpleasant surprises at the end of their journey.
Ride sharing also eliminates additional costs such as waiting time charges or surcharges, providing passengers with absolute control over their trips and consequently, a more affordable experience than using traditional taxis.".
Reduced Environmental Impact
Ride-sharing apps have significantly reduced the environmental impact of mass transportation in New Zealand. According to a study by the Union of Concerned Scientists, making a single ride-hailing trip can generate 69% more emissions than traditional modes of transportation such as carpooling, taking public buses or trains, or simply walking instead.
This matter needs to be addressed properly since the pollution generated by rideshares is much higher compared to individual cars used for private transport purposes. Due to this reason, many individuals are opting for different ride-sharing services available in New Zealand which encourages them to travel in shared vehicles and save on fuel costs while at the same time reducing their carbon footprint.
The increased use of these apps not only gives people an affordable way to get around but also helps reduce vehicle emissions and make cities cleaner and greener!
Tips and Tricks for Maximizing Your Ride Sharing Experience in New Zealand
Understand the basics of ride-sharing, like ride options and necessary documents, to have a comfortable experience while using these apps.
Planning Routes and Scheduling Rides
Using ride-sharing apps in New Zealand, travelers can input their desired destination and plan their route before taking a journey. Most ride-sharing apps offer features such as mapping capabilities that allow users to view actual street roads while selecting the best routes to take.
Many apps also provide traffic updates so that riders can estimate when their trip will end or make necessary adjustments if needed. Additionally, riders can schedule rides through these services ahead of time, allowing them greater flexibility and peace of mind about travel planning.
Furthermore, customers often have the option of various payment choices such as cashless payments for added convenience when using ride sharing apps in New Zealand.
Communication With Drivers
It is important to have clear and timely communication with drivers when using ride-sharing apps in New Zealand. Effective communication is necessary for successful route planning, providing pickup instructions that are easy to understand, and ensuring any special requirements or preferences are met.
Communication should be direct, concise, and open so there's no misunderstanding on either end. This will help riders feel comfortable setting up the ride with drivers ahead of time rather than relying on in-person conversations or a rushed phone call before the start of the journey.
In addition to basic details like pick-up location and destination, effective communication should also cover expectations about the inside cleanliness of the vehicle as well as making sure both parties have agreed upon an accepted payment type before hopping into a car.
Safety Precautions and Personal Security
To ensure a safe and secure ride-sharing experience in New Zealand, it is important to follow basic safety measures. This includes verifying your driver's identity (especially if their name does not match with the app), looking out for car make/model details that are provided on your trip request, ensuring safe entry into and exit from the vehicle, keeping GPS enabled to trace your location at all times as well as enabling two-way communication with the driver.
Additionally, be sure to always wear seat belts – this increases safety considerably. It is also recommended to let someone know where you going just in case of an emergency or if you feel uncomfortable or threatened at any time during the journey.
In addition, users should familiarise themselves with additional safety features offered by ridesharing apps such as Uber's RideCheck which uses sophisticated sensors (such as GPS) to detect trip irregularities and alert drivers and riders accordingly while Zoomy offers roadside assistance services that provide help within minutes of an incident occurring.
Ola has a "Share My Trip' feature allowing customers to access links that they can share with their family or friends so they can see live updates of each trip including its start point, drop off point, and duration.
Frequently Asked Questions (FAQs)
Now, let's find out the answers to some questions people often ask about the best ride-sharing apps in New Zealand.
1. What are some popular ride-sharing apps in New Zealand?
Some popular ride-sharing apps in New Zealand include Uber, Ola, Zoomy, DriveHer, Shuttlz, Need-A-Ride, YourDrive, RidePlus, Cabify, and Karhoo. These apps allow you to book rides with local drivers.
2. Which ride-sharing app has the cheapest fares in New Zealand?
Fare prices can vary between the different ride-sharing apps. Some affordable options include Zoomy, DriveHer, Shuttlz, and Need-A-Ride. Comparison shopping between the apps can help find the best deals.
3. Which apps offer ride-sharing services specifically for women?
DriveHer and Need-A-Ride are two ride-sharing apps in New Zealand that cater specifically to female riders with female drivers. This provides an extra level of safety and comfort.