Best Ride Sharing Apps in the UAE: Traveling the Emirates Is Now Fun [Top 10 List]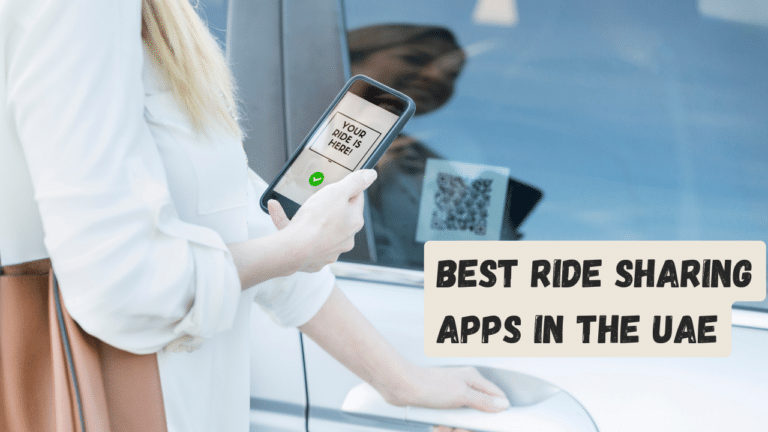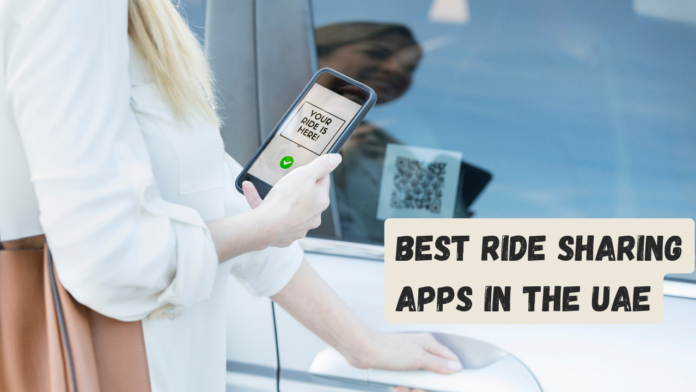 Are you looking for reliable and convenient transportation in Dubai? Many taxi and ride-hailing apps are available to provide transport services in the UAE. In this article, we'll be discussing the best ride sharing apps in the UAE, such as Careem, Uber UAE, Hala (Dubai Taxi), S'hail, and RTA Public Transport App so that you can get around town with ease.
We'll also look at their features, benefits, updates, and innovations to help you decide what app to use for a stress-free journey. Jump right into this guide to discover all the top transport options!
Content Highlights
The UAE offers a variety of ride-sharing apps, such as Careem Dubai, Uber UAE, Hala (Dubai Taxi), S'hail, and RTA Public Transport App.
Each app offers different features to make transportation convenient and reliable, including reward programs, real-time tracking of rides, shareable ride information, or safety buttons for added protection.
Different services are available depending on commuters' needs, such as the Uber Comfort service, which starts at AED 19 per trip within Dubai for a more comfortable travel experience.
Some apps also offer integration with other services like food deliveries so travelers heading out from different destinations can stay well-fed while on the move!
Overview of the Best Ride Sharing Apps in the UAE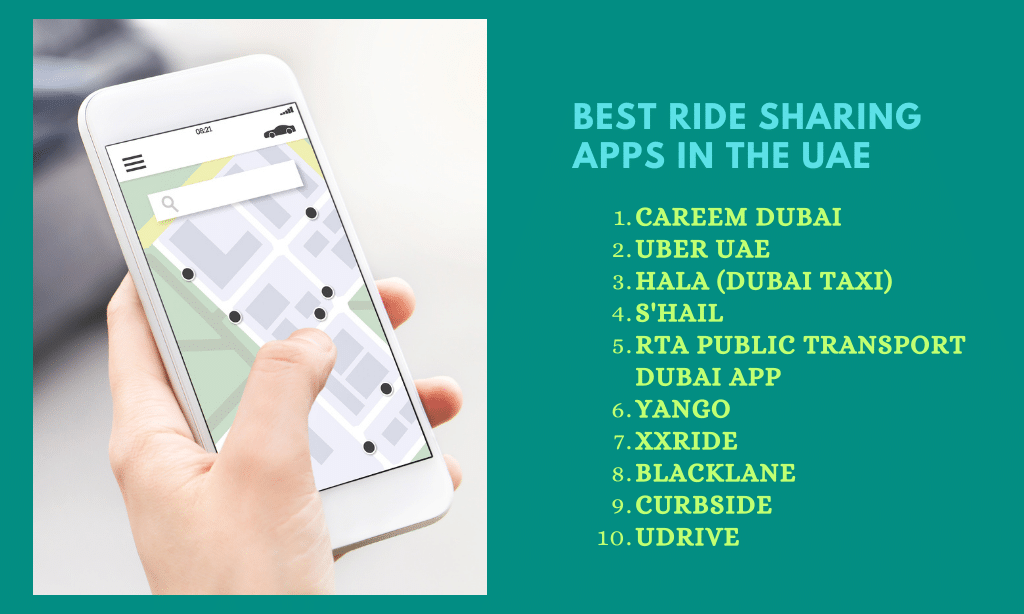 This section will discuss an overview of the major ride-sharing apps available in the UAE and their key features.
Careem Dubai
Careem Dubai is a leading ride-sharing app in the Middle East, offering convenient, reliable, and safe transport services. Careem enables customers to book rides through their mobile app or website, and they are automatically connected to nearby drivers who can pick them up quickly for their journey.
Additionally, Careem offers different services so customers can choose based on their needs, such as Careem Go, Plus, and Kids. All are tailored to provide a comfortable experience depending on the rider's requirements.
It also aims to build 'the everything app' for the greater Middle East with other services like food delivery and payment management in its portfolio. Striving beyond just its core rideshare business, it has sought outside investors to finance the expansion of its Super App capabilities, thus providing more options for users at an affordable cost.
Uber UAE
Uber UAE is a popular ride-sharing app in the UAE, available for both riders and drivers. The app offers convenient and reliable transportation options with its largest network of active riders enabling users to get a ride in minutes or become a driver and earn money on their schedule.
Uber also verifies all riders with their personal information and phone numbers for added safety, so you can have peace of mind when taking your rides. Plus, it provides an added level of comfort through its new Uber Comfort service, which starts at AED 19 per trip within Dubai.
To join this community as either a rider or driver, you need to download the Uber App on your iPhone, iPad, or iPod touch and follow the required steps that are easy to understand.
Read Also: Best Ride Sharing Apps in Singapore
Hala (Dubai Taxi)
Hala Taxi is a popular ride-sharing app that offers reliable car booking services in Dubai and Ras Al Khaimah. Customers can book taxis to various destinations within any emirate with Hala Taxi, making it a recommended taxi app for commuters searching for convenient transportation options.
With its easy booking and payment process, users have ensured safe rides with experienced drivers anywhere within Dubai or RAK. The flexible fare structure is also cost-effective compared to other ride-sharing providers such as Careem, Uber UAE, S'hail, or RTA Public Transport Dubai App.
Using Hala Taxi, customers benefit from convenience and reliability while enjoying their daily commutes – airport transfers included – or visiting friends without worrying about parking fees or traffic delays.
Here is a comparison table of Careem Dubai, Uber UAE, and Hala (Dubai Taxi) services:
| Feature | Careem Dubai | Uber UAE | Hala (Dubai Taxi) |
| --- | --- | --- | --- |
| Service Type | Ride-sharing app | Ride-sharing app | Traditional taxis |
| Fare Structure | Dynamic pricing. Base fare + distance/time charges | Dynamic pricing. Base fare + distance/time charges | Metered fares based on distance traveled |
| Payment Method | Credit card via the app, Cash (some rides) | Credit card via the app, Cash (some rides) | Cash, Credit card (in some taxis) |
| Car Types | Sedans, vans, limos | Sedans, vans | Sedans only |
| Booking Method | Via smartphone app | Via smartphone app | Hail on the street, Call the dispatch center |
| Availability | 24/7 | 24/7 | 24/7 |
| Range of Service | All Emirates | All Emirates | Mainly Dubai |
| Additional Features | Scheduled rides, delivery, shuttle service | Uber Eats food delivery | – |
| Driver Screening | Background checks, training | Background checks, training | Licensed by RTA |
| Safety Features | Share trip with contacts, emergency button | Share trip, emergency button | CCTV camera, panic button |
| Discounts | Promo codes, membership perks | Promo codes, rewards program | – |
S'hail
S'hail is an innovative ride-sharing app available in the UAE, specifically in Dubai, brought to you by RTA (Roads and Transport Authority). With a commitment to providing travelers with a quick, hassle-free experience when it comes to transportation, S'hail covers all your bases – from booking Careem captains and Uber drivers to offering its fleet of vehicles.
All this across various modes of traveling will enable both residents and visitors alike to access the best public transport system without compromising on comfort! On top of that, regular users can also avail loyalty discounts upon registering their details within S'hail's secure app, which is available for download on both iOS App Store and Google Play Store.
So whether you're looking for a low-cost option or want maximum convenience – Give S'hail a try today!
RTA Public Transport Dubai App
The RTA Public Transport Dubai App is a comprehensive app that makes traveling through the UAE easy and convenient. With its expansive fleet of trams, metros, buses, and taxis, users can always find the best way to their destination.
By using the interactive maps in the app, travelers can plan routes efficiently that fit their time-sensitive needs. The Real-time schedules allow users to track when is best for them to take any form of transport available, such as commuters who need precise transit times during rush hour traffic for work or school time commitments.
Also, it has award-winning features like real-time alerts on route changes due to weather or road maintenance issues, so you won't ever miss a step in your journey home again! What's more? This app also integrates with other services, such as food delivery apps, allowing people heading out from different destinations to be well-fed while moving!
This popular app among expats mainly because it provides reliable transportation options that are both safe and secure and offers convenience all day long by being both Android and IOS compatible, ensuring no traveler would ever have difficulty accessing this lifeline whenever they may need it!
Yango
Yango has established itself as the UAE's budget-friendly ride-sharing choice for daily travel needs. With competitive pricing significantly lower than taxis and other apps, it appeals to price-sensitive commuters looking for an affordable alternative to public transit.
Yango has built up a large fleet of drivers in Dubai, Abu Dhabi, and other emirates, allowing for short wait times. The app makes the riding experience seamless with upfront fare estimates, driver tracking and features like cashless payment, ratings, and booking. Yango caters well to the needs of daily commuters with economical vehicle options like the Toyota Yaris.
XXRIDE
For those seeking a premium luxurious ride experience, XXRIDE is the go-to option. It provides high-end vehicles like BMW, Mercedes, and Audi for special occasions rather than daily transportation. With its focus on professional chauffeurs and five-star service, XXRIDE offers a first-class ride – whether it's an airport transfer, prom night, concert trip, or other special events.
The higher fares match the luxury vehicles' overall experience targeted to executives, families, and groups. XXRIDE sets itself apart by tailoring its services for special nights out when riders desire pampering, comfort, and styling.
Blacklane 
Blacklane aims to make business travel and airport rides seamless and stress-free. It enables travelers to book rides in advance of business meetings or airport pickups/drop-offs. Knowing the fare beforehand and having dependable vetted drivers assures business travelers. Blacklane invests heavily in hiring professional English-speaking drivers and providing consistent luxury vehicles.
With its multilingual customer service, transparent billing, and premium Mercedes fleet, Blacklane has differentiated itself for the business demographic. While more expensive than regular taxis, it's proven reliable for corporate travelers who value quality.
Curbside
Curbside is a popular ride-hailing service available across the UAE, providing on-demand transportation options through its mobile app. It allows riders to book affordable and convenient rides from points A to B in major cities like Dubai, Abu Dhabi, Sharjah, and Al Ain.
Key features include real-time ride tracking, estimated arrival times, fare estimates, and driver profiles. Payment is handled seamlessly within the app. Curside offers various ride options from standard everyday vehicles to luxury cars for special trips. Female riders can request female drivers for added comfort. Curside's wide coverage across the Emirates and competitive pricing make it a preferred everyday transit choice for UAE residents and visitors.
Udrive
Unlike regular ride-hailing apps, Udrive provides users the flexibility to drive themselves using Udrive's fleet of vehicles. It offers a car-sharing model for short-term rentals, positioning itself as an alternative to taxis and chauffeured cars.
Udrive allows customers to book self-drive cars on-demand through their app for durations as short as an hour. Vehicles can be unlocked at various parking locations using the app. Pricing is affordable and charged by the minute depending on the vehicle type, making it ideal for quick errands. Udrive's model appeals to UAE residents who occasionally need a car for themselves without the cost and inconvenience of daily rentals. The fleet includes economy, mid-range, and even luxury car options. Udrive provides the independence of driving yourself at an affordable pay-per-use model.
Features and Benefits of Careem Dubai
Careem Dubai offers riders a rewarding loyalty program, real-time ride tracking, and shareable ride information.
Rewarding Loyalty Program
Careem Rapide Rewards is a loyalty program that allows customers to earn points on every eligible Careem ride. The points can then be used to avail of various benefits and rewards such as free rides, charity donations, and discounts.
This reward system was introduced in June 2019 by Careem to appreciate its loyal customers and incentivize them to use their services regularly. Customers of the program can track their progress through an online dashboard specifically designed for the purpose.
They also receive notifications regarding new offers or promotions available to them from time to time, thus providing ease and convenience in managing the Reward Program account with ease.
Real-Time Ride Tracking
Careem offers a convenient and reliable way to track rides in real-time, allowing users to see their driver's exact location while traveling. The app provides updates on the status of the ride in real-time, so users can stay informed about any changes en route and have better control over their travel experience.
With this feature, users can also communicate with the drivers through an in-app messaging service if required for any additional information. Furthermore, they can share their real-time location with friends or family when using Careem Premier services for added safety assurance.
Thanks to its unique features such as these, Careem has become known as "the everything" app for transportation needs across the UAE and beyond, making it much more than just a ride-sharing service.
Ride-sharing apps provide users with a convenient and secure way to get from point A to point B. One of the main features provided is the ability for customers to share their ride details with friends or family members, allowing them to keep tabs on each other's movements.
Careem Dubai, Uber UAE, Hala (Dubai Taxi), S'hail, and RTA Public Transport Dubai App all offer real-time tracking so users can follow in near real-time where their rides are going and when they arrive safely at their destination. This feature provides an extra layer of safety for riders who want reassurance that either they or someone close has information about their current whereabouts.
It is not only useful for single trips but longer trips too, like overseas business meetings, as loved ones can be kept up to date as you move around during your day by easily sending your current location via message or email – making sure there are no surprises! Many have added features such as estimated time of arrival, which helps relieve any doubts surrounding the travel time.
Features and Benefits of Uber UAE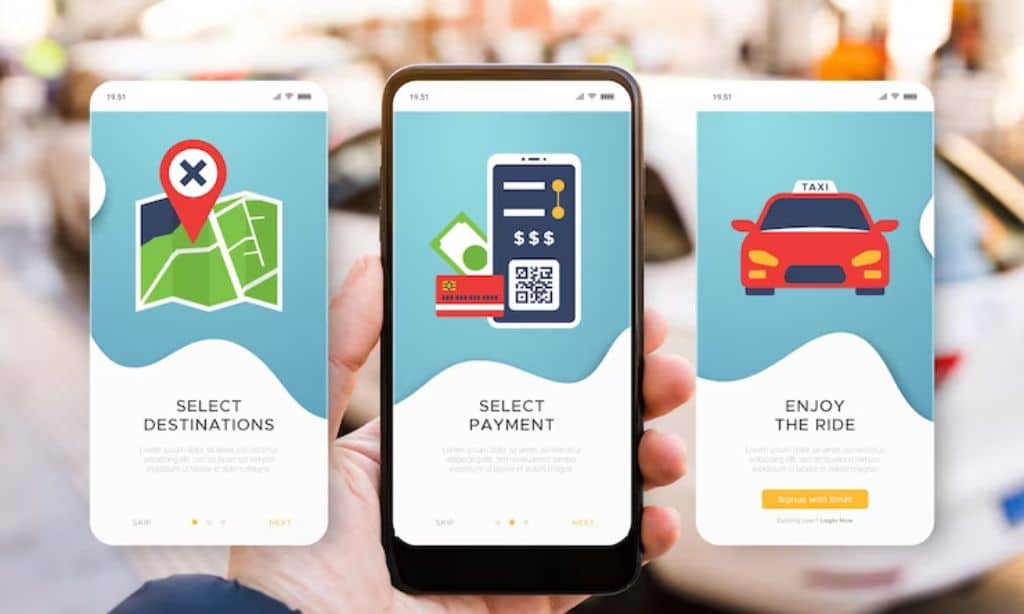 Enjoy the convenience of hassle-free transportation with Uber's largest network of active riders and reliable, secure rides.
Largest Network of Active Riders
Uber UAE is the leading ride-sharing app in the UAE with the largest network of active riders. With a significant number of monthly active users and being the main driver of revenue and operating profit for Uber, its ability to provide reliable transportation services means it stands out from other apps.
This is because having such a large network of drivers reduces waiting times, allowing for shorter pick-up times and quicker journeys. Uber also operates at Dubai Airport, providing travelers easy access to rides without long queues or delays, making it incredibly convenient.
Even more importantly, its extensive fleet of vehicles contributes to safer driving conditions on roads as there are more available options for passengers to choose from, meaning they can ensure they're taking a secure journey that follows safety guidelines outlined by Uber themselves.
Convenient and Reliable Transportation
Ride-sharing apps in the UAE, such as Careem Dubai and Uber UAE, offer convenient and reliable transportation. With just a few taps of your smartphone, you can immediately estimate how much it will cost to travel from one point to another.
These apps also allow you to track your ride in real-time so that you always know exactly where your driver is. The experienced drivers provided by both services often guarantee safety due to their knowledge of streets and local landmarks.
Additionally, customers have access to helpful features such as fare splitting with multiple riders or even rebooking rides if plans change. Thanks to these cutting-edge technologies, customers can now enjoy more seamless rides no matter where they go!
Safe and Secure Rides
Ride-sharing apps in the UAE have implemented numerous safety features to ensure riders travel safely and securely. To start, most of these apps provide a safety button that riders can trigger if they feel unsafe at any point during their journey.
Additionally, many ridesharing companies such as Uber put strict guidelines in place for drivers regarding driver behavior towards passengers and expected conduct on the part of both parties for an improved user experience.
By providing safeguards within the app itself, both riders and drivers are protected against potential risks or abuse. Furthermore, leading ride-sharing apps like Uber invest heavily into technology development to develop safer ride experiences, from enhanced mapping features to real-time location tracking; such features aid better decision-making by all parties involved while ensuring rider safety is maintained throughout their route.
Features and Benefits of Hala (Dubai Taxi)
With experienced drivers and an easy booking and payment system, Hala allows users to access reliable transit in Dubai easily. Discover more about this ride-sharing option and more from our blog!
Official Taxi Service in Dubai
Hala is an official taxi service in Dubai and the best way to get around the city quickly, conveniently, and economically. Operating within Dubai and its neighboring emirate Ras Al-Khaimah, Hala provides pick-up and drop-off services from anywhere in Dubai with experienced drivers.
With one of the largest fleets of registered taxis authorized by the Roads & Transport Authority (RTA) in UAE, passengers can manage their bookings through dedicated calling centers or use the Careem app for booking with online payments accepted securely via debit/credit card as well as cash upon arrival at destination customers are provided a detailed invoice copy including route details, fare estimates which assures transparency & convenience to riders.
Easy Booking and Payment
Hala Taxi is the official taxi service in Dubai and it makes traveling more convenient than ever. With its easy booking and payment options, users do not need to carry cash or wait for their bills to arrive to pay for a ride.
Through its app, Hala Taksi can be booked from anywhere in Dubai or Ras Al-Khaimah and dropped off at any emirate within minutes of your request. The user only has to select the destination on the map, confirm his/her pickup location, see the estimated fare upfront, then pick either cash option mode (accepts dirham coins as well) or choose digital payment options such as credit card & debit cards for convenience & security purposes.
As an added benefit, riders will get notified when they reach their drop points with the exact fare cost, which helps them better track expenditures while enjoying hassle-free rides throughout the UAE region without much worry about money transaction issues.
Experienced drivers
Hala Taxi, part of Dubai's Roads and Transport Authority (RTA) offers reliable transportation within the UAE. All drivers must undergo stringent safety and background checks before being hired by Hala, along with thorough training in customer service and safe driving practices.
Drivers are also assessed for their knowledge of local geography, high-traffic times, routes associated charges, etc., thus ensuring passengers a safe journey. This level of expertise allows them to provide swift, dependable rides that are the hallmark of every successful ride-sharing app user experience.
Additionally, regular checks guarantee only qualified professionals on the roads at all times. With this focus on customer satisfaction through well-trained, experienced drivers, Hala has gone from strength to strength, reflecting its commitment to providing commuters with quality assurance transport solutions in the UAE.
Features and Benefits of S'hail
S'hail's user-friendly mobile app offers seamless integration with public transport options, easy route planning, and real-time schedules.
Simple and User-Friendly Taxi Booking App
S'hail is a mobile application for booking taxis and luxury cars in Dubai. It includes features such as real-time schedules, route planning, automating NOL account management, and access to special offers from partner companies.
Letting users book all kinds of rides instantly with the tap of a button. The app is designed to be easy and user-friendly, allowing customers just one click away from their ride.
To further improve convenience, S'hail is also integrated with public transport options like trams, metro lines, or buses so travelers can plan their journey back home in just seconds!
Furthermore, endowing riders added safety by permitting them to share ride information with family members or friends.
Real-Time Schedules and Route Planning
Ride-sharing apps in the UAE feature efficient real-time schedules and route planning services that make it easier to travel around the country. This information is provided through user-friendly interfaces with interactive maps, allowing users to instantly check on the availability of public transportation options such as Dubai Metro, Dubai Tram, and RTA taxis and buses.
Additionally, traffic reports and landmarks are also accessible, which allows users to plan for their routes accordingly while avoiding delays due to congestion. Real-time data makes it possible for riders in the UAE to accurately calculate fares and estimate how long a trip might take them when using ridesharing services like S'hail or Careem.
Furthermore, this service can be utilized by travelers visiting from abroad who need more knowledge of where they are heading or prefer taking public transportation rather than hailing a taxi cab manually.
Seamless Integration with Public Transport Options
This is an important feature of modern ride-sharing apps in the UAE, such as S'hail. This integration allows riders to easily navigate around cities using transportation services that are readily available and accessible.
It provides users with real-time schedules and route planning so they can specify where they want to go without having to worry about getting lost or waiting for long durations for transport.
The app aims to enhance urban mobility by making public transport a reliable solution at any time of day, which is especially beneficial for people living in large cities like Dubai.
With S'hail's use of connecting with buses, trams, metros, taxis, and other modes of transportation, riders can select the right traveling option according to their budget and convenience while avoiding traffic on the roads incurred due to weekend events or holiday travel rush hour.
Features and Benefits of the RTA Public Transport Dubai App
It provides comprehensive information on tram, metro, and bus routes and real-time schedules and updates with interactive maps for efficient route planning.
Comprehensive Information on Tram, Metro, and Buses
The RTA Dubai App is extremely helpful for tackling public transport in the UAE. It provides comprehensive real-time information on all buses, Tram, and Metro, including schedules and updates and interactive maps that can be used to plan routes.
This app helps residents easily find their way around, and visitors better understand what services are available to them during their stay. The "Transit" feature found within the app works similarly to a public transportation guide – providing up-to-the-minute wait times and estimated travel time between points based on intended locations– allowing users to get from place to place without hassle or long waits.
With this conveniently located resource, travelers save time when looking for appropriate directions quickly, while intending commuters are alerted about any potential delays so they can take alternative methods if necessary.
Real-Time Schedules and Updates
Ride-sharing apps in the UAE, such as Careem Dubai and Uber UAE, give users peace of mind when they plan their commute. They offer a range of features to ensure riders have access to all the real-time information they need.
From tracking live ride timings to notifying of delays or route changes, these apps provide a convenient experience for both drivers and passengers. For instance, with Careem, riders can update themselves on the exact position of their car and its estimated arrival time before boarding. This allows them to better plan their day without worrying about being late.
Similarly, Uber's app sends out automatic notifications on route itineraries, making it easy for customers to track their journey while they are en route. It also helps avoid any unexpected disruptions along the way by alerting them in advance if anything changes regarding pickups, etc., enabling smoother rides across Dubai roads!
Interactive Maps and Route Planning
Interactive maps and route planning are an important feature of UAE's ride-sharing apps. These features allow users to plan before every ride, saving precious time on journeys.
Allowing riders to view routes, stops, and next departures in advance offers a useful way to organize efficient commuting experiences. Additionally, navigation tools like the Dubai Metro Interactive Map simplify travel on the RTA Metro system by offering detailed information about public transport options throughout Dubai.
The app can also be used for exploration without needing an internet connection, which makes it ideal for tourists visiting the region. Through interactive maps and route planning, shared rides become even more convenient, allowing commuters of all kinds a reliable way of getting around quickly and safely at their speed.
Comparison of Ride-Sharing Apps
Users can easily compare the available ride-sharing apps by considering various criteria such as pricing, fare estimates, availability and coverage, and additional services and features.
Pricing and Fare Estimates
Pricing and fare estimates are important deciding factors for users when choosing a ride-sharing app in the UAE. Ride-sharing prices vary between different companies, with pricing being affected by factors such as estimated travel time, estimated traffic delays en route, and the type of vehicle chosen.
Generally speaking, Careem Dubai and Uber UAE are more expensive than Hala (Dubai Taxi) or S'hail but can be cheaper if a user qualifies for their loyalty program or takes advantage of promotions offered by each company.
Users can find which option best suits their budget by comparing different apps. Additionally, updates on fair rates and changes to service availability may also impact pricing so it is important to stay up-to-date with ongoing offers from all ride-hailing services available in the UAE.
Availability and Coverage
Ride-sharing apps are a convenient and accessible way to get around the UAE. With the rapid growth of technology in cities, these transportation services have allowed users to plan their trips with more options than ever before easily.
Careem Dubai, Uber UAE, Hala (Dubai Taxi), S'hail, and RTA Public Transport Dubai App are some of the popular ride-sharing apps available in the region that span numerous areas – including Dubai city center as well as Abu Dhabi, Sharjah & Ras Al Khaimah with coverage extending to other parts of the Emirates.
In addition, users can choose from a pool of services, such as Economy cars or luxury vehicles, depending on their preference and budget – giving individuals added flexibility when selecting a preferred mode for commuting.
Additional Services and Features
Ride-sharing apps offer more than just transportation services. They can provide a range of additional features and services to enhance the user experience. For instance, Careem Dubai offers loyalty rewards and targeted discounts that can be used towards future rides.
Users can also share their ride information with friends and family for real-time tracking purposes. Uber UAE provides convenient cashless payment options so users no longer worry about carrying cash or waiting in line to pay.
Hala (Dubai Taxi) allows users to plan routes accurately by accessing detailed public transport schedules information directly from the app. S'hail simplifies route planning by offering interactive maps based on current location data, allowing users to view available transit options quickly and easily.
The RTA Public Transport Dubai App makes it possible for commuters to access real-time updates on tram, metro, and bus schedule changes as well as disruptions or delays in service via push notifications sent directly through the app.
Updates and Innovations in Ride Sharing Apps
Ride-sharing apps continue introducing new features, such as integrated services with other apps, improved safety functions, and more user-friendly interfaces.
Integration with Other Services
Rideshare apps have revolutionized how people travel, making it easier than ever to get around quickly and conveniently. The rise of services such as Uber, Careem, and Hala (Dubai Taxi) has made transportation more accessible in the UAE.
Now, these ride-sharing apps are taking user experiences a step further with added convenience by integrating with other services like food delivery. This integration offers users more options for their everyday needs and activities – they can order food on the go or even book tickets for an upcoming event while riding in a carpool service.
These innovative features mean that riders no longer need to switch between different apps or websites to complete their tasks; instead, all the information is conveniently located in one place within the app itself! Popular ridesharing giants such as Uber offer comprehensive solutions, including meal delivery; meanwhile, Lyft provides access to discount shopping from local stores as well as providing bike-sharing programs too.
Enhanced Safety Features
Ride-sharing apps in the UAE are implementing cutting-edge safety features to ensure a safe and secure journey for both passengers and drivers. Through updates and innovations, these app services have integrated IoT technology along with GPS tracking devices, emergency buttons, driver identification verifications, and others.
The idea with such implementations is to enhance customer experience by assuring maximum security while the ride is taking place. Regarding safety, this could include real-time monitoring through live trackers that alert either person immediately if there's any untoward situation during the journey.
Additionally, verified identity checks on the part of the driver enable even more foolproof security measures for riders utilizing such app services in UAE cities like Dubai or Abu Dhabi.
Improved user interface and navigation make for an improved ride-sharing experience in the UAE. Updates such as improved mapping functions, easier booking process, real-time scheduling updates, better communication options, and more aesthetically pleasing designs create a much easier user experience when booking rides.
These revisions to the user interface have been seen across popular ride-sharing apps within the UAE, such as Uber UAE, Careem Dubai, Hala (Dubai Taxi), S'hail, and RTA Public Transport Dubai App.
For example, S'hail and Hala offer users enhanced features like simplified booking procedures and easy payment methods. At the same time, RTA helps plan hassle-free journeys by combining public transport methods, bringing together rail systems of metro trams at the click of a button, and giving commuters various routes to reach their destination faster than ever.
Moreover, Uber introduced several safety features common in the region, making it effortless for customers to share any relevant trip data securely, keeping them safe throughout their journey, and adding extra miles to their convenience.
Takeaway
The ride-sharing apps in the UAE are changing how people travel around Dubai and other emirates. The availability of these apps has made it easier for residents and visitors to get around conveniently without wasting time or money, thanks to their features such as real-time ride tracking, loyalty programs, easy booking, and payment options, as well as sharing information with family or friends.
Plus, many offer additional services like food delivery integrations and enhanced safety features for added convenience while riding. With so many choices across various ride types, from budgeted taxi rides to luxury rental cars, users can make informed decisions on which service they should use depending on their needs, making traveling safer, smarter, and more affordable than ever!
Frequently Asked Questions (FAQs)
Now, let's learn about some common questions on this topic.
1. What are the best ride-sharing apps in the UAE?
The most popular ride-sharing apps in the UAE include Careem, Uber, and UDrive.
2. How do I use these apps?
To use a ride-sharing app, you first need to download it on your smartphone from an app store and create an account with basic personal information such as name, address, and payment details. Once your account is set up, you can request rides with just a few taps on your device's screen.
3. Are there any promotions or discounts available for using ride-sharing services?
Yes! Most major ridesharing companies offer frequent promotions or discounts that can significantly reduce fares for customers who frequently use their service within certain areas or periods. In addition, many airlines also provide discount codes when booking through specific ridesharing platforms, allowing users to lower their costs even further than normal fares when flying out of Dubai Airport's terminals 4 & 5.