These 3 Tips will Help You Choose The Best HDB Doors
Interior designers will tell you that bedroom doors are more than just designated entry and exit points to your bedroom. Other than providing privacy, these doors should also fulfill a design purpose. Therefore, the door you choose for your bedrooms needs to be robust and appealing to compliment your interior décor.
Achieving these goals requires a relatively basic level of expertise in interior design. This means that with some help, you can quite easily choose strong and beautiful doors for your bedrooms. In this guide, we will look at what factors to consider when selecting HDB doors in Singapore.
What to Consider When Buying HDB Doors
While there are many factors you can consider when choosing a bedroom door, we recommend three that are guaranteed to help you make a more inclusive decision. Considering the following tips will help you narrow down to the desired door that fulfills the motive of functionality and style in your home. Throughout the article, we will share inspirations from GateDoorWindow to provide you with examples.
Tip #1 – Buy an HDB door made from durable material
Doors can be made from various materials ranging from wood to metal. This variety stems from the diverse consumer preferences, design guidelines, and availability of materials. Nonetheless, you can effortlessly find a specific door made from the material of your choice. But then again, the door material you choose will have an impact on its durability and appearance.
Over time, wood has proven to be the best door material for various reasons. To start with, wood is strong and has a luxurious look and feel. Wood is also one of the best sound dampeners, making it an ideal choice for bedroom door material. On the flip side, wood is hard to maintain, expensive, and somewhat rare. But luckily, there is a way around this problem.
The need to replicate the benefits of wood has led to several inventive wooden door variations. Mostly, you will often encounter Medium Density Fiberboard (MDF) and wood laminate doors as the two most common doors made of wood derivatives. Laminate and MDF doors are more affordable and sturdier than solid wooden doors. And between the two, laminate doors are more durable due to their scratch and water resistance.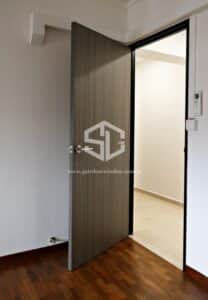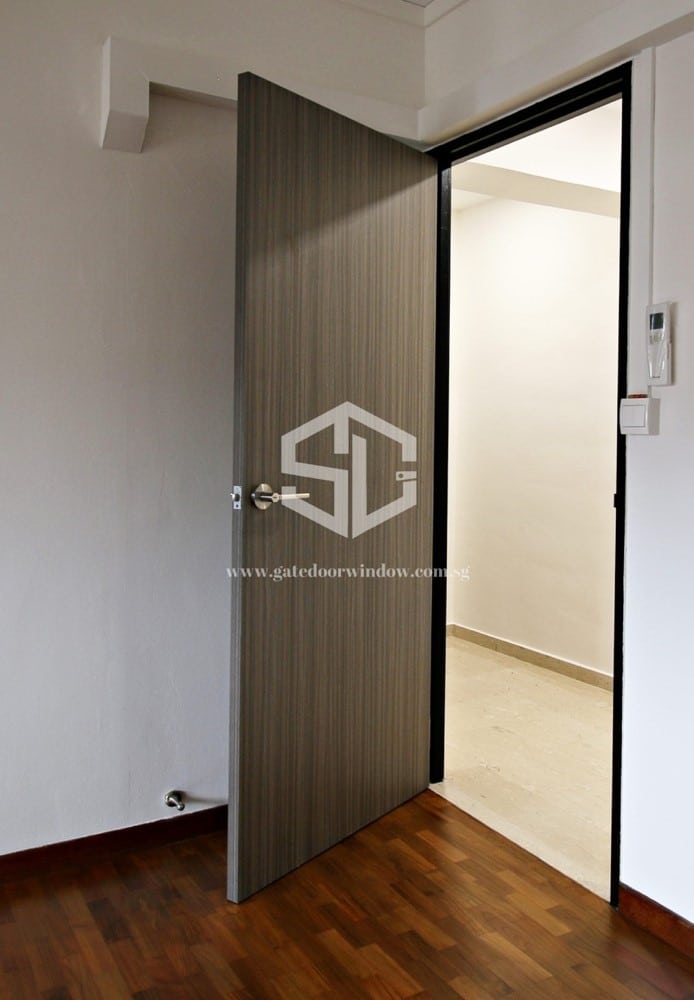 Takeaway: When choosing bedroom doors, consider wood laminate doors since they are strong, affordable, and readily available.
Tip #2 – Ensure the door color doesn't sabotage color harmony
Color is among the primary elements of interior design. Among other purposes, it decorates the interior space based on your personality. But since it's practically impossible to have everything in one color, you need to pick items having complimentary colors. More technically, you need to choose colors that have closely related shades. Doing this ensures there is color harmony in your home. And you guessed it—bedroom door colors play a significant role in ensuring color harmony.
You can find bedroom doors in multiple colors based on your preferences. It will all depend on the colors of the other visible items in your home. However, if you are not sure what to consider when choosing the bedroom door color, refer to the wall and furniture color. In most instances, the two will have achieved color harmony, making it easy to pick door color.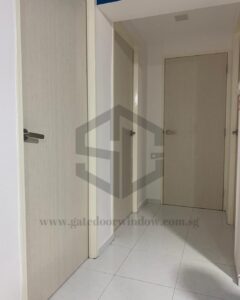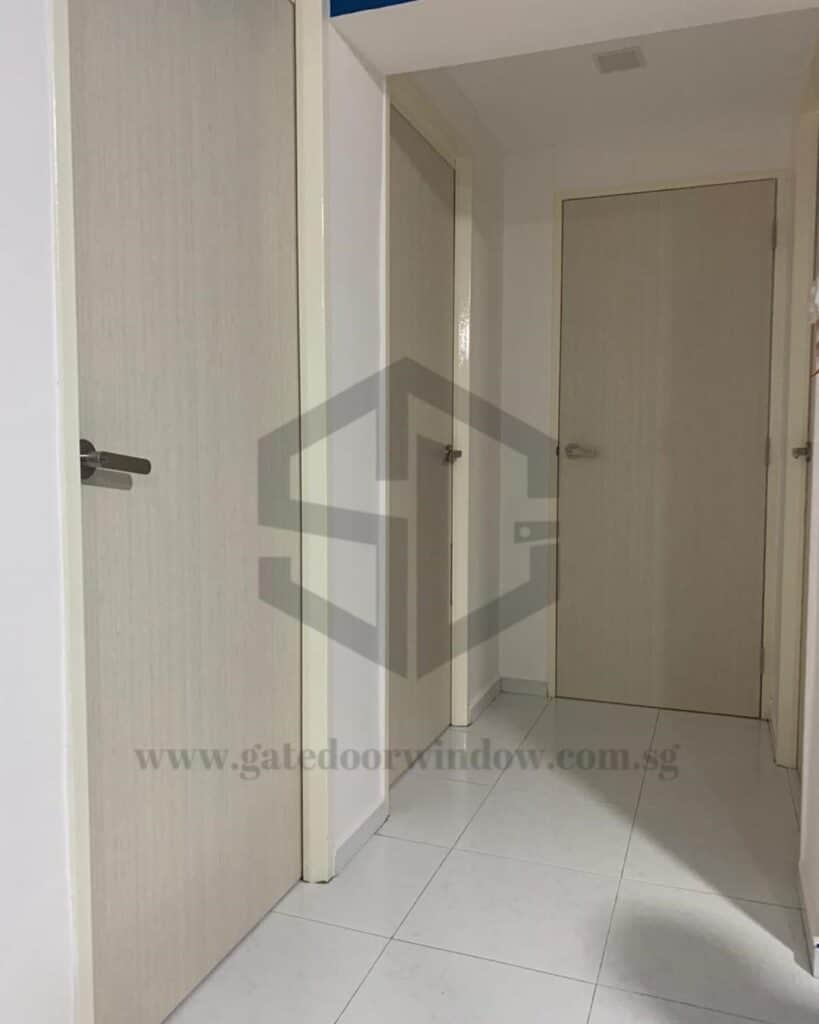 Coincidentally, this tip on color matching ties to the previous one on door material. Wood laminate doors can be found in a range of colors and patterns. Most of these colors mimic the natural patterns and color schemes of solid wood. Since wooden color is known to work well with interior décor, laminate doors lower the chances of color crashing.
Takeaway: Choose interior door colors that merge or closely share a color shade with your already existing décor items.
Tip #3 – Know the exact bedroom door dimensions required
Before ordering a custom door, you need to have specific measurements of the width (thickness), length, and height of the door. Doing this ensures a smooth installation process and usability of the door. Having to deal with resizing a door after it has been measured and cut is frustrating and unproductive. Remember, measure twice, cut once.
Due to the varying door frame sizes, most HDB bedroom door measurements are customized upon request. Your door installer will measure the frame size and direct you on what dimensions you need to request from the trader. Even though there are standard frame sizes for HDB flats, always double-check to confirm the correct measurements.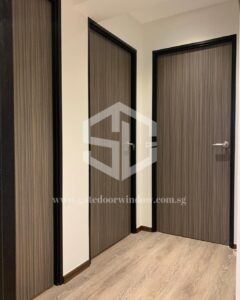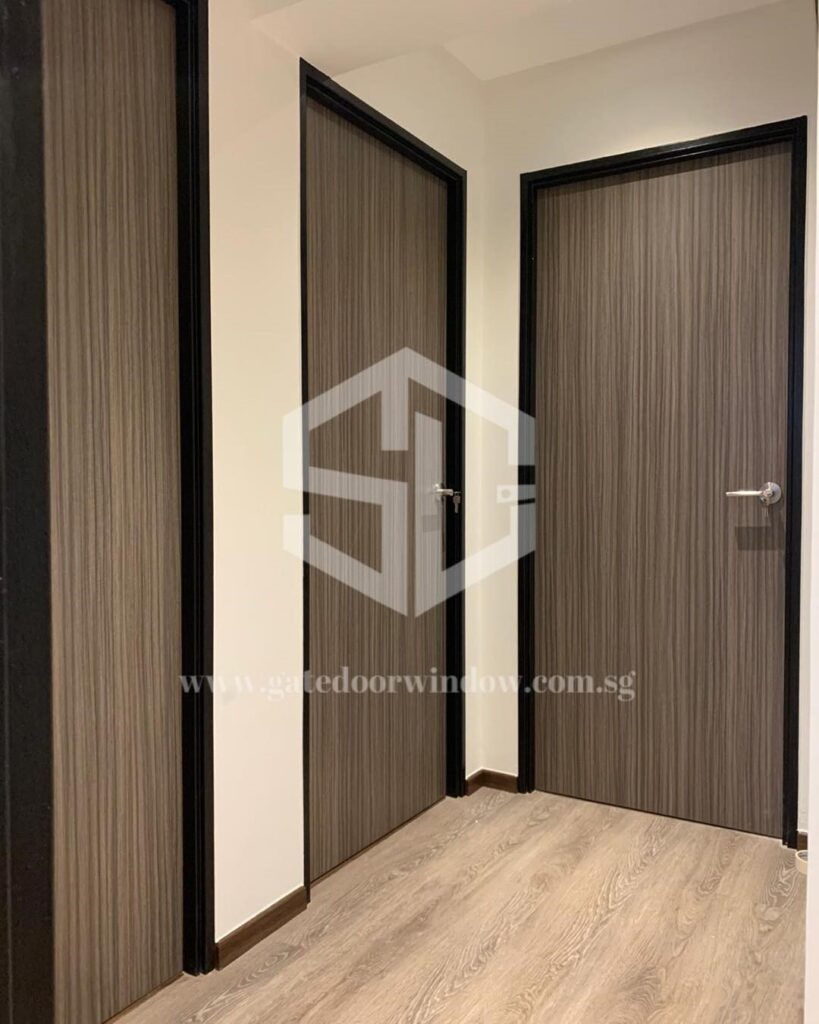 Having a flawless bedroom door fit serves both functional and decorative purposes. To elaborate, a fitting door is more robust and looks satisfying. Based on these aspects, you can now appreciate why we emphasize having exact door measurements.
Takeaway: Get the exact size of your door height, width, and length so as avoid incompatibility with the door frame.
Subscribe to Our Latest Newsletter
To Read Our Exclusive Content, Sign up Now.
$5/Monthly, $50/Yearly