Sheikh Hasina's Leadership: Shaping the Destiny of Bangladesh's Economic Progress and Democracy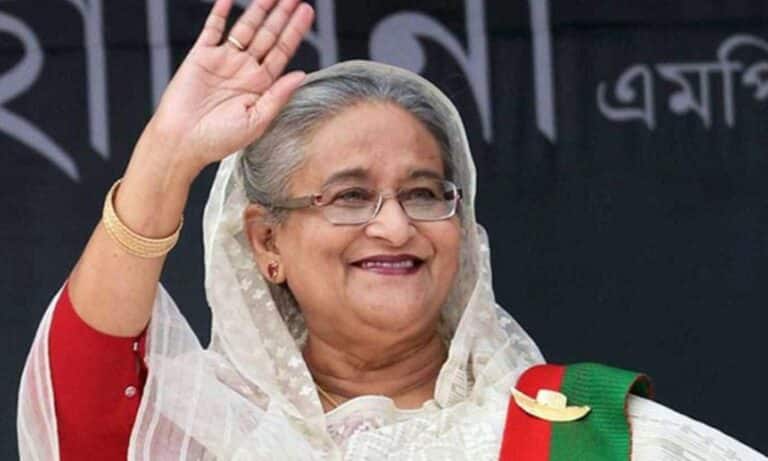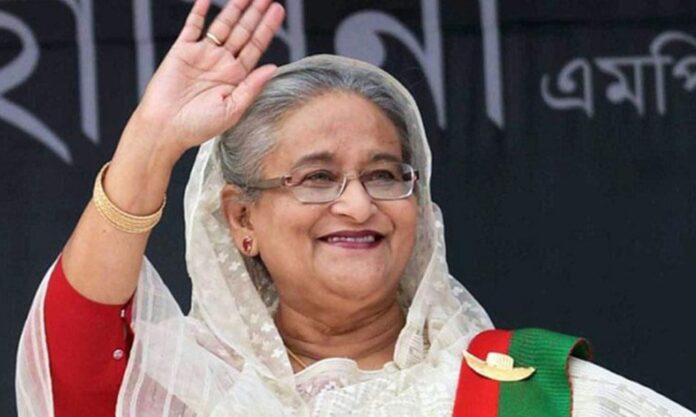 Sheikh Hasina gracefully enters the reception room of her official residence, dressed in an elegant silk sari, exuding a powerful yet gentle presence. With 76 years of experience and a head of silver hair.
Bangladesh's Prime Minister is a remarkable political figure who has led the transformation of this nation of 170 million people. Under her guidance, Bangladesh has evolved from a simple jute producer into the fastest-growing economy in the Asia-Pacific region over the last ten years.
Having been in office since 2009, with a previous term from 1996 to 2001, she holds the distinction of being the world's longest-serving female head of government. She is widely recognized for her success in curbing the influence of resurgent Islamists and a previously intrusive military. With an impressive track record of winning elections, PM Sheikh Hasina is determined to continue her success at the ballot box in January. "I am confident that my people are with me," she states in an interview with TIME in September. "They are my greatest asset.
Hasina has endured a staggering 19 assassination attempts throughout the years, making it clear that her resilience is unmatched. Over the past few months, there have been instances of clashes between supporters of the main opposition Bangladesh Nationalist Party (BNP) and security forces. These incidents have resulted in numerous arrests, damage to police vehicles and public buses, and unfortunately, loss of life. The BNP has stated their intention to boycott the election, just as they did in both 2014 and 2018. Their demand is for Hasina to transfer power to a caretaker government to oversee the elections. Their request has historical precedent, but it is no longer necessary due to a constitutional amendment.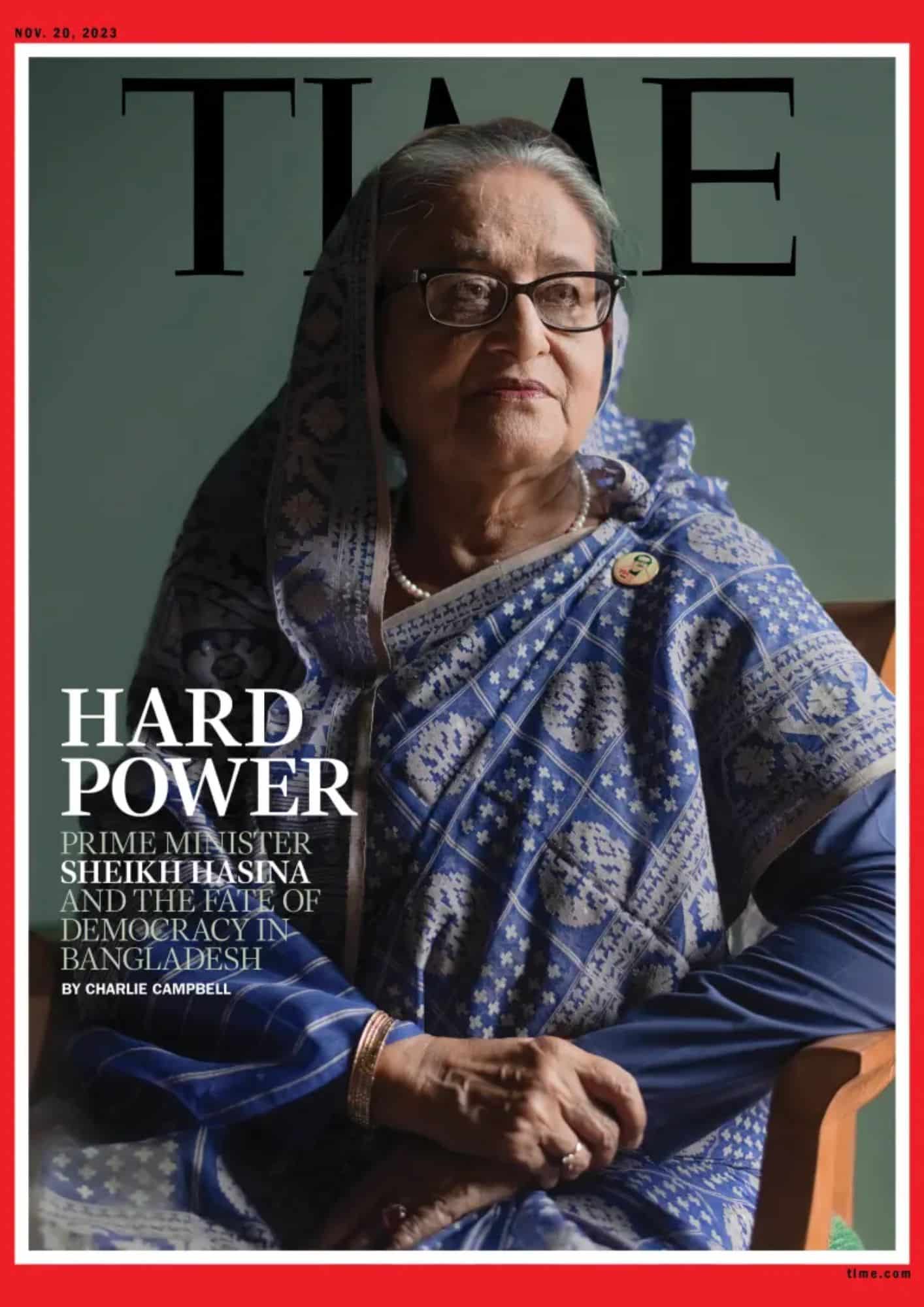 Bangladesh has witnessed a shift towards a more authoritarian approach under the leadership of Hasina's Awami League party. The last two elections were heavily criticized by the U.S., E.U., and other countries due to numerous irregularities, such as the presence of stuffed ballot boxes and a large number of phantom voters. She received 84% and 82% of the vote, respectively. Today, Khaleda Zia, a former two-time Premier and leader of the BNP, is currently under house arrest due to questionable corruption charges, while her health condition remains critical. Meanwhile, BNP workers have faced an overwhelming number of 4 million legal cases, while independent journalists and civil society have also expressed concerns about targeted harassment. Some critics argue that the upcoming January vote is being compared to a coronation, suggesting concerns about the concentration of power in Hasina's hands.
"The ruling party has complete control over all the state machinery, including law enforcement agencies and the judiciary," states BNP Secretary-General Mirza Fakhrul Islam Alamgir, who has faced charges in 93 cases, including vandalism and murder, and has been imprisoned nine times. "Every time we speak up, they suppress us."
Bangladesh is of great importance. It holds the distinction of being the largest single contributor to U.N. peacekeepers and frequently participates in exercises with the U.S. Indo-Pacific Command. The vibrant diaspora plays a crucial role in connecting business and artistic communities across Asia, Europe, and the Americas. The United States holds the position of being the largest contributor of foreign direct investment and serves as the primary market for exports from Bangladesh. Hasina has shown her usefulness for the West by condemning Vladimir Putin's invasion of Ukraine, albeit belatedly. Additionally, she has taken in around 1 million Rohingya refugees from neighboring Myanmar, which further demonstrates her value.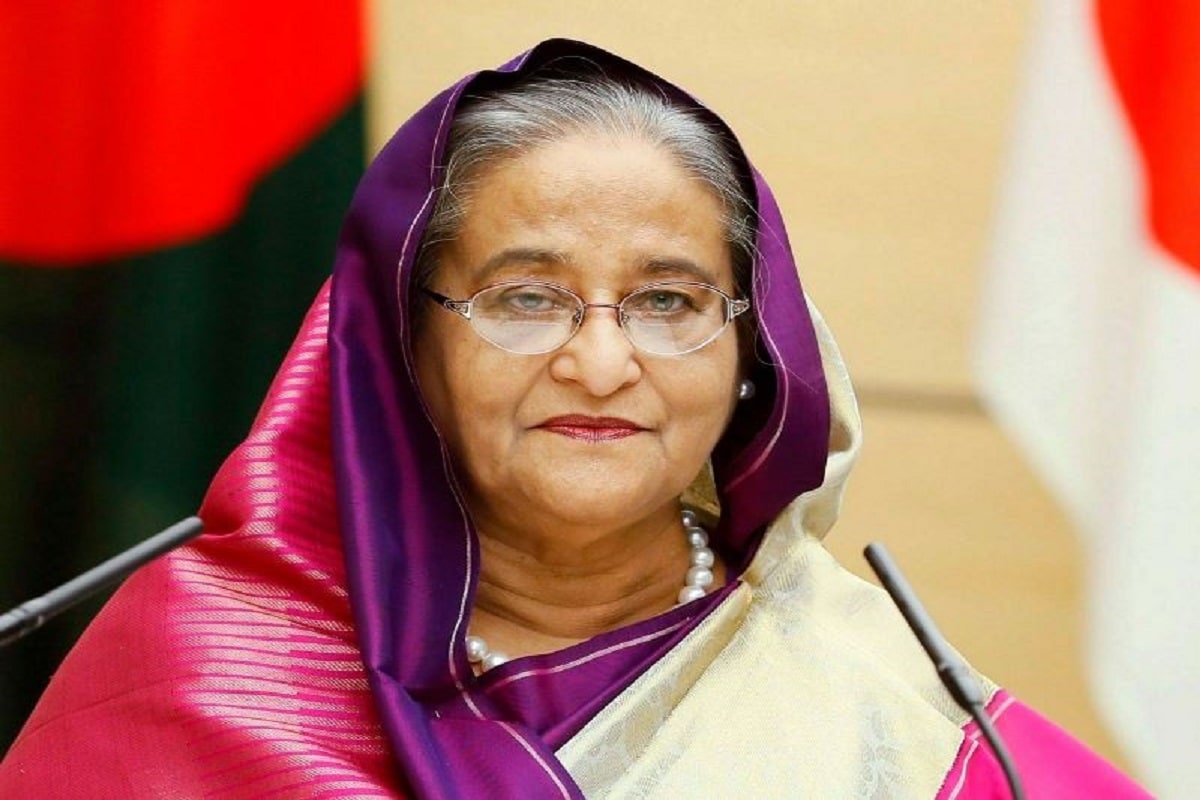 However, Washington is growing increasingly worried about Bangladesh's shift towards authoritarianism. Hasina did not receive an invitation to the most recent two U.S.-hosted Summit for Democracy gatherings. Additionally, in May, the country introduced visa restrictions for any Bangladeshi individual who undermines elections. In her address to parliament, Hasina expressed her belief that the U.S. was attempting to undermine democracy by orchestrating her removal from power. When questioned about her accusation, U.S. Ambassador to Bangladesh Peter D. Haas emphasizes that Washington is committed to maintaining impartiality.
However, it is evident that the U.S. is determined to counter China's expanding influence in the region at every opportunity, which is noteworthy considering the current circumstances. According to Michael Kugelman, director of the South Asia Institute at the Wilson Center, it appears that the U.S. has chosen Bangladesh as a test case for its democracy-promotion policy abroad. "There is a significant concern that the increased pressure may have unintended consequences, potentially leading the government to become more determined to retain their position of power."
There is much debate surrounding the potential implications of a fourth consecutive term for Hasina on Bangladesh. Many Americans are only familiar with the country through the labels sewn into their clothing. However, the United States is a diverse nation that brings together a large Muslim population, surpassing that of many Middle Eastern countries, along with a significant minority of Hindus, Buddhists, Christians, and people of other faiths. Despite being constitutionally secular, the decision by a military dictator in 1988 to establish Islam as the state religion has created a complex situation that has attracted radical fundamentalists.
Hasina has achieved remarkable success in the field of economics. Bangladesh has made remarkable progress in recent years, transforming from a country struggling to feed its people to becoming a food exporter. Its GDP has experienced significant growth, rising from $71 billion in 2006 to an impressive $460 billion in 2022. As a result, Bangladesh now stands as the second largest economy in South Asia, following closely behind India. It's worth noting that social indicators have shown significant improvement, particularly in the area of primary education for girls. Currently, 98% of girls are receiving primary education, which is a remarkable achievement. Bangladesh is making strides in high-tech manufacturing, attracting international companies like Samsung to shift their supply chains away from China. According to Professor Mohammad Ali Arafat, an Awami League lawmaker from central Dhaka, there is room for improvement in areas such as democracy, human rights, and free speech. "However, we have made significant progress.
Bangladesh is significantly impacted by the climate crisis. This nation, once called East Pakistan, was shaped by the intensity and chaos of a civil war in 1971. However, the essence of life in this region has always been influenced by the presence of water throughout history. Each year, an astonishing 165 trillion gallons of snowmelt from the majestic Himalayas flows through Bangladesh's rivers, originating from inland. Regular cyclones relentlessly pummel a low-lying delta, which is predominantly a floodplain, resulting in a staggering $1 billion worth of damage each year. Furthermore, the alarming rise in sea levels poses a significant threat to the lives and livelihoods of a population that is more than four times the size of California, all squeezed into a territory smaller than Illinois. Hasina has strongly advocated for developed countries to fulfill their commitment of providing $100 billion annually until 2025 to support climate resilience in developing countries. "We would prefer tangible actions rather than just empty promises," she states. It is important for developed countries to step up and take action.
However, while water plays a significant role in the lives of Bangladeshis, their politics is marked by violence. For the past fifty years, two families and the current female leaders have been engaged in a long-standing and intense conflict. On one side stands Hasina, the daughter of Sheikh Mujibur Rahman, also known as Sheikh Mujib, who was Bangladesh's first president. Tragically, Sheikh Mujib was assassinated in an army coup in 1975, along with 17 of his close relatives. (It is possible that Hasina's survival can be attributed to her presence in Europe during that time.) Opposite to that is Khaleda Zia, the widow of former army chief and BNP founder Ziaur Rahman. She held leadership in the country from Mujib's assassination until her husband's passing in 1981.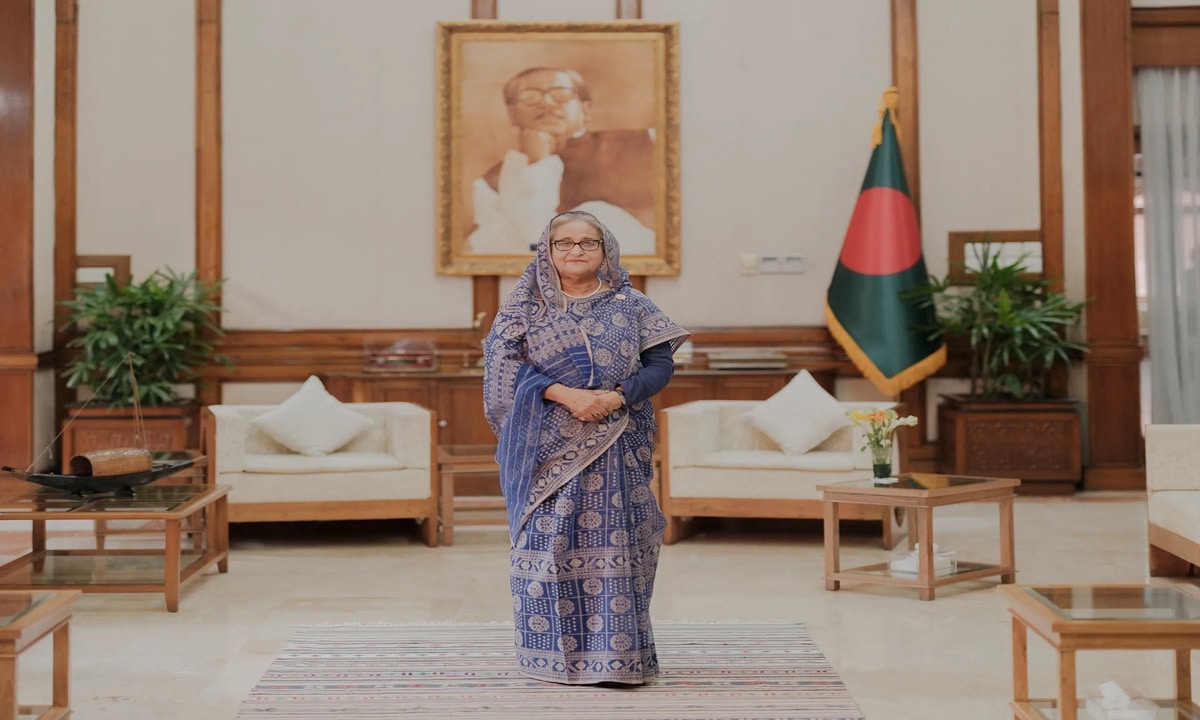 Both of these powerful women derive their authority from their family's involvement in Bangladesh's fight for independence, while downplaying the significance of the other's contribution. Hasina criticizes the BNP, referring to it as a party that lacks faith in democracy and was formed by a former junta. "Khalid Zia ruled with an iron fist," she says with clear disdain. Hasina emphasizes the violence caused by BNP supporters through arson attacks that occurred after the disputed 2018 election. In contrast, the BNP highlights the systematic repression they face and the false charges brought against their leaders. Regrettably, bloodletting is a common occurrence on all sides. "Street violence has frequently been a part of Bangladeshi politics," states Meenakshi Ganguly, the Asia deputy director for Human Rights Watch. "That statement holds true for all major political parties.
Hasina highlights her government's efforts to enhance the transparency of elections by implementing measures such as transparent ballot boxes and registration papers connected to ID cards and biometric data. She proudly asserts that democracy runs in her blood. Following her father's tragic murder, Hasina and her sister sought shelter in the residence of Bangladesh's ambassador to West Germany. Eventually, they were granted political asylum in India. In 1967, she entered into a marriage with physicist M. A. Wazed Miah, and together they welcomed two children before his passing in 2009. Hasina was finally allowed to come back to Bangladesh in 1981. Upon her return, she was greeted by thousands of enthusiastic Awami League supporters. In the years that followed, she tirelessly campaigned for democratic elections and the overthrow of military rule. "It was our struggle," she states. Everyone deserves the right to vote and the right to have access to food. That was our slogan."
However, a lot has changed in the span of four decades. Presently, the opposition in Bangladesh raises concerns about their inability to campaign freely on the streets or express their views in the media due to the constant fear of arrest, assault, or legal repercussions. Ambassador Haas emphasizes the importance of considering more than just the day of elections for ensuring free and fair elections. The entire process and environment leading up to it are crucial.
From 1991 to 2008, there was a constant shift in power between the BNP and Awami League during each election. Considering the strong sentiment against incumbents, there is a real possibility that Hasina could be voted out in a fair ballot. "Today, it's a real struggle for people," one rickshaw driver in Dhaka expressed to TIME, highlighting how his daily wage of 400 taka ($3.50) is hardly enough to afford cooking oil and lentils for his wife and two children. "Hasina comes from a distinguished family, but unfortunately, her father is unable to assist us today."
Hasina is deeply concerned about the possibility of being removed from power and facing the same kind of repressive retribution that her government is currently inflicting. "The Awami League seems to be quite fearful," remarks Zillur Rahman, an executive director at the Dhaka-based Centre for Governance Studies think tank and a talk show host. There is no safe way for them to leave.
The security situation in Bangladesh was significantly influenced by the events of July 1, 2016. At 9:40 pm, a group of armed individuals entered Holy Bakery in Dhaka's upscale Gulshan district, a favored location for embassy workers and the affluent in Bangladesh. Shouting "Allahu Akbar" ("God is great" in Arabic), they began firing without discrimination at the predominantly foreign customers and throwing grenades. Customers quickly sought shelter under tables as staff members reacted with urgency, some choosing to escape across rooftops while others sought safety in a restroom.
Witnesses reported that the attackers expressed their disapproval of Westerners' choice of clothing and alcohol consumption, suggesting that they believed it was influencing the behavior of local people. They proceeded to inflict torture and execute any hostage who was unable to recite the Koran. After a police raid brought an end to the siege, a tragic toll was revealed: 22 civilians, including locals, Italians, and Japanese, lost their lives, along with five terrorists and two police officers. Fifty others, including mostly police officers, sustained injuries.
During the past year, Bangladesh experienced a significant increase in ISIS-inspired Islamic terrorism. More than 30 violent attacks targeted Hindus, academics, and secularist writers and bloggers, making it a particularly challenging time for the country. Restaurants took precautions by prohibiting foreign customers due to the prevailing atmosphere of fear, in order to avoid any potential risks. Today, the once gruesome scene of that tragedy is now occupied by luxurious condominiums and a medical clinic. However, the memory of the violence continues to be a factor that justifies Hasina's ongoing security crackdown.
Bangladesh started the process of Islamification in a more serious manner during the leadership of Ziaur Rahman in 1977. The BNP today maintains alliances with more conservative groups, while the Awami League has traditionally been favored by Bangladesh's religious minorities. According to Kugelman from the Wilson center, Dhaka has utilized counterterrorism imperatives as a justification to take stricter measures against the Islamist elements of the opposition. Counterterrorism today is often used as a cover for widespread state repression. Ganguly criticizes the actions by police at recent BNP rallies, describing them as provocative and suggesting that they have resulted in retaliation.
However, it's not only objects like rocks and sticks that can be found on the street. In recent times, Bangladesh's judicial institutions have been focusing more on any form of criticism towards individuals perceived as enemies of Hasina. On September 15th, two well-known advocates for human rights, who diligently documented cases of unlawful killings and disappearances, were handed a two-year prison sentence on vague accusations. This decision has sparked strong condemnation from various foreign governments, including the United States. Journalists, cartoonists, and students have also been singled out for harm.
In August, a group of over 170 global leaders and Nobel laureates, including Barack Obama, wrote an open letter urging Hasina to put an end to the ongoing judicial harassment faced by Muhammad Yunus, the 2006 Nobel Peace Prize winner from Bangladesh. Yunus is renowned for his groundbreaking work in microcredit, which has helped alleviate poverty. Hasina has brought forth 174 charges against Yunus, including labor law violations, corruption, and money laundering. She strongly criticizes him, referring to him as a "bloodsucker."
It's an unusual grudge that fuels allegations of deep-seated suspicion. Hasina proudly highlights her record as exemplary, listing achievements in areas such as food, clothing, housing, education, healthcare, and job opportunities. "I'm doing it and I have done it"—however, upon closer examination, the situation is not as positive as it seems. According to Freedom House, Bangladesh is classified as "partially free" and its economy heavily depends on agriculture, low-cost garment exports, and the significant amount of money sent back home by the 14 million-strong diaspora annually, which amounts to nearly $25 billion. Remittances have been crucial in alleviating economic strain, especially with the significant increase in prices for fuel and other essential goods following the invasion of Ukraine.
Bangladesh is ranked 147 out of 180 countries worldwide in Transparency International's Corruption Perceptions Index. This puts it on par with Iran and one place above Taliban-ruled Afghanistan. Hasina proudly states that in Bangladesh, every person owns a mobile phone and that the nation is set to graduate from the U.N. grouping of Least Developed Nations by 2026. However, it's important to note that the number of Asian members would be significantly reduced to only Myanmar, Afghanistan, and Cambodia.
Hasina's remarks about Dhaka's residents and the contrast she draws between the city and the villages raise an important question: why do so many people choose to leave the countryside and move to the crowded capital? Ordinary Bangladeshis are feeling the impact of near double-digit inflation, while firms are facing challenges in trading due to depleted foreign reserves. "Doing business in this place can be quite challenging," Ambassador Haas remarks, highlighting the widespread corruption, labor issues, and the ongoing currency crisis. "U.S. companies are also exploring opportunities in several other countries for potential investments… It is crucial for Bangladesh to maintain competitiveness.
The Rohingya crisis highlights the significant impact Bangladesh has on the global stage. Just an hour's drive south of the bustling seaside resort of Cox's Bazar, you'll come across a cluster of humble bamboo huts, their roofs protected by plastic sheeting, nestled amidst the picturesque countryside. Within Kutupalong refugee camp, approximately one million Rohingya refugees live in dire conditions, having escaped violent government actions in western Myanmar that resulted in a significant loss of lives. Children play with worn-out soccer balls as women wearing niqab veils haggle over samosas and sour plums. Those who escaped carried very few belongings, but their stories were filled with accounts of violence, destruction, and assault.
Bangladesh's response to the Rohingya crisis was marked by compassion, which led to a hesitancy from the international community to address other human rights issues. However, this approach changed when the severity of domestic abuses became impossible to ignore, according to Ganguly. However, in recent times, the increasing Western pressure leading up to the elections has coincided with worsening security and humanitarian conditions. "There is now an increased sense of urgency for our people to come back," shares Shorif Hussein, a 54-year-old refugee. It seems that Bangladesh is indifferent to our well-being or any potential harm that may come to us. They simply desire to remove our people from their land.
When discussing the Rohingya, Hasina emphasizes her personal experience of living as a refugee for six years, highlighting her ability to empathize with their suffering. However, the government has shown little responsiveness to the pleas for providing refugees with access to education and opportunities for sustainable employment. Unfortunately, the Rohingya's welcome has come to an end. "It's quite a significant burden for us," she expresses. "The U.N. and other organizations that are providing support to the Rohingya here should also extend their efforts within Myanmar."
The Rohingya crisis was never solely the responsibility of Bangladesh to solve. It is a matter that the international community collectively shares responsibility for. However, the situation they are facing brings up new concerns about the impact of the United States in Dhaka. The role of historical baggage cannot be overlooked. The U.S. did not support Bangladesh's liberation struggle, as it prioritized its strong relationship with the Pakistani junta, which was famously referred to as "our most allied ally" by Nixon.
Due to its size and geography, Bangladesh has skillfully maintained a delicate balance between its relations with the United States and its connections to India, China, and Russia. The latter, specifically, has a rich history of interpersonal connections that can be traced back to the Cold War era. Russian institutions have welcomed Bangladeshi students and civil society, fostering strong relationships. There is a potential concern that exerting excessive pressure may result in Dhaka distancing itself from Washington and gravitating towards Moscow and Beijing. So far, Hasina has taken different positions on U.N. resolutions regarding Russia's withdrawal from Ukraine. "We didn't vote against Russia on certain issues, but on other issues, we did," she says, confidently stating: "Our position is crystal clear."
This approach aims to present Dhaka as impartial and not openly hostile towards any party. Although Hasina has prevented over 69 sanctioned Russian ships from docking in Bangladesh, there has been a significant development in the relationship between the two countries. In September, Russian Foreign Minister Sergey Lavrov made history by becoming the first top Russian official to visit Bangladesh. Additionally, the construction of Bangladesh's first nuclear plant, located 90 miles west of Dhaka, is being carried out by the Russian state-owned firm Rosatom. In October 6th, Bangladesh received its first shipment of Russian uranium for the plant, which is expected to be operational by next July. When questioned about assigning blame for the Ukraine war, Hasina responds with a generic statement: "They should all stop." It would be beneficial for Putin and the U.S. to cease their actions of instigating the war and providing financial support. It would be beneficial to allocate the funds towards supporting the well-being of children.
When questioned about Bangladesh's strict Cyber Security Act, Hasina responds defensively, suggesting that opposition is inevitable when it comes to any action taken. It's a natural response to criticism, but it still provides a sense of comfort. During our conversation, concerns are quickly brushed aside and chances for self-reflection are redirected towards the deep reservoir of family trauma. During our two hours together, Hasina repeatedly mentions her father's tragic death without any prompting. At home, she has fostered an overwhelming reverence for Mujib, with a large portrait of the "Father of the Nation" dominating our conversation, and his iconic mustached face appearing in every public office and website. In the departure lounge of Dhaka's international airport, a plasma screen dominates the space, continuously playing his speeches for the captivated audience. "I'm here solely to fulfill my father's dream," Hasina states.
However, that dream did not align with the vision of a democratic Bangladesh. In February 24, 1975, just six months before his tragic assassination by renegade soldiers, Mujib made the decision to dissolve all political parties and establish himself as the leader of a one-party state called Baksal. This move was supposedly made to guide the nation through a state of emergency. The question of whether democracy would ever be restored is a topic of debate, with critics already referring to Hasina's regime as "Baksal 2.0." According to Hasina, Bangladesh is considered to be in a gray zone when it comes to democracy, as the definition of democracy can vary from country to country.
It's not exactly a comforting viewpoint for someone approaching the voting booth. Hasina understands the importance of a strong and resilient opposition, as it leaves no room for failure. "Overthrowing me through a democratic system is not as simple as it may seem," she asserts. It seems that the only solution is for me to be eliminated. I am prepared to make the ultimate sacrifice for the well-being of my community.
Information Source: Time.com (Time Magazine)