Nobel Prize 2023 in Peace: Energized the Movement for Human Rights and Women Persecution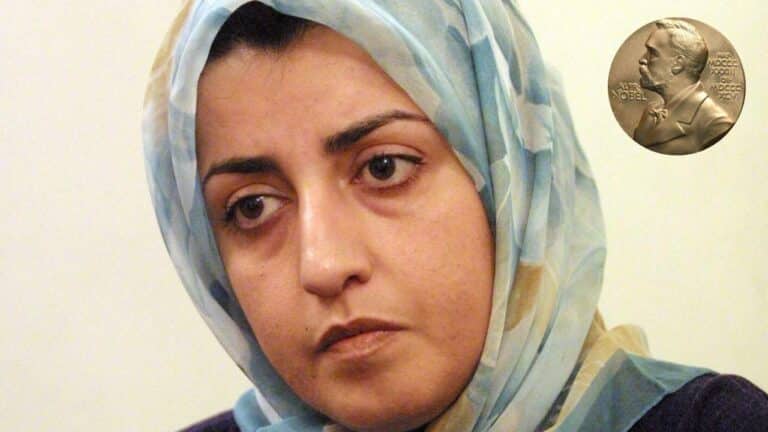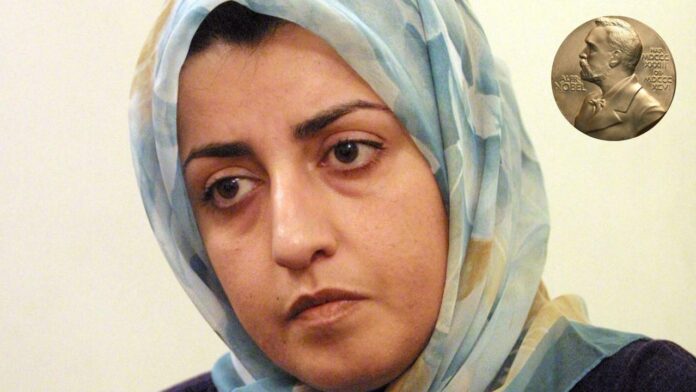 Narges Mohammadi, an imprisoned Iranian women's rights campaigner, has won the 2023 Nobel Peace Prize for her daring fight against women's persecution in Iran and her unwavering pursuit of social transformation.
She was granted the renowned prize on Friday while still imprisoned for her work "to promote human rights and freedom for all," according to the Norwegian Nobel Committee.
"Her valiant struggle has come at a high personal cost." "The regime has arrested her 13 times, convicted her five times, and sentenced her to 31 years in prison and 154 lashes," said Berit Reiss-Andersen, chairman of the Norwegian Nobel Committee, during the announcement in Oslo.
Mohammadi, 51, is a prominent human rights activist in Iran who has advocated for women's rights and the elimination of the death penalty.
According to the Front Line Defenders rights organization, she is presently serving multiple terms totaling nearly 12 years in Tehran's notorious Evin prison, one of many periods she has been incarcerated behind bars. Charges include promoting anti-state propaganda. Additionally, you can also read about- Nobel Prize 2023 in Physics Awarded for Breakthrough in Atomic Imaging
Mohammadi is the deputy director of the Defenders of Human Rights Center, a non-governmental organization managed by Nobel Peace Prize laureate Shirin Ebadi.
| Name | Narges Mohammadi |
| --- | --- |
| Born | April 21, 1972 |
| Place of birth | Zanjan, Iran |
| Nationality | Iranian |
| Occupation | Human rights activist, Nobel laureate |
| Education | Physics degree from Qazvin International University |
| Notable awards | Nobel Peace Prize (2023), Alison Des Forges Award for Courage in Conscience (2013), Martin Ennals Award for Human Rights Defenders (2016), Simone de Beauvoir Prize for Women's Freedom (2020) |
Table: Biography of Narges Mohammadi
After her victory, she told The New York Times that she would never stop fighting for democracy and equality, even if it meant staying in prison.
"I will continue to fight against the oppressive religious government's relentless discrimination, tyranny, and gender-based oppression until women's liberation," she said in a statement, according to the newspaper.
"I also hope that this recognition strengthens and organizes Iranians protesting for change." Victory is on the way."
Tehran accused the Nobel Committee of interfering in and politicizing the human rights problem.
"The Nobel Peace Committee's action is a political move in line with the interventionist and anti-Iranian policies of some European governments," Nasser Kanaani, an Iranian Foreign Ministry spokesperson, stated.
"The Nobel Peace Committee has awarded a prize to a person who has been convicted of repeated law violations and criminal acts, and we condemn this as biased and politically motivated," he continued in a statement broadcast by official media.
Read More: mRNA Vaccine Pioneers Kariko and Weissman Win Nobel Prize 2023 in Medicine
'Regime Will Double Down'
After the announcement, Henrik Urdal, head of the Oslo Peace Research Institute, told us that it was "a very important prize, one that celebrates the achievements of human rights defenders, specifically women's rights defenders in Iran, which has been a very troubled country."
"This is a prize that also highlights the sacrifices of Iranian youth." "It's a way of emphasizing their sacrifices and the difficulties that human rights defenders face in Iran," he explained.
Mohammadi's prize comes after a wave of protests swept Iran a year ago following the death in detention of a young Iranian Kurd, Mahsa Amini, who had been arrested for breaching Iran's strict clothing laws for women.
The World Economic Forum ranks Iran 143rd out of 146 nations in terms of gender equality. Tehran denies allegations of gender discrimination.
Mohammadi is the prize's 19th female winner in its 122-year history. The Norwegian Nobel Committee chose the laureate this year from a field of 351 nominees, including 259 individuals and 92 organizations.
Olive Moore, Interim Director of Front Line Defenders, commented: "This Nobel Peace Prize is a resounding recognition of Narges Mohammadi and other women human rights defenders who – at great cost to personal liberty – have courageously advocated for Iranian women to enjoy the full range of human rights and freedoms" .
'Do Something Respectable'
Mohammadi's brother, Hamidreza, stated that he has not spoken with his sister, but that the Nobel Peace Prize "means a lot to her." However, he cautioned that it is unlikely to make an impact in Iran.
"The prize means that the world has seen this movement, [but] the award will not affect the situation in Iran," he went on to say. "The regime will intensify its attacks on the opposition, and it will have no effect on the regime." People will be crushed."
The Norwegian Nobel Committee's chairman urged Iran to free Mohammadi. "I appeal to Iran: Do something dignified and release Nobel laureate Narges Mohammadi," said Berit Reiss-Andersen, chairperson of the committee.
Mohammadi has been imprisoned since November 2021 and has not seen her children, who live in France with her husband. Amnesty International considers her a "prisoner of conscience."
The Nobel Peace Prize, according to Mohammadi's family, is a "historic and profound moment in Iran's fight for freedom," while the United Nations has urged for "her release and the release of all human rights defenders imprisoned in Iran."
According to the Office of the United Nations High Commissioner for Human Rights (OHCHR), the award recognized Iranian women's fortitude.
"They've been harassed because of what they wear or don't wear." Legal, social, and economic sanctions are becoming increasingly severe. "This really highlights the courage and determination of Iranian women, and how they are an inspiration to the rest of the world," said OHCHR spokesperson Elizabeth Throssell.
Also Read: Nobel Prize in Literature 2023
Important Facts About Narges Mohammadi
She is the first Iranian woman to win the Nobel Peace Prize.
She has been arrested and imprisoned multiple times for her work, but she has never given up her fight for human rights.
In addition to her work on the death penalty, she has also advocated for the rights of women, children, and political prisoners in Iran.
She is a founding member of the Defenders of Human Rights Center (DHRC), which provides legal assistance to political prisoners and victims of human rights abuses in Iran.
She is also a member of the International Coalition Against the Death Penalty.
In 2013, she was awarded the Alison Des Forges Award for Courage in Conscience by Human Rights Watch.
In 2016, she was awarded the Martin Ennals Award for Human Rights Defenders.
In 2020, she was awarded the Simone de Beauvoir Prize for Women's Freedom.
Narges Mohammadi is a true hero and an inspiration to us all. She is a courageous and tireless advocate for human rights in Iran, and she has never given up her fight for justice, even in the face of adversity.
Previous Awards
Last year, the medal was awarded to Belarussian human rights champion Ales Bialiatski, the Russian human rights organization Memorial, and the Ukrainian human rights organization Center for Civil Liberties.
The victors had spent many years promoting the right to criticize power and preserve individuals' fundamental rights, according to the committee at the time, which came during Russia's all-out conflict in Ukraine.
The Nobel Peace Prize is the only one bestowed in Norway's capital Oslo rather than Sweden's capital Stockholm.
The prizes for medicine, physics, chemistry, and literature have all been announced in the last week. The winner of the final award in economics will be announced on Monday.
This year, the awards in each category total 11 million krona ($990,000).
How Does One Go About Winning the Nobel Peace Prize?
To be considered for a Nobel Peace Prize, eligible nominators must submit a name and explain why they are deserving of the award, which includes a chancellor, professor, government, and former recipients, among others.
However, no official list of nominations is available, and the names considered are only disclosed 50 years later.
Following nomination, an eight-month decision-making process begins, with the committee and a group of international advisers providing their expertise on a short list of applicants.
The advisers will provide findings by the end of April, which committee members will review before making judgments until mid-year. The committee will reach its judgment by a majority vote by the beginning of October.
This year, 351 people were nominated for the Nobel Peace Prize, the second-highest number since 2016, when 376 people were nominated.
There are 259 individuals and 92 organizations among those who have been nominated. It is the eighth year in a row that there are more than 300 nominations.
Read Also: Nobel Prize 2023 in Chemistry Awarded for Discovery of Quantum Dots
What Do Prize Winners Get?
This year, the monetary value of the Peace Prize increased by 10% to almost $1 million.
Prize money has fluctuated over the years. The Nobel Foundation claims that it increased the amount this year due to its improved financial position.
Winners receive an 18-carat gold medal as well as a diploma.