Neeraj Chopra: The Golden Boy Who Made India Proud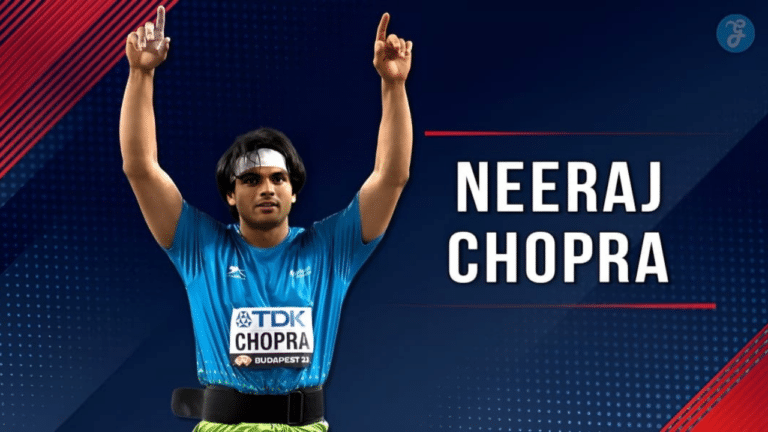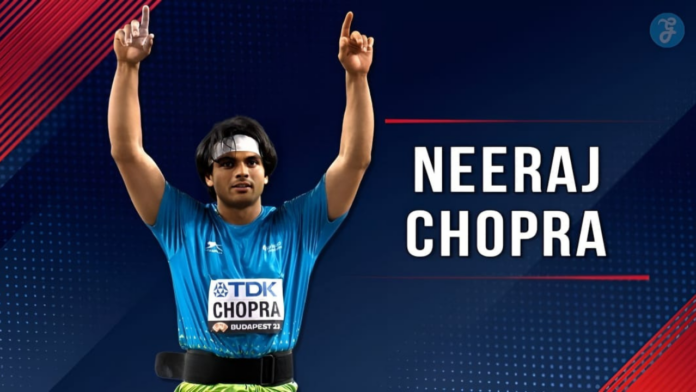 Neeraj Chopra is an iconic figure in the world of athletics and has been setting records since his debut. He was born on 24 December 1997 and has become a household name for defying boundaries and breaking records in the javelin throw.
This blog post will help readers get to know more about Neeraj Chopra's biography, net worth, career achievements, recent updates, recipes from success, personal life, etc. Let's look at all we need to know about our beloved sports superstar!
Content Highlights
Neeraj Chopra is an Olympic winner, World Champion, Diamond League gold medalist, and Asian Games silver Medalist who holds a National Record in the Javelin Throw of 89.94m.
He has earned numerous endorsements from big brands like GoodDot, MobilIndia, TATA AIA Life Insurance, and P&G due to his notable achievements in athletics.
His net worth is estimated to be around $4 – $5 million by 2023, with additional money from brand endorsements or future investments.
His coach Uwe Hohn was instrumental in grooming him for success, while coaches Klaus Bartonietz, Gary Calvert & Werner Daniels helped improve Neeraj's technique and fitness levels.
Neeraj Chopra's Bio
Neeraj Chopra is a prominent javelin thrower from India who represented the country at various international sporting events like the Olympics and the Asian Games.
| Attribute | Value |
| --- | --- |
| Full name | Neeraj Chopra |
| Birthdate | December 24, 1997 |
| Birthplace | Khandra, Haryana, India |
| Parents | Satish Kumar Chopra, Saroj Devi |
| Siblings | None |
| Height | 1.88 m (6 ft 2 in) |
| Weight | 86 kg (190 lb) |
| Education | Bachelor of Arts in History from Panjab University |
| Profession | Track and field athlete |
| Relationships | Single |
| Children | None |
| Records | Tokyo (2020) Olympic gold medalist in the javelin throw |
| Awards | Arjuna Award (2018), Major Dhyan Chand Khel Ratna Award (2021), Vishisht Seva Medal (2020) |
| Net worth | $4.6 million as of 2023 |
Table: Biography of Neeraj Chopra
Early life and education
Neeraj Chopra was born on December 24, 1997, in Khandra, Panipat district of Haryana. He comes from a Haryanvi Ror family and has two sisters. His parents are heavily involved in agriculture, and he also followed after them for his early education.
He attended school in Panipat, where he first came into contact with athletics at the age of 13. From there, he developed a passion for javelin throwing, which eventually led him to an impressive professional career throwing the implement around the world for both India and for himself personally.
Alongside his athletic pursuit brought on by his environment and upbringing as part of the raw athleticism prevalent in Haryana culture over generations.
Athletics career
Neeraj Chopra is one of the most successful athletes in track and field today. The Indian javelin thrower has made a name for himself across the world with remarkable victories, records, and awards in his sport.
He won Olympic gold at the 2020 Summer Olympics, becoming India's first individual Olympic medalist in athletics. On the international stage, he has also clinched gold medals at both World Championships (2018 & 2019) as well as numerous Diamond League titles (2017-2021).
| Record | Value |
| --- | --- |
| Olympic gold medalist | 2020 |
| World Athletics Championships Gold medalist | 2023 |
| Diamond League Gold medalist | 2022 |
| Commonwealth Games gold medalist | 2018 |
| Asian Games gold medalist | 2018 |
| Asian Championships Gold medalist | 2017 |
| South Asian Games Gold medalist | 2016 |
| World U20 Championships gold medalist | 2016 |
| Indian national record holder | 89.94 m (2022) |
Table: Athletics Career Records of Neeraj Chopra
He was also crowned National Champion eight times from 2015 to 2022 to bolster his accolades further. As of 2021, Neeraj Chopra holds a standing national record of 89.94 m and stands as world no.1 in Men`s Javelin Throw according to the IAAF rankings system*.
Aside from these sporting achievements, Neeraj Chopra enjoys significant financial success through various endorsement deals signed over recent years and is highly respected within India for being an icon amongst aspiring athletes.
Read More: Scottie Pippen's Net Worth, Full Bio, and Latest Sports Career Updates
Neeraj Chopra's Net Worth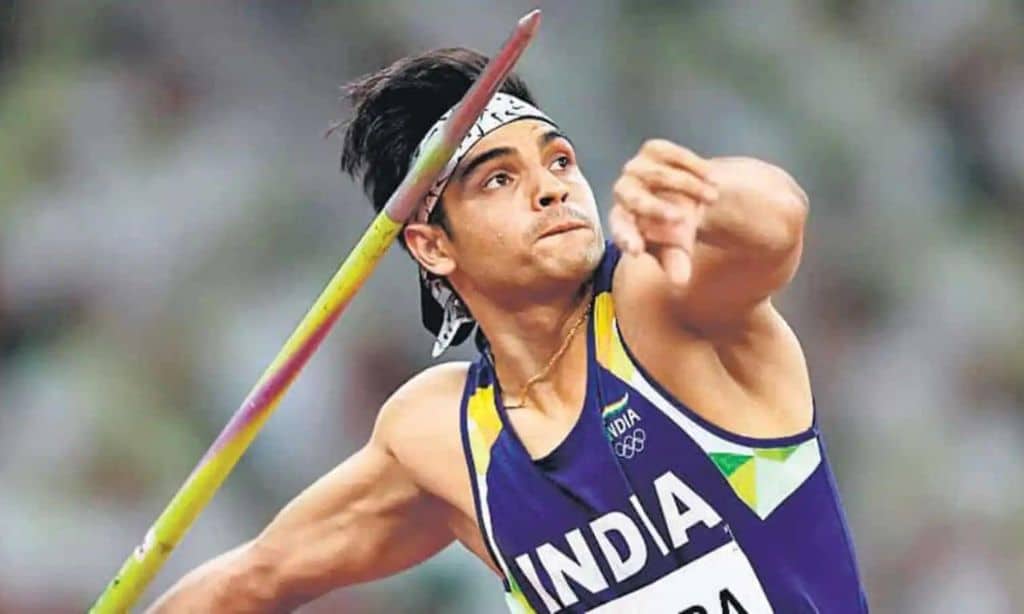 Neeraj Chopra has built an impressive net worth through his earnings from javelin throw competitions, brand endorsements, and other sources of income.
Expected net worth growth in 2023
Neeraj Chopra's net worth is estimated to be between $4 and $5 million in 2023. His net worth has seen a growth of expected rate from the previous year, thanks to his various brand endorsements and investments made by him throughout his career so far.
Notable endorsements from big companies like Adidas have contributed substantially to Neeraj Chopra's increasing wealth over time, plus the handsome prize money won during competitions worldwide further added more value to it.
Recent estimations now suggest that Neeraj Chopra's current net worth stands somewhere between $4-5 million, which will undoubtedly rise if he continues with this pace and fortune touches new heights in years ahead. 
Brand endorsements
Neeraj Chopra currently has a total of 13 endorsements worth an estimated INR 19 crore. These include Nike, JSW Sports, Oracle India Technologies, and Tata Motors deals. His most recent endorsement deal was with Jaguar Cars. This five-year contract is reported to be valued at approximately INR 6 crore annually.
In 2020, he also signed an exclusive multi-year partnership with Royal Challenge Sport Drink which saw his brand value jump significantly. Recently, there have been reports that Chinese smartphone manufacturer Vivo will also become his latest major sponsor. If materialized, this could potentially add another big figure to Chopra's net worth by the end of 2023, reportedly being close to INR 50 crores through various financial sources, including endorsements and salary from sports sponsorship/management companies/firms, etc. 
Cars and properties
Neeraj Chopra owns a number of cars and bikes that contribute to his overall net worth. His collection includes automobiles, motorcycles, motorhomes, and other vehicles owned. No specific information is available about the types or number of cars and properties owned by Neeraj Chopra, but it can be assumed that he has quite a few.
Neeraj Chopra's Career Achievements
Neeraj Chopra is a world champion and Diamond League winner in javelin throw, with several records and awards under his belt.
Records and stats in the javelin throw
Neeraj Chopra has consistently proven his skill in javelin throw, breaking several records and setting high standards in his athletic career. The table below outlines some of his notable records and statistics:
| Record Type | Distance | Year | Event |
| --- | --- | --- | --- |
| World U20 Record | 86.48m | 2016 | IAAF World U20 Championships |
| Asian U20 Record | 86.48m | 2016 | IAAF World U20 Championships |
| Indian Record | 89.94m | 2021 | Olympic Games |
| Olympic Champion | 87.58m | 2021 | Olympic Games |
| World Champion | 88.17m | 2023 | World Athletic Championships |
These figures underscore Neeraj Chopra's incredible talent and dedication to his sport. His record-breaking performances have won him glory on the global stage and inspired a new generation of Indian athletes to pursue their ambitions in athletics.
Awards received
Arjuna Award for Athletics (2018)
Major Dhyan Chand Award (2021)
Diamond League title (2022)
Asian Junior Championship Gold Medal in 800m (2015)
National Record in Javelin Throw at the Federation Cup Senior Athletics Championships (2018)
Commonwealth Games Gold Medal in Javelin Throw (2018)
World Under – 20 Championship Gold Medal in Javelin Throw (2018)
Recent updates on his career
Since winning gold at the 2016 Rio Olympics, Neeraj Chopra has continued to make significant strides in his career and remains India's premier javelin thrower. He set a new world record of 91.86m for the Under-20 during his first Gold medal win at the IAAF World U20 Championships in July 2017, becoming the only Indian athlete to have bagged two gold medals)at an overseas championship.
In 2018 he made history by making it to the final 4 of the Asian Games for India, securing fourth place with a throw of 85.94m ––his best effort since injury–– which followed closely after winning first position at both Men's Standard Chartered Marathon Mumbai and AP Javelin Grand Prix meeting 2019.
His latest achievement was finishing as runner-up in Doha Athletics Diamond League 2019 on 6th September 2020, where he threw 86.47 m setting a National & also Regional record, thus bringing great honor for him & entire nation with the promise that better is yet to come!
Read Also: Mbappe Net Worth, Bio, Family, Career with Sports Life Events
Neeraj Chopra's Coach
He credits his coach Rambir Singh for being instrumental in grooming him to the level of international fame, making it worthwhile to read more about this special bond between them.
Importance of his coach in his success
Neeraj Chopra's coach played a significant role in his success. For two years, from 2017-2018, German legend Uwe Hohn coached Neeraj to refine his technical skills and reach new heights.
His presence was felt in many of the javelin throw records that Neeraj broke. Currently, he is working with biomechanics expert Dr. Klaus Bartonietz to improve various aspects of his performance, such as mental strength, control on throws, and overall fitness level.
It is essential for an athlete to have trust and transparency with their coach for them both to be successful together. It takes time for any person, guided by another individual or life coach, to build up mutual trust, as it's not guaranteed right away after meeting someone once or twice. Rather, it comes over time when they go through different discouraging situations together and hopefully come out victorious in even those tough times.
Relationship with his coach
Neeraj Chopra has been coached by some of the most renowned coaches in the javelin throw. Uwe Hohn, his coach until 2018, acted as a mentor for Neeraj and provided valuable guidance, contributing to his success as an Olympic champion and World champion.
German coaches Klaus Bartonietz and Gary Calvert also helped improve Neeraj's technique, while Werner Daniels, Naseem Ahmad, and Jaiveer Singh were involved in developing his strength training regime.
Lastly, Kashinath Naik focused on realism-based drills that allowed our athletes to fine-tune every aspect of their javelin throwing skillset without risking injury or overexertion. Each of these esteemed coaches played a significant role in motivating Neeraj to be where he is today – securing medals and revolutionizing the sport with record-breaking performances worldwide.
Neeraj Chopra's Parents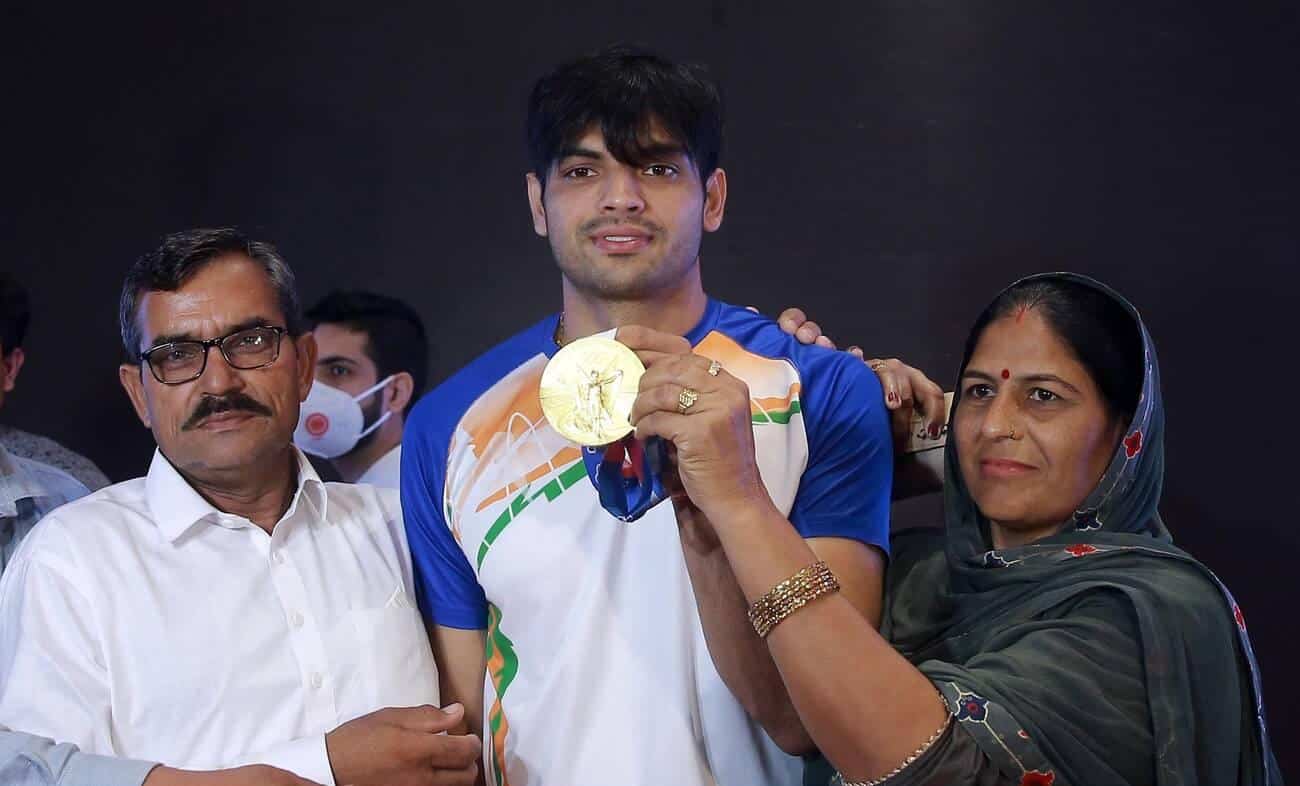 From humble backgrounds to supporting their son's dream of becoming a world-class athlete, learn more about his parent's journey and contribution towards making Neeraj one of the greatest sportsmen in India.
Influence of his parents on his athletic career
Neeraj Chopra's family dynamics and support from his parents have been a major factor in the success of Neeraj Chopra in javelin throwing. An example of this is that he comes from a joint family of 19 members, highlighting the importance of family units in his successful sports career.
Along with providing him with the necessary physical and emotional strength, they have been there to motivate him through thick and thin throughout his journey as an athlete.
Chopra's athletic achievements have brought joy not only to himself but also to his entire extended family. His performance at the 2018 Asian Games was special due to its historical significance and because it enabled him to create tangible memories with every single one of them- something which became even more evident when his mother shared her heartfelt message celebrating her son's victory.
Support from his parents
Neeraj Chopra's parents have played a major role in his success as an Olympic champion. He was raised in a large joint family of 19 members near Khandra village, providing him with strong support and encouragement on his journey to becoming an acclaimed athlete.
Neeraj Chopra's father always showcased immense faith in his son; encouraging him to represent India in the Olympics and pushing him to succeed on the biggest stage – which came true when he won gold at the 2018 Asian Games held in Jakarta, Indonesia.
Moreover, his mother provided invaluable guidance about training routines for the javelin throw regimen that eventually helped him record better performances each season. Thus it is safe to say that both parenting figures had an integral part in helping Neeraj progress from amateur-level competitions all the way through the World Championships & Commonwealth milestones he achieved during his early years of career building.
Also Read: Julian Alvarez Net Worth, Biography, Career with Sports Life Events
Neeraj Chopra's Personal Life
Discover his favorite things, hobbies, and social media presence to understand his life outside of Athletics better.
Favorite things and hobbies
Neeraj Chopra loves playing cricket and tennis in his spare time.
He is a fitness enthusiast and loves to work out regularly at the gym.
Neeraj Chopra enjoys spending time with close friends and family, often bringing them along when he goes traveling for competitions abroad or breaks from practice training
He spends most of his leisure activities reading books related to sports, psychology, history, etc., primarily as part of his mental preparations for upcoming tournaments/competitions
His favorite food includes Indian cuisine, such as parathas, rice dishes which are prepared by his parents or cooks at home
Other hobbies include music listening (mainly Bollywood), watching movies online during break times
Social media presence
Neeraj Chopra's presence on social media has been a valuable asset to his personal banding. After winning the gold medal in athletics at the 2018 Jakarta Asian Games, he experienced a surge in followers and digital engagement metrics.
His net worth was estimated at Rs 428 crore due to his enhanced online reach across multiple geographies, including India, Africa, Europe, and Australia. On Instagram alone, he saw an explosion of 12.79 million interactions with followers worldwide, creating increased brand visibility and recognition for him, with many corporate houses signing up for endorsement deals as well.
Besides being active on social media platforms like Twitter and Facebook; Neeraj has leveraged this powerful medium to its fullest potential, increasing his global popularity exponentially while helping build an admirable digital reputation that retains strong influence even today among javelin throwers all around the globe.
Affairs and marriage (if applicable)
Neeraj Chopra is focused on achieving his dreams and has placed great focus on his career in athletics without much involvement in any romantic relationships or marital commitments.
He, however, enjoys the strong support from his extended family. Neeraj Chopra hails from a joint family of more than 17 members giving him great emotional security and providing a strong network to fall back on during times of need.
His parents have supported him through thick and thin and backed up all his athletic endeavors since childhood, designing an affluent sports career for him.
Neeraj Chopra's Impact and Inspirational Figures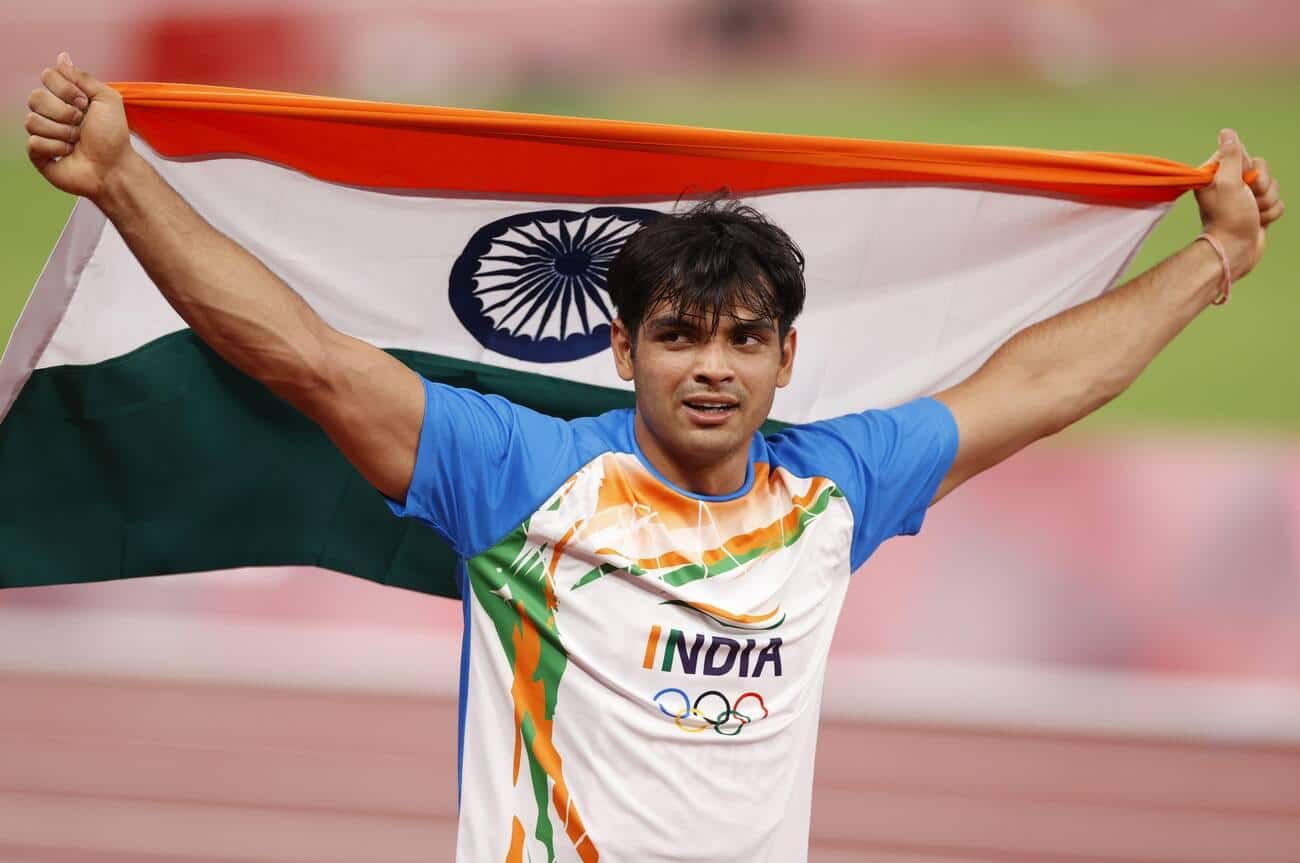 Neeraj Chopra has had an immense impact on the sport of javelin throw in India, inspiring many young athletes to pursue athletics as a career.
His impact on the sport of javelin throw in India
Neeraj Chopra's gold medal win at the Olympics has profoundly affected the javelin throw in India. His success inspired a new wave of interest and participation in the sport, with more people taking up javelin throw as an amateur activity or professional pursuit.
It also led to an increased focus in terms of development and growth for Indian athletes competing within the discipline, ensuring they had access to necessary resources such as coaches, better equipment, medical support, and infrastructure.
As a result of these improvements, Neeraj Chopra's achievements have significantly elevated the javelin throw profile in India since his Olympic victory. Furthermore, the athlete himself serves as an inspirational figure for aspiring athletes throughout his country; many young competitors see him as proof that hard work can pay off despite any apparent obstacles while attempting to pursue their dreams in track and field events like those contested at the Olympics.
Inspirational figures in his life
Many inspirational figures have shaped Neeraj Chopra's life. They include:
His parents – his father, Satish Kumar, a farmer, and his mother, a housewife have played an integral role in instilling values of hard work, dedication, and sportsmanship in him.
His athletic coach Uwe Hohn – helped mould his throwing style and was the first one to recognize Chopra's potential as an elite athlete
Other athletes such as Usain Bolt and Eliud Kipchoge – both of whom continue to inspire him with their feats on track field
Other Indian javelin throwers, such as Anil Sharma –whose achievements encouraged him to excel further
Sports commentators/analysts whose comments gave extra motivation while competing at various national & international levels
Neeraj Chopra's Future Plans and Goals
Neeraj has set his sights on improving his javelin throw technique and reaching new heights in the upcoming competitions.
Goals for future competitions
Neeraj Chopra has set his sights on winning more medals for India and breaking the world record in javelin throw. He is currently ranked number 1 in Men's Javelin Throw in the world and is determined to remain at the top of his game by pushing himself towards achieving greater heights. His ambitious goals include improving his technique, training harder, performing better than ever before when competing internationally, and setting new world records that serve as benchmarks for aspiring athletes.
With constant hard work and dedication towards excellence, he hopes to bring future glory to India through impressive performances in various competitions such as the Olympic Games, World Championships, etc. He is also humbled by having inspiring figures from whom he can draw inspiration from while focusing on achieving his athletic targets each year.
Plans to improve his performance
Neeraj Chopra is currently focusing on building balance and stability in his technique and increasing the power of his throws.
He has adopted a personalized strength program that helps him condition himself for competitions and aims to increase upper body power and speed.
He works extensively on core exercises such as planks, deadlifts, squats, and Russian twists to maintain agility and stability during javelin throwing motions.
Upon consultation with specialists like physiotherapists, he constantly updates the warmup routine before entering the competition field for practice or a championship event – it includes stretching-focused activities like yoga poses combined with dynamic movements such as lateral steps, long jumps, or jogging drills specific to javelin throwers' techniques.
To perfect his throws further, Neeraj Chopra follows strict diet plans composed by nutritional experts comprising healthy protein sources, e.g., fresh fruits & vegetables; whole grains; and lean meats accompanied with ample rest & hydration supplied throughout the day regularly so that he remains agile even after hours spent practicing different forms of javelin throws repeatedly at a stretch every day.
Read More: Gervonta Davis Net Worth: A Look at the Young Boxer's Wealth in 2023
Frequently Asked Questions (FAQs)
If you want to know more about Neeraj Chopra, you can check the answers to some commonly asked questions below.
1. Who is Neeraj Chopra?
Neeraj Chopra is an Indian track and field athlete who specializes in the javelin throw and currently holds the Indian national record for the event. He represented India at various international events, including the 2016 Rio Olympics and the 2018 Commonwealth Games.
2. What are some of Neeraj Chopra's records?
Commonwealth Games: Gold medal; Asian Games: Gold medal; South Asian Games: Silver Medal; IAAF World U-20 Championships: Gold Medal; Asian Athletics Championships: Bronze Medal
3. How much is Neeraj Chopra's net worth?
Neeraj Chopras' net worth has not been disclosed publicly, but it can be estimated that he earns around Rs 1 crore – 2 crores annually through sponsorships, endorsements, prize money, etc., from his sports career.
4. What are some recent updates on Neeraj Chopra?
Recent updates about Neeraj include his induction into the Top 15 Athletes to Watch list by the International Association of Athletics Federation (IAAF), winning a gold medal 2019 Doha Diamond League Meet with an 85m throw, and his personal best attempt of 87m made in Germany meet held at Luc Boland late last month.
Subscribe to Our Latest Newsletter
To Read Our Exclusive Content, Sign up Now.
$5/Monthly, $50/Yearly