Neeraj Chopra's Incredible 88.17m Throw Lands India First Ever Gold in World Athletics Championships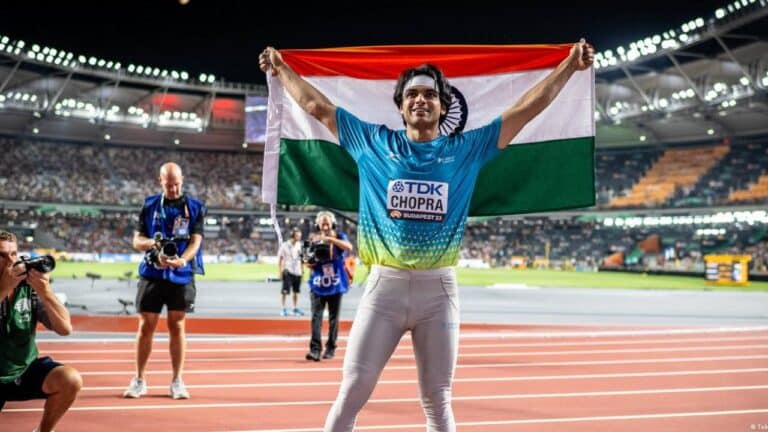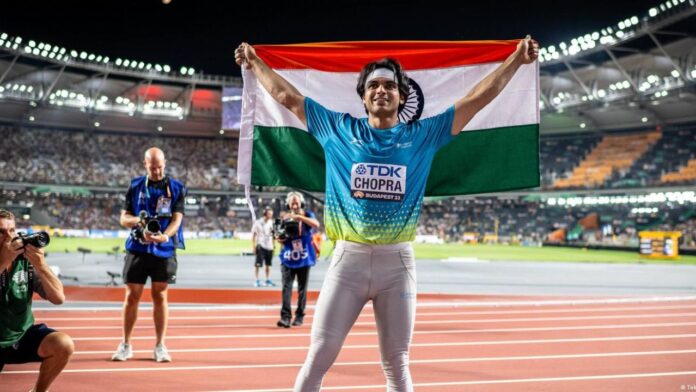 On Sunday night, Neeraj Chopra earned his first World Athletics Championships gold medal.
On Sunday, Neeraj Chopra made history by being the first Indian athlete to win a World Athletics Championships gold medal in the men's javelin throw final event in Budapest. Chopra's second try in the final saw him launch the javelin 88.17 meters, which remained the event record. Neeraj's performance was a huge improvement over his silver medal performance at the Worlds in 2022.
The defending Olympic gold medalist didn't get off to the best start in the final, reaching only 79m; Neeraj was plainly unhappy with the throw and decided not to register the score at all, stepping the line to force a foul. However, the Indian thrower reserved his best for the final; riding on a massive crowd support, Chopra took his run and began to rejoice even before the javelin could land.
Arshad Nadeem, Chopra's Pakistani compatriot, came second at 87.82m, just behind the Indian gold medalist. Jakub Vadlejch of the Czech Republic won bronze in 86.67m.
Kishore Jena and DP Manu, the other two Indian javelin throwers in contention, also put forth strong performances despite failing to make the podium. Both throwers made the top eight and finished fifth and sixth, respectively. Jena recorded the highest registered throw of 84.77m, which was also his personal best, while Manu threw 84.14m.
Chopra, the current world number one in the javelin, earned the Olympic gold in Tokyo 2020 but finished second at the worlds in Eugene last year, as Anderson Peters took the gold. Anju Bobby George, who won bronze in the women's long jump in 2003 in Paris, was the only other Indian to earn a medal at the worlds.
Neeraj required only one throw in the qualification round for the men's javelin final at the 2023 event to secure a spot in the event on Sunday. The Olympic champion had cleared 88.77m in his first attempt, gaining automatic qualification for the final. Neeraj covered 88.17m, 86.32m, 84.64m, 87.73m, and 83.98m after fouling in the opening throw of the final on Sunday.
Read More: Top 20 Highest Paid Athletes 2023 in the World 
In addition, India's great javelin thrower became only the third person in history to hold both the Olympic and World Championship titles in the sport, after the legendary Jan Zelezny of the Czech Republic and Andreas Thorkildsen of Norway.
Zelezny won Olympic gold in 1992, 1996, and 2000, as well as World Championship gold in 1993, 1995, and 2001. Thorkildsen won gold medals in the 2008 Olympics and the 2009 World Championships.
Subscribe to Our Latest Newsletter
To Read Our Exclusive Content, Sign up Now.
$5/Monthly, $50/Yearly