Manik Bandopadhyay's 115th Birth Anniversary – A Great Literary Icon of Bengali Literature
Listen to the Podcast:
Today is the 115th birth anniversary of Manik Bandopadhyay, one of the most prominent modern Bengali novelists and short story writers. He was born on May 19, 1908, in the Bihar metropolis of Dumka. Prabodh Kumar Bandopadhyay was his family name.
Manik Bandopadhyay was one of the Bengali authors who initiated the revolutionary literary tendency in Bengali after the First World War. His writings reflect the profound influence of Freudian psychoanalytic and Marxist class conflict theories.
Since he was a member of the Communist Party from 1944 until the end of his life, the influence of communism is readily apparent in his writings. In his brief 28-year literary career, Manik Bandopadhyay published 36 novels and over two hundred short stories.
Manik Bandopadhyay's Biography
Manik Bandopadhyay was born in West Bengal on 19 May 1908 to a family with roots in Dhaka, Bangladesh. Being the fifth child of Harikar Bandopadhyay and Niroda Devi, he was well-versed in the harsh realities of life, which can be seen in his writings that deal with the same cruel realities of human existence. His given name is Prabodh Kumar Bandopadhyay, and his nickname is Manik.
| | |
| --- | --- |
| Full Name | Manik Bandopadhyay |
| Nick Name | Prabodh Kumar, Manik |
| Gender | Male |
| Birth Date | May 19th, 1908 |
| Birth Place | Dumka, Santal Paragona, Bihar |
| Date of Death | December 3, 1956 |
| Nationality | Indian |
| Religion | Hinduism |
| Profession | Bengali Writer |
Early Life and Education
As a government employee, his father, Harikar, was required to travel throughout undivided Bengal. Therefore, Manik Bandopadhyay spent his childhood observing and learning about every aspect of living in rural Bengal. His familiarity with life's difficulties and the complexities of social relationships prevented him from discussing the romantic and uncomplicated aspects of life.
Manik passed the Midnapore Zilla School entrance examination in 1926, achieving first division with letter grades in both required and optional mathematics. He was enrolled at Wellesley Mission College at Bankura in the same year. Previously, he attended Contai Model Institution in Contai.
Manik met Jackson, who was a professor at Wellesley College. In 1928, he got first division in his I.Sc. (Intermediate in Science) test. His father encouraged him to get into the B.Sc. in Mathematics program at Presidency College in Calcutta.
Literary life
Manik was very interested in literature and had read several Bengali classics at a young age. When Manik was in Class VII at Bindubasini School in Tangail, his Bengali teacher admired his essay writing style and frequently advised his classmates to emulate him. Manik began writing poetry at age sixteen. Manik studied mathematics at the prestigious Presidency College in Calcutta (now Kolkata) as part of his Bachelor of Science (B.Sc.) Honours program. Some classmates argued one day that prominent periodicals only publish the works of eminent authors. Manik disagreed and accepted the challenge as a wager, responding that his first story would suffice for the purpose.
He wrote "Atashi Mami" (Atashi Aunt), a romantic love story based on his early life experience with an older couple, a clarinet player and his wife, and proceeded directly to the office of the then-renowned monthly Bichitra. Manik handed over the story to the present deputy editor without even inquiring when to return to learn the story's fate. Four months later, on a beautiful morning, the famous author and editor of the monthly delivered a copy of Poush 1335 (December 1928-January 1929) to his residence and honorarium to request another story. "Atasimami" caused a scandal in the Bengali literary community, and as a result, Manik neglected his studies, failed twice in his B.Sc. finals, and devoted himself entirely to literature.
Manik was never wealthy, so he and his wife, Kamala Bandyopadhyay, had to struggle to support their family throughout his existence.
Read More: Samaresh Majumdar Biography
Works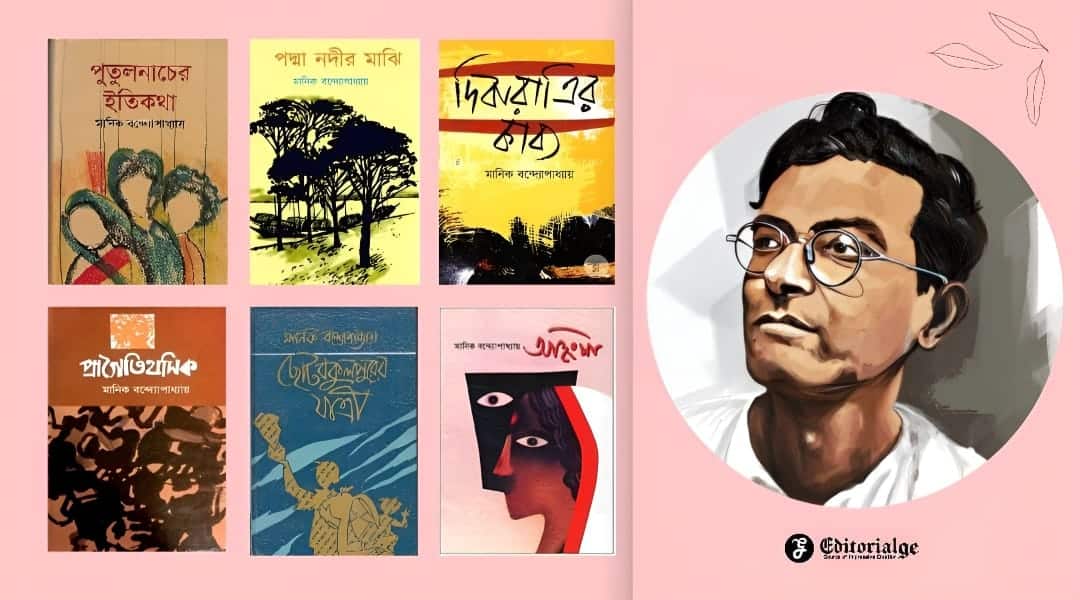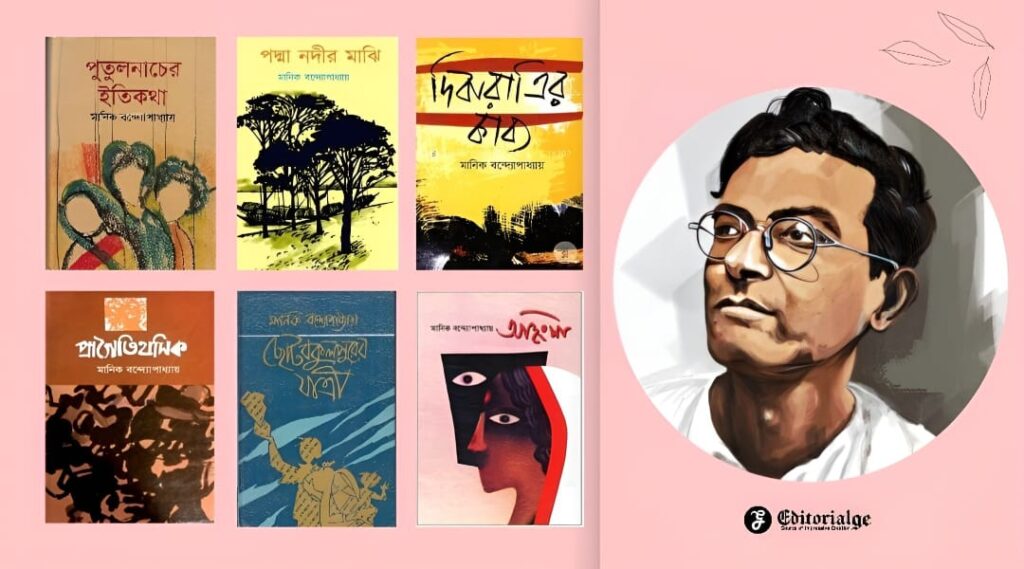 In his 28-year writing career, he produced 38 novels, 306 short stories (including 32 juvenile stories), one volume of drama, one volume of poetry, and one volume of literary essays.
At the age of 21, Manik authored his first novel, Dibaratrir Kavya (Poetry of the Day and Night). Janani (Mother), 1935, Dibaratrir Kavya, 1935, Padma Nadir Majhi (Boatman of the River Padma), 1936, Putul Nacher Itikatha (The Puppets' Tale), 1936, Shahartoli (Suburbia in 2 vols.), 1940, 1941, Chotushkone (Quadrangle), 1942, Chinho (Signs), 1947, and Holud Nadi Sabuj Bon (Yellow River Green Forest), 1956 are among his notable novels.
Manik had 16 books of short stories published during his lifetime. Some of his famous stories include:
"Sailaja Shila" ("Rocky Rocks"), "Pragoitihasik" ("Primeval"), "Sarisrip" ("Reptiles"), "Atmahatya Adhikar" ("Right to Suicide"), "Haludora" ("Burnt Turmeric"), "Namuna" ("A Sample"), "Aaj Kal Porshur Golpo" ("Today, Tomorrow and Day After"), "Shilpi" ("Craftsman"), "Haraner Natjamai" ("Haran's Grandson-in-Law"), "Choto Bokul Purer Jatri" ("Travelers to Chhoto Bokulpur"), "Upay" ("The Way-out").
Manik Bandopadhyaer Kavita (Poems of Manik Bandyopadhyay), edited by Jugantar Chakravarty in 1970, and Samagra Prabandha Ebong (Complete Essays), edited by Subhamoy Mandal and Sukanta Bandyopadhyay in 2015, are his other edited works.
Manik Bandopadhyay's 'Padma Nadir Majhi (Boatman of the River Padma' Novel:
Manik Bandopadhyay's novel Padma Nadir Majhi was first published in 1936, and it remains one of the most popular and influential Bengali novels of the 20th century. The novel tells the story of Hossain, a boatman who lives in a small fishing village on the river Padma in Bengal. Hossain struggles to make a living and provide for his family, but he is ultimately forced to leave his village and seek a better life for himself and his loved ones.
The novel explores themes of poverty, migration, and the struggles of rural life. It portrays the lives of the impoverished and marginalized people living in the riverine areas of Bengal, highlighting the challenges they face in their day-to-day lives. Additionally, the novel critiques the social and economic systems that perpetuate their ongoing struggles.
Manik Bandopadhyay's Padma Nadir Majhi novel is lauded for its depiction of the human condition during a tumultuous period in Bengali history. It has been translated into multiple languages, and it remains a timeless classic.
Goutam Ghose's Padma Nadir Majhi Film:
In 1993, renowned Indian filmmaker Goutam Ghose turned Padma Nadir Majhi into a movie. The film follows the original storyline of the novel and features a cast of talented actors.
Like the novel, the film portrays the struggles of the people living in the riverine areas of Bengal. It explores the poverty, migration, and daily challenges faced by the villagers, and it critiques the social and economic systems that perpetuate their ongoing struggles.
The film is lauded for its visuals and cinematography, which effectively capture the vastness and beauty of the river Padma. The naturalistic performances of the actors have also been praised, as they bring a sense of realism and grit to the story.
Goutam Ghose's Padma Nadir Majhi film is a faithful and moving adaptation of Manik Bandopadhyay's novel. It remains a testament to the power of storytelling, as it illuminates the struggles and resilience of those facing economic hardship and displacement.
Putul Nacher Itikatha
Putul Nacher Itikatha is the third novel and fourth printed book by Bengali author Manik Bandyopadhyay, published in 1936. It is one of Manik Bandopadhyay's remarkable creations. In one of his letters, he stated that this novel was a protest against those who tend to manipulate human lives like puppets. It introduces the socialist mentality of the author.
Shashi, the town doctor, is the main character of the book. He doesn't believe in God. The story and setting of the book are based on the complicated social ties between Shashi, Shashi's father, Kusum, and the other characters in the village. This book is one of the best works of Bengali literature. It is about love, separation, envy, and mutual sympathy in a society that is falling apart.
In 2022, a film based on Manik Bandyopadhyay's novel 'Putul Nacher Itikatha' was directed by Sumon Mukhopadhyaya and produced by Samiran Das under the Kaleidoscope Entertainment banner. Other characters include Abir Chatterjee, Parambrata Chatterjee, Dhritiman Chatterjee, and Ananya Chatterjee. Jaya Ahsan will portray the role of Kusum.
Read More: Rabindra Jayanti 2023
Death
Manik Bandopadhyay died at the age of 48 in 1956. From a young age, he had struggled with poverty and epilepsy. On December 3, 1956, this gifted writer collapsed and went into a coma. On the 2nd of December, he was admitted to the Nilratan Government Hospital in Calcutta, where he died the next day. Following his death, a memorial service was held on December 7th, which was attended by a large crowd of mourners.
Manik Bandopadhyay was a renowned Bengali author known for his significant contributions to 20th-century Bengali literature. Despite the struggles of battling epilepsy and financial constraints, he produced several masterpieces of novels, short stories, poems, and essays. His works often portrayed the rural life of Bengal, focusing on the struggles and darkness of the people's daily existence.