Kevin Hart Net Worth: His Inspiring Journey to Riches With Full Biography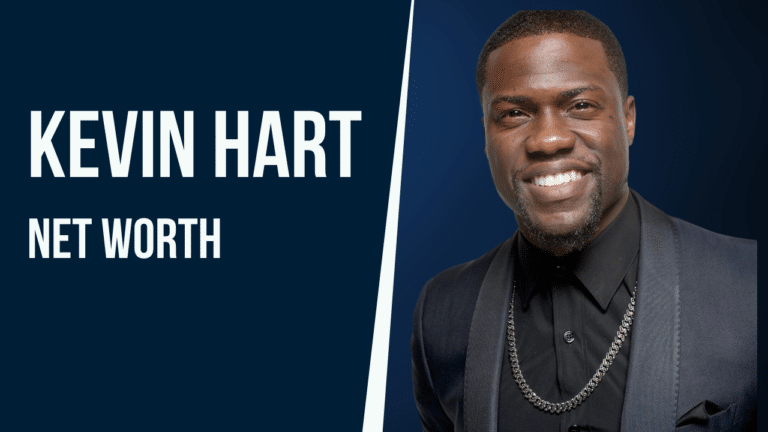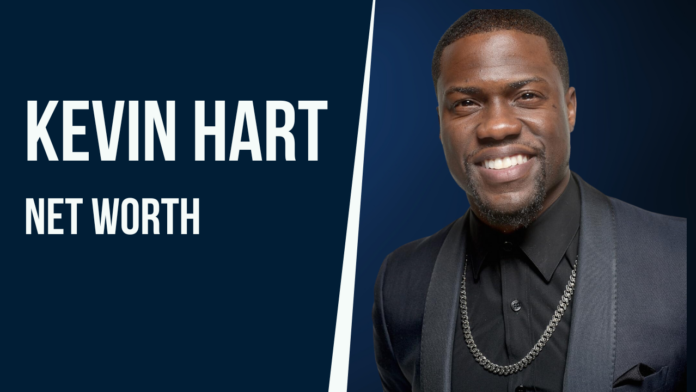 Introducing Kevin Hart, one of the most successful and highest-paid comedians in the entertainment industry. With an estimated Kevin Hart net worth of $450 million, Hart has built a vast fortune through his stellar acting and hilarious standup comedy shows.
In this blog post, we will cover everything you need to know about Kevin Hart's biography, career achievements, net worth details, and the latest updates from his personal life. From his success as a comedian to investing in startup companies and owning luxurious properties.
Get ready to learn all the facts surrounding the monumental wealth accumulation of Kevin Hart!
Content Highlights
Kevin Hart struggled for years on the stand-up scene before the 2011 release of his comedy album "Laugh at My Pain".
Its success led to an explosion in popularity for Hart, allowing his career to take off.
The subsequent tour became one of the most successful comedy tours that year, further cementing his status.
It reinvigorated his stand-up comedy career and introduced him to much larger audiences globally.
The album's monumental success was pivotal in establishing Kevin Hart as one of Hollywood's funniest actors.
Kevin Hart's Early Life and Career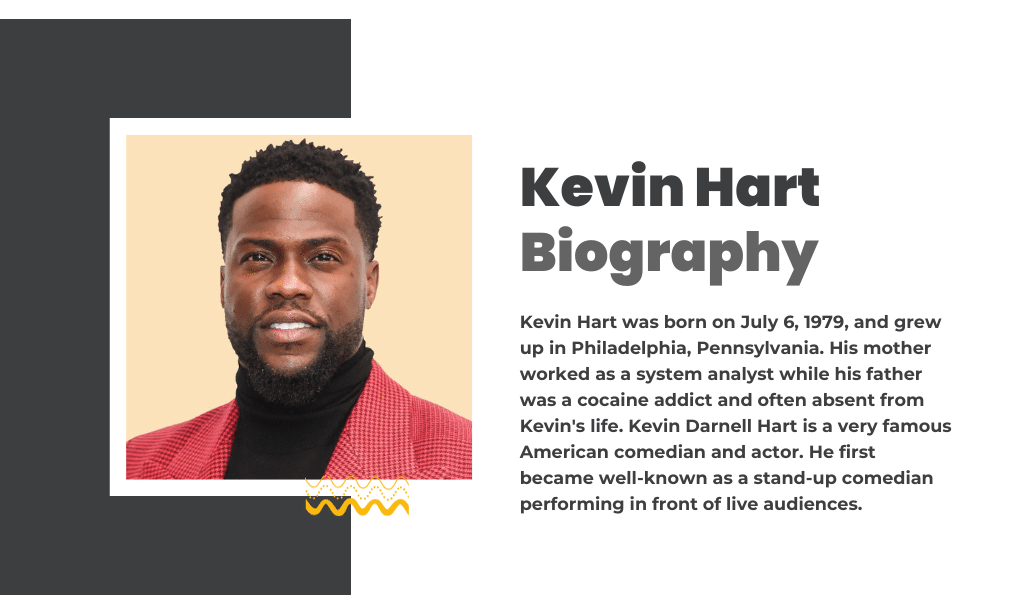 | Aspect | Detail |
| --- | --- |
| Birth name | Kevin Darnell Hart |
| Born | July 6, 1979 (age 44) |
| Birthplace | Philadelphia, Pennsylvania, U.S. |
| Medium | Stand-up, film, television |
| Education | Community College of Philadelphia |
| Years active | 2001–present |
| Genres | Observational comedy, stand-up comedy, black comedy, surreal humor, insult comedy, sarcasm, satire |
| Subjects | African-American culture, everyday life, human sexuality, marriage, parenting, pop culture, race relations, racism, self-deprecation |
| Spouse(s) | Torrei Hart (m. 2003; div. 2011), Eniko Parrish (m. 2016) |
| Children | 4 |
Kevin Hart began his career as a stand-up comedian, finding success with "Laugh at My Pain" before launching an acting and producing career in Hollywood.
Childhood and Upbringing
Kevin Hart was born on July 6, 1979, and grew up in Philadelphia, Pennsylvania. His mother worked as a system analyst while his father was a cocaine addict and often absent from Kevin's life.
Despite these challenges, his mother encouraged him to take part in various school activities including athletics – particularly basketball – and performing arts such as theater. After graduating high school, Kevin began working at the comedy clubs of Philadelphia – first selling sandwiches then eventually stepping onto the stage himself as an aspiring comedian.
Though not always appreciated or in demand, he pushed through countless open mics before finally getting national recognition for being one of entertainment's funniest personalities.
Start in Stand-Up Comedy
Kevin Hart began his life in comedy at a young age, performing stand-up routines and winning competitions at New England comedy clubs. He honed his skills by attending open mic nights and fighting through stage fright to make it on the bigger stages of well-known clubs.
This level of grit and dedication helped build him into one of the most famous comedic stars around today.
Before gaining fame with his breakout film "Laugh at My Pain", Hart was already making waves in the comedy world with sold-out shows across the nation. Ferociously working towards achieving success, he released various DVD specials over his early career including "Seriously Funny" and "Laugh At My Pain" which brought attention for its cutthroat humor that quickly gained him fans all over!
Breakthrough With "Laugh at My Pain"
Kevin Hart's breakthrough occurred in 2011 with the release of his comedy album "Laugh at My Pain." The album was a major success, earning him over $15 million. Before its success, Kevin had been struggling on the stand-up scene for years after having released his previous album Seriously Funny.
With the surge of income from this successful album came an explosion in popularity that allowed his career to take off. His subsequent tour became one of the most successful comedy tours of that year and further solidified his place as one of Hollywood's funniest actors.
Its monumental success reinvigorated Kevin's career and opened many new opportunities for him moving forward. Overall, Laugh at My Pain did far more than just generate income by giving Kevin Hart a much-needed comeback in stand-up comedy while also introducing him to larger audiences around the world. Additionally, you can also read about Tom Sandoval's Net Worth.
Kevin Hart's Success and Achievements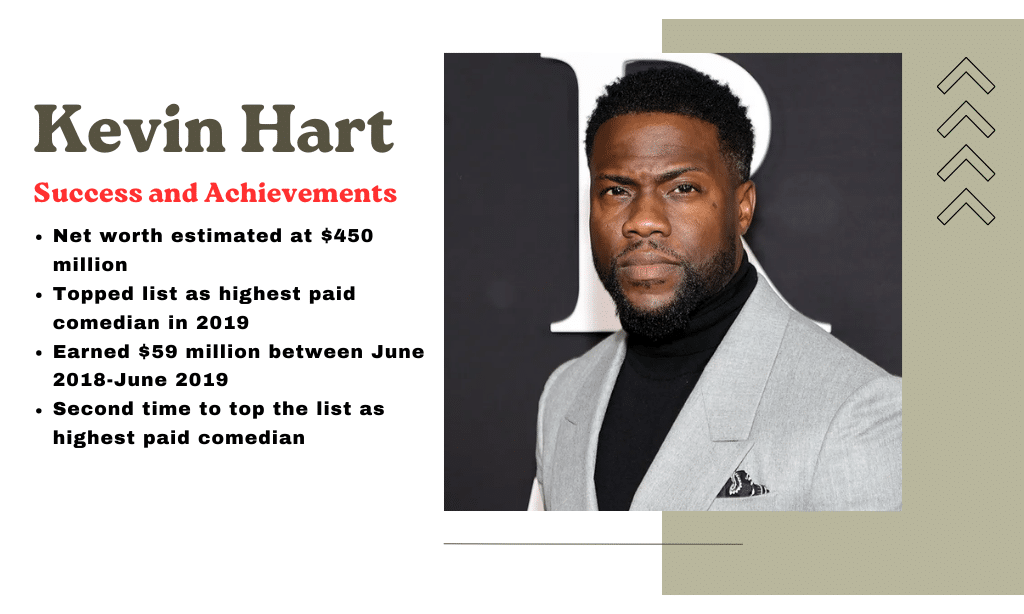 | Category | Details |
| --- | --- |
| Box Office Hits | Ride Along ($154 million worldwide) – Central Intelligence ($217 million) – Jumanji: Welcome to the Jungle ($875 million) |
| Major Award Show Hosting | MTV Video Music Awards – Academy Awards – BET Awards |
| Forbes List Rankings | Topped list as highest paid comedian in 2019 – Earned $59 million between June 2018-June 2019 – Second time topping list |
Kevin Hart has become one of the most successful comedians in modern times, achieving box office success with his comedy films and hosting some of the most renowned award shows.
Box Office Success With Comedy Films
Kevin Hart is a significant name in the comedy film genre. Some of his most successful films include 'Ride Along', 'Central Intelligence' and 'Jumanji: Welcome to the Jungle'.
Ride Along grossed over $154 million at the worldwide box office, Central Intelligence made over $217 million and Jumanji made a staggering $875 million. His prior works such as 'Think Like A Man' had also achieved great success with more than $70 million in box office earnings.
Kevin Hart's movies have collectively earned him around two billion USD since 2012 alone – making him one of Hollywood's highest-earning actors in comedy films.
Hosting Major Award Shows
Kevin Hart's biggest breakthrough as an entertainer and comedian came from his stand-up comedy tour "Laugh at My Pain" in 2011. His career took off shortly after, with many hosting jobs for major award shows such as MTV Video Music Awards, Academy Awards, and BET Awards.
He became known for his comedic timing and wit while on stage for these events which allowed him to leave a lasting impression on the audience. This earned him immense fame, wealth, and success which has propelled his net worth into millions of dollars.
Kevin is now one of Forbes's highest-paid comedians mainly due to the revenue generated from hosting gigs and live performances.
Through hosting duties for televised award show events over the years, Kevin Hart has been able to influence public opinion about diversity in Hollywood films by providing humorous but meaningful insight.
Forbes List of Highest-Paid Comedians
Kevin Hart topped Forbes' list of highest-earning stand-up comedians for the second time, making $59 million between June 2018 and June 2019. Despite stepping down as the Oscars host and apologizing for past tweets, Hart continued strong with sponsorships, a Netflix special, and a successful global stadium tour.
Overall, the top comedians collectively earned $272 million, a slight drop from the previous year due to some big names like Chris Rock and Dave Chappelle taking a quieter year. Others like Jerry Seinfeld and Jim Gaffigan also earned well, while newcomers like Trevor Noah made their mark with lucrative stand-up performances and specials. The estimates are before taxes and don't account for fees paid to agents, managers, or lawyers.
The top-earning comedians in 2019, according to Forbes, were led by Kevin Hart, who topped the list with earnings of $59 million. Following Hart were Jerry Seinfeld at $41 million and Jim Gaffigan at $30 million, securing the second and third spots, respectively. Trevor Noah made $28 million, while Sebastian Maniscalco earned $26 million.
Gabriel Iglesias brought in $22 million, and Amy Schumer earned $21 million. Terry Fator and Jeff Dunham followed with earnings of $17 million and $15 million, respectively. Aziz Ansari rounded out the top ten with earnings of $13 million. These figures represent the money these comedians made between June 2018 and June 2019 before taxes and without factoring in fees paid to their representatives. If you want you can also read Shakira's Net Worth.
Kevin Hart's Other Ventures and Business Ventures
Through HartBeat Productions, brand partnerships, and various investments, Kevin Hart has diversified his income beyond stand-up comedy. Read on to find out more about his success and influence in the entertainment world.
HartBeat Productions
Kevin Hart's media company, HartBeat Productions, was founded in 2009 and has since grown exponentially. The company recently sold a 15 percent stake to the private equity firm Abry Partners for over 650 million dollars, valuing the entire enterprise at approximately $4 billion.
This marks one of the highest-valued investments secured by any entertainer in history.
Besides producing and distributing popular Kevin's comedy specials such as Laugh At My Pain or Jumanji: The Next Level, HartBeat Productions is working on several projects including movies and TV shows with major streaming services like Netflix, AppleTV+, Hulu, and Quibi.
Endorsements and Brand Partnerships
Kevin Hart is the founder of a tequila line.
He serves as a brand partner for Fabletics Men, an athleisure wear company.
He is a brand ambassador for PokerStars, an online gaming and poker provider.
Dwayne Johnson has partnered with many companies in different industries to promote their products and services. Some examples are Sam's Club for retail, Fabletics for fashion, Chase Bank for finance, Major League Soccer for sports, and Hillsong Church New York for religious products. He has worked with brands in clothing, banking, sports, religion, and more.
In 2018, Hart was appointed by Anheuser-Busch to be the global creative director of their Budweiser Reserve bar chain network.
His endorsement deals also include Ford Cars, Gatorade Sports Drinks, Hanish Clothing Line, Moët Champagne, and Hennessy Cognac.
Investing in Startup Companies
Kevin Hart has identified entrepreneurial investment opportunities as an integral part of his growing wealth. His investments have been a key factor in his success and propelled him to be one of the highest-paid comedians in existence. Through his company, Hartbeat Ventures, he collaborated with J.P. Morgan and established their first institutional round
Appearance on "Shark Tank"
Kevin Hart has been a guest on the reality TV show "Shark Tank" since 2017 where he acts as an investor and offers business pitches to potential entrepreneurs. He is confidently able to negotiate investments with businesses offering them equity stakes through tough but fair negotiations.
His appearance also rejuvenated the long-running series, drawing in higher ratings across both current and new viewers – making him one of the more successful guest entrepreneur investors.
Despite his fame, he never strays away from analyzing data when assessing if it's worth investing or not in startup companies and their profit potential. In addition to providing financial aid, Kevin also brings brand awareness to any company through associated associations resulting from his own endorsements or business ventures.
Kevin Hart's Personal Life
From his relationships to philanthropic work, Kevin Hart has a full personal life outside of Hollywood.
Relationships and Family
Kevin Hart comes from a close family. His parents are Henry Witherspoon and Nancy Hart. He has one older brother named Robert Hart. Kevin has been married twice and has 4 children in total. His first wife was Eniko Parrish. With Eniko, Kevin had a daughter named Heaven Hart and a son named Hendrix Hart.
After divorcing Eniko, Kevin married his second wife Tory Hart. With Tory, he had a son named Kenzo Cash Hart and a daughter named Kaori Hart. So in summary, Kevin has 4 kids – Heaven and Hendrix with his ex-wife Eniko, and Kenzo and Kaori with his current wife Tory. Family is very important to Kevin even through the challenges of divorce and re-marriage. He remains committed to co-parenting his children across multiple households.
Philanthropy and Charitable Work
Kevin Hart is as well known for his generous donations and charitable work as he is for his comedy. He founded the charity Help from The Hart in 2010, which offers education-based initiatives to young people from underprivileged backgrounds.
Kevin Hart started a charity called Help From The Hart to support students in need. His goal is to help them with their education and improve their lives. Through the charity, Kevin has provided free online coding classes, college scholarships of $25,000 each year to high school seniors, and other aid programs. The charity helps students learn skills, provides scholarships, and supports people affected by disasters like hurricanes. Kevin uses Help From The Hart to make a positive impact on students and communities.
Kevin Hart's charity Help From The Hart aims to support students from all backgrounds. It provides technology and experiences to students who may not otherwise have access due to social or racial inequalities. The goal is to inspire curiosity and learning in all students, especially future leaders.
Given Kevin's financial success and charity work, he is considered one of Hollywood's most influential figures leading change. Through fundraising for Help From The Hart, he strives to make a meaningful impact by helping underprivileged students get access to opportunities. Kevin uses his platform and resources to promote equality in education.
Kevin Hart Net Worth and Financial Success
Kevin Hart has had tremendous financial success over the years, with an estimated net worth of almost $450 million and earnings from comedy tours and live performances contributing significantly to it.
Estimated Net Worth
Kevin Hart is one of the richest comedians in the entertainment industry, with a net worth estimated to be around $450 million as of 2023. This prominent position was achieved through various business ventures, endorsement deals, and his success as an entertainer.
His annual income is estimated to be around $60 million on average. In 2019 he topped Forbes' list of highest-paid comedians for the fourth time in five years – earning a reported total salary of over $59 million throughout the year from both live performances and film projects.
Another key source of earnings is endorsements with brands such as Mountain Dew, The Coca-Cola Company's Top Flip flavored sparkling water line, and UberEats which add significant revenue to Hart's current wealth.
Earnings From Comedy Tours and Live Performances
Kevin Hart is an artist like no other. His comedy tours and live performances provide high-energy, laughter the entire family can enjoy. As a result, these shows are some of the most successful in entertainment and generate millions in ticket sales every year.
In 2016 alone, Hart generated around $1 million for each show he performed during his tour of international cities. This sky-high revenue didn't stop there: between August 2015 and August 2016, Kevin reportedly earned a staggering $70 million from touring – making him one of Forbes's highest-paid comedians that year with his comedy tour bringing in over $70 million!
These monies have had a great impact on Hart's wealth at 44 years old he's amassed an incredible net worth which stands currently at over 450 million dollars – proof that investing your time and energy into standing up for what you believe pays off!
Revenue From Movies and TV Projects
Kevin Hart's involvement in movies and TV projects has contributed significantly to his estimated net worth of $450 million. His films have generated millions in box office revenue and lucrative brand partnerships, including "Ride Along," which made over $154 million worldwide.
In addition to major movies, he also starred in shows such as "Real Husbands of Hollywood" for five seasons, earning him a nomination for the NAACP Image Award for Best Actor for his role as himself.
His starring roles in the Netflix original movie "The Christmas Chronicles 2" are another example of how producing opportunities have added to Kevin Hart's net worth opportunities greatly contributing to his current success today.
Income From Endorsements and Business Ventures
Kevin Hart has strategically leveraged his success in comedy to build an empire that is now worth millions. His income from endorsements and business ventures alone has directly contributed to a huge chunk of his current net worth.
Brand endorsements, such as Calvin Klein and H&M, earn him tens of millions annually, accounting for one-fifth of his total wealth factor. Additionally, HartBeat Productions was founded by the star alongside producing partners to spread their creative projects and stories throughout the world.
Kevin Hart has invested in many successful startup companies and appeared on Shark Tank, earning big profits. Combined with his comedy tours, endorsement deals with brands like Nike and Blackberry, and investments with celebrities like Will Ferrell and Katy Perry, Hart's net worth is estimated to be over $450 million. His broad business portfolio includes a streaming music service, wines, beers, retail merchandise, and more.
Hart's fame and humor make him influential in promoting products, social causes, and companies he is involved with. He uses his public platform and business acumen to achieve financial success and expand his brand. With smart investments, sponsorship deals, TV appearances, and comedy tours, Kevin Hart has built his wealth and become one of the most popular and richest celebrities globally.
Kevin Hart's Latest Updates and Projects
Kevin Hart keeps fans in the loop with his array of projects, from upcoming comedy specials and films to hosting major awards shows.
Upcoming Movies and TV Shows
Hart is set to join the cast of an untitled Scorsese project. The movie, scheduled for a 2021 release date, stars Robert DeNiro and Al Pacino alongside Hart.
Recent Comedy Specials and Performances
Kevin Hart's 2012 stand-up comedy tour, "Let Me Explain", is his most successful tour to date. It grossed over $32 million in ticket sales, making it one of the highest-grossing tours by a comedian ever.
In 2015, he released a special titled "What Now?" from his nationwide arena tour which was released to cinemas as well as screened on Netflix and DVD worldwide.
His 2017 comedy tour "Irresponsible" became the fifth highest-grossing solo show of all time and broke records for appearing at each city's largest venues such as arenas and stadiums across North America, Europe & Africa with performances ranging from 13 nights in London's O2 Arena to 32 consecutive nights at The Forum in Los Angeles, CA.
Most recently he performed abroad including the Czech Republic (2020), Netherlands (2019) Denmark (2018), etc., performing more than 25 shows around the world since 2017.
In 2020 Hart took part in Amazon Prime Video's Live From Home series where 15 global comedians streamed live for an audience playing homebound all over the world with an aim at sharing laughter during difficult times due to the Covid-19 pandemic crisis that forced many people into isolation around the the globe
New Business Ventures or Investments
Kevin Hart has become a very successful businessperson in addition to his comedy career. He has made smart investments in many areas. Hart owns a tequila company called Blue Emergency. He also started his own TV production company called HartBeat Productions. In 2021, HartBeat received investment money from J.P. Morgan to fund new projects. Kevin has invested in several media and tech companies like Layer 3 TV and UPtv.
He partners with venture capital firms like Foundry Group and individual investors like Franklin Sirmans. Through strategic investments, brand partnerships, and his production company, Kevin Hart has built a diverse business and investment portfolio beyond just his comedy success. He is considered an astute investor and entrepreneur in the entertainment industry.
Kevin Hart's Impact and Influence in the Entertainment Industry
As one of the most successful and influential figures in entertainment, Kevin's career has broken barriers as a black comedian, while inspiring future comics and entertainers.
Breaking Barriers as a Black Comedian
Kevin Hart has used his comedic talents to create a thriving career in the entertainment industry and inspire many others. As one of today's most successful black comedians, he is no stranger to overcoming obstacles on his way to success.
His emergence as a major Hollywood star had its own set of unique challenges that not every entertainer can relate to – facing stereotypes and generalizations against him because of his race Common challenges such as these made it difficult for him to make headway within the comedy circuit.
He had robust dreams, ambitions, and natural talent but audiences were still skeptical about how well they would receive a black comic's act.
Despite early challenges and rejections in his comedy career, Kevin Hart persevered through hard work and determination. He broke through with successful stand-up specials like "Laugh at My Pain." Kevin also found box office success starring in big movies like Ride Along and Jumanji: Welcome to the Jungle.
He hosted awards shows, appeared in music videos, and earned endorsement deals. Through non-stop drive and a positive attitude, Kevin turned roadblocks into opportunities. His perseverance paved the way for an extremely successful comedy and acting career at the highest levels.
Kevin Hart's incredible work ethic and dedication to his comedy career have earned him widespread respect. He has succeeded across many media platforms including film, television, web shows, and more. Kevin's hard work has paid off, landing him on Forbes' list of highest-paid comedians making around $272 million. His commitment to his craft, reminiscent of Sullivan Ballou's dedication, has made Kevin Hart one of the most popular and profitable comedic talents working today.
Inspiring Future Comics and Entertainers
Kevin Hart has been a remarkable and inspiring figure in the entertainment industry since his breakthrough moment as a stand-up comedian. His ambition to take on challenging roles such as comedic actor pushed him to become one of the most successful figures in the field today.
He provides an inspiring example that with hard work, dedication, and passion you can achieve your goals no matter your starting point. In 2015 he managed to sell out New York's Madison Square Garden which earned him 1 million dollars for his show and cemented him as one of Hollywood's leading comedians.
Major award shows like the Oscars and MTV VMAs often ask Kevin Hart to host because of his widespread appeal. His influence, personality, and humor connect with diverse audiences. Kevin's self-made success story serves as motivation for aspiring comedians who want to achieve his level of stardom. He worked his way up in stand-up comedy, earning creative control of his career.
Now Kevin navigates many media outlets with huge corporate backing, from music videos to movies to TV. Through hard work, he became an inspirational figure who achieved success on his terms. Kevin shows future talent that it's possible to gain fame while retaining creative control in the ever-changing entertainment industry.
Representation and Diversity in Hollywood
Kevin Hart has become one of Hollywood's most successful comedians and actors, with his impactful roles in comedy films, hosting major award shows, and earning multiple places on Forbes' list of highest-paid entertainers.
His rise to fame highlights the importance of representation and diversity in the industry: he has become a prominent Black comedian and actor breaking barriers for others aspiring to do so.
As an example of financial success as well as entertainment prowess, Hart's achievements serve as a testament to the demand for diverse voices in Hollywood. Despite criticism from some industry insiders, his success demonstrates how powerful it can be when able Black talent is given an opportunity within systems dominated by white actors.
Frequently Asked Questions (FAQs)
Next, let's go over some frequently asked questions about Kevin Hart's net worth.
1. How much is Kevin Hart's net worth?
Kevin Hart's net worth is estimated to be around $450 million as of 2023.
2. What are Kevin Hart's main sources of income?
Kevin Hart earns most of his income from acting, stand-up comedy shows, and endorsement deals. He has also released various products connected to his brand such as fitness programs, books, and mobile apps.
3. When was Kevin Hart born?
Kevin Hart was born on July 6th, 1979 in Philadelphia, Pennsylvania USA.
4. What awards has Kevin Hart won for his work?
Kevin Hart has been nominated for numerous awards including the Golden Globe Award and Kids' Choice Awards throughout his career and he has also won a few MTV Movie Awards in 2016 for playing roles in Ride Along 2 with Ice Cube and Central Intelligence with Dwayne Johnson.
Takeaway
Kevin Hart has achieved enormous success and wealth throughout his career, with an estimated net worth of around $450 million. He has established himself as one of the leading comedians in Hollywood, having starred in numerous blockbusters and hosting some of the most prestigious award shows.
His successful business ventures, endorsements, investments, and touring have also contributed significantly to his fortune.
Besides being a mastermind entrepreneur, Kevin Hart is also renowned for giving back to society through charity work and philanthropy initiatives from donating free meals to children during COVID-19 times to partnering with organizations that support communities in need such as the Black Girls Vote Movement USA organization.
Thanks sense of humor and creativity particularly relevant amongst millennials along with the diverse range of characters he plays on screen are what makes him one of the most influential figures not just in the entertainment industry but culture at large.
Unquestionably, Kevin Hart will continue keep captivate fans across the world while growing portfolio endeavors over the coming years.