Is Baby Oil good for Your Skin – 5 Amazing Benefits of Baby Oil!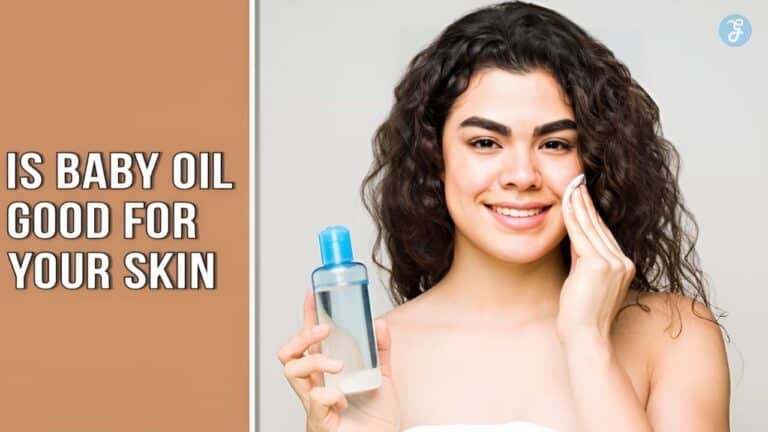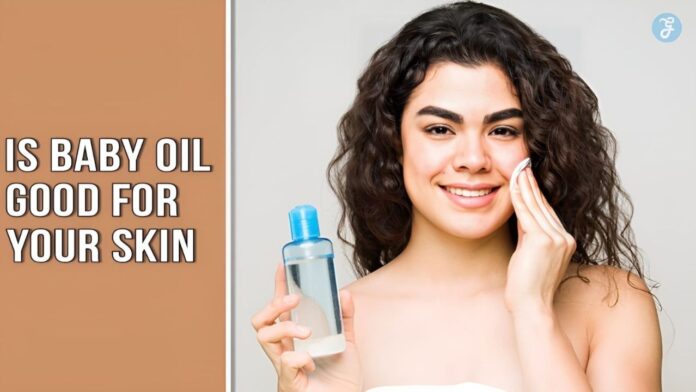 Listen to the Podcast:
Baby oil is a common household product known for its gentle and moisturizing properties. While initially formulated for the delicate skin of babies, many adults have also incorporated it into their skincare routines. But is baby oil good for your skin?
Baby oil is believed to provide hydration and softness, making it a popular choice for dry or sensitive skin individuals. However, it is essential to understand the benefits and considerations of using baby oil before incorporating it into your skincare regimen. In this article, we will explore the potential benefits of baby oil for the skin.
What Is Baby Oil?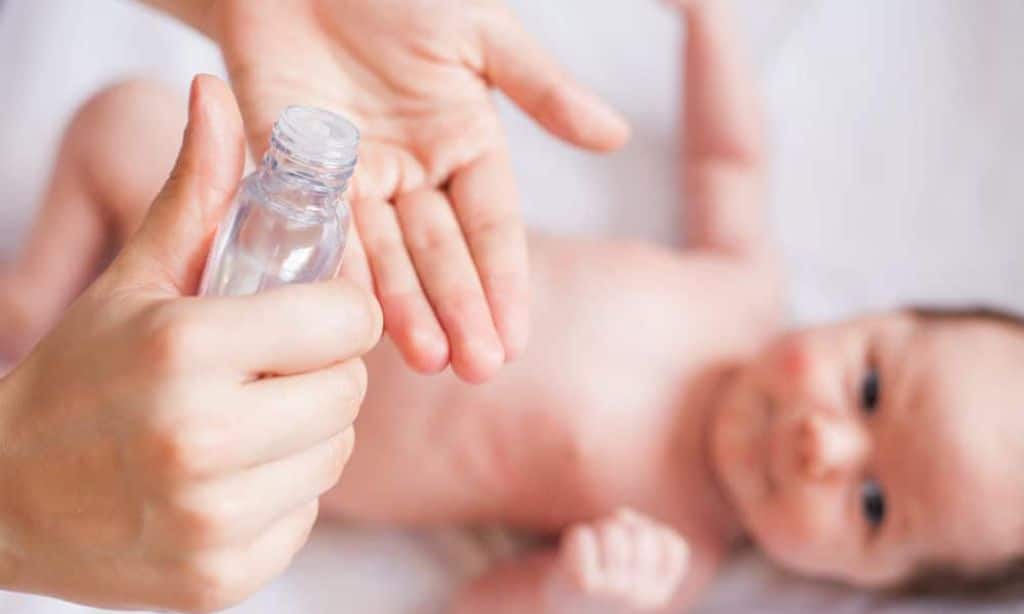 Baby oil is a popular product used in many households for its nurturing properties on sensitive baby skin and its ability to keep adult skin smooth and calm. However, a controversial ingredient often found in traditional baby oils raises concerns among beauty experts. Thankfully, there are now alternative options available that are less worrisome.
So, what exactly sets baby oil apart, and what should you look for in a high-quality product? Let's break it down.
Baby oil is a clear and moisturizing liquid designed to soothe and soften delicate baby skin, typically applied after a bath. Due to its ability to retain moisture, adults with easily irritated skin often turn to baby oil for moisturizing. After all, if it's suitable for a baby's sensitive skin, it should be excellent for adults with compromised skin barriers.
Here's the catch with baby oil – Traditional options typically contain mineral oil, a relatively inexpensive and stable substance compared to other plant-based oils. Mineral oil is highly occlusive, forming a barrier on the skin's surface, locking in moisture. For babies experiencing diaper rash or irritation, the oil can create an environment that prevents further flaking.
According to board-certified dermatologist Ava Shamban, M.D., founder of SKIN FIVE, mineral oil is effective in maintaining moisture and helping heal dry, irritated skin, resulting in a soft and supple appearance.
However, skincare and its ingredients are complex, and achieving the desired effect doesn't necessarily mean it supports long-term skin, body, or environmental health. Many experts, including Dr. Shamban, still advise avoiding mineral oil in skincare products.
Read More: Everything You Need to Know About CBD Oil in Beauty Products
Is Baby Oil Good for Your Skin?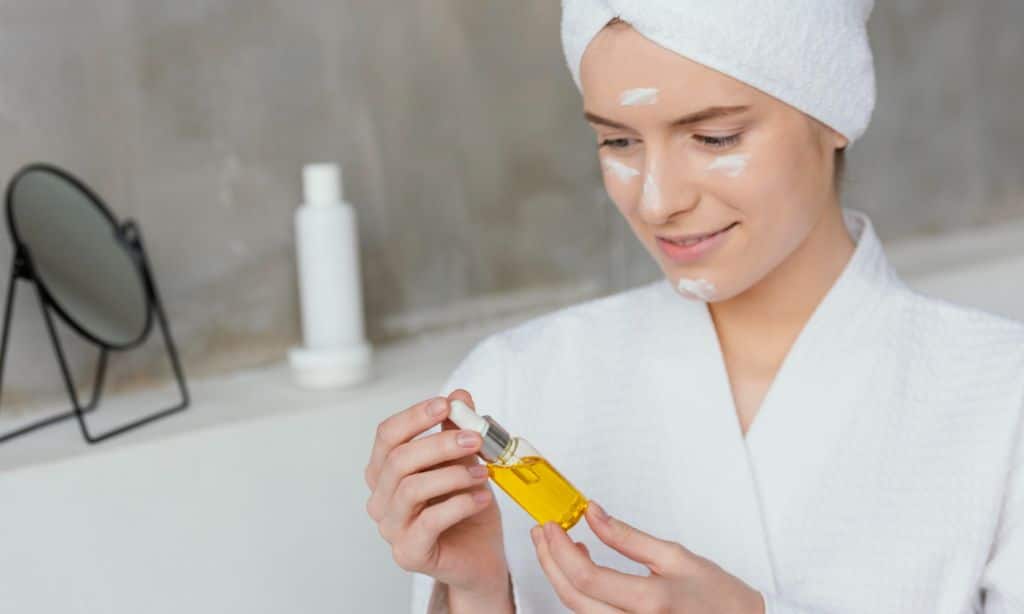 Baby oil is designed to be safe for the skin, as it is hypoallergenic, non-toxic, and free from dyes, phthalates, and parabens. Anecdotal evidence suggests that baby oil is generally considered safe for use on the face.
Baby oil can help you attain well-nourished, hydrated, and healthy skin. It may even impart a natural glow to your face, eliminating the need for makeup.
If you're interested, read about – CBD oil for anxiety
Benefits of Using Baby Oil
The skin benefits of baby oil outlined below are based on anecdotal evidence, and further research is needed to substantiate these claims.
Acts as an Excellent Moisturizer
Baby oil is particularly beneficial for individuals with sensitive or very dry skin. Its natural ingredients help soothe skin sensitivity and promote softness. The deep, nourishing formula penetrates the skin, restoring moisture. For optimal absorption, it is recommended to apply baby oil after showering.
Helps with Makeup Removal
Are you a makeup freak? Baby oil serves as a great alternative to traditional makeup removers. It effectively dissolves makeup and clears buildup from the skin. Massage a thin layer of baby oil onto your face for a few minutes, then wipe it away with a cotton washcloth. Follow up with a facewash to remove any residue.
Good for Foot Care
Enriched with vitamin E, baby oil is rejuvenating and restorative, making it suitable for hydrating and treating cracked heels. For maximum benefits, warm the oil before use. You can apply it as a daily foot moisturizer or during a home pedicure. Simply apply the baby oil to your feet after showering and before bedtime.
May Work as Shaving Cream
Baby oil provides a distinct shine to the skin while moisturizing and smoothing it. It can be a great substitute for shaving cream and can also offer protection against razor bumps and cuts.
It may Work as Under-Eye Gel
Baby oil can be used as an under-eye gel as well. Gently massage a few drops of the soothing oil onto the under-eye area for 1-2 minutes and remove any excess oil with a tissue.
Is It Ok to Use Baby Oil as a Moisturizer?
Baby oil can be used as a facial moisturizer, especially if you have dry-to-normal skin. It is considered noncomedogenic, which means it won't clog your pores. A study conducted in 1993 examined the effects of various moisturizing ingredients on the skin.
Among them was mineral oil, a key component of baby oil. The study found that when applied to the skin, both water and baby oil had the most significant moisturizing effect compared to ethanol, glycerin, and plain water. Additionally, mineral oil was observed to help enhance skin hydration and give a plumper appearance.
Pros and Cons of Baby Oil
Below we'll be learning about the pros and cons of baby oil.
Pros of Baby Oil
Moisturizing Properties:

Baby oil is known for its moisturizing benefits. It helps soothe and soften dry, sensitive, or irritated skin, making it smooth and supple.

Noncomedogenic:

Baby oil is typically noncomedogenic, meaning it won't clog pores or contribute to acne breakouts. This makes it suitable for individuals with acne-prone or oily skin.

Versatility:

Baby oil has various uses beyond moisturizing. It can be used as a makeup remover, shaving cream substitute, under-eye gel, and foot moisturizer.

Affordable:

Baby oil is generally an affordable skincare option compared to many high-end moisturizers and beauty products.
Cons of Baby Oil
Controversial Ingredient:

Traditional baby oils often contain mineral oil, which can concern some individuals due to its potential environmental impact and the availability of alternative oils with more beneficial properties.

Lack of Nutrients:

While baby oil helps to lock in moisture, it doesn't provide additional nourishment or essential nutrients to the skin. It primarily acts as a barrier to prevent moisture loss.

Sensitivity Issues:

Some individuals may have sensitivities or allergies to certain ingredients found in baby oil, such as fragrances. It's important to check the product's ingredient list and perform a patch test before using it extensively.

Slippery Texture: The oily texture of baby oil can feel greasy and leave a residue on the skin, which may not be preferred by everyone. If you're interested, also read about monsoon skin care tips. 
It's worth noting that individual experiences and preferences may vary when using baby oil. It's always recommended to consider your specific skin type and needs and consult with a dermatologist if you have any concerns or specific conditions.
How to Choose a Baby Oil for Skin?
Now we'll show you how you can choose one for your skin.
Our Approach to Mineral Oil
When selecting baby oil, we recommend avoiding mineral oil altogether due to environmental concerns and the availability of better alternatives that replenish the skin barrier with healthy lipids and antioxidants rather than simply forming a barrier on the skin's surface to retain water.
Look for Cleaner Alternatives
While traditional baby oils often contain mineral oil, plenty of options are available on the market without this controversial ingredient. If you prefer a cleaner alternative, consider choosing a baby oil that includes coconut oil or jojoba oil in its formula. According to Koestline, several studies have demonstrated that vegetable and fruit oils like coconut oil and jojoba oil have comparable moisturizing potential to mineral oil.
Other recommended oils mentioned by Shamban include argan, rosehip, marula, sunflower seed, neem, hemp, and grapeseed oil. If you have hypersensitive skin, opt for a fragrance-free option, as any scent can aggravate easily irritated complexions.
Read More: 10 Best Sunscreen to Prevent Tanning
How to Use Baby Oil?
This time you'll learn how to use baby oil.
Remember the Role of Oils
As we know, oils act as occlusive agents, preserving existing moisture within the skin but not generating moisture for dehydrated skin. In other words, oils can only retain water if there is already moisture present for them to retain.
Apply to Damp Skin
Apply baby oil to damp skin for optimal results, ideally after a bath or shower. It should be the final step in your skincare routine since occlusive agents create a barrier that prevents subsequent products from penetrating. If you use a body serum or any other product, apply it before the baby oil.
Best Baby Oils for Skin: 7 Suggested Items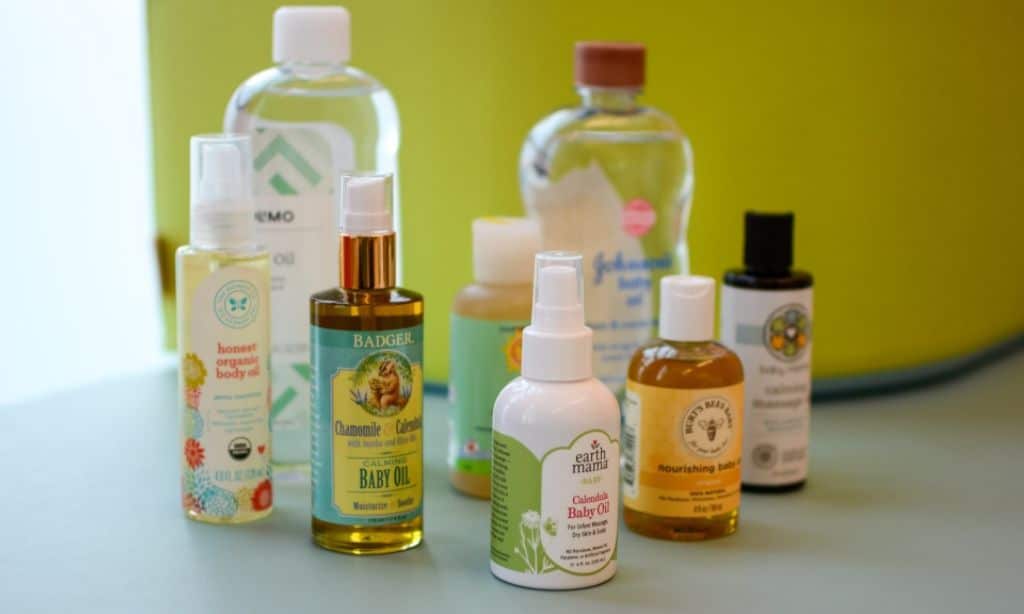 Now we'll suggest the 7 best baby oil for your skin. 
Primally Pure Organic Baby Oil
This baby oil is made with four all-natural ingredients, including organic fractionated coconut oil, apricot kernel oil, jojoba oil, and organic calendula flower. It moisturizes baby's sensitive skin, leaving it soft and supple. It is non-greasy and can also be used as a body oil or makeup remover.
Alteya USDA Certified Organic Baby Oil
This USDA-certified gentle oil is free from dyes, chemicals, artificial preservatives, and pesticide residues. It contains organic apricot kernel oil, olive fruit oil, jojoba seed oil, calendula flower oil, and other natural ingredients. It balances sensitive skin, hydrates, nourishes, and soothes the baby's senses. It can also improve sleep, and digestion, and strengthen the emotional bond between baby and parent.
Hello Bello Organic Baby Oil
This baby oil is ideal for dry skin and fussy babies and is formulated with super-nourishing oils such as baobab, tamanu, and jojoba. It is made with organic ingredients, and is lightweight, non-greasy, and hypoallergenic. It can be used for massage and daily moisturizing, and it does not contain mineral oil or petrochemicals.
USDA Certified Organic Baby Oil
This nourishing organic oil suits sensitive, dry, and allergy-prone skin. It is made with over 95% certified organic oils, including olive oil, jojoba oil, tamanu oil, sunflower oil, coconut oil, and avocado oil. It helps maintain the skin's natural moisture balance and leaves the skin hydrated and soft.
Mambino Organic Massage Oil
This gentle and lightweight blend contains healing calendula and soothing chamomile. It nourishes and softens the skin, making it ideal for use after a bath or during a baby massage. It is made with organic safflower seed oil, jojoba seed oil, calendula flower extract, lavender oil, and chamomile flower oil and is certified organic.
Earth Mama Organic Calendula Baby Oil
This baby oil moisturizes dry skin and scalp with a calendula-infused grape seed oil blend. It is free from petroleum, mineral oil, parabens, and artificial fragrance. It is safe for infant massage and can also make DIY homemade baby wipes.
Terressentials Organic Baby Oil
This collection of organic baby oil is made with certified organic ingredients, including organic virgin coconut oil infused with organic calendula and chamomile. It is safe and delicate for both baby and parent. It is certified organic, handcrafted, and free from GMOs, parabens, phthalates, and sulfates.
Helpful Tips for Using Baby Oil
Now we got some helpful tips in case of using baby oil.
Follow instructions: Always use the baby oil as directed, following the guidelines provided on the product packaging. Consult your doctor or pharmacist for clarification if you have any uncertainties or questions.
Consider skin condition and frequency: Using baby oil depends on the specific product and your skin condition. For example, if you are using baby oil for treating skin burns or as part of radiation therapy, consult a doctor to ensure its compatibility before undergoing radiation therapy.
Avoid sensitive areas: Unless directed otherwise by the label or your doctor, avoid applying baby oil to sensitive areas such as the eyes, mouth, or nose.
Determine suitable skin types: Take note of the recommended skin types mentioned for the baby oil product, and be aware of your skin type before using it. Also, according to skin type care for your skin. 
Seek medical attention if needed: If you experience any adverse reactions such as rashes, redness, or worsened burns, seek immediate medical care.
Other Uses of Baby Oil in Your Beauty Regimen
In this segment, let's learn about the other uses of baby oil in your beauty regimen.
Post-waxing stickiness: Baby oil can effectively remove the sticky residue often left on the skin after waxing. You can either apply the oil directly or use a baby oil-soaked tissue.
Flawless manicure: Soak a cotton ball in baby oil and gently trace it around your cuticles before applying nail polish. This helps prevent the nail polish from spreading to the sides. Baby oil can also be used to clean up any nail polish mishaps.
Hair mask: Baby oil can be used as a rinse-out treatment and hair mask, particularly for dry scalp. It helps seal in moisture, making the hair smoother and shinier.
Eye gel substitute: Baby oil can be an alternative to under-eye gels. Gently massage a few drops of baby oil onto the under-eye area for 1-2 minutes, then use a dry tissue to remove any excess oil.
The Takeaway
In conclusion, traditional baby oils often contain mineral oil, which, although considered safe when cosmetic-grade, still raises environmental and skin-related concerns. We recommend seeking baby oil products not including this petroleum-derived ingredient, such as the high-quality options mentioned above. These alternatives are suitable even for individuals with susceptible skin.
Disclaimer: This content is for informational purposes only and does not replace professional medical advice, diagnosis, or treatment. This information is not comprehensive and should not be used to make health or well-being decisions. Consult a qualified healthcare professional with questions about a medical condition, treatment options, or health regimen. This website or the content should never replace professional medical advice.
Subscribe to Our Latest Newsletter
To Read Our Exclusive Content, Sign up Now.
$5/Monthly, $50/Yearly